Time Required:

Under 2 hours

Difficulty:

Beginner
---
Painting trim enhances the color of the walls inside your home to bring visual interest to the room. The best way to paint trim requires some planning and careful preparation, but the painting project will complement or emphasize other colors of your walls.
This guide teaches how to paint trim around windows and doors as well as baseboards and other moulding to liven up your rooms.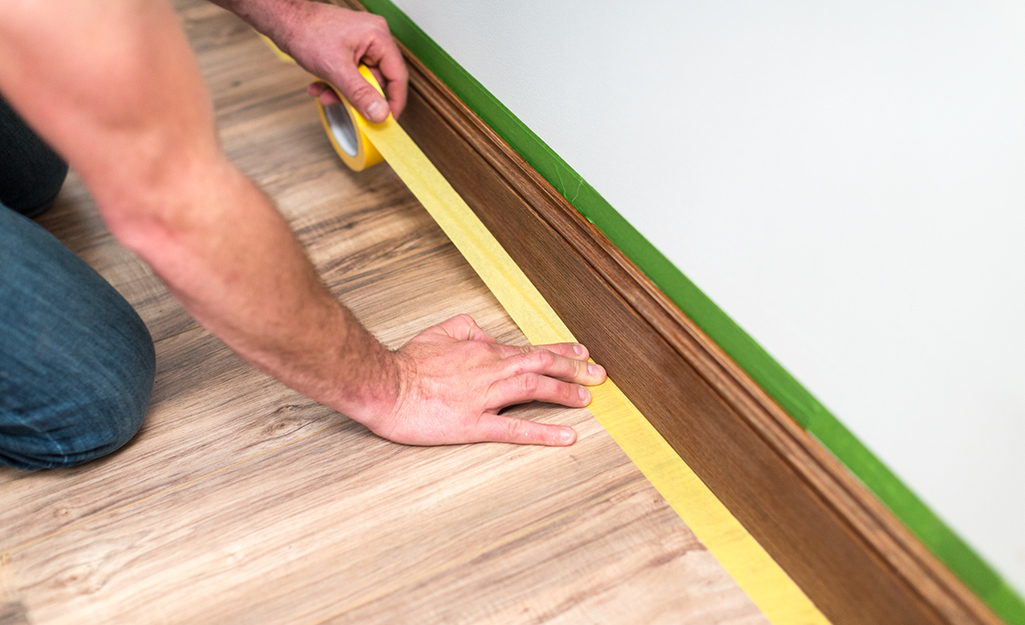 Preparation is important when understanding how to paint trim. Take steps to keep surrounding areas clear from dust and dripping paint.
Move furniture away from the work area.
For painting over baseboards in rooms with hard flooring such as wood, tile or laminate, carefully run painter's tape along the floor where it meets the trim. Follow with a second strip of the tape to make a wider masked area.
Protect carpet and create clear access to baseboards by using a flat putty knife to tuck 1/2-inch of 2-inch masking tape between the baseboard and the carpeting.
Place drop cloths or surface prep material such as rosin paper to protect the flooring along baseboards.
Gather the protective gear that you'll use. Shield your eyes from dust and debris with safety goggles. Wear a dust mask to prevent inhaling fine particles when sanding.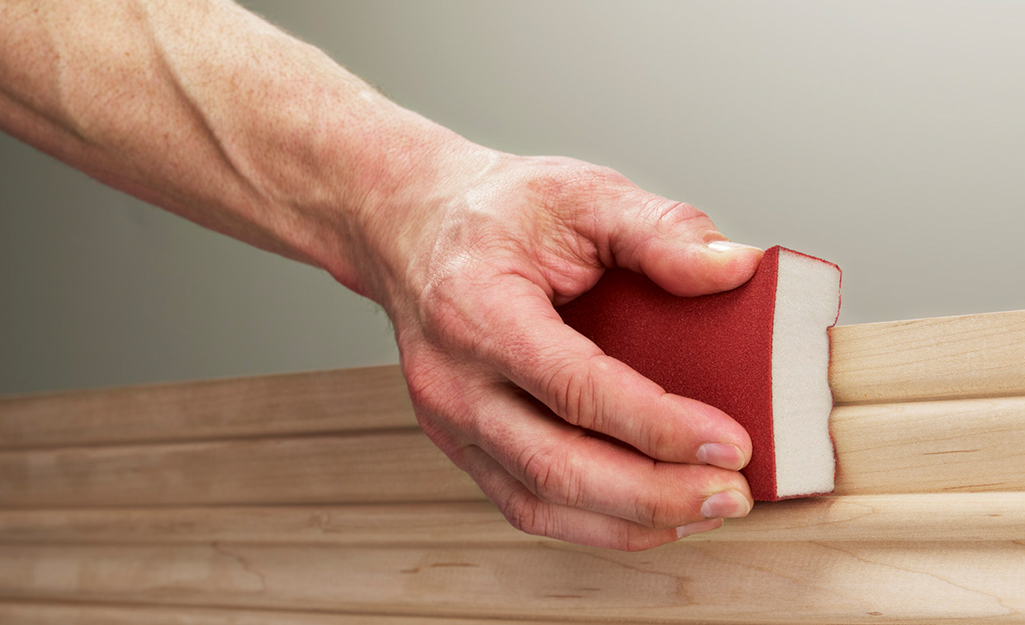 The best way to paint trim is to begin with a clean surface. Use a damp sponge to remove dirt that has accumulated on trim in most rooms. In kitchens, use a sponge and soapy water to remove grease buildup from the trim.
Scuff-sand the surface of the trim.
Start with coarse, 80-grit sandpaper and then move to less-coarse 100- and 120-grit.
If the trim is new, use only 120-grit just enough to remove any sheen from the surface.
Folded sandpaper or a sanding block can be used for flat surfaces. Use a sanding sponge for curved areas and crevices.
After sanding, wipe away the dust with a lint-free tack cloth or a clean damp sponge.
If you find any cracks, holes and dents in the trim, fill the imperfections with spackling compound. Once it has dried according to the package instructions, sand smooth with 120- or finer-grit sandpaper and remove the dust.
Use caulk to fill any gaps between the trim and the wall.
Then apply painter's tape to mask-off the trim from the surrounding areas that you aren't painting. A single piece of tape prevents bleed-through better than many shorter pieces. Always press the painter's tape down flat and even along its edge to prevent bleed-through.
Start taping with a 3-inch leader from the tape roll. Firmly secure it to the wall adjacent to the trim and then, while holding the tape in place, pull out another length and press it to the wall.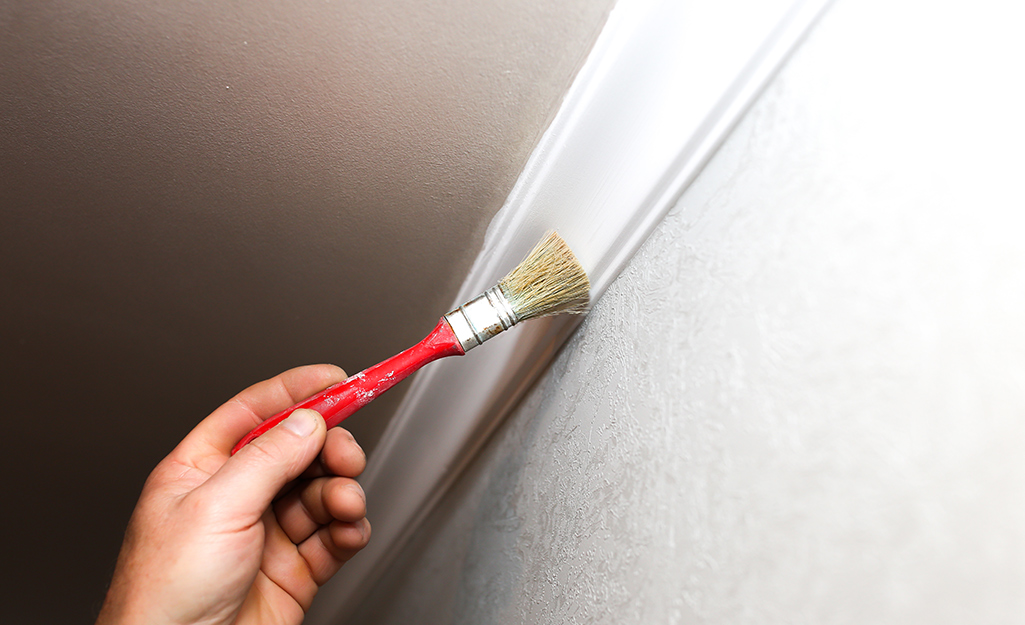 Use an angled paint brush to apply mixed primer to areas that have been filled. Also, look for any knots or resin pockets in the trim and give them a first coat of primer.
Once the spot-primed areas have dried, use 120-grit sandpaper to smooth them. Spot-priming these areas before applying a coat to all of the trim helps ensure a good finish after painting.
Now prime all of the trim, including the spot-primed areas.
Mix the primer and pour a small amount into a paint tray.
Dip no more than 1-inch of the angled brush into the primer.
Use the side of the tray to remove excess primer from the brush to avoid drips.
Allow to dry for 24-hours.
If wood or spackling is showing through after drying, apply a second coat of primer.
When the primer is dry, lightly sand all of the trim with 120-grit sandpaper to remove brush strokes.
Remove dust using a damp sponge.
Clean and dry your painting tools.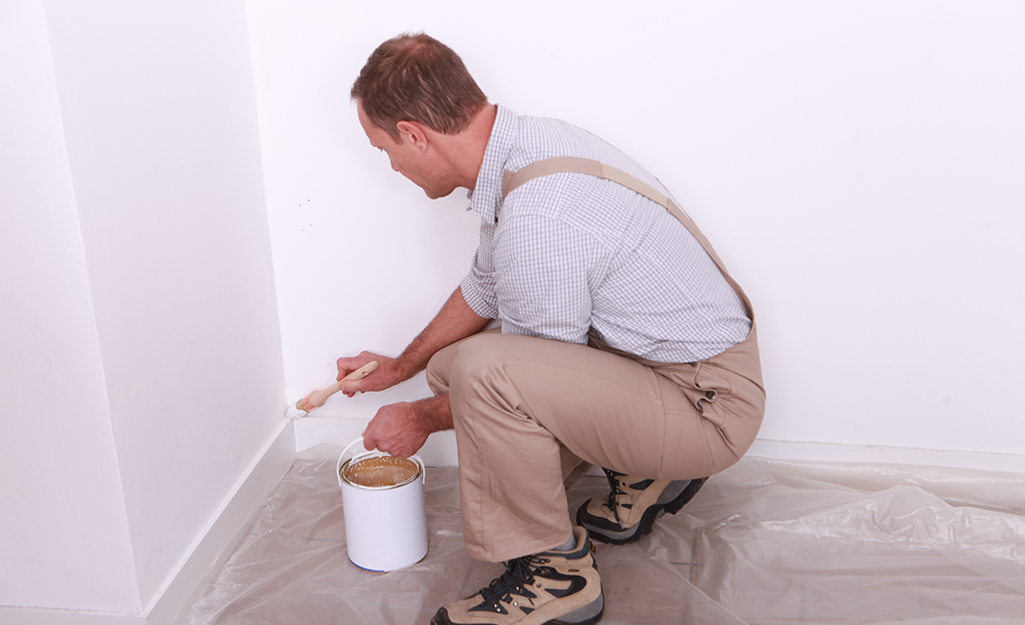 After the prep work and primer, the trim is ready for paint.
Pour thoroughly mixed paint into a clean paint tray.
Dip no more than an inch of the angled paint brush into the paint and wipe away excess.
Use short stokes to cover a few feet of the trim.
Then, smooth the section of freshly painted trim with one long stroke.
Repeat this trim-painting technique with another section until all trim is painted.
Once you've learned how to paint trim and successfully completed your painting job, remove the painter's tape by carefully pulling it away from the wall at 45-degree angle while the paint is still wet. Prep work is a crucial part of painting trim and it's important to have quality tools and the right materials. Shop online when you're ready to buy the supplies needed for painting trim. The Home Depot delivers online orders when and where you need them.