Project Guide
What to Expect During Your Water Heater Installation Appointment
Time Required:

2-4 hours

Difficulty:

Beginner
---
The Home Depot partners with local, licensed and insured professionals to help homeowners choose the right water heater for their home. If you live within 30 miles of a Home Depot store and call us before noon at 1-800-HOME-DEPOT, our team offers same-day installation at no additional charge.
Whether you need an emergency replacement or are interested in converting to a tankless water heater, this guide will help you understand the installation process from start to finish.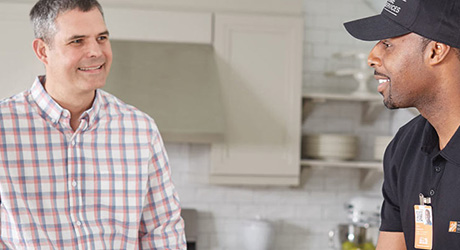 The first step is the consultation. These can happen in person or over the phone, and we can often schedule same-day water heater installations if you call before noon and live within 30 miles of a Home Depot store. Call 800-HOMEDEPOT or visit our Water Heater Installation Services page to schedule one today.
During the consultation, a local, licensed and insured professional will consider your space, budget and water use.
You'll need to provide as much information as possible about your existing unit, including:
Size of the water heater
Where it's located
Whether it runs on gas or electricity
Whether it's a tank or tankless model
After evaluating these details, our professional will recommend the water heater model that best suits your needs and will explain pricing and financing options.
An installation appointment will be scheduled once you decide to move forward.
PREPARING FOR INSTALLATION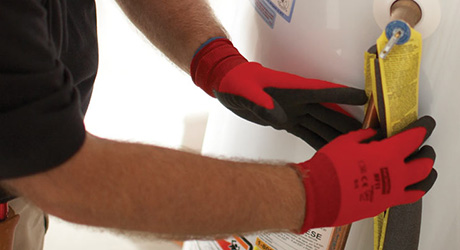 There are a few ways you can prepare for the installation appointment.
First, take photos of the installation area. A visual point of reference will help our service providers work more efficiently.
Use your phone or digital camera to take clear pictures of the following, and send them to your service provider as soon as possible:
Vents
Electrical outlets
Connection points
Surrounding areas

Next, make sure the installation area is clean. Remove any debris or clutter from the area, and keep your pets safely secured in another room of the house. There should also be a clear path for the service provider to bring the new water heater inside your home. Make sure to measure your doors to ensure the best entry point for your tank water heater model.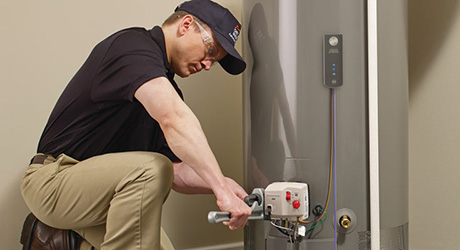 Here's what to expect on the day of your water heater installation appointment.
Your service provider will call when the installer is on the way, usually about an hour before the scheduled appointment time. Upon arrival, a trusted professional will present their Home Depot Service Provider badge, and perform the initial walkthrough to confirm the scope of work. Once you agree to move forward, the installation can begin. This typically only takes a few hours, but if there are unforeseen circumstances, your service provider may need to return the following day.
Tank to Tank installation: On average, replacing a gas or electric water tank with a similar model takes two to three hours. It takes between 45 to 60 minutes to drain, disconnect and remove your old water heater. Positioning the new unit takes roughly 30 minutes, and it takes another 45 to 60 minutes to secure the new connection points and verify that all functions are up to code.
Tank to Tankless installation: If you're switching from a water tank to a tankless design, the installation process takes a bit longer. Additional time is required to install new power and water lines and air vents. Afterward, the tankless unit must also be mounted and connected.
Tankless to Tankless Installation: This generally takes between one to three hours.
For information on DIY water heater installations, see our step-by-step guides.
How to Install Tankless Water Heaters
How to Install an Electric Water Heater
REMOVAL AND POST-INSTALLATION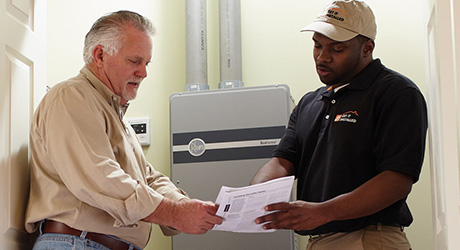 After your new water heater is installed, your service provider will clean up the area, remove your old unit and provide information on how to maintain your new water heater. If you have additional questions or need clarification on how to care for your new water heater, give us a call at 1-800-HOME-DEPOT.
For more information on how to extend the life of your water heater and reduce energy costs, see our Water Heater Maintenance Guide.