Ideas & Inspiration
4 Reasons to Love Fresh-Cut Holiday Greenery
It's hard to imagine, even if you live in a tropical climate, a Christmas without traditional evergreens adorning our homes, inside and out. While artificial trees, wreaths and garland are beautiful, practical and have a place in our homes, there's always room for fresh displays of holiday greenery.
Here are four reasons to love fresh-cut greenery:
Looking for instant Christmas spirit? Go for a live Christmas tree or wreath. The second you smell the cut cedar, pine and noble fir, you'll be back in holiday mode.
Tip: Hang a wreath on the door you use the most to get that whiff of evergreen as you come and go. Also, mist your evergreens with water to keep them smelling fresh.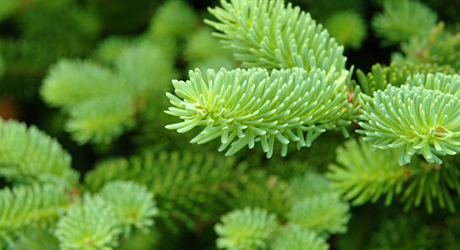 Fresh cut evergreens are invitingly tactile, from the prickly needles of noble fir and cedar to the glossy leaves of holly and magnolia. The fresh-cut greenery sold in your local Home Depot Garden Center travels just a day or two from either the West Coast or from North Carolina, delivered fresh to the touch.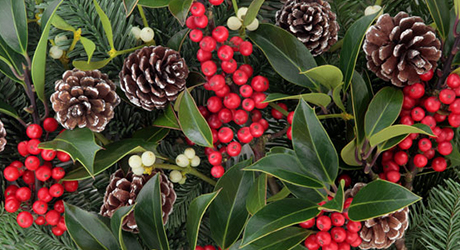 Garlands and wreaths can be made from all kinds of evergreens. Noble fir, holly, juniper, magnolia, even trimmings from shrubs like boxwood can be incorporated into your Christmas decor. It's easy to embellish a fresh cut wreath with pieces from your own yard like sprigs of holly, pine cones (use floral wire to attach them to the wreath), and evergreen shrubs.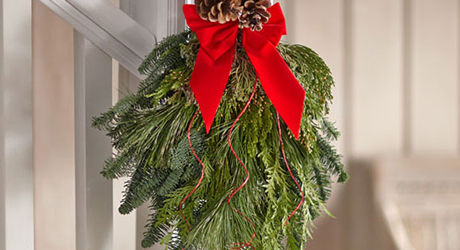 Live greenery requires very little care to last through the holidays and beyond. Before displaying, you can rehydrate greenery in a large galvanized utility tub filled with water. If it has bows or embellishments or lights on it, do not submerge, gently mist with a spray bottle filled with water.