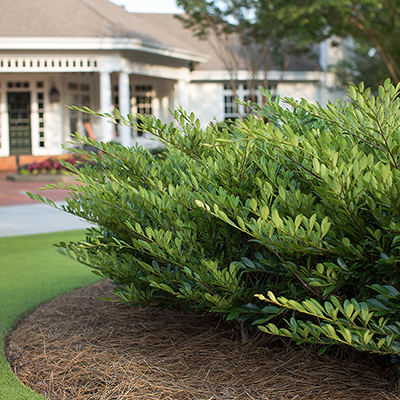 Shrubs are often called foundation plantings for a couple of reasons: they're frequently
planted next to a house's ground level entry, and they serve as the backdrop for annuals
and perennials in the landscape.
Shrubs can be so much more than foundation plants. Many bring flowers, berries and
notable foliage to the party in your landscape. Learn the shrubs that pro landscapers install
for low-maintenance and good looks across seasons.
Before purchasing plants, know your site and light. The following list of shrubs like full to part sun. Knowing your USDA hardiness zone will help you plan a landscape that will endure through the seasons. Learn your hardiness zone. 
Keep in mind that not all plants will be featured in all Home Depot Garden Centers, but the plants in your local garden center will appear at the best time to plant.
Distylium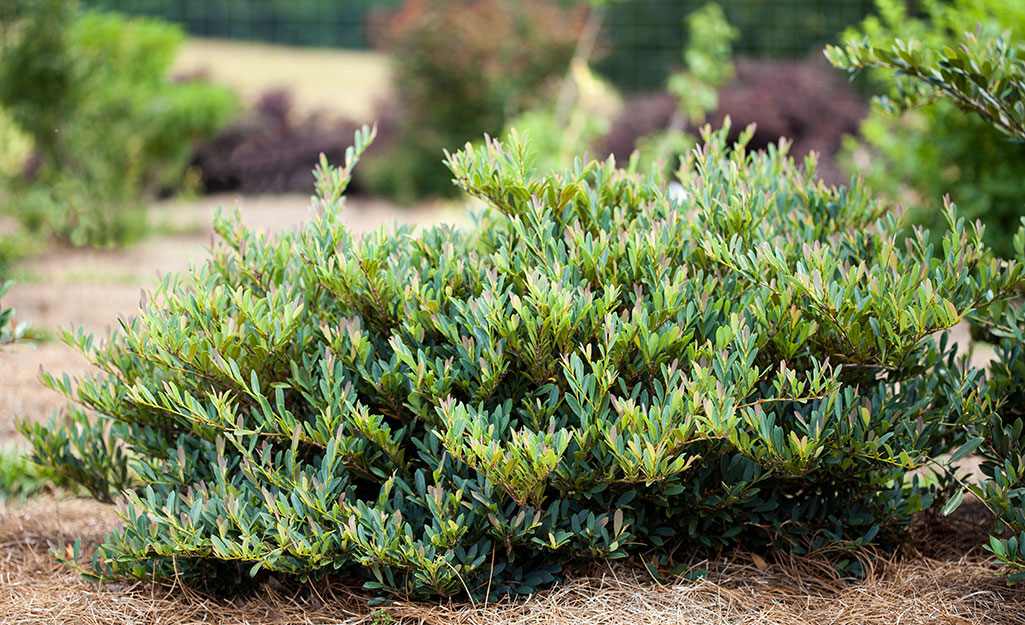 For Southern gardeners, distylium is the evergreen shrub of choice to replace boxwood and other stalwarts that are susceptible to pests and diseases. First Editions' 'Vintage Jade' distylium features layered branches and forms an intermediate spreading mound, making it perfect for mass plantings. Others to look for: 'Cinnamon Girl' and 'Swing Low,' all winter hardy in zones 7 to 9. Plant in full sun to part shade.
Japanese Holly
This columnar ilex has dense dark green foliage and a vertical growth habit. Look for Southern Living's Sky Pencil and First Editions' Straight and Narrow. These shrubs grow 6 to 8 feet high and spread 2 to 3 feet. Japanese holly likes full sun to part shade. Winter hardy in zones 6 to 8.
Ninebark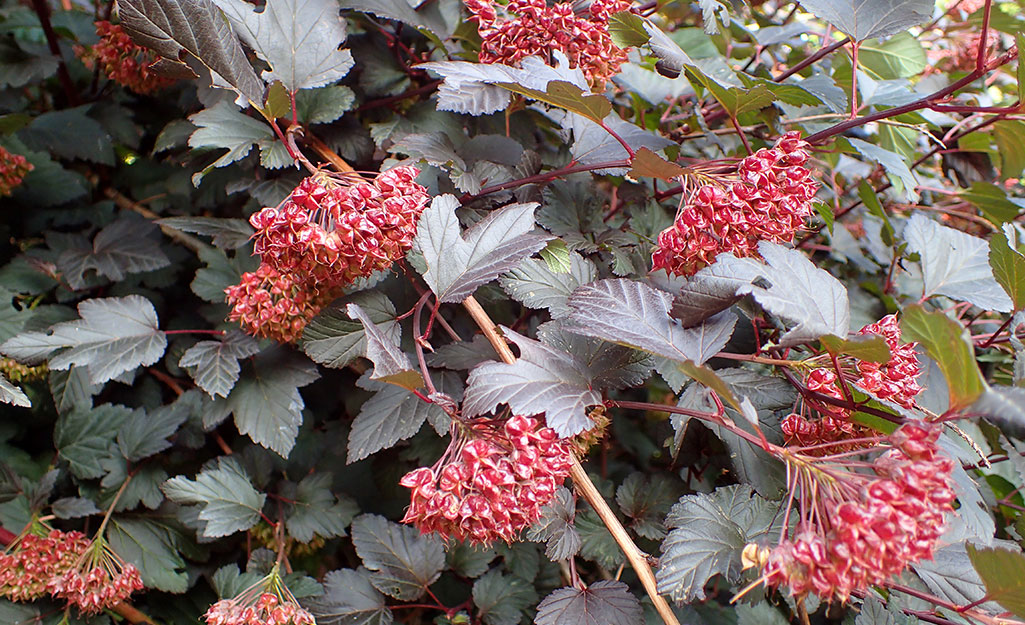 Gardeners in zones 3 to 7 rely on ninebark to fill in the landscape and survive dry spells. This hardy deciduous shrub can grow to up to 7 feet tall and 6 feet wide. 'Fireside' ninebark emerges reddish green, matures to red-deep purple and holds its color all summer long. Pinkish-white flowers bloom in spring. Plant ninebark in full sun.
Hydrangea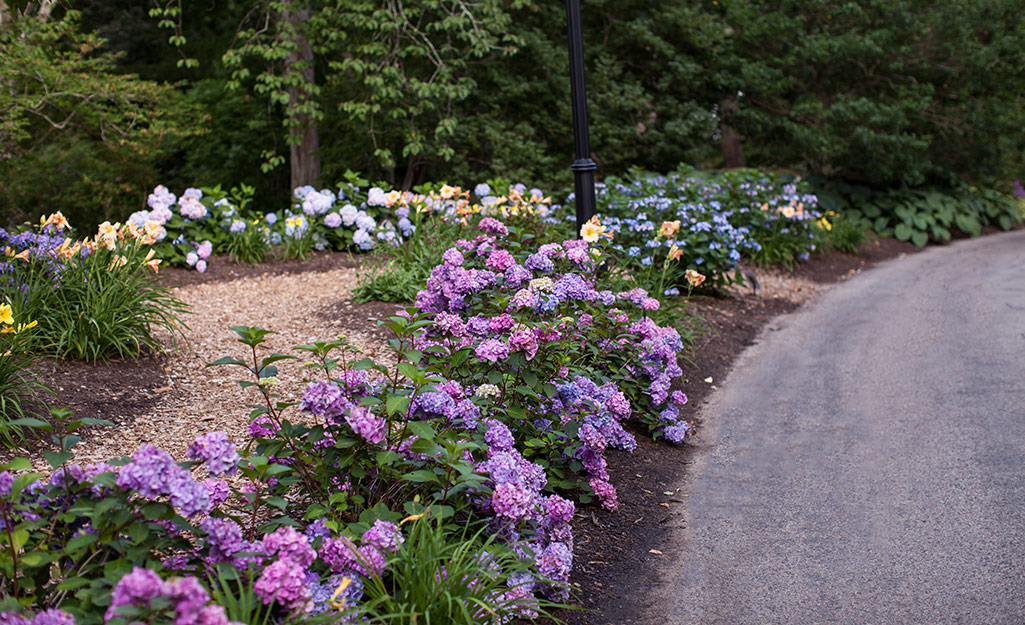 Hydrangea paniculata handle the heat of summer with ease and keep putting out blooms. 'Berry White' and 'Vanilla Strawberry' start out white in July and by late summer, the blooms are fully pink. Look for 'Limelight' and 'Little Lime,' as well. These shrubs make nice specimens in the garden, and excel at filling large spaces. 
Panicle hydrangeas need full sun, and thrive in zones 3 to 8. Mature size is 6 to 7 feet in height and 4 to 5 feet wide. Dwarf variety 'Little Lime' grows to 3 1/2 feet in height.
Oakleaf hydrangea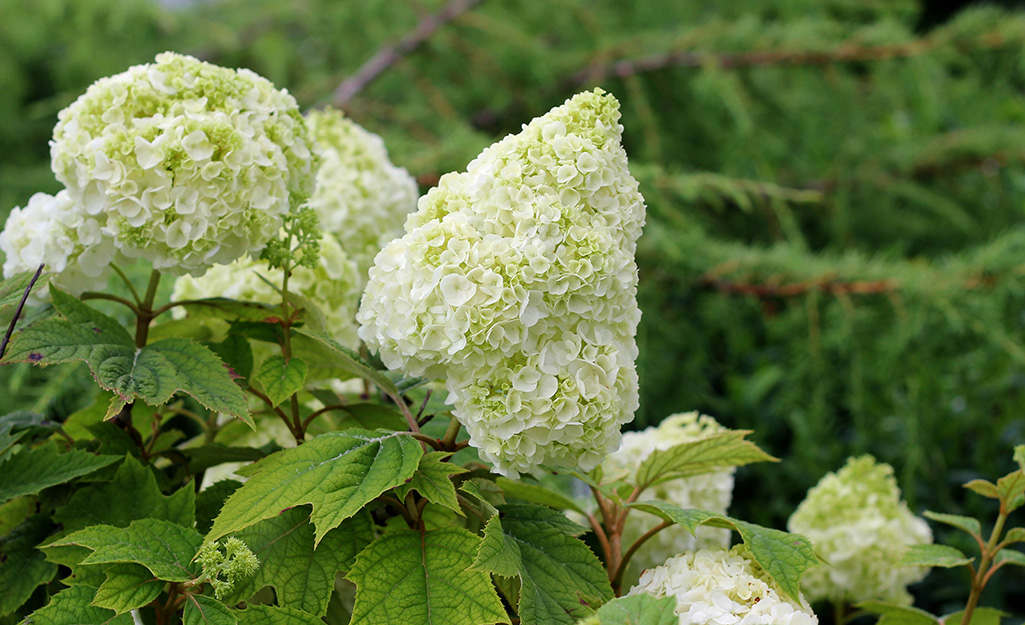 Give hydrangea quercifolia like 'Gatsby Moon' a try this year. They are easy to grow in sun or part shade. Gatsby oakleaf hydrangeas typically grow 5 to 8 feet tall with green, oak leaf-shaped leaves and large panicles of white flowers that begin to appear in early summer. Cooler fall temperatures draw out purple tones in the foliage and make the flowers blush.
Plant oakleaf hydrangeas as a background for your perennial border in full sun or at the edge of woods in zones 5 to 9.
Crape Myrtle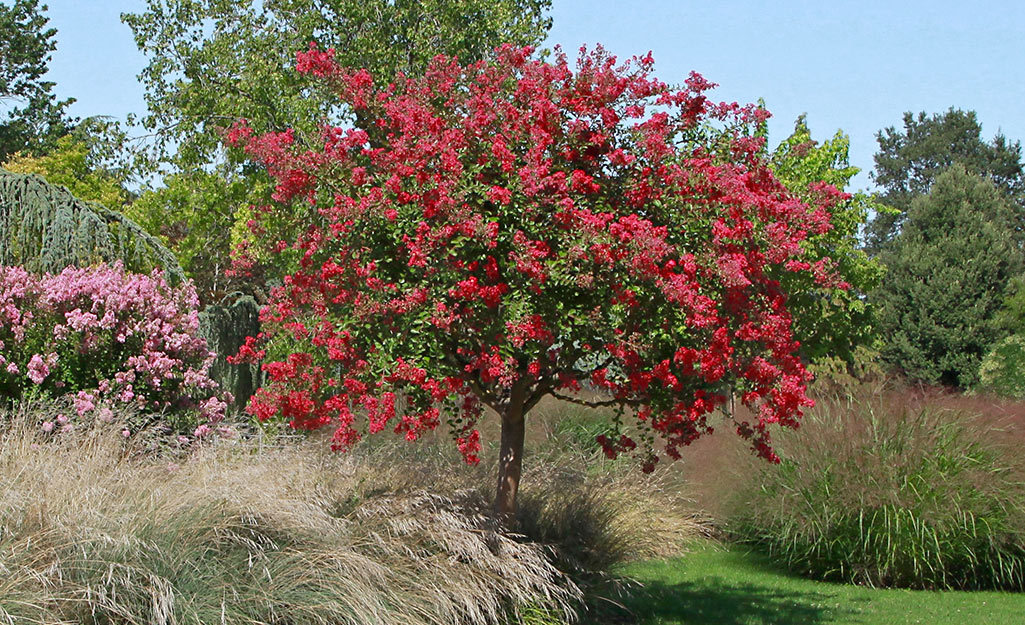 Okay, crape myrtle is either a medium-sized shrub or a small tree, still, it's an adaptable, durable plant for your landscape. This deciduous shrub/tree blooms in a riot of color in mid-summer. Look for varieties like 'Midnight Magic' that feature dark pink blooms and burgundy foliage.
Do your research with crape myrtle: Read the plant tag and note the mature size before planting. Mature height is 6 feet. Crape myrtle is winter hardy in zones 6 to 10.
Abelia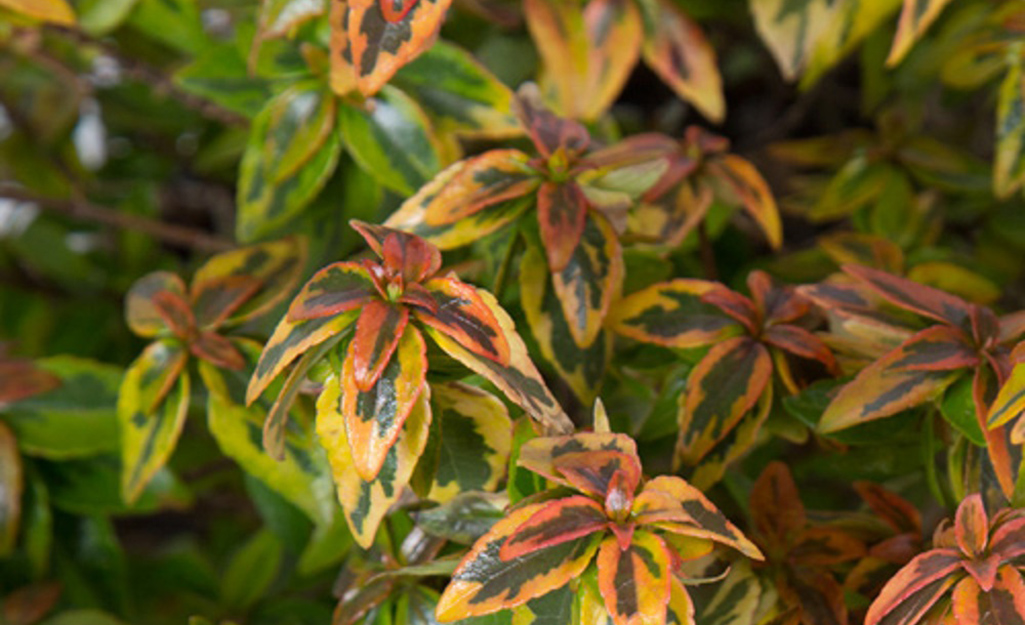 Make the pollinators happy when you plant a hedge of abelia. The flowers that emerge in summer keep bees and butterflies occupied.
Look for 'Kaleidoscope' by Vigoro for visual interest throughout the year. Abelia needs regular watering to get established, but is low maintenance once it settles in. Abelia is hardy in zones 6 to 9. Mature height is 4 to 6 feet.
Knockout Roses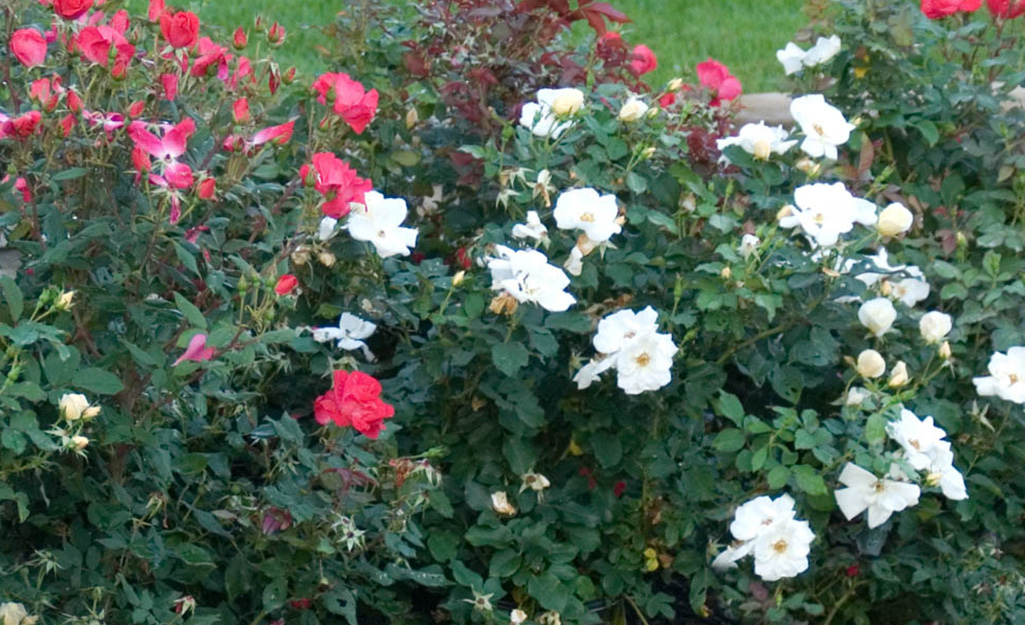 Knockout roses bloom every five to six weeks, from spring to frost, creating a stunning show of beautiful flowers. They can fit into any landscape in most climates. 
Plant them individually as a focal point, among other shrubs or in large groups to create a colorful hedge. Knockout roses are hardy in zones 5 to 10 and, of course, plant in full sun for the most flowers.
How to Plant a Shrub
Shrubs are best planted in late fall or early spring, when the ground is workable, the days are warm and the nights are cool. These seasons tend to be rainier and will give establishing shrubs the best start to grow healthy extensive root systems. 
However, it should be noted that shrubs can be planted any time, as long as you're willing to water or provide irrigation.
How to Plant a Shrub:
1. Determine placement, taking into consideration how sunny or shady the area is and how much space a mature plant will need.
2. Make sure the soil is moist, but not wet, before you dig. Wet soil becomes compacted, making it tough for roots to penetrate. Grab a handful of soil, squeeze it into a ball, and release. Moist soil will crumble into pieces; wet soil will stay in a ball.
3. Dig a hole three to four times as wide as the container to make it easy for the roots to grow outward. The hole should be no deeper than the height of the container.
4. Fill the hole with water and let it drain.
5. Ease the plant out of the pot. If the roots were growing in a circle in the pot, gently spread them out.
6. Set the plant in the hole so that the place where the trunk meets the roots is at the soil line – not too high and not too deep.
7. Replace half of the soil and lightly pat it down, making sure to eliminate air pockets. Water and then fill the hole the rest of the way, gently compacting as you go.
8. Build a shallow saucer of soil around the perimeter of the hole like a moat to hold water.
9. Water gently but deeply. A strong jet of water washes away soil.
10. Mulch around the plant. Keep mulch 2 to 3 inches away from the trunks of trees and shrubs. Do not mound like a volcano.
11. For the first few months after planting, water at least once a week if there is no rain.
Explore More on homedepot.com