When you're ready to upgrade your living room, home office or other space, create an accent wall. Accent walls, also called feature walls, make it easy to turn a dull or boring space into a focal point. Use what you have, such as a fireplace or other architectural element, or choose paint, wallpaper or wall art, to turn a wall into a statement.
What is an Accent Wall?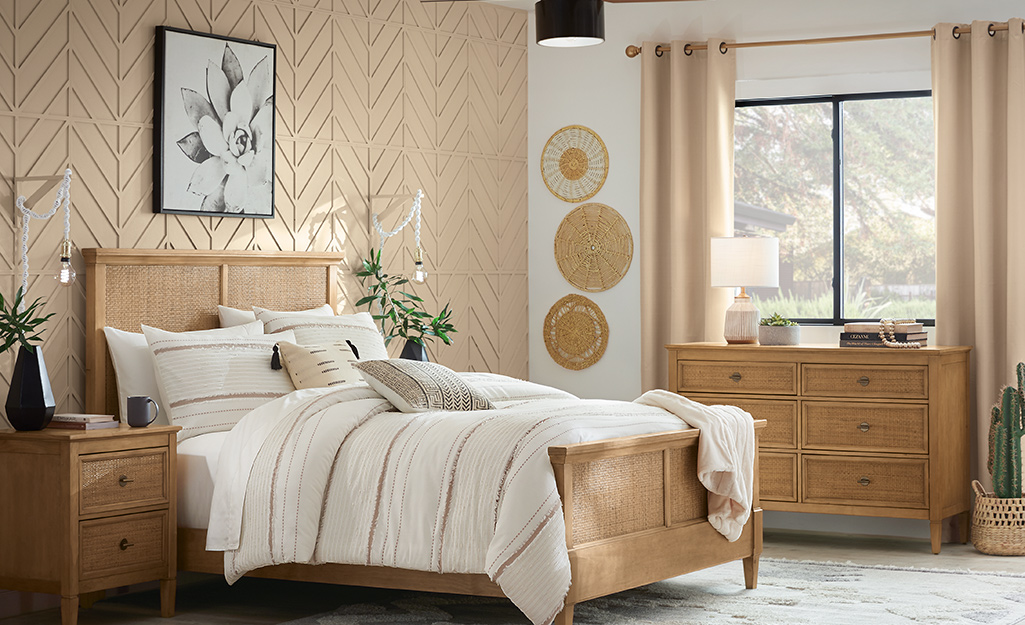 A tried-and-true decor idea, an accent wall is simply a piece of the wall that is a different color, or that has a different design, from all the other walls in a room. It's a DIY element of interior design, although you can certainly ask a professional to create one for you. It's great to try when you want a change, but you don't want to completely redecorate, or you have a striking feature you want to spotlight, like beautiful bookshelves. 
You can turn any wall into an accent wall, although a rule of thumb is to avoid using the first wall you see when you walk into a room, foyer or other space. No matter which one you use, it's best to work with a blank wall without a door or windows, or a wall that already has a focal point, such as a glamorous, upholstered headboard, a unique architectural element, a built-in fireplace or a decorative canvas.
Budget-Friendly Accent Wall Ideas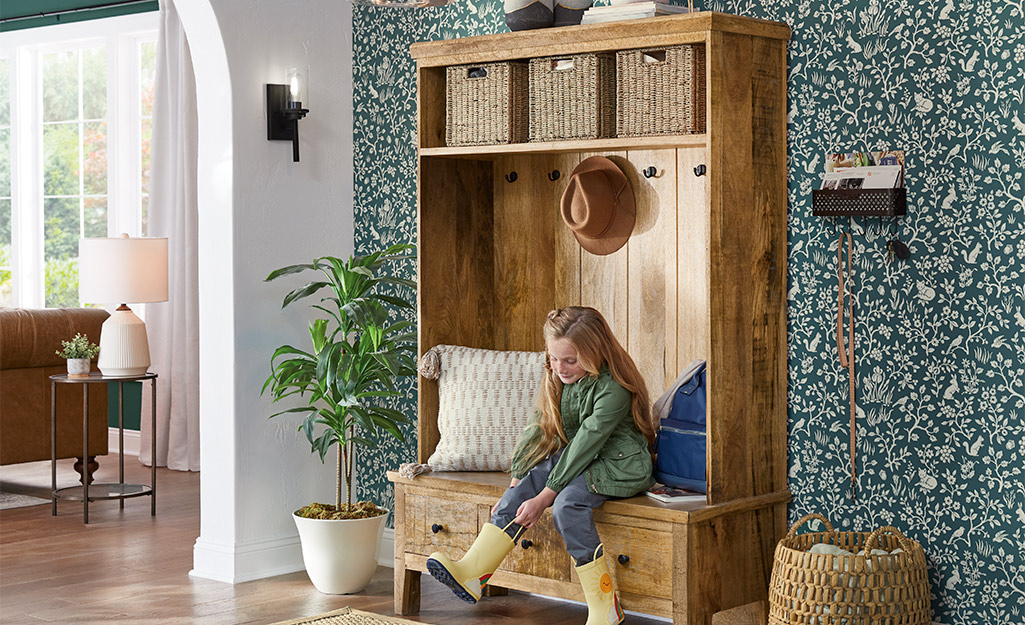 Accent walls offer lots of budget-friendly ways to upgrade your space, and they are a great way to make a room feel larger. 
Peel-and-stick wallpaper is a great choice if you're renting or not ready to commit to a permanent look. These wallpapers don't need paste or water, and most won't leave any sticky residue on your walls.
You can find a wide variety of wallpaper designs featuring everything from florals to animals, stripes to stacked stones and reclaimed bricks to grass cloth. Trendy, faux shiplap wallpaper is also available.
Consider using a wallpapered accent wall in a foyer or nursery, kitchen or guest bath. Horizontal stripes on an accent wall can make a small room feel wider, while vertical stripes can give a visual lift to a low ceiling.
Cover your wall with decorative wall panels. For a rustic, distressed or farmhouse look, try reclaimed wood panels in coastal grays and whites, driftwood browns or black with muted highlights. Wall paneling also comes in faux brick, faux stacked stone and many other options.
Want a textured accent wall? Choose a textured, paintable wallpaper and paint it in a coordinating or contrasting color. This kind of wallpaper can help hide imperfections and can even be repainted when you're ready. Paintable wallpapers come in bead board, bark, linen, stucco and tile designs, among others.
Glass wall tiles are also great for accent decor. They're more expensive than paint or stencils, but they add an elegant, upscale look to a space. And when you're only tiling one wall, they'll fit into most budgets. Add a wall of glossy white subway tiles to your kitchen, or upgrade one bathroom wall with contemporary-looking matchstick tiles. A kitchen wall or backsplash is a good spot for glass mosaic tiles.
Stencils and wall decals are other quick, easy ways to put a design on one wall. Neutral paint colors are popular and never go out of style, or you can use bright colors for your stencils. Look for geometric designs, quotes, florals, cityscapes and more. A seashell pattern makes a fun addition to a beach cottage, while sports logos look good in a home bar or mancave. Letter the alphabet in a child's room or stencil trains in a playroom. Many stencils are washable and reusable.
How to Choose Paint for an Accent Wall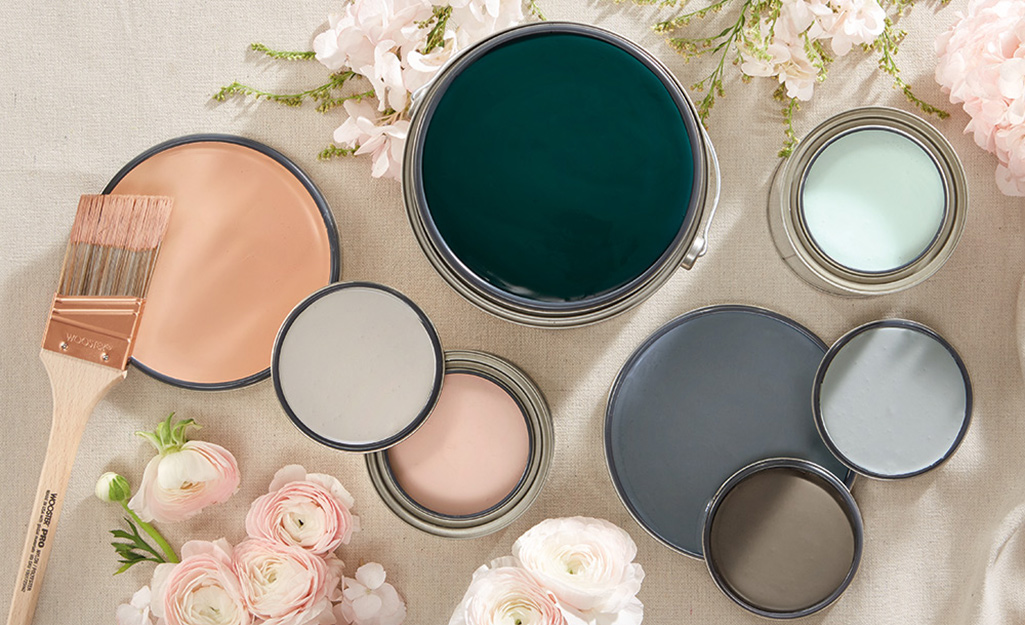 Paint is an inexpensive choice for an amazing accent wall, and there are many color choices. The color you choose is really up to you and your home's style. 
Use a dark color to make a special painting stand out, and turn it into a focal point with overhead lighting. Keep furniture in front of that wall in a lighter shade, so it won't disappear into the dark background. Dark colors like navy, black and deep green can make accent walls feel dramatic.
For a bold look, go with bright hues on an accent wall, such as vivid orange, brilliant yellow or another electric paint color. Exciting colors energize a space and make a feature wall pop out. 
Another idea: paint your accent wall with tone-on-tone paints, which are simply paints in different shades of the same color, to create an unusual ombre wall.
If your style is modern or minimalistic, choose a deep, jewel-tone wall in a room with three other white walls.
Don't be afraid to mix primary colors. A yellow wall can complement a room with dark blue furnishings and red throw pillows and other accessories.
If you're creating an accent wall and there's an overly bright window on the other side of the room, use a dark paint color to absorb some of the light. If the room is too dim or dark, use white or another pale color on the accent wall to help reflect light.
How to Create an Attractive Accent Wall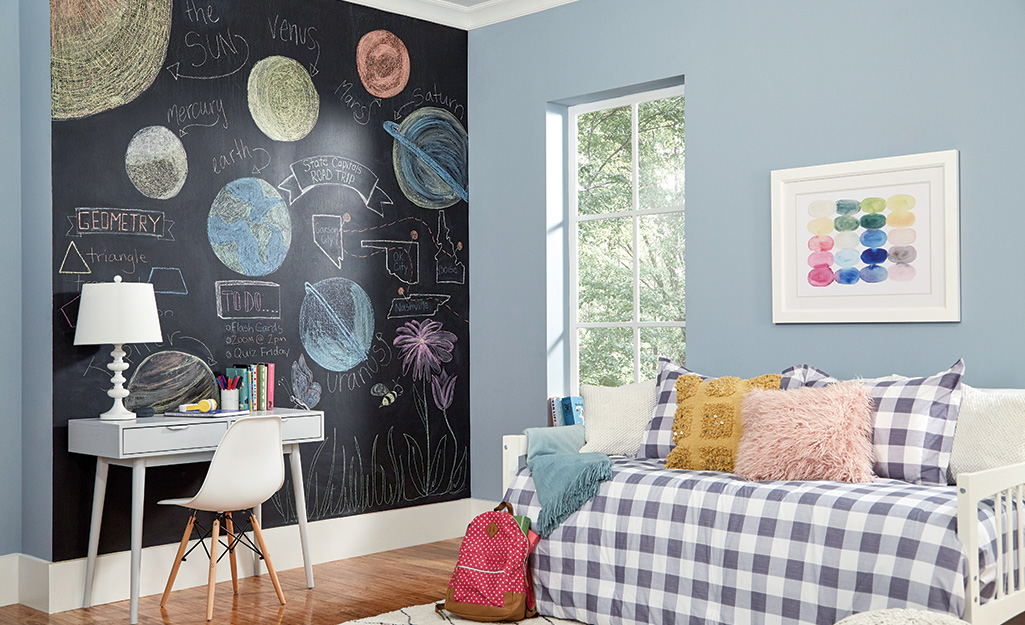 There's no such thing as too many accent walls. Your imagination is the only limit to creating a great accent wall. Use these ideas to get started.
In a finished basement, living area or in-home library, paint decorative shelves on the accent wall the same color as the wall. Do the same with cabinets under the shelves. 
For a basement room or home bar, consider wood wall paneling. Some panels are peel-and-stick.  
Use whiteboard or chalkboard paint in a kids playroom and let them scribble away, or use it on a kitchen wall to jot down menus and shopping lists. Frame your "chalkboard" with moulding for a finished look.
Make a photo collage on your wall using your favorite pictures. Stick to frames in the same two or three colors, but mix up the sizes and frame materials for fun.
Add an entertainment center and/or a flatscreen television to your wall.
Hang a collection of your favorite dishes or a group of mirrors on the accent wall. Treat them as one unit and keep them relatively close together.
Don't forget your ceiling when you're creating an accent wall. Many interior designers now treat a ceiling as a fifth wall and accent it with paint that complements or contrasts with the rest of the room.
You can also install decorative ceiling tiles. Some require tracks to hold them while others use adhesive.
Personalize an accent wall with photos from your family vacations. 
Apply weathered, peel-and-stick boards to make a plank wall, and instead of using a headboard on your bed, place the bed against the wall.
Living Room Accent Walls Ideas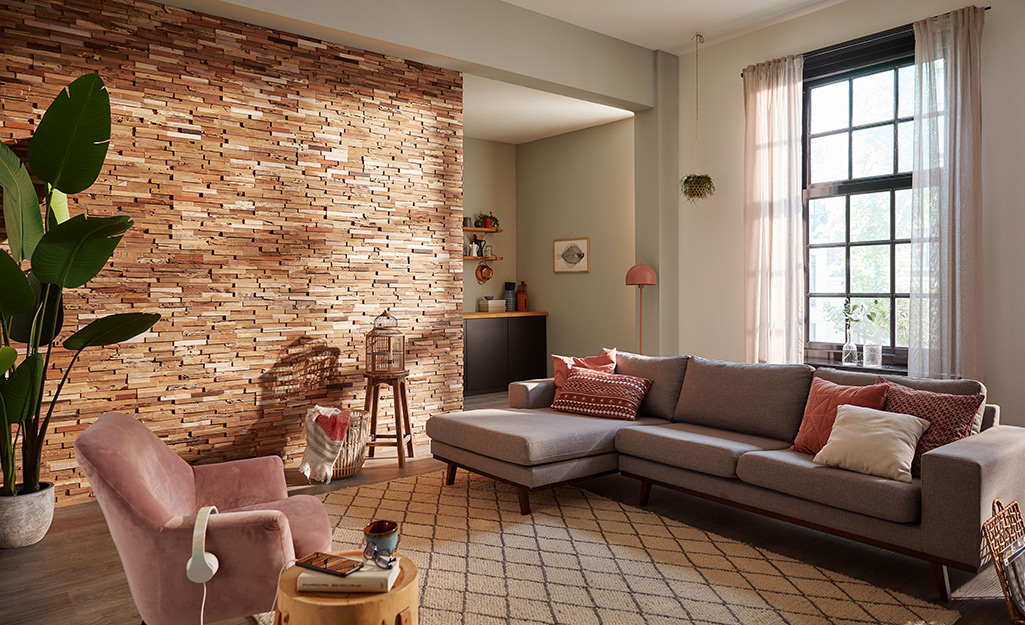 Adding an accent wall can help liven up your living room. The feature wall in a living room should be the one behind the TV or the sofa. Here are a few accent wall ideas for your living room. 
Paint one wall a bright or bold color. Use a dark navy color for a dramatic feel or a brighter shade to add more energy into the space. 
Hang large art prints on a wall. This will add a conversation piece when guests are over. 
Bring in texture. Adding in tone-on-tone texture by incorporating molding on the walls or hanging a textured wallpaper in the same shade your wall is currently painted. This will add dimension to the room. 
Add wood planking or shiplap. An easy and affordable way to create an accent wall, this look is ideal for farmhouse-style homes. 
Accent Wall Ideas with Fireplaces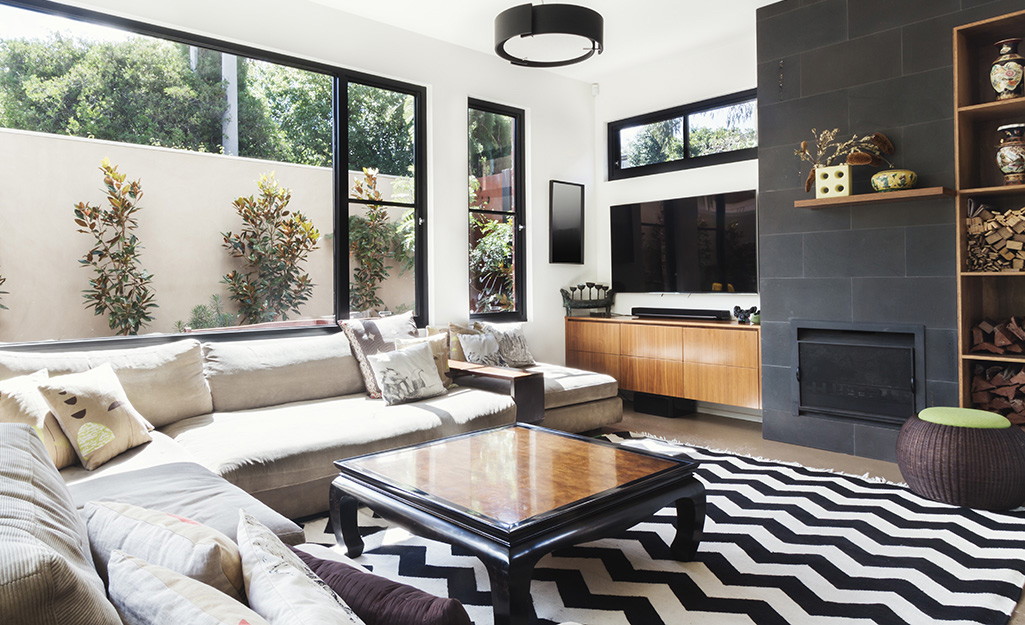 Whether you have a fireplace or want to create the illusion that you have one, here are a few accent wall ideas:
If your current fireplace is classic red brick and you want a change, consider white-washing your brick to create more of a rustic look. 
Add a bit of drama with a tile accent wall. This not only adds dimension to the space but is an afforadable update for those who want a change but have a tighter budget. 
Hang luxe-looking wallpaper. Temporary wallpaper is an easy way to make a stylish statement behind an otherwise basic fireplace mantel. Try geometric for a touch of mid-century flair or a textured type for depth. 
For those with a blank wall, add in a faux fireplace. We recommend painting the wall behind your new mantel to complete the look. 
Accent walls dress up any room and add interest to your decor. If you're ready to tackle an easy DIY project, browse The Home Depot Mobile App for ideas. Then, when you visit The Home Depot, you'll have an idea of what your next home decor project will be. 
Explore More on homedepot.com