You can dream big when it comes to backyard play area ideas for kids. There are plenty of modest backyard ideas for small yards. Even grandparents and other relatives can have cool backyards with outdoor play areas for kids who occasionally visit. Use this guide to find inspiration for backyard ideas for kids. Get little ones outside to play and promote their physical, social and emotional development.
Playground Sets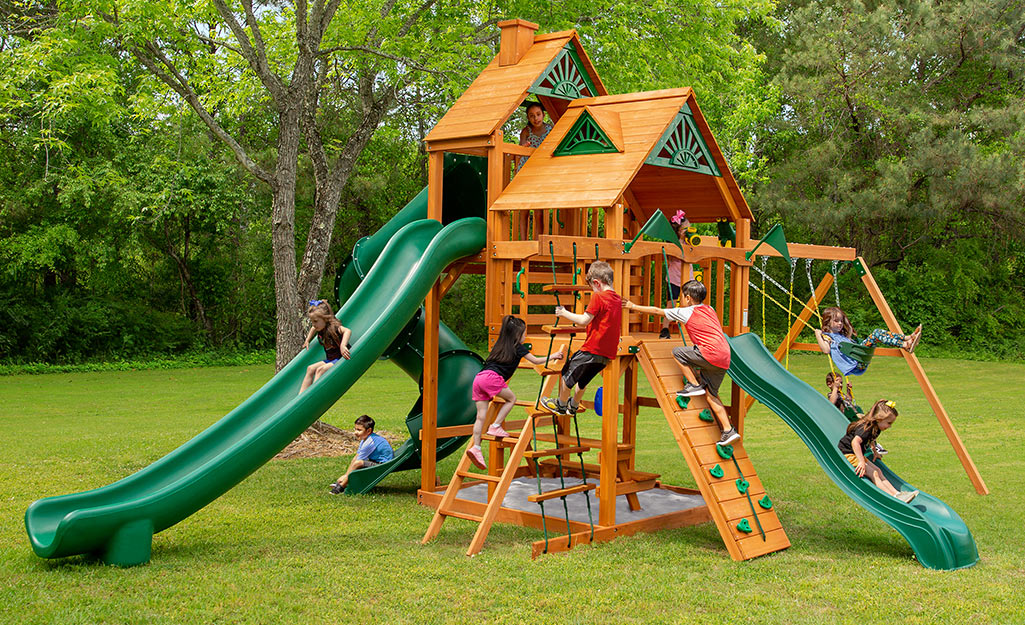 One of the most popular playground ideas for the home has to be a fully loaded playground sets. Many feature dozens of play activities such as multiple swing seats, monkey bars and a climbing wall. Some have a slide on the ground level for younger children. These fun backyard ideas give your children and their friends hours of fun. 
Additions like a clubhouse on the upper deck can provide plenty of room to relax and after they're worn out from all the activity. Or they can relax in the shade on a bench swing hanging below. Earn some bonus points from the kids by adding solar powered motion sensor lights to the structure to let playtime extend when dusk comes.
Wood Swing Sets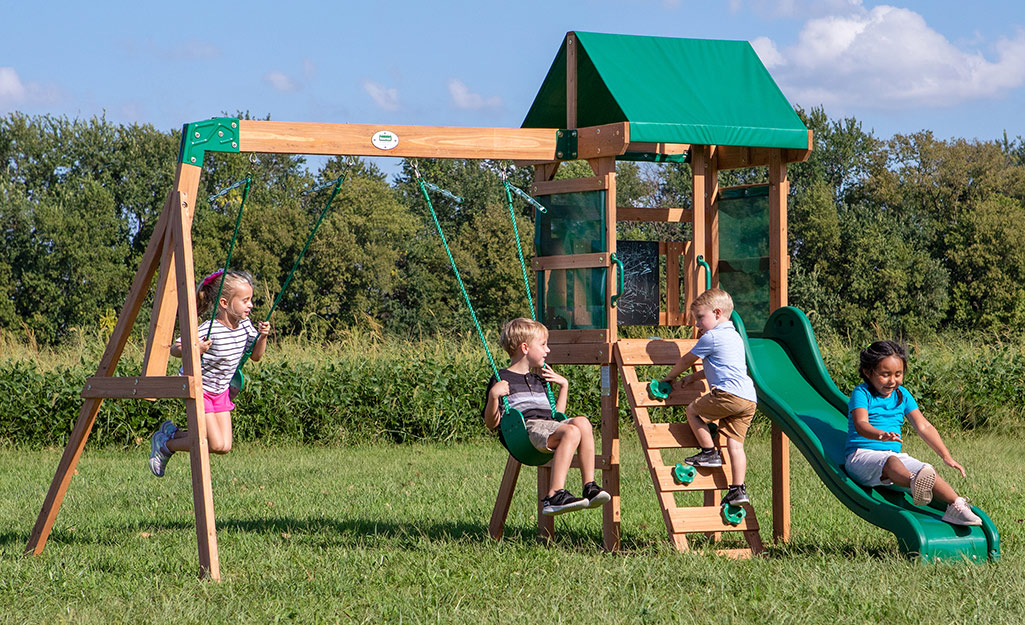 Wood swing sets are fun backyard ideas that also add architectural character to your yard. Your new addition can combine a traditional wood roof with dormers with fun activities like multiple swings, trapeze rings and a sandbox. Add features like bench seating, a telescope or a ship steering wheel that lets children keep an eye on their play kingdom. With so many play features, your kids are sure to enjoy their outdoor swing set for years to come.
Playhouses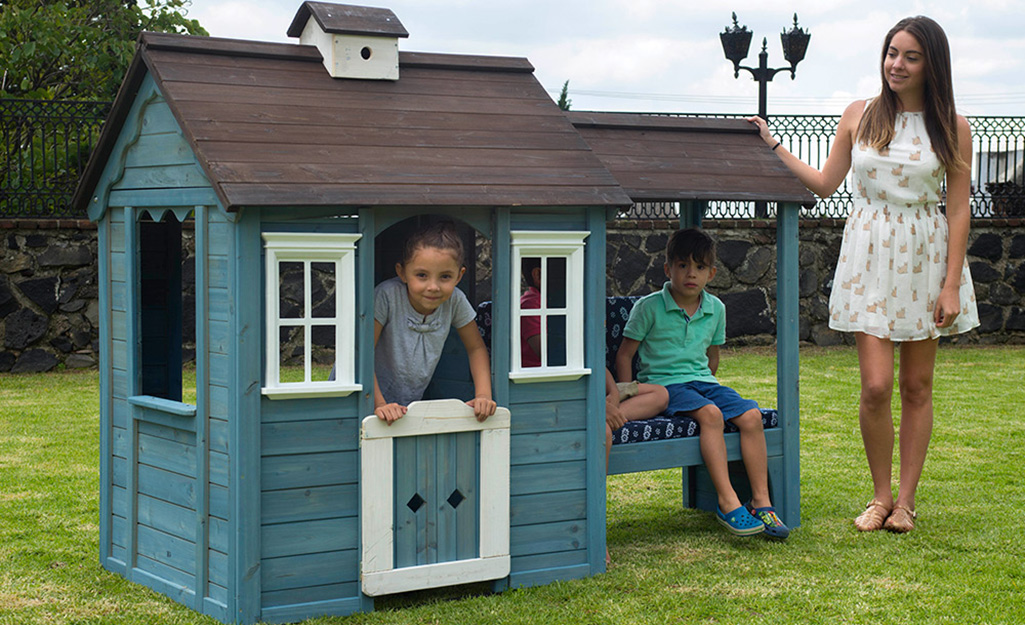 Among the best kids backyard ideas is a playhouse for younger children who love imaginary play. Even small playhouses can have opening doors and windows to let breezes flow through. Its interior can be filled with the essentials needed for endless hours of fun. Whether it's a quaint storybook style, cozy cabin or created with your own home as a model, a great playhouse is something the whole gang will love.
Bounce Houses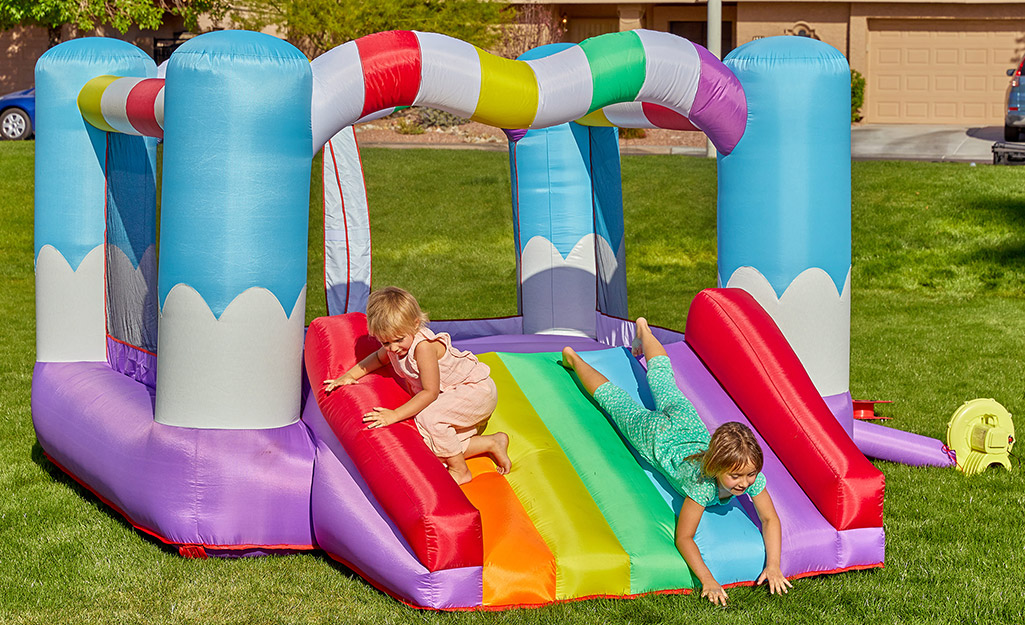 One of the best backyard fun ideas are bounce houses, especially for small yards. Kids will have tons of fun jumping and running around a colorful inflatable bounce house that can be stored away as easily as it is assembled. Use an electric pump to fill it with air for a birthday party or whenever children visit and deflate it for convenient storage when it's not in use. Some types of bounce houses are small enough for indoor use while others are big enough for a neighborhood party.
Swing Sets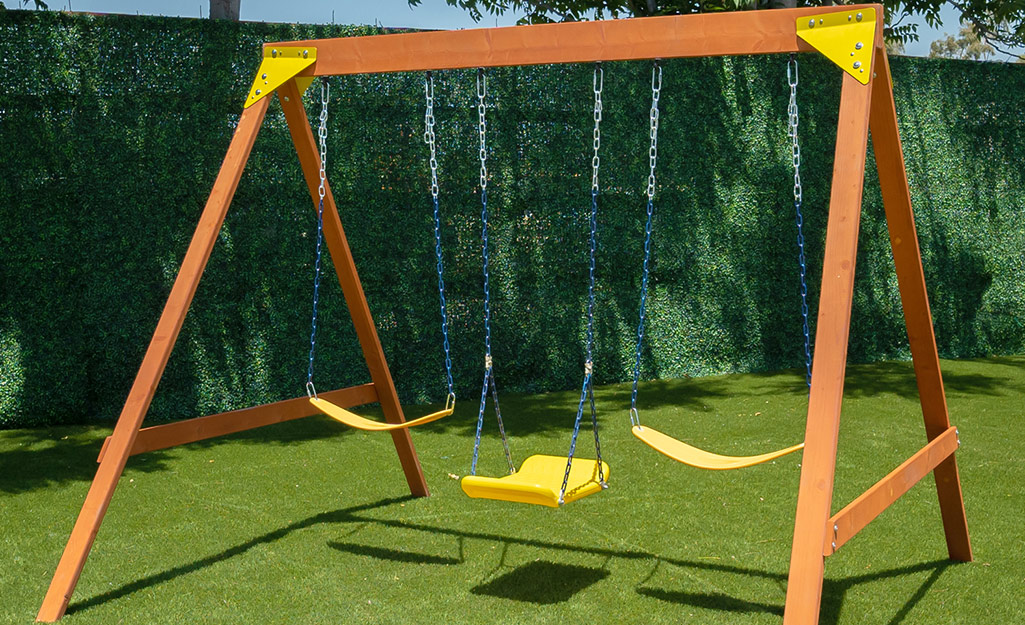 Encourage the kids to have fun playing outdoors with classic swing sets. They can swing until their heart's content with a couple of swing seats, get some exercise using a trapeze bar or monkey bars for a more acrobatic style of play and enjoy a slide on one end. Having adjustable chains can accommodate kids of different heights to ensure that everyone can have a good time as they grow.
Playsets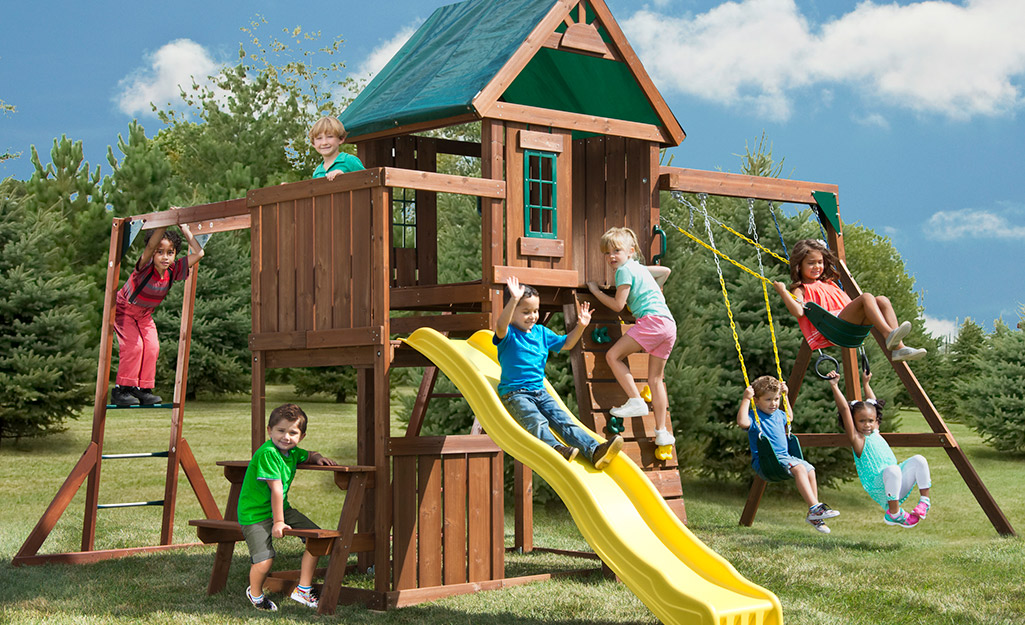 Think about playsets when looking at backyard ideas for small yards. Even if there's not room enough for a swing beam, a small footprint leaves no shortage of accessories. Play stations on upper levels can help ensure that many favorite activities are available – and rope ladders or rock-climbing walls make reaching the higher deck part of the fun.
Outdoor Games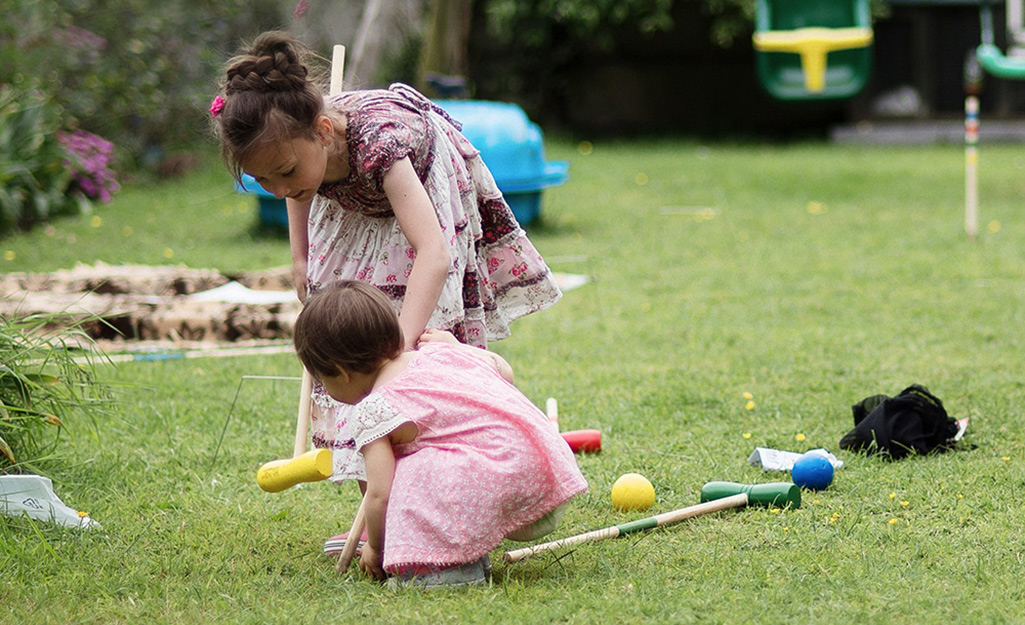 Fun backyards for kids can also provide enjoyment for the entire family – without requiring permanent installation of equipment. An assortment of outdoor games such as cornhole bean bag toss, disc golf, croquet, horseshoes and lawn bowling can be enjoyed at any age, even if it requires bending the rules a little for younger players.
Seesaws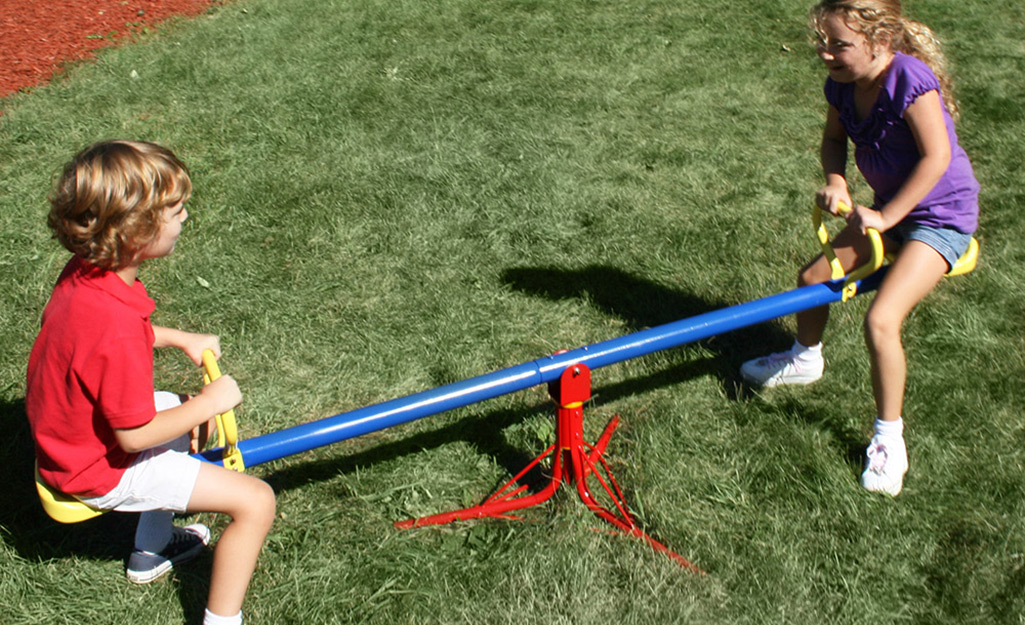 Seesaws or teeter-totters are great backyard ideas for kids, whether the addition is a standalone activity or an accessory to an existing playset. Seesaws promote balance and coordination skills in growing children. There are models that also have spinning action in addition to the up-and-down movement. If the nostalgic standard variety seesaw would suit your needs, add it to your growing list of DIY playground ideas and build your own.
Sandbox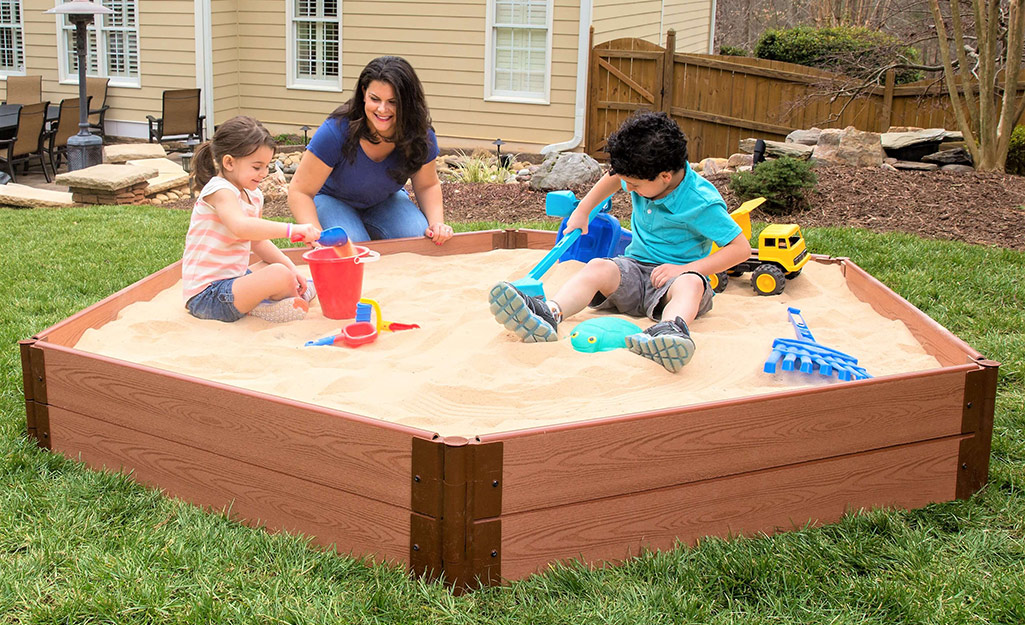 A sandbox can be an outdoor destination for children to get outside and work on their imaginative thinking. This is one of those backyard fun ideas that also sparks the imagination. At the top the list of backyard ideas for small yards, sandboxes can provide hours of play. Add a canopy to provide cooling shade and keep direct sunlight off exposed skin.
Trampoline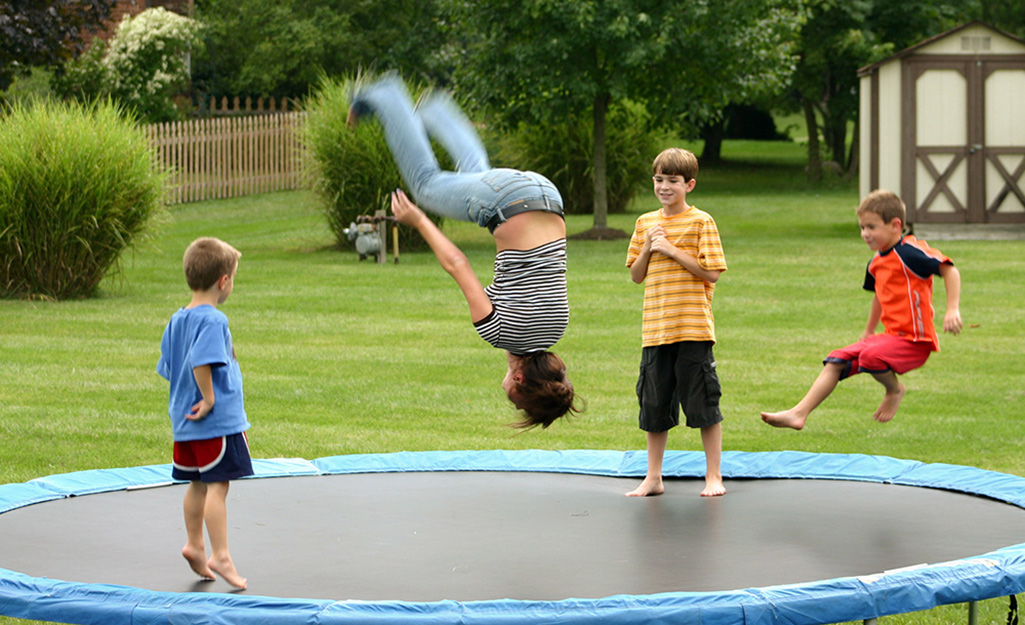 A trampoline can bring a lot of bouncing fun to your backyard. Many have sturdy mesh netting around the enclosure to help prevent bouncers from tumbling out of the trampoline. Sizes vary depending on the amount of space you have. This one of those backyard play area ideas that works well for children and adults. Plus, it can be disassembled for storage during cold winters.
Chalkboard Wall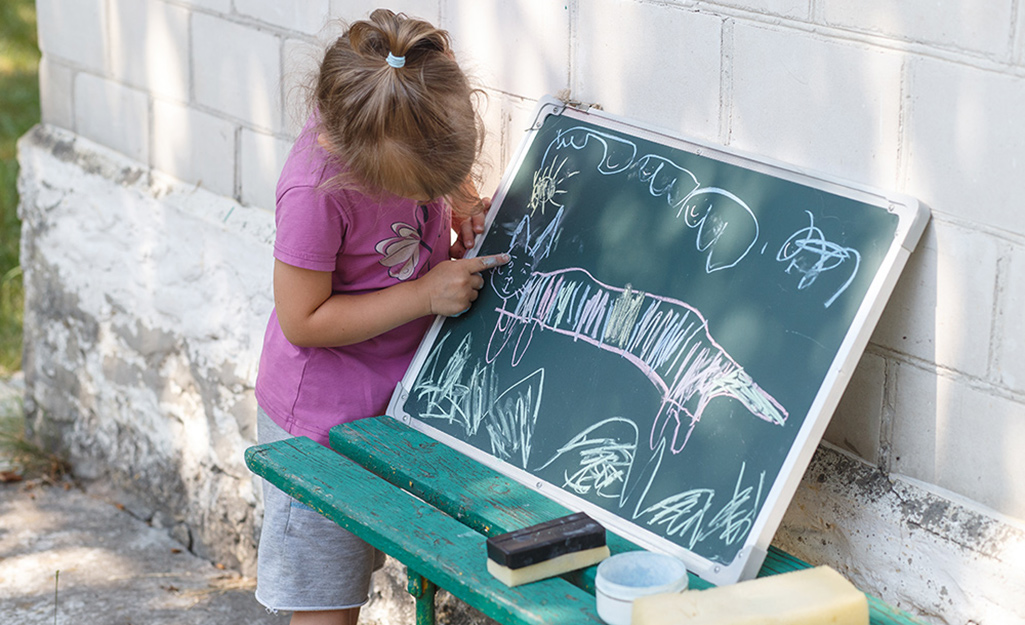 Use a fence to your advantage when thinking of kids backyard ideas. If the outdoor space is defined by a fence, make a giant chalkboard for budding artists to create their art. While chalkboard paint isn't recommended for outdoor use, an exterior flat latex enamel variety can often provide enough texture for typical sidewalk chalk to rub off onto.
Treehouse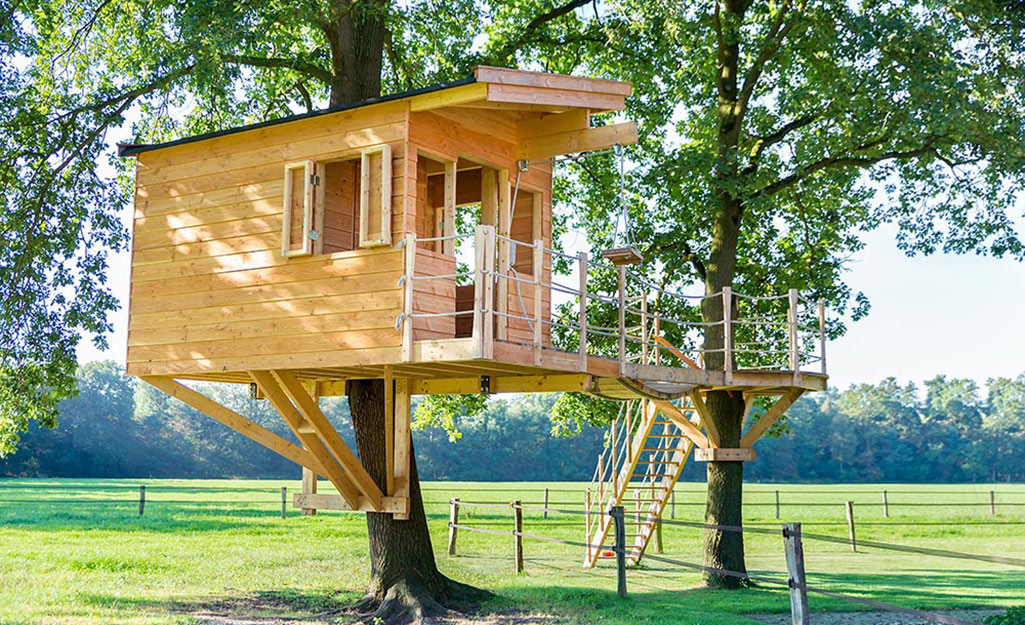 Building a backyard treehouse is one of the classic playground ideas for a home. Designs can range from a simple platform perch to a custom-built fort on a full-size raised patio. The elevated play area creates a shaded space underneath that is suitable for a sandbox or picnic table. Many children would agree it's a good backyard for kids if there's a treehouse in it.
Tip: When considering any backyard ideas for kids be aware of local building codes and ordinances or homeowner associations restrictions.
From wood swing sets to trampolines, there are many backyard play area ideas to choose from. There's a way to create a fun and healthy outdoor space for kids for with any size yard or budget. Ready to get a swing set, sandbox or build other backyard fun ideas like a treehouse? The Home Depot delivers online orders when and where you need them. 
Explore More on homedepot.com