No matter its size, your backyard patio can be the ideal spot for a private outdoor retreat. A backyard patio can increase your home's outdoor space and add value to your home's appeal. Ready to turn your patio into an attractive and welcoming relaxation station? All you need is comfortable seating, ample shade and thoughtful additions like an outdoor fireplace or multi-burner grill. Get easy, budget-friendly back patio ideas and inspiration by reading this guide. 
Shade Your Space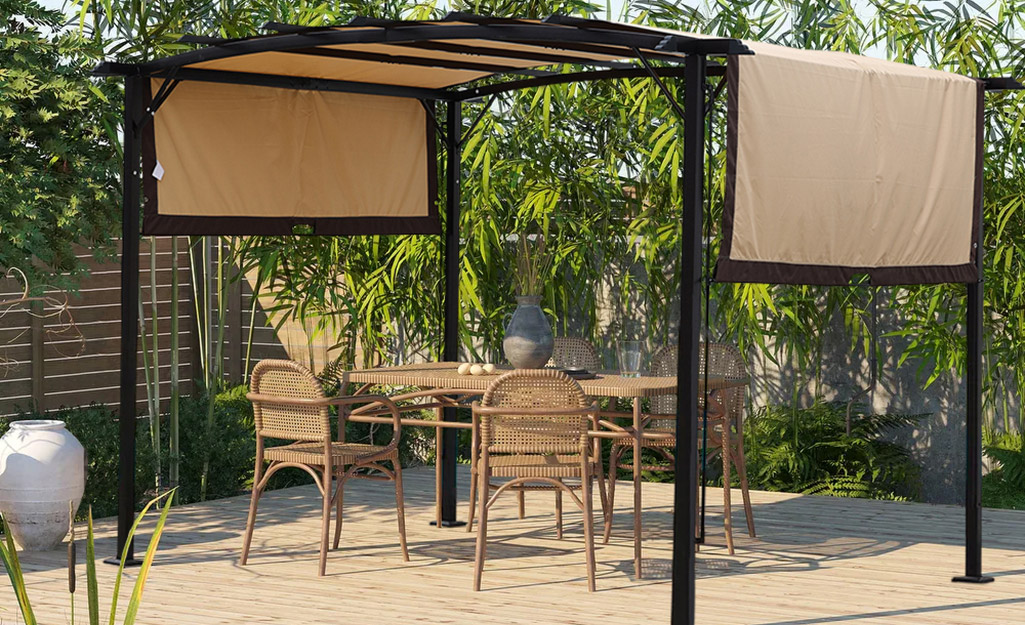 Shade your patio from the sun's rays with a wooden pergola. These coverings usually come ready to assemble and are popular in many backyard patio designs. Certain styles even come with built-in features like a table, bar and benches. When draped with climbing flowers and vines, pergolas bring natural beauty into any patio space.
Tip: Hammocks are a great space saver in smaller backyard patio designs.
Add Patio Seating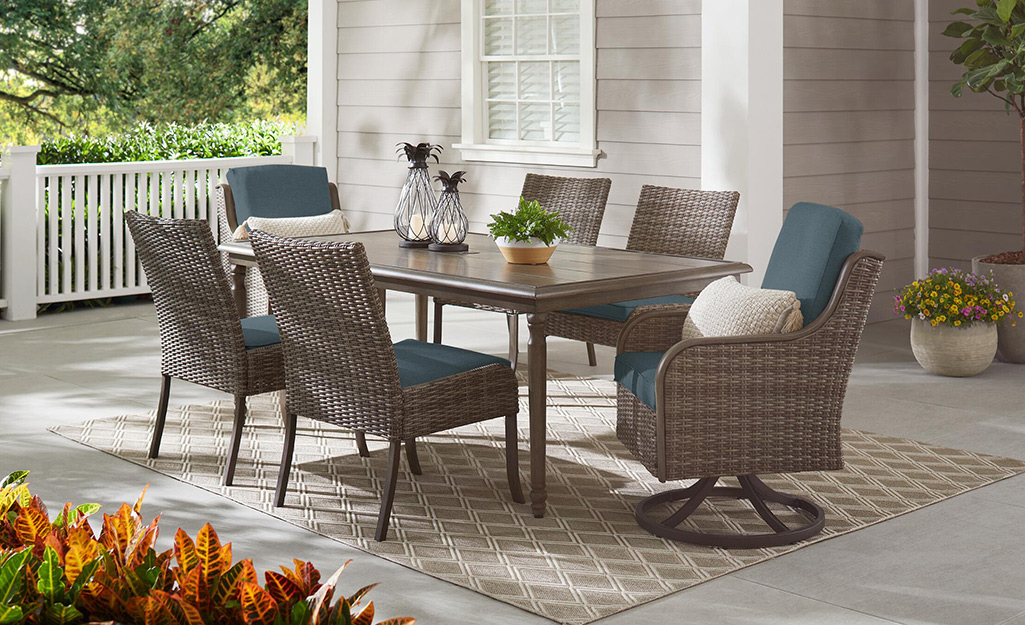 Give everyone a cozy seat and a cool drink. Few backyard patio ideas are complete without room for friends or family. 
Comfy gathering spots begin with a patio conversation set featuring sofas, lounge chairs, ottomans and coffee tables. 
Outdoor patio ideas like roomy sectionals and lounge seating provide an attractive focal point on your patio. They are also designed to withstand outdoor elements and the sun's rays.
For patios with a beachy theme, choose wicker outdoor furniture. If you're looking for a more modern style, select furniture made from a wood or metal.
Create a poolside retreat by arranging outdoor lounge chairs beside the pool. Choose chaise lounge chairs with rustproof steel frames and water-resistant slings. This will help your seating avoid damage from exposure to pool water.
Dine in the backyard all summer on your patio dining set paired with bench seating. Using benches instead of chairs also brings a fun youthfulness to your outdoor space. 
Tip: Don't have an existing patio or deck? Make your own budget-friendly space using paver stones or river rock.  
Add Heating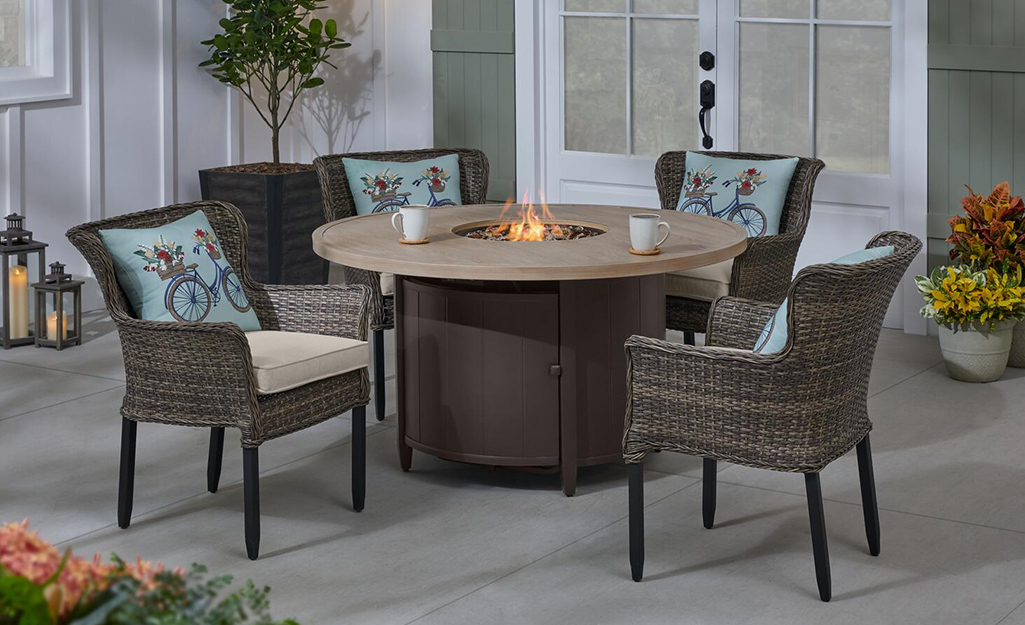 Knock the chill off the evening with a warm, welcoming space.
For a more luxurious heating option, invest in a stone outdoor fireplace. Made from natural stone, a gas-powered or wood-burning fireplace is a stunning centerpiece for any outdoor space. 
For a smaller alternative, opt for a fire pit. Sold in a variety of shapes and sizes, these provide a cozy and intimate place to gather on cooler evenings. 
Outdoor fireplaces and fire pit sets provide a wonderful setting to gather with loved ones and toast marshmallows for some seasonal fun. 
Grill Station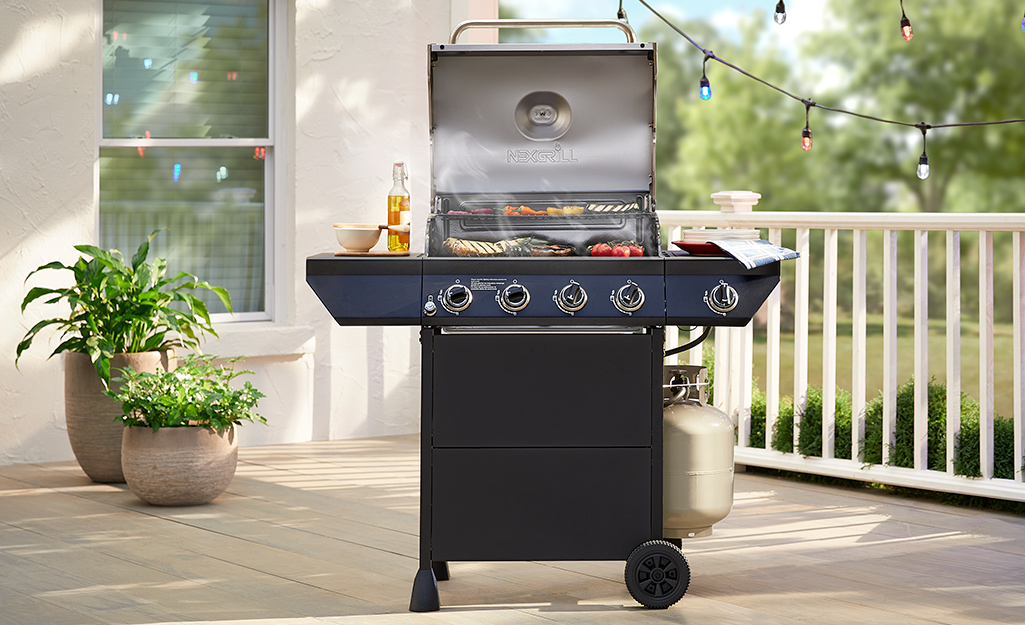 Take your outdoor dining to the next level with the right grill. Choose from multi-burner grill styles fueled by propane gas or portable charcoal options. Choose a size that fits your space. Most modern grill options have features like grill lights and a built-in thermostat to make backyard barbecues a breeze.
Tip: Consider planting fresh herbs near your grilling station.
Garden Accents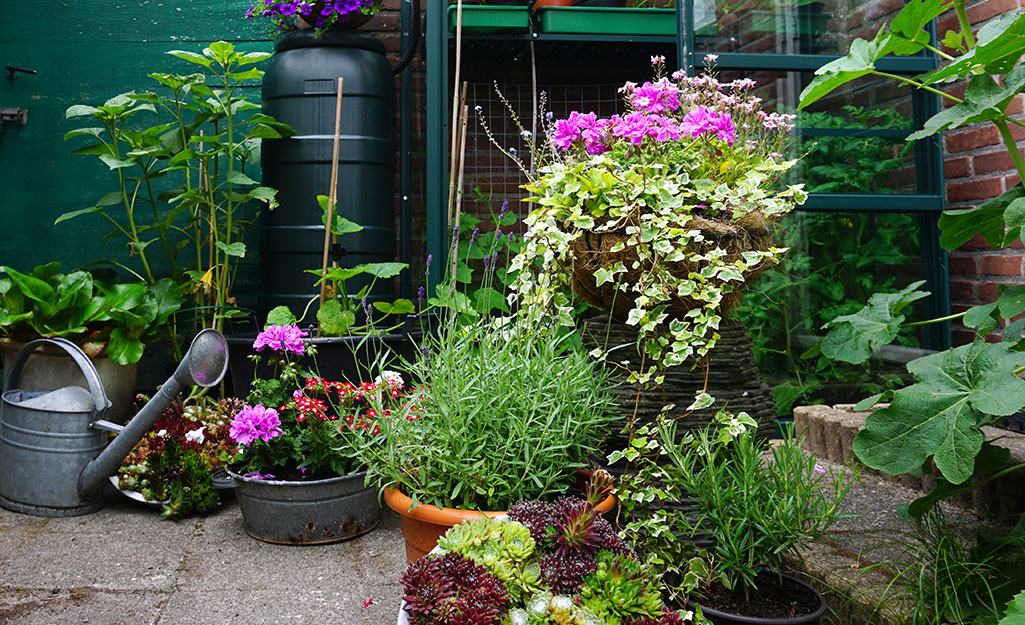 One of the best backyard patio ideas can turn your patio into a lush oasis for friends, fun and food. Add extra flourishes of nature by filling oversized planters with flowers, vegetable and small trees. Made from resilient materials like resin and ceramic, planters come in dozens of colors and designs to easily complement your existing decor scheme. Plus, container gardens are easier to maintain than inground plantings.
Set the Table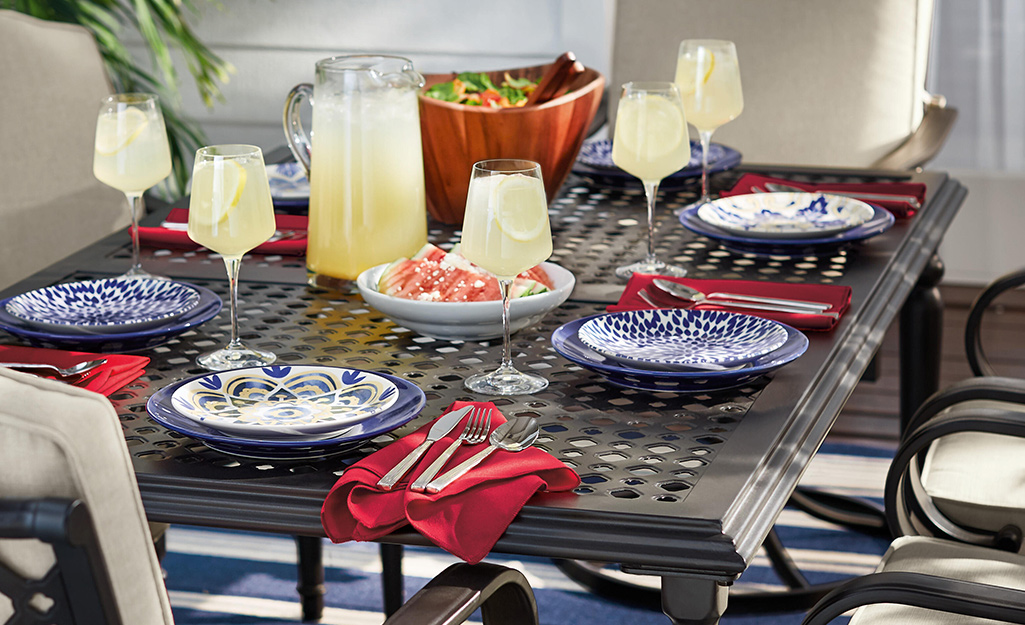 Eating outdoors on the patio has moved past the standard paper plates and plastic forks. Make your outdoor dining a more festive event with special tableware and glasses. Go for the real thing in classic white or opt for melamine choices in colorful patterns. For an extra elegant affair, don't forget the tablecloth or a spray of fresh cut flowers. 
A well-appointed patio space can dramatically improve your outdoor living space. Give yours a quick update with the right seating and comfort choices. Bring your outdoor space come together easily with delivery options. The Home Depot delivers online orders when and where you need them. 
Explore More on homedepot.com