Cooler weather doesn't mean you have to cool it on outdoor fun. Explore the wide array of heating options available for your patio or porch that will provide enough spark to extend your time outside well into winter.
Remember, before constructing or installing any fire elements near your home, learn how to make your yard safe.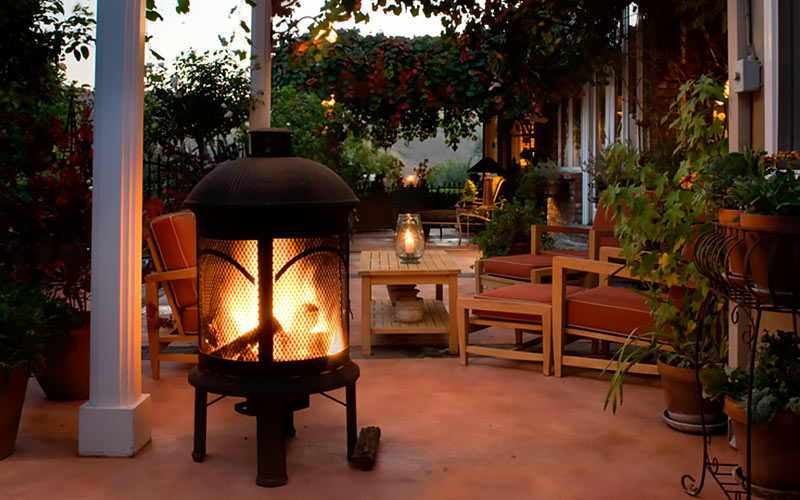 If you have a large patio or entertain frequently, you'll likely want to look at bigger, permanent heating solutions such as stone fire pits or outdoor fireplaces.
Outdoor fireplaces can be built into your patio and are available with wood-burning or propane fuel sources. Their size and beauty will make them the center of attention for all your outdoor events, rivaled only by whatever you're cooking on the grill.
When you hear "fire pit," your mind probably goes to an image of sandy rocks surrounding a beachside fire. A fire pit on your porch isn't too far from that idea, just much more stable and safe.
Most are wood-burning and have a wide bowl that holds the fire while decorative stones surround the bowl, providing space between you and the flames.
You can also set up beautiful patio sets with fire pits in the center (think Hibachi tables, but replace the cooking surface with a small fire pit) for both warmth and table space.
For a bit of variety with propane-fueled heaters, replace the fake logs with fire glass. The glass pieces will add a colorful, shimmering effect to the flames.
If you like the open air style of large fire pits but can't spare the space for a permanent fixture, consider setting up some fire torches.
Fire torches come in all sizes, from the familiar Tiki Torch style to tabletop "fire pots" that are about the size of a large jar candle. "Flame tower" styles provide maximum flames using propane gas.
You could also utilize the more mobile options of smaller, metal fire pits. These elevate the fire to waist level in a metal cage that can be easily transported or stored elsewhere if necessary. A popular variation on these smaller fire pits is the chimenea.
Chimeneas are essentially compact fireplaces – you insert the wood through an opening in the front, and the smoke is released through a chimney on top. Their design allows lots of oxygen to be drawn into the flames, giving off an intense heat.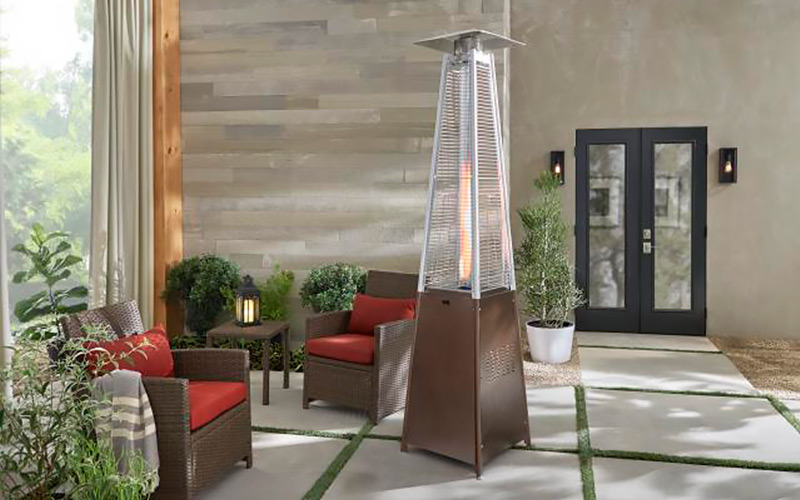 For more personal heating needs that require warming a smaller area – or if you'd prefer to not deal with open flames – electric heating lamps are your best bet.
Set up one or two large heating lamps on the outskirts of your patio to heat the entire space, or decorate with several small tabletop electric heaters designed to look like indoor table lamps.
If you have curious children or small animals that you'd prefer to keep away from all heat sources, install an overhead electric heater, far away from prying hands.
When not in use, cover your heating structure to protect it from the elements. Clean out the ash from burned firewood and monitor fuel or propane levels consistently.