Displaying plants in hanging baskets dates back 3,000 years ago to the famous Gardens of Babylon. More recently, they've become a classic mainstay of front porch decor. Fortunately, hanging baskets are as easy to plant as they are pretty. Our guide highlights everything you need to know to create your own show-stopping hanging baskets—both indoors and out.
Planting Tips for Hanging Baskets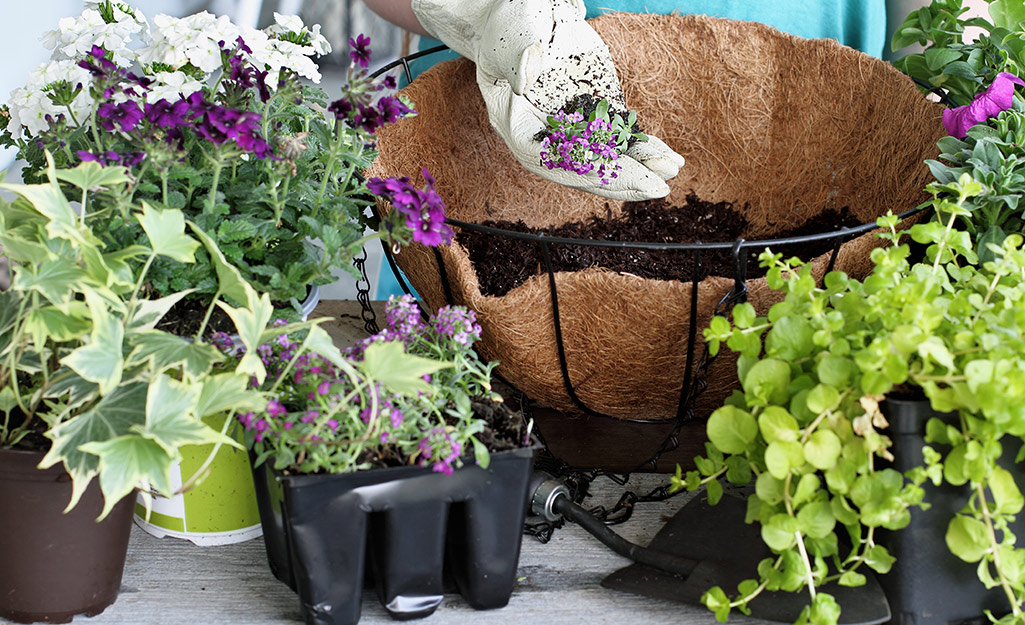 It's easy to plant a hanging basket, but there are a few planting tips to consider for both peak performance and an attractive display. 
If you like the classic look, choose the same basket for all the plants you hang in a row, such as on your front porch. Repetition enhances the look.
Similarly, if you have different baskets and an array of plants, group the hanging baskets together in a corner and hang at different heights for interest.
When mixing and matching plants, remember the rule of three: one to cascade, one to mound and one for height.
Choose plants that have the same water, sun exposure and fertilizer requirements.
Think about color when planting. Contrasting colors such as red and yellow or blue and pink work well together. You can also plant greenery like ferns and ivy.
Plant baskets for each season and rotate them. Place baskets with spent flowers and foliage out of sight but continue to care for them. That way, you'll have hanging baskets for your year-round enjoyment.
Hanging baskets need to drain. A coir liner is designed for drainage. If you use a plastic hanging basket, make sure it has a drainage hole at the bottom. Some baskets will have built-in saucers on the bottom to catch water that has drained out of the plant.
A potting soil designed specifically for the type of plants you choose is the best choice for your basket. Add fertilizer when planting and at later intervals, as directed by the fertilizer manufacturer.
Check soil daily for dryness. Plants in containers tend to dry out more quickly than those in the ground.
Water frequently, especially in summer heat.
When flowers complete their bloom cycle, prune back and deadhead to encourage new growth.
Most hanging baskets are planted with seedlings, but there are some varieties of plants such as morning glories that can be planted from seed.
Plants for Outdoor Hanging Baskets
Virtually any type of plant can grow in a hanging basket, but how well they do depends on the type of plant, soil used, climate, amount of time spent caring for them and whether they get the right amount of water. The following lists are plants known to thrive in hanging baskets.
Shade-loving begonias come in white, pink and red. These plants flower quickly and profusely but will not grow too large for their container. Plus, begonias' pretty red or bronze-tinged leaves are attractive in hanging baskets, even when the flowers are not in bloom.
Profuse flowering with trailing branches make this a favorite for hanging baskets. With occasional pruning, Calibroachoa will bloom through frost.
Low-maintenance and easy to grow, coleus has leaves that are just as colorful as flowers. This is also an easy plant to propagate from cuttings.
This exotic flower is popular with humans and hummingbirds alike for its tropical colors and unusual shape. They prefer part-sun and cooler temperatures, so hang fuchsia in a semi-sunny area. Border baskets with fushia and it will flower and drape over the edge.
Geranium (Pelargonium)
Geraniums have hardy flowers that will bloom all summer and well into fall. This flower is considered an annual in most places, but in warmer climates, can be pruned and brought back to life the next season.
Heliotrope
Sweet-smelling and gorgeous, heliotrope is a favorite of many gardeners. The plant produces large clusters of deep blue, white or purple flowers. The white varieties smell like vanilla while other colors smell like cherry pie. Heliotrope's mounding form makes it a perfect match for containers.
Lantana's small clusters of flowers not only look beautiful in a hanging basket, but they also attract hummingbirds, butterflies, bees and other pollinators. Lantana loves full sun and can be mixed with other sun-loving plants like salvia.
Though you traditionally see morning glories running up mailboxes and fences, they'll climb anything they can get their tendrils on. Use in hanging baskets and they'll trail over the basket for a beautiful display. Plant three different types of morning glories in the same basket for a unique look.
Petunias are annuals in most of the country, but can be pruned and rejuvenated the next season in warmer climates. These showy flowers come in a variety of colors and are great for planting alone or with other annuals.
Pansies are good choices for early spring and fall hanging baskets. Mix and match colors for interest, or combine with other annuals to create a pretty arrangement.
Portulaca or Moss Rose
The vivid blooms on portulaca, or moss rose as it's commonly known, are delicate-looking but tough. This plant likes heat, is drought-tolerant and doesn't require deadheading. Place moss rose in a place where it receives plenty of sun; its flowers close in shade.
Sweet Alyssum (Lobularia)
Alyssum has scented lavender flowers that form a mound of color in a hanging basket. You can plant it by itself or add a trailing vine such as ivy or sweet potato vine.
Ornamental sweet potato vine has a wonderful purple foliage color and looks especially pleasing in hanging baskets. Its unique trailing feature makes the basket look ultra full. Be sure to use compact varieties in hanging baskets, especially when pairing with other plants.
Trailing forms of verbena are an elegant selection for hanging baskets. Both drought and heat tolerant, verbena is very low maintenance. Choose plants in shades of pink, purple or blue.
Ferns for Outdoor Hanging Baskets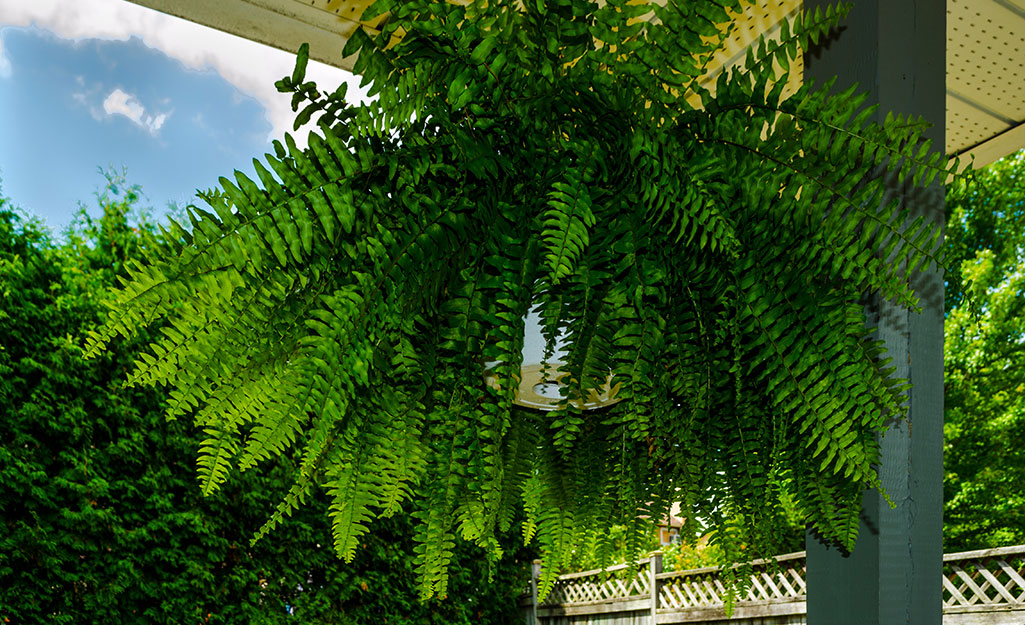 Following are some of the best choices for ferns for outdoor hanging baskets. 
Boston ferns are a common fern used in outdoor hanging baskets. Hang them in full to partial shade and keep moist.
Kimberly Queen ferns are also a popular choice for outdoor hanging baskets. They have long bushy leaves that stay full and deep green all season.
Lady Ferns
Lady ferns have rippled leaves along their fronds, which also grow up to 14 inches in length.
Sword ferns have sword-shaped fronds that can grow up to four feet. Though planting in an outdoor hanging basket will limit their growth, space these ferns accordingly.
Fruits and Vegetables for Outdoor Hanging Baskets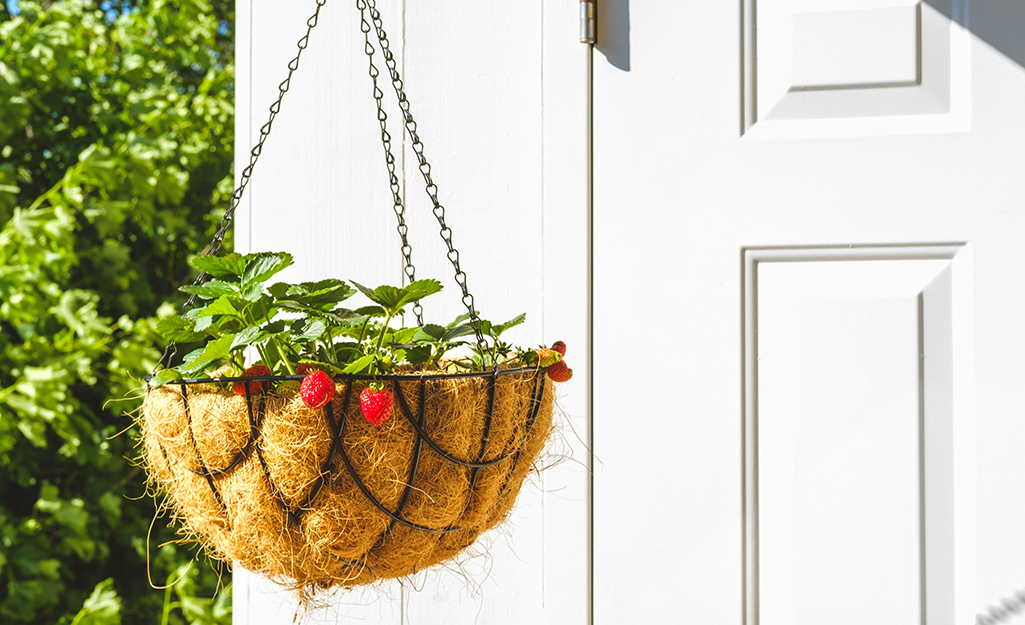 Fruits and vegetables are a likely choice for planting in outdoor hanging baskets, but they actually do quite well if cared for properly. Use soil rich in organic matter, fertilize monthly and water regularly. Most fruits and vegetables also require full sun. Top choices include:
Lettuce does well in a wire hanging basket. Plant as you would flowers, but use moss as the liner instead of coir, so you can poke seedlings through the sides.
Plant an herb garden for a basket that's both pretty and practical. Parsley, marjoram, oregano and creeping thyme can all be combined in one basket. Rosemary will also grow in a basket but does best on its own. Mint is also a prolific grower and should be grown alone, since it will take over the entire pot.
Planting strawberries in a hanging basket keeps them from being nibbled on by wildlife. Use a coir liner and rich soil. Water regularly and fertilize monthly. Look for mounding plants that produce small berries such as mignonettes and Rugen Improved. Move inside during cold months, prune and deadhead as needed and these plants will last up to three years.
Tomatoes can grow in outdoor hanging baskets, but need a little more care to be successful. Make sure they get at least eight hours of sunlight and keep watered. Cherry tomatoes grow best in hanging baskets.
Plants for Indoor Hanging Baskets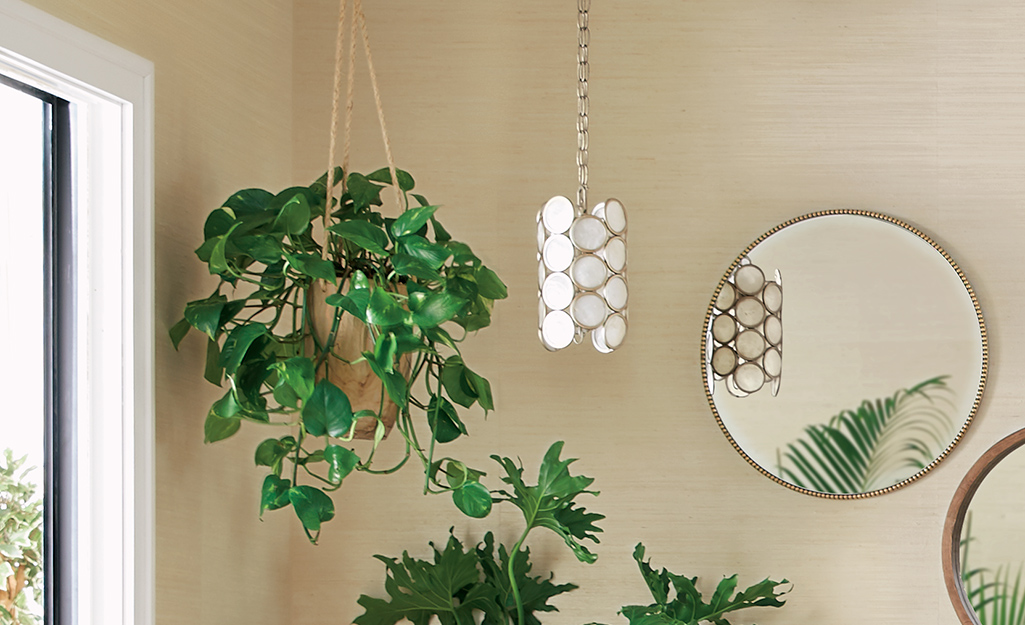 Hanging baskets aren't just for outdoors. Indoor hanging baskets add warmth and interest to indoor spaces as well. The main consideration is ensuring that you choose plants that can thrive in the amount of light a room receives.
With leaves shaped like arrows, arrowhead plants come in different colors and are easy to keep alive. They prefer several hours of indirect light daily.
The small round shape of this plants leaves drapes elegantly over the side of a pretty planter. They like bright light and do best when not overwatered. You might need a growlight to help this plant thrive in low-light rooms.
Succulents need little attention to grow indoors. Water every couple weeks (don't overwater) and make sure they receive the right amount of light. If you create a basket with several succulents, just be sure they all require the same type of sunlight. Some succulents prefer indirect light. Others do better in full sun.
Ivy has beautiful trailers of green, glossy leaves that hang over your basket. There are several varieties to choose from, all of which do well in indirect light with minimal watering.
The heart-shaped leaves of philodendrons create pretty trailers for your hanging basket. Place in indirect light and mist regularly for best results.
Pothos is a common houseplant that is especially suited for hanging baskets. They will thrive with indirect light and occasional watering.
How to Display Hanging Baskets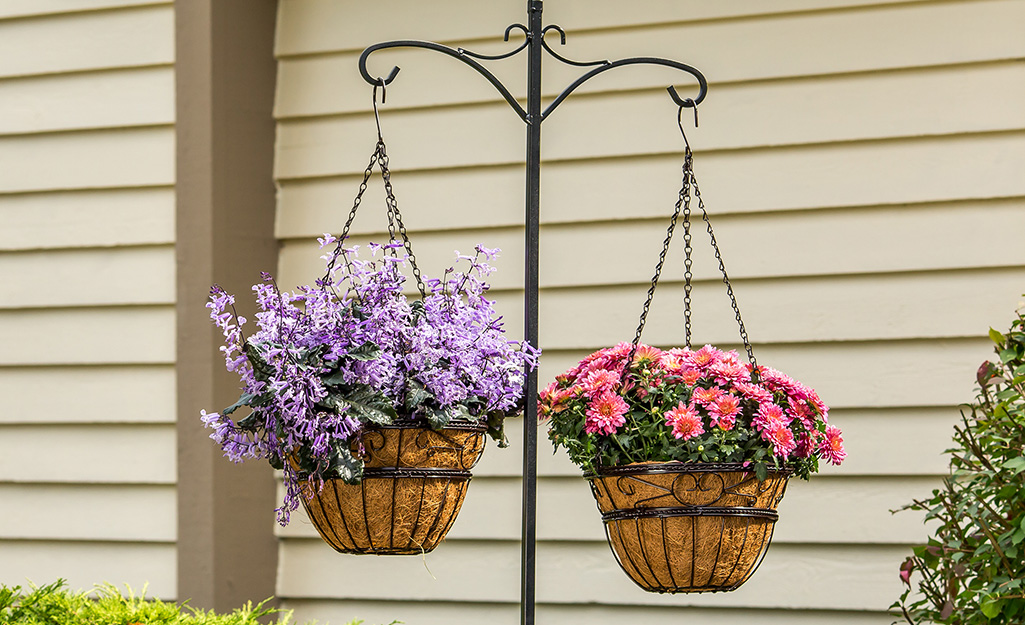 Porches are the first place that come to mind for displaying hanging baskets, but there are plenty of other places in your yard where they can add interest. Shepherd's hooks placed in your flower bed, wall planters, posts, fences, plant hooks fastened to exterior walls and even tree limbs are all places to consider. 
Using the right hardware will make hanging baskets easier. For fastening, look for S hooks, wall hooks, plant brackets and ceiling hooks. Small chains allow you to adjust the basket level, which is especially important if you're hanging baskets in a row. Most people hang baskets between five and six feet off the ground, at eye level.
Most of the same hardware can be used for indoor hanging baskets, but you can also consider macrame plant hangers, cork hanging planters, wicker hanging baskets with plastic liners and even ceramic wall planters that fasten directly to the wall.
A hanging basket project can be easily completed in a couple hours. The Home Depot Garden Center has pre-potted baskets that you can simply purchase and hang. You can also shop The Home Depot Mobile App for baskets, plants and hardware so you know what's available before you head to your local store.
Explore More on homedepot.com