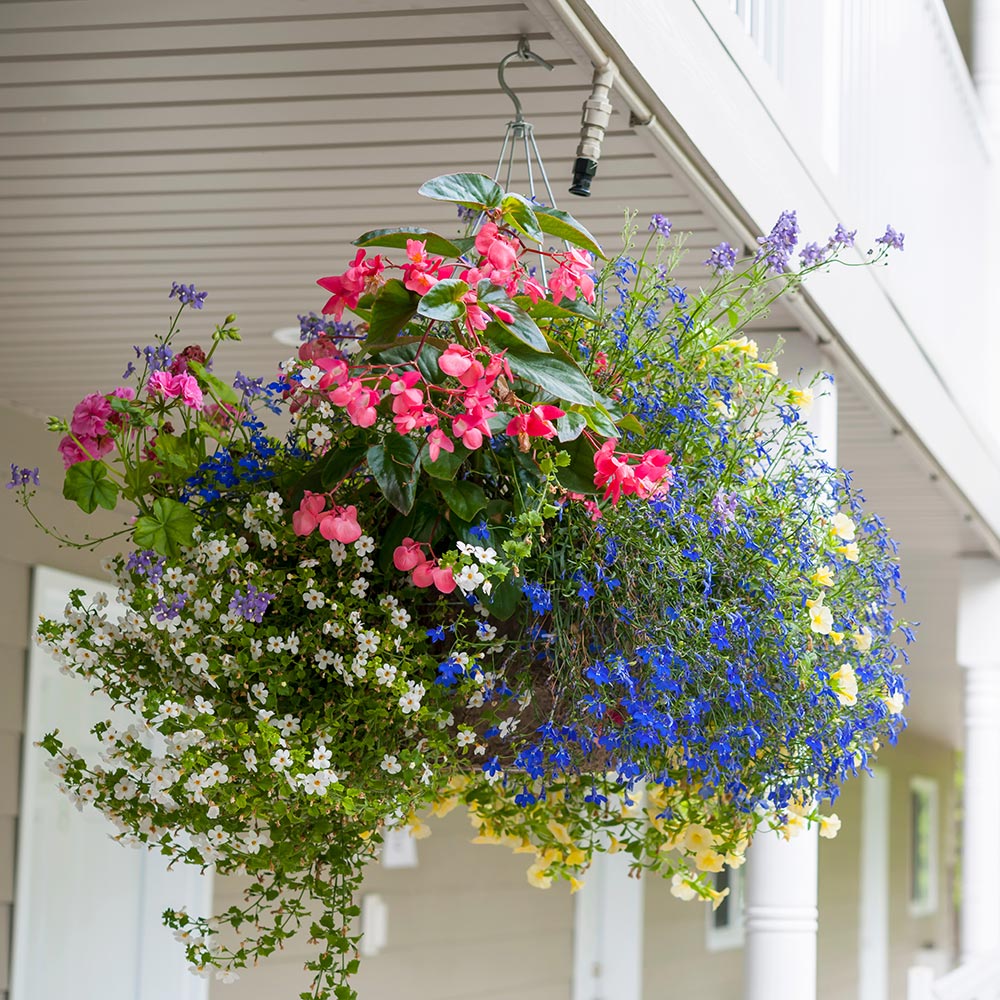 Fresh plants in hanging baskets can bring life to almost any space around your home. Whether you're introducing new colors or foliage to the patio or garden bed, the right arrangement can make a big difference. 
Read our simple steps below to learn how to make your own hanging basket arrangements.
1
Select a Site, Plants and a Hook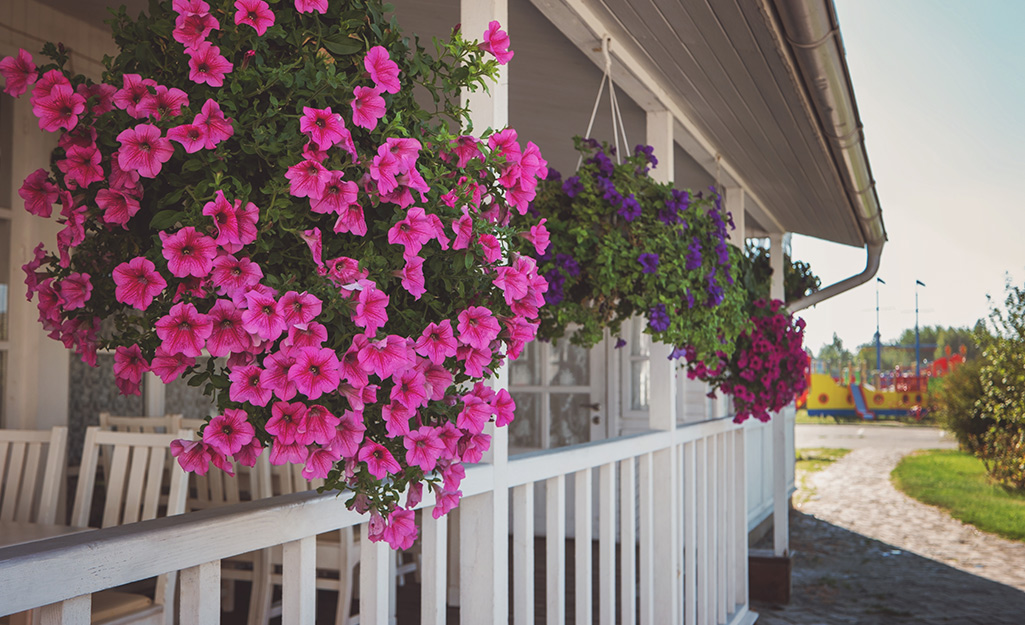 Hanging baskets are a popular choice for hanging over porches using hooks or brackets. You can also hang baskets from shepherd's hooks in your yard. No matter how you arrange your hanging baskets, know the site's light to get the most out of your display.
Your site is "full sun" if it gets six or more hours of sunlight a day. "Partial sun" is four to six hours of sunlight, and "partial shade" is two to four hours of sunlight. "Full shade" means no direct sun or less than two hours of sunlight a day. Full shade can be found on the north side of a house or under a deep tree canopy.
Colorful annuals are perfect for hanging baskets: 
Angelonia
Begonias
Boston ferns
Bougainvillea
Calibrachoa
Coleus
Creeping Jenny
Dianthus
Dipladenia
Dusty miller
Geranium
Impatiens
Lantana
Lobelia
New Guinea impatiens
Periwinkle
Persian shield
Petunias
Portulaca
Salvia
Snap dragons
Sweet potato vine
Succulents work well in hanging baskets, too. In particular, burro's tail and string of pearls. Be sure to use succulent potting soil for best results.
Edibles are excellent in hanging baskets. Strawberries are naturals for baskets because they send out runners that spill over the edge of the basket. Try herbs like chives, oregano and thyme in a hanging basket.
How to install a hook or bracket:
Depending on the type of hook you choose, you'll use a stud finder to locate a joist or identify a hollow spot. 
Lightly mark the spot with a pencil. Drill a pilot hole with a 5/8-inch drill bit or choose a bit that fits your hook. 
Here's three ways to make sure you have a secure hold for your hanging plant: 
Screw a hook screw into a joist. Choose a hook screw made to support the specific weight of your hanging plant.
With drywall, use a toggle screw. A toggle screw has a spring-loaded anchor that keeps the hook in the ceiling. Hold the wings or anchors together. Push them through the drilled hole. After the wings open, tighten the end bolt flush to the ceiling.  
Screw a J-hook into an exposed beam. 
Simply hook an S-hook over exposed ceiling beams or pipes.
See complete instructions on How to Hang a Plant.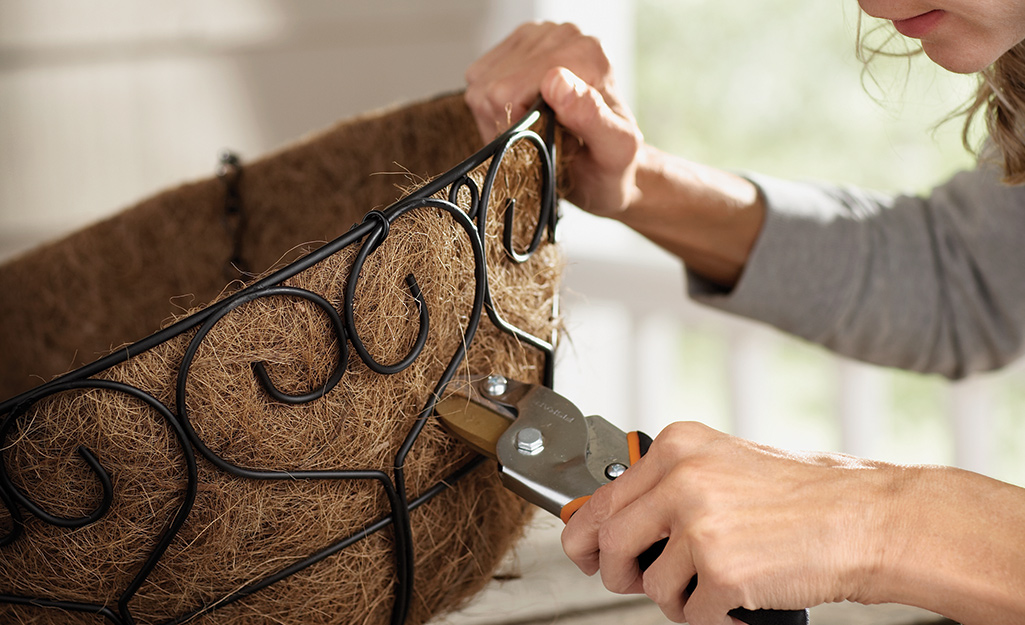 Outside hanging planters are exposed to extremes, so look for outdoor and weather resistant materials like plastic or metal. Cut down time spent irrigating when you choose a self-watering container.
Wire baskets are durable and versatile. Choose coconut fiber liners and fill with potting soil and plants. Use sharp scissors to cut openings in the liner and create pockets for plants to grow on the sides of the basket planter.
3
Insert a Liner and Add Potting Mix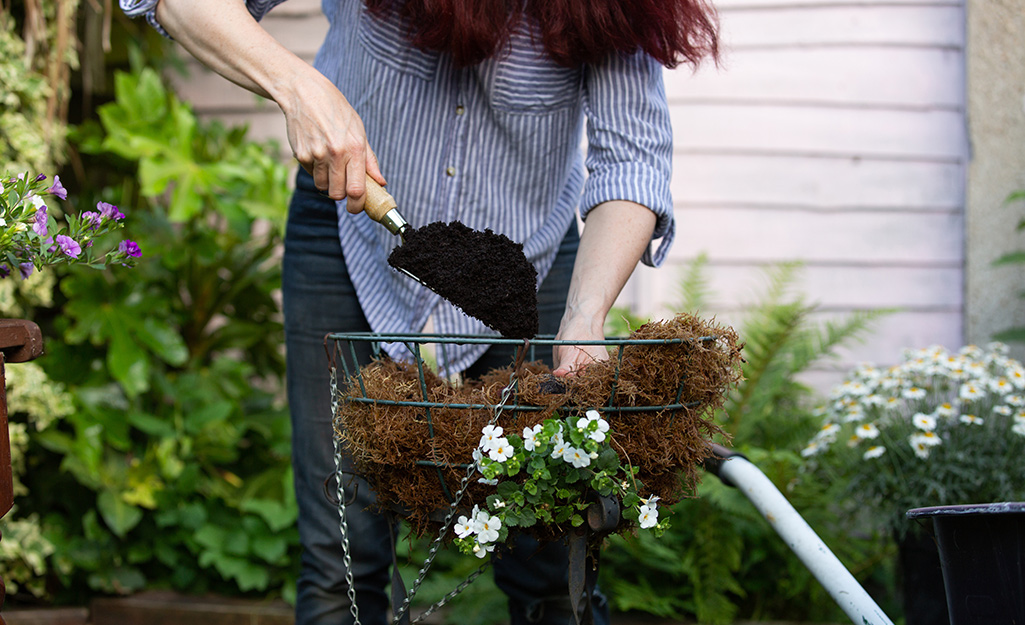 When you're ready to plant, get all your materials together and gently water the plants in their nursery pots. Add the coconut liner to the metal planter basket. 
Add a moisture control potting mix, one that holds water enough to nourish roots, but won't hold in so much that the roots can't breathe.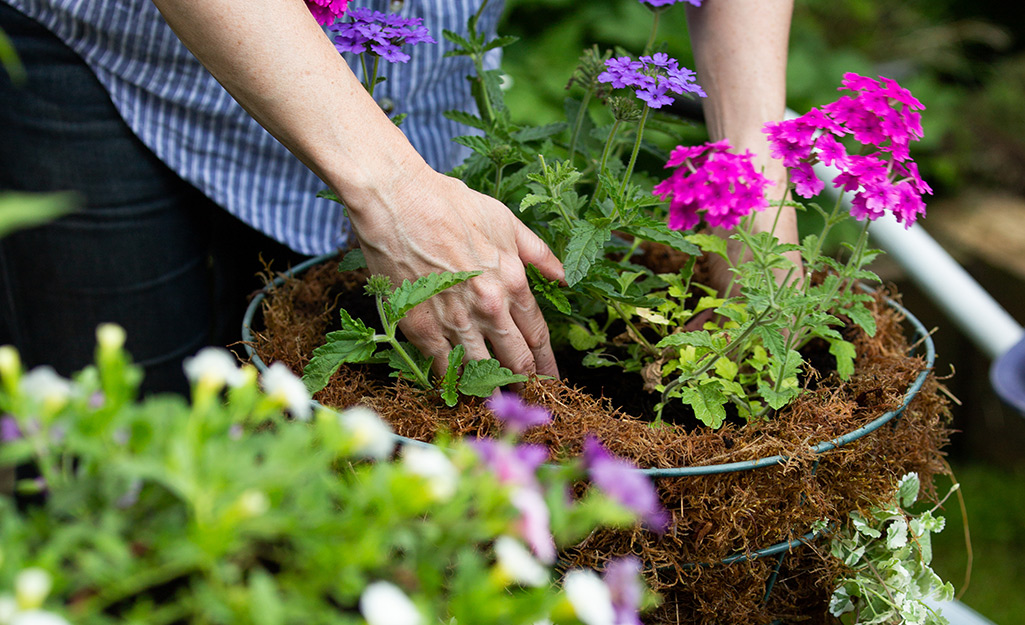 Fill with potting soil to the halfway mark and add slow release fertilizer. Mix together.
To add side plants, cut a small hole in the liner and place the plant root first in the soil. Make sure the roots touch the soil. 
After the side plants are inserted, add more potting mix to the basket, leaving a shallow bowl shape in the center to place the top plants. 
Start laying plants in the middle and work around to the edge, tucking plants in as you go. Fill in with additional potting mix, then water. Press the soil in. Add trailing plants to the rim of the basket, if using.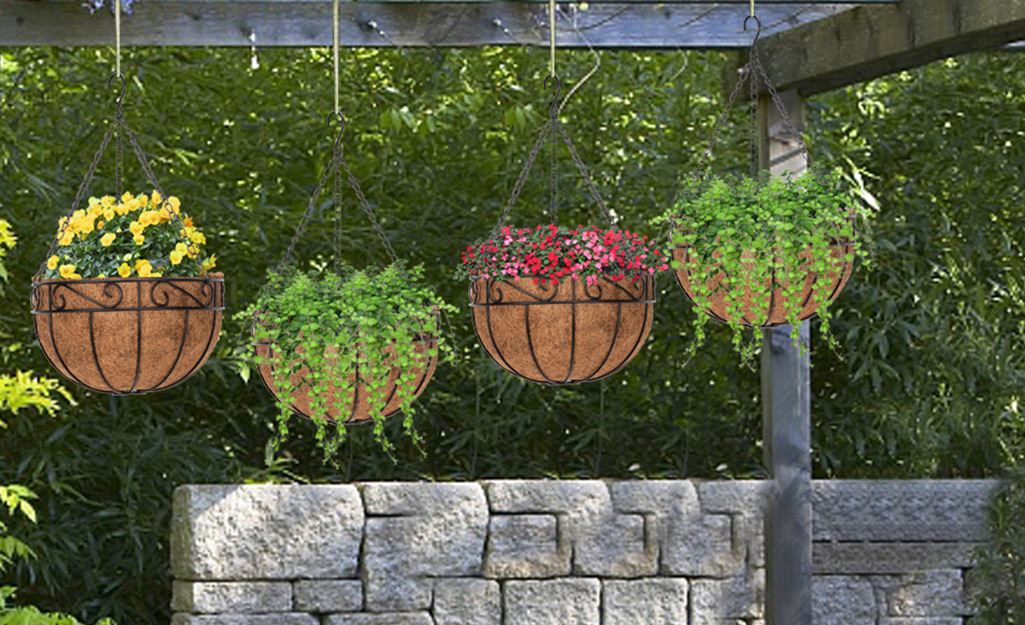 Hang the basket on your porch or on a shepherd's hook in your garden and enjoy the view.
Abundant hanging planters look best displayed at eye level or slightly above. Use chains to vary the height of your hanging planters. On a porch with a railing, set the planter about two-thirds of the distance from the ceiling to the railing. Step out and view from a distance and adjust the chains for the most pleasing arrangement.
Tips for hanging:
The shelter from a porch protects your plants from harsh sun and winds that can dry it out. It also means you need to water more often when rain can't reach the plants. 
If you didn't use slow-release fertilizer while planting, treat plants to half-strength liquid fertilizer while watering.
Hanging basket plants benefit from frequent pruning and deadheading. Keep your garden scissors or snips handy when you check on your plants. 
If a trim doesn't rejuvenate plants, it's easy and okay to swap out plants when they start to fade. Pull out and compost the faded blooms, and add fresh plants.
Adding colorful hanging baskets will level up your gardening. Ready to start your project? The Home Depot delivers online orders when and where you need them.
Explore More on homedepot.com