Ideas & Inspiration
Best Thanksgiving Pies with Fruit and Vegetables
Bring the bounty of the harvest to the table this Thanksgiving when you make pies with sweet potatoes, pumpkin and apples. Begin with fresh produce from the farmer's market or fruits and vegetables from your own garden.
Sweet potatoes, for example, are easy to grow and thrive in summer heat. Harvest the tubers when the vines begin to turn yellow. Sweet potatoes are not very sweet until they've been cured for about ten days in a sunny, dry location. Savor your homegrown sweet potatoes in this rich pie.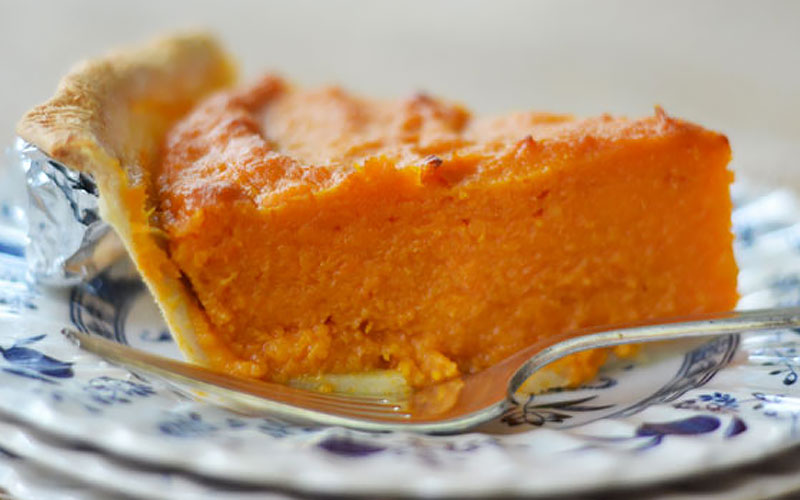 Serves: 10
The intense orange of the sweet potato makes this a colorful and delicious pie. Dress it up for Thanksgiving with a dollop of cream whipped with maple syrup and maybe a hint of orange zest.
Ingredients
5 or 6 medium sweet potatoes
1 cup sugar
4 tablespoons unsalted butter, softened
3 large eggs
A pinch of salt
1 tablespoon vanilla
9-inch unbaked pie shell, or use the recipe below for a pie crust
Instructions
To roast sweet potatoes: rinse off tubers, place them on a foil-lined baking sheet and prick the tops with a fork. Roast in a 400-degree Fahrenheit oven until soft, about an hour. Let the sweet potatoes cool, then remove the pulp from their jackets and place in a bowl. Use a fork to mash the pulp, stirring to break up any strings.
Stir together 3 cups of the sweet potato pulp (reserve the leftover for another use), sugar and softened butter in a bowl. Add the eggs, salt and vanilla, stirring well. Pour into a pastry-lined pan and bake in a 375-degree Fahrenheit oven for 40 minutes. Pie is ready when the middle is set. Let cool, then slice and serve. Cover leftovers and store in the refrigerator.
It's simple to make homemade pie crust in a food processor. The secret is to chill the fat first by placing the shortening in the refrigerator for about an hour.
Yield: 2 single crusts, or 1 deep dish crust
Ingredients
2 cups all-purpose, unbleached flour
½ teaspoon salt
1 tablespoon sugar
½ cup vegetable shortening, very cold
About 1/3 cup ice water
Instructions
Place the flour, salt and sugar in the bowl of the food processor. Pulse five times to mix the dry ingredients. Add the shortening, pulsing until the flour resembles coarse meal. Add a few tablespoons of ice water and pulse. Continue adding ice water until dough comes together.
Lightly flour a clean counter top and remove dough from the bowl of the food processor. Using a light touch, press dough into a round disk, wrap in plastic and chill for at least an hour or overnight. After chilling, the pie crust is ready to roll.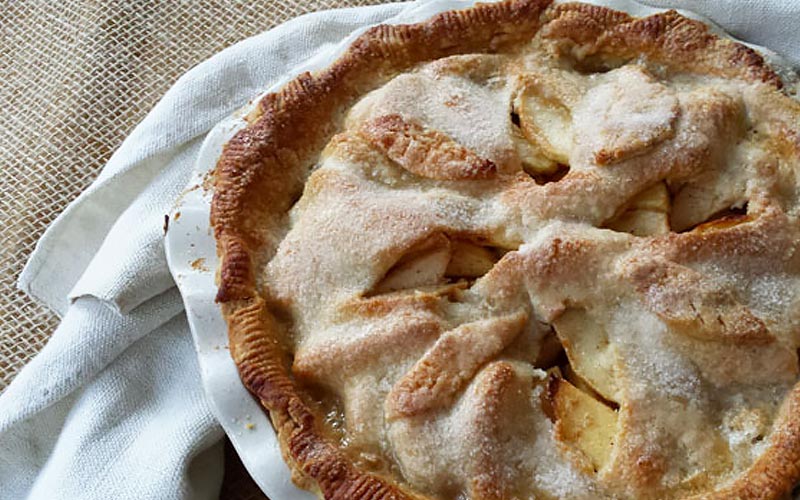 Serves: 10
The best pie apples are firm and will keep their shape through baking. Granny Smith is a widely available selection, but Honeycrisp, Mutsu and Pink Lady, or a combination will work, too. This buttery pie crust can be made by hand or in a food processor.
Ingredients for the pie crust
3 cups all-purpose flour
1/2 teaspoon salt
1 cup unsalted butter, chilled
1/4 cup ice water
1/4 cup white vinegar
Filling
7 large Granny Smith or other large pie apples, peeled, cored and sliced
3 tablespoons lemon juice
1 1/2 cups sugar
1/2 teaspoon ground cinnamon
1 tablespoon unsalted butter, cubed
1 egg white, beaten
1 tablespoon white sugar
Instructions
In a large bowl, combine flour and salt. Using a fork or pastry cutter, cut in butter until mixture resembles coarse crumbs. Combine water and vinegar, and gradually stir until mixture forms a ball. Divide dough in half and shape into two disks. Wrap in plastic and refrigerate for 4 hours or overnight.
Sprinkle a small handful of flour on a clean counter and use a pastry pin to roll one dough disk out to fit a 9-inch deep dish pie plate. Place bottom crust in pie plate, cover and place in refrigerator. Roll out top crust and set on a plate, cover and refrigerate.
In a large bowl, toss apples in lemon juice and 1/2 cup sugar. Let sit for 30 minutes, drain away the liquid at the bottom of the bowl. Stir in remaining 1 cup sugar and the 1/2 teaspoon of cinnamon.
Heat oven to 450 degrees Fahrenheit. Remove pie crust from refrigerator and begin building the pie. Arrange rows of overlapping apple slices, working from outer rim in. Dot with butter. Cover with top pie crust. Seal and crimp edges with a fork, then trim excess dough. Cut a few slashes in top crust to allow steam to escape. Brush egg white on crust and sprinkle with a tablespoon of sugar.
Place pie pan on foil-covered baking sheet. Bake at 450 degrees Fahrenheit for 15 minutes.
After 15 minutes, reduce heat to 350 degrees Fahrenheit and continue baking for about 45 minutes, or until golden brown. Remove pie from oven and let cool on a wire rack.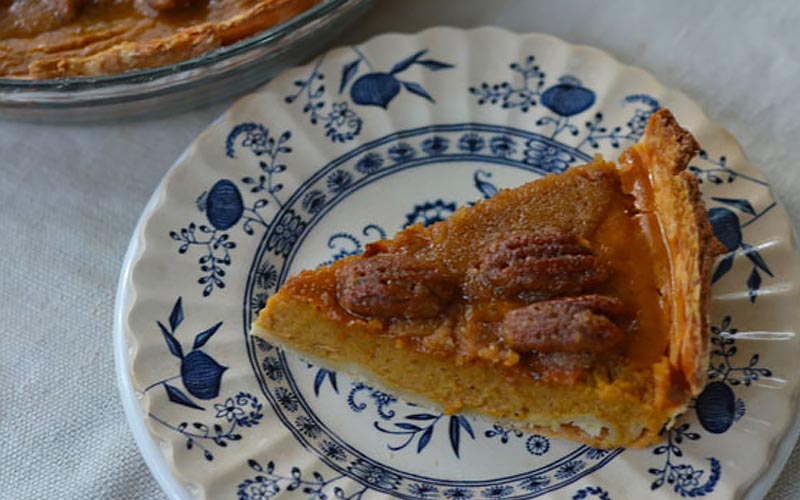 Serves: 10
Simplify the holiday question of pumpkin or pecan by making this silky pumpkin pie with a crunchy pecan topping. You can make your very own pumpkin puree from pie pumpkins or use canned 100 percent pumpkin, not pumpkin pie filling.
Ingredients
1 unbaked 9-inch pie shell
2 eggs, lightly beaten
2 cups pumpkin puree or one 15-oz. can 100% pumpkin (not pumpkin pie filling)
3/4 cup sugar
1/2 teaspoon salt
1 teaspoon cinnamon
1/2 teaspoon ginger
1/4 teaspoon cloves
1 2/3 cup evaporated milk
Instructions
Heat oven to 400 degrees Fahrenheit.
Place pumpkin puree in a medium mixing bowl. Stir to loosen it, and add eggs, stirring until blended. Add sugar, salt, cinnamon, ginger and cloves, then mix well. Slowly stir in evaporated milk. Filling will be very thin.
Pour into prepared pie shell. Place pie plate on foil covered baking sheet to catch any drips and make it easier to pull in and out of the oven. Bake at 400 degrees Fahrenheit for 45 to 55 minutes or until the center no longer jiggles when you touch it. You can also insert a toothpick in the center. If it comes out clean, the pie is cooked through. Remove pie from oven and cool on wire rack before adding topping.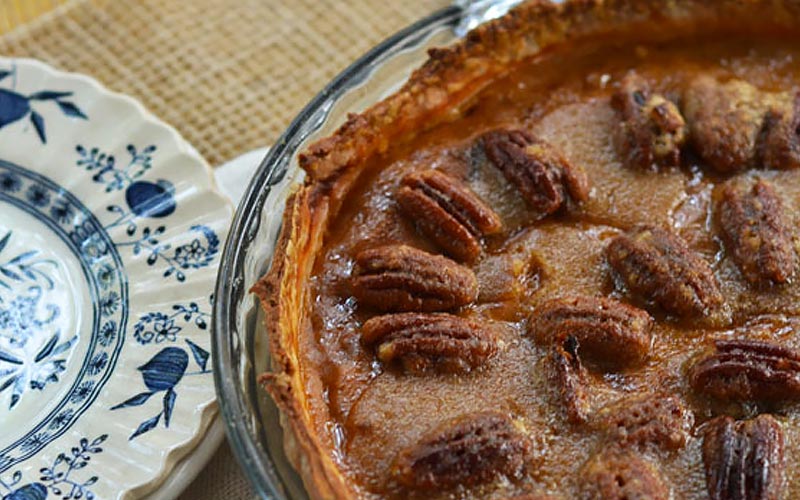 Ingredients
3 tablespoons unsalted butter, softened
2/3 cup brown sugar
2/3 cup pecans
Instructions
Heat the oven broiler and move the uppermost wire rack to about five inches from the heat source.
In a small mixing bowl, crumble the butter and sugar together until well blended. Stir in pecans.
Arrange the pecans over the top of the cooled pie, scattering the clumps of butter and sugar evenly over the surface.
Place under the broiler for about four minutes. Keep the timer on and don't walk away. When the pecans are browned and the sugar is melted, the glaze is ready. Remove the pie from the oven and cool on a wire rack.