Ideas & Inspiration
Christmas Porch Decorations
'Tis the season to deck the front porch with boughs of fresh greenery.
Freshly cut Fraser fir, spruce and pine bring a festive air to the holiday season and it's so easy to create holiday decor using these and other natural materials.
Start by creating a centerpiece on your porch by filling empty window boxes with pine or other holiday tree branches adorned with pine cones, ornaments, bows, lights and more.
Along the railing, fill galvanized buckets with small trees for additional greenery. Add festive touches, including galvanized letters that spell out J-O-Y. Rustic painted terra cotta Christmas tree topped with a wood star can boost the look.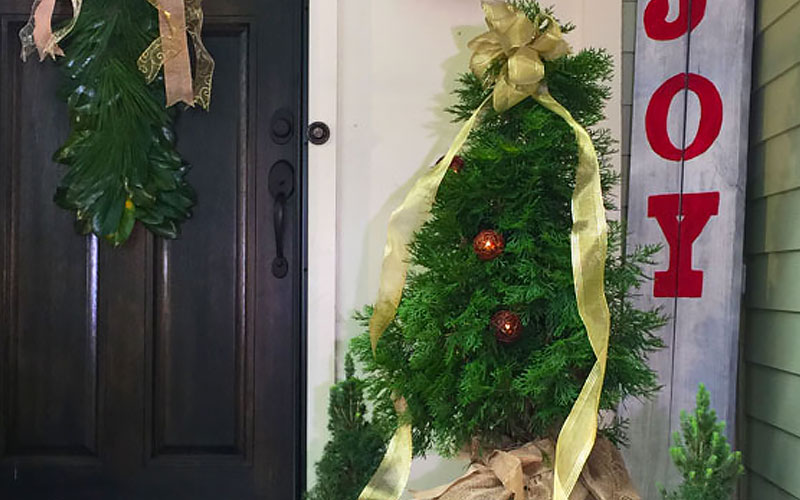 Transform corners of your porch with containers of burlap-wrapped cone-shaped trees, such as emerald arborvitae.
Trees look great in containers and later you can transplant them to your yard. Set out smaller planters filled with rosemary or other small trees. Complete your Christmas decorations with more greenery, ornaments and string lights.
An old picnic table bench painted white with red letters serves as a welcome message for the holiday porch.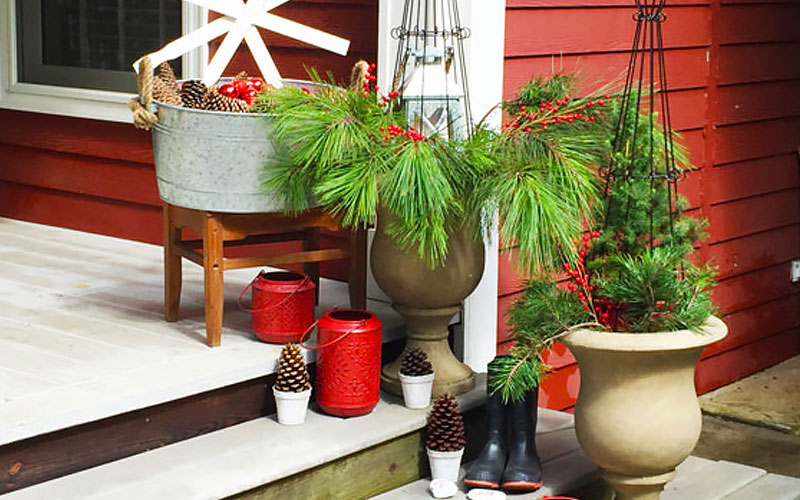 For a different look, try a galvanized beverage tub filled with pine cones. Top it off with old paint stirring sticks tacked together with small nails to look like a snowflake when primed and spray painted white.
Other ideas to kick around: a pair of gardening boots stuffed with leftover greenery. Or ornate vegetable trellises, no longer climbing with vines, can be put to use on the porch in decorative urns.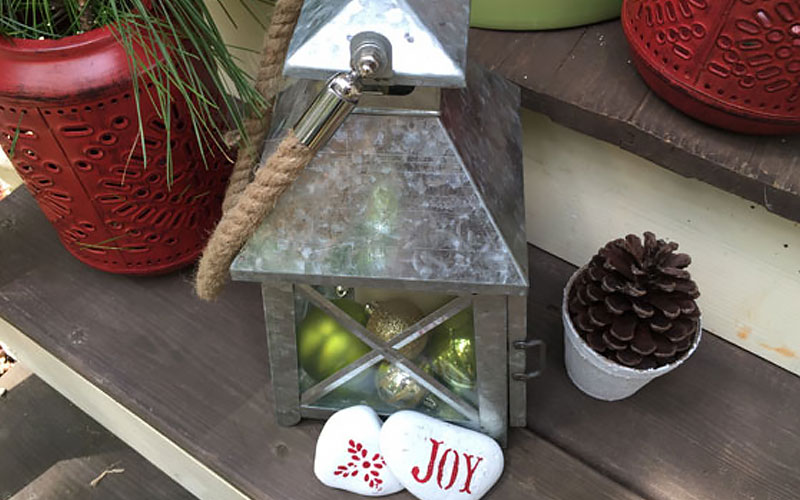 Put the final touches on your festive holiday porch decor by adding other accessories on the landing or steps, such as spray painted jiffy pots topped with pine cones, lanterns filled with ornaments and stenciled holiday wishing stones.
Photos by Lucy Mercer and Renee Valdes