Everyone loves the warmth and feel of a sunny day. However, too much sun can damage your skin and too much heat can make outdoor plans uncomfortable. That's why a covered patio is a smart idea for both health and comfort. This guide highlights a variety of attractive and enjoyable covered patio options for your outdoor living areas. 
Outdoor Patio Shades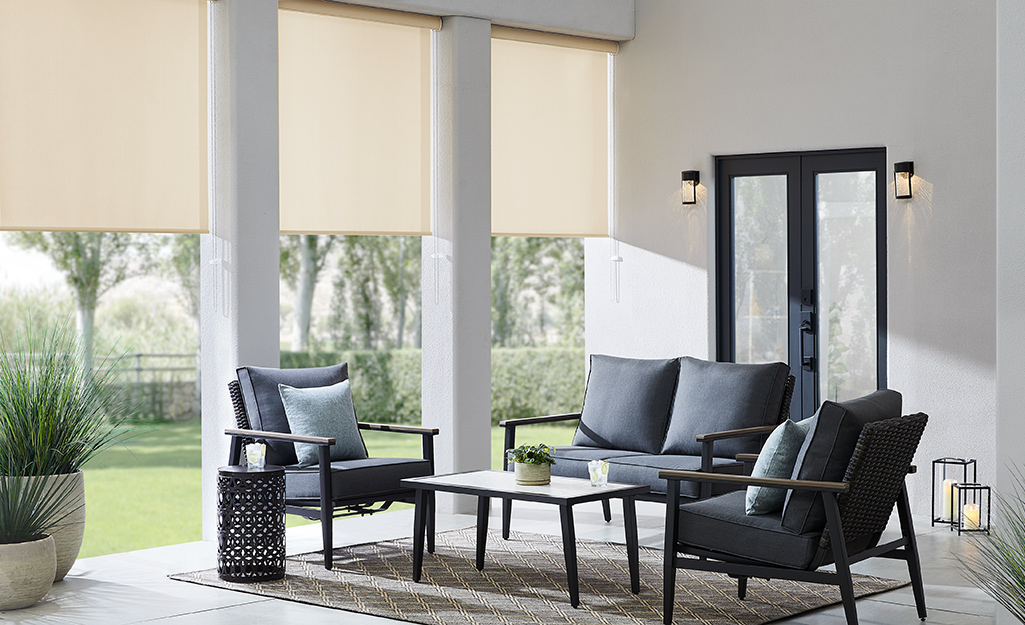 Consider outdoor shades when you're looking for patio shade solutions. Like indoor shades or blinds, they are made to attach to your home. They'll also fasten to a pergola or other structure to block or filter sunlight. Many patio and outdoor shades are designed to allow air flow so that outdoor temperatures feel cooler. 
Look for a variety of colors, textures and designs. Customized sizes, manual roller shades and motorized shades are available. Many patio covers and outdoor shades are designed to block UV rays. There are even motorized outdoor shades. that can be adjusted using a remote control or smartphone.
Cover Your Patio with a Cantilever Umbrella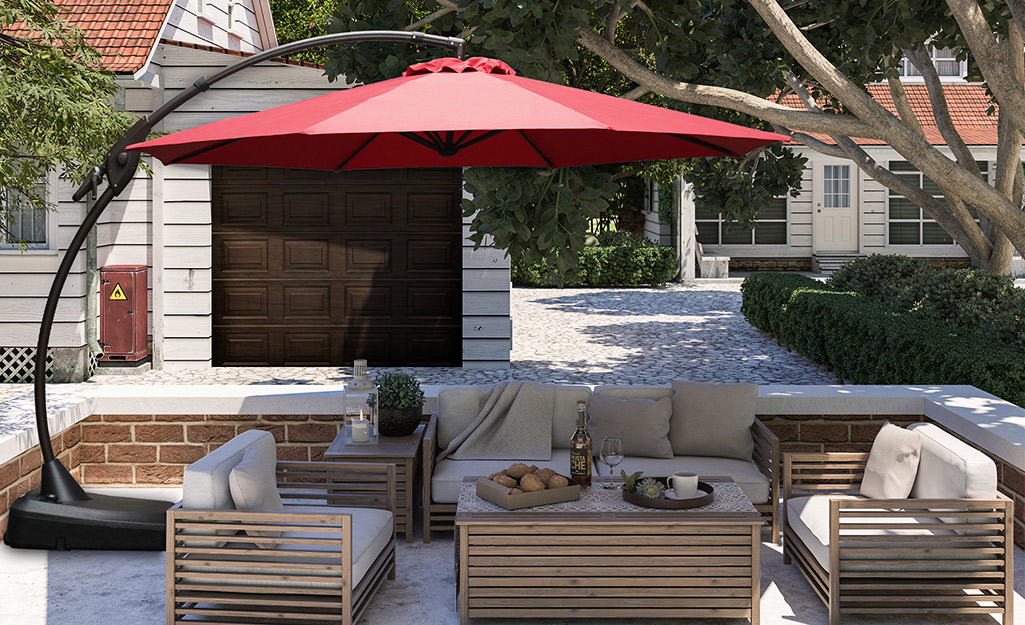 Need portable patio cover ideas? Don't overlook outdoor umbrellas. If the weighted stand is light, they're easy to move around the yard. You can bring the shade with you as the sun arcs across the sky. 
Cantilever umbrellas are supported by an offset, freestanding pole so that the canopy or umbrella is suspended in the air to block intense sunlight. The support pole sits to the side of the umbrella instead of taking up room in the center of your living space. You'll have plenty of space for tables and chairs under the canopy. 
These umbrellas are also adjustable. Tilt them for maximum shade coverage. Look for cantilever umbrellas in colors that match or complement your patio furniture. 
Pop Up a Market Umbrella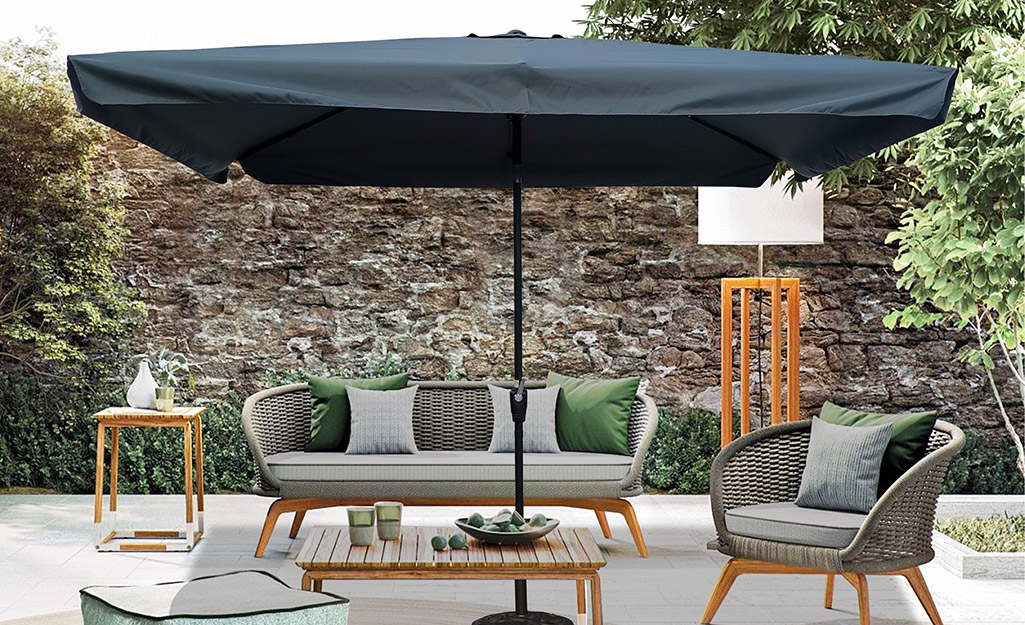 Another shade solution for patios is a market umbrella. While they are sometimes called patio umbrellas, market umbrellas have a center pole made of wood and vented caps on top to let the breeze blow through. 
Large outdoor market umbrellas provide both shade and shelter from light rain. These expansive patio covers provide ample shade for large seating areas. You and your guests can enjoy an outdoor meal whether there's a misty rain or blazing sun.
Add a Patio Umbrella to a Table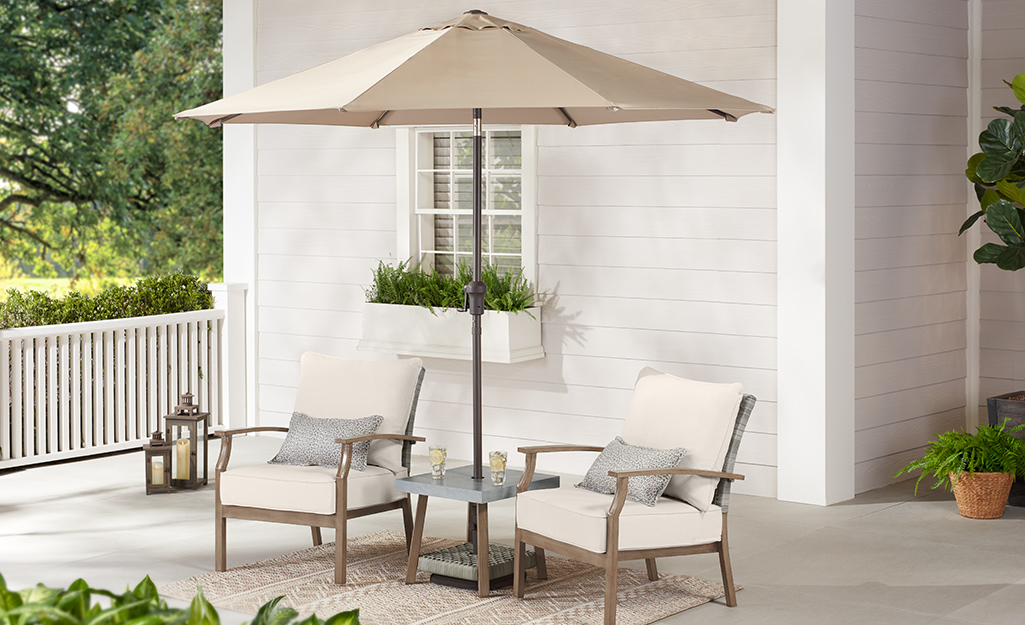 Patio umbrellas are designed to fit through a hole in an outdoor table. They're one of the classic patio covering ideas. Sometimes they have a weighted base for stability and support. Look for patio umbrellas in a variety of styles and colors. Built-in solar-powered LED lights are available on some models.
To stay in the shade, make sure the umbrella extends at least 2 feet past the table on all sides. If you're not sure if a patio umbrella is big enough, grab a tape measure and: 
Measure the diameter of the table. If you have a square or rectangular table, measure the widest part.
Add 4 feet to the measurement when searching for an umbrella to fit the table.
Enjoy a Pergola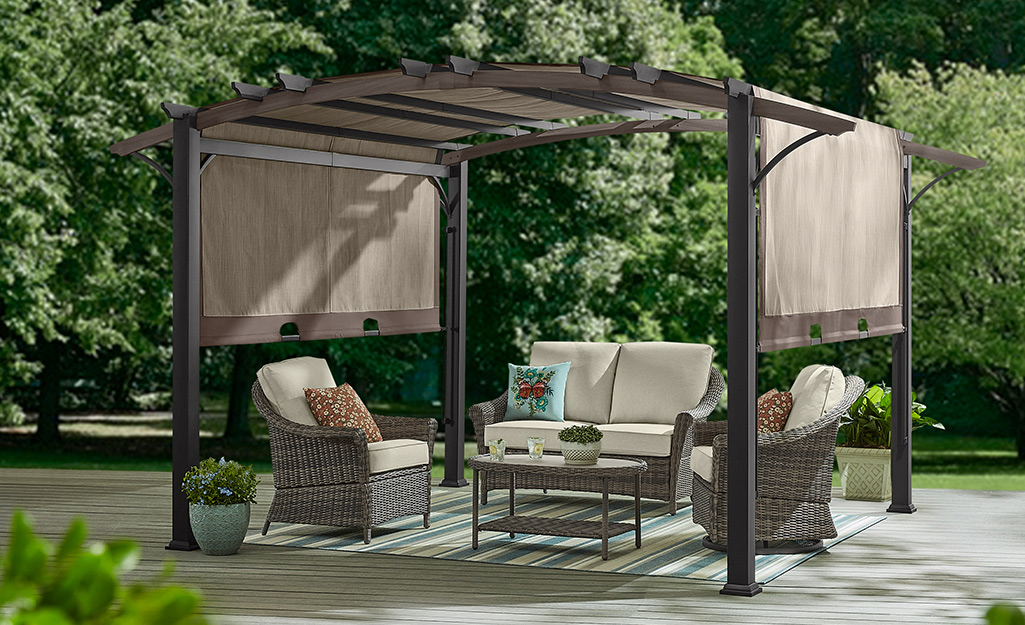 Pergolas are free-standing structures with lattice roofs. If you want filtered light or partial shade, they're a great choice. They don't completely block the sun. Pergolas allow air to circulate to keep you cooler. They also make an attractive, low-maintenance addition to yards and patios.
Some pergolas have slats on one or more walls for additional sun protection. You can add covers to provide even more shade. Some covers drape over only the top of pergolas, while others cover the top and parts of two sides. Retractable and convertible pergola covers are also available. Look for covers made from fabrics that withstand rain, heat and sunlight.
Attach an Awning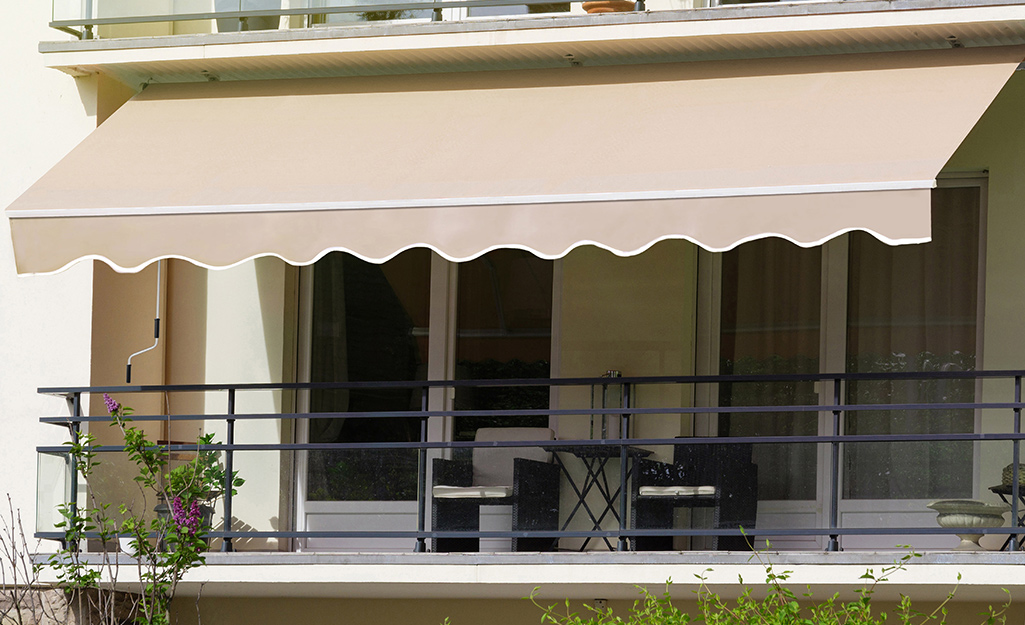 Awnings are also a versatile shade solution for patios, decks and other outdoor living spaces. Leave them up permanently or install manual or motorized retractable awnings. 
These coverings can be customized to fit any of your deck covering ideas. Some awnings attach to the side of your home. Others are self-supported, freestanding shade structures. Choose whatever type of awning best suits your outdoor setup.  
Put Up Sun Sails and Canopies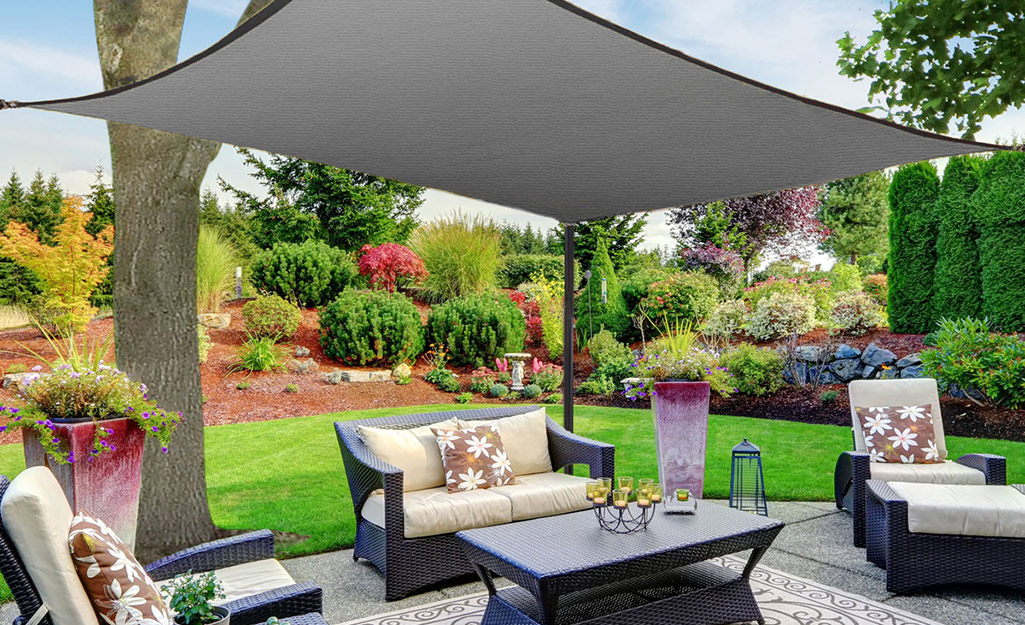 Sun shades, canopies and shade cloths provide shade for large patios and outdoor areas. Shade sails, also known as sun shades or sun sails, don't require much hardware. They're also easy to move or re-position as the angle of the sun changes.
Firmly anchor them to a post or nearby tree to keep them from blowing away. Secure them as taut as possible so they don't flutter in the wind. A large shade sail on posts can help shade a swimming pool, sandbox or kids' playset. The whole family can appreciate a day of safe outdoor fun without baking in the sun.
Hang Outdoor Curtains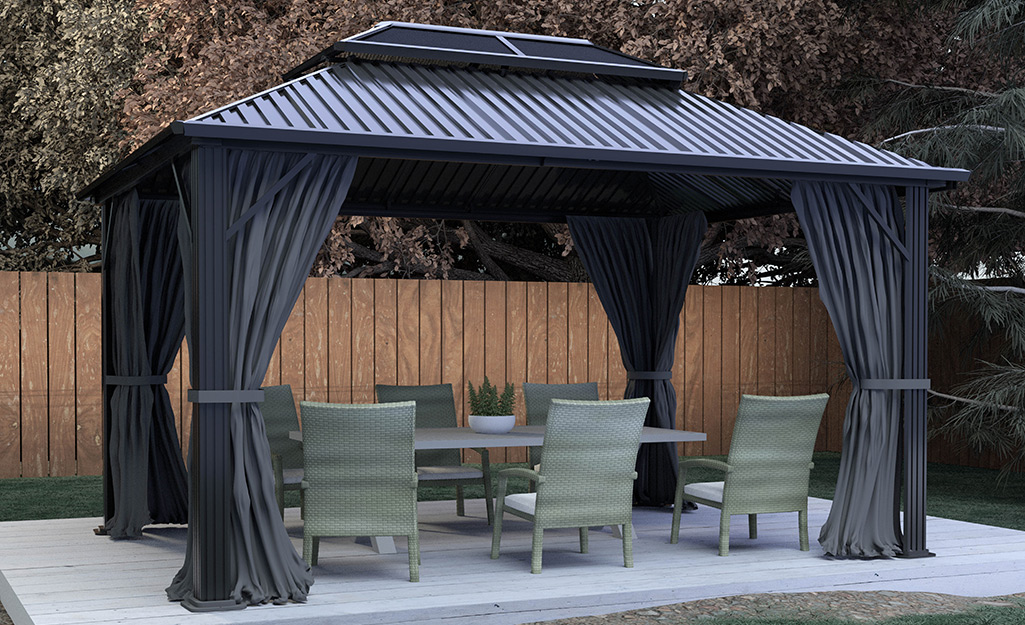 Curtains and drapes aren't just for windows inside your home. Outdoor curtains can be hung to shade any space that gets a lot of sun. This includes cabanas, patios and pool houses. Look for fabrics marked sun-resistant, UV-blocking and water- and mildew-resistant. They'll last longer and stand up to the elements better than other fabrics.
Outdoor curtains also give privacy to create a quiet nook outside. If you need a calm corner to enjoy a summertime read, pull some curtains for cover and shade. Choose from rust-proof grommet or tab-top styles. This unconventional shade option also comes in a variety of colors and fabrics.
Plant Trees as a Patio Shade Solution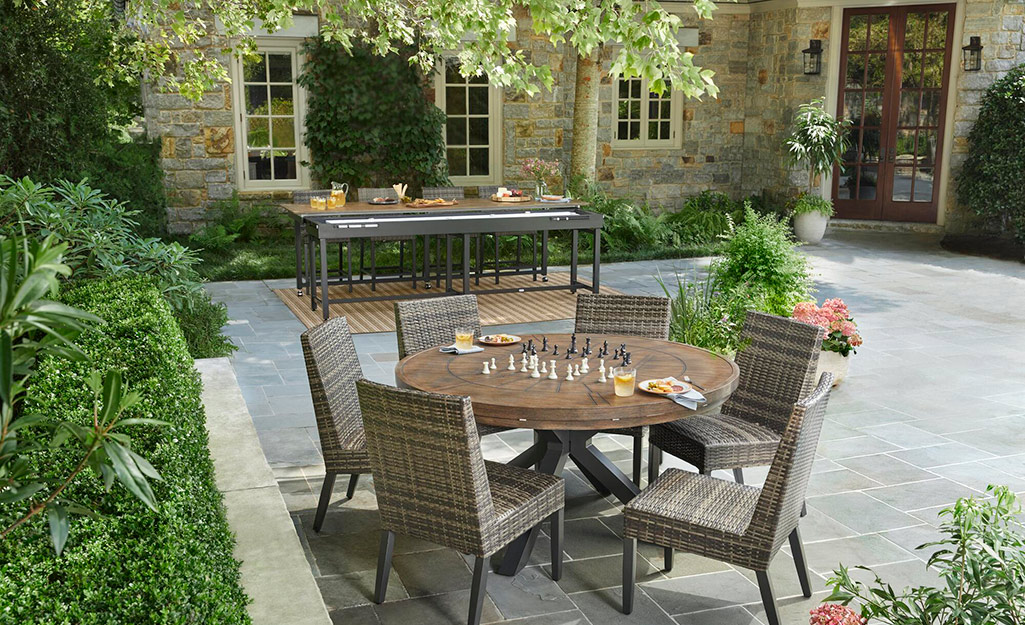 If you want to naturally shield your patio or deck from the hot summer sun, plant a deciduous tree. They give plenty of shade in the summer and shed their leaves in the fall. 
Research shade trees that are recommended for your region. Find out how tall and wide they'll grow. You need to make sure they'll fit in your available space. Consider both the canopy of leaves and the root system width when choosing a tree. 
Trees are valuable, living shade solutions, but they require planning. Avoid planting trees near your home's foundation and utility lines. They're excellent at seeking water. Trees will often find your underground water lines if they're within reach of their roots. 
Grow Vines for Shade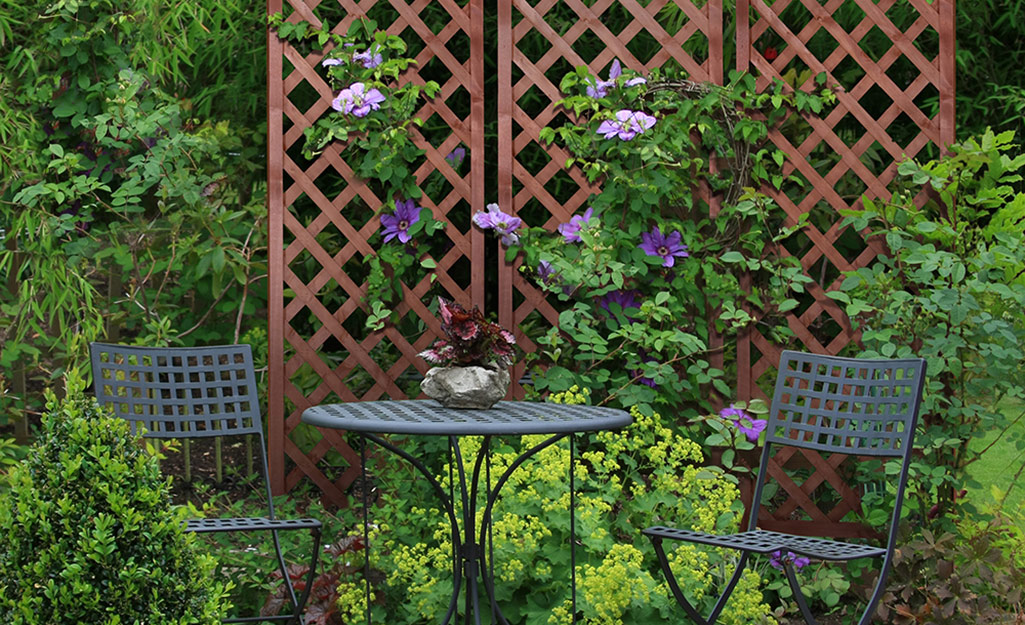 Beautiful fast-growing vines are another shade solution for patios, decks and other outdoor areas. They provide cool and leafy shade. Some even have attractive blooms. 
Position a trellis, lattice panels or arbor so the vines will cast shade where it's needed. Tie their stems loosely to the structure as they grow. They can also make good privacy screens.
Try morning glories, ivy, hops or clematis. Honeysuckle, Virginia creeper, jasmine, edible grapes or trumpet vines work too. Wisteria is a great choice, if you have a strong structure for its heavy, woody stems. Depending on your gardening plans, plant an annual or a perennial vine for shade. Annuals will die at the end of the growing season, but perennials will come back. 
Now that you know how to shade a deck, it's time to choose your shade covering. The Home Depot delivers online orders when and where you need them. Find the pergola, market umbrellas or outdoor shades you need to get started today.
Explore More on homedepot.com