Sunny days are great, but too much sun can damage your skin, and too much heat can ruin your outdoor plans. Adding shade to your deck or patio helps protect people and pets and even prevents outdoor furnishings from fading or otherwise degrading in the sunlight.
Shade solutions for decks and patios are more than just useful. They make attractive, fun additions to your outdoor living spaces and around pools, gardens and children's play areas.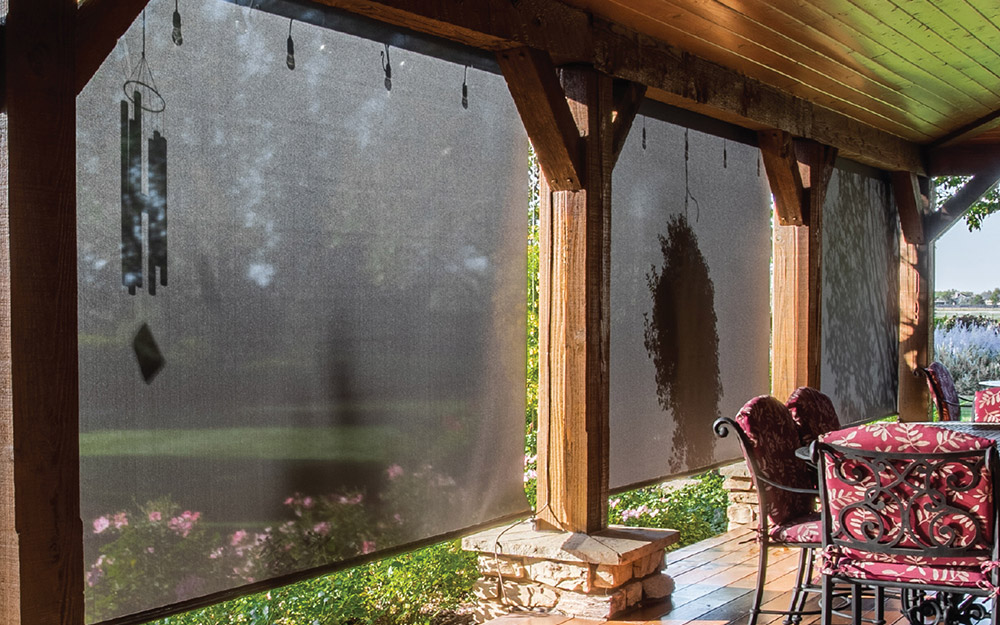 Consider outdoor shades when you're looking for deck shade ideas. Like indoor shades or blinds, they can be attached to your home. They'll also attach to a pergola or other structure to block or filter sunlight. Many are designed to let the air flow through and make the temperature feel cooler by keeping out the sun.
Look for a variety of colors, textures and designs. Customized sizes, manual roller shades and motorized shades are available. Many outdoor shades are designed to block UV rays, and you won't even have to leave your deck chair to raise or lower models that are motorized. Some of them work with remote controls or smartphones.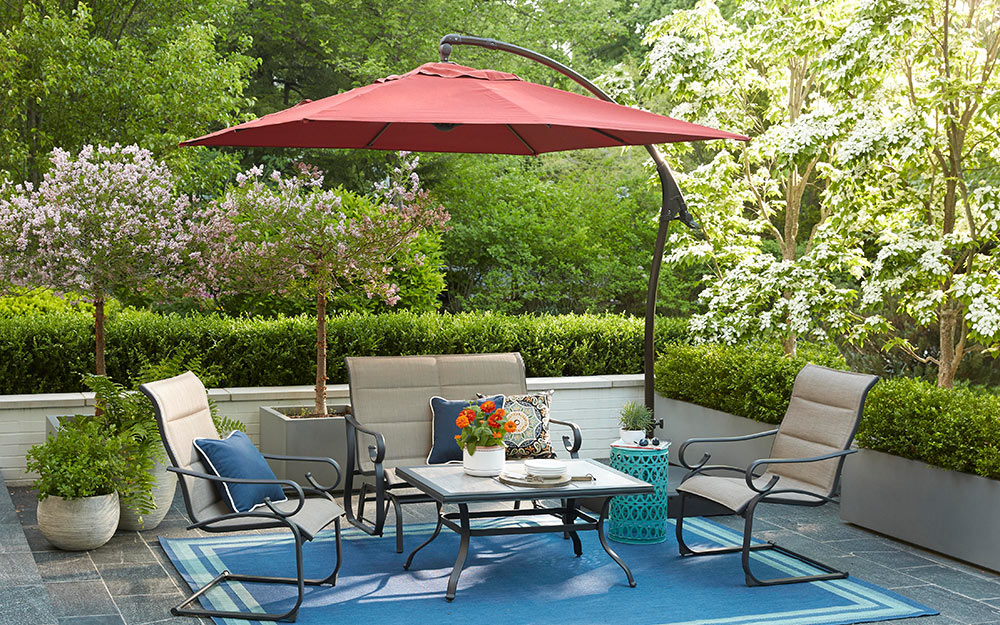 Need portable deck shade ideas? Don't overlook outdoor umbrellas. Depending on the weight of the stand, they're easy to move around the yard as the sun moves across the sky.
Cantilever umbrellas are supported by an offset, freestanding pole, so they can hang suspended in the air wherever the sun is too intense. Because the pole isn't in the center of the umbrella, you'll have plenty of space for chairs, tables and side tables under the canopy. They're also adjustable, so you can tilt them for maximum coverage. Look for cantilever umbrellas in colors that match or complement your deck or patio furniture.
Market umbrellas are yet another shade solution for decks and patios. Sometimes called patio umbrellas, they're actually a bit different. Market umbrellas usually have a center pole made of wood, and they often have vented caps on top to let breezes blow through and let gusts escape. Large outdoor market umbrellas provide both shade and shelter from light rain.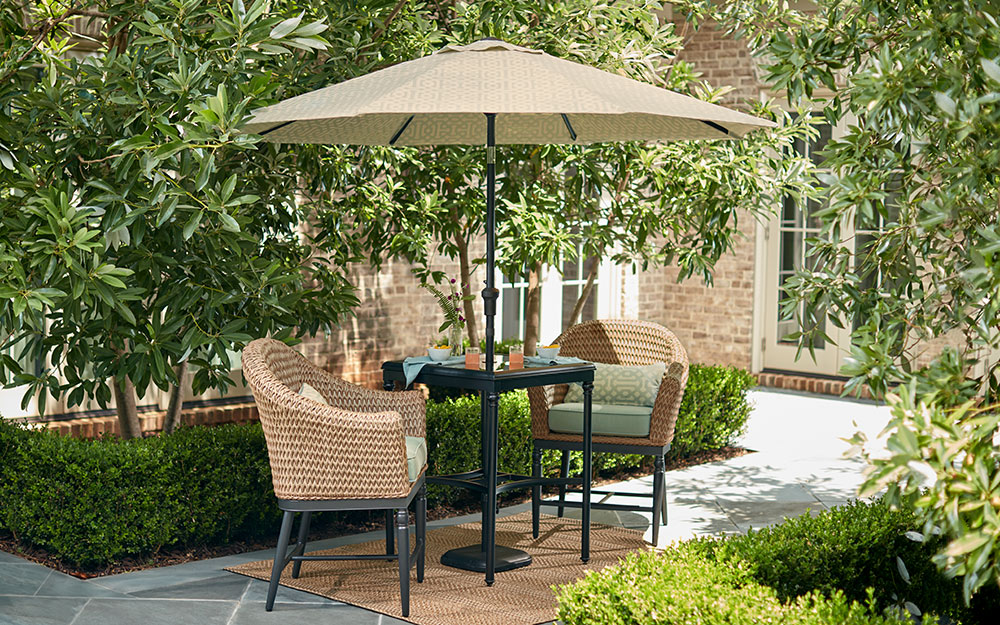 Patio umbrellas are usually designed to fit through a hole in an outdoor table, and sometimes use a weighted base for stability and support. Look for patio umbrellas in a variety of styles and colors. Solar-powered LED lights are available on some models, so you can keep enjoying the outdoors after the sun goes down.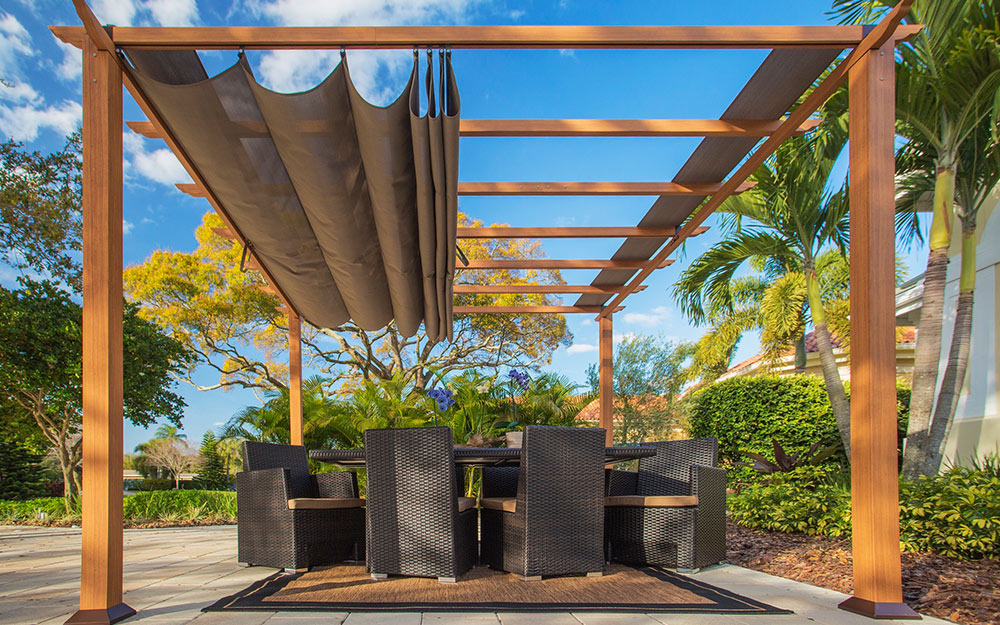 Since pergolas are free-standing structures with lattice roofs, they don't completely block the sun. If you want filtered light or partial shade, they're a great choice. They allow air to circulate to keep you cooler, and they make an attractive, low-maintenance addition to yards and patios and other spaces.
Some pergolas have slats on one or more walls for additional sun protection, and covers are available to provide more shade. Some covers drape over only the top of pergolas, while others cover the top and partially shade two sides. Retractable and convertible pergola covers are also available for certain models. Look for covers made from fabrics that withstand rain, heat and sunlight.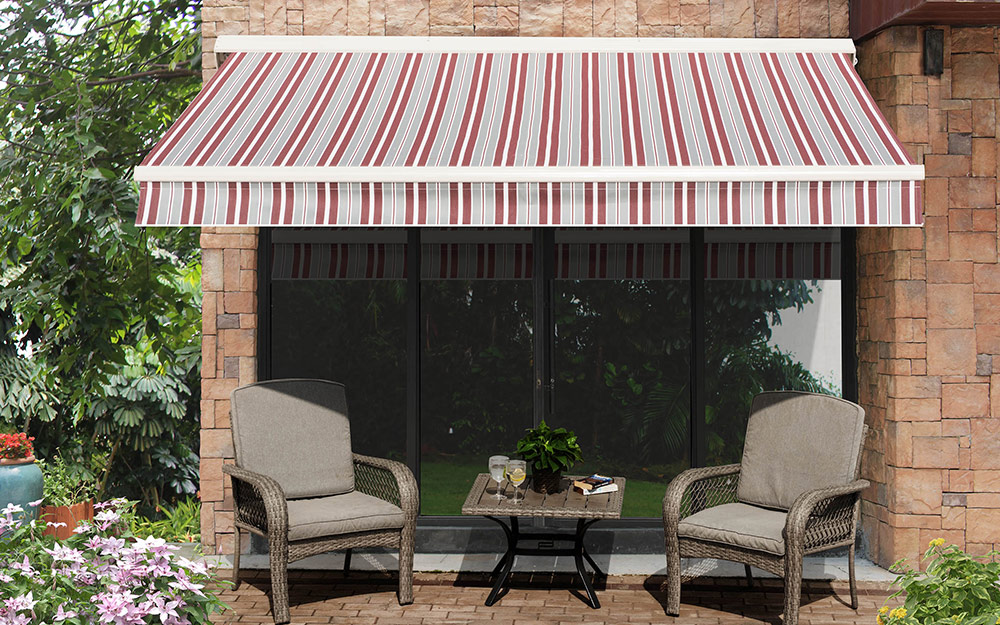 Awnings are also a versatile shade solution for decks and patios. Leave them up permanently, or install manual or motorized, retractable awnings. Some attach to your home while others are self-supported, freestanding shade structures.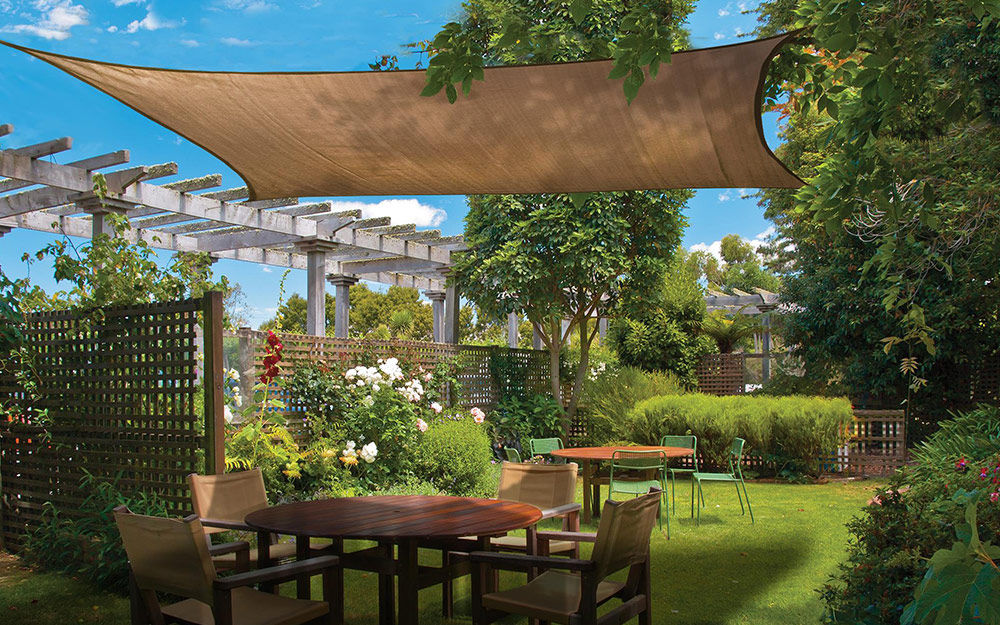 Sun sails, canopies and shade cloths are some of the best temporary deck shade ideas for outdoor areas. Anchor them to a post or nearby tree, and hang them so they stay taut and don't flutter in the wind. Shade sails don't usually require much hardware, and this kind of shade structure is easy to move or re-position as the angle of the sun changes. A large sun sail on posts can also help shade a swimming pool, sandbox or kids' playset.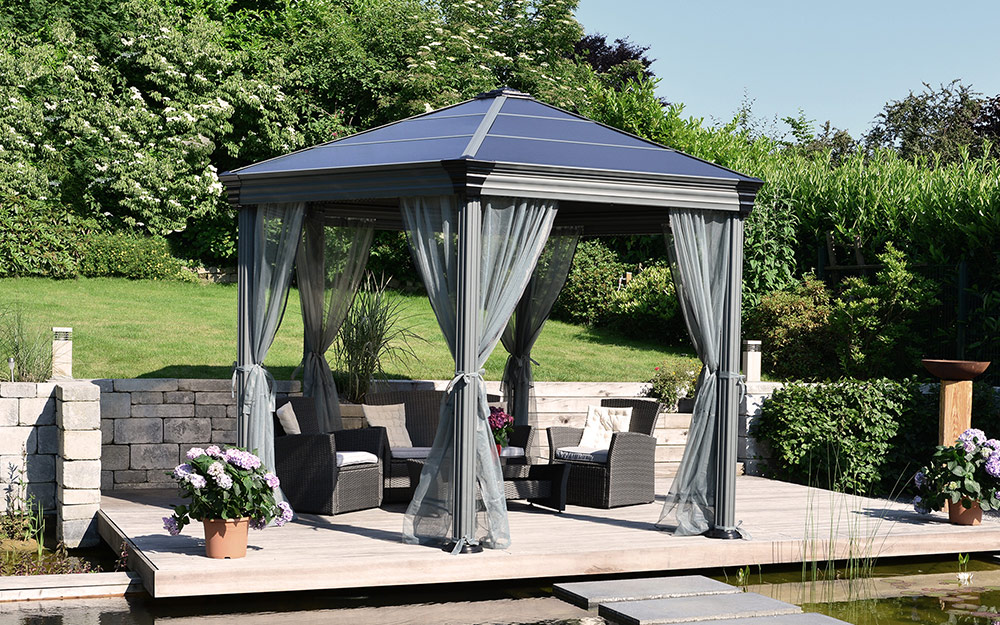 Curtains and drapes aren't just for windows inside your home. Look for fabrics marked sun-resistant, UV-blocking and water- and mildew-resistant. These outdoor curtains can be hung to shade a cabana, deck, pool house or other space that gets a lot of sun. Choose from rust-proof grommet or tab-top styles in a variety of colors and fabrics.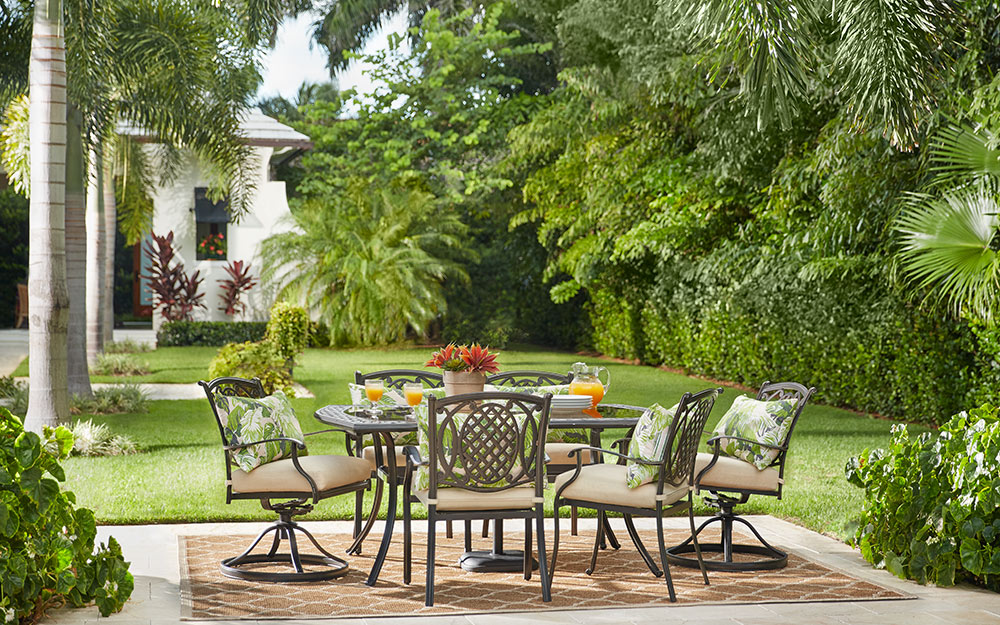 If you want to shield your patio or deck from the hot summer sun, but you like warm, winter sunshine, plant a deciduous tree. Its canopy of leaves will offer shade in the growing season and drop in the fall.
Ask your Home Depot Garden Center associate which shade trees are recommended for your region. Find out how tall and wide they'll grow, to make sure they'll fit in your available space. Trees, which are valuable, living shade solutions, should not be planted near your home's foundation and utility lines.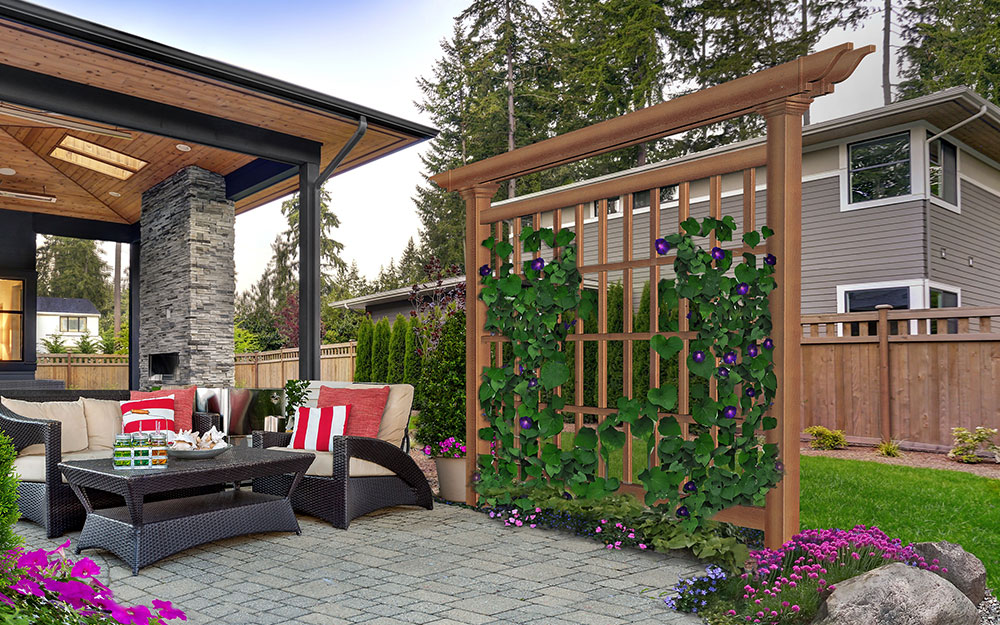 Beautiful, fast-growing vines are another shade solution for decks, patios and other outdoor areas. They can provide leafy, cool shade, and some have attractive blooms. Position a trellis, lattice panels, arbor or other structure so the vines will cast shade where it's needed. Tie their stems loosely to the structure as they grow. They can also make good privacy screens.
Try morning glories, ivy, hops, clematis, honeysuckle, Virginia creeper, jasmine, edible grapes or trumpet vines. Wisteria is a great choice, if you have a strong structure for its heavy, woody stems. Annuals will die at the end of the growing season, but perennials will come back.