Ideas & Inspiration
Fast Growing Vines for Shade
Vines are useful, versatile plants. Grow morning glories or clematis, and you can cover an arbor or pergola with bright blooms. Need privacy? Fast-growing ivy forms a living screen. Best of all, hard-working vines provide cool, leafy shade when the temperatures soar.
Vines grow in one of two primary ways: by climbing or twining. Twining plants, like sweet peas and night-blooming moonflowers, wind themselves around supports like trellises, lattices, slender poles, wires, or strings. Climbers like ivy have aerial roots that grab onto tree trunks, walls, and other surfaces.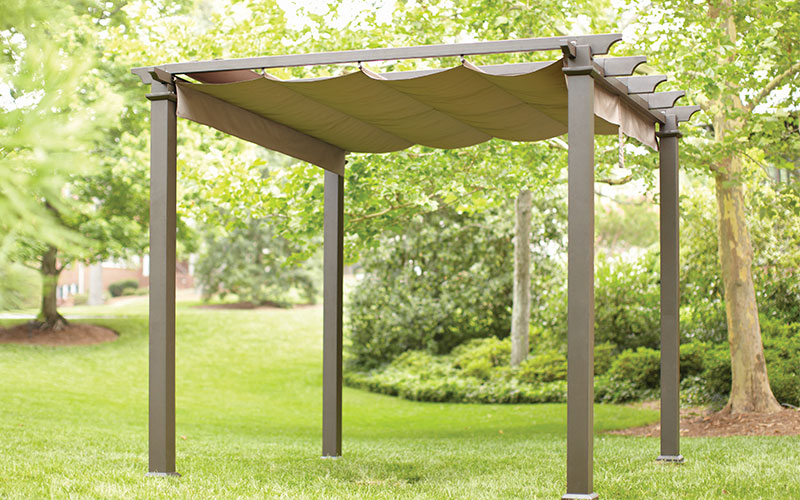 Decide what your vines will grow on. For vigorous vines or those with heavy, woody stems, like wisteria, use a structure strong enough to hold them. You may need to anchor a trellis or lattice panels in the ground for extra support. Or use a pergola like the one below, from Hampton Bay. The canopy retracts, so you can pull it over the top for instant shade, or leave it closed to grow vines.
Watch your garden spot to see how much sun or shade it gets, and chose plants that like your growing conditions. Choose from annuals (vines that die at the end of the season), or perennials (vines that come back).
Position your lattice or trellis so the vines cast shade on your deck, patio, or other area as they grow. Work some compost into the soil before you plant. Water the vine thoroughly and mulch around the roots.
Try ivy, hops, clematis, sweet peas, scarlet runner beans, hyacinth beans, honeysuckle, Virginia creeper, jasmine, or trumpet vines. You can grow grapes, gourds, or vining vegetables like cucumbers on structures that provide good support.
If you can't find the plants you want, start them from seeds. Many are easy to grow.
As soon as new growth appears, start weaving it horizontally through the openings in a trellis or lattice, and move up as the stems get longer.
Use plant ties or tie wires to help the vines get established. Keep tie wires slightly loose, so they won't cut into tender growth. Reposition the ties as needed, or add more.
Don't fight your vine. Watch to see if it twines to the right or left, and train it in that direction.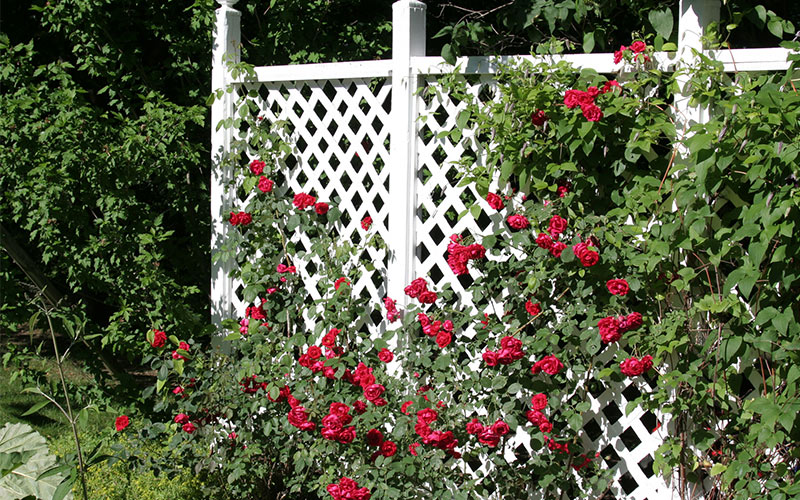 Roses don't climb the way vines do. Help them get started by tying their long, arching stems to a lattice, arbor, or other support. As the stems grow, weave them around and through the frame. Wear garden gloves so you don't get stuck by thorns. You'll find climbing roses in many gorgeous colors, with or without rich perfumes.