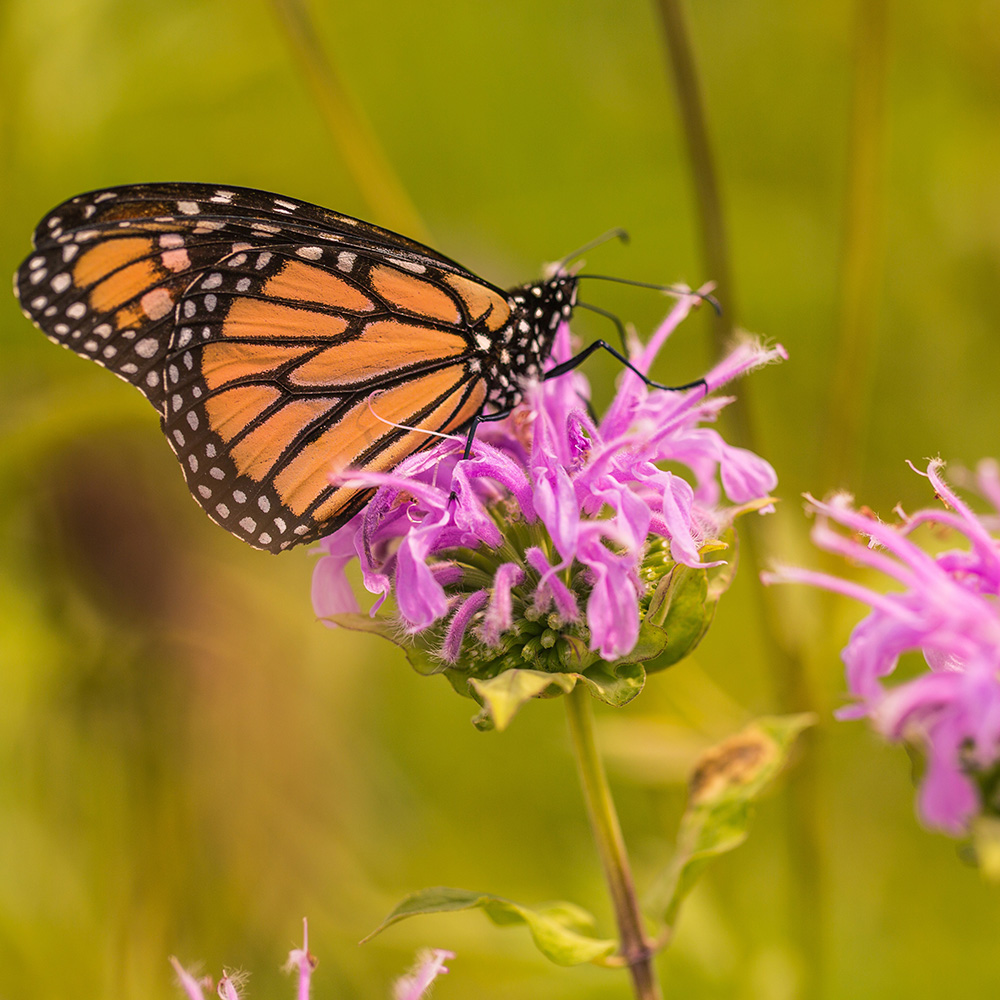 Bees, butterflies and other pollinators are important garden bugs needed to pollinate edible and ornamental plants. Create a garden pollinators love by planting flowers these bugs need to thrive.
Native plants are always a great choice, but many ornamental flowers will do the trick. When selecting plants, choose those that bloom throughout the year to ensure pollinators are healthy year-round.
Butterfly Bush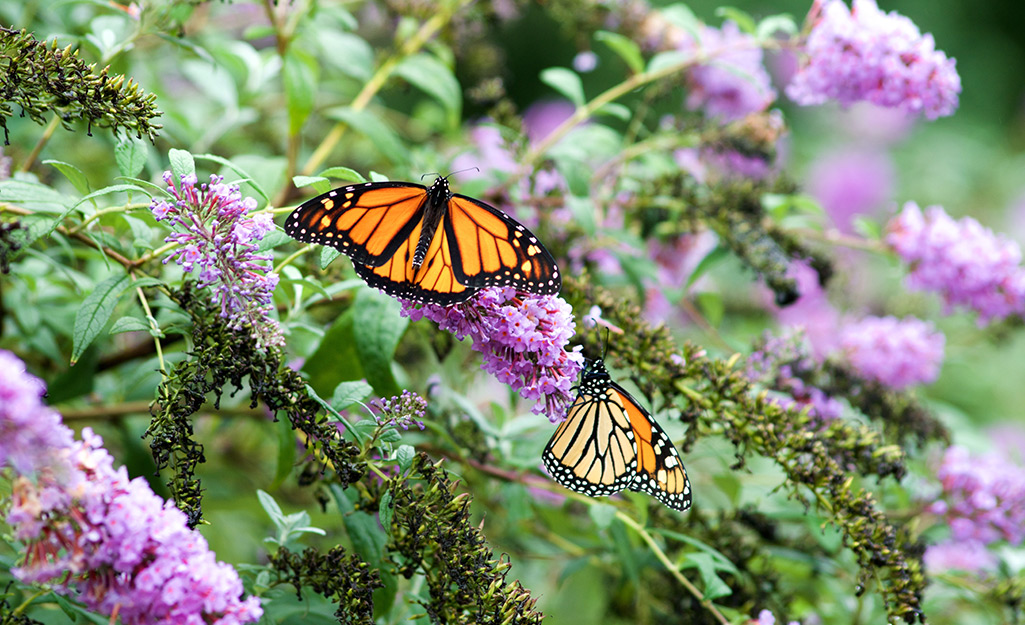 As you might expect, butterfly bushes are great at attracting butterflies and hummingbirds to the garden. Colorful, fragrant flowers bloom in spring and summer. Grows 8 to 10 feet in height in zones 5 to 9.
Bee Balm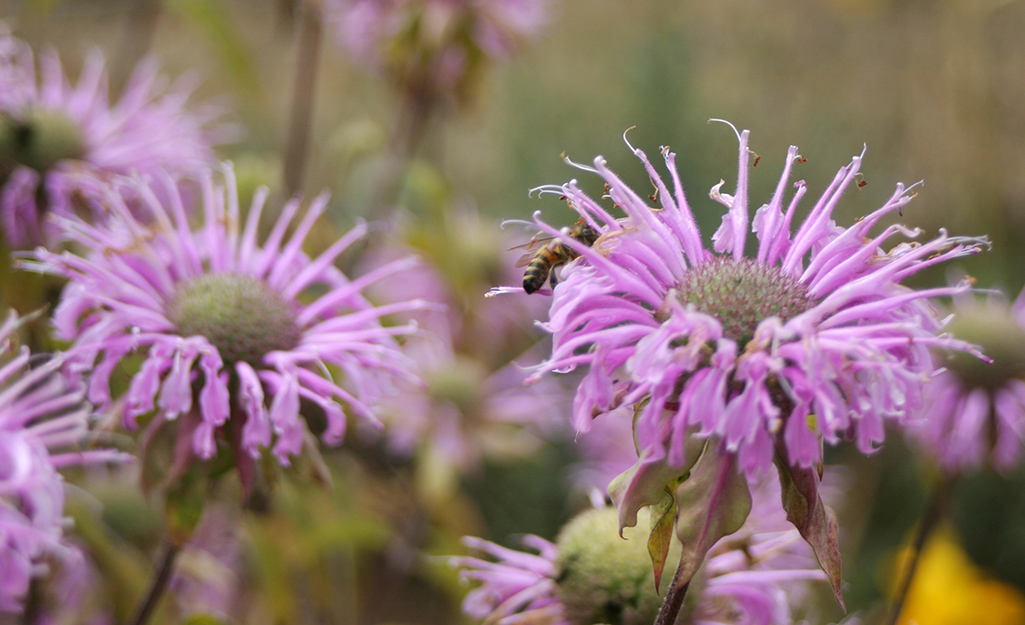 Another aptly named flower, bee balm deserves a place in every pollinator garden. You'll be surprised to see bees and hummingbirds flock to this native plant. Plus, its leaves can be dried to make tea. Grow in full sun in zones 4 to 9.
Lavender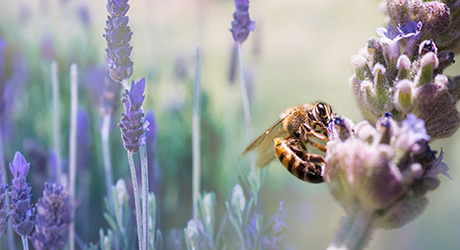 Lavender is a low-maintenance plant that tolerates dry conditions and loves the heat. Bees love it, but deer and rabbits tend to skip it. Plus, the lavender blooms add perfume to the entire garden and can be used to flavor dishes. Grow in full sun in zones 5 to 10.
Coneflower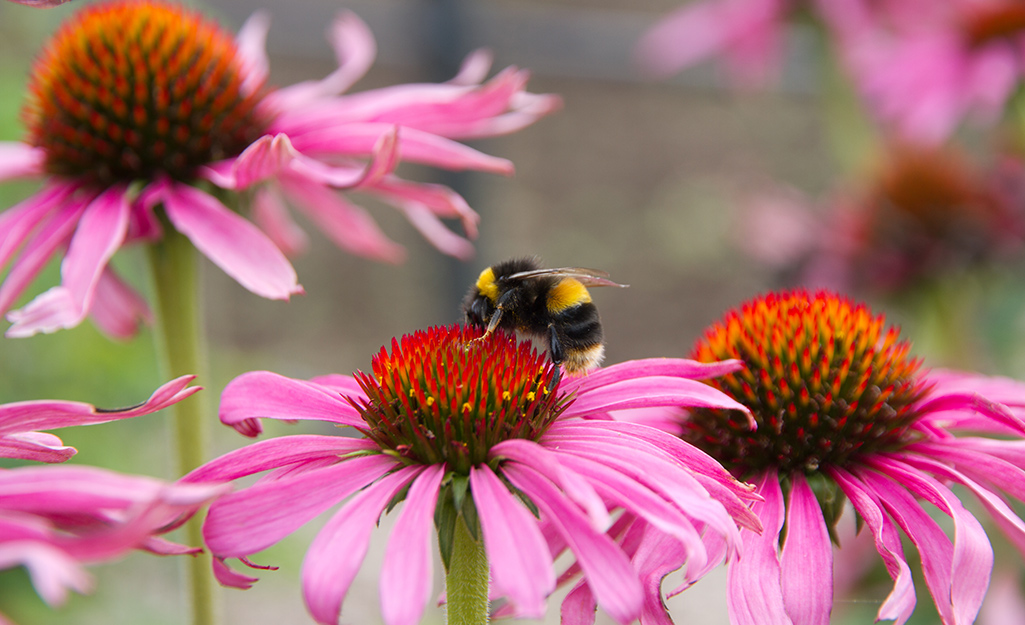 Coneflower's daisy-like blossoms in pink, yellow, orange or white are guaranteed to draw bees and butterflies from midsummer to late fall. Plant these at the back of the garden so their tall stems form a backdrop to smaller flowers in the foreground. Grow in full sun in zones 3 to 9.
Black-Eyed Susan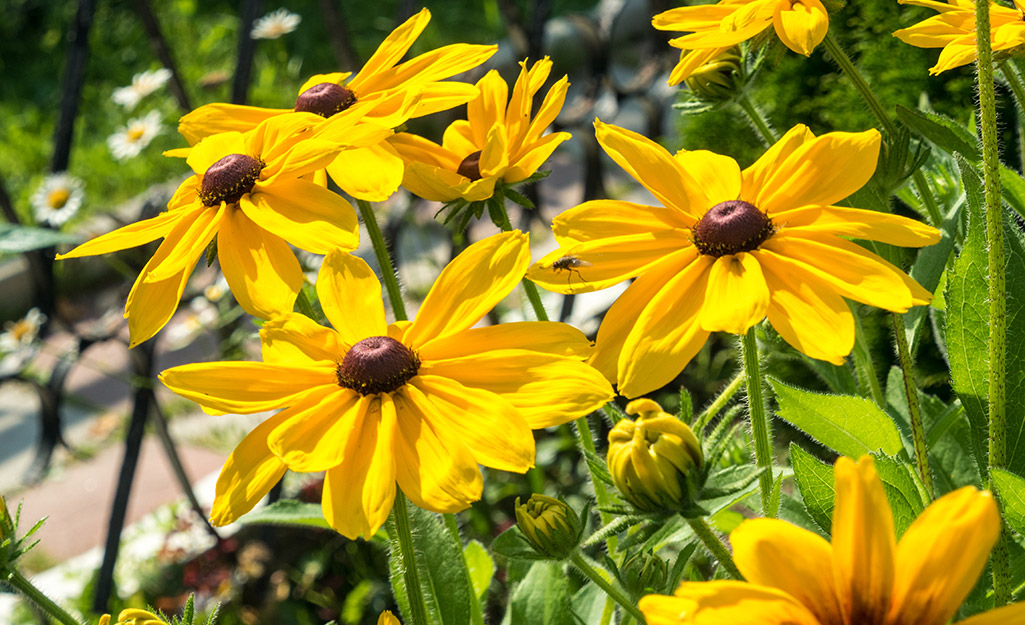 Black-eyed Susan's smiling daisy-like flower is popular with bees and other pollinators. Besides the signature sunny yellow, the flowers come in bronze, mahogany and red. These native perennials are easy to grow, performing well even in poor soil and dry conditions. Grow in full sun in zones 4 to 9.
Borage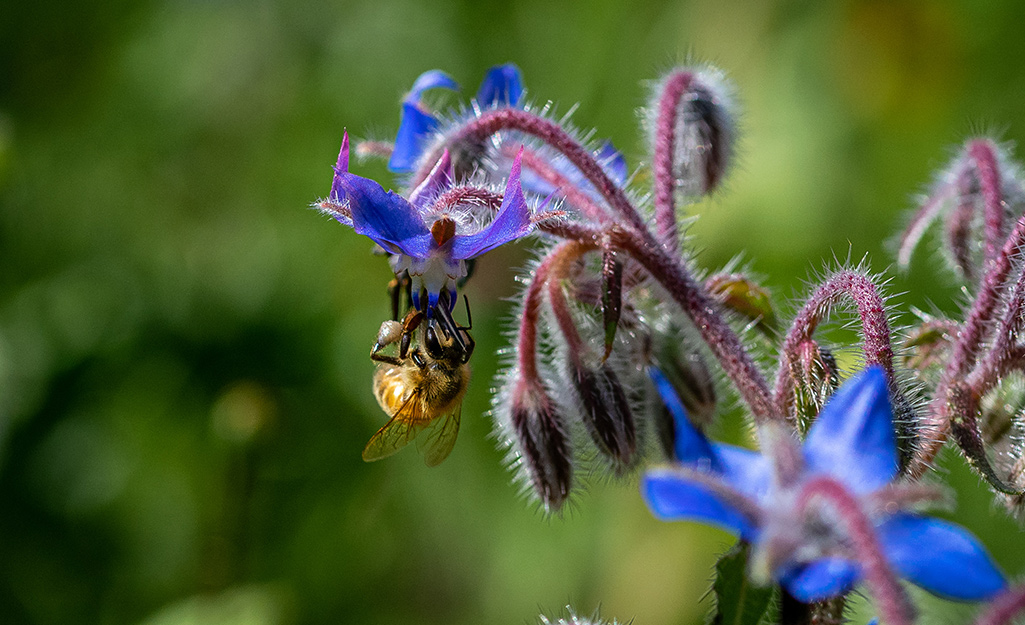 The star-shaped flowers of borage appear in summer and last until first frost. It's a drought-tolerant, native herb that is self-seeding. Grows to 2 feet.
Milkweed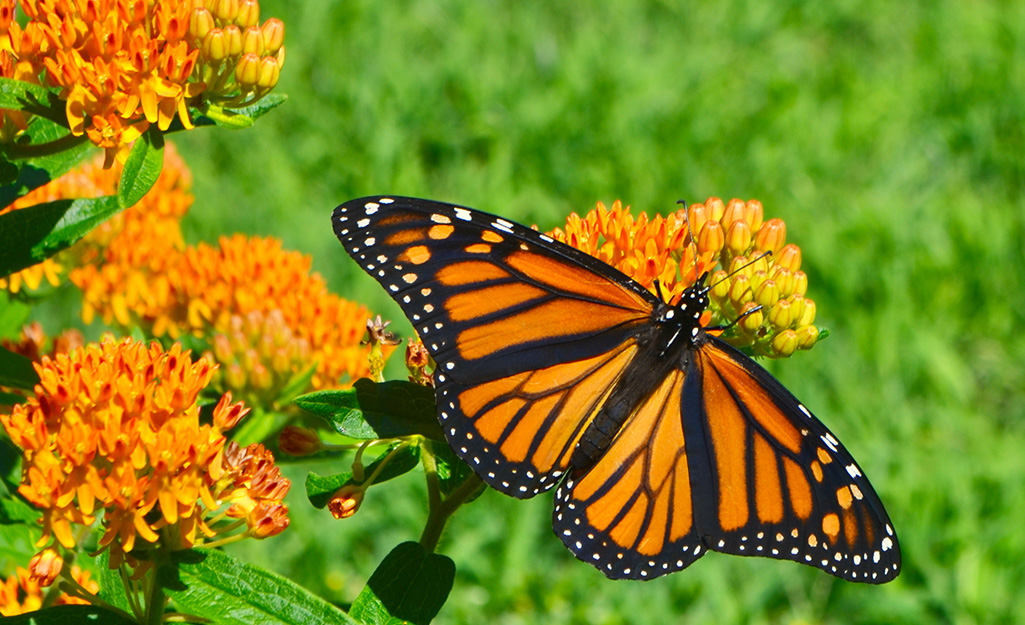 Spring is an extremely important time for monarch butterflies who use milkweed as a host for their larvae. This early spring plant should be a staple in all pollinator gardens. Grow in full sun in zones 3 to 7.
Asters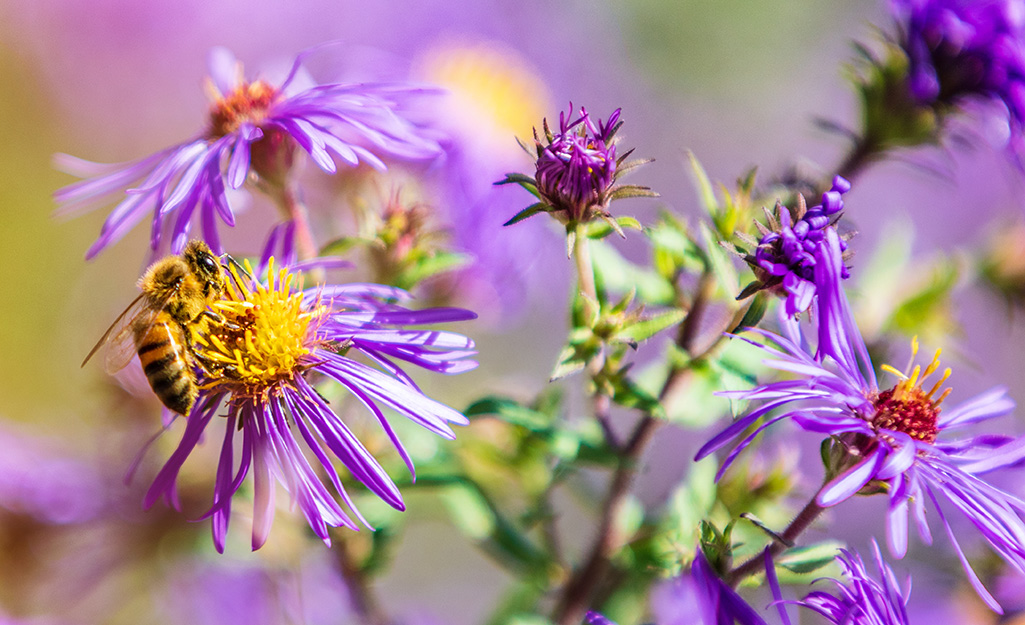 The lovely pink or lavender blooms of asters attract a wide range of late-season butterflies and beneficial insects. Darker purple strains look stunning with a light background such as a white picket fence. In a sunny spot, space plants one to three inches apart depending on the variety. Most asters are hardy in zones 4 to 8. 
Joe Pye Weed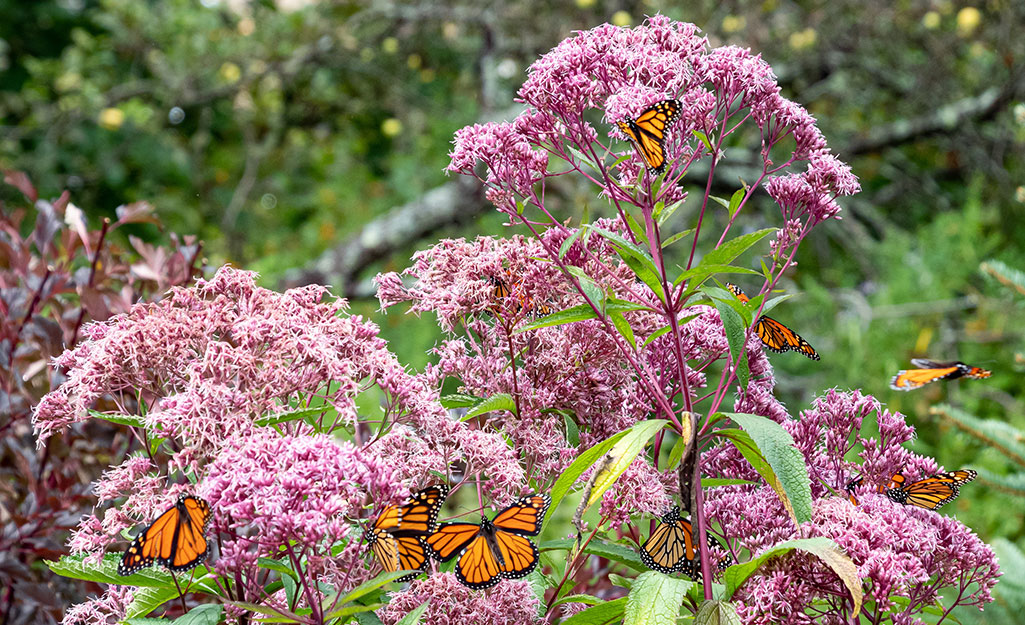 Moist spots are perfect for Joe Pye weed, which produces billows of airy pink florets in late summer. The native form can reach 3 to 12 feet tall, but improved cultivars grow to half that size, and they bloom in brighter colors, too. Joe Pye weed is best planted in a space with plenty of room to grow. Joe Pye weed is hardy in zones 3 to 8.
Sedum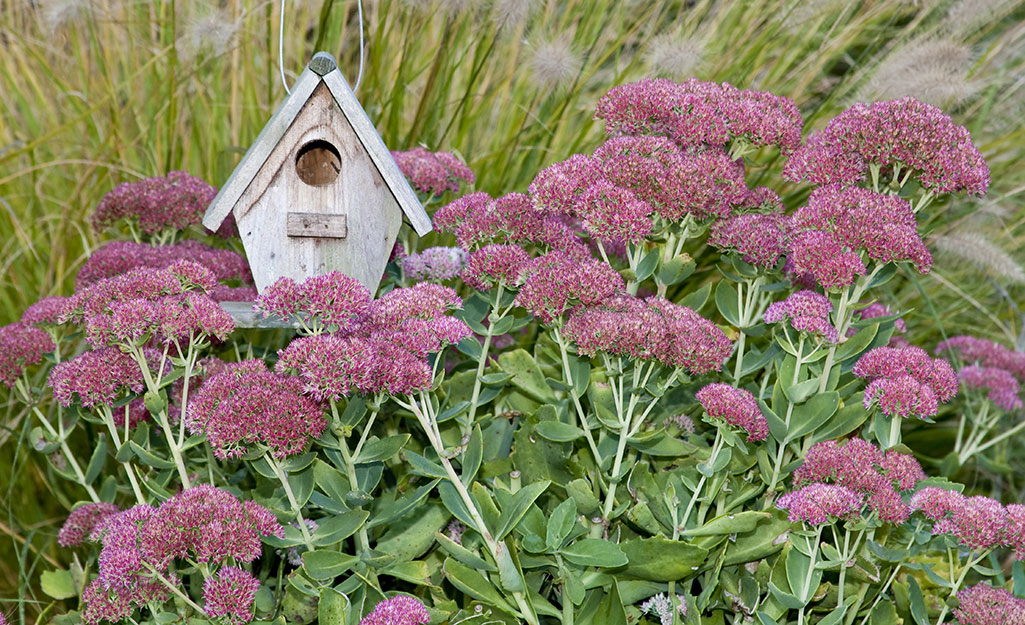 One of the most dependable perennials you can grow, 'Autumn Joy' and other vigorous varieties will quickly establish themselves as permanent garden residents in any sunny spot. The early fall flowers attract a wide range of beneficial insects, and make excellent cut flowers as well. Autumn Joy sedum thrives in zones 3 to 8. Learn more about attracting beneficial insects to your garden.
More Plants Pollinators Love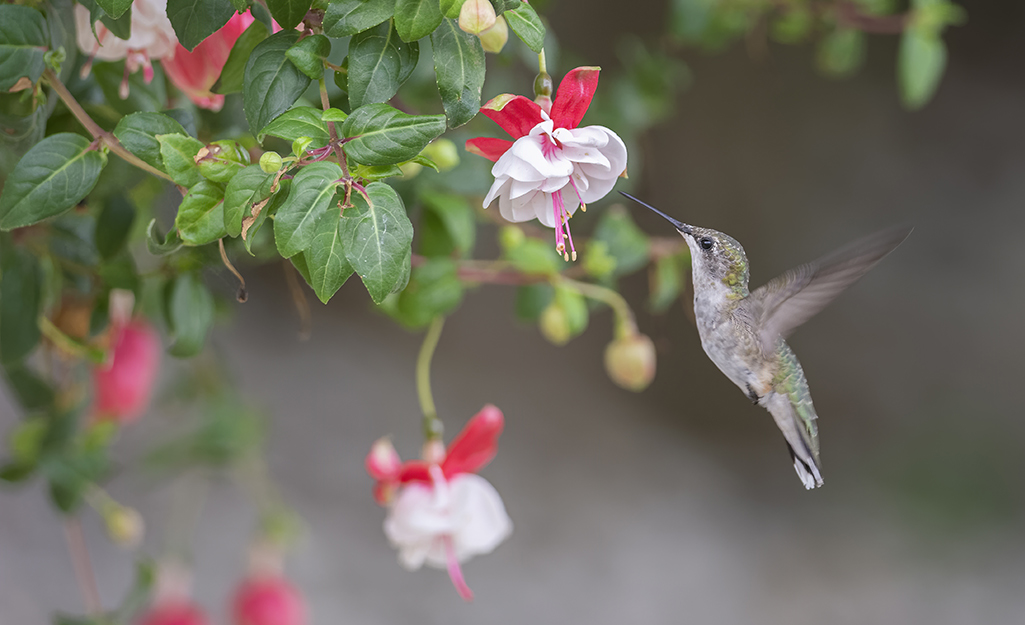 Plan to plant for pollinators all season long. Following are some ideas for your garden:
Spring Pollinator Plants:
Crabapple
Crocus
Lungwort
Pansy 
Viola
Early Summer Pollinator Plants:
Allium
Cherry
Columbine
Dianthus
Elderberry
Foxglove
Fuchsia
Heucheraa
Winterberry
Mid-Summer Pollinator Plants:
Clethra 
Cleome
Cosmos
Gladiolus
Morning glory
Nasturtium
Nicotiana
Penstemon
Petunia
Scarlet runner bean
Rose
Spirea
Sunflower
Zinnia
Late Summer Pollinator Plants:
Delphinium
Goldenrod
Lobelia
Obedient plant
Whether you need the right tools, seeds or garden soil, The Home Depot delivers online orders when and where you need them.
Explore More on homedepot.com