Ideas & Inspiration
How to Attract Butterflies to Your Garden
Butterflies and birds bring gardens to life. Invite them to your yard by planting a variety of flowers and native plants in a sunny spot.
The key is to provide shelter and nutrition during all of the butterfly's life stages: egg, larva, pupa and adult. When you plant for butterflies, you will nurture a vibrant garden filled with these essential pollinators. You can grow a butterfly garden in any sunny space, from a big backyard to a patio or porch.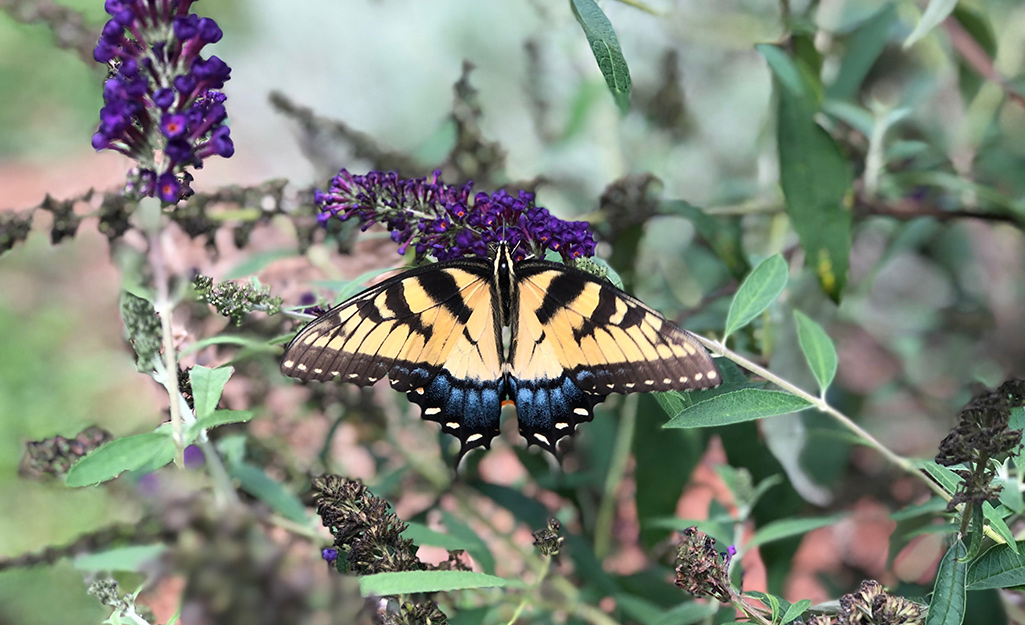 Just like sunlight, rainfall and soil fertility, pollination is essential to a thriving ecology. Insects and birds, including hummingbirds, provide most pollination services in the garden. Among insects, the four major groups of pollinators are bees and wasps, butterflies and moths, beetles, and flies.
Butterflies help plants reproduce and, in turn, butterflies feed on flower nectar, the highly nutritious food that they need to survive. Trees, shrubs and flowers also provide shelter that support the butterfly during its life cycle and protect it from predators. While not as showy as butterflies, moths are just as important as pollinators, and they provide additional value to the garden as food for bats, tree frogs and songbirds.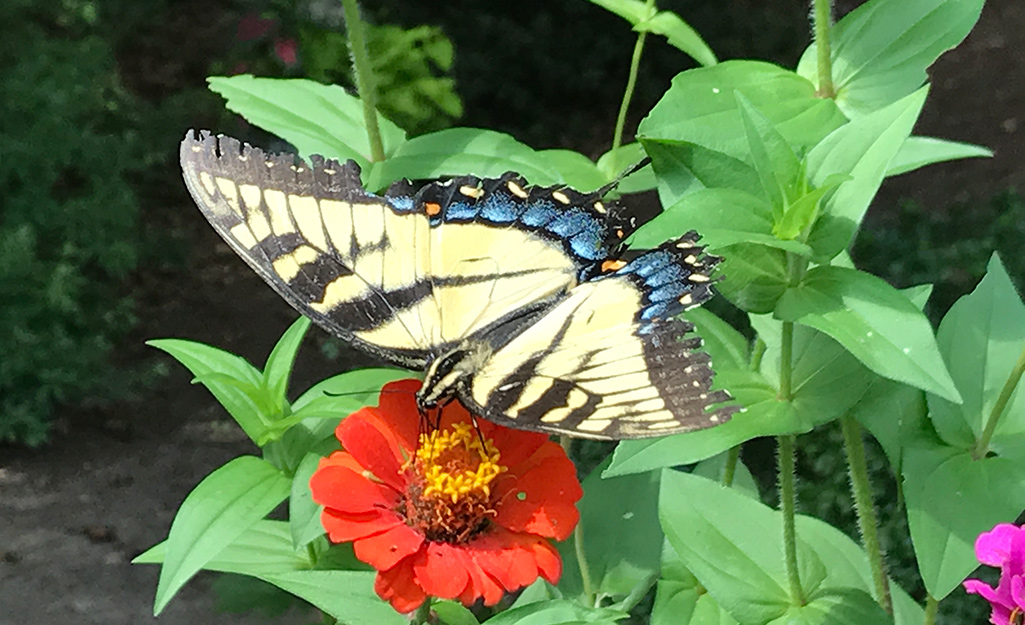 When designing a small-space butterfly garden, consider the ecology of the plants and insects and how they interact with each other. A healthy ecology supports insects like butterflies, and that's why the first step towards any butterfly garden is choosing organic. From soil to seeds and seedlings, build an organic garden that nurtures beneficial insects. Remember that insecticide use will not support a beneficial insect population, and even organic solutions like Bt (Bacillus Thuringiensis) will harm butterflies in the caterpillar stage.
Get your neighbors involved. Butterflies have a large territory and will need support from more than your small-space garden to thrive. Let your neighbors know your plans to support butterflies and offer to share plants and treat problems organically.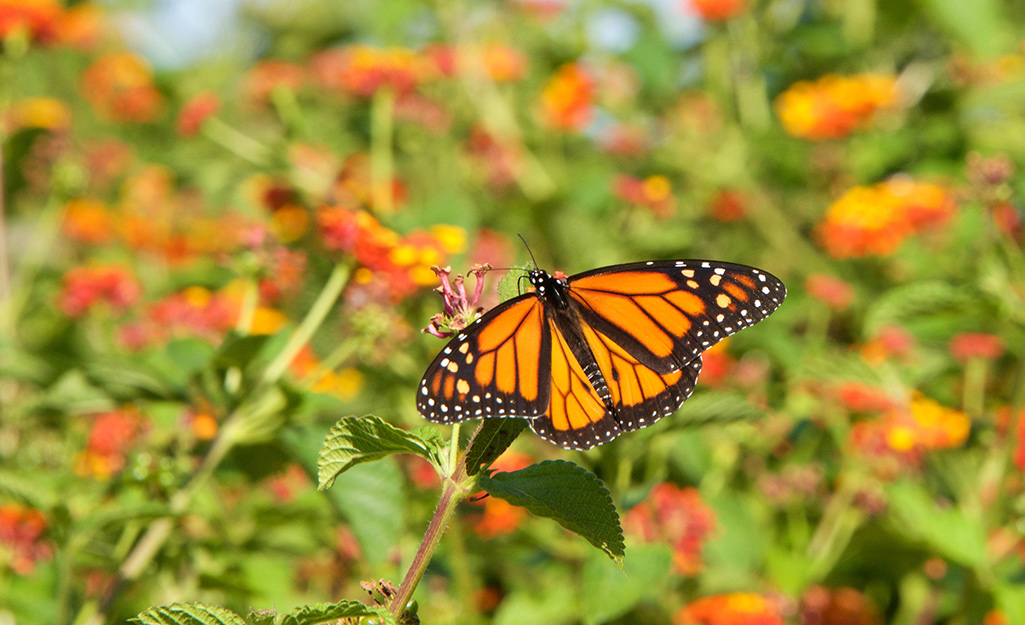 Grow flowers in full sun. Butterflies need heat to thrive and will seek out brightly colored annuals in the hottest part of your garden.
Grow native plants. Seek out a local native plant society or your Local Extension Service for information on indigenous plants.
Read plant tags. In the Garden Center, look for annuals and perennials that butterflies love.
Bright colors and the right shape. Butterflies like red, yellow, orange, pink and purple flowers that are flat or clustered or have short flower tubes.
Keep the show going. Choose flowers that bloom continuously, or plan for a succession of blooms with staggered sowing of seeds like zinnias.
Fill containers with butterfly favorites according to the thriller, filler, spiller technique: tall verbena "thrillers," lantana "fillers" and bidens "spillers."
Make a spot for "puddling" where your butterflies can drink water and extract minerals. To make a "puddle," fill a shallow pan with coarse sand and put it in your island bed. Keep the soil moist.
Tip: Butterflies are most active when their internal temperature is greater than 75 degrees Fahrenheit. This is why you'll see butterflies landing on pavement and soaking up the sun's rays. Place flat dark stones around your garden that will absorb heat for butterflies to absorb heat.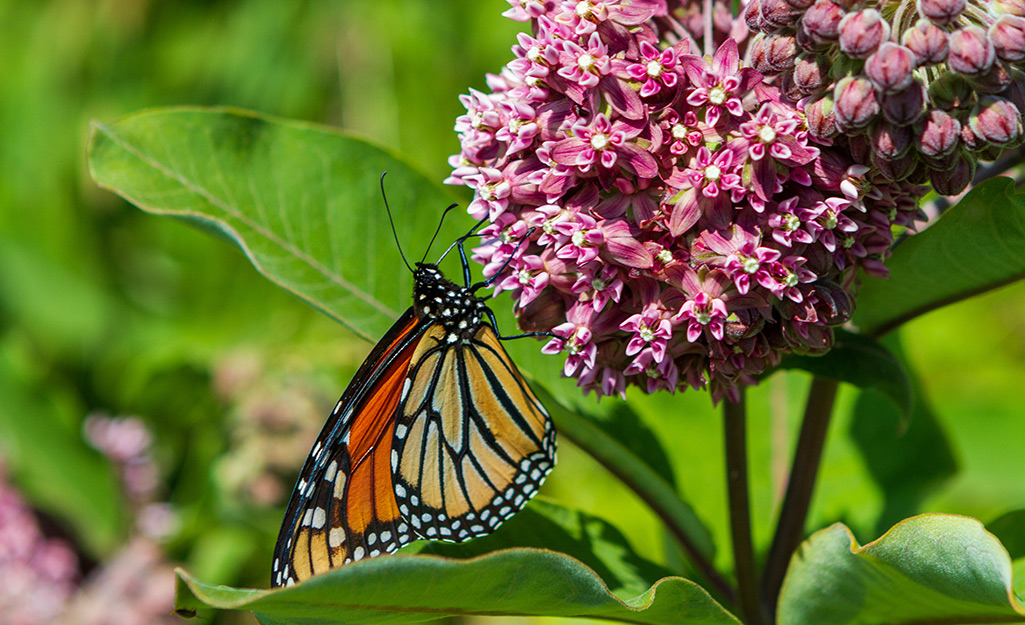 You'll need to plant two types of plants for the butterfly life cycle: host plants that offer shelter and nutrition for the growing caterpillars, and nectar plants that provide food for the mature butterfly.
Butterfly caterpillars can be particular about their host plants – the monarch butterfly's affinity for milkweed is an example. An easy host plant for most gardens is curly parsley. This perennial herb can be massed in a border or tucked into containers for a consistent show of green and as a home for caterpillars.
COMMON HOST PLANTS FOR CATERPILLARS:
Aster
Chrysanthemum
Clover
Dill
Hibiscus
Hollyhock
Milkweed
Mustard
Parsley
Snapdragon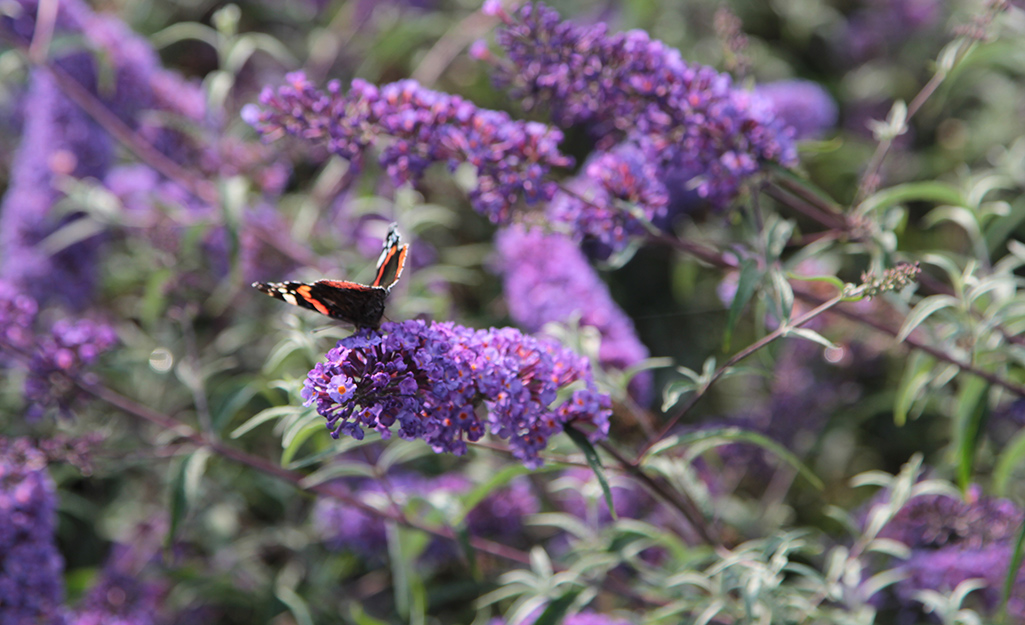 Butterfly bush (Buddleia) is a classic pollinator magnet, attracting hummingbirds and bees, as well as butterflies. It's a large plant, though, best suited to a corner of the house. To fill a small space, consider Proven Winners' Lo and Behold Blue Chip Jr. butterfly bush in containers. Give it full sun, at least six hours, and well-drained soil. It's perennial in USDA hardiness zones 5 to 9.
Verbena is an annual favorite that pumps out the color all summer long. Along with verbena, choose other brightly colored annuals that can handle at least six hours of full sun a day to bring in the butterflies. Superbena is a good choice for mounding in a group of containers.
Lantana comes in citrus-y shades of yellow, orange and pink, with solid and variegated flowers. This tough plant can handle drought stress and isn't very particular about soil. Its clusters of tiny flowers are ideal landing pads for butterflies. If you have pets, keep lantana out of reach; according to the Humane Society of America, it can be toxic to pets.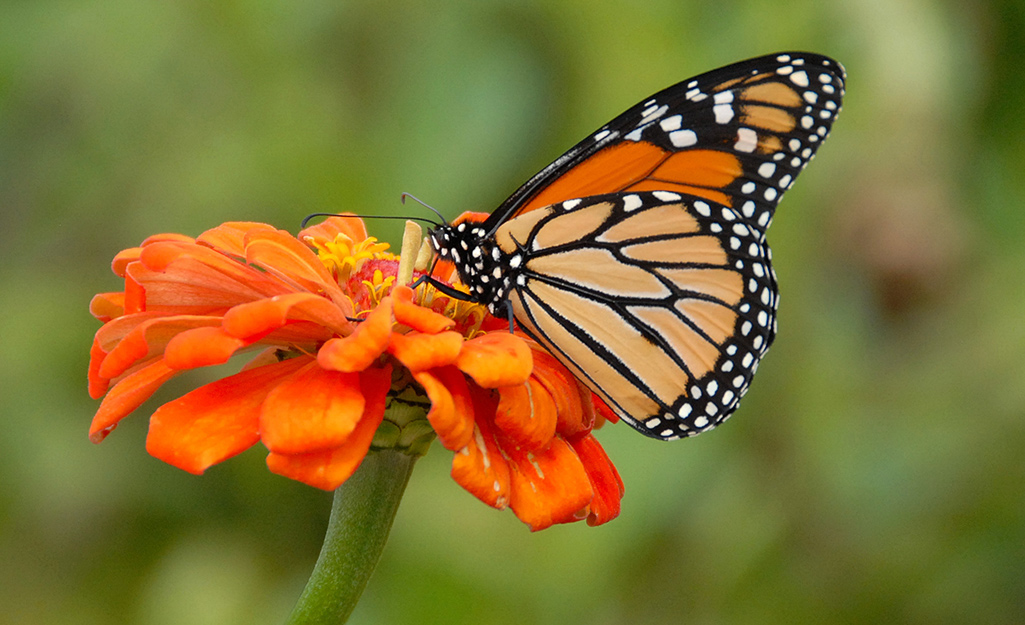 Sedums like 'Autumn Fire' offer clusters of flowers that open creamy white and deepen to dusky pink late in the season. This tough plant is perennial in zones 5 to 9, thrives in containers and is easy to propagate by pinching off stems and placing in potting mix.
Salvia are low-maintenance annuals because they are self-cleaning, no faded flowers to deadhead. Butterflies will love the scarlet flowers from spring planting until fall. They're a natural in containers with celosia and marigolds.
Pentas is a pleaser in the garden. This annual is drought-tolerant once established in the garden and butterflies and hummingbirds can't resist its clusters of pink or red blooms. Keep pentas watered, and if they're in-ground, a blanket of mulch will help retain moisture. Deadhead spent blooms to keep the plant neat and compact.
Zinnias are a sure-fire butterfly magnet, and probably the least expensive, too. For about $2, you can buy a packet of Burpee's 'Cut and Come Again' zinnia seeds, and plant them in a container filled with potting mix. They will bloom from mid-summer to frost and offer butterflies shelter and nectar while you enjoy the show. If you want instant impact in your garden, pick up zinnia seedlings in your Garden Center.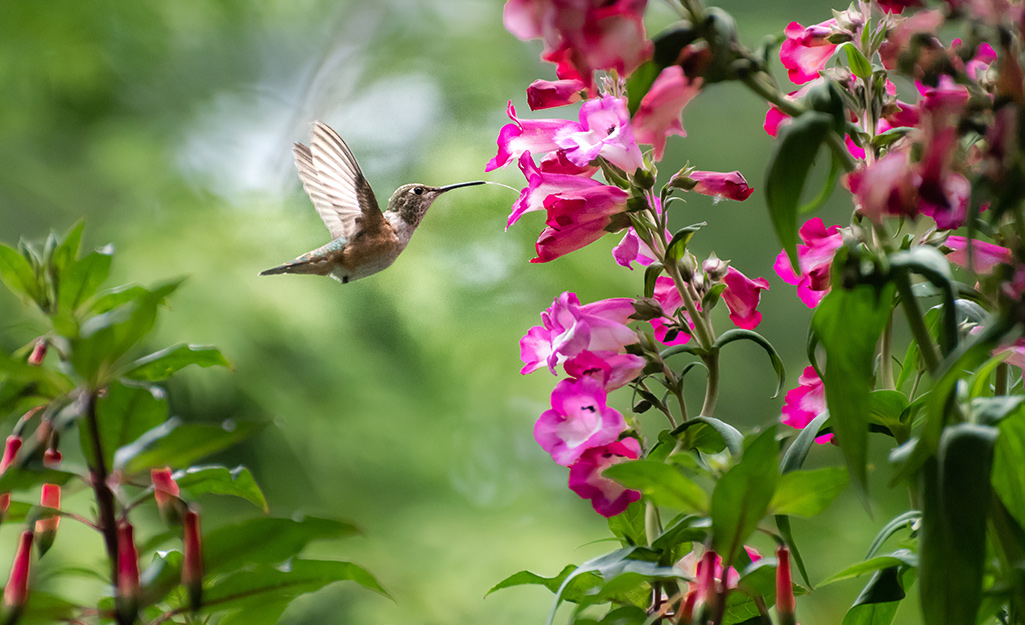 Please more than butterflies when you plant for feathered friends. Here's how:
Offer your feathered friends a backyard buffet by planting annuals and perennials with large seedheads, such as sunflowers, black-eyed Susans and coneflowers.
Hummingbirds drink nectar and are attracted to red, orange and blue flowers.
Don't forget water: A birdbath or fountain is very popular. Clean it regularly.
Grow plants that bloom at different times so birds can always find something to eat.
Don't deadhead the flowers you're growing for birds – that's their dinner!
Tip: Do not spray chemical pesticides on plants that birds and butterflies might eat.