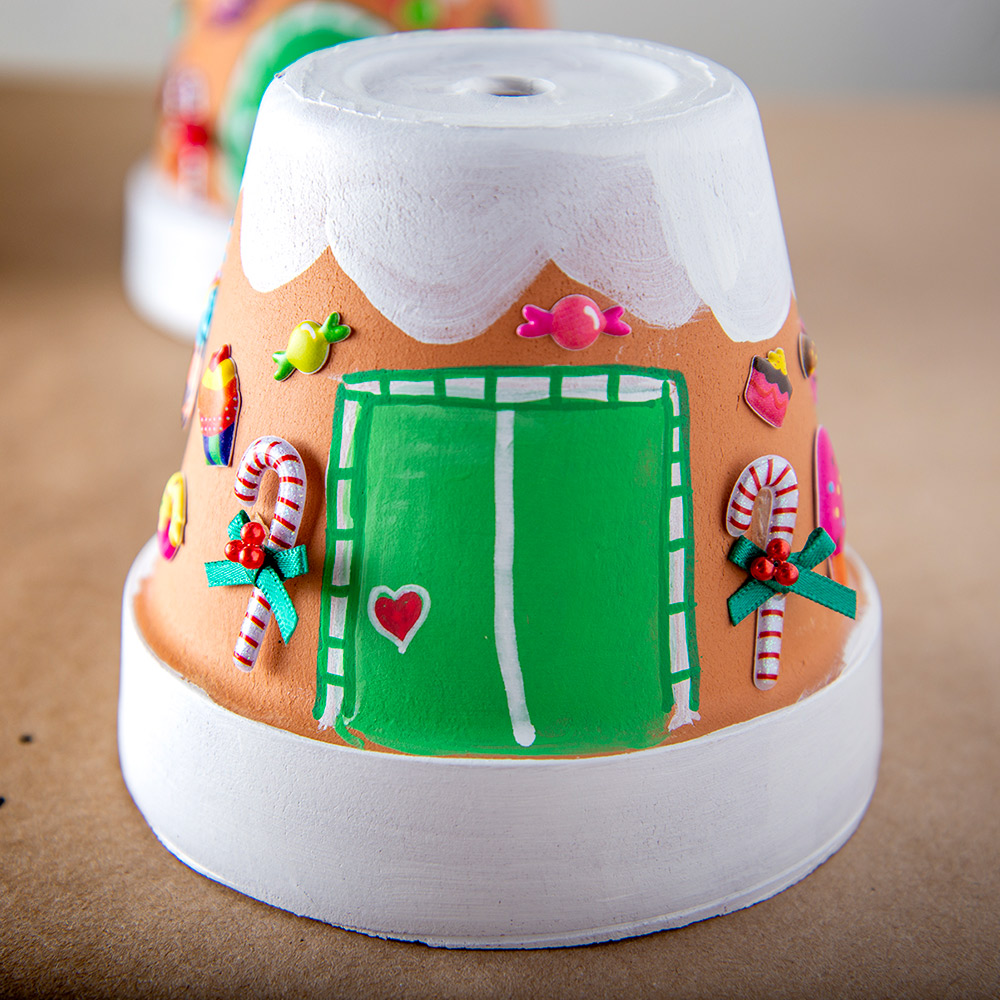 This Christmas, get crafty with terra cotta pots and make festive decor like a gingerbread village, snowmen, Santa's red suit and a whimsical Christmas tree. This guide will show you how to transform basic terra cotta pots into holiday decor you can display on your mantel or holiday table. 
Tip: For all projects, be sure to work in a well-ventilated area and lay a tarp down to protect all work surfaces. 
Make a Gingerbread Village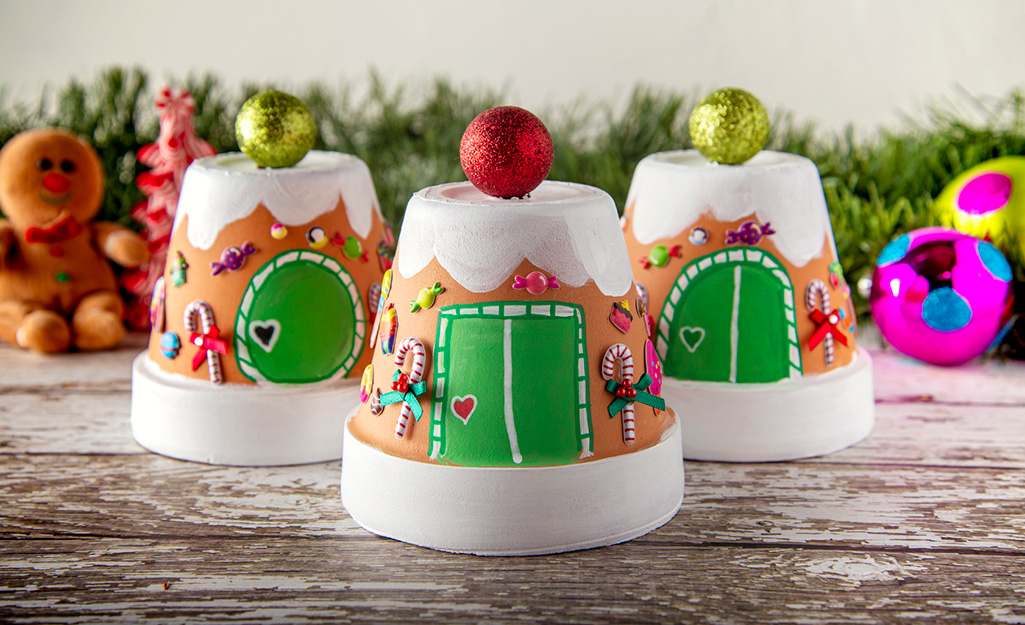 Create a colorful gingerbread village you can display during the season. Enlist the kids to help with stickers and decor for even more fun. 
For this project, you will need:
4 1/2-inch terra cotta pots
Paint brush
Holiday stickers and ornaments

How to make it:
Start by turning over the pots and painting the bottom and the rims with white paint to resemble snow. 
Using bright green paint, paint the doors and trim. 
Once the paint is dry (about an hour for each coat), begin adorning the pots with holiday stickers. Add Christmas bells or small ornaments to the top of each to achieve a merry and colorful look. 
Tip: Paint pens make easy work of the finer details. 
Create a Snowman Planter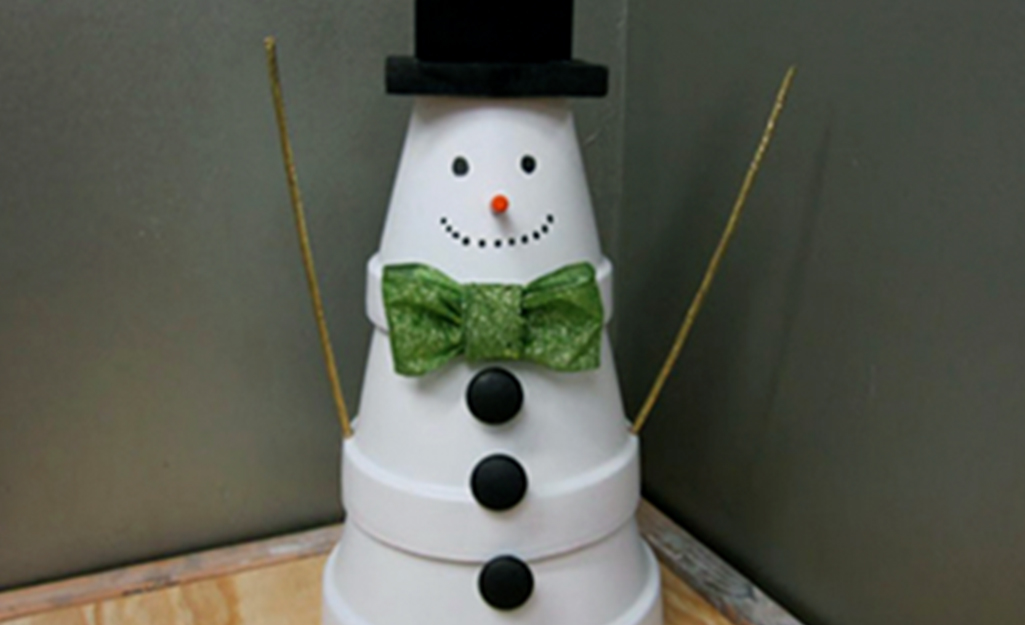 Paint a friendly face on a terra cotta pot this season and fill it with a houseplant. This simple design is easy to mass produce and makes a great gift. 
For this project, you will need:
4 1/2-inch terra cotta pot
White spray paint
Acrylic paints
Paint brushes
Plants 
How to make it:
Begin by turning the pot upside down and spraying it all over with white spray paint. 
Now, using your foam paint brush, paint the rim with black paint to resemble the snowman's hat. Let this dry for about an hour.
Finish the snowman's face with paint pens or a thin paint brush. 
Let it dry for a few hours before adding your plant. 
Tip: Look for easy-care plants like pothos to fill this planter. 
Paint Santa's Suit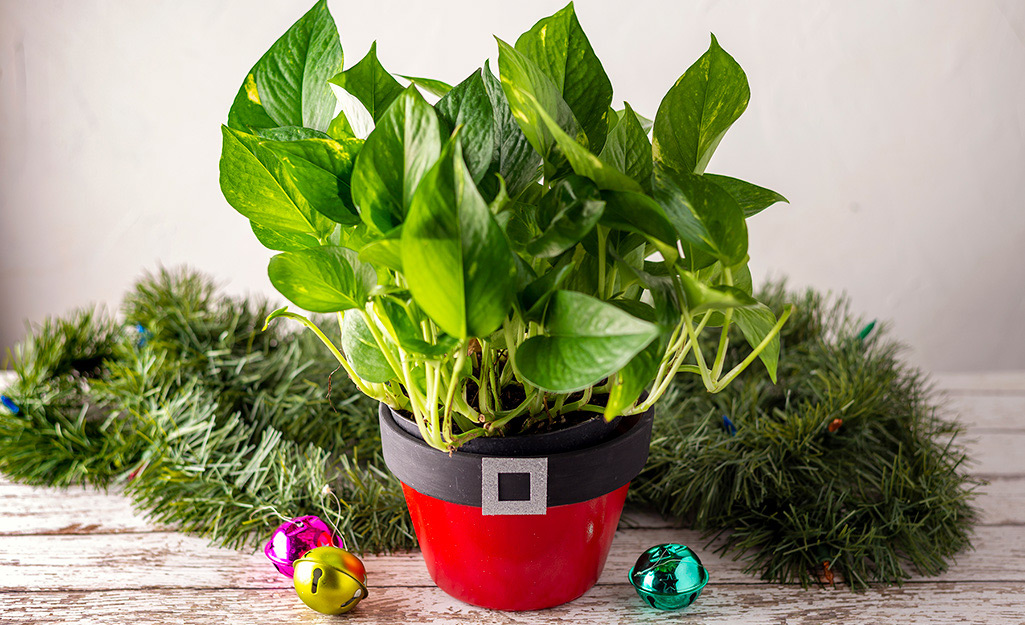 A jolly planter that resembles Santa's suit makes an adorable holiday table centerpiece. 
For this project, you will need:
4 1/2-inch terra cotta pot
Red spray paint
Black acrylic craft paint
Paint brush
Art knife or scissors
Glue dots or glue gun
Glittery craft paper or card stock for belt buckle (optional)
How to make it:
Turn your pot over and wrap painter's tape around the rim. 
Cover the pot completely with red spray paint. Let the pot dry for a couple of hours. Then remove the painter's tape. 
With a foam brush, paint the rim with black paint. Let it dry for an hour. 
Cut a buckle out of card stock. We used glittery paper. You can also use regular paper and glittery craft paint. Using your glue gun, attach the belt to the pot. 
Add your plant and display. 
Whip Up a Whimsical Christmas Tree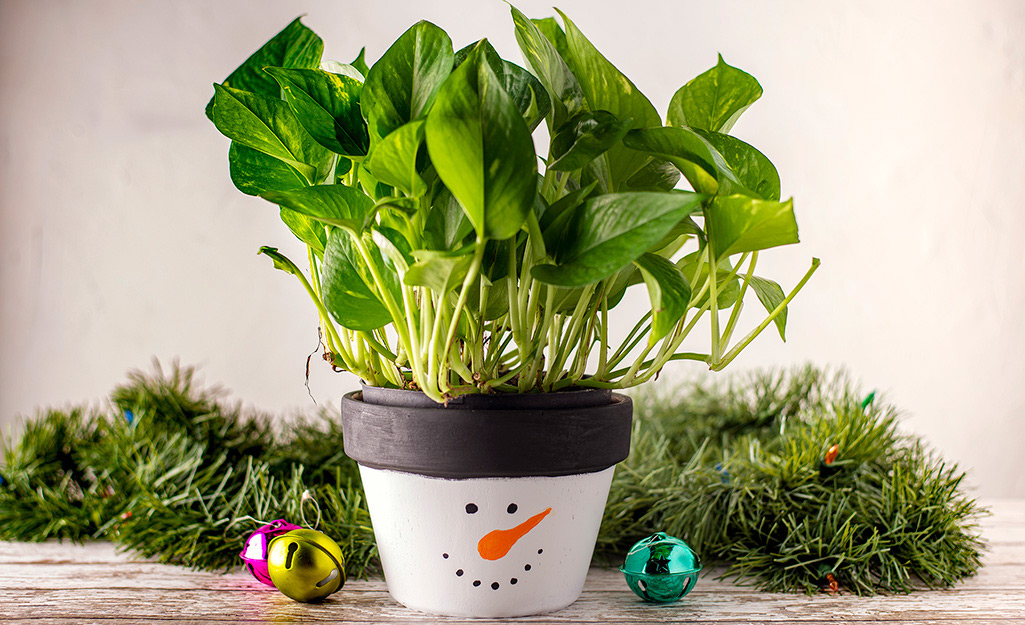 This festive Christmas tree adds a touch of charm to any space. With some green spray paint and a few lights, you can create a whimsical centerpiece. 
For this project, you'll need:
Four terra cotta pots: 3 1/2 inch, 4 1/2-inch, 6-inch, 8-inch
Green spray paint
Small holiday ornaments 
How to make it:
Turn the pots over and spray paint them all using your bright green spray paint. Let them dry overnight. 
Once dry, stack the pots from largest to smallest. Give them a bit of a twist to ensure they lean but don't fall. 
Now decorate. Add a Christmas ornament to the top to resemble a tree topper. Wrap lights around the pots and surround them with colorful ornaments. 
These holiday craft ideas using terra cotta pots will add hours of DIY fun and lasting memories to the season. Use these to decorate your home or give them as gifts. The Home Depot is your DIY headquarters. Looking for a product to complete your project? We have options to deliver online orders when and where you need them.
Explore More on homedepot.com