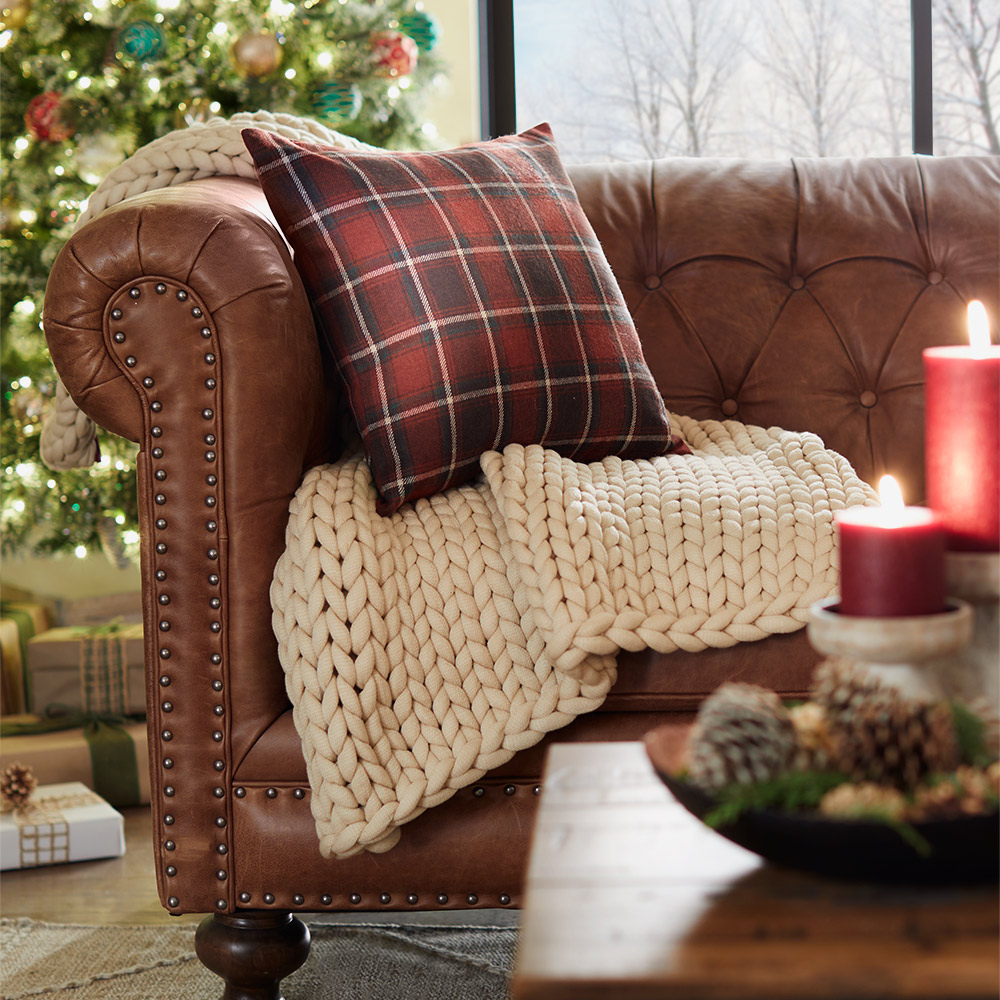 Decorating for the holidays doesn't have to mean the same thing for every home. There are plenty of ways to complement your personal style while still dressing up your rooms for the season. Finding holiday decor that goes well with your year-round home decor is easy to do with the right inspiration. From cottage charm and modern decorations to rustic looks and retro inspiration, this guide covers holiday decoration style ideas.
Retro Holiday Decor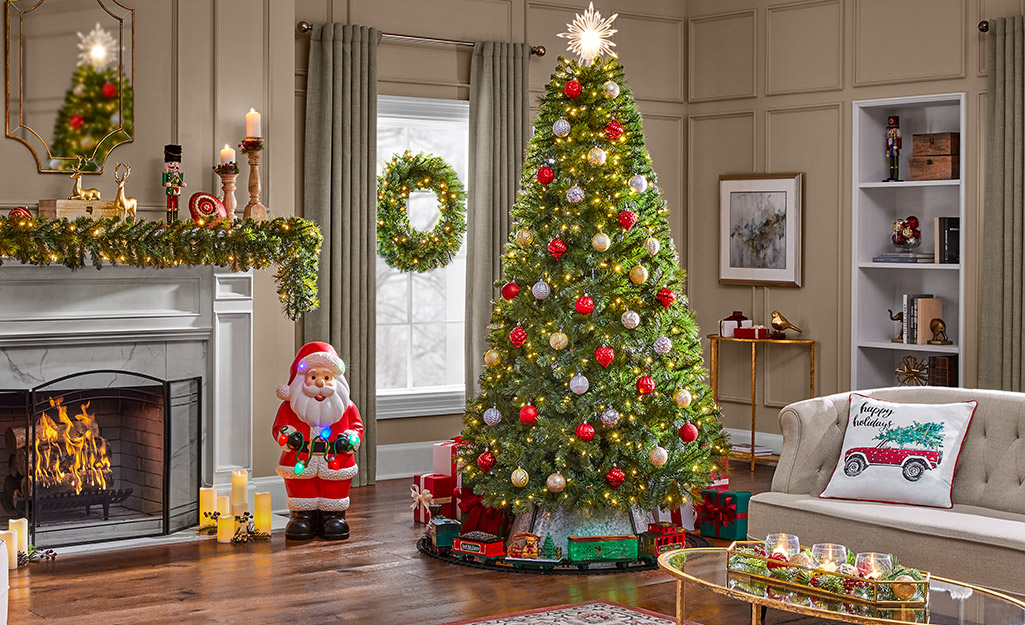 Traditions are always a big part of the holiday. Retro decor lets you feel like you've returned to the celebrations of the past. You don't have scour antique malls and secondhand shops for period ornaments, though. Look for new vintage-inspired decorations that bring the 1950s to mind. Think silver Christmas trees, turquoise-and-pink decorations, plastic Santas and even a toy train around the tree.
Delight in Victorian Holiday Traditions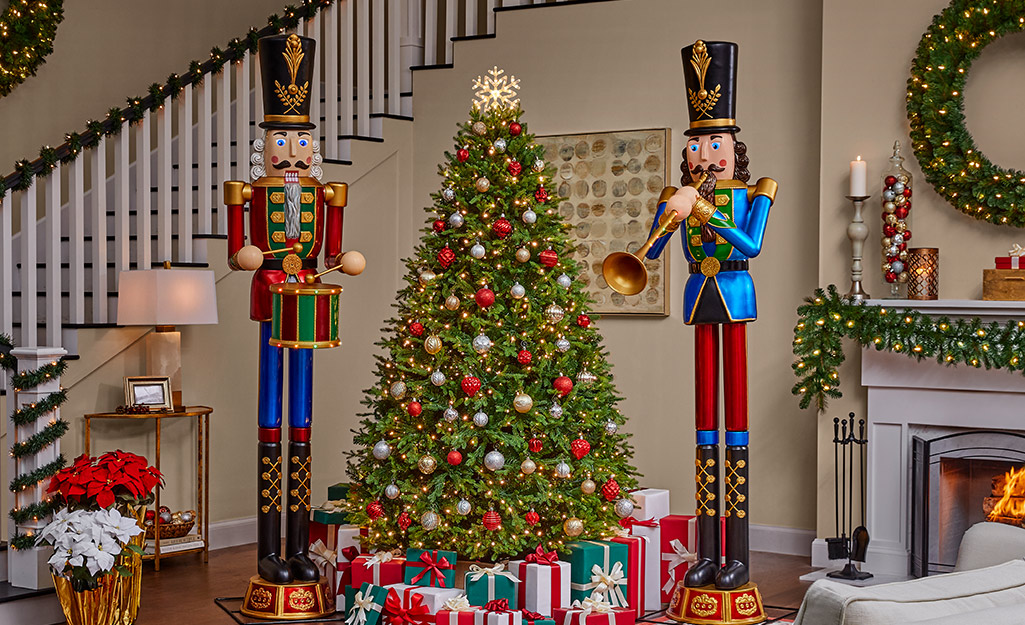 Celebrating Christmas hit a high point in the Victorian era, which is when trees became a standard part of the holiday. Feasts and games were also popular. Return to days of yore with greenery everywhere, including wreaths on the doors and in the windows. Accent wreaths and boughs of evergreens with ribbons and natural elements, like flowers, berries or nuts. You don't have to live in a historic house to embrace this decor trend.
You can celebrate Victorian-style with or without a freshly cut Christmas tree. While Victorians did use real trees, they also embraced artificial ones. Feather trees will give you plenty of space to place every ornament perfectly. 
Whatever kind of tree you decide on, trim it with strings of beads and tinsel. Hang delicate glass ornaments depicting Santa, nutcrackers and other traditional icons. You might even consider making your own Victorian-inspired ornaments. Try cutting out paper stars or angels and adding accents like glitter and lace.
Going Glam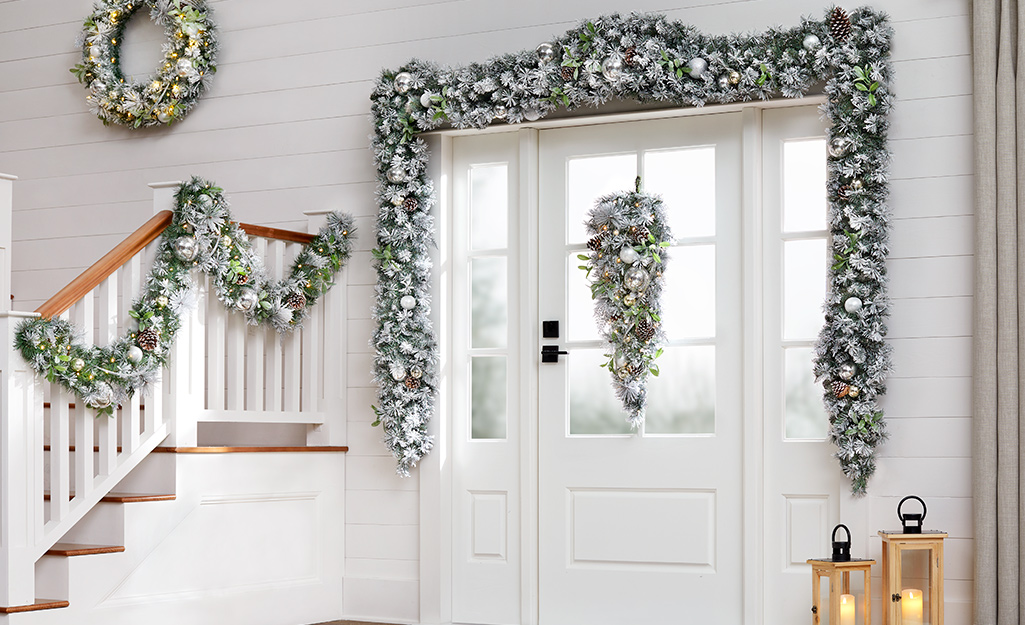 Homes that lean toward a bit of glam can keep the glitz with Christmas decor in metallic tones like silver and gold. Ornaments in rich shades of blue, pink or rose gold add an extra layer of elegance. And be sure to top it all off with a shimmering tree topper.
The best part of glam is that over the top is always better. Try dressing up the mantel in silver garland or adding a statement wreath. Swap out last year's tree for a showstopper in white or a flocked Christmas tree draped in shiny garland and metallic ornaments. 
Decked Out in Cottage Style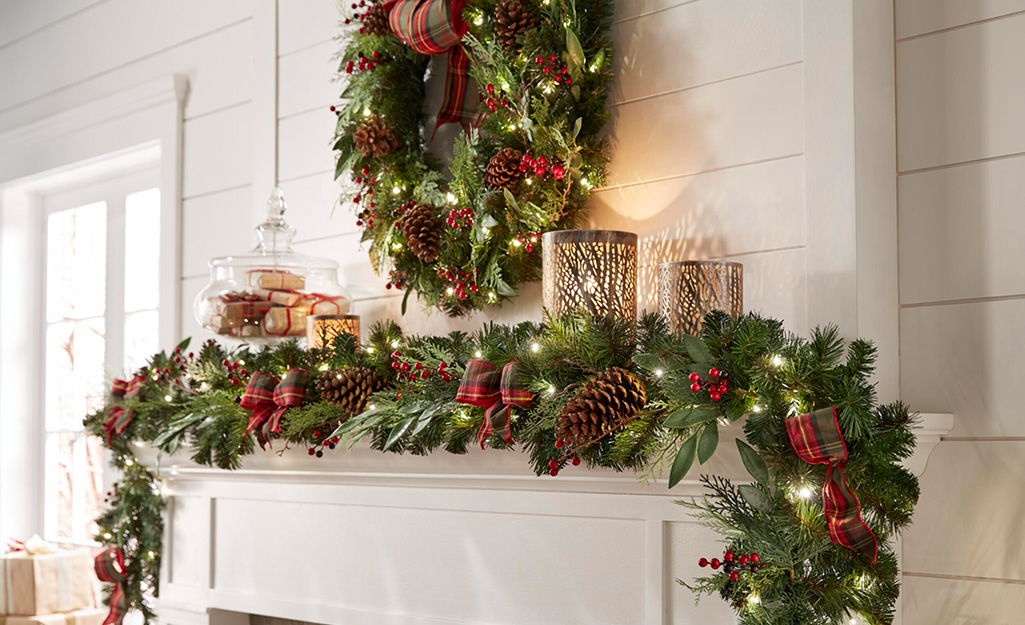 If your home lends itself more to coastal or cottage style, dress up those shiplap walls and crisp white rooms with simple holiday decorations hung with care. Bring out the natural charm of a cottage home with classic wreaths on windows.
Flank the stairs of your coastal-style home with tasteful garland that complements your home's details without overshadowing the clean lines in every room. And don't forget the front door. Cottage and coastal style homes are one of the best backdrops for stylish outdoor Christmas trees and understated lights. 
Modern Holiday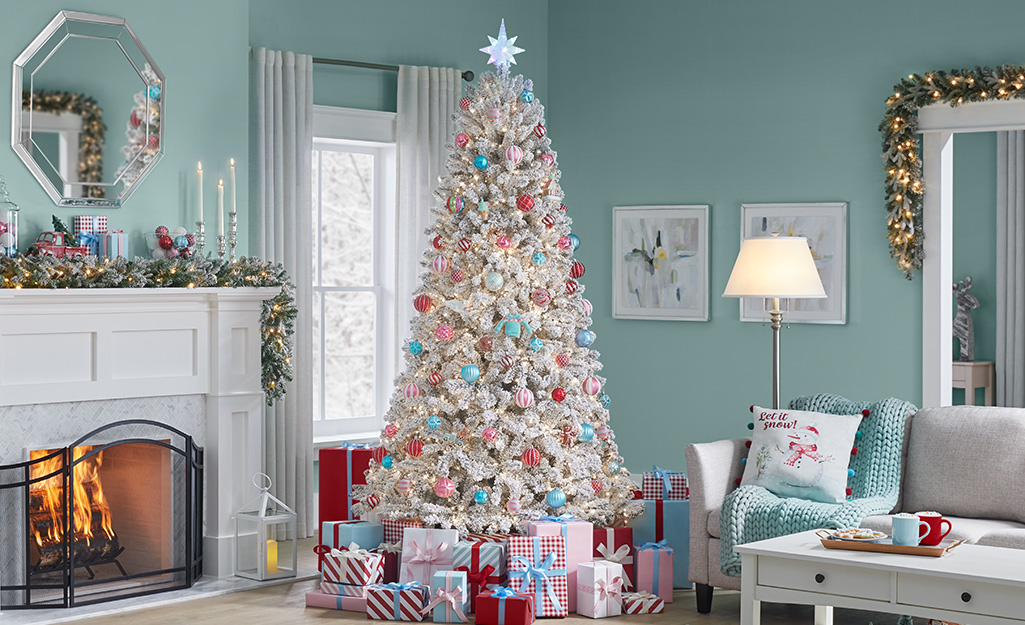 A modern-style home is all about clean lines and exceptional details that can still stand out amongst holiday trimmings. With just a few decorations, like a traditional tree with all-white lights, or matching wreaths perfectly placed on doors or windows.
Additionally, modern homes don't always follow basic decor rules. Think outside the living room and bring your tree into the dining room for a little extra holiday fun. Keep things celebratory but sleek with silver details or little pops of plaid Christmas decor. 
Festive Farmhouse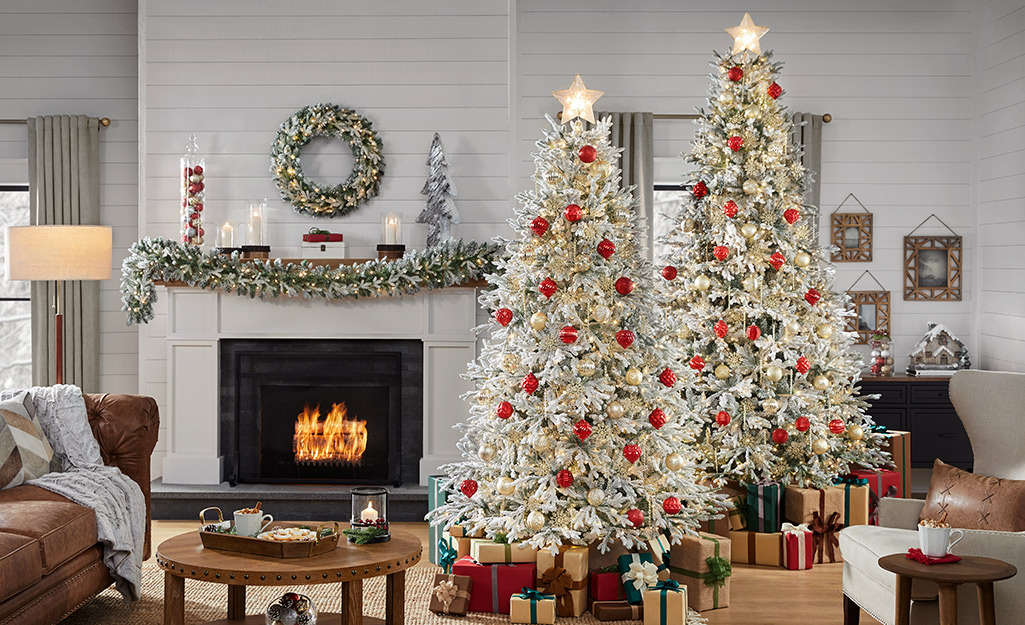 A farmhouse-style home is all about the warmth and welcoming vibes, so it's the perfect setting to create some holiday magic. Have a larger living room? Bring in a few smaller trees to keep your larger Christmas tree company. Opt for ornaments with classic colors or rustic charm.
Bring in cozy details like warm throws and decorative pillows. Layer in pieces like candles and vintage decor and don't forget the tree collar for the perfect finishing touch. 
Rustic Holiday Decor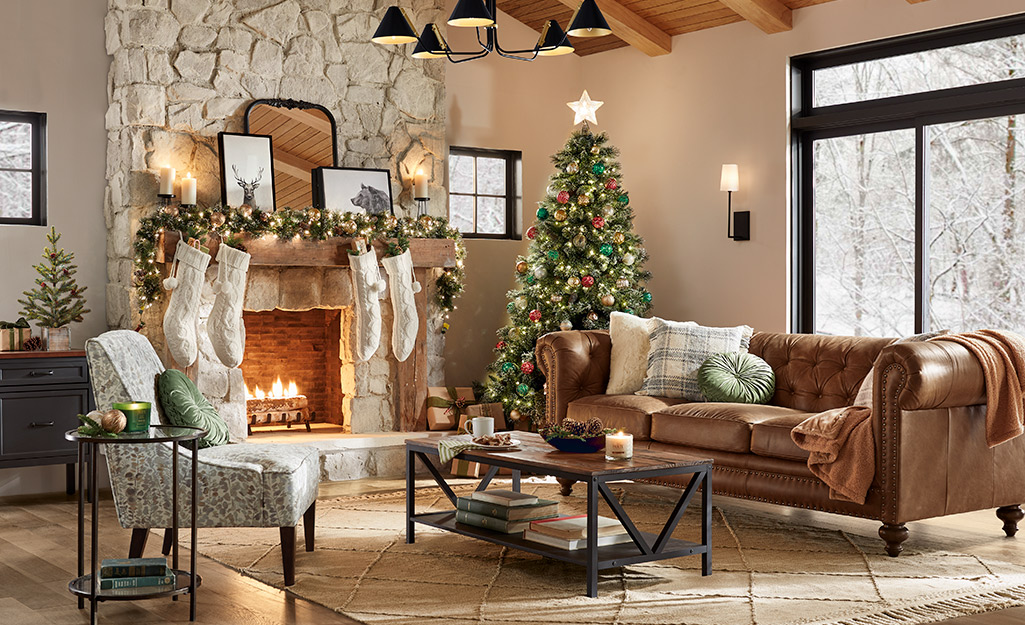 Farmhouse charm can also be the perfect backdrop for rustic holiday decor. You can easily pull this look off by adding in plaid christmas decorations, like stockings in a buffalo check print, or garland decorated with tartan plaid trimmings.
This is also the ideal setting for DIY decor like homemade pine cone ornaments. Bring more of the outdoor aesthetic in with tons of greenery, cedar garland and hints of burlap for just the right amount of rustic cheer. 
Classic Christmas Charm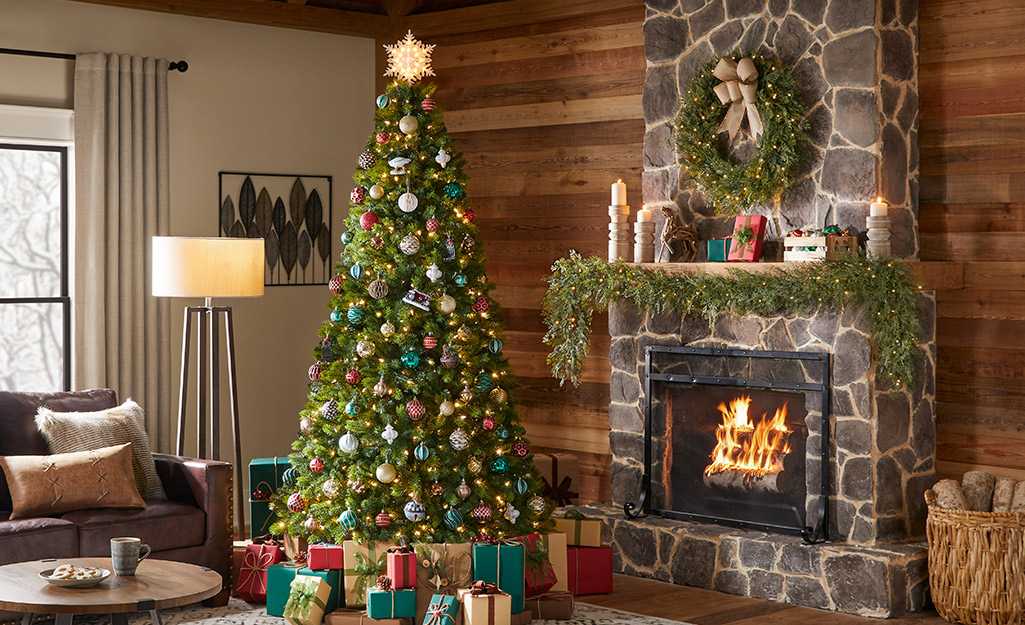 Traditional-style homes look so at ease when decorated for the holidays. Classic green wreaths with pops of red and white decor are easy to incorporate in a home with traditional details. Classic Christmas accents like boxwood wreaths, nutcrackers and holly work perfectly here. This type of home isn't about the holiday overload but about having the simple but inviting details that make the holidays magical.
When it comes to trimming the tree, a classic Christmas skirt with plaid or jolly hints of red will be an ideal landing spot for all those thoughtful presents. 
Turning your house into the North Nole or just a slightly upgraded holiday version of itself is easy with the a little inspiration. Looking for holiday decorations to perfectly accent your house? The Home Depot delivers online orders when and where you need them.
Explore More on homedepot.com