One of the biggest challenges of preparing a traditional Thanksgiving dinner is finding space for all that food in a conventional oven. Of course, there's much more room for stuffing, creamed corn and green bean casserole if you take the turkey out the equation.
That's one reason many holiday foodies are taking their turkey out into the yard.
If you're the sort that loves a charcoal fire, you're probably looking for an excuse to keep the grill in use as late as possible, so why not smoke your turkey this Thanksgiving? Even if you're not an avid griller, you can get started with an inexpensive kettle grill, like a Weber One-Touch Silver. This easy recipe from our friends at Grilling.com will walk you through the steps of smoking your bird.
SMOKIN' TURKEY
One 12-14 pound turkey
1 gallon vegetable broth
3/4 cup kosher salt
1/4 cup brown sugar
4 tsp lemon pepper seasoning
Sage butter (recipe follows)
Smokin' turkey rub (recipe follows)
Seasoned turkey on grill
SAGE COMPOUND BUTTER
1 stick unsalted butter, room temperature
2 tbsp chopped sage
1 clove garlic, minced
¼ tsp ground thyme
1 tsp Kosher salt
SMOKIN' TURKEY RUB
¼ cup salt
2 tbsp smoked paprika
1 tsp guajillo chili powder
1 tbsp ground pepper
1 tbsp garlic powder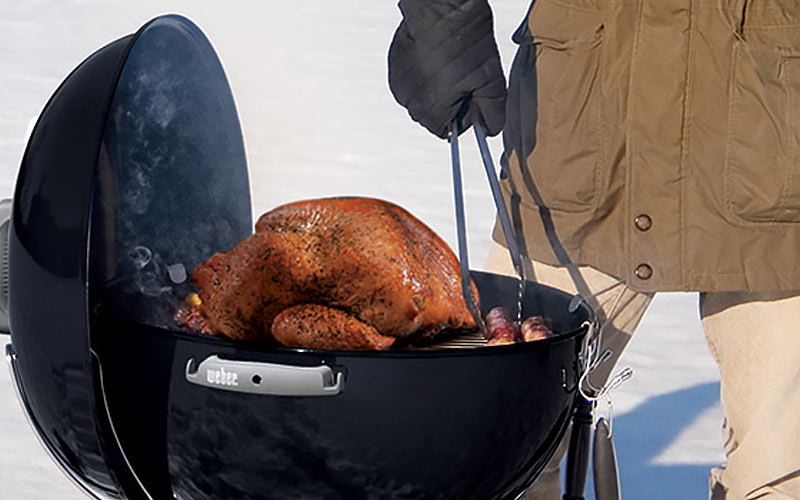 SMOKIN' TURKEY
1. Heat broth, salt, sugar and lemon-pepper over medium heat until dissolved and well blended. Cool completely. In a large stock pot, place the turkey inside and cover with brine. Let soak in the fridge overnight, 8-12 hours.
2. Remove turkey, pat dry thoroughly. Working gently, insert your fingers between the meat and skin to create pockets in which to spread the sage compound butter evenly beneath the skin.
3. Rub turkey with Smokin' Turkey Rub or any of your favorite rubs. Allow to rest while pre-heating grill for indirect cooking by placing a disposable aluminum half pan filled with water or broth under the grill grate with coals on either side of the pan, creating a barrier between the meat and any direct heat or flare-ups from the coals.
4. Once grill has heated to approximately 350 degrees, place turkey on the grate directly above the aluminum pan and cook until internal temperature in thickest part of the turkey reaches a minimum internal temperature of 165 degrees. Remove and rest for approximately 30 minutes before carving.
SAGE COMPOUND BUTTER
Blend all ingredients in a small bowl well and set aside until ready to use.
SMOKIN' TURKEY RUB
Blend all ingredients in a small bowl and set aside until ready to use.