Ideas & Inspiration
Ideas for Lighting Up Your Deck
An outdoor deck is a great place to catch some fresh air, admire the sunrise or just enjoy a cool beverage with your family. If you have enough space, your deck can also serve as your main hosting area for dinner parties and barbecues. However, no nighttime gathering is complete without ample outdoor deck lighting.
Whether you're interested in battery-powered, hardwired LED or solar deck lighting, there are many ways to illuminate your space. For most homeowners, using a combination of multiple lighting selections will provide the best results. This guide will explain the various options available and provide a few patio lighting ideas.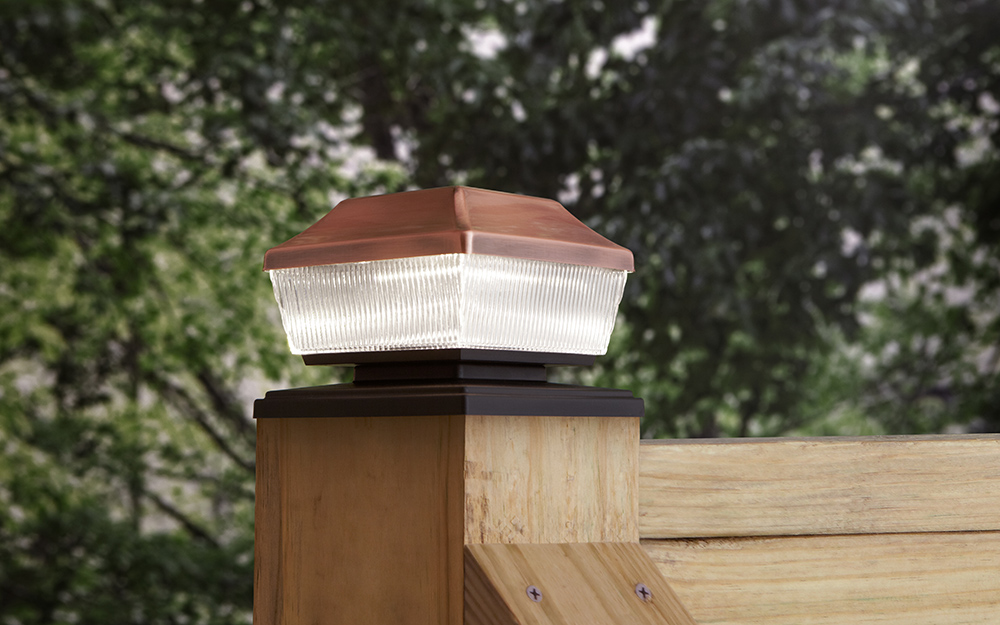 Designed to be installed directly on your deck, LED post lights add architectural detail that can enhance the look of your exterior space. Here are a few things to know about deck post lights:
They come in both single-head and multi-head lights. Single-head designs take up less deck space. Multi-head models illuminate a greater surface area.
Post lights are hardwired to your deck. They run on conventional bulbs that are easy to find and replace as needed.
Post lights are durable and weatherproof. They come in many finish options designed to look good for years to come, even after being exposed to the elements.
Deck post lights can also be added to the tops of posts designed to hold up your deck. You can also find a variety of LED deck lights that make retrofitting your existing fixtures simple, while solar light posts harness the power of the sun to illuminate your space.
Tip: Baluster lights are an understated and cost effective method for sprucing up your deck.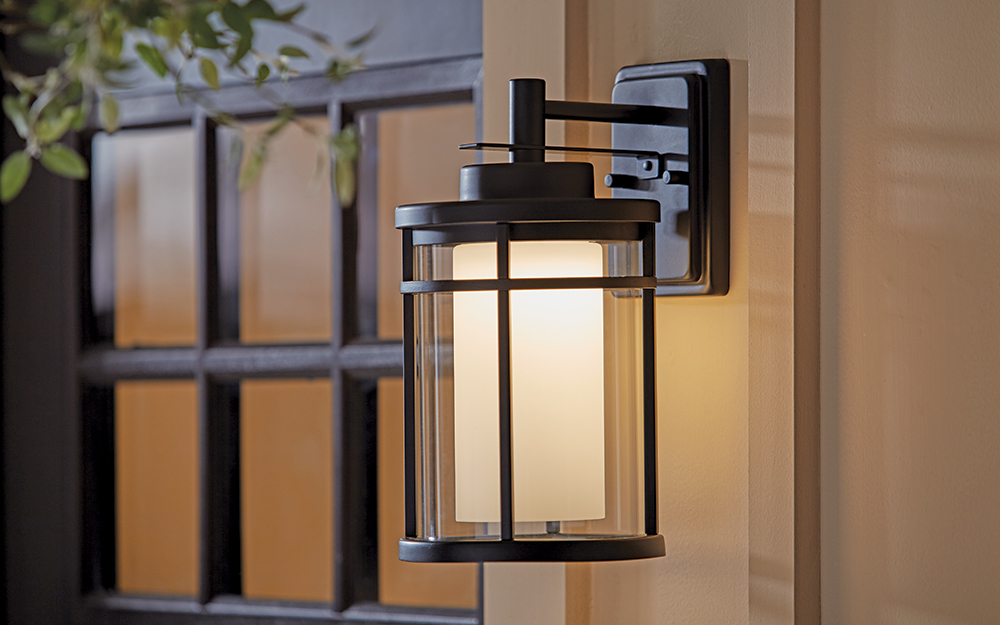 Ideal for providing ambient lighting and illuminating passageways, wall lights and sconces are a popular option for decks and patios. Here are a few benefits of wall lights and sconces:
They provide ambient lighting for doorways and access points. They can also provide illumination for tasks like grilling without turning on brighter overhead lights.
They come in single and multi-bulb configurations. Scale your lighting needs and fixture size to your deck dimensions.
They're typically controlled from inside the house. Wall lights and sconces can be hardwired to a switch indoors, making it easy to turn them on before you go outside.
They're available in many different finish options, ranging from contemporary chrome, transitional brushed nickel and more traditional brass or bronze. Specialty finishes are also available.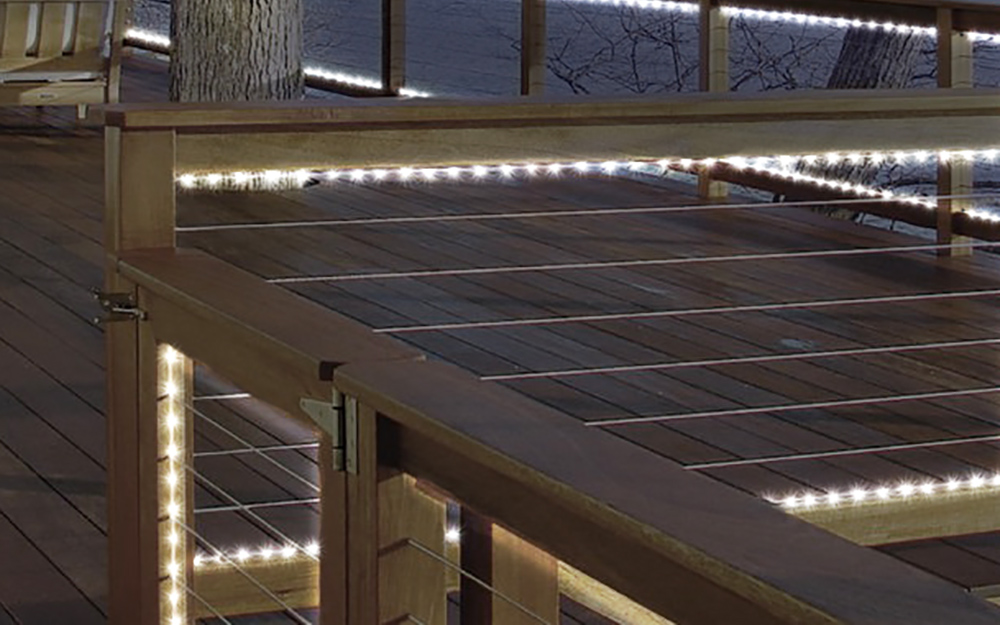 Serving a dual purpose of making your deck rail more visible and lighting the ground below, rail lights are a popular choice in many outdoor spaces. Here are a few things to know about under-rail lighting:
Most under-rail lights are LED strips. These are easy to install and connect.
Many LED under-rail lights have a life expectancy of roughly 50,000 hours.
LED under-rail lights offer a diffused light pattern, helping provide even light throughout the space.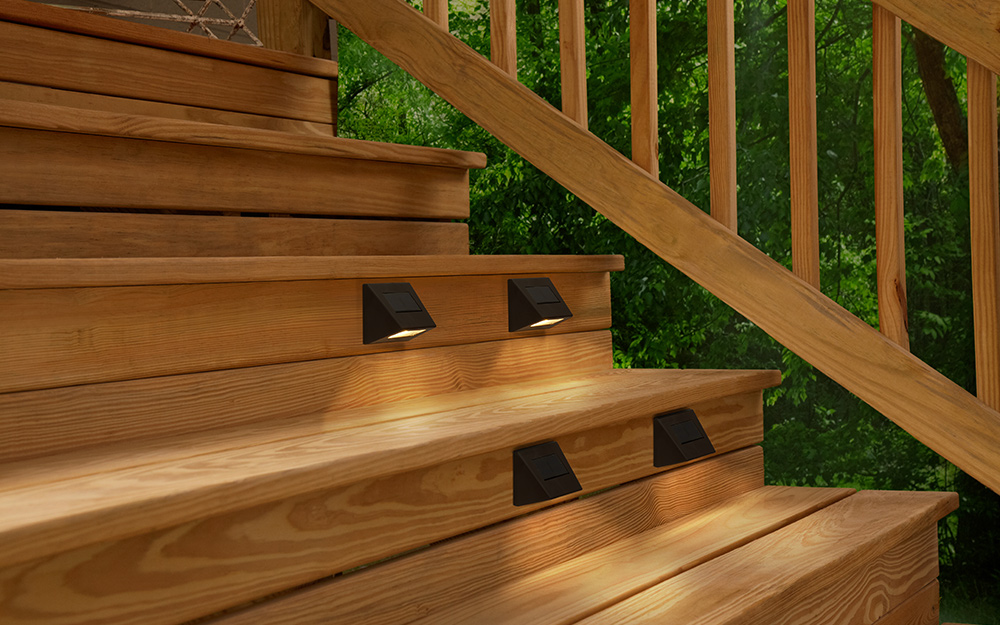 Designed to light your walkways, step areas and deck planks, floor lighting can be installed directly into the structure of your existing deck. There are a few things to note about installing permanent floor lighting:
Floor lights are ideal for oversized decks where lighting the center area may prove difficult. Flat options can be installed right into your existing deck structure.
Floor lights are typically installed for permanent use. Many models can be placed right into your stairs for an even, safe lighting scheme.
Motion activated stair lights are available. These are perfect for stairs and hard-to-see access points.
You can choose between solar, battery-powered and LED stair lights. Solar options work well in areas that get direct sunlight all day. Battery-powered floor lights are best for spaces where a permanent installation is not possible. LEDs are a great all-around option.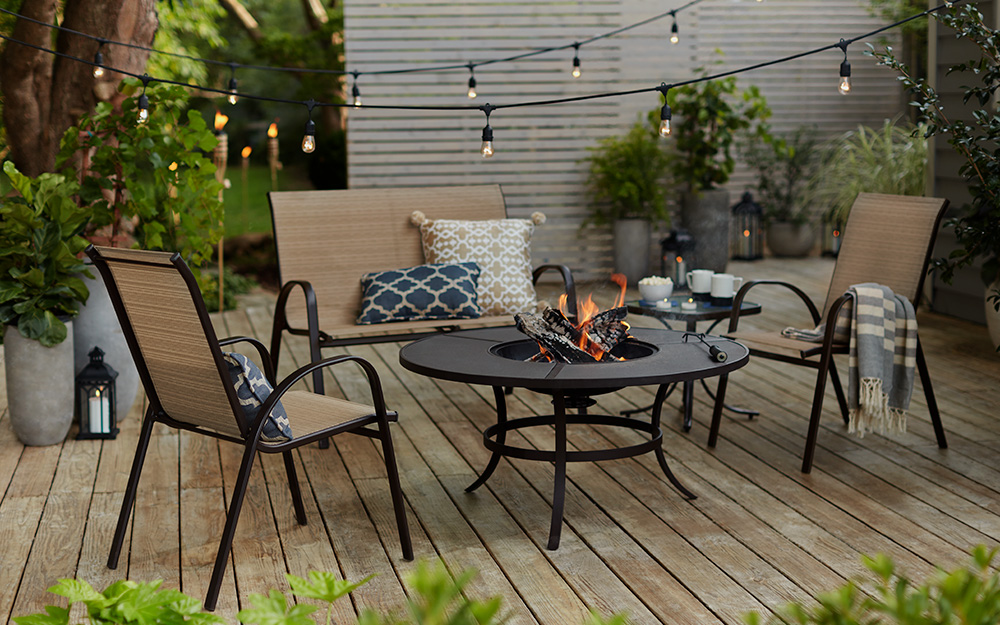 Lighting the center of a large deck can be a challenge, but string lights and rope lights make it easier.
Choose hanging string lights that can be draped over your deck area. Use one line or multiple strings according to your spatial needs.
Add lanterns for special events or to create a warm ambiance on summer evenings. Most outdoor lanterns aren't designed for year-round use, but they can be easily hung and plugged in when you need extra light for a party or get-together.
Most lanterns, rope lights and string lights are easy to control via a switchable extension cord. Just find the nearest outlet and illuminate your space with ease.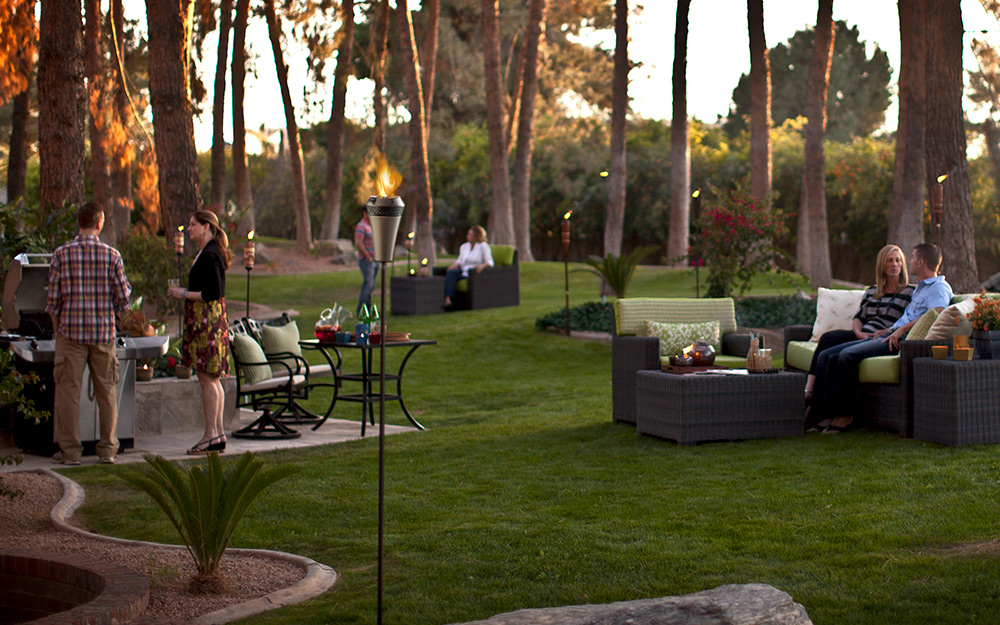 Proper deck lighting is essential for enjoying your outdoor space after the sun goes down. Sometimes your permanent lighting needs a little extra boost. Here are a few additional options:
Torch lights. Add a little flair to your party with classic torch lights. Citronella options help keep bugs at bay.
Globe and planter lights. Designed to add style without an open flame, globe and planter lights can be used around the garden.
Table torches and votives. Perfect for coffee tables, side tables and outdoor dining tables, table torches and votives offer color and class for every surface.
Use these deck lighting ideas and outdoor patio lighting ideas to illuminate your front or backyard all season long.