Show off your landscape and provide added security at the door with outdoor lighting. Installing lights to highlight an outdoor space at night creates intrigue and makes your home feel warm and inviting. A well-lit space is also integral to your sense of safety. This guide overviews the different varieties of outdoor lights to help choose the best outdoor lighting for your home.
Safety and Security Lighting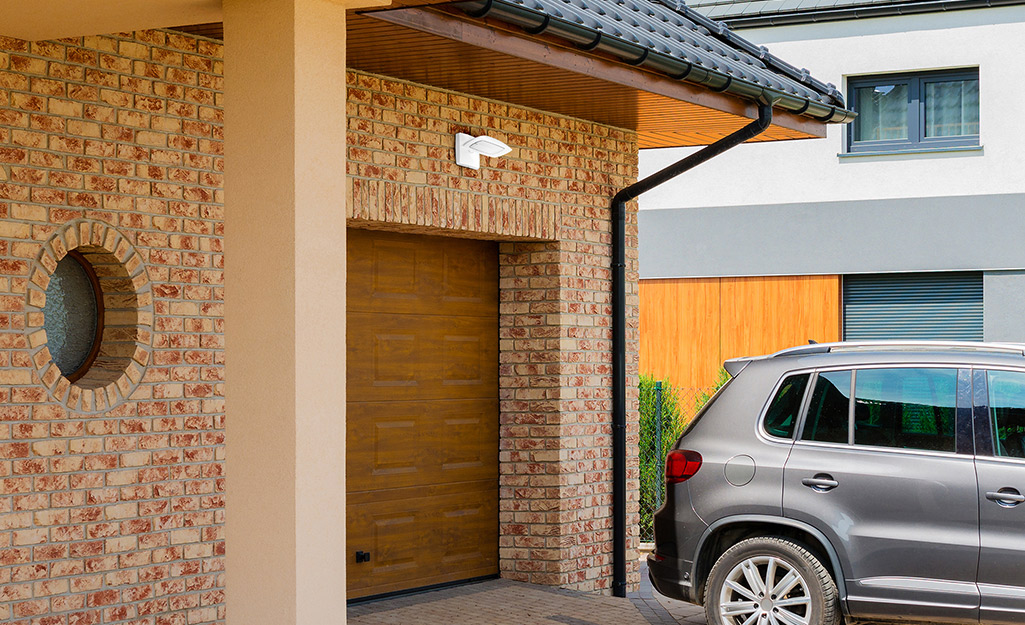 There's no need to light up the entire exterior for safety and security reasons. The most important things to consider are what areas do you light and what areas do you not. For example, lighting the stairs leading up to a deck is a safety measure, while adding lights to the corners of your house increases your sense of security.
Outdoor lighting is more than simply switching a light. Here are several low-maintenance and low-impact lighting options:
Tip: To increase energy efficiency, use LED light bulbs in place of incandescent light bulbs.
Flood Lights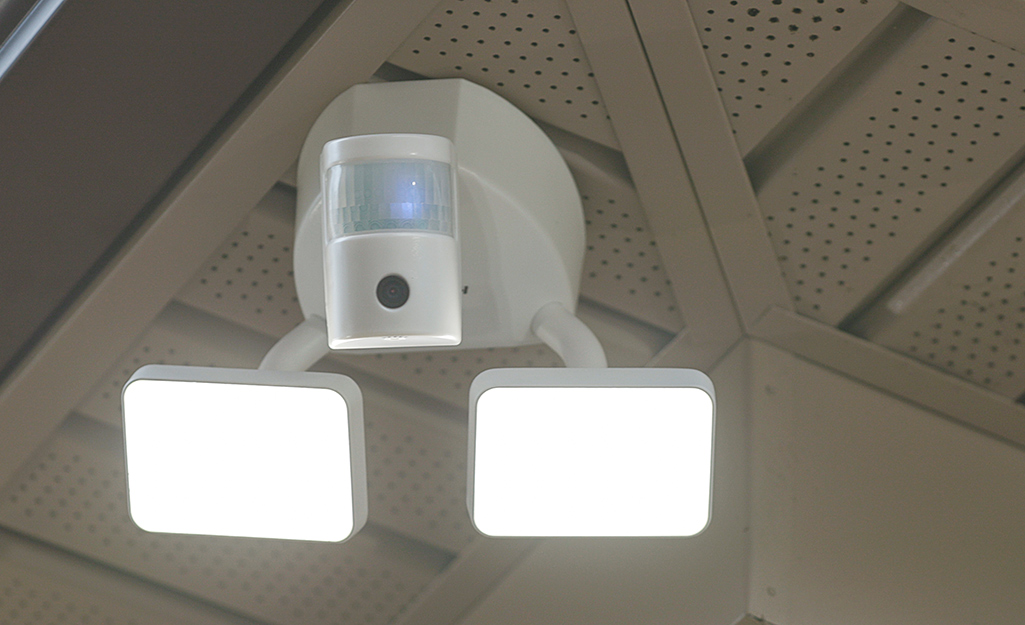 Of all the exterior light options, flood lights cast the widest beam. This makes them the best choice for lighting dark outdoor spaces like an alley, driveway or workshop entry. Flood lights are also good for guests and family as they navigate your driveway and walkways. 
Tip: Position flood lights at least 9 feet above ground so they cast a wider beam of light and are not readily accessible to vandals.
Path Lights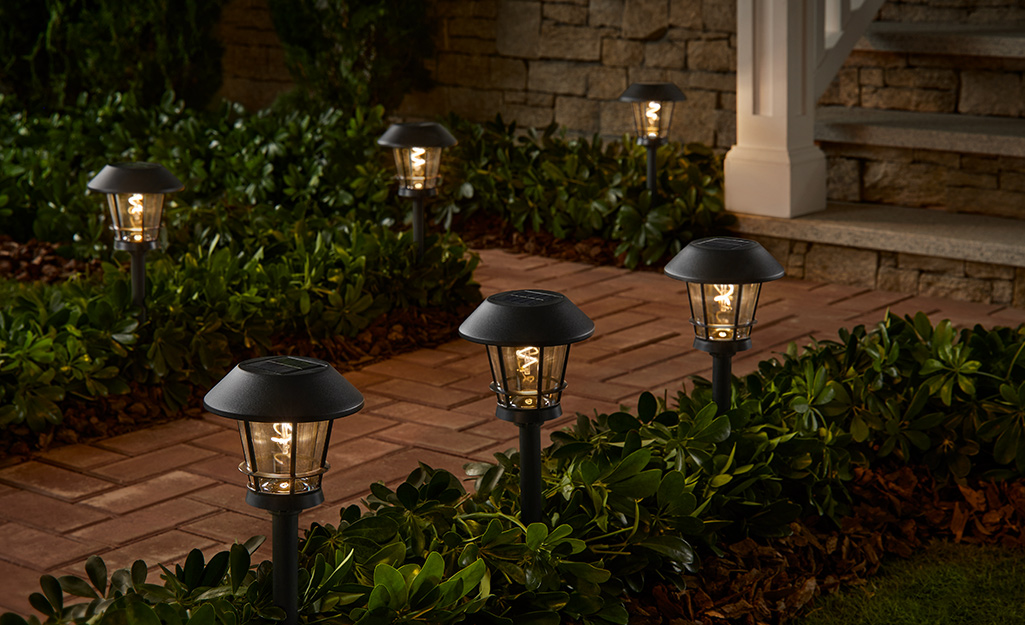 Use multiple path lights to increase safety and add beauty to walkways and driveways. Places to install rows of path lights include:
Both sides of a driveway 
Along the walkway leading up to the front door
From the back door to a detached garage
Around an in-ground pool
Flanking in-ground steps
Garden pathway
Tip: Solar path lights are an economical way to illuminate large outdoor areas that have zero access to electricity. 
Landscape Lighting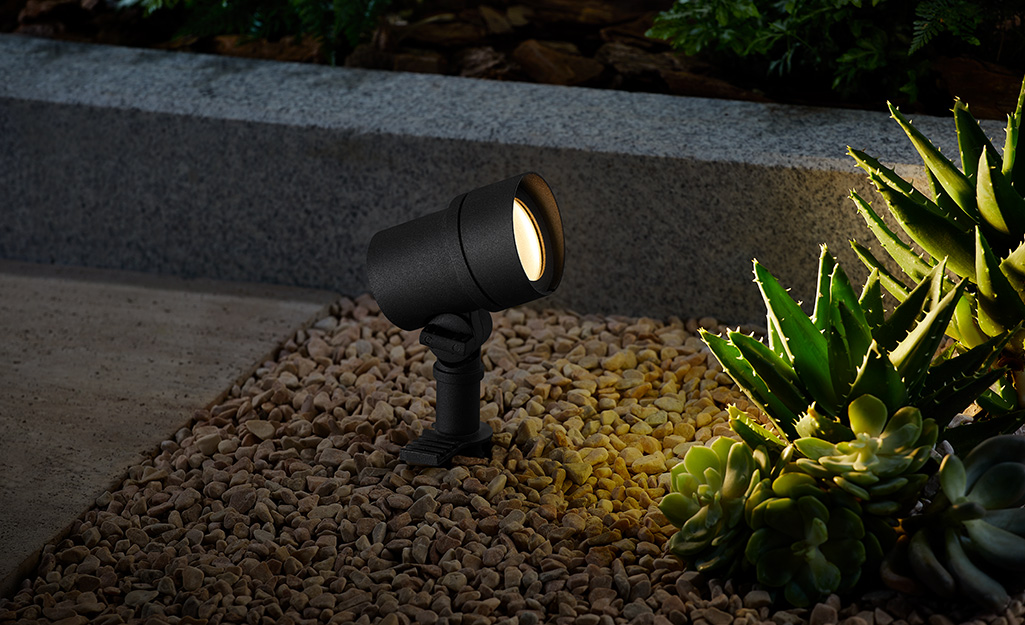 Landscape lighting is more than simply lighting up the elements in the yard. Uplights, downlights and spotlights highlight the home exterior, too. With a variety of fixture options, it's easy to create a sense of light and depth on patios, architecture and decks. Outdoor landscape fixtures include:
Deck lights add shine under railings and on stair risers.
In-ground lights cast the light upwards on trees and other areas of interest.
Spotlights typically pivot to shed light upward on tree limbs, downward on a flower bed and all areas in between. 
Low voltage lights are hardwired along steps, trees, fences and walls.
Outdoor sconces and other wall lights illuminate recessed areas, enclosed patios, stairways and hardscaped areas. 
Ceiling-mount lights and pendant lights illuminate entryways and covered areas.  
Accent Lighting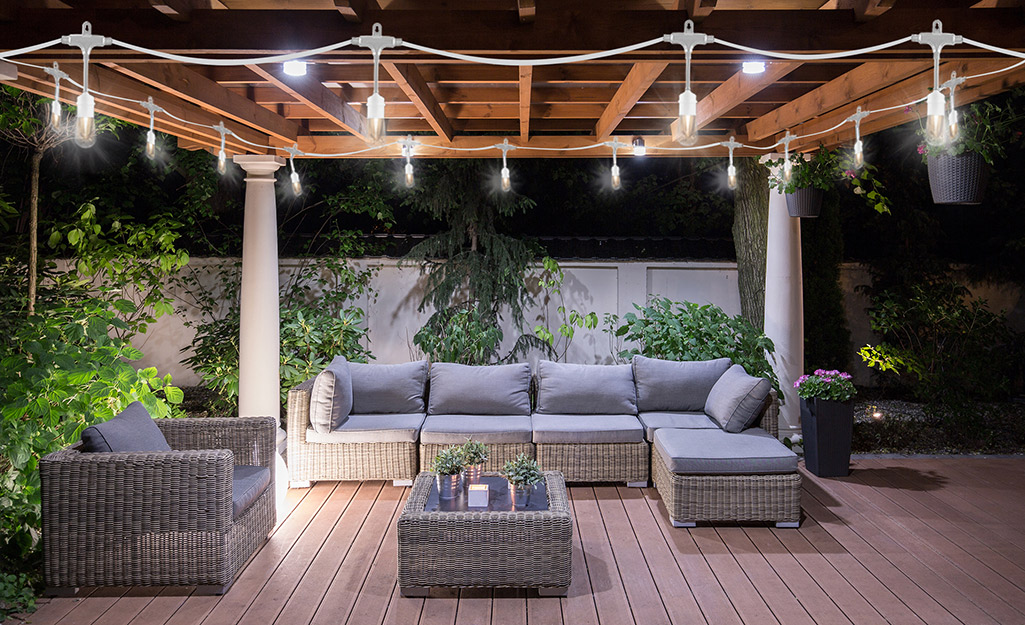 There are so many brilliant ways to create the perfect ambiance for an outdoor party or a romantic evening. Decorative lighting options like rope lights and string lights go up with ease and require a nearby outlet. Lanterns and post lighting are hard-wired by professionals. Try these decorative lighting ideas:
Illuminate an open patio by securing string lights to overhead trees and roof eaves.
Hang rope lights or strip lights beneath porch railings, along deck edges, under stairway risers, beneath umbrella canopies and around gazebos.
Line the underside of covered porch with string lights.
Attach strip lights to planters and pots.
Frame a porch swing with strip lights.
Lay rope lights to illuminate a flower or herb garden.
Wrap the base of a tree with rope lights.
Install deck rail lighting atop fence posts and deck posts.
Outline an above-ground pool with strip lights.
Ceiling Fans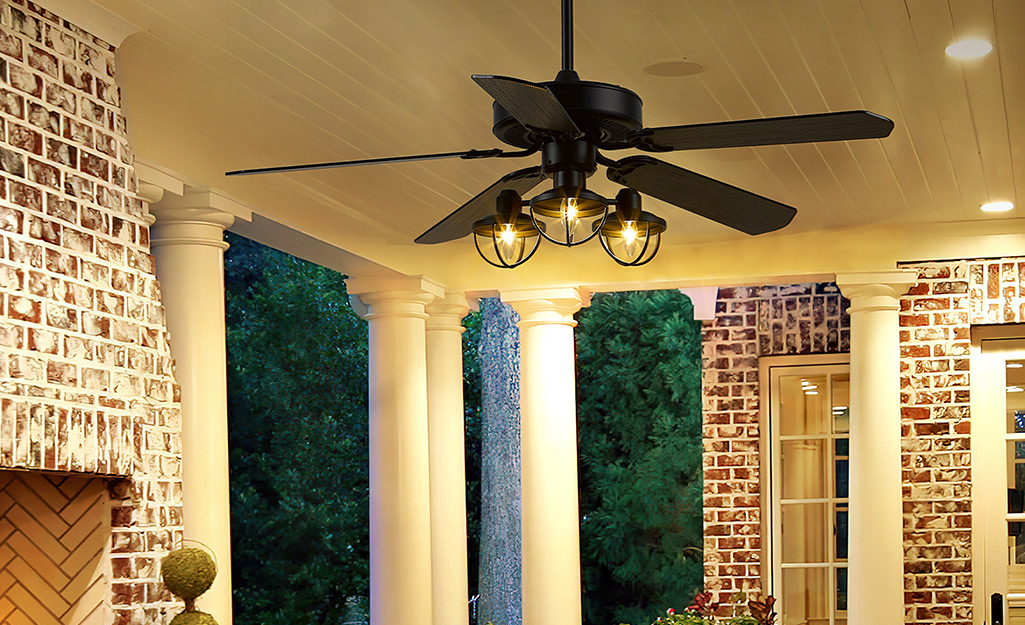 In addition to providing overhead lighting, an outdoor ceiling fan brings cooling breezes and deters flying pests. These work best in covered areas, screened porches and entryways.
Tips: Look for ceiling fans rated for outdoor use. Indoor ceiling fans are not intended for the outside.
Smart Lighting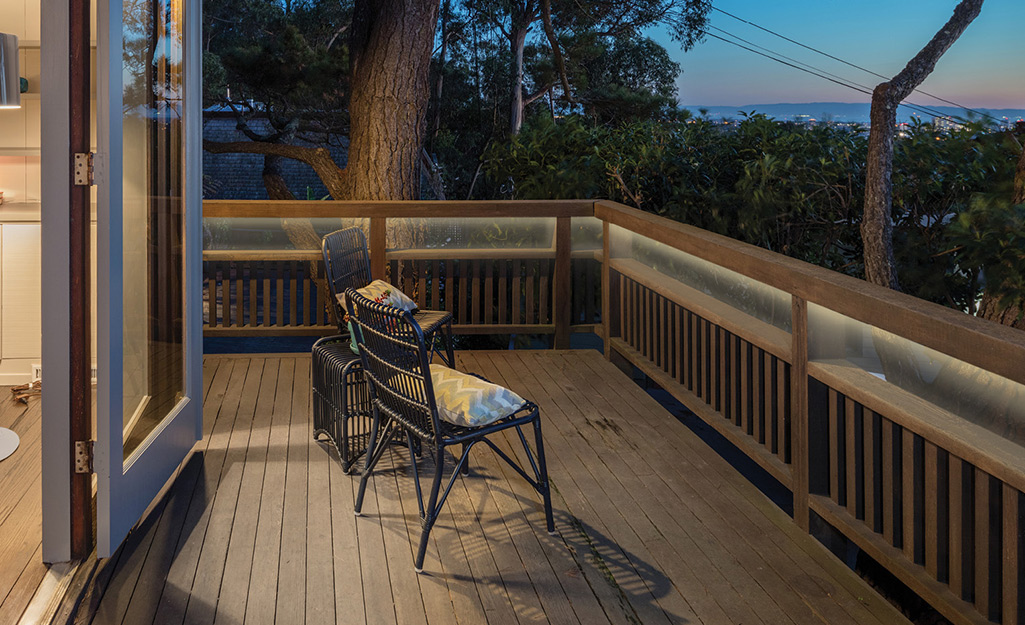 Smart outdoor lights are a convenient way to control all outdoor lighting with one app interface. The lights are simple to install and to control: simply tap the app or use voice commands via Amazon Alexa and Google Assistant. The lights can include timers for customizing on/off schedules throughout the week. Additional smart light features include dimming, color adjustments, brightness and remote controls. Types of smart outdoor lights:
Flood lights with and without cameras
Wall-mount lights
String lights
Path lights
Wall lanterns
Wall sconces
Tape lights
Power Options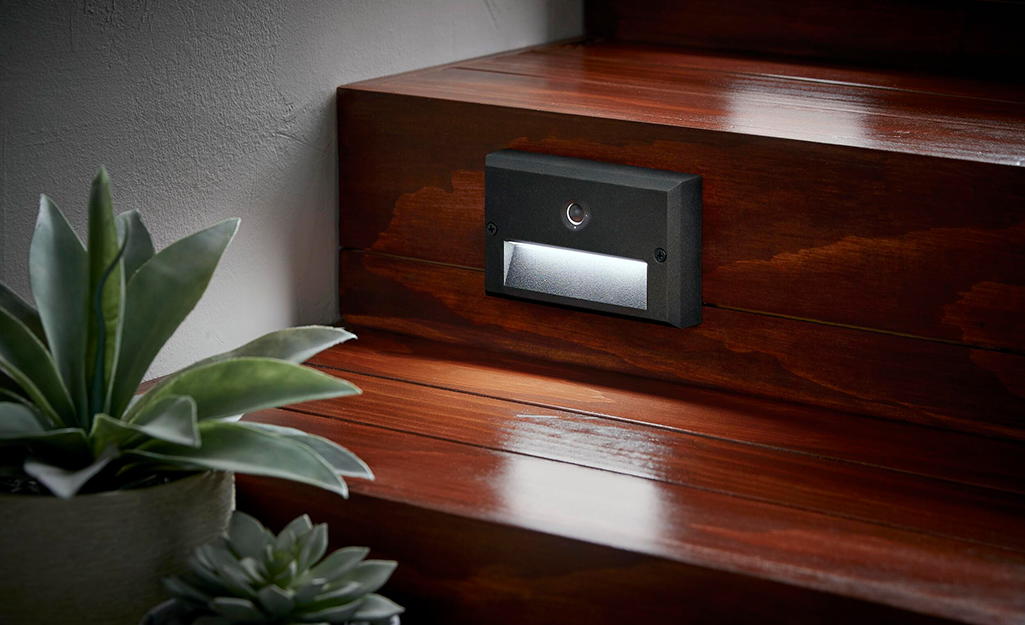 The three ways to power outdoor lights are solar-powered, line voltage and low voltage.
Solar-powered lighting requires no wiring but must be installed where the fixture will receive plenty of sunlight (at least 6 to 8 hours) to provide illumination at night. 
Line voltage lighting operates at 120 volts, the same voltage as the appliances in your home. Installing these fixtures outside requires the use of conduit to protect the wires and an electric junction box, rather than an outlet, to power the fixtures.
Low voltage lighting operates at 12 volts, making it safer to work with, more energy efficient and easier to install and move. Components include a power pack or transformer and a low voltage cable.
Tip: To improve energy efficiency, look for outdoor lighting fixtures with the Energy Star label.
Damp Rated vs. Wet Rated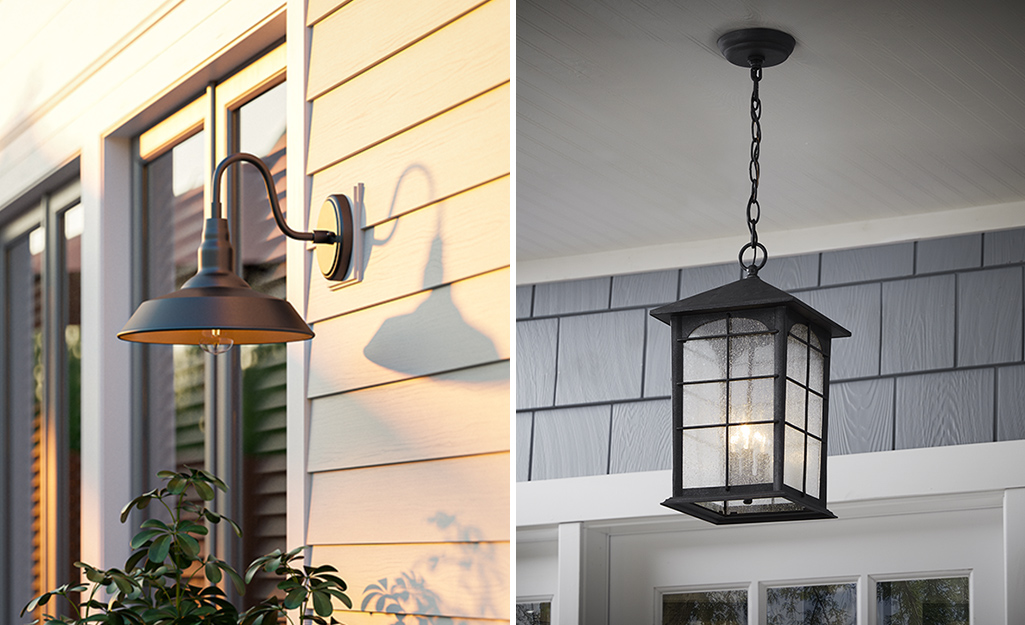 Outdoor light fixtures are designed as damp rated or wet rated. Both ratings are engineered with noncorrosive materials. This is how each rating differs: 
Wet Rated fixtures are designed for direct wind and rain exposure. Outdoor motion sensor lights are typically wet rated (check manufacturer's label).
Damp Rated fixtures are for areas not in direct exposure to rain and moisture, including spas and indoor pools. Outdoor ceiling fans fall under this category.
Finding the best outdoor lighting depends on where, when and how you want to light your home. Ready to find the supplies you need in your local store? Use The Home Depot Mobile App to locate products and check inventory. We'll take you to the exact aisle and bay. 
Explore More on homedepot.com