Hanging string lights or fairy lights can enhance your backyard, patio or deck. Hanging outdoor lights that are weatherproof lets you use the area year-round. Use this guide to learn how to hang outdoor string lights around your home. 
1
How to Hang Outdoor String Lights from Trees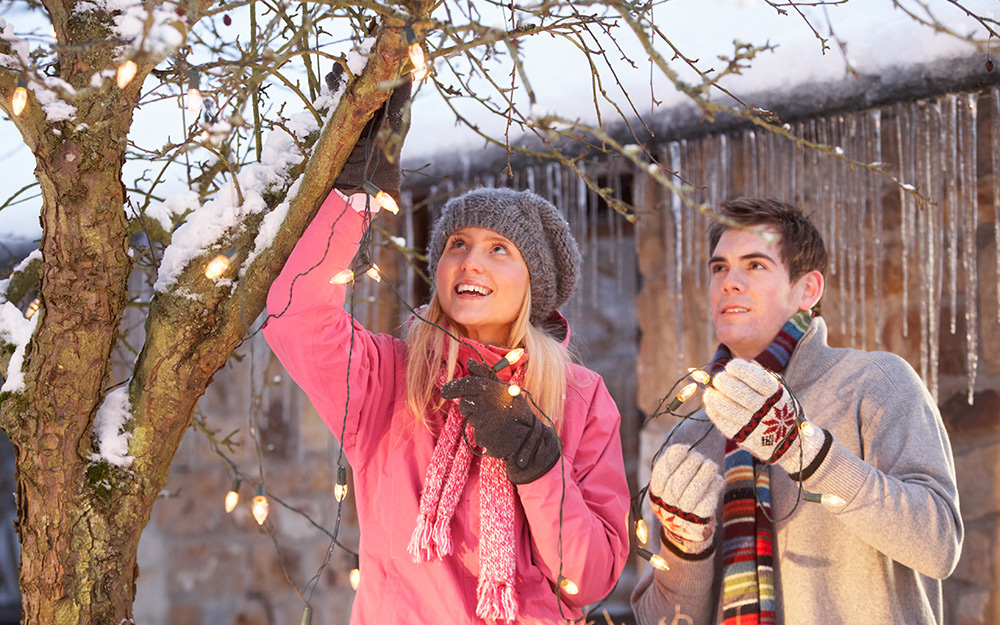 Trees are natural supports for decorative outdoor string lights, especially if you have them on both sides of a grassy area. Learn how to string lights across the backyard correctly, and your lights will look like they're floating in the air after dark. 
First, measure the distance from tree to tree where you want to hang the lights. Consider how tight you want the lights pulled as you measure. Taut lights give more structure, while looser ones feel more casual.
Drill guide holes on the trees where you want to hang the lights. With a helper, string the lights from one tree to the next, holding them carefully to make sure the holes are the right distance apart. Mark the spots on the trees and drill guide holes.
Install a hook into each tree at the marked spot. Install the bulbs in your string lights.
Thread the string lights onto the hooks. Make sure they're securely in place.
Connect your string lights using an extension cord if needed. Check to be sure your string lights work properly. If necessary, use an additional hook to secure the string lights firmly against the trees.
Tip: For longer-lasting lights, choose LED string lights or solar string lights.
2
How to Hang String Lights on Your Deck Railing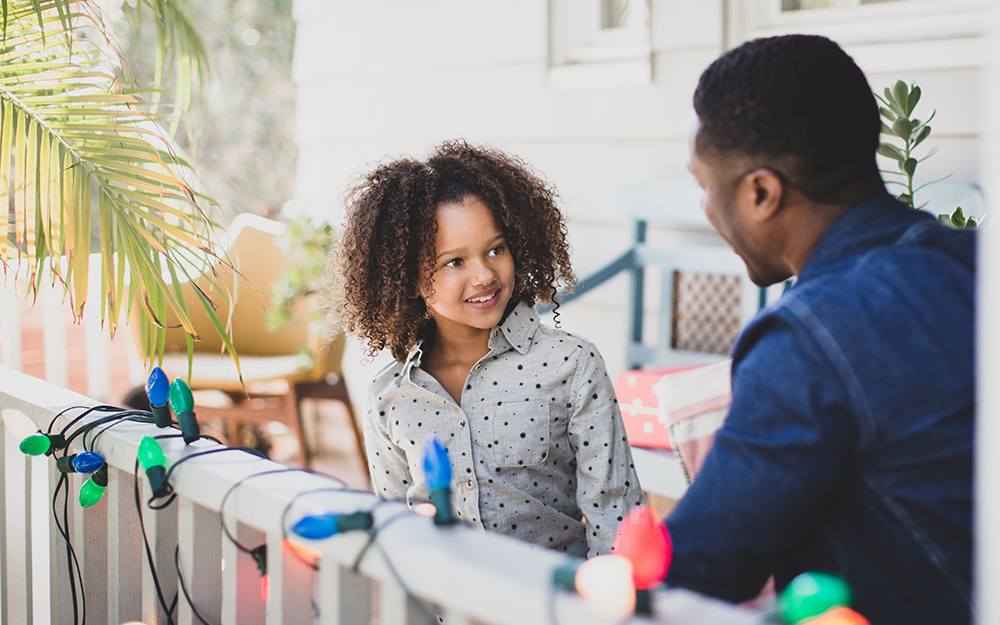 If you're wondering how to hang string lights in a backyard without trees, put them on your deck railings instead.
Measure your string lights to run the entire length of the deck railing. If you prefer, light only the main length of the railing and leave the sides open.
Make sure your string lights are attached to an extension cord or they're close to an outlet before you begin installing them.
Starting with the string light closest to your power supply, use a staple gun to fasten the lights under your railing. This will keep staples out of sight while holding your string lights firmly in place. Be safe, and do not let the staples puncture the strings.
Continue this process, adding staples near each light. Pull the string of lights taut as you go.
Install the bulbs and check your lights.
Tip: Use exterior tape in place of staples if you are concerned about damaging your railing.
3
How to Hang Outdoor String Lights on Stucco, Wood and Other Materials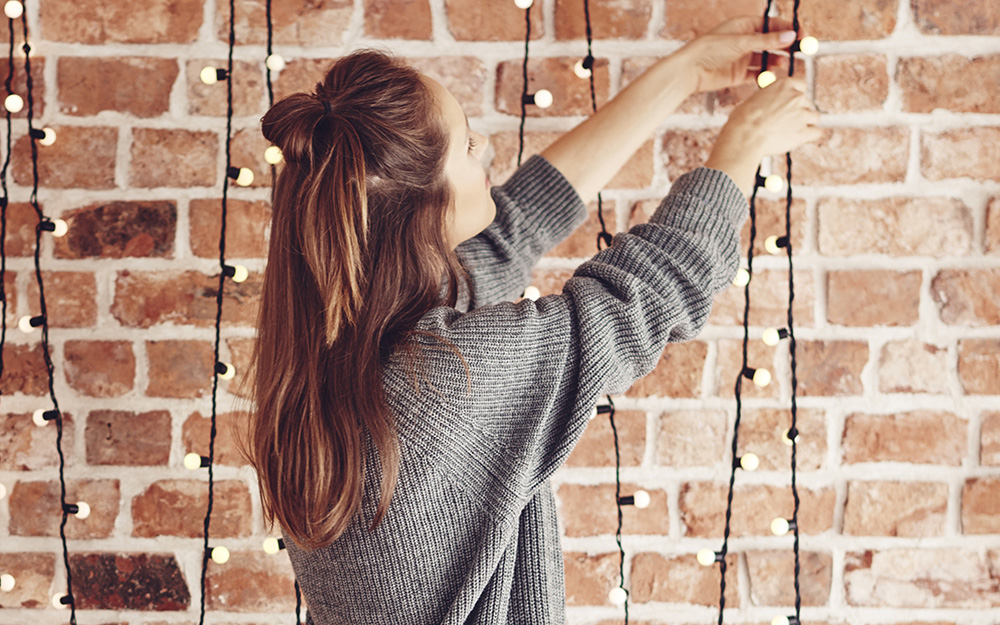 There's another way to hang string lights in a yard without trees. Just attach them to parts of your home made from materials like stucco and wood. This method is similar to installing them on trees. The main difference is that you may need to use wall anchors made especially for that material to secure the hooks in place. 
A combination of hooks and staples may be the most stable option. This is often true if your string lights are hanging overhead, such as on a covered patio or deck. 
4
How to Install Temporary String Lights
Permanently installing string lights means they're ready to use whenever you want. However, you can spruce up your backyard or outdoor space without using a drill or staple gun in one of these ways:
Drape your string lights between tree branches. Aim for a natural look instead of a uniform, architectural style.
Hang string lights in or on shrubs. Use a ladder for hard-to-reach spots.
Line pathways or walkways with string lights. Weatherproof outdoor tape will help hold them in place so they don't move throughout the night.
Use painter's tape to fasten string lights beneath a deck railing. Use small, lightweight string lights for this purpose.
Drape outdoor lights on a wooden fence, arbor or trellis.
5
How to Hang Outdoor String Lights on Posts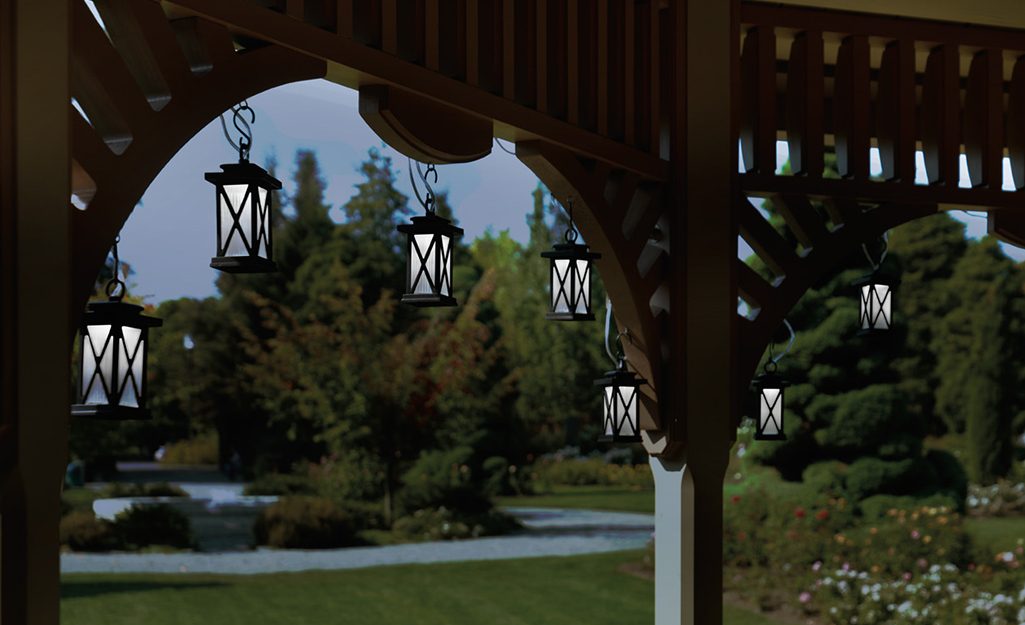 For an area without anything to hang lights on, insert 8-foot long, pressure-treated posts in half barrels, planters or other containers. The containers must be big and heavy enough to hold the posts without tipping over and strong enough to hold fast-setting concrete.
First, screw cup hooks into the sides of the posts, a few inches down from the tops. Decide where you want the containers to go and move them into place before filling them. Place them about ten feet apart in a square or rectangular shape.
Have someone keep the post upright in the center of the container while you fill it with the concrete. For a decorative container, leave enough room for a layer of gravel for drainage and some potting soil and plants. Wait until the concrete has dried and cured before you add them. Be sure your container is stable and won't tip over before you step away from it.
If you prefer, put concrete around the post almost to the top of the container. Let it dry and cure. Then sit small, potted plants on top of the concrete.
Use a ladder to drape the lights over the hooks at the top of the posts or attach them to the hooks with twist ties. If needed, use an outdoor extension cord to plug the string lights into a power source.
It's also easy to hang string lights from an arbor or other structure. Just drape the lights from hooks screwed into the wood arches or between the posts.
Light up your backyard, patio, porch or deck with stylish string lights in a variety of lengths and bulb colors. Explore different sizes and shapes, like Edison bulb string lights. Go for a permanent installation or an easy, temporary option, like draping lights in trees or bushes. Consider using battery-operated string lights in areas with no access to power. Whatever your style, The Home Depot Mobile App features an array of string lights that can add a unique look to outdoor areas and illuminate your get-togethers.
Now that you've learned how to hang lights outdoors, find the items you need. Search for products and tools by voice or image on our mobile app. 
Explore More on homedepot.com