Nothing reinvigorates a home like a new stylish kitchen. From refacing cabinets to unexpected paint colors, this guide shows you 20 budget-friendly kitchen remodel ideas. Find out how to dramatically update your kitchen without the time and large investment of a full renovation. 
Paint Cabinets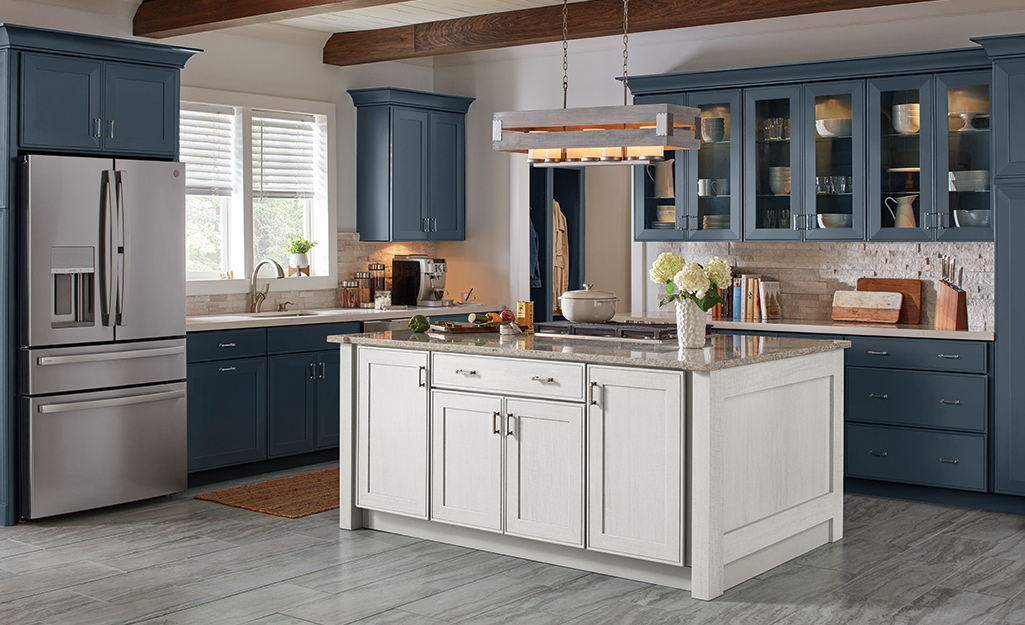 Few things change the look of a room like a fresh coat of paint. A splash of color can help set a new tone for your kitchen style. Try muted pastels for a vintage look, neutrals for classic style or vibrant greens and blues to modernize your look.
Install Glass Doors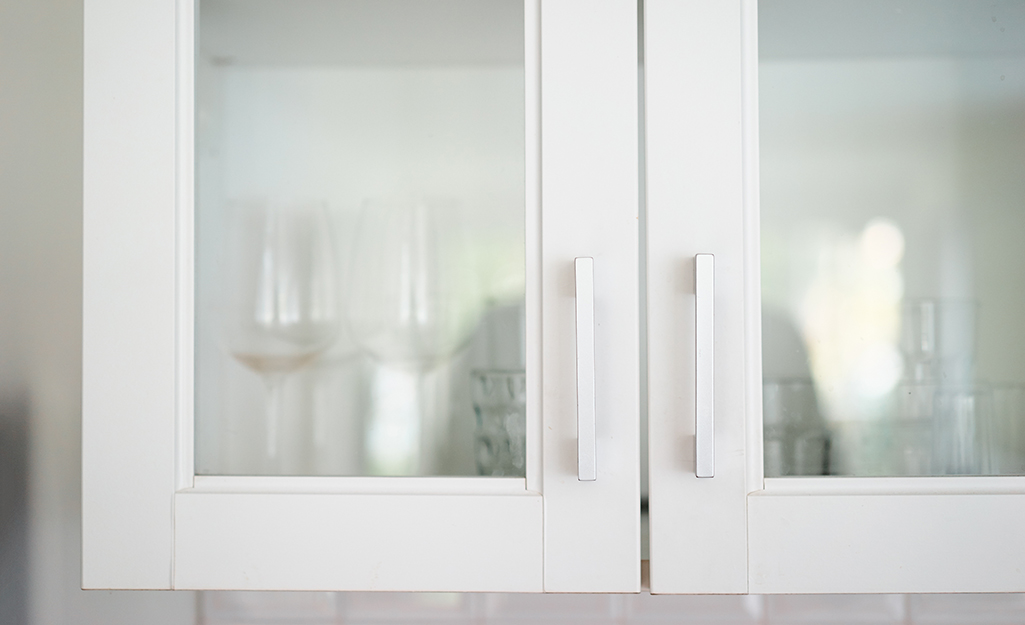 Turn an average cabinet door into a showstopper. A glass front reflects light and can create an airy, open space. Simply replace two or more of the wood panels with glass. Popular glass choices include:
Frosted or textured glass that partially hides cabinet contents.
Seeded glass that gives a vintage feel with its small or large bubbles. 
Transparent glass which is budget-friendly and comes in a variety of colors. 
Leaded glass that adds an artistic look. 
Refresh Faucets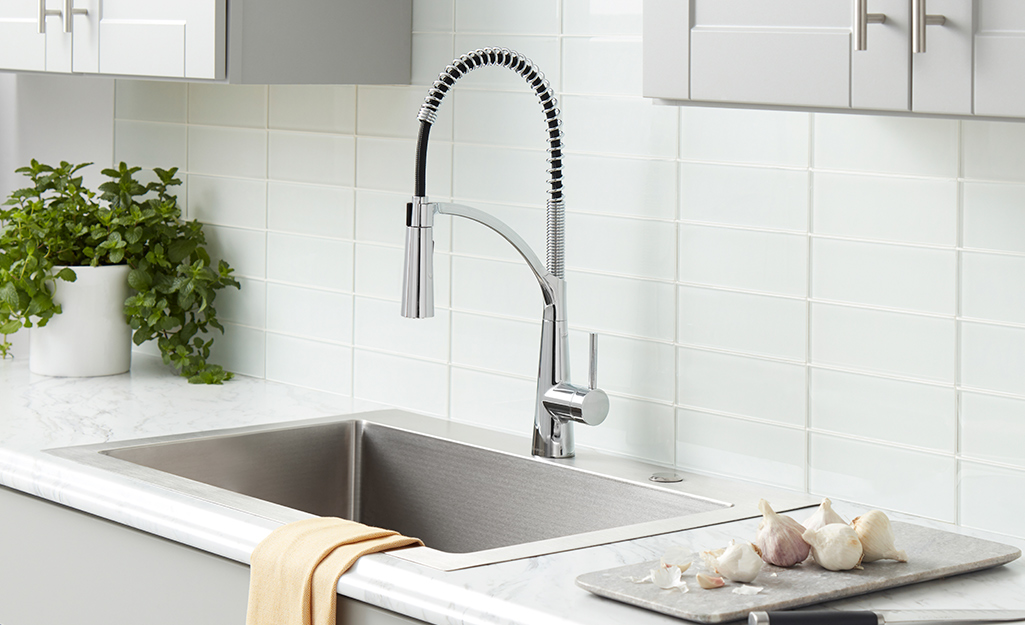 The faucet is the focal point of many kitchens. Make sure they're worth all the attention. Consider touchless faucets or designer options such as waterfall faucets. Or install a convenient kettle faucet over a stove. You can switch out your faucet without a great deal of investment. Choose an efficient model for a refreshed look that also lowers water and energy costs. 
Tip: Save water with a new faucet by selecting one that carries the WaterSense® label from the U.S. EPA. 
Change Out Sink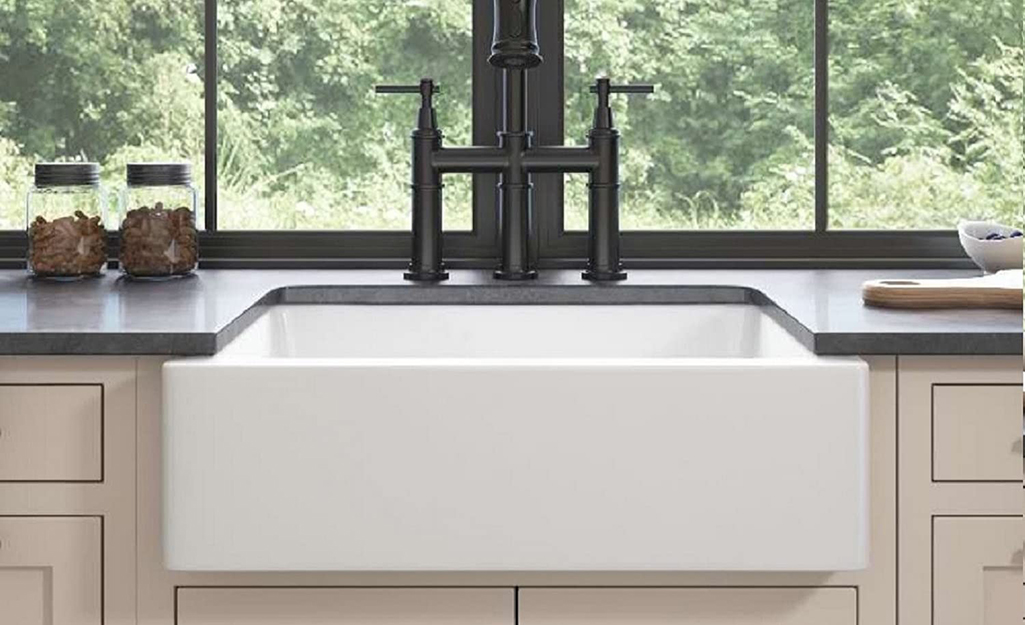 A new kitchen sink can instantly perk up a kitchen's function and beauty. Look for features like dual, triple or extra-deep basins and integral chopping boards, especially if you're an avid cook or aspire to become one. Consider adding a touch of your personal style with distinctive design choices such as a farmhouse or cast-iron style sink.
Bring In New Lighting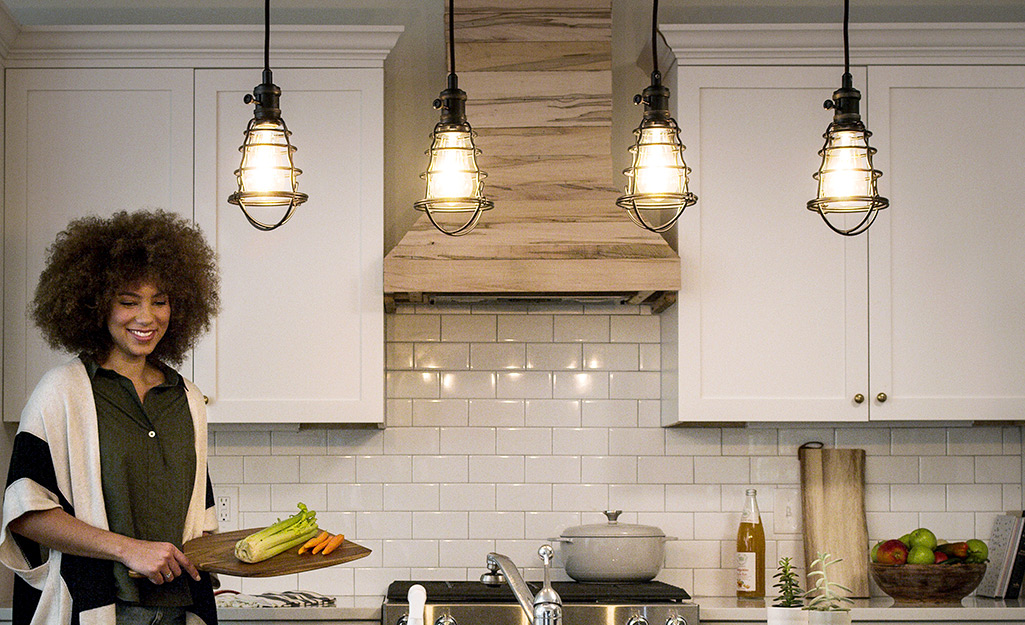 Brighten up a drab kitchen with new lighting. Updating your ambient or task lighting can improve your kitchen's look and functionality. Consider updating the existing fixture, install track lighting or add a series of pendant lights. Effortless small kitchen updates such as adding under-the-cabinet strip lights or puck lights can bring new life to the space.
Install a Backsplash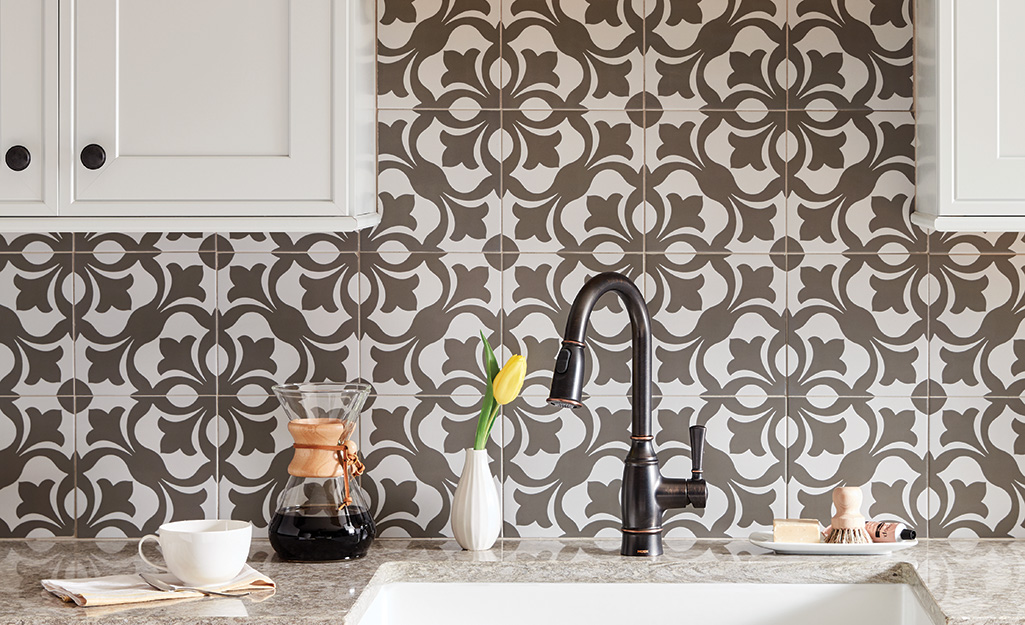 You do not have to take on a tiling extravaganza to update the space over your sink. Add galvanized steel flat sheets as a backsplash to make a sleek, seamless effect that complements your appliances. To add interest and depth to your kitchen decor, install mosaic tiles, install glass tile or paint existing tile a new color.
Put in Wood Beams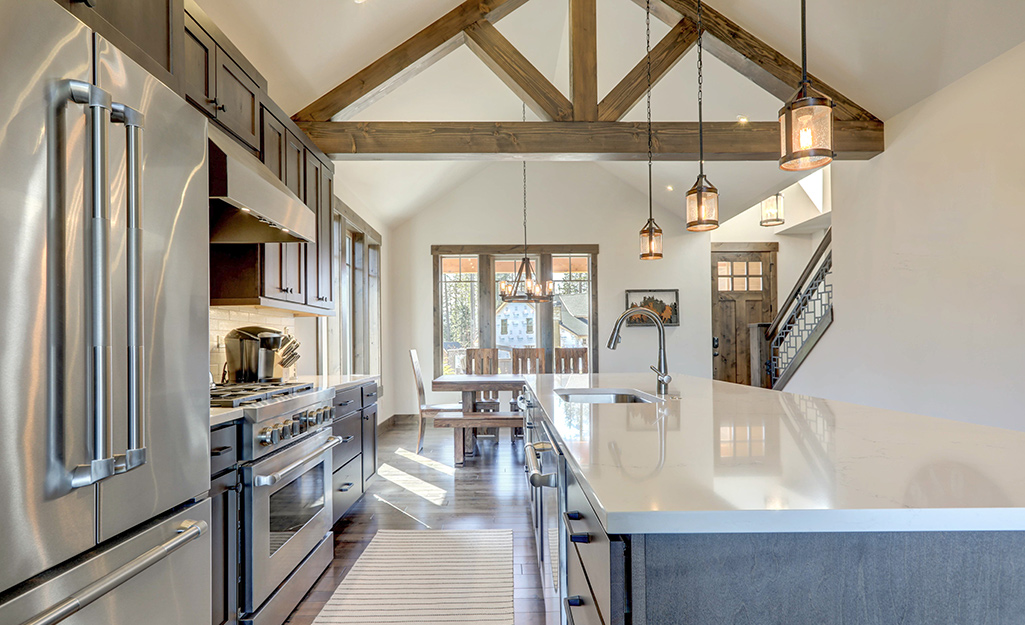 A wood beam is a striking architectural feature. Adding one can give your kitchen an entirely new look. In addition, exposed beams will make a kitchen look bigger and more impressive. Reclaimed or salvaged wood beams are popular but can require an extensive upfront investment. Go for the more budget-friendly installation of a faux wood beam or two.  
Reface Cabinets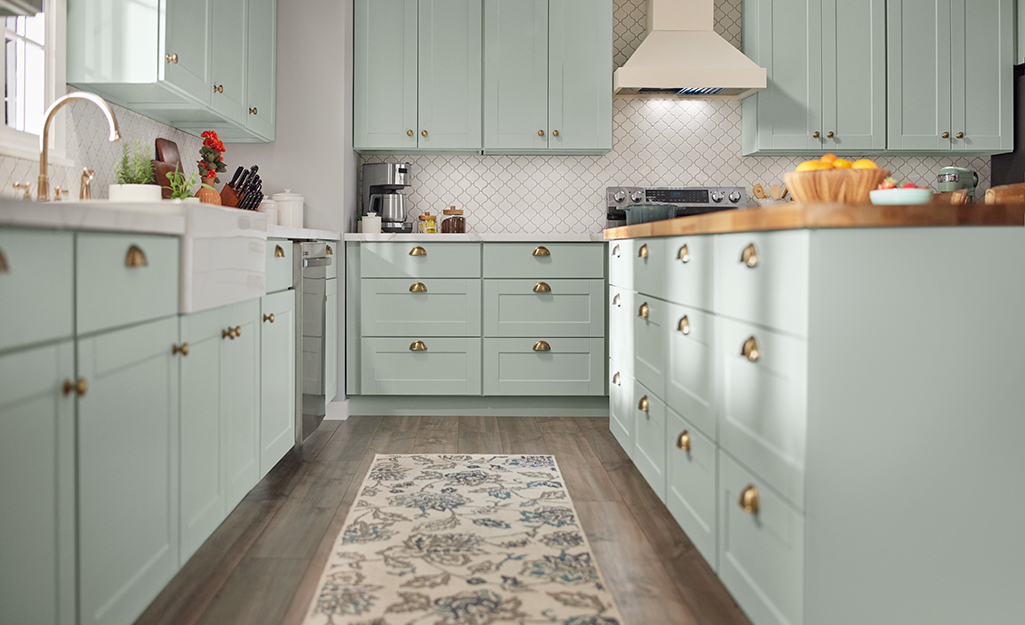 If your cabinets are worn or scratched, cabinet refacing is one of the more budget-friendly kitchen renovation ideas. You get the dramatic look of new cabinets without going through the demolition of a complete renovation. Cabinet refacing covers the front of your existing cabinets with wood veneer or thermofoil. You can choose from a wide variety of colors and finishes. 
Tip: Save time refacing your cabinets by removing the doors and drawers and working on those separately.
Add Specialized Drawers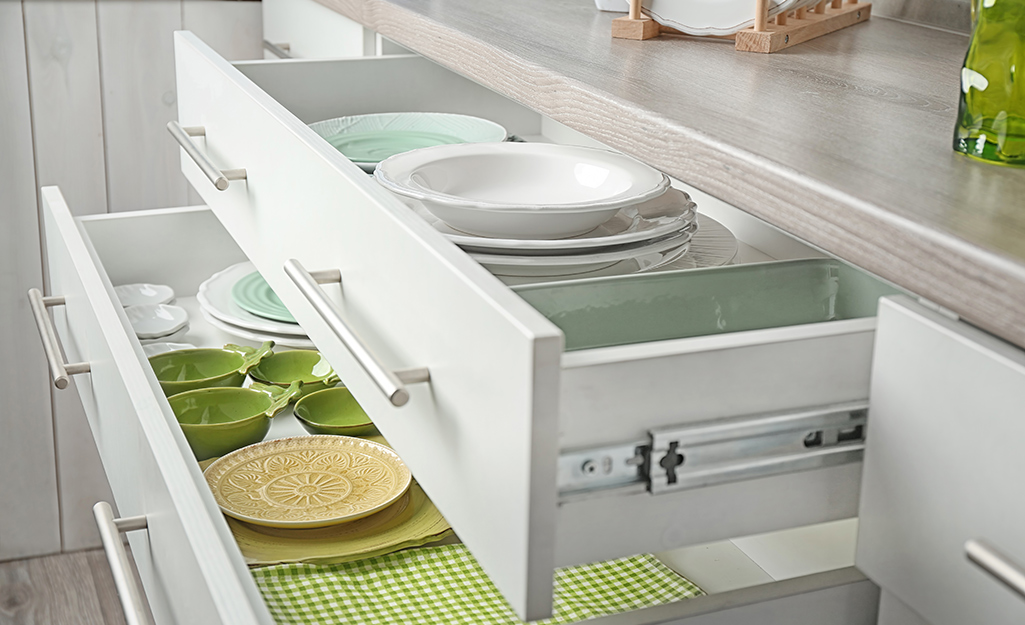 Storage is always a great addition to any kitchen. Make cabinetry work harder with custom kitchen drawer inserts. They're the perfect way to improve the functionality without a lot of hassle. Cabinet inserts that hold items like dishware can also help diminish clutter. Many cabinet models have drawer insert options, or you can get a DIY kit for several different types of inserts. 
Install a Kitchen Vent Hood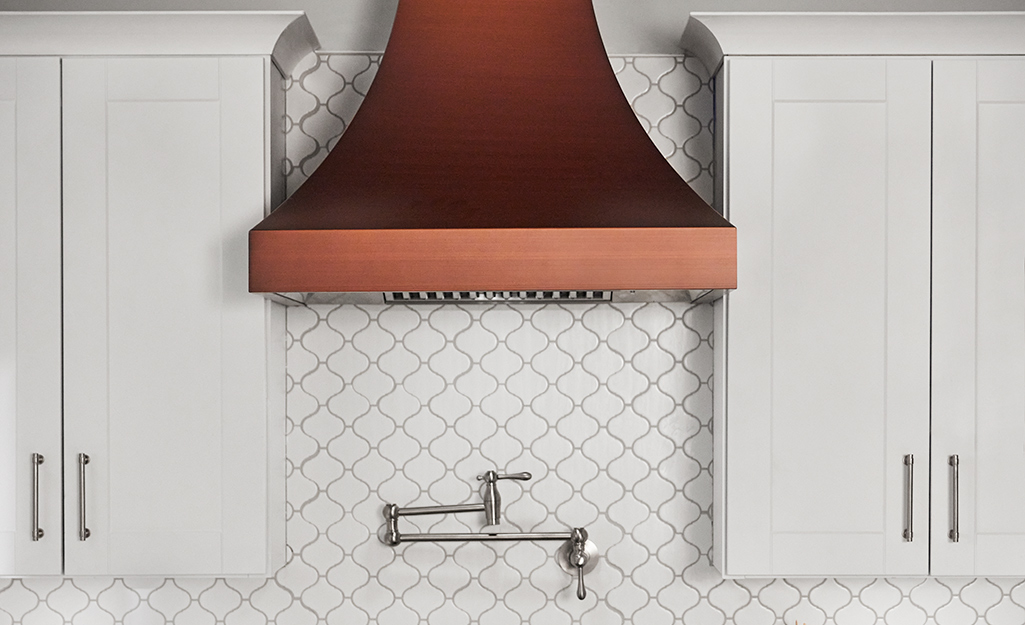 A custom new kitchen vent hood is the dramatic focal point many kitchens need. Standard or custom made, kitchen vent hoods come in different shapes and sizes. Materials include everything from tile and wood to stainless steel and copper. Installing a new kitchen vent hood will instantly upscale your cooking area. Just make sure your new vent hood is 12 inches or larger than your stove.   
Get a Wine Fridge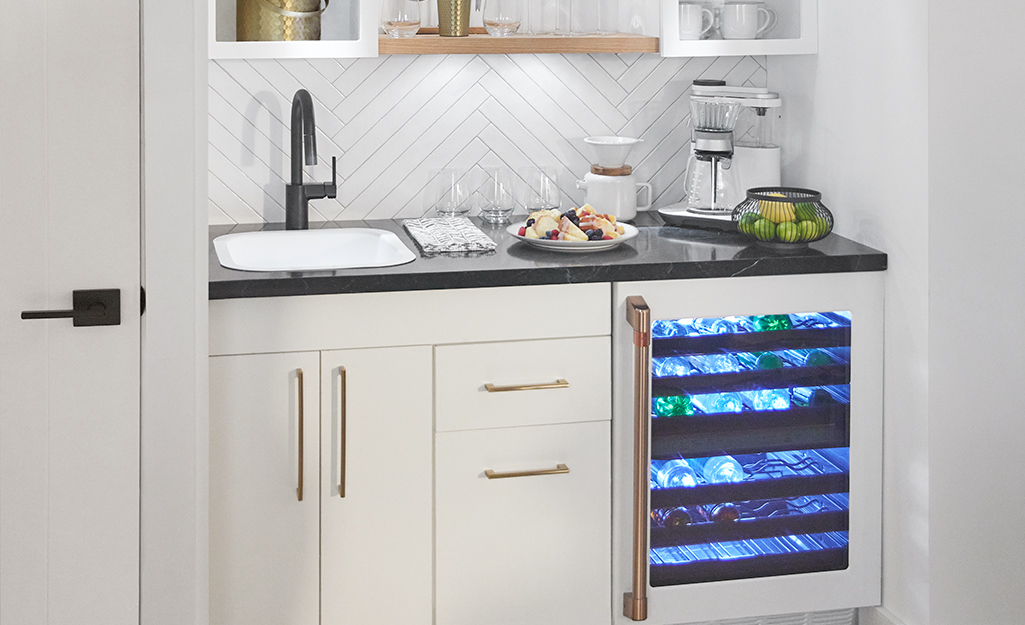 Wine fridges are a posh yet practical addition to a kitchen. They look and work especially well when installed in a kitchen island or a wet bar. If you enjoy entertaining, a wine fridge is a clever way to keep guests refreshed and impressed. 
Replace Countertops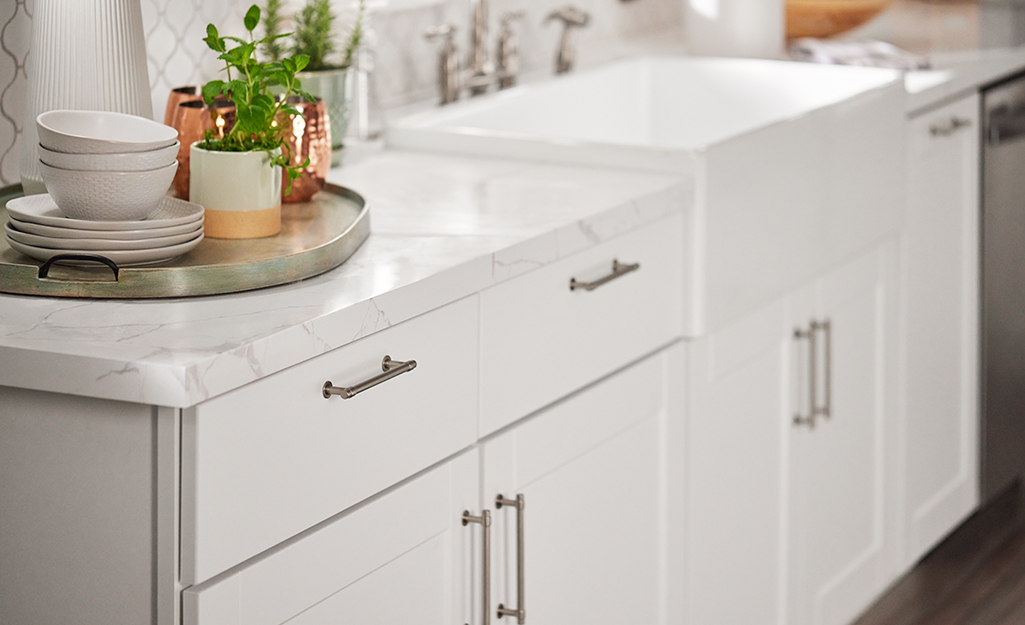 Replace heavily stained, chipped or scratched countertops. A new set of countertops will give any kitchen a facelift and can upgrade its entire look. Go modern and sleek with quartz or marble. Get a farmhouse feel with wood or concrete. There are a multitude of countertop options like butcher block, stone, composite, stainless steel, laminate and more.
Hang Wallpaper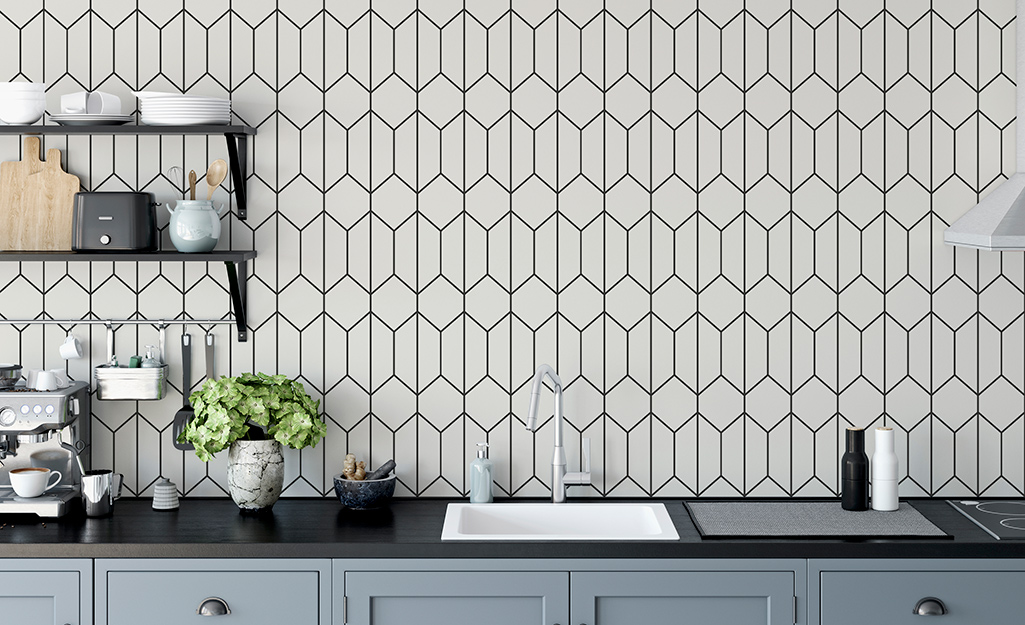 Change the mood of a kitchen with the right wallpaper. Wallpaper adds texture and color. You can use prints, graphic images, themes and more. Choose wallpaper in a washable and durable material. It's best to use tile in high heat or areas that experience moisture like over a sink or stove.
Add a Kitchen Island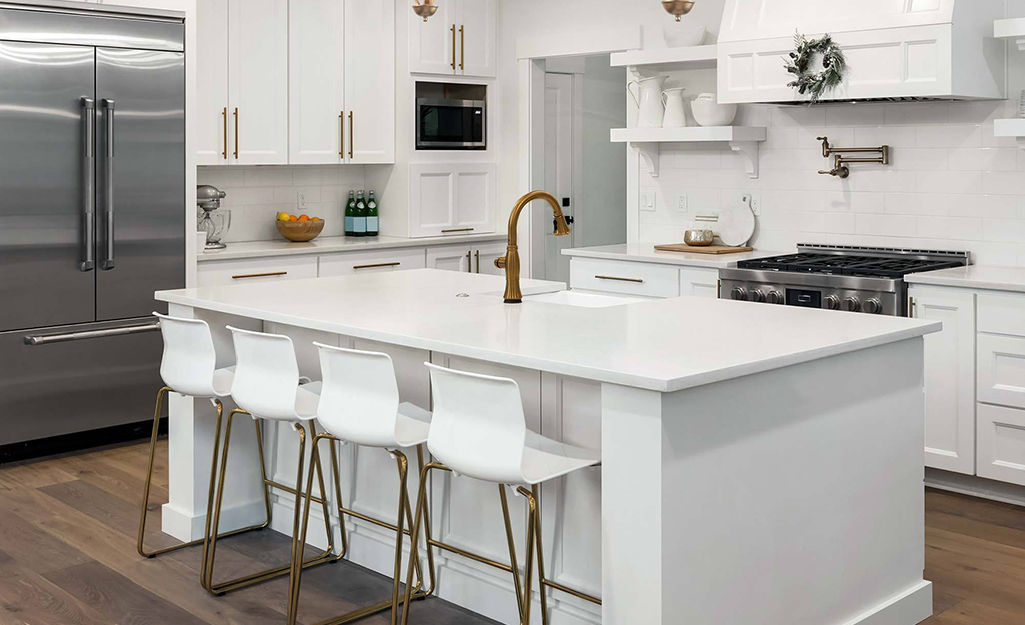 A stylish kitchen island completely changes the layout of a kitchen. It adds more storage for small appliance, cookware and tools. A kitchen island also expands your workspace. It's easy to find kitchen islands that match or complement classic, modern or farmhouse styles. Or you can have one custom built. Just make sure this unifying centerpiece has at least 36 to 48 inches clearance on all sides. This will provide good traffic flow.
Hang Open Shelves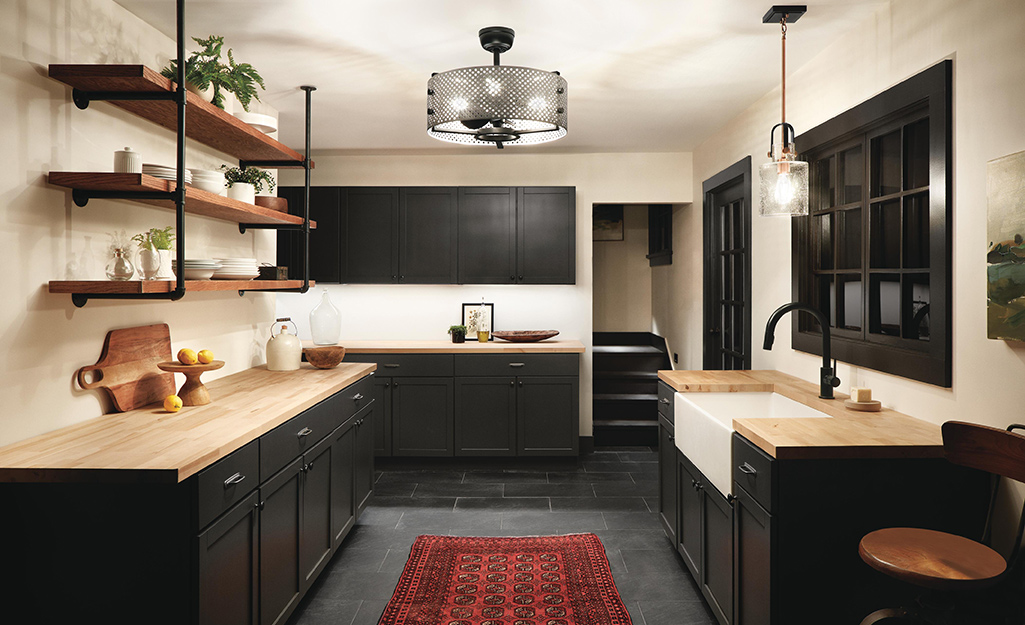 Rather than have the typical closed upper cabinets, go with open shelves instead. Open shelves require minimal demolition and construction. Shelves can be wood, glass or other materials. The look opens up the kitchen and provides attractive storage. Open shelves also allow you to show off collectibles and more.
Update to Smart Appliances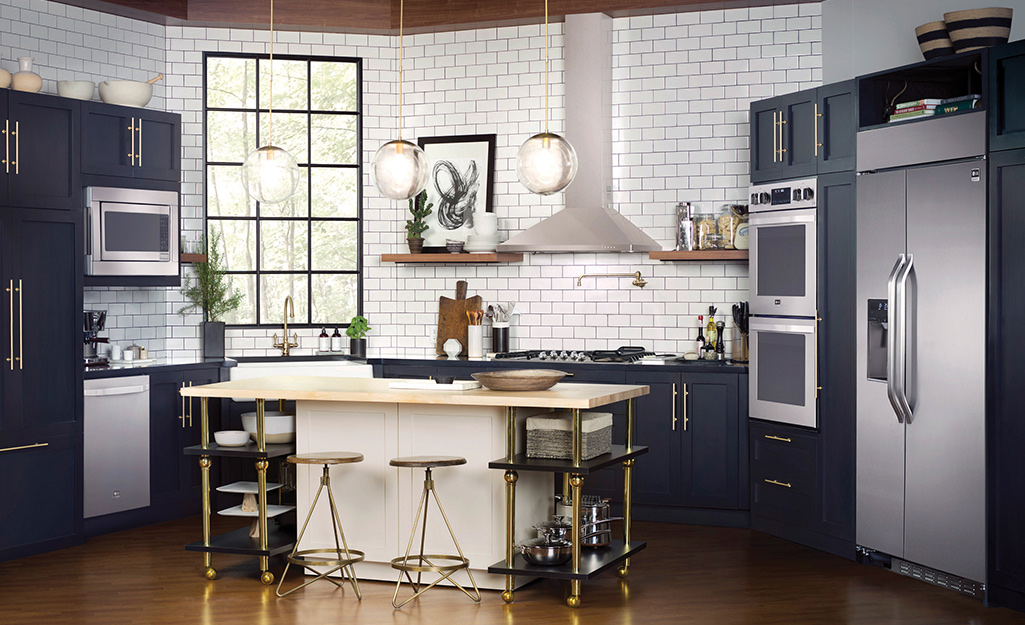 Sometimes one of the best kitchen remodel ideas is all new appliances. Choose from sleek and shiny stainless steel to black-matte finishes and more. Many new appliances allow you to install a matching cabinet panel over the door for a seamless look. If you choose smart appliances, you can also increase the kitchen's functionality. Smart appliances save energy and provide more control over food cooking and storage. 
Create a Kitchen Workstation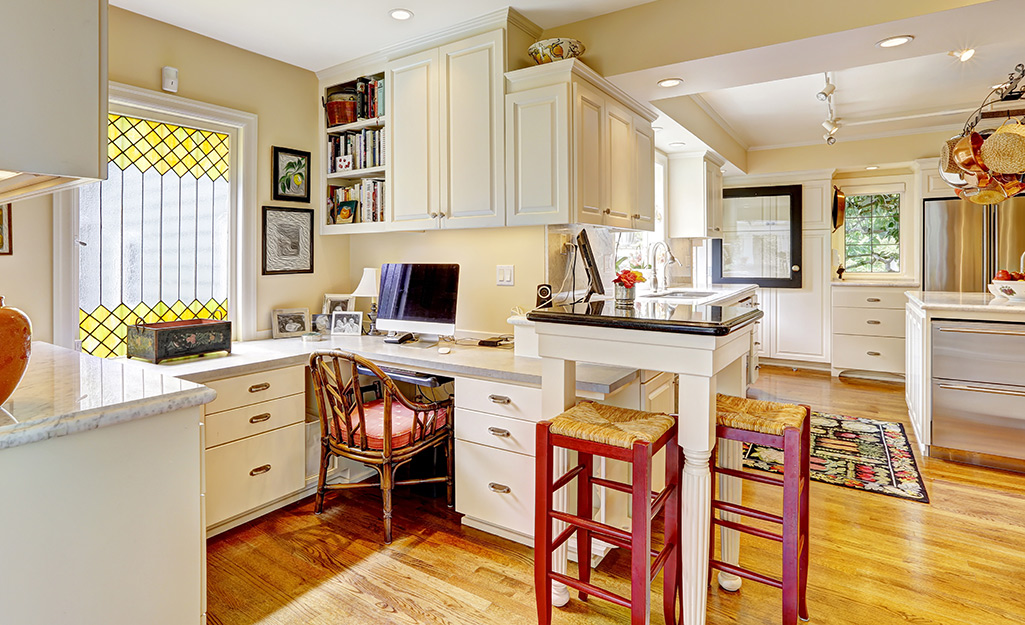 Turn an unused section of your kitchen into an indispensable workstation or office. You'll get a new space to pay bills, take calls and do work. There's also plenty of drawers to store computers, papers and office supplies. Invest in an attractive chair to complete the look. 
Install Wood Floors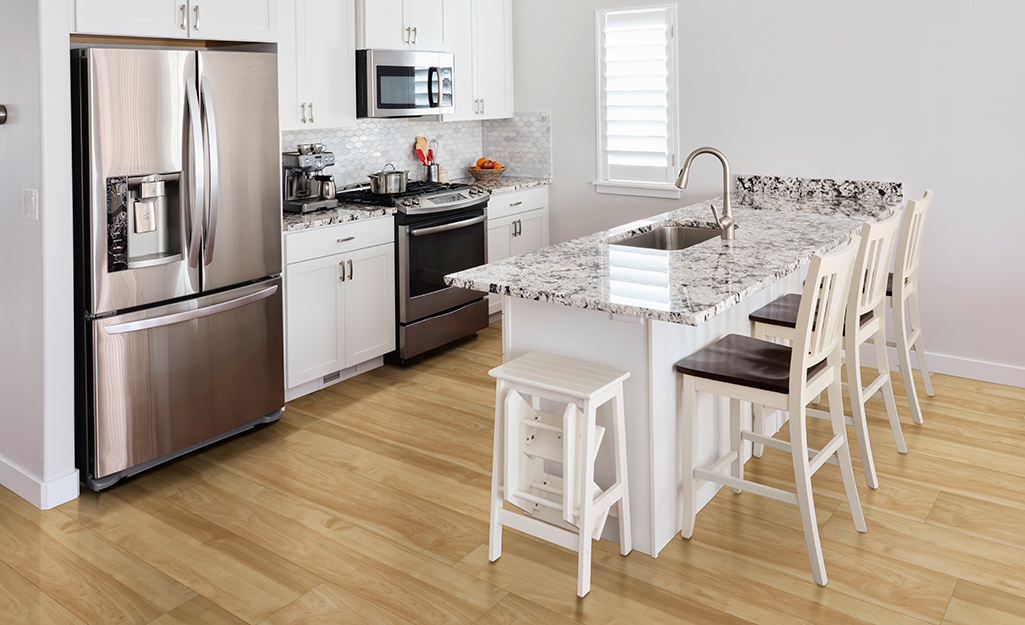 Replace a worn or dated tile or vinyl floor with the look of wood. Wood will warm up the area and give your kitchen a more elegant look. Instead of real hardwoods, choose a more budget-friendly versatile vinyl plank. Faux wood flooring looks made of tile and laminates are relatively easy to install. Many laminate flooring products offer durable and water-resistant products that work well in kitchens. 
Add a Pantry Barn Door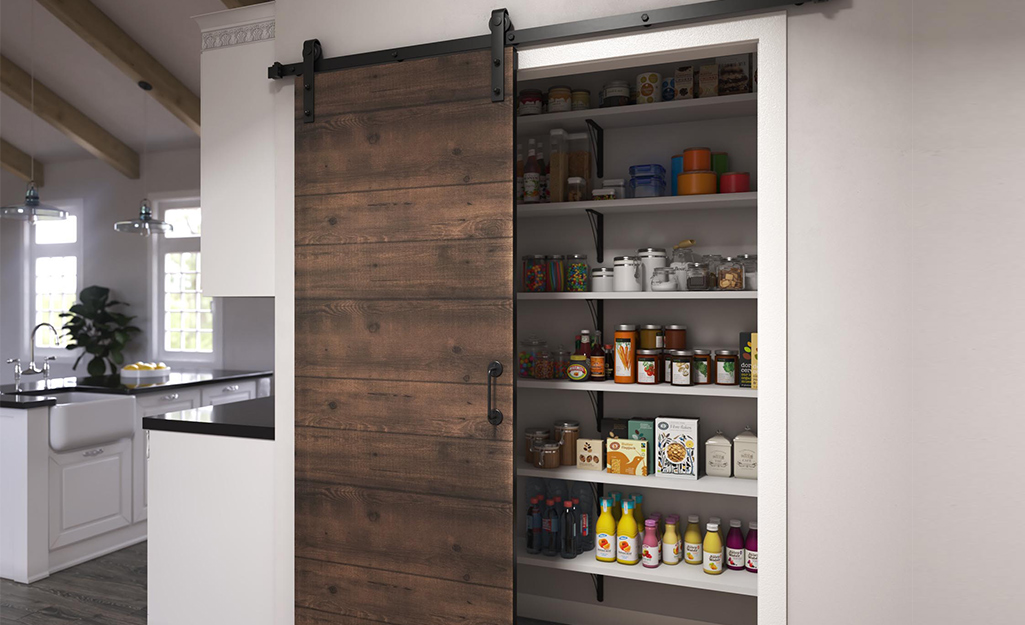 Installing a barn door will give almost any kitchen new farmhouse style. A barn door provides hidden storage and a decor upgrade. Simply replace an existing pantry door with a sliding barn door in a style and finish that complements your existing cabinetry. One of the more eye-catching kitchen remodeling ideas is to choose a colorful barn door.
Make a Trash Can Drawer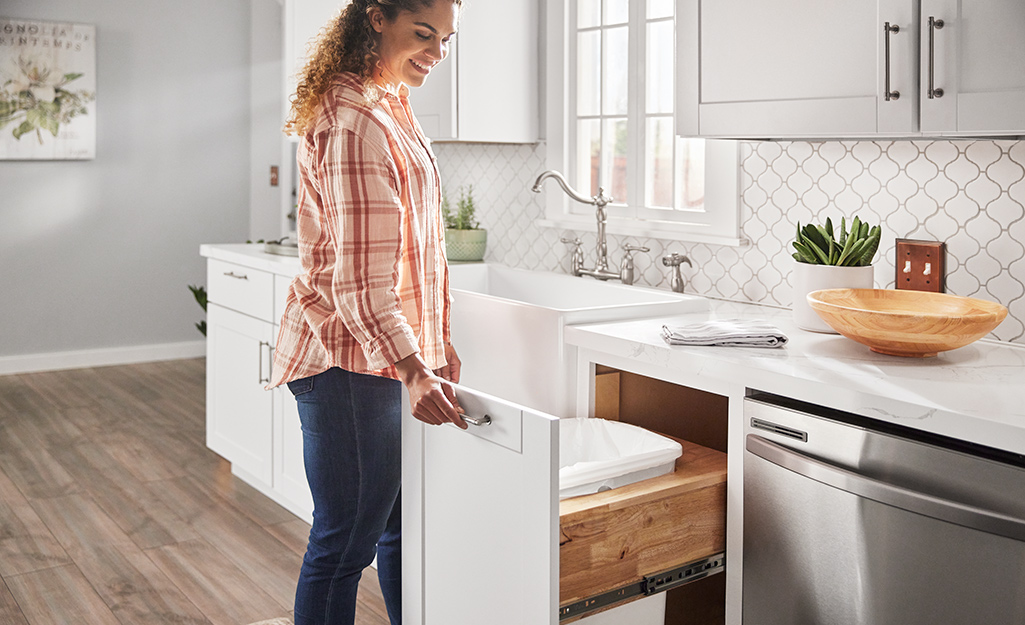 Sometimes the best kitchen remodel ideas are the most obvious. Trash cans take up a lot of space and can detract from the overall look of a kitchen. Installing a built-in drawer that keeps this kitchen essential organized and out-of-sight can drastically improve the space. This is especially true if the trash can drawer is built to handle both waste and recycling bins.
With these kitchen remodel ideas, you'll be able to give your kitchen a fresh new look. Unlike a full renovation, ideas like adding a new kitchen hood will make a striking difference for a relatively minimal amount of construction and cost. Follow these simple kitchen remodel ideas and you'll be cooking in a new space in no time. Ready to remodel your kitchen? We have just what you need to make your project go smoothly including professional kitchen remodeling services.
Explore More on homedepot.com