Buying Guide
Best Kitchen Cabinets for Your Home
Updating your kitchen cabinets can completely transform the look, feel and efficiency of the space. This Home Depot guide will teach you about cabinet materials, construction, designs and styles so you can create your dream kitchen.
Tip: The Home Depot offers free in-store consultations with professional Kitchen Designers. They will listen to your ideas, review your floor plan and find the right cabinets to fit your style and budget. Plus, you don't have to worry if you don't own all of the tools needed to complete this DIY project. Rent tools and trucks for any project at The Home Depot.
Choosing Kitchen Cabinets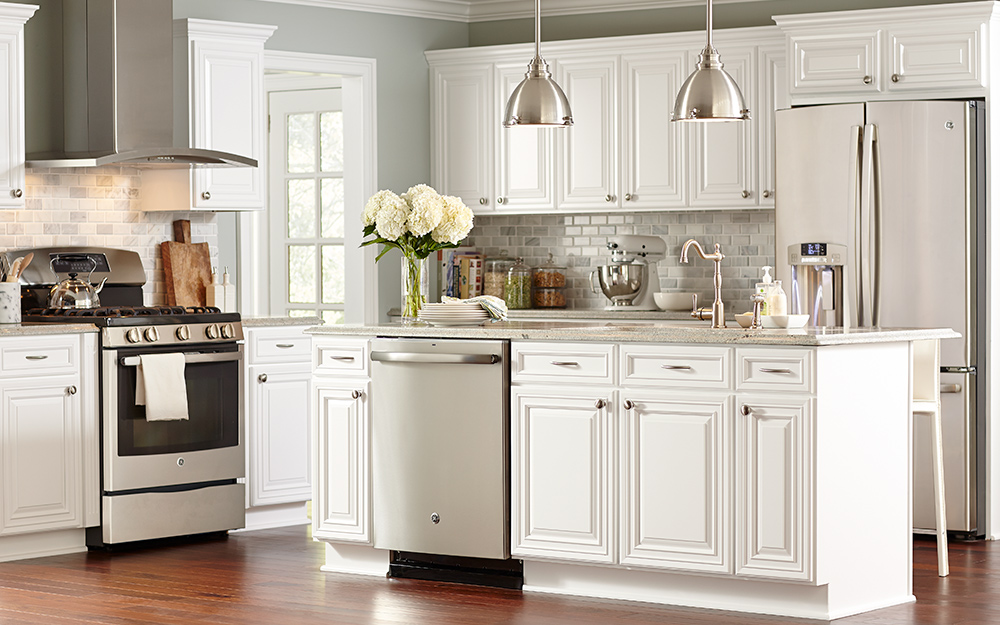 You can buy stock, semi-stock and custom kitchen cabinetry. Choosing which works best for you will be determined by the available kitchen space you have and your budget.
Available in 3-inch width increments ranging from 12 to 60 inches wide
Standard height: 30 to 36 inches
Above-stove height: 12 to 18 inches
Available same day of purchase
Economical pricing
Wider selection of wood and finish choices; range of storage options
Enhancements: pull-out shelves, lazy Susans, dividers
Same available sizes as stock cabinets
Requires several days for delivery
Mid-range prices
Custom
Handmade to fit your specific kitchen
Ideal for irregularly shaped spaces
Delivery time: nine or more weeks
Can be built in increments up to 1/32 inches
Most expensive option
Types of Cabinets: Base, Tall and Wall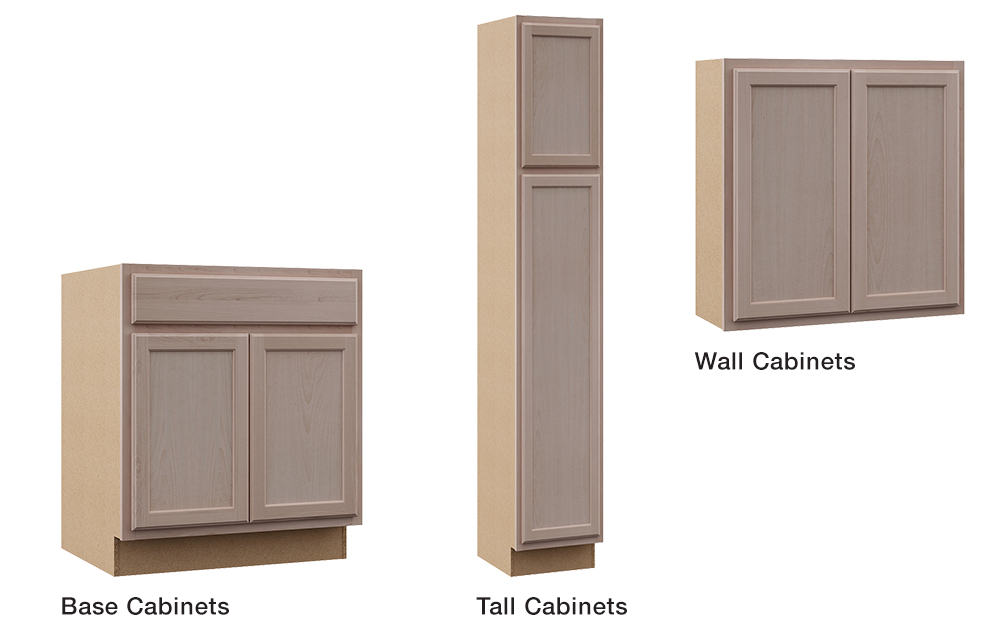 Kitchen cabinets come in three configurations. Base cabinets support countertops, wall cabinets hang above counters or stoves and tall cabinets are popular choices for pantries.
Rest on floor to support countertop
Typically, between 34.5 to 36 inches tall and 24 to 30 inches deep
Can be specialized to include sink or corners
Ideal for narrow spaces such as pantries
84 to 94 inches tall; standard depth of 12 to 18 inches
Hang on wall
Standard heights are 12, 15, 18, 30, 36 and 42 inches; depth ranges from 12 to 18 inches
Typically installed 18 inches above countertops, 54 inches above floor and 24 inches above stove
Kitchen Cabinet Materials
Solid wood kitchen cabinets are long-lasting, strong, attractive and often the most expensive. Relatively lower-cost engineered wood products like plywood, particleboard and MDF are also used to construct quality cabinets.
Solid Wood: Known for durability, quality and attractiveness. Cabinet doors and face frames are often made from solid wood. Popular choices are hardwoods like red oak and white oak or softwoods like spruce and fir. Hickory, maple or beech will resist scratching and denting but are more expensive.
Particleboard: Made of wood chips or shavings bonded together with resin and compressed into rigid sheets. An economical alternative to solid wood, particleboard is very stable and is often used in stock cabinets as an underlayment for plastic laminates and wood veneers in the panels for the box and shelving. Doesn't warp, shrink or swell due to humidity, but should be properly sealed to avoid moisture. Particleboard is assembled using glue or mechanical fasteners.
Medium Density Fiberboard (MDF): Made from fine wood particles and glue formed into sheets. Often used as a backing material for laminates and other finishes. MDF is very dense, resists warping and has a smooth surface suitable for veneers, laminates and paints. It is often used in mid-priced cabinetry.
Plywood: Made of layers of veneers stacked and glued together. Alternate layers are oriented at right angles to each other, providing strength in length and width. Furniture-grade plywood is used in custom cabinetry. Because heat and moisture cause wood to expand and contract in the direction of the grain, plywood's cross-grain pattern makes it more stable and stronger than solid wood. Plywood is often used for cabinet boxes and shelves in higher-priced cabinetry.
Wood Veneers and Laminates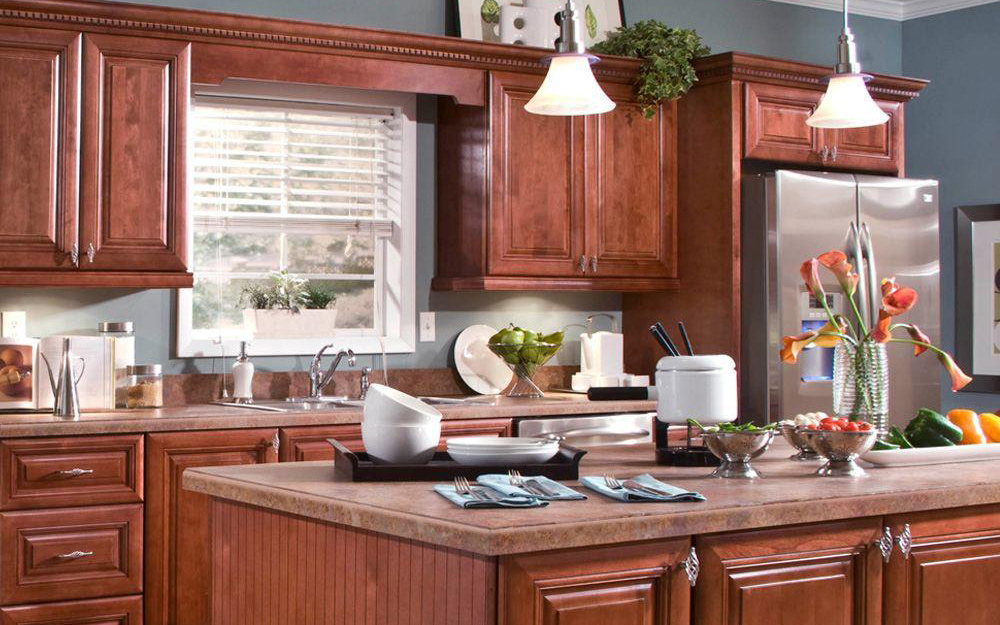 Opting for cabinet-grade plywood, particleboard/MDF covered with wood veneers, durable laminates or other synthetic materials will keep costs down without sacrificing style.
Wood veneers
Warmth and beauty of solid wood
Affordable and versatile
Consistent grain pattern
Laminates
Durable and low maintenance
Variety of colors, patterns
Resists stains, warping, chipping and fading
Melamine
High-quality options available
Faux wood grains, bamboo and other textures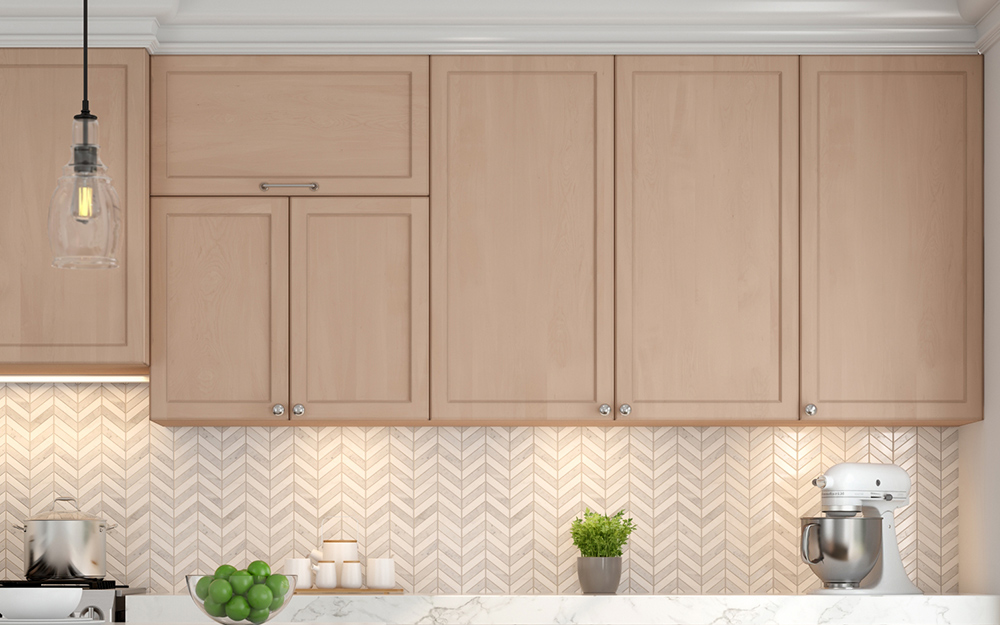 Whether you choose framed or frameless cabinets depends on how you want your kitchen to look. Both framed and frameless cabinets come in a variety of beautiful styles and surfaces.
Framed or Face Frame cabinets have a frame on the front of the cabinet that makes the box highly stable and helps keep it square. Door hinges attach to the frame. Framed cabinets have a traditional feel.
Frameless cabinets, also known as European-style cabinets, have no frame around the face of the cabinet box. Thicker side panels lend stability. Because drawers do not have to fit in a frame's opening, they can be as wide as the cabinet, providing more storage. Frameless cabinets have a modern feel.
The overlay is the manner in which the door rests on the face of the cabinet.
Standard or traditional overlays are the most common type used in cabinet installation.
Leaves the face of the cabinet box visible around doors and drawers
Creates a visible frame called the "reveal"
Reveals range from 1/2 inch to 1 inch around doors and drawers
Full overlays are when there is virtually no cabinet frame showing around doors or drawer fronts.
Doors may be separated by as little as 1/8 inch
Most often used in contemporary design installations
Usually more expensive because more material is used in their construction
Tip: All frameless cabinets use full overlays, but they can be used on framed cabinets as well.
Kitchen cabinet doors come in Shaker, slab, recessed panel and other popular designs.
Shaker
Iconic simplicity and a warm feel
Perfect for understated looks
Slab
Flat, clean canvas for hardware
Streamlined look for contemporary designs
Recessed panel
Minimal style that adds depth and interest
Works equally well with farmhouse or modern designs
Raised panel
Classic, timeless style
Blends well with formal, traditional decor
Cape Cod
Casual, classic cottage style
Ideal for informal kitchens
Tip: Replace some of your wood panels with decorative glass and display special china or collectibles. Add in-cabinet lighting for a designer touch.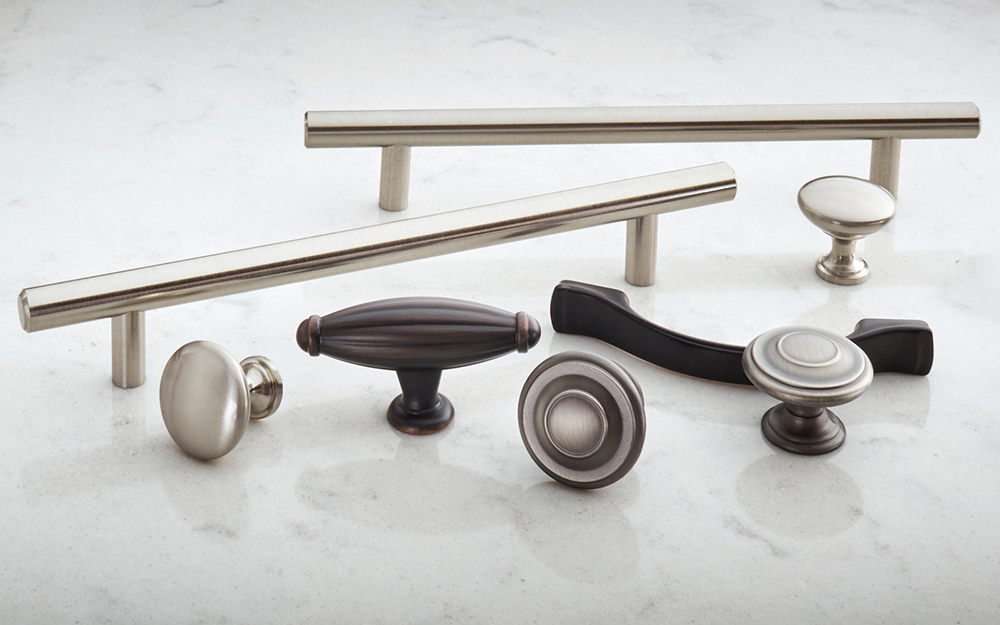 Drawer pulls, knobs and hinges unify your cabinets' appearance and add personality to your kitchen. Choose hardware made of metal, ceramic, crystal or plastic that complements your cabinet's architectural style. Remember that the type of hinge you use is determined by how your doors or drawers fit the cabinet.
Inset doors: Mount with surface, butt or wraparound hinges
Rabetted doors: Install with exposed lipped hinges
Overlay doors: Install with invisible Euro-style hinges
Tip: Simple cabinetry designs like Shaker pair well with brass, while contemporary styles look great with sleek horizontal handles in stainless steel or brushed chrome.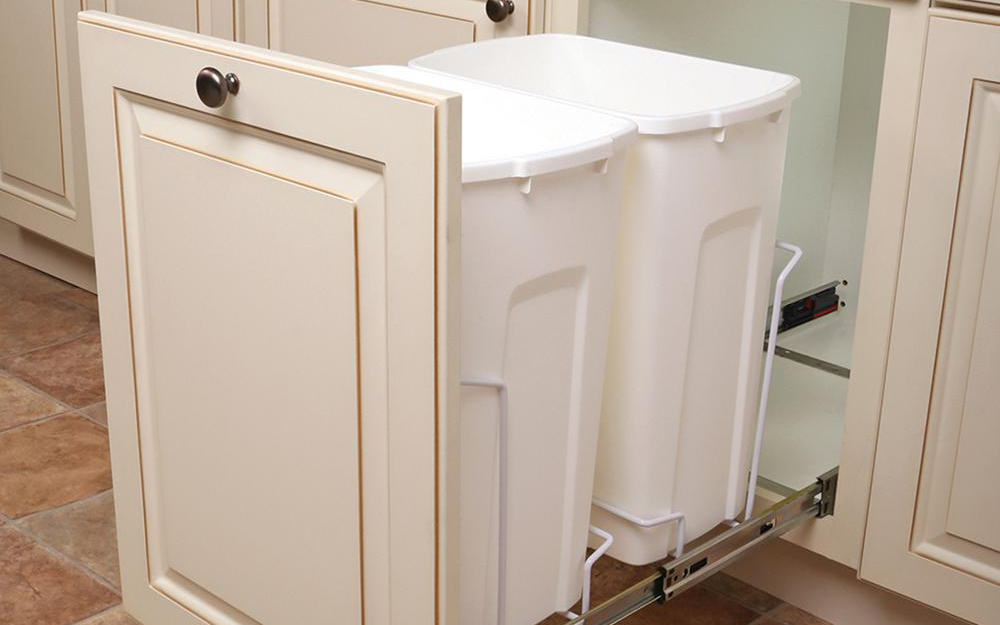 Get the most out of your kitchen cabinets with organizational accessories that help maximize storage and reduce clutter on countertops.
Pull-out shelf: Provides easy access storage of kitchen essentials
Two-tiered cutlery/flatware dividers: Store nearly twice as many utensils and stainless steel flatware
Lazy Susan: Access corner cabinets with one- and two-tiered spinning shelves
Plate organizers: Slide out for easy access to plates; adjustable pegs for flexible storage
When determining how much kitchen cabinet material you need, don't guesstimate, calculate. Know exactly how much you need with our project calculators.