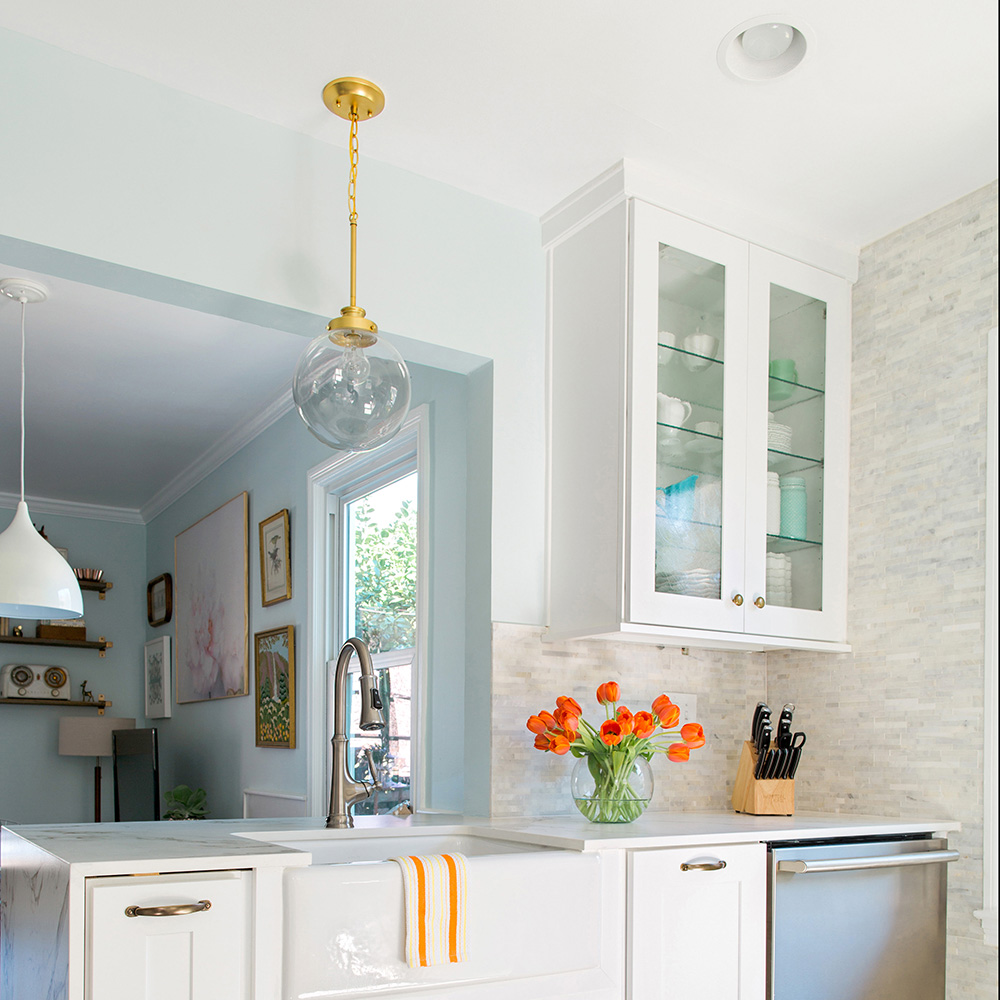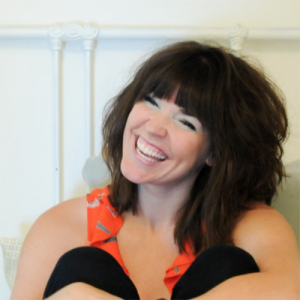 A Note From The Home Depot
A kitchen remodel can be a major undertaking, but when it's done well, it can have a huge positive impact on the home and the family.
Joni Lay, who writes the design and DIY blog Lay Baby Lay, had a kitchen with a good dose of charm, but it wasn't keeping up with her growing family. A complete remodel was in order, including sophisticated new appliances, new wood-look tile flooring and beautiful custom cabinets. That's not to mention knocking out a wall and adding waterfall countertops.
Here's her story of how her dream kitchen remodel unfolded, from planning to completion, and some of the challenges she faced. Best of all, she shows off gorgeous photos of how this remarkable kitchen renovation turned out.
Whether you're dreaming of a complete kitchen makeover, or just a modest upgrade, you'll find plenty of ideas (and maybe a little reassurance) from Joni's experience.
1
A New Kitchen for a Growing Family
I'm so excited to be sharing our kitchen renovation. I have learned so much through this process; it has truly changed the way our family functions in our home, and I'm so thankful to have the opportunity to share with you how our new kitchen has made such a difference!
2
The Kitchen Before the Remodel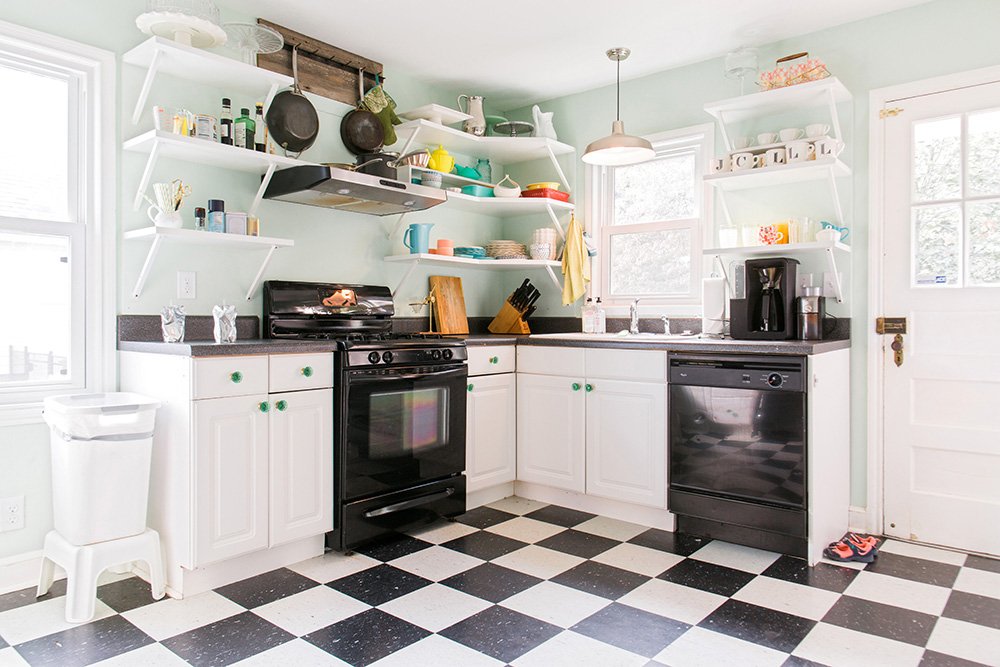 To start, this was our situation before the kitchen remodel. When we moved into this house, I fell in love with its vintage charm and character. The kitchen had been poorly "updated" quite a few years before we moved in, but it worked just fine for the two of us. With two girls and one on the way, however, it quickly became cramped and chaotic, while the inexpensive cabinetry, flooring, and counters were starting to come apart and we were bursting at the seams with lack of storage and organization.
We had a table crammed into this already tight space, since we turned the dining room into a nursery, and it made eating together and preparing meals quite stressful (especially since the littles love to be close by when I'm cooking!).
We had considered taking on a kitchen renovation before, but quickly became overwhelmed wondering where to begin, and we also thought we would have to add square footage to really make it worth it. It just seemed like too much.
When The Home Depot approached us about working together on this project, however, Chip and I were excited to get on board and put our heads together to figure out a way to make the existing square footage work better for our family.
4
Planning the Dream Kitchen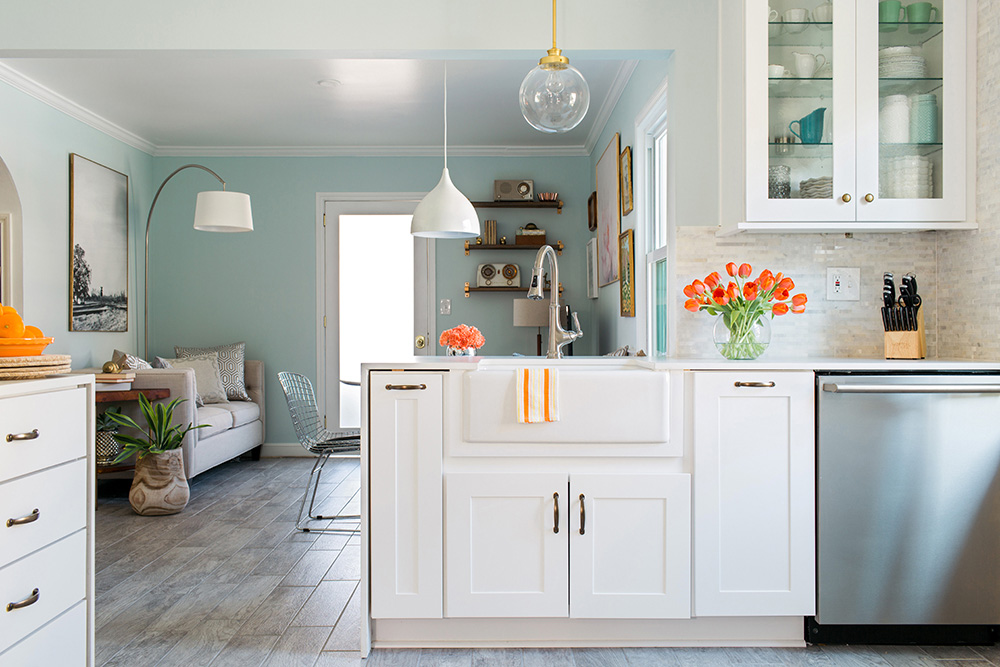 We sat down together at our little table for about five hours one Sunday afternoon and hashed through our plans. We drew up countless layouts until we arrived at one that seemed to truly make sense. However, while we had a general plan in place, we fell short on the details of the cabinetry and really making the space efficient.
But that is what made this whole process so wonderful. We met with Cindy, a kitchen designer at The Home Depot, who walked through our plans with us, looked at the inspiration we had pulled together, and helped us create a final, detailed layout with which we could move forward. She took our vision and made it come to life, and it was such a fun process watching her edit the floor plan and show us revisions on the spot as we worked through all the details. We left that meeting feeling confident about our direction, and excited about the finished product that was to come.
Above, you can see our choices for finishes and details, including Montagna porcelain wood look tile in Dapple Gray, Dekton countertop in Entzo, and the Jeffrey Court mosaic tile backsplash in Venetian Brick. I really wanted a lighter and brighter look, so we went with white and light finishes that would make the space feel open and happy. That old checkerboard tile, while cute, was much too busy for a small kitchen.
6
Surviving the Kitchen Remodel
After our meeting with Cindy, Home Depot Kitchen Remodeling Services measured the space and things started moving along. The entire project was estimated to take about 6 to 7 weeks, and we went into it expecting things to just be absolutely crazy. I was mentally preparing myself for lots of noise, a huge mess, and a difficult home to be in. I was thinking Brigette wouldn't be able to nap, and we might have to head out of town to the grandparents' to get through it.
However, that really wasn't the case at all. When the flooring was ripped up, that was the messiest and the loudest it got, and that only took two days. The gorgeous new porcelain wood look flooring was installed and the rest of the process was much neater and less intrusive. Home Depot Kitchen Remodeling Services handled managing it all, so we were free to just go about life as usual and I didn't have to feel stressed about whether things were happening when and how they should.
That's not to say the renovation was without its inconveniences, however. We set up a temporary kitchen in our living room, with the refrigerator and a buffet there. We got by with just the girls' play table for them to use, while Chip and I usually dined on the sofa with the coffee table. I think the girls found it to be an adventure, but it was cramped and a bit of a challenge making simple meals and packing lunches in the confined space. Also, I kind of have a thing about food in living spaces – it makes me a little crazy. It was all completely worth it, though! And I also fell in love with using a toaster, which I had never really used much (or had room for!) before. It also gave me an excuse to eat out a bit more, because honestly, cooking isn't my favorite while pregnant, either.
The Home Depot kept right on schedule, and the new kitchen came together in seven weeks! We were certainly excited to see it all come together on time (especially with baby #3 due to arrive very soon!).
So let's talk about the finished kitchen that I'm absolutely crazy for…
It's honestly hard to believe this is actually the same space. I have sent snapshots to friends, and they can't believe it's our house, because it is so much lighter, brighter, and open!
We knocked out the wall in between the kitchen and the den, making it one large space, which also brought in a ton more light. I now have a clear line of sight into the den and living room, so I can watch the girls play, and it feels like we are all together without them having to be right under my feet while I cook!
10
The New Apron-Front Sink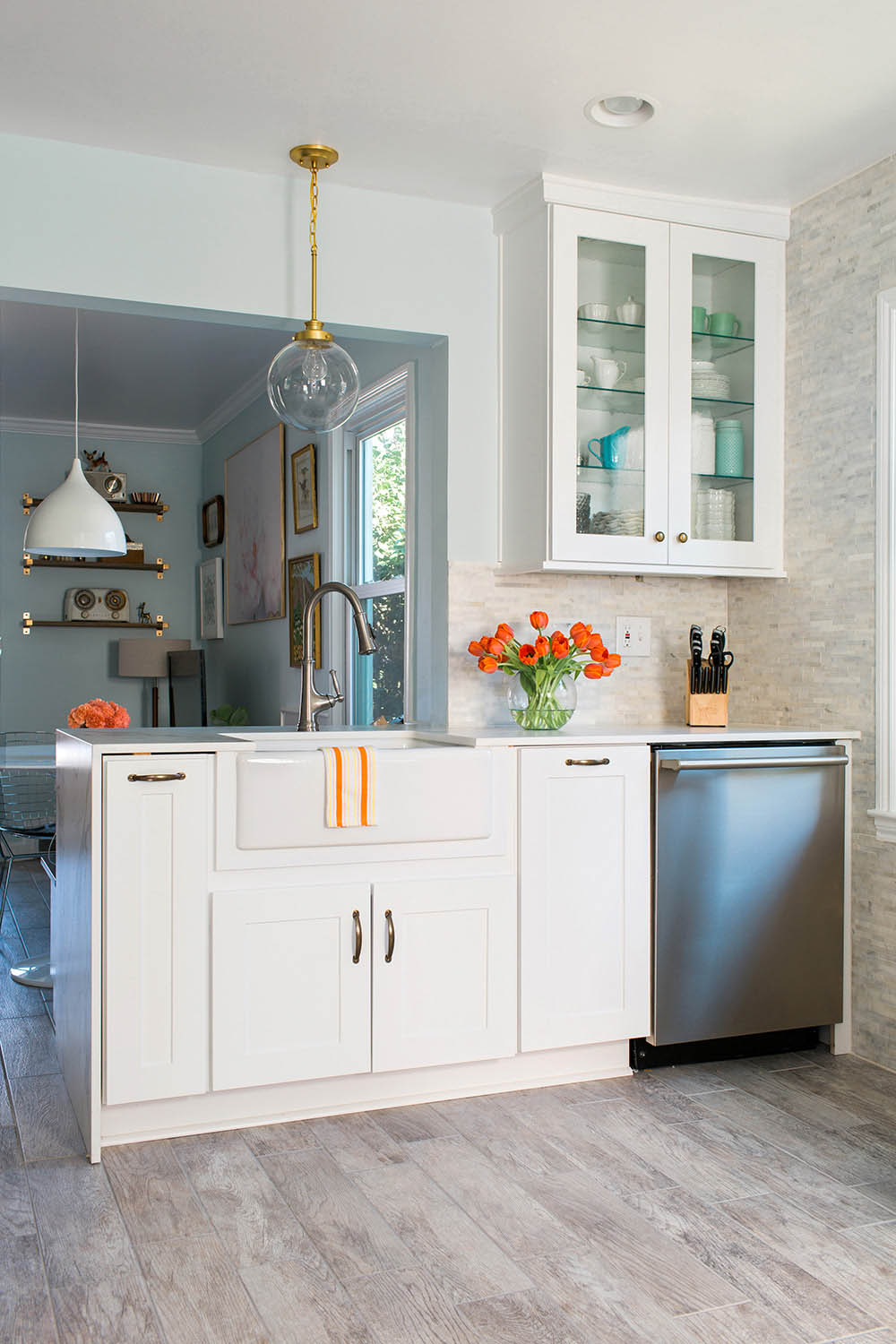 We moved the sink over to where the wall used to be, and the girls are able to color, draw, or watch an afternoon show while I can keep an eye on them as I get supper together. I also love that gorgeous custom Thomasville glass cabinet. It's the perfect place to store some of our prettier glassware, and it is lit from the inside, which makes the sweetest glow (and comes in handy for the middle of the night feedings that come with having a newborn!).
Pictured above: Custom Thomasville cabinets in Eden White, Brass Pendant Light, White Tulip Pendant Light, Montagna Porcelain Tile in Dappled Gray, Electrolux Dishwasher
I also love the apron-front sink and the touchless faucet. The faucet has a motion sensor to turn on the water, which is so helpful when my hands are dirty from preparing food. It's a really great feature, and one that you don't really appreciate until you start using it!
Next to the sink, Cindy added a drawer for the trash can, which has made cleaning up so much easier. It's so efficient to have the sink, trash can, and dishwasher right next to each other. There is no walking back and forth, and cleaning up after supper is such a snap (plus those Dekton counters are so easy to wipe down!).
The Electrolux dishwasher is super quiet, and has a shallow third tray on top for small parts of bottles and sippy cups. It's about the best thing you can have with all the stuff that comes with having babies and toddlers around!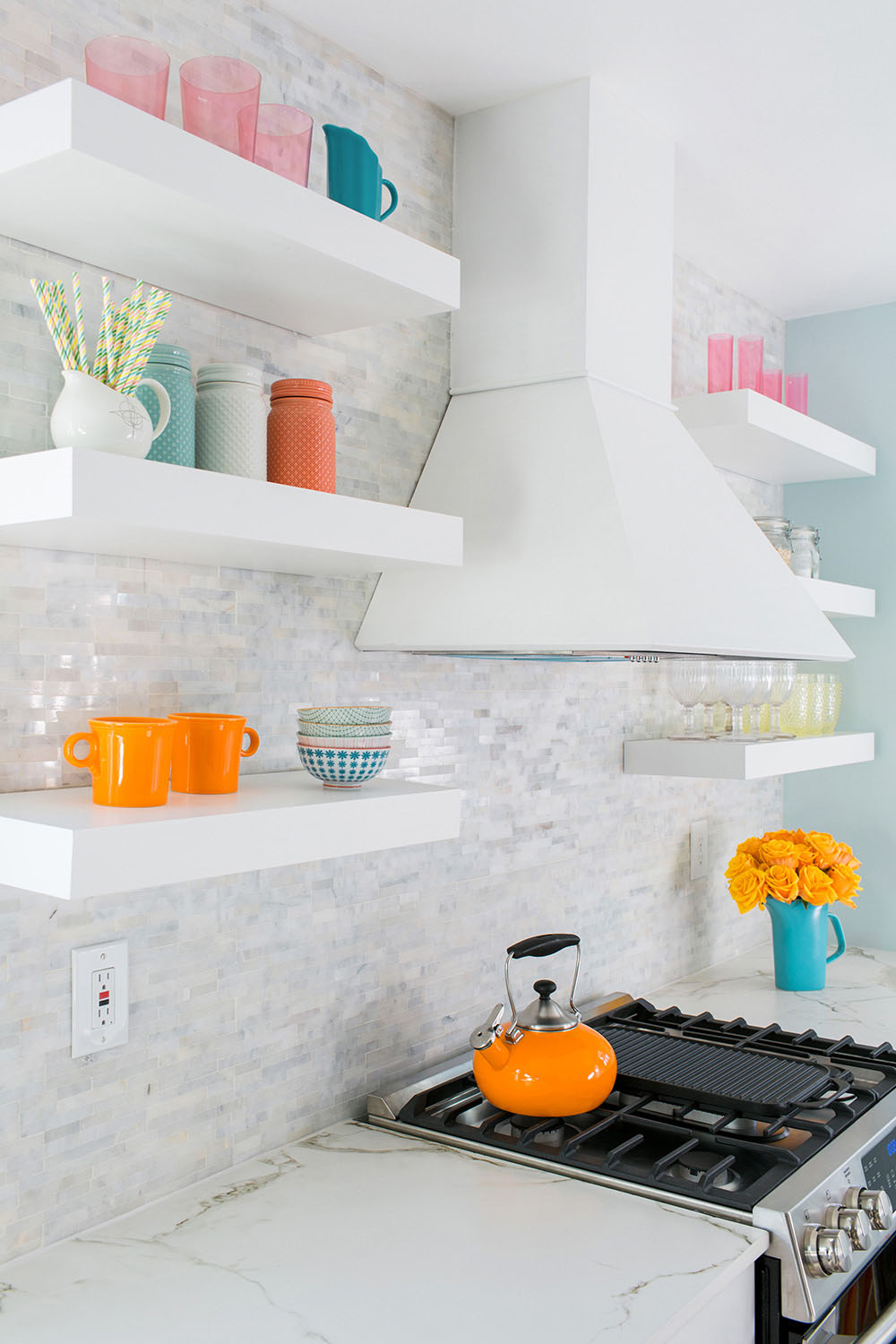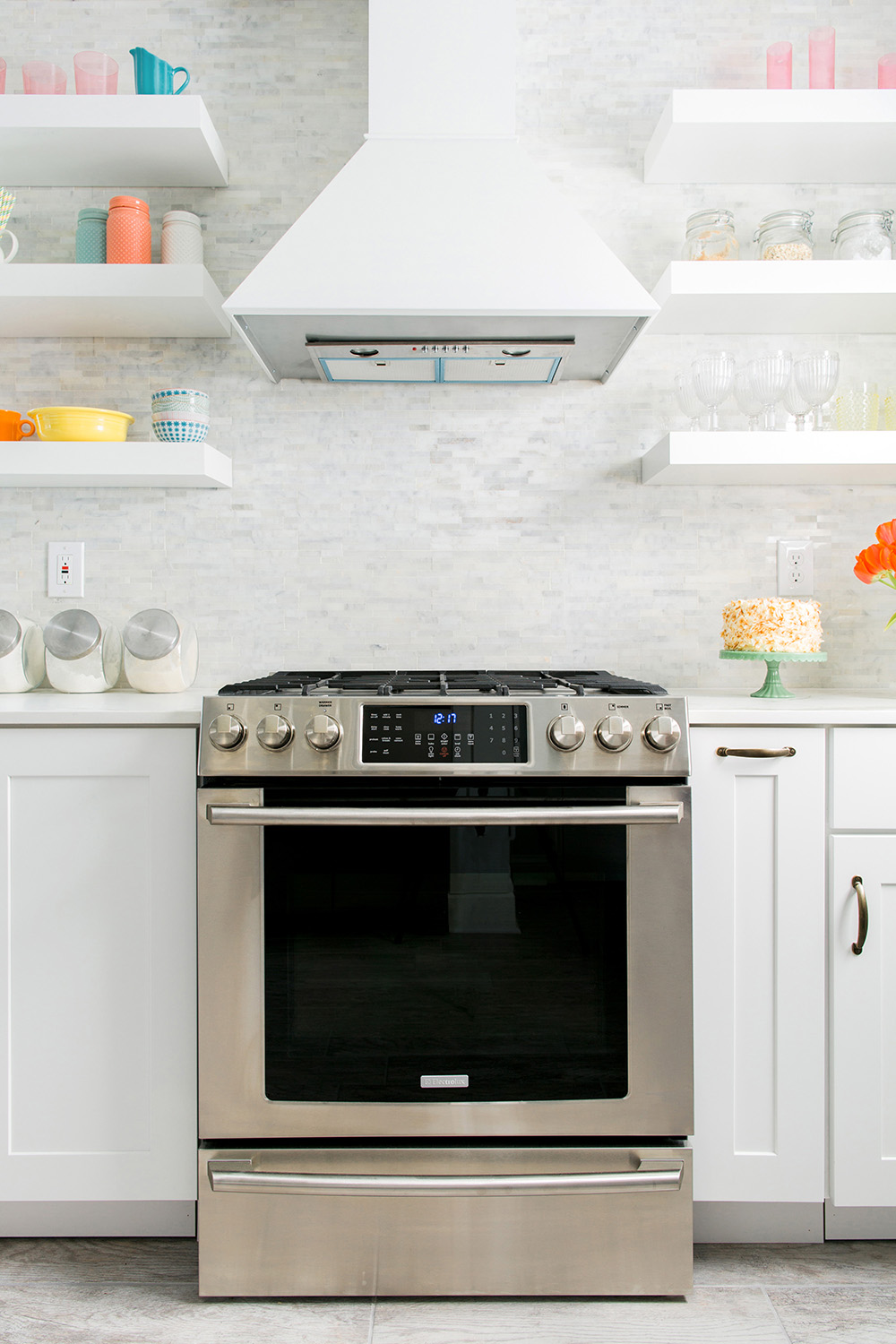 The Electrolux gas range has also made cooking more fun; the convection feature bakes everything more quickly, and the range has a quick boil burner, and we have really enjoyed the griddle for cooking pancakes, sliders, toasting sandwiches, and all kinds of fun things!
The custom Thomasville vent hood pairs with it perfectly, and the open shelving makes the space feel bright and uncluttered, not to mention the absolutely gorgeous Jeffrey Court backsplash that I adore.
21
Making the Most of the Kitchen Space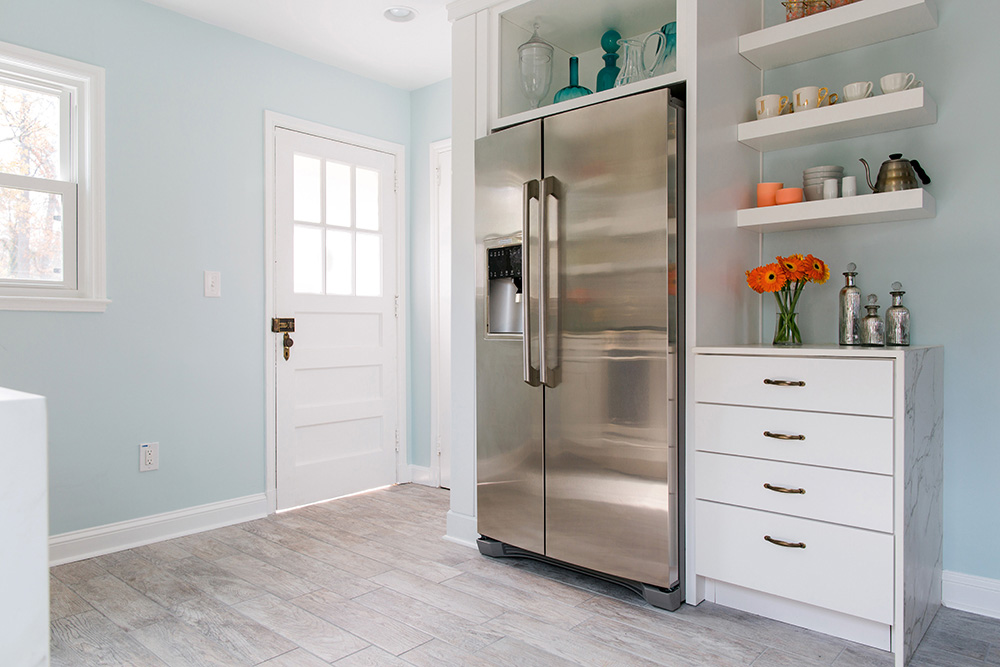 On the wall facing the range, Cindy worked with us to design some custom Thomasville cabinetry around the refrigerator. It's really amazing what you can fit into what seems like unusable space with some clever design. That little counter to the right of the fridge has been the perfect spot for making the girls' lunches for school, and the drawers hold so much!
The extra special features that make the kitchen really work, however, can't even be seen from the outside. The Thomasville cabinetry has an incredible amount of storage and organization that helps keep the kitchen neat and uncluttered. It's amazing what we can store in the super cabinet featured above, and the pots and pans fit so neatly into the pots and pans organizer. The best part is that all the cabinet space is used, and you don't have to crouch down and reach into the back of the cabinets since the drawers extend out all of the way.
I mean, look at all that storage! I'm also particularly fond of the toe kick drawers, which you wouldn't even know were there. They are perfect for storing placemats, table linens, and other things that you may not need all the time. The girls love using them, too, since they are right on their level, so we dedicated one of the toe kick drawers for art supplies, so the little ones can draw and color in the kitchen as I cook.
The utensil organizer also keeps spatulas, spoons, and such within easy reach, but off the counters (and no getting tangled up in a drawer!).
One of the most rewarding things about this remodel has been the addition of a built in banquette, where our whole family can comfortably sit and eat together. The bench seat is also a Dekton surface, which is nearly indestructible (in other words, excellent for use with kids!).
Family meals have already become so much more enjoyable. We linger longer, and stash games in the drawers for some after-supper fun.
32
Special Features: Quality Cabinets, Waterfall Countertops and Wood-Look Tile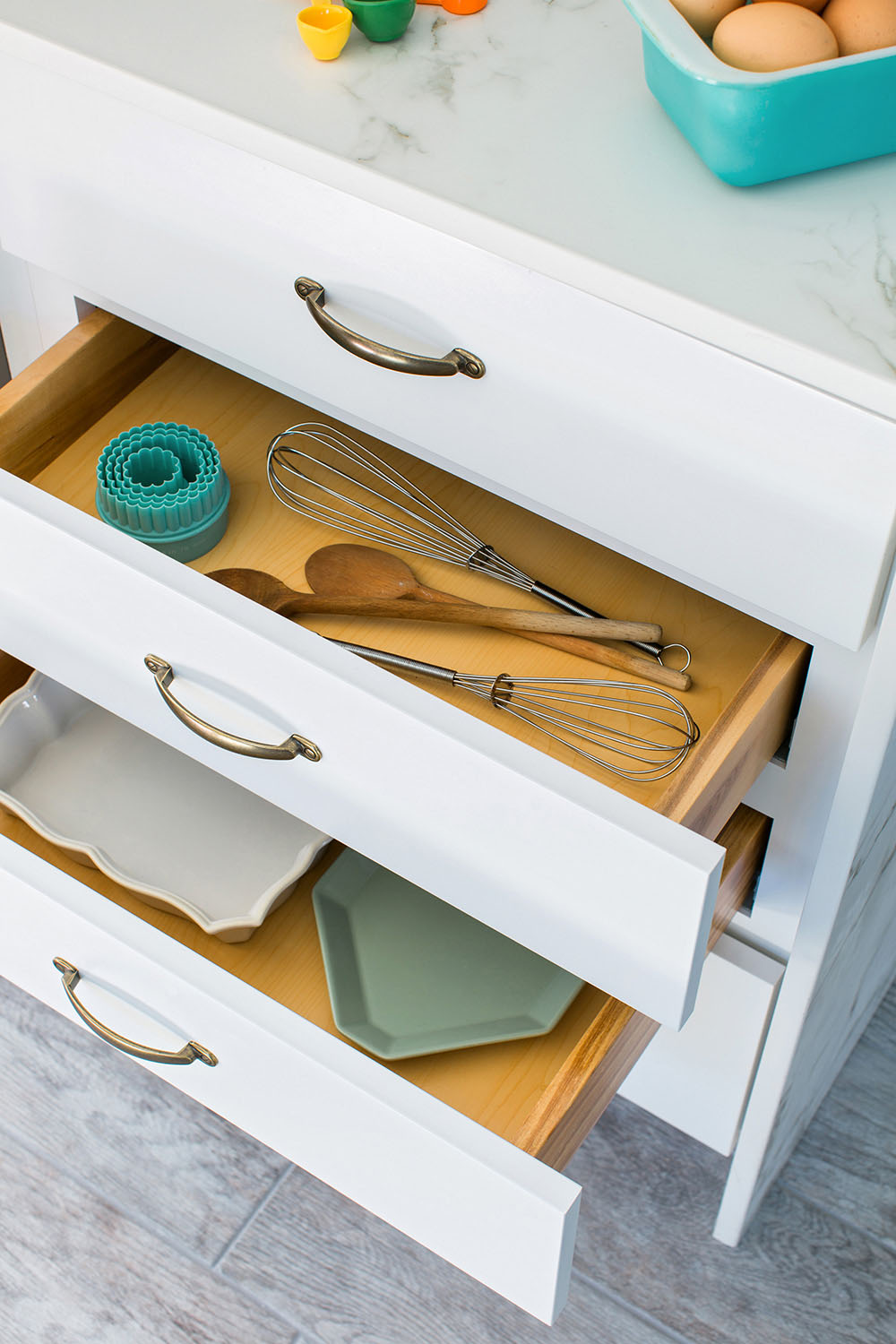 Because the Thomasville drawers close quietly and slowly, the girls can help set the table without worrying about hurt fingers, and they love taking more of a role in helping in the kitchen.
The gorgeous Montagna porcelain tile floors really help to make the larger room feel seamless, and the lighter Dappled Gray color really makes it feel so bright and happy. I love the feel of these floors, and they really do look like wood!
The Zephyr Dekton counters are the virtual icing on the cake, and those gorgeous waterfall countertop edges add a modern, clean touch.
Since welcoming our third baby into our family, I have to say this kitchen remodel has made our lives so much easier and less stressful.
The fact that it's so much easier to cook, clean, and spend time together in this kitchen has made this period of transition feel less crazy, and having a comfortable and beautiful space for us to eat together as a family has made such a difference. We are so incredibly grateful to The Home Depot for offering their expertise and skills to make what felt impossible and overwhelming into something achievable. We have been honestly pleasantly surprised at how smoothly the entire process went, and couldn't be more pleased with the end result!
Joni Lay had help from a professional kitchen designer from The Home Depot. We can help you get your own kitchen remodel underway. Use our online appointment scheduler to set up a time to meet with one of our designers. It's easy!
Joni has more about her new kitchen and more photos (including her adorable family) on her blog.
This post was created in partnership with The Home Depot. The author may have received compensation for this article and associated images or video, potentially in the form of products and/or services. All expressed opinions and experiences are the author's own words.
Explore More on homedepot.com