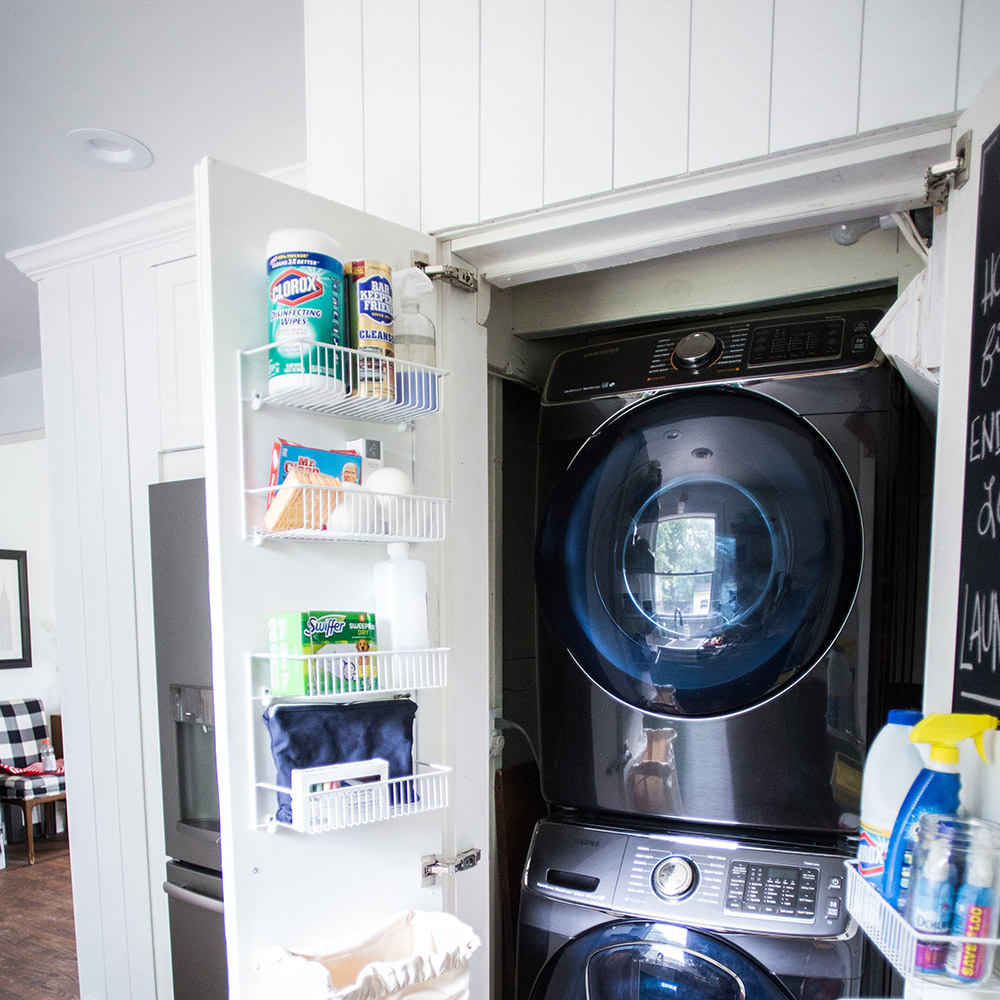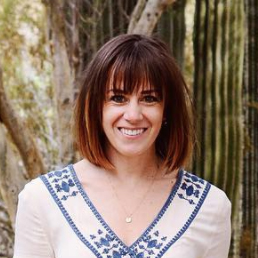 A Note From The Home Depot
Follow along as Miranda from Live Free Creative takes you through her small laundry room transformation. Read more about the makeover below.
When we bought our small, 1948 Cape Cod home in Virginia, upgrading the laundry area was a priority. And after we finished our full kitchen renovation, the dirty, old, under-stair laundry closet felt even more out of sync with what we wanted for our lifestyle. Even with only 25 square feet of working space, I wanted to maximize the efficiency, design, and function of our tiny space, and that is exactly what I did!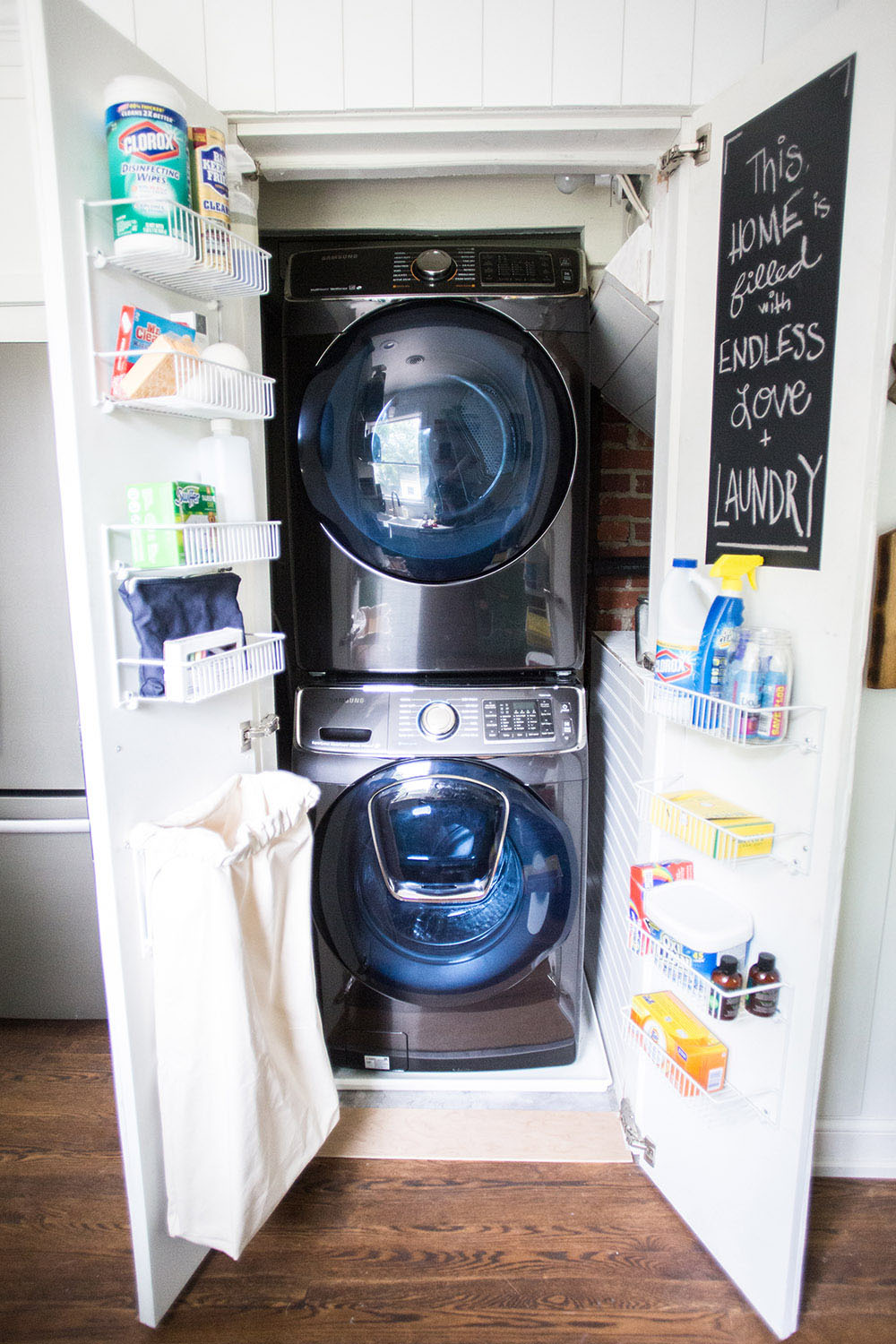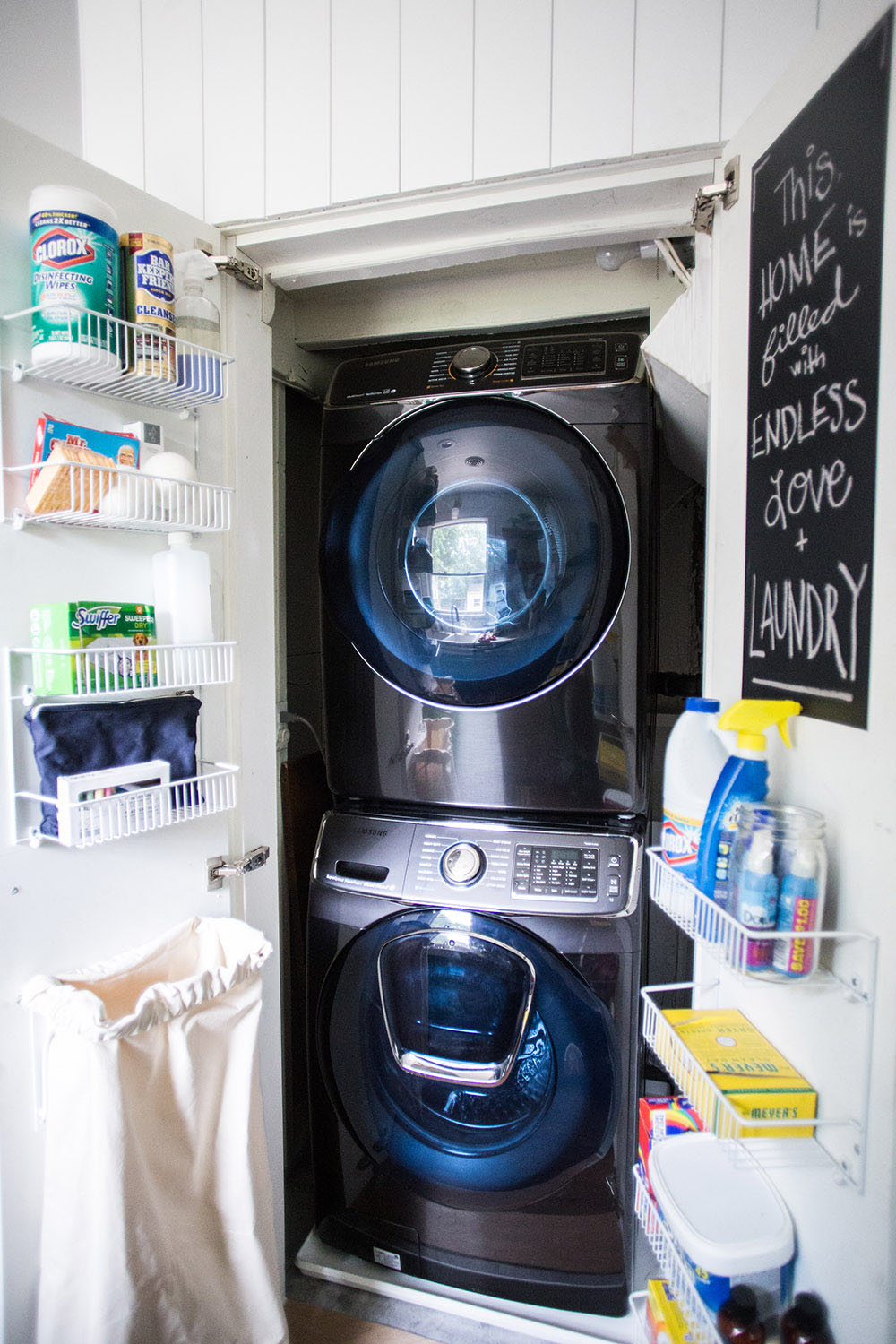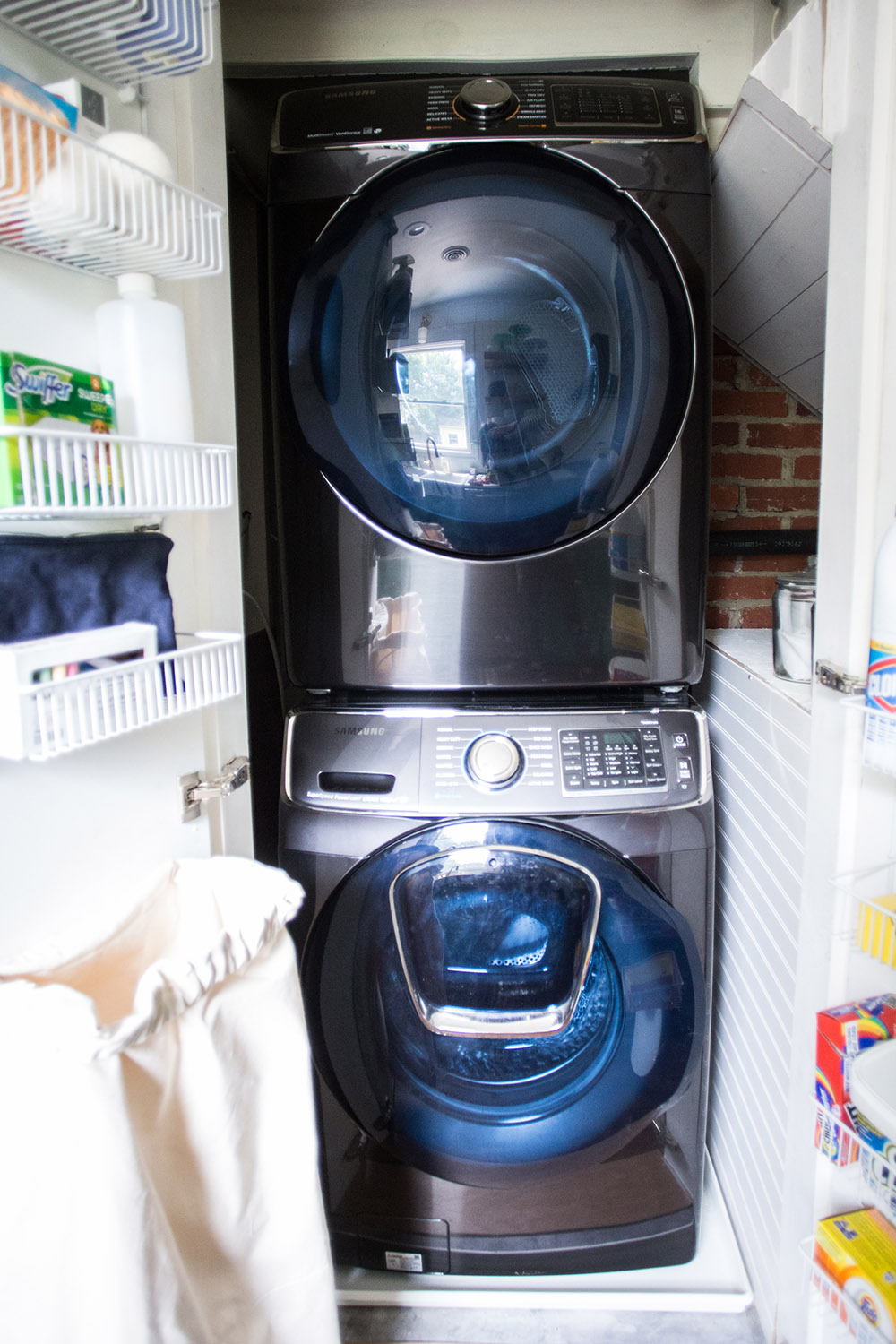 In the past I have favored top-loading washers because of the large load capacity and low risk for mildew, but this washer has converted me to front load. With such limited space, a stacking set was all that would realistically fit into our small closet. I am thrilled with how well these machines work.
The capacity on the washer Samsung 5.0 cu. Ft. High Efficiency Front Load Washer with Steam and AddWash Door in Black Stainless Steel, ENERGY STAR  is enormous. 5 cu. ft. looks like 2-3 full laundry basket full of clothes fitting comfortably within the drum. The list of cycle options includes everything I can imagine needing, including a super speed wash for quick turn-around, and a steam cycle for deep cleaning.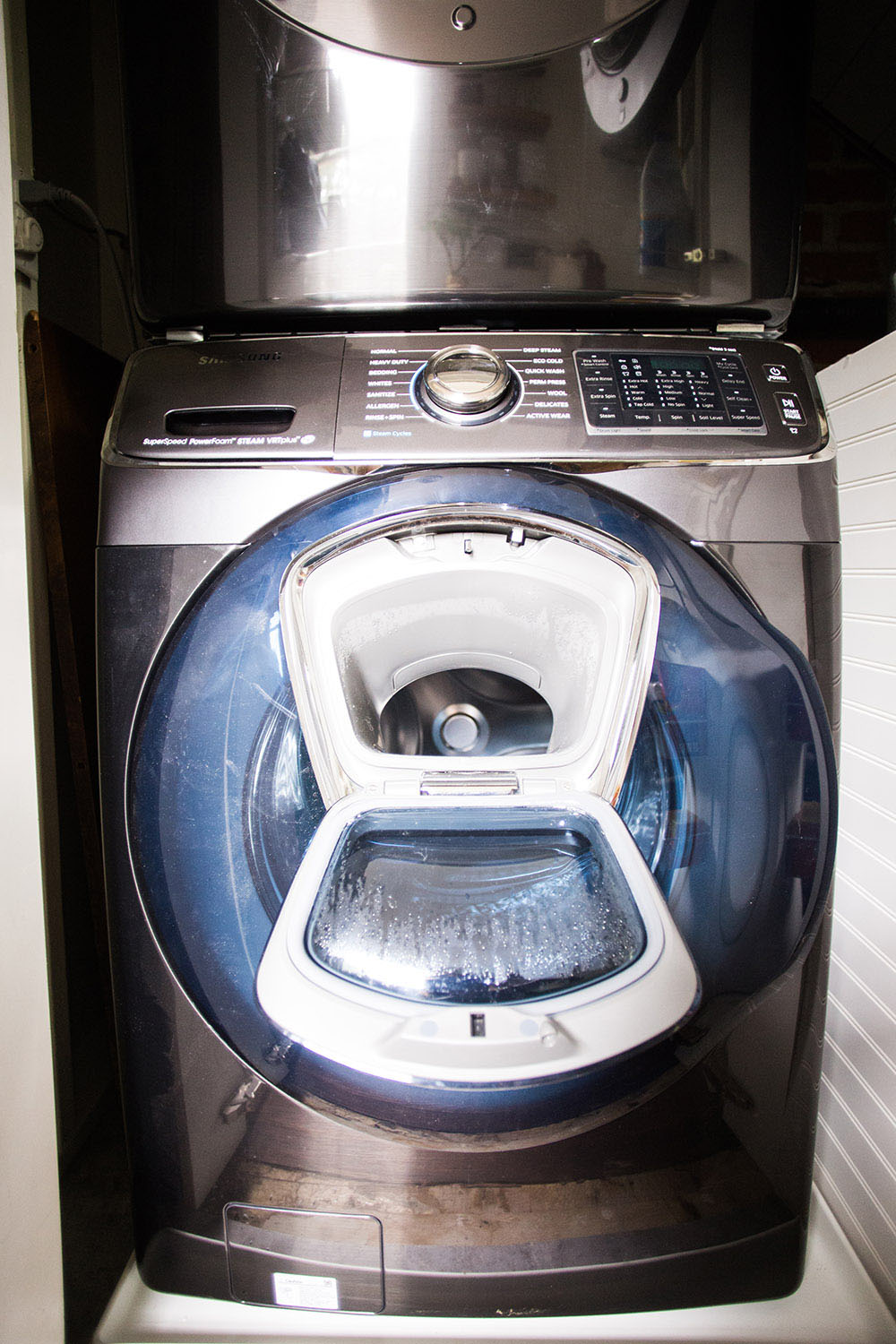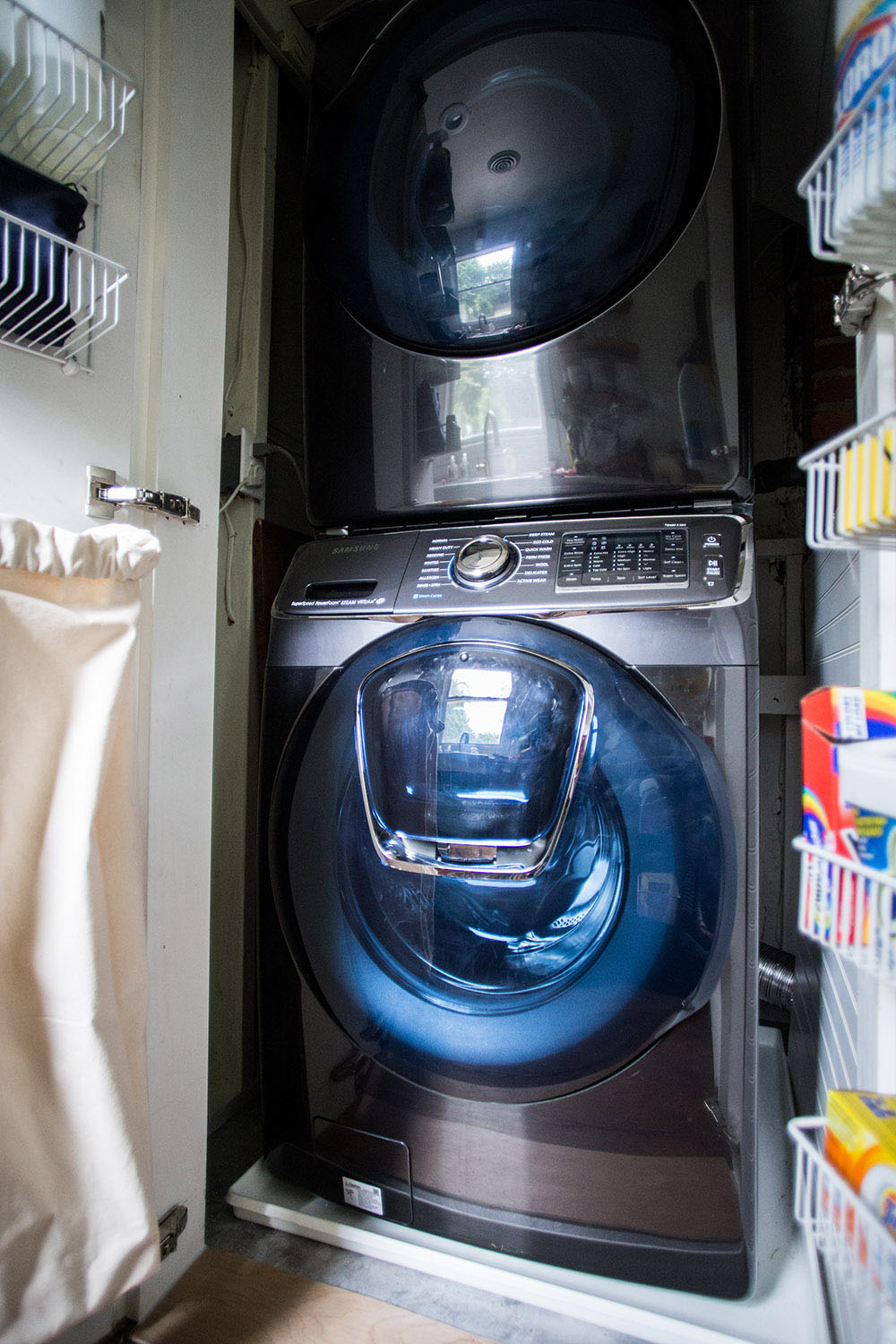 I really love the drama and design of the black stainless steel, and the way it makes the whole laundry area look intentional, small as it is. And, I had no idea if I would love the AddWash door feature, and within the first couple loads I was using it! There is always a couple random stragglers left behind and it is so great to be able to pop them in mid-cycle even with a front loading machine. I also love how it has handled tough jobs. My kids are messy, and their clothes come out of the washer as clean as can be.
One of my previous complaints with front load washers is the dampness between cycles. I haven't noticed any mildew smells or dampness at all with this machine. With my machines behind the small doors in the kitchen I have gotten into the habit of simply leaving the door ajar when I am finished washing for the day so the machine can dry out.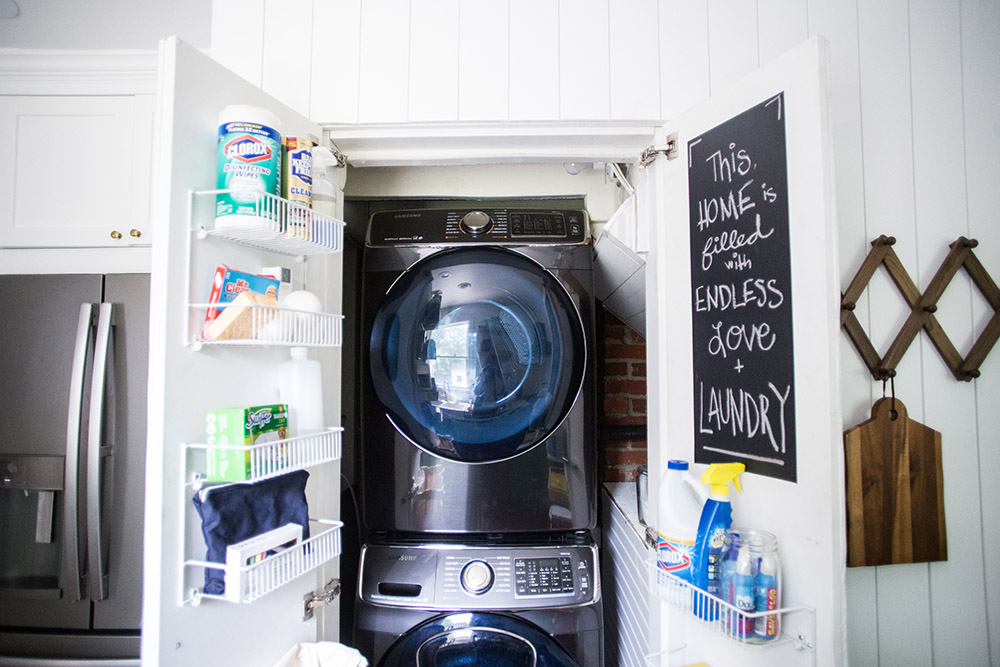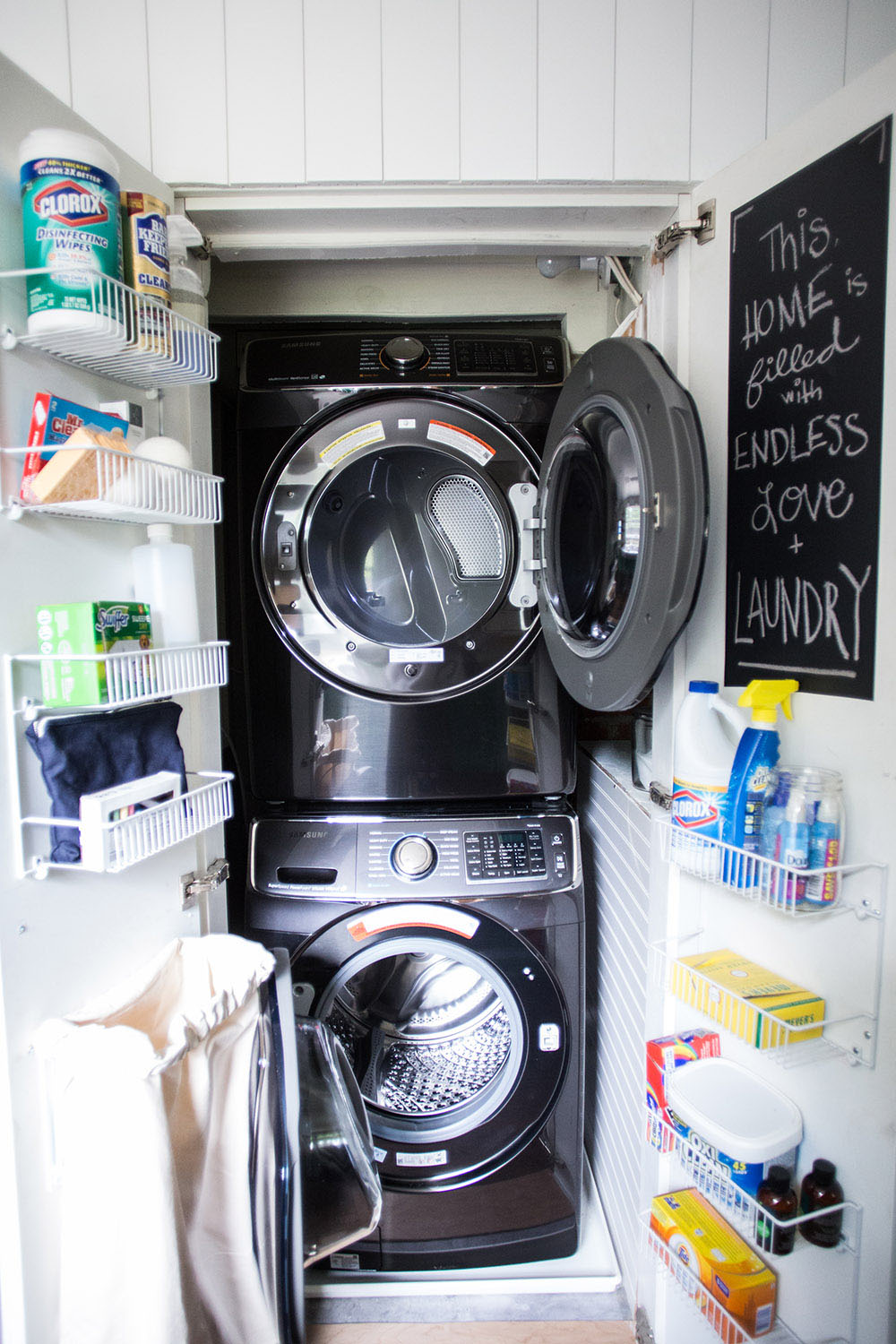 The Samsung 7.5 cu. ft. Electric Dryer with Steam in Black Stainless Steel is equally as wonderful as it's pair. With the sensor dry cycle my clothes come out that perfect dry, but not-too-dry, so they still fold well without wrinkles. I have my set stacked, to fit within our small laundry closet footprint, and bother the washer and the dryer are quiet and incredibly still even while spinning. I expected some level of gentle shaking or rocking, but they are absolutely balanced.
The washer and dryer were delivered and installed through The Home Depot, and I was super impressed with the installation team. As you can see, there wasn't a lot of wiggle room to work with, and they professionally problem solved hooking everything up appropriately and sliding the stack into place, without an inch to spare.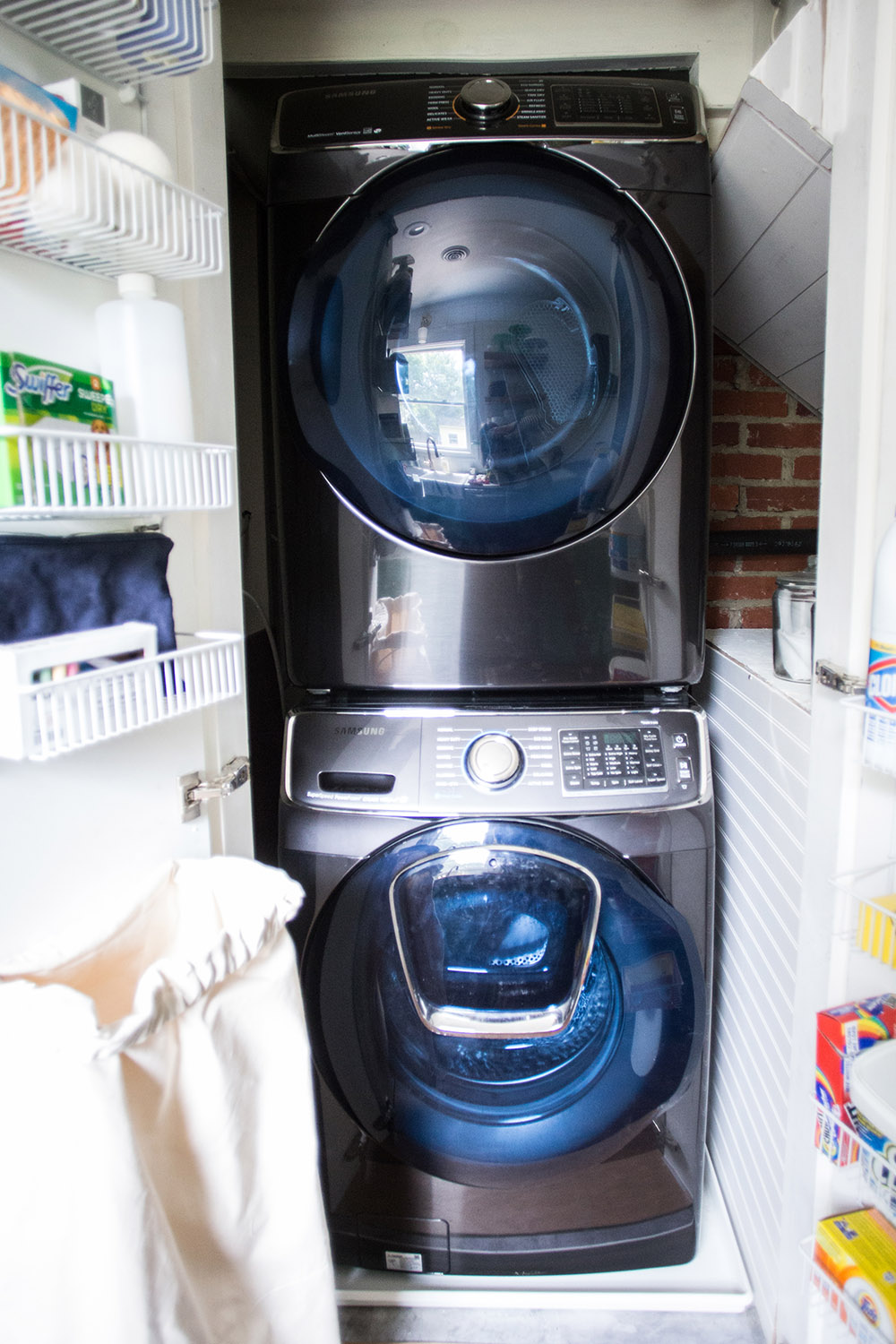 To prepare for the new machines, I cleaned out the old closet, replaced the old vinyl flooring with peel and stick vinyl tile, and added removable paneling to cover the water heater and close off the deep space beneath the stairs where I couldn't reach. I painted everything white, to give it a clean, fresh look, then added wire shelves to the door for easy-to-reach storage. The walls and laundry closet doors are all trimmed with white shiplap, which helps the door sort of disappear into the wall. The door handles are these stainless ones that I spray painted black.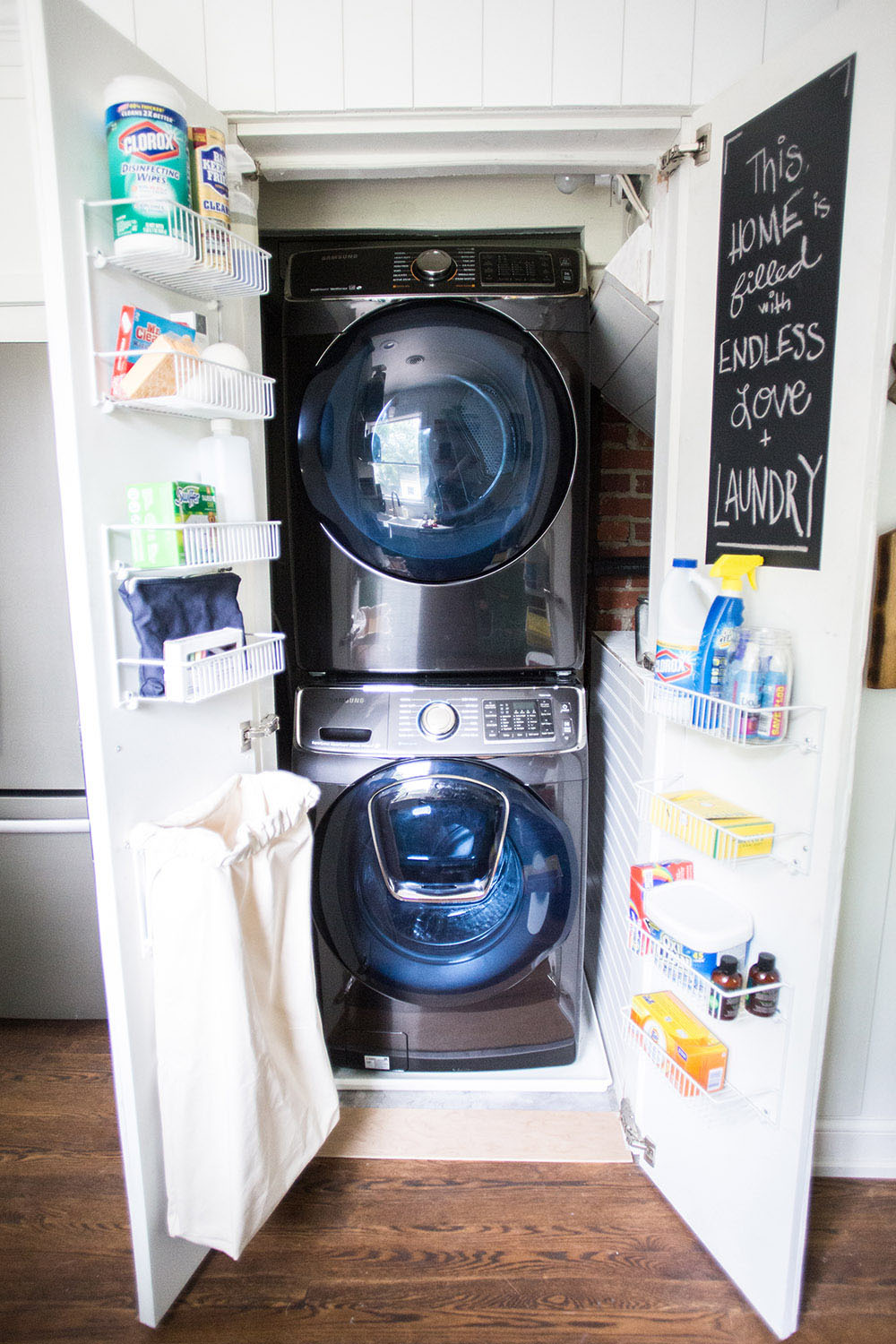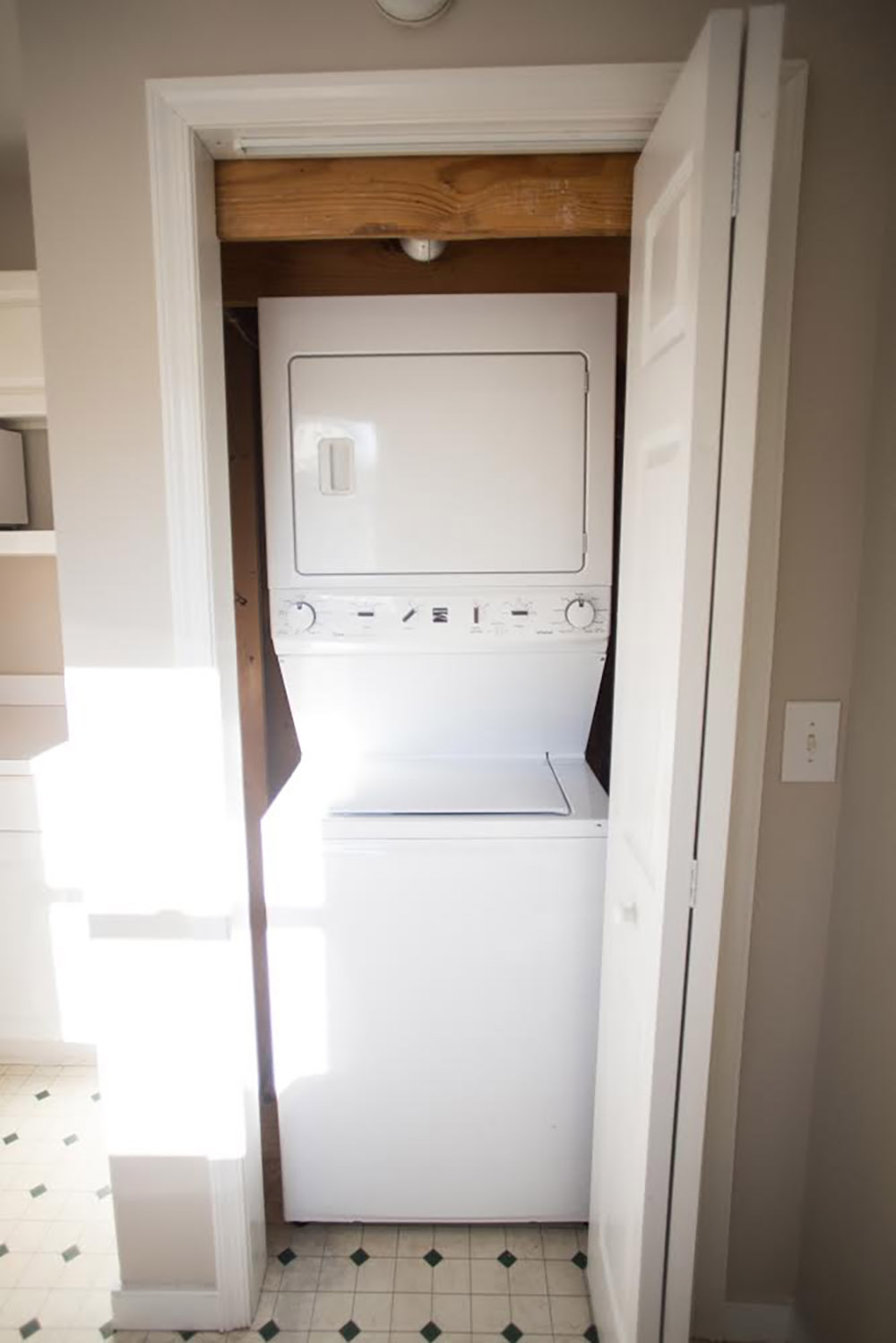 The whole laundry area is now clean, fresh, efficient, functional, and beautiful. I have been joking with my husband about how laundry is my new favorite chore, and I am only partly joking. I have loved having the laundry in the center of the home, where I can easily toss in a quick load, and fold in the living room while the kids practice piano or I catch up on a favorite show.
Taking the time to upgrade our laundry makes a daily impact on our lifestyle, because laundry is so central to the rhythm of our household. I am over the moon about this space and these gorgeous appliances.
This post was created in partnership with The Home Depot. The author may have received compensation for this article and associated images or video, potentially in the form of products and/or services. All expressed opinions and experiences are the author's own words.
Explore More on homedepot.com