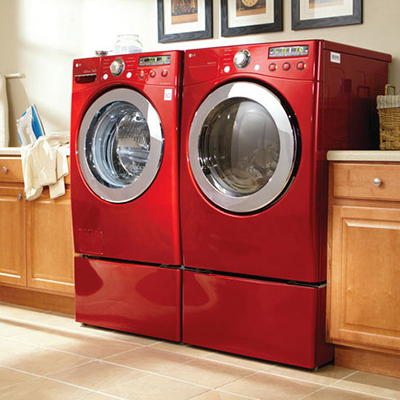 Americans wash about 35 billion loads of laundry per year. Make this regular chore more pleasant and energy-efficient by investing in a laundry room facelift. Smart laundry room design improvements include upgrading to high-efficiency appliances and maximizing laundry room storage. This guide will teach you how to plan your laundry room makeover.
1
PLAN YOUR LAUNDRY ROOM DESIGN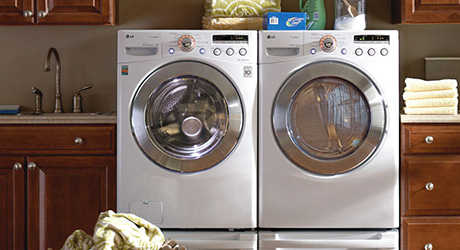 Most laundry rooms feature side-by-side washers and dryers, except when a tiny space dictates stacking. A handy laundry tub can be placed next to, between or across from the appliances.
An important feature to consider in the laundry room is storage. If your needs are minimal, you'll be fine with a set of easy-to-install wire shelves.
Larger households will benefit from additional storage, so map out on graph paper a rough room layout that includes laundry room cabinets.
The Home Depot carries in-stock, flat-packed options as well as higher end, special-order cabinetry. An added benefit of installing lower cabinets is that they provide a surface for a countertop, creating an additional workspace.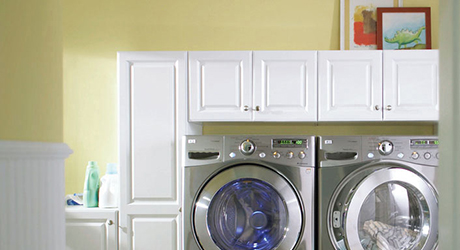 Painting is one of the easiest ways to refresh your laundry room, whether you're redesigning from scratch or just looking for a small pick-me-up.
Go light and bright — think whites, creams and nature-inspired colors — for a clean and cheerful effect.
3
UPGRADE THE FLOORING AND BACKSPLASH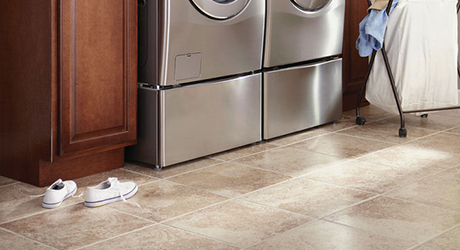 Tip: Consider extending floor tile up the wall to chair-rail height, with paint or wallpaper above, or above countertops as a backsplash.
Durable porcelain or ceramic tiles are great laundry room flooring options. Both are water- and wear-resistant, making them ideal for this high-utility room.
Light, creamy or neutral tones look clean, while darker tones create a chic, contemporary, urban feel. Oversized wall and floor tiles are a stylish option and produce fewer grout lines.
4
SWITCH TO ENERGY-SAVING APPLIANCES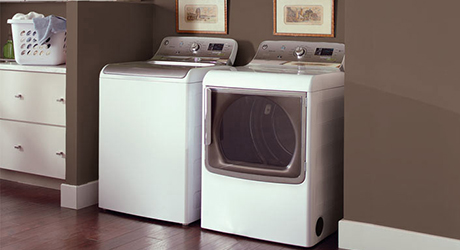 ENERGY STAR-rated appliances cut utility bills by using less water and electricity or natural gas.
You'll save time as well as money, since new-generation appliances hold larger loads and are gentler on fabrics.
5
LOOK AT LAUNDRY ROOM LIGHTING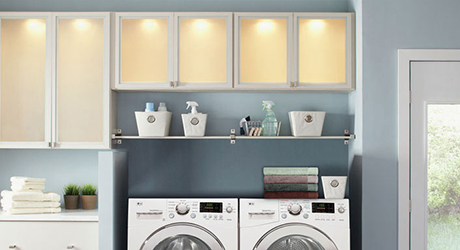 Recessed pot lights are a smart investment, while track lights are a simple one-hour improvement.
No matter what fixture you choose, consider replacing old incandescent light bulbs with LED bulbs, which last longer and use less energy.
Explore More on homedepot.com