Protect and preserve the beauty of wood floors and furniture with clear finish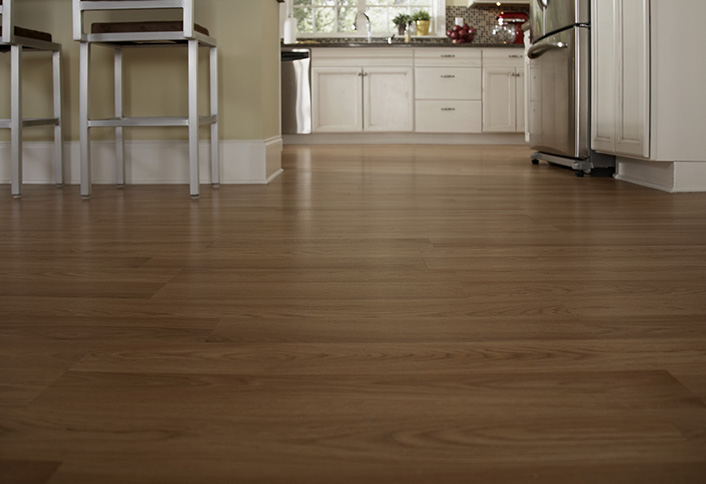 Wood furniture or floors made of oak, pine, cherry, mahogany and more are beautiful pieces in any home. Extend their life and protect the wood from accidental damage with clear finish. This buying guide highlights the different types of clear finishes available and the applications where it works best.

Safety: Wear a respirator and gloves when applying finishes. Always apply paint and stains in well-ventilated areas.
Penetrating vs. Surface Finishes
Penetrating finishes infiltrate wood's pores and fibers for a beautiful decorative finish. Surface finishes leave a hard film over the top of the wood to create a buffer between the wood and anything on top of it.

Penetrating finishes provide a low sheen and take longer to dry than surface finishes. Most are oil-based with the most common types being tung oil and linseed oil.


Tung oil comes from the tung tree and provides a beautiful, natural-looking finish.

Linseed oil is pressed from flax seeds and has been used as a clear finish for hundreds of years. Look for linseed oil that has been boiled, which enables quicker drying times.

Lemon, walnut and soy oils are sometimes used for penetrating finishes.

Danish oil is a hybrid of oil and varnish that provides added durability.


Surface finishes absorb the brunt of contact so the wood is protected. The most common types are lacquer, shellac, polyurethane, varnish and wax.


Generally applied with a brush.

Varnishes are very durable but are slow to dry, making them susceptible to dust and dirt.

Shellac is a fast-drying natural resin that may need to be thinned before applying.

Polyurethane is one of the most durable finishes and comes in a variety of sheens.

Lacquer provides a shiny, water-resistant finish.

Application Tips
Learn how to apply lacquer, oil- and water-based, polyurethane, shellac, varnish and wax finishes and their ideal uses.


Lacquer

Dries faster than other finishes; usually sprayed on

Can be easily removed

Ideal for furniture

Works well when multiple layers are applied, but do not use over old paint or varnish

Gives off noxious fumes when applied; can be a fire hazard


Dries slowly

Provides a rich, satin finish

Ideal for furniture and low-traffic areas; shows water or alcohol spills

Easy to apply with a brush or cloth


Polyurethane

Highly durable, water-resistant

Provides a natural appearance; available in satin, semi-gloss and glossy sheens

Ideal for kitchen cabinets, doors, furniture and floors

Not recommended for outdoor use; may yellow or crack when exposed to sunlight unless UV light absorbers are added

Can be difficult to repair if damaged


Shellac

Provides a hard finish that dries quickly; may break down over time

May be used as a sealer and stain killer on drywall, cured plaster and new wood

Ideal for furniture and floors

Not recommended for wood that will be exposed to moisture

Use denatured alcohol to thin and clean


Varnish

Very durable

Can be used on bare or stained wood

Ideal for use on doors and marine finishes

Must be applied to a clean, dust-free surface with a clean brush

Use paint thinner for thinning and cleaning


Dries quickly

Can be used on bare, stained or painted wood; does not yellow with age

Ideal for protecting decorative finishes; not as durable as other finishes

Use synthetic brushes to apply – brush marks may show up on surface


Wax

Offers a glossy sheen

Easy to remove

Not as durable as other finishes

Needs to be frequently reapplied