Upgrade your patio and stay warm year-round with a fire pit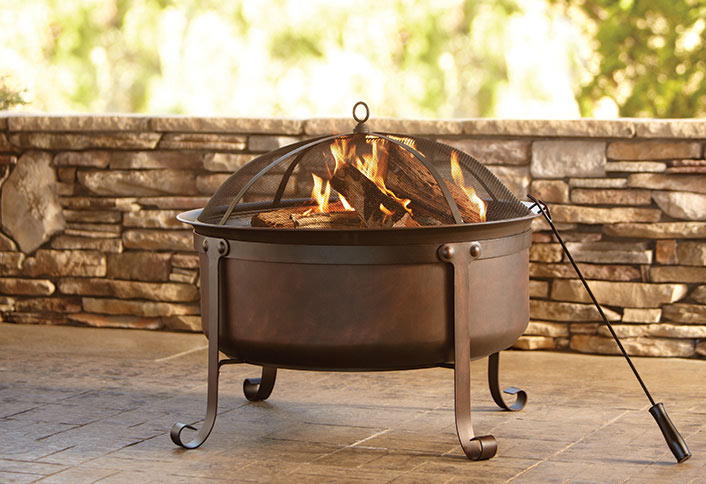 Whether you're making s'mores for the family or relaxing with friends under the stars, an outdoor fire pit is a great way to make your outdoor living space cozy no matter the season. This guide will teach you about the different types of fire pits and help you understand what criteria you should take into consideration before purchasing your own.
Installation Tips & Fuel Sources
When picking the perfect fire pit, you must first assess the size of your outdoor living space. Measure the area where you plan to install the pit, making sure you have enough room to move around and seat your guests comfortably.

Consider the style and versatility of the fire pit to help you decide which type best fits into your outdoor living space.


Some fire pits can actually convert to a grill for cooking or an ice bucket to chill beverages.

Others can help maximize limited space, like an open or table-style fire pit that doubles as a center table for your guest at meal time.


Fire pits can be configured to include one or more types of fuel. Most types of fire pits burn wood, similar to a fireplace, while others can tap into a gas line directly from the house that supplies propane or natural gas. Burning wood is typically cheaper than using natural gas or propane, but you will be tasked with having to clean up the ashes on a regular basis.


Fire Pit Types
Fire Bowl

Constructed from a variety of metals with finishes like bronze, cast iron and stainless steel

Shaped like a bowl, which is useful for radiating heat around your space

Burns wood slowly in a cauldron-style fire bowl

Portable; feature vented tops for protection from rain and open sides for easy access to add wood

Can be set on a ground-level stone or cement surface or elevated via a metal stand or table

Many models include a heavy-mesh spark guard and steel grate


Chiminea

Enclosed with only a large opening in the front to pull air in and an opening at the top for smoke to escape

Sparks are contained inside the walls of the chimenea, which are usually constructed of clay, or a ceramic or porcelain material


Paver Stones/Blocks

Requires ample space

Permanent structures; fire pits that usually rest in the middle of a layer of paver stones that can double as a bar or table

Safety & Maintenance
To keep your fire pit in good condition, make sure you clean out the ashes regularly. A basic tool set, along with a broom and shovel, can handle most cleaning and maintenance tasks for most fire pits.


A fire pit cover can limit the amount of cleaning you'll have to do, and it's a good shield against inclement weather.

Fire screens help contain sparks and flames, which are necessary when you have small children or pets roaming around.

Choose a hard surface, such as concrete or paver stones to place under the fire pit.

Outdoor fire pits should never be used indoors, on a balcony or near anything flammable. Make sure to keep any vegetation at least 15 feet away to prevent brush fires.

Make sure you have all the parts to assemble your fire pit properly. Compare your contents with the instructional manual included in your package.

Perform regular maintenance checks on all of your fire pit parts to ensure they are working correctly.

Always keep a fire extinguisher nearby.