An important feature of your home, the right ceiling lighting can make a room look more spacious, brighter and more inviting. A variety of ceiling light styles, from farmhouse-style chandeliers to standard fluorescent lighting, are available to fit your style and budget. This guide will discuss the most common types as well as offer a few tips of things to consider, so you can find the the best ceiling lighting for your home. 
Things to Consider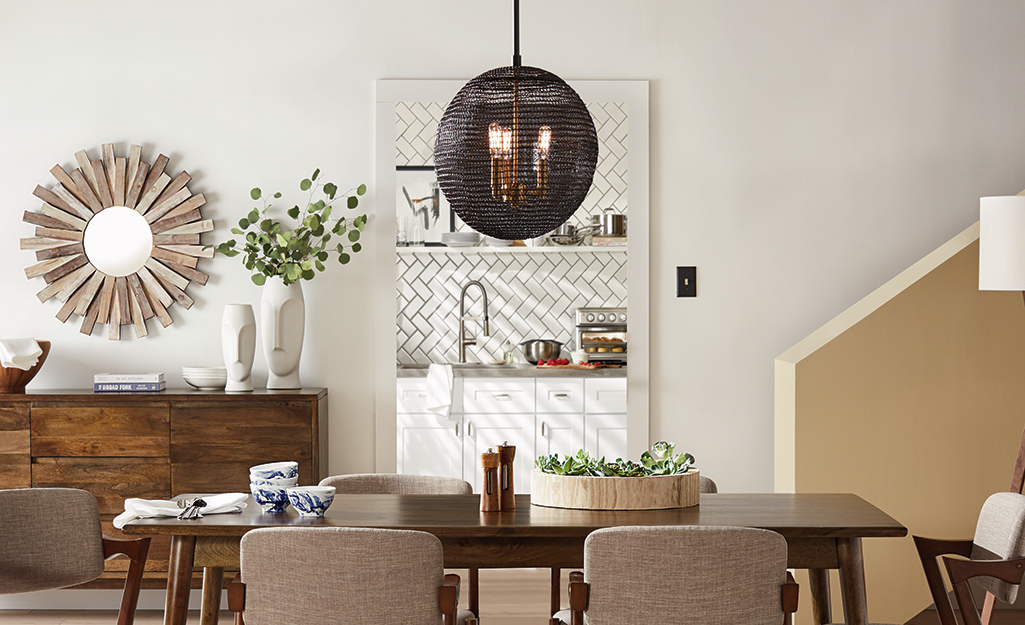 When searching for the best ceiling lighting for your home, there are few considerations to keep in mind. From size and height to the room the light will be installed in, here are the most common things to look for when shopping for ceiling lighting:

Hanging clearance: When shopping for new ceiling lighting, a good rule of thumb to remember is that the bottom shouldn't hang lower than 84 inches above the floor. Measure your ceiling height, then subtract 84 inches to find the ideal height for your lighting fixture. 
Diameter: Measure the length and width of your room and add those two numbers together. Then use the same number of feet for inches. For example, if your room is 24 feet wide, your ceiling light should be 24 inches wide.
Height: The general rule of thumb is to hang pendant lights no lower than three feet from the surface they will hang over. If you're hanging a light in the center of a room that's more than eight feet in height, have the bottom of the light hang at eight feet. If the room is only eight feet in height, go no lower than six inches from the ceiling or choose a flush mount light.
Space: When hanging above a dining room table, always take the table's shape into consideration. For instance, while a long multi-light pendant light works over a long, rectangluar table, a single chandelier may look best over a round table. 
Style: Always choose a lighting fixture that reflects your home's style. A modern ceiling light over a classic dining table may not be as flattering to the room as a classic chandelier. 
Lighting: Diagram your rooms and create a lighting plan for each, including ambient, task and accent lighting. 
Chandelier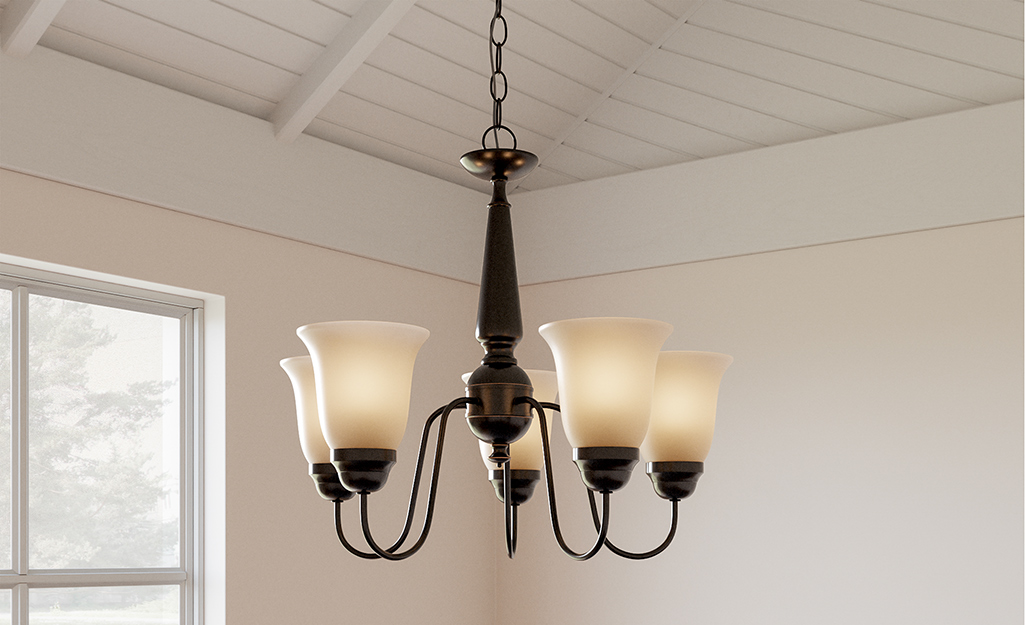 Chandeliers offer ambient lighting and are typically recommended for foyers, dining rooms, bedrooms or primary baths. 
When shopping for a chandelier, consider:
The recommended height for hanging a chandelier above a dining room table is 30 inches for the lowest part of the chandelier.
The recommended diameter for a dining room chandelier is half the width of the table.
For other rooms, add the length and width of the room then convert that number into inches for the ideal diameter of the chandelier.
Flush Mount Lighting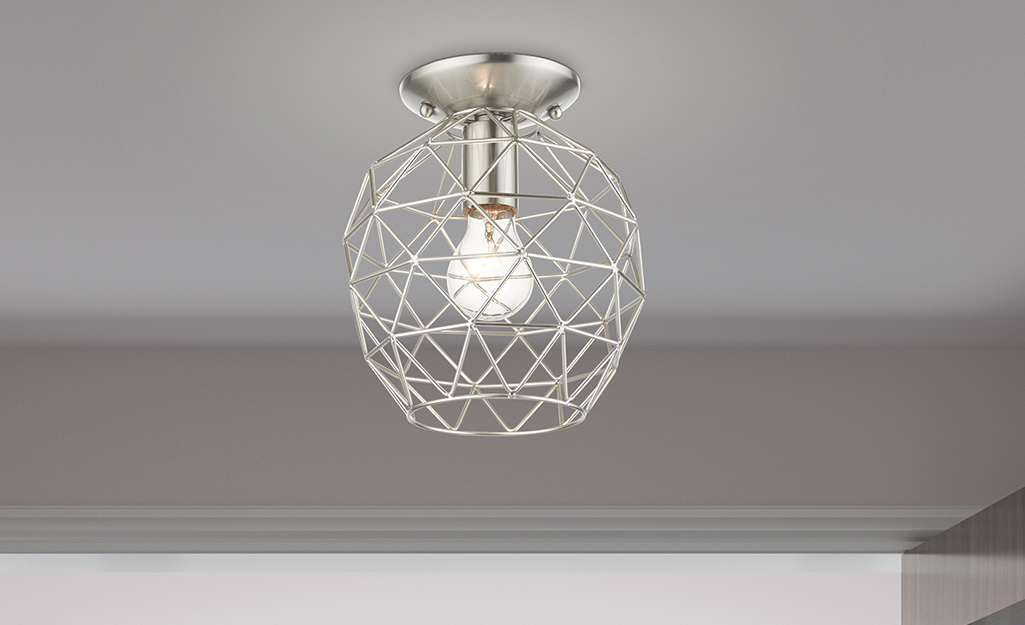 Flush mount fixtures offer ambient lighting and are often installed in bedrooms, hallways, closets, dining rooms, kitchens, dens, playrooms or more. They are ideal for rooms with 8-foot ceilings or lower, and when you want the fixture to "disappear" in the room instead of becoming a focal point.
When shopping for flush mount lighting, keep these considerations in mind:
They hang flat against the ceiling.
Flush mount lights are perfect for low ceilings.
Some use fluorescent lights to provide light to a large space, while saving money and energy.
Semi-Flush Mount Lighting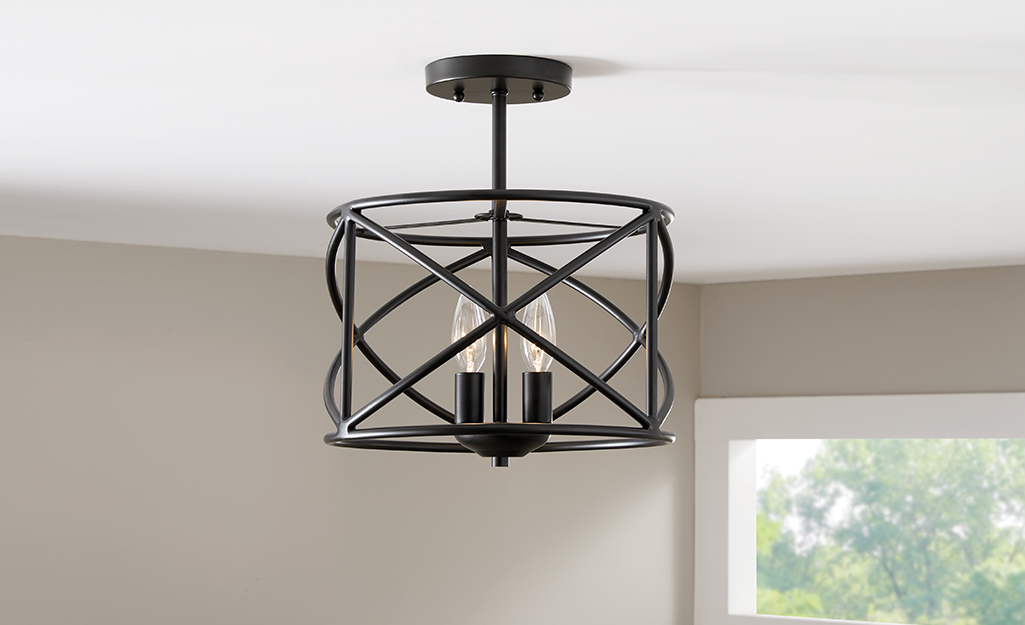 Semi-flush mount lighting offers ambient lighting and is often used in dining rooms, the foyer, kitchens, bedrooms and patios. They're called semi-flush mount because they have a base that mounts to the ceiling with a decorative fixture attached. The main consideration when choosing a semi-flush mount light is to ensure that it doesn't hang down too far in rooms with low ceilings.
When shopping for a semi-flush mount lighting, look for one that:
Has a mount to fully cover the hole on the ceiling. 
Hangs approximately 4 inches to 6 inches from the ceiling but not enough to impede the traffic flow in rooms with low ceilings.
Is decorative in style, since it will command more attention in a room than a flush mount light.

Pendant Lights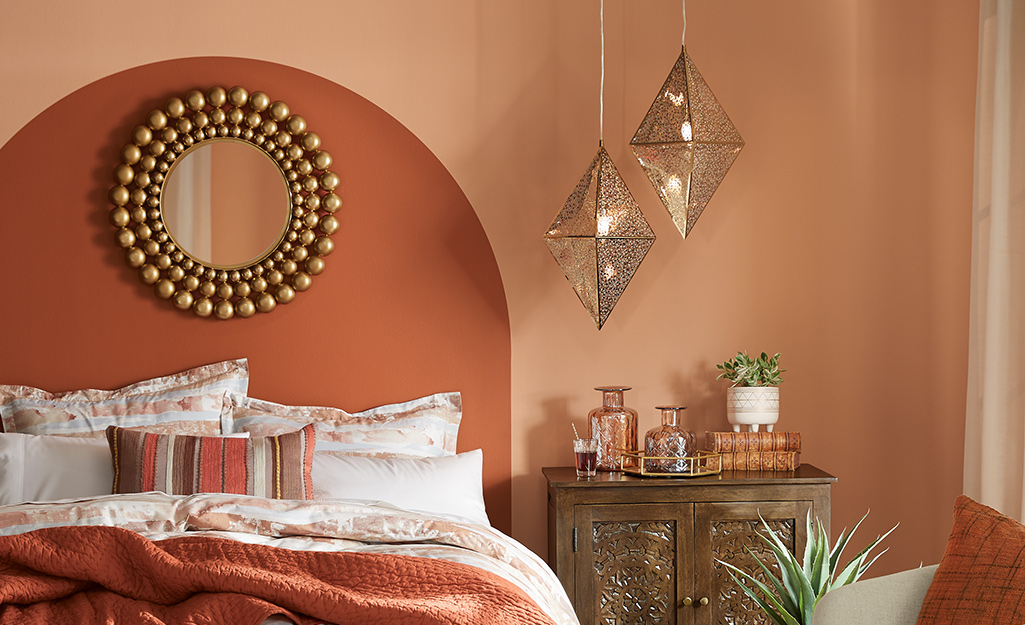 Pendant lights offer inverted-ambient lighting and downlight-task lighting. They are typically used in kitchens, dining rooms and foyers. 
When shopping for pendant lighting, consider that it:
Will hang from the ceiling like a chandelier but have only a single light source.
Can include inverted pendants that direct light up to provide ambient light.
Downlight by directing light down into the room for task lighting or illuminating a workspace.
Is often used for kitchen island lights since pendants often become focal points in the room. This type of configuration may have two or three light sources shining downward. 
Fluorescent Lighting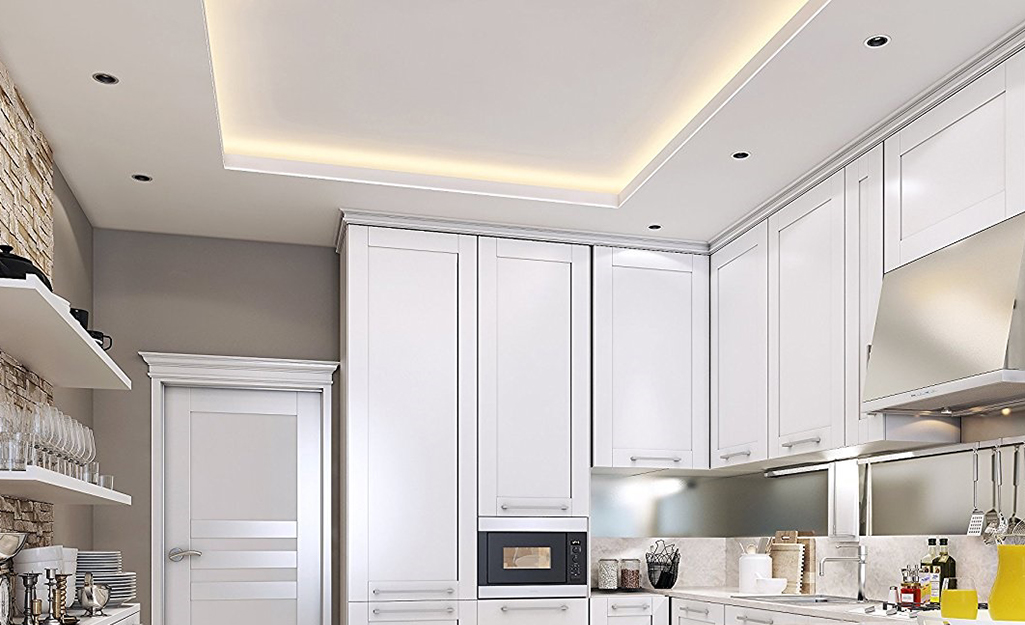 Fluorescent lighting provides ambient lighting and is typically used in office spaces, kitchens and garages. 
When shopping fluorescent lighting, these tips can be helpful in your selection process:
Fluorescent light is available in a variety of styles to complement every room in your home.
These lights are usually overhead lighting mounted into the ceiling. 
Fluorescent lighting provides more light for less money than traditional incandescent bulbs and fixtures. Use in places where you need even, consistent lighting such as laundry rooms, closets, bathrooms and pantries.
Recessed Lighting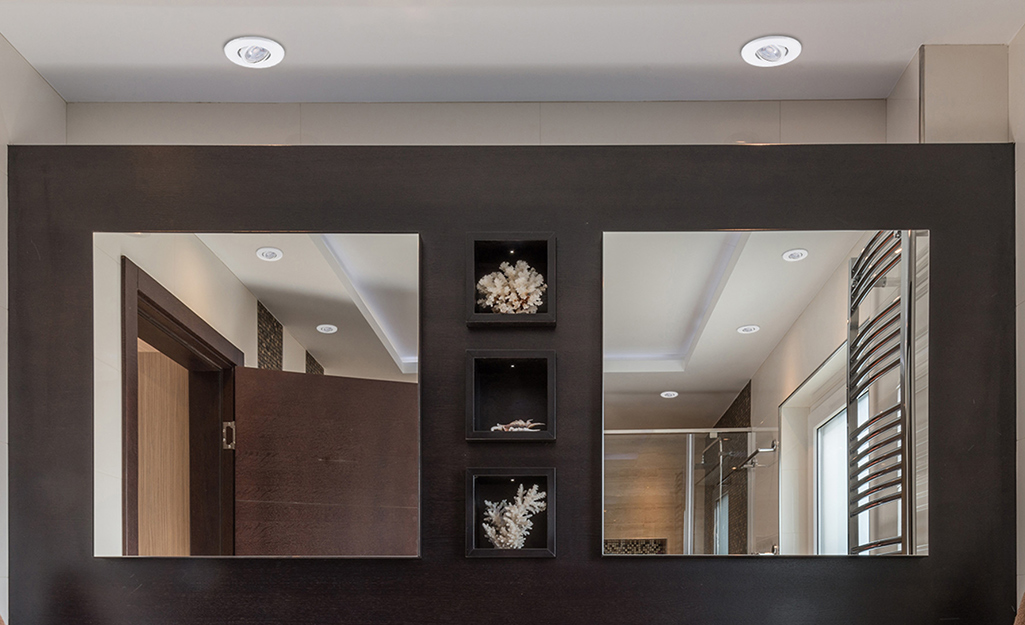 Recessed lighting can provide ambient lighting, task lighting or accent lighting depending on where it is installed. It's usually installed in kitchens, family rooms, halls, home offices and playrooms.  
When shopping recessed lighting, consider that recessed lighting:
Is often called can or pot lighting.
Is mounted into the actual ceiling, so you'll need space behind the ceiling board to hide the hardware.
Provides inconspicuous ambient or task lighting.
Track Lighting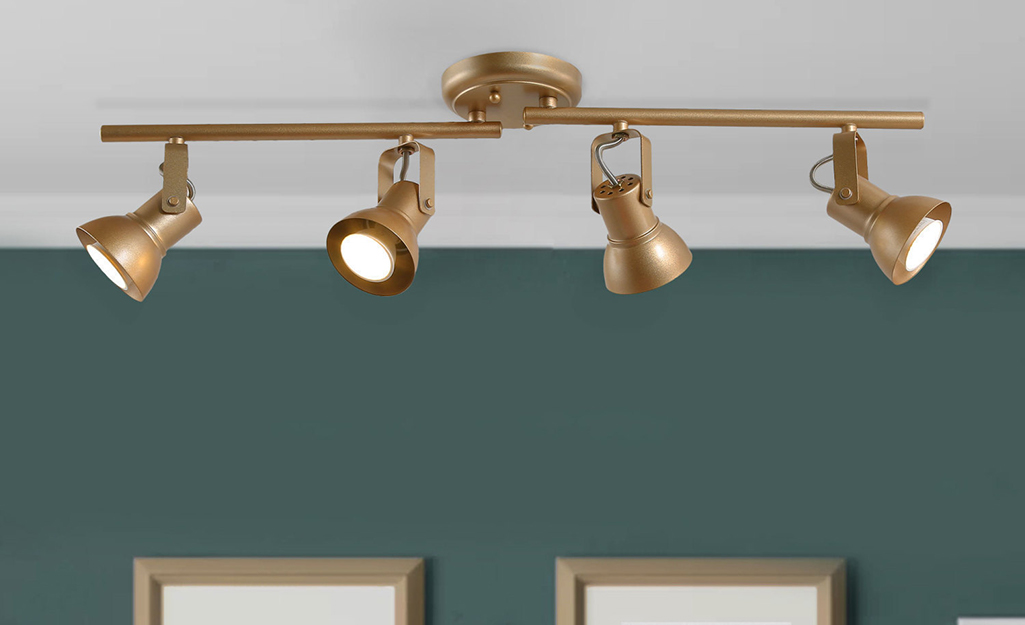 Track lighting provides accent lighting and task lighting. It's usually installed in family rooms, great rooms, hallways and kitchens. 

When shopping track lighting, keep these tips in mind:
Track lighting can be fun. Choose from curvy, artful light fixtures to traditional lights. Both are designed to complement any decor. 
Pendant lighting adds drama and is great for dining spaces.
Opt for dimmable track lighting to adjust the mood of the room. This is especially helpful when you also use track lighting to provide bright light for working.
Accessories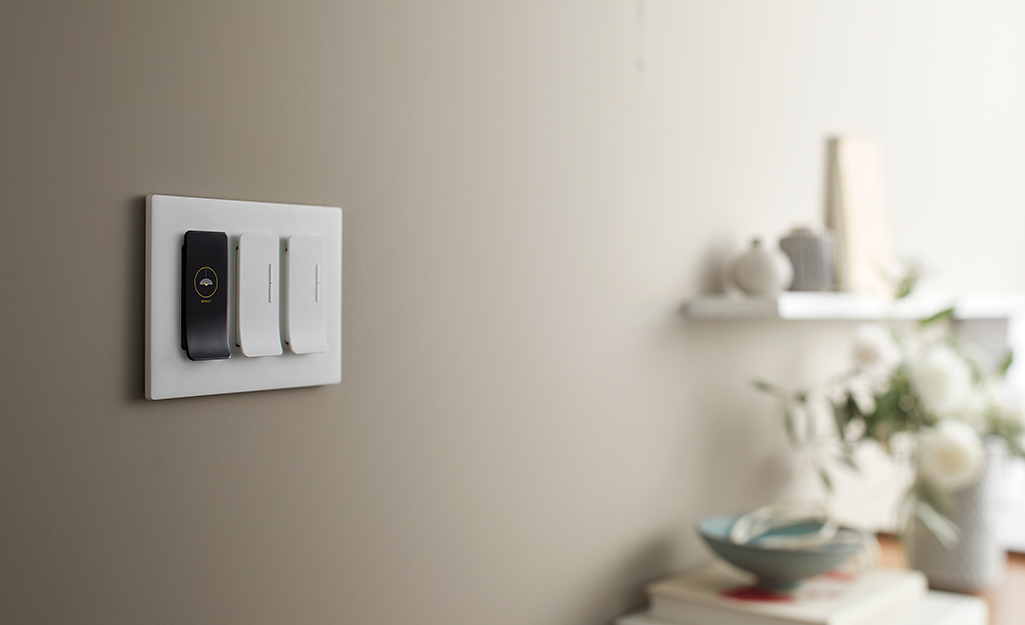 Certain ceiling lighting fixtures will come with various accessories. Here are the most common types to look for:
Dimmers: Adjusts a light's brightness level. Saves energy and extends the life of your bulb.
Ceiling fans and light kits: Used to maintain a comfortable room temperature while providing light.
Light bulbs: Different ceiling fixtures require different types of bulbs.
When searching for the best ceiling lighting for your home, there are several factors to take into consideration. Whether it's pendant lighting or lighting installation, we're here to help. Looking for a product to complete your project?  The Home Depot delivers online orders when and where you need them.