Buying Guide
Best Christmas Lights for Your Home
Indoors or out, the best Christmas lights on the block can be yours with just a little advanced planning. Read on to learn more about the different types of lights you can use to complement your Christmas decorations and how to install them safely.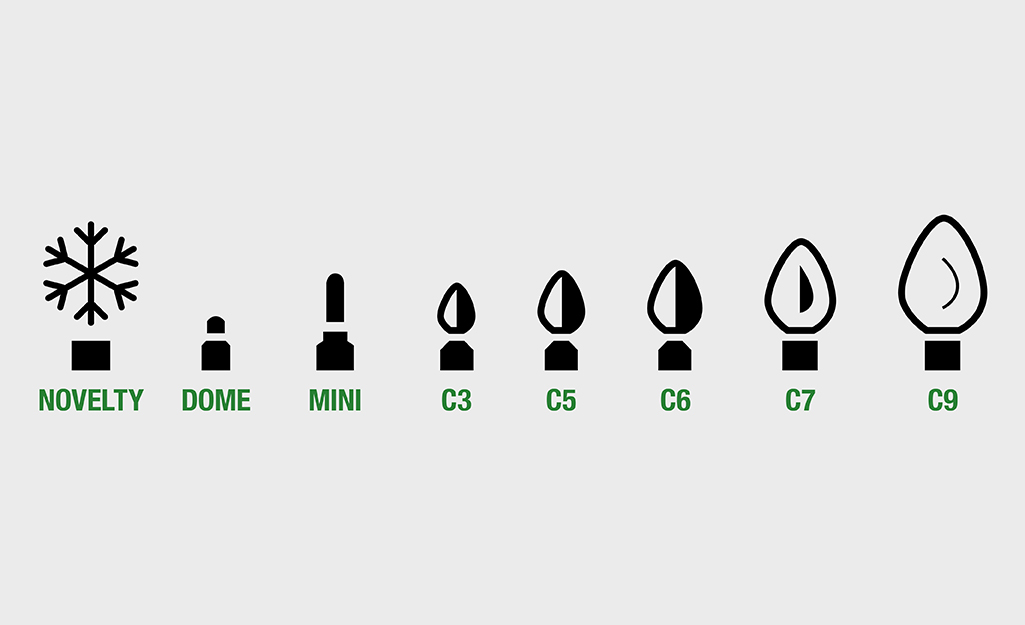 Many Christmas lights at The Home Depot are both indoor and outdoor compatible. The best LED Christmas lights are outdoor-rated and optimized to stand up against harsh environmental elements while maintaining safe electrical connections. These bulbs come in an array of sizes to suit different areas of your display.
| | | |
| --- | --- | --- |
| | led bulbs | incandescent light bulbs |
| Description | Last 20x longer than traditional lights. Uses less energy. Stays cool to touch. | Traditional bulb choice. Shows single color per bulb
. Can heat up during extended use. |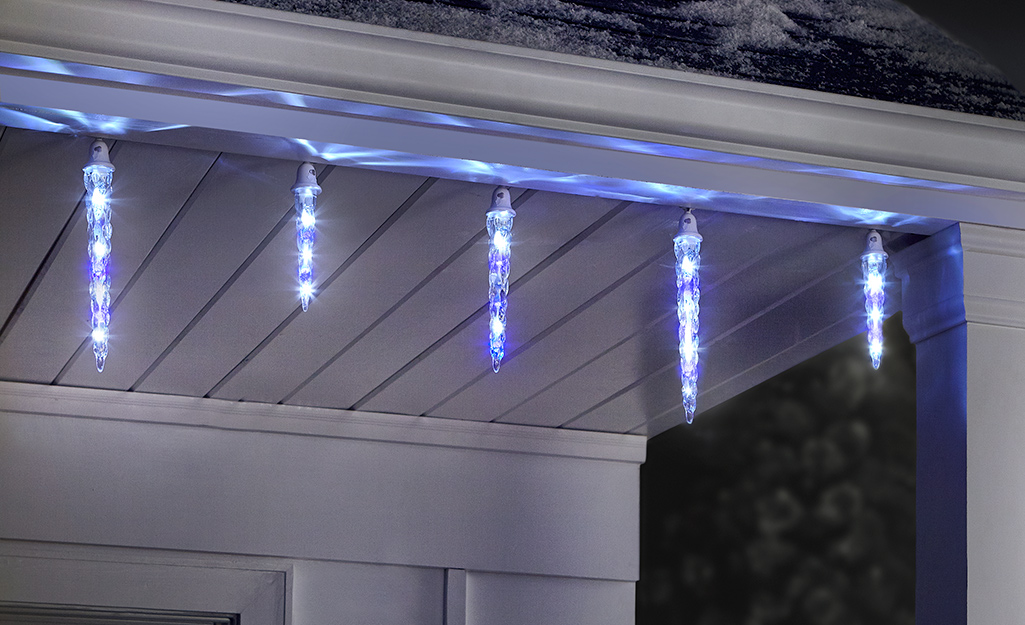 One to 10 light strands evenly spaced about 12 inches apart
Available in white or multiple colors
Often used to line eaves and awnings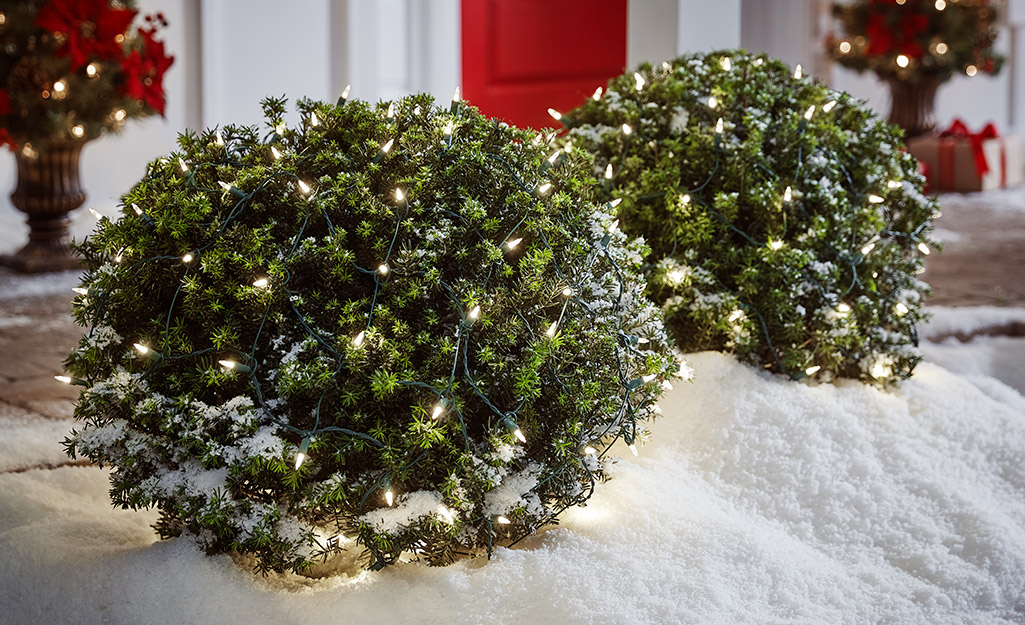 Easy to set up
Comes in a variety of sizes
Great for trees and bushes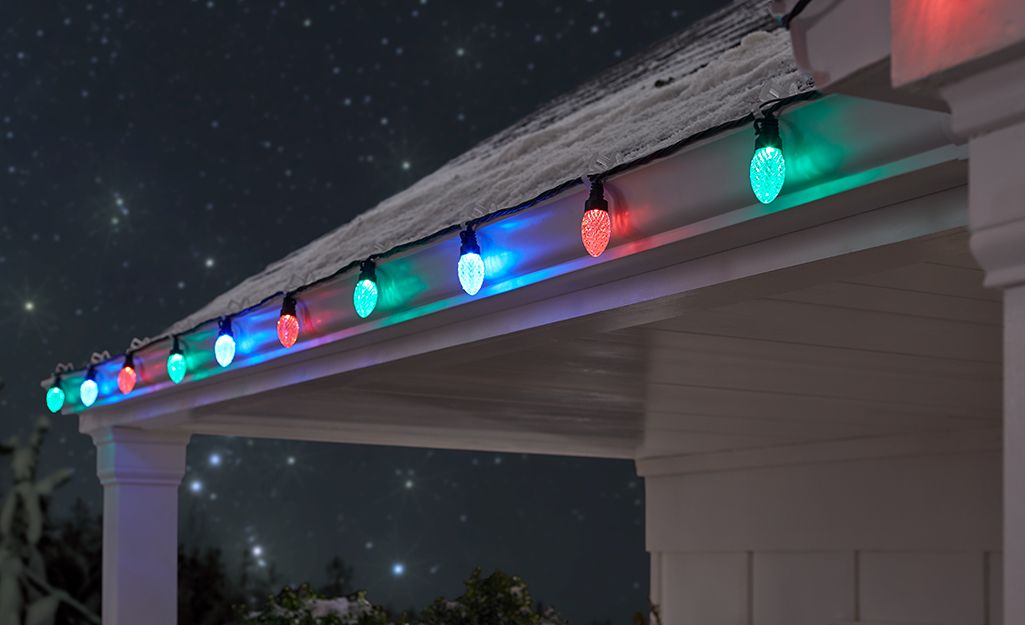 Generally less expensive than other types
Can be found in every bulb style
Can connect multiple strands for larger decorating projects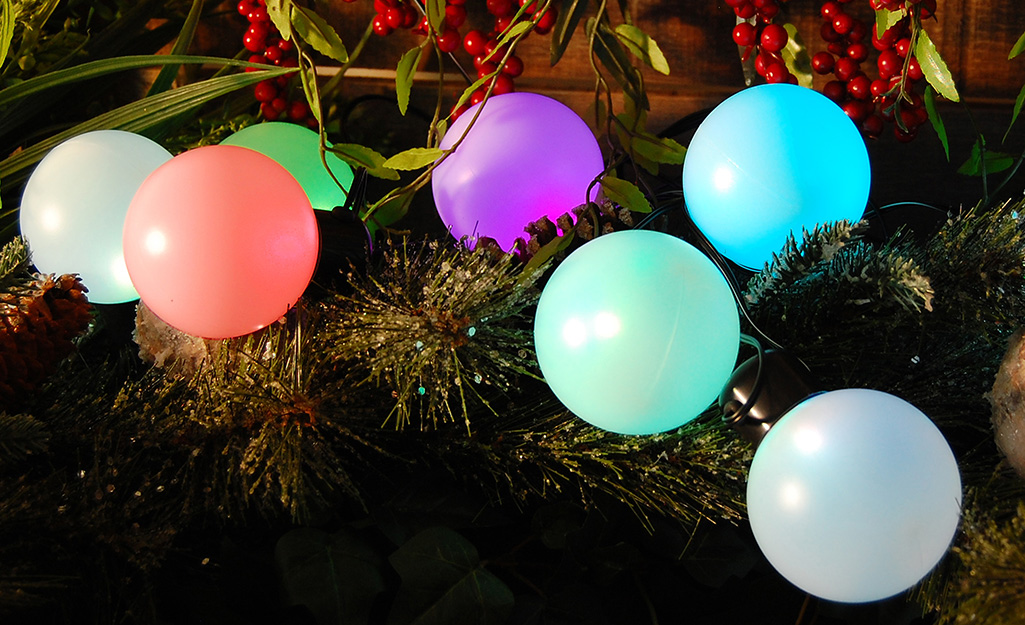 Automatic on/off
Works in cloudy conditions
Set as steady light or flashing
Christmas Light Installation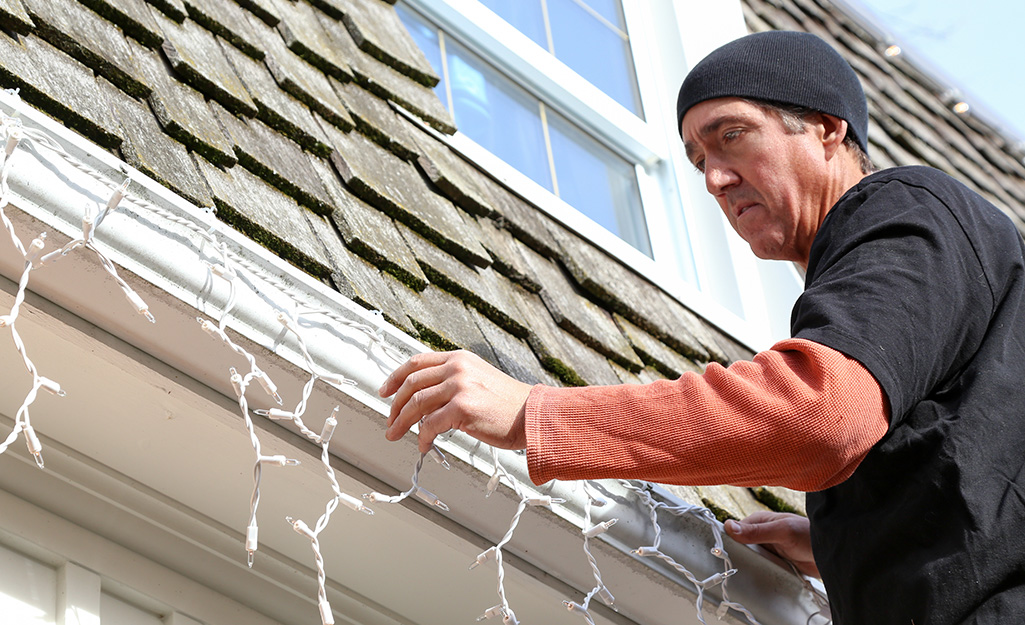 Start planning your Christmas lights display by thinking about your overall decorating objectives. Consider outdoor lighting as a whole, but separate larger-scale Christmas light projects into different zones based on the location of electrical outlets. Organize indoor lighting projects according to each room.

Measure the areas where you want to hang your lights to ensure you have enough strands for proper coverage, then consider your budget and time constraints.
Map the location of your outlets as you plan the number of strands of lights you will need for each zone. If an outlet is unavailable in a specific area, consider using solar lights or battery packs.
To line the eaves of the average home, start with 60 feet of string or icicle lights; add an additional 10 to 12 feet per awning.
Additional items such as light-up or inflatable outdoor decorations should also be incorporated into your plan.
If you do not have GFCI outlets installed, consider adding them for extra safety.
Consider using a light timer that will automatically turn your decorations on and off; this will reduce electrical hazards and conserve on your electrical bill.
For simple, convenient attachments to a roof, wall or other surface, look for plastic and plastic-coated fasteners, hooks and clips designed exclusively to hold holiday lighting.
Tip: Review our guide for step-by-step instructions on how to hang outdoor Christmas lights.
Houses:
To line the eaves of your home, start with 60 feet of string or icicle lights. Add an additional 10 to 12 feet per awning.

Christmas Trees:
Use 100 mini lights or 50 traditional C7 lights per vertical foot on thick trees. Use half that amount for thinner trees. (So for a full 9-foot tree, use 450 C7 lights, and for a thin 6-foot tree, use 300 mini lights.)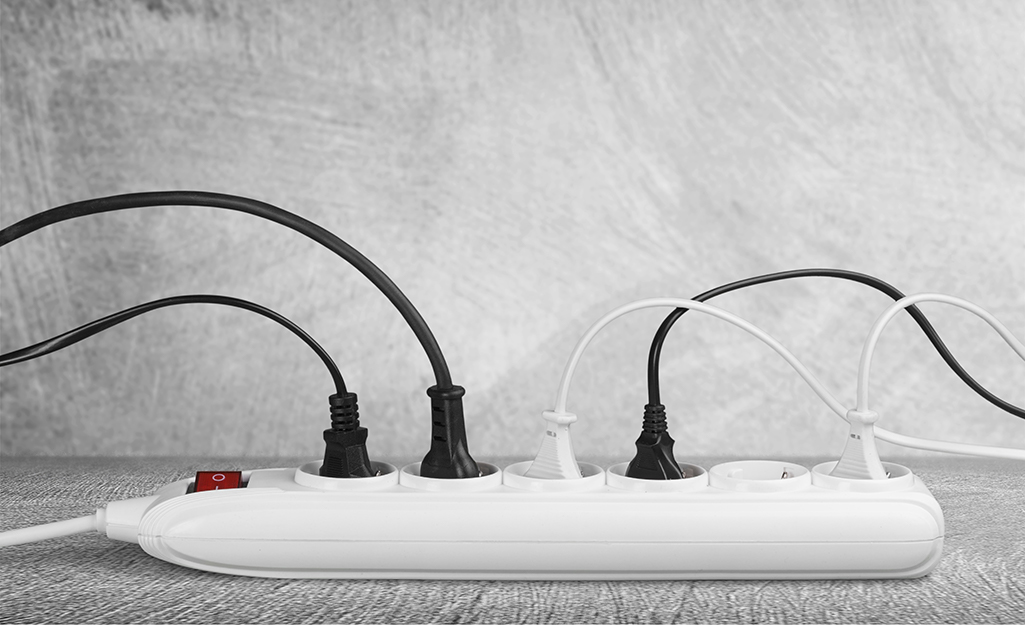 Do not overload electrical outlets or extension cords. When stringing multiple strands together, consult the manufacturer's instructions and do not exceed the recommended number of connections.
Never connect incandescent lights with LED lights.
Never connect different strands of lights together on the same circuit or outlet, such as a C7 or C9 incandescent strand with a mini-light strand.
Use only outdoor-rated lights in exterior light displays. Wrap a piece of electrical tape around connected plugs to provide further protection from the elements.
Always test your lights before installation to make sure they are working. Inspect all cords and wires and immediately dispose of any lights or cords that show signs of damage or wear.
Always unplug the lights when you leave the house or go to sleep. Automatic light timers can be used to turn your lights on and off at specific times.
Always work with a partner when using a ladder to help prevent accidents, and never place ladders on snow, ice, throw rugs or slick surfaces.
Do not run electrical cords along high-traffic areas or place underneath a rug.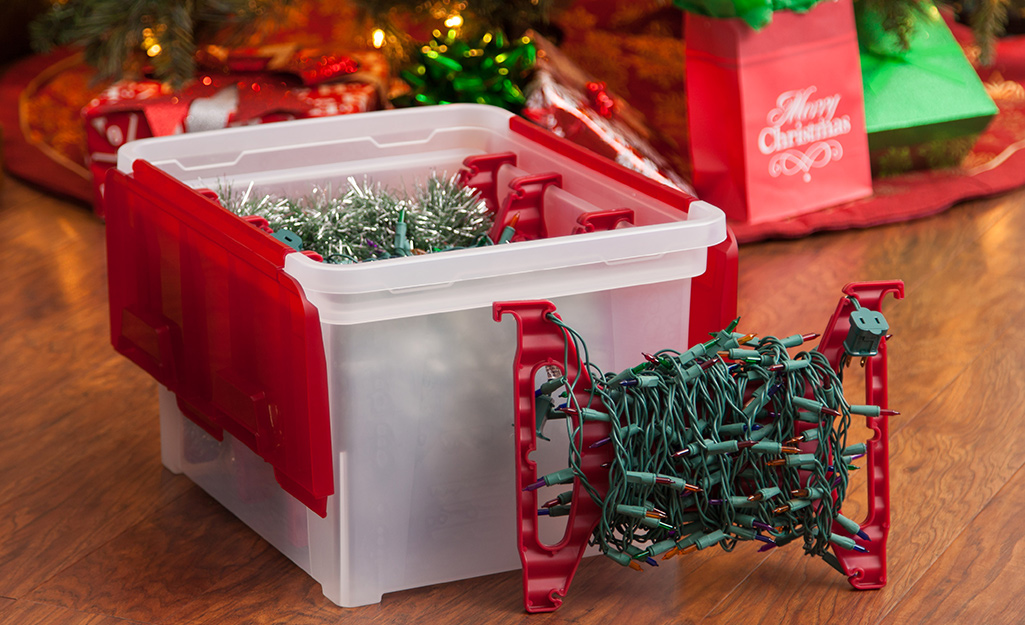 Allow outdoor light sets time to dry out before placing them in storage.
Wrap lights using a light reel or spool designed for proper storage. Simply wrap your lights around these devices as indicated and place them in an appropriate storage bin, box or storage bag.
As an alternative, you can use a sturdy cardboard sheet or tube for wrapping lights. Do not wrap too tightly before storing as this can strain the wires and contribute to fraying.
Inspect cords and wires for cuts, nicks and other damage as you wind your lights and discard any damaged light strands.
Store seasonal decorations in a dry place, such as an interior closet. Avoid storing lights and decorations in spaces where the amount of moisture fluctuates during the year, e.g. the attic, the basement or an outdoor storage shed.