Buying Guide
Best Coffee Mugs for Your Hot Beverages
When coffee lovers need their morning coffee, they rely on a convenient cup to get going. Finding the best coffee mug has many benefits to helping you enjoy this caffeinated beverage.
A mug is a type of drinkware designed for drinking more dense hot beverages like coffee, hot chocolate and soup. On average, a cup is smaller and used for hot tea. There are many coffee mugs to choose from and you want to choose the cup that meets your needs best.
This guide will explore the different types of the coffee mugs available at The Home Depot.
The best coffee mugs hold a capacity of eight fluid ounces or more. These types of cups are designed with thick materials to insulate coffee or tea while keeping the cup from being hot to the touch.
Ceramic coffee mugs are the most common and affordable coffee mug. The best ceramic coffee mugs keep water and other liquids hotter for longer, without imparting any aftertaste or picking up stains from the beverage.
Ceramic material is more fragile than glass and plastic, it must be used and washed gently. Follow the manufacturer's instructions on the bottom of your tableware to determine if it is microwave safe and dishwasher safe.
Glass coffee mugs are an aesthetically pleasing drinkware but do not typically travel well. Thick glass material is heavy-duty and has high temperature heat retention, but isn't lightweight. The best glass coffee mugs will have a stronger handle grip.
The best travel coffee mug helps you enjoy hot drinks on the go. The best travel tumbler is durable, easy to clean, and insulated with a leakproof lid.
The best stainless-steel coffee mugs travel well while keeping your iced coffee cold for up to 24 hours.
The best insulated coffee mugs are vacuum insulated to keep lattes and other hot beverages warm for up to 12 hours – this is six times hotter and longer than a ceramic or glass coffee mug material.
Tip: The best travel coffee mug can be used at most coffee shops as an eco-friendly replacement for the disposable cups they usually issue. Just be sure your mug is clean.
Reusable coffee mugs are also travel-friendly and keep your drinks hot. Using a reusable coffee mug helps the environment since throwaway plastic mugs and paper coffee cups go mostly unrecycled.
Reusable coffee mugs should be BPA free and made of ceramic, glass, recyclable plastic or stoneware. Silicone rings keep the mug cool to touch.
A set of coffee mugs in the same style, will give you satisfaction on your morning routine. Whether you like your beverages hot or cold, having the option of several mugs in your home kitchen is perfect for moving quickly with your daybreak drink.
How to Clean Your Coffee Mug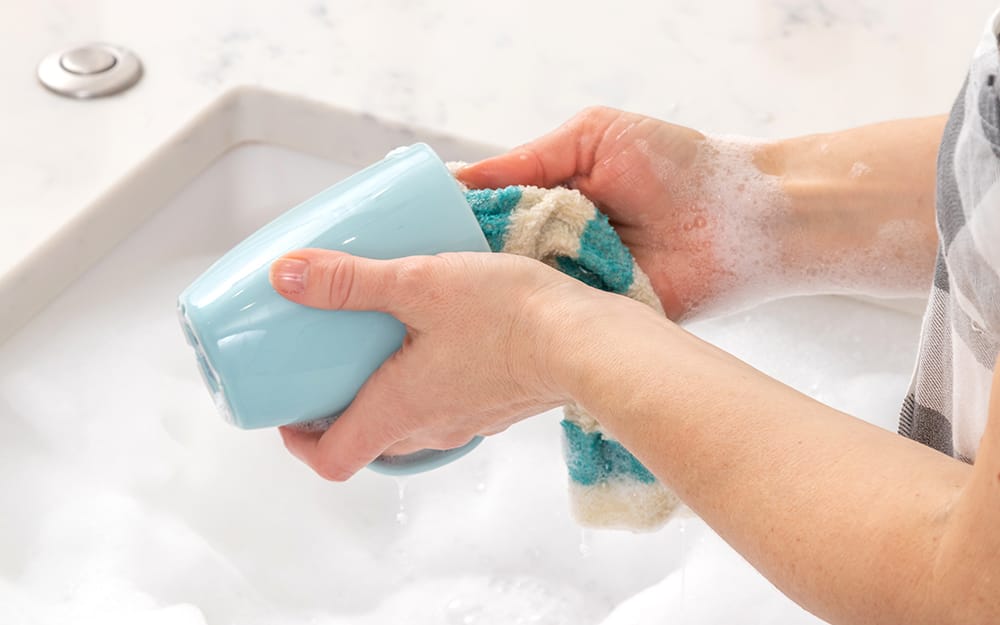 To keep your best coffee mugs clean, use a sprinkle of baking soda and a teaspoon of water to create a paste that lifts hard coffee stains off coffee mugs. Using a small brush and some elbow grease, scrub the paste into the coffee stains and rinse thoroughly.
For a stainless steel travel mug, rinse the travel mug with water then mix 1 to 2 teaspoons of baking soda with 1/4 cup of vinegar inside the travel mug. Empty the mixture into the sink and wash the mug thoroughly with hot water and dish soap.
Repeat either process as needed to keep your coffee cups clean.