Doorbells are available with a broad selection of features to meet any need, ranging from units designed for people with special needs to models that can be customized to reflect your own unique style and taste. There are three basic types of doorbells: wired, wireless and smart doorbells. Most doorbells are available in convenient kits that include all the components you need for fast assembly and easy installation.   
This guide will help you understand the different types of doorbells so you can feel confident that you're selecting the best doorbell for your lifestyle, home and personal taste. 
Wired Doorbells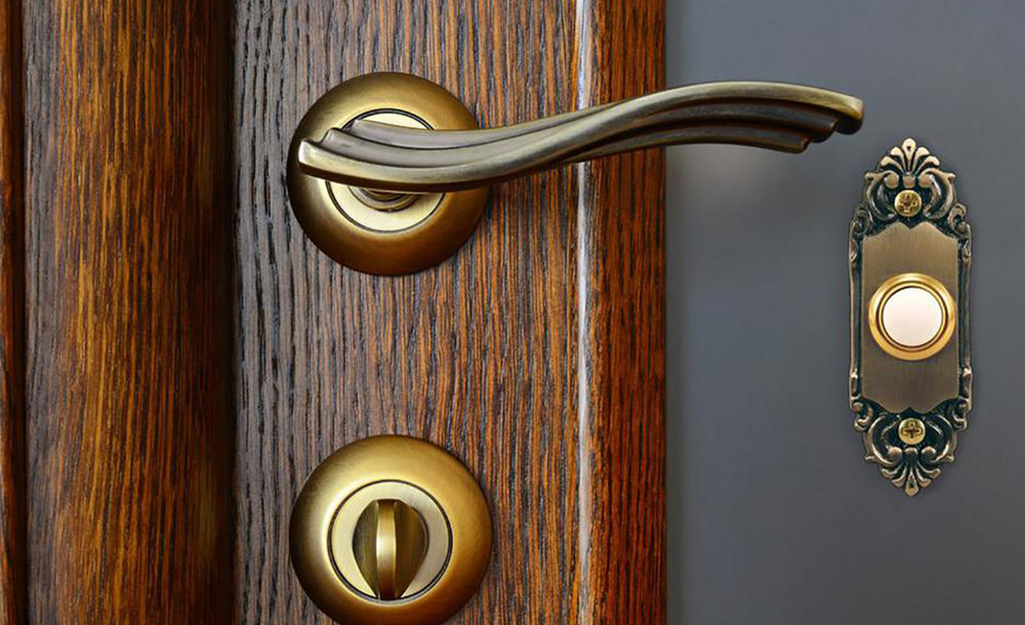 Wired doorbells are connected to your home's electrical system. In most wired systems, the doorbell makes a sound via a switch that is located inside the doorbell button mechanism beside the door. The switch is wired to a terminal that is attached to a transformer, which lowers the voltage used from a typical 120- to 240-volt AC circuit to 8- to 24-volts. This saves electricity and lowers the risk of an electrical fire. Both the switch and transformer have wires that run to the actual chiming unit, usually located in a central area of the home. 
The best wired doorbells will last for ten years or longer with little to no maintenance.
Most common type of residential doorbells 
Typically wired into a home's electrical system when the home is constructed 
Can be replaced without needing to rewire or replace the transformer. If your home is already wired, installing a new doorbell is usually quick and easy. 
No batteries required 
Low maintenance 
Provide a steady electrical signal, resulting in clear and dependable sound quality 
Long-lasting 
Can have a backlit button for better visibility at night 
About the same price as or cheaper than wireless doorbells 
Many decorative options 
Have traditional chime sounds 
Wireless Doorbells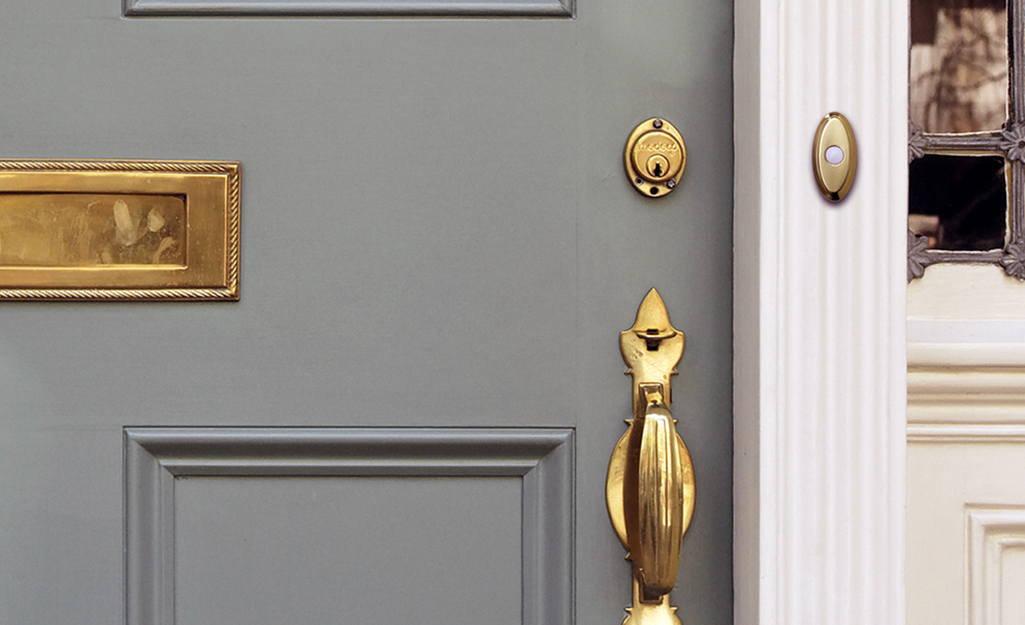 Wireless doorbells use radio waves to connect the transmitter switch to the bell, so physical wiring unnecessary. Most wireless doorbell systems consist of a radio switch/transmitter and a receiver. The transmitter is mounted on the door exterior and the receiver can be placed anywhere in the house as long as it meets the range specifications. The best wireless doorbells are a cost-effective alternative when remodeling, making additions to your home or replacing a wired doorbell that has stopped working and may be difficult or expensive to repair.
Easy to install. One of the best doorbells for replacements and installations. 
Versatile and easy to move to suit the layout of your home 
No drilling into walls or changes to the house required 
Multiple ring units can be placed in and around your home to extend the sound range 
Range is suitable for most homes. Extenders are available for larger homes. 
Most wireless units are battery powered. Some advanced models emit an alarm when the battery is getting low. 
Some models run on AC or DC power and can be plugged into any electrical outlet. 
Some models have multiple channels, so you don't get interference from your neighbor's wireless doorbell. 
Has more chime sound options than traditional wired doorbells 
Smart Doorbells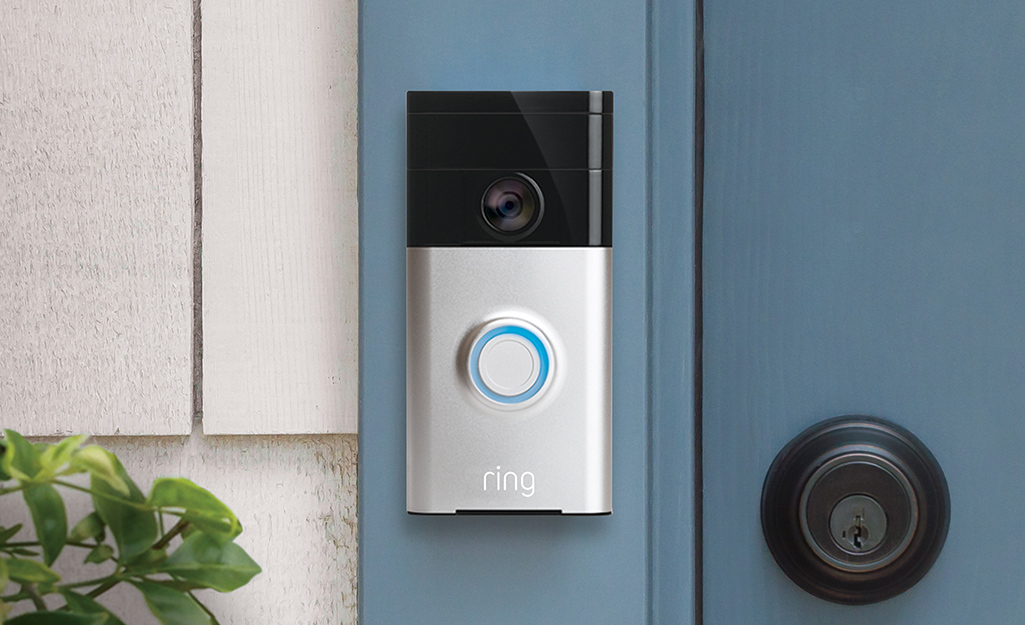 Smart doorbells connect to your home's internet and are accessible from your smartphone or other smart device. Most smart doorbells double as a security camera; they have a small camera that captures motion on your front porch and records anyone who rings your bell. You can use your smartphone to remotely view any activity recorded by the smart doorbell, whether you're home or away. 
Depending on the model, smart doorbell features include:
Alerts on your smartphone every time someone rings your doorbell  
Alerts on your smartphone every time its camera detects motion 
Access a video history of all recordings 
HD video 
Two-way talk that allows you to speak to visitors through your phone, even when you're not home 
Built-in night vision 
Live view 
Video zoom capabilities 
Available as wired or wireless. Wired doorbells are hardwired into your ethernet. Wireless models tap into your home's Wi-Fi. 
Typically connects to standard junction boxes with a flush mount 
Tip: Make sure the smart doorbell you choose is compatible with your smartphone. Even the best smart doorbells can't help you if you can't access them through their smartphone app. 
Sound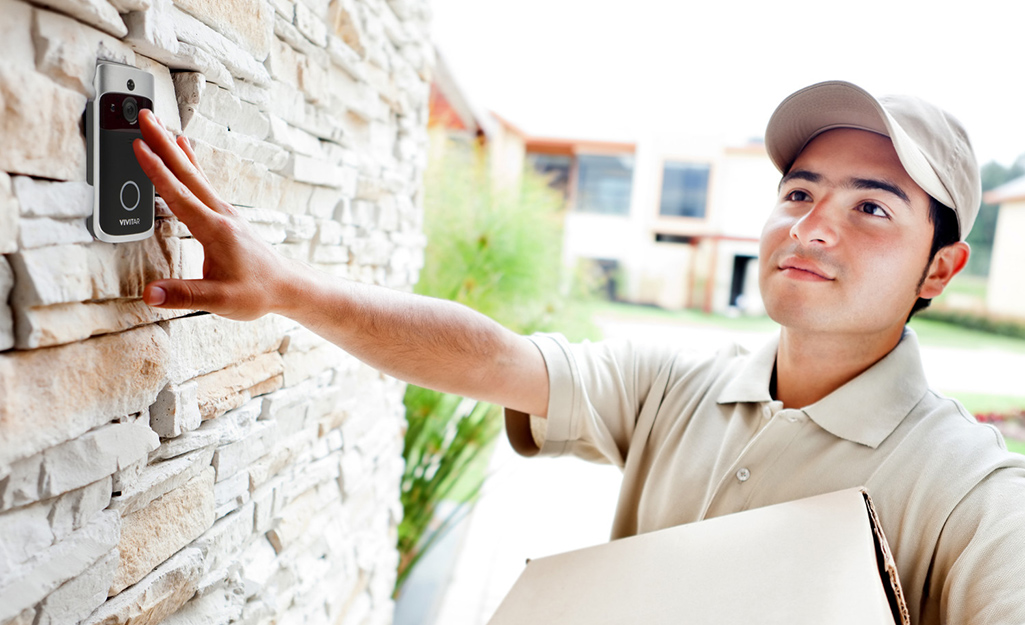 One of the easiest ways to personalize your doorbell is by picking its unique tone. Basic doorbell options include a ringing, buzzing or chiming sound. Most doorbell kits come with a variety of sounds, from the basic "ding-dong" sound to the traditional "Westminster" chime sequence.  
Some kits offer dozens and even hundreds of sounds you can change out at any time, including well-known melodies, seasonal sounds, holiday music, animal sounds, funny sound effects and more. More smart doorbell kits allow you to customize your doorbell's sounds by uploading songs from your phone or computer or by recording your own original sounds or spoken words. 
Below are some doorbell sound terms you should know when finding the best doorbells for you: 
Sound Quality 
High-quality sound can be delivered by both wired and wireless doorbells. Some wireless doorbell systems offer frequency blocking technology, which blocks out background frequencies that can interfere with the doorbell signal. These background frequencies can be caused by other devices like garage door openers, car alarms or a neighbor's wireless doorbell.   
Sound Range 
With wired doorbells, sound will carry to any location where there is a receiver. If you live in a large house or have difficulty hearing your doorbell throughout the home, you may need to upgrade to a 24-volt doorbell and transformer. If you are remodeling or adding an addition to your home, you'll need to install additional wiring to reach those areas.  
The sound from wireless doorbell systems reaches wherever there is a speaker. Look for a unit that comes with portable speakers that allow you to hear the bell from all parts of your home. Most wireless doorbells have a transmitting range of 100- to 150-feet, which is suitable for small to mid-sized residences. 
Larger or multi-storied homes may require a sound extender, multiple receivers or a long-range wireless doorbell system. Some long-range wireless doorbells can extend the sound range distance from 300- to 500-feet, with select units extending up to 3,000-feet. Depending on your home's construction, thick internal walls or stone walls may interfere with the signal. In this case, you may want to consider a wired doorbell system. 
Sound Extenders 
A sound extender, sometimes called a chime extender or sound amplifier, is a device that allows you to hear your doorbell in areas where the doorbell is difficult to hear. This typically occurs in areas located at a far distance from the main door or where loud activities prevent the bell from being heard. 
Many wired doorbell systems offer sound extenders as accessories. Or, in many cases, you can add a wireless sound extender to an existing wired doorbell system. This is done by a simple process that physically connects the wireless unit to the existing doorbell unit. Depending on the model you choose, the included receiver can then be plugged into any standard AC outlet or operated with batteries. 
Additional doorbell buttons can also be added to back doors, gates, garage doors and other areas, using different sounds to distinguish between locations. Adjustable volume control is available with most models. 
When shopping for a sound extender, make sure the model you choose is compatible with your existing doorbell system, whether wired or wireless. 
Size, Shape and Material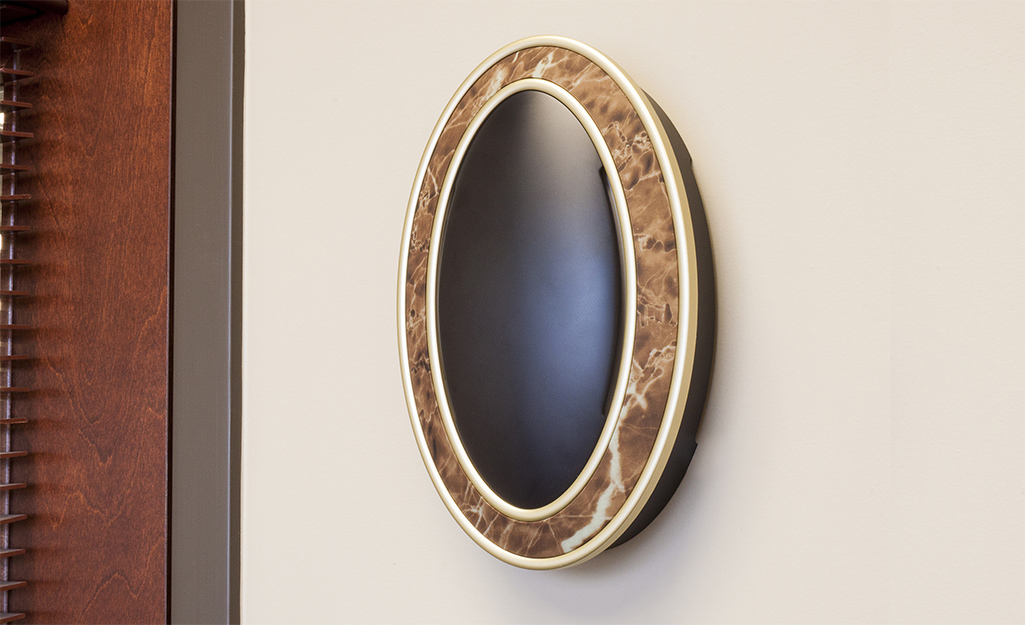 The easiest way to personalize your doorbell is by choosing a decorative button or cover, also known as a plate or surround. 
Doorbell buttons and covers come in a variety of materials, shapes, sizes and colors that allow you to express your personal taste and match your home decor. 
Shapes and Sizes 
Doorbell buttons are usually rectangular, circular or oval. Covers come in a wide variety of shapes, such as square, rectangular, oval, round, diamond, multi-sided. They may have nature, antique or futuristic themes. 

Sizes can vary, so make sure the replacement button will fit the area where it is going to be installed. Also, you can avoid having to repaint by choosing a cover size that is equal to, or larger, than your existing cover. 
Materials 
While doorbell buttons are usually made of plastic, the covers that surround them are available in a variety of materials. Metal finishes include bronze, brass, nickel, copper, pewter, chrome, silver and other metals. Covers are also available in ceramics, glass, wood or plastic. Many metal covers may acquire a burnished or aged look over time, while other surfaces are designed to maintain their original appearance. 
Colors 
Most doorbell buttons come in basic black, white or amber. However, there are kits available that feature other colors, including backlit buttons that change colors on a timed cycle. Doorbell covers come in nearly every color, depending on the material and decorative theme. 
Additional Features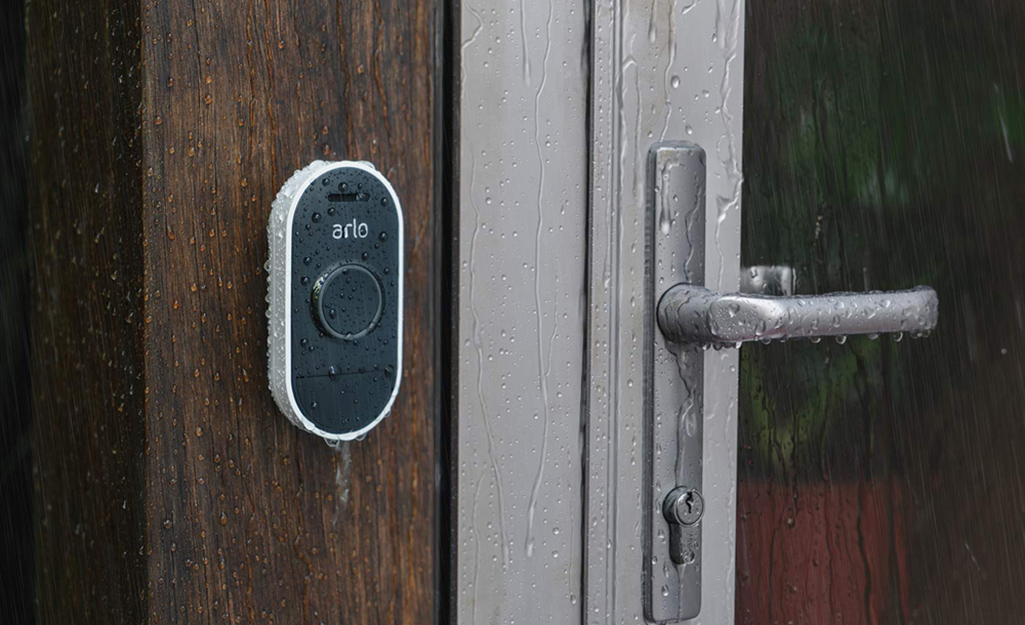 Pick the best doorbell for your family's needs with weatherproof buttons, lighted systems or motion systems.
Weatherproof doorbell buttons are perfect for gates, garages and back doors. Weatherproof receivers are ideal for outdoor areas such as decks, patios, swimming pools and play areas where you normally wouldn't hear a doorbell ringing inside the house.   
Lighted systems for the hearing impaired or people working in noisy areas feature a flashing light alert when a visitor is at the door. This type of doorbell is available in both wired and wireless versions. You can also choose to supplement your existing doorbell system with a separate wireless transmitter especially designed for this purpose. The transmitters come in both battery and plug-in units.   
Pet doorbells are a collar-activated system that controls your pet's indoor and outdoor access.   
Lighted buttons help visitors locate the doorbell at night and lets you know if your doorbell is working. It also confirms the status of wireless systems that operate on batteries. 
Some doorbell systems include a motion sensor that alerts you to movement or sound outside the door. Other systems offer an intercom or video options, allowing you to speak to or see the visitor before you open the door.   
Doorbell warranties can differ greatly depending on the brand and model. 
The best doorbells for your home will get your attention, be easy for you to install and look great. When choosing doorbells with special features, find features that will make it easier for you to greet visitors. See a doorbell you like? Find products fast with image search in The Home Depot Mobile App. Snap a picture of a doorbell you like and we'll show you similar products. 
Explore More on homedepot.com