Evaporative coolers, also called swamp coolers, combine the natural cooling properties of water with a steady breeze to lower indoor temperatures. They can be used as the sole cooling system or to complement existing air conditioning systems. Evaporative coolers add humidity and A/C units remove it. They should never be used at the same time. This guide will help you choose the best evaporative coolers for your needs.
 
Tip: Contact our team for professional HVAC services if you'd like a consultation.
What is an Evaporative Cooler?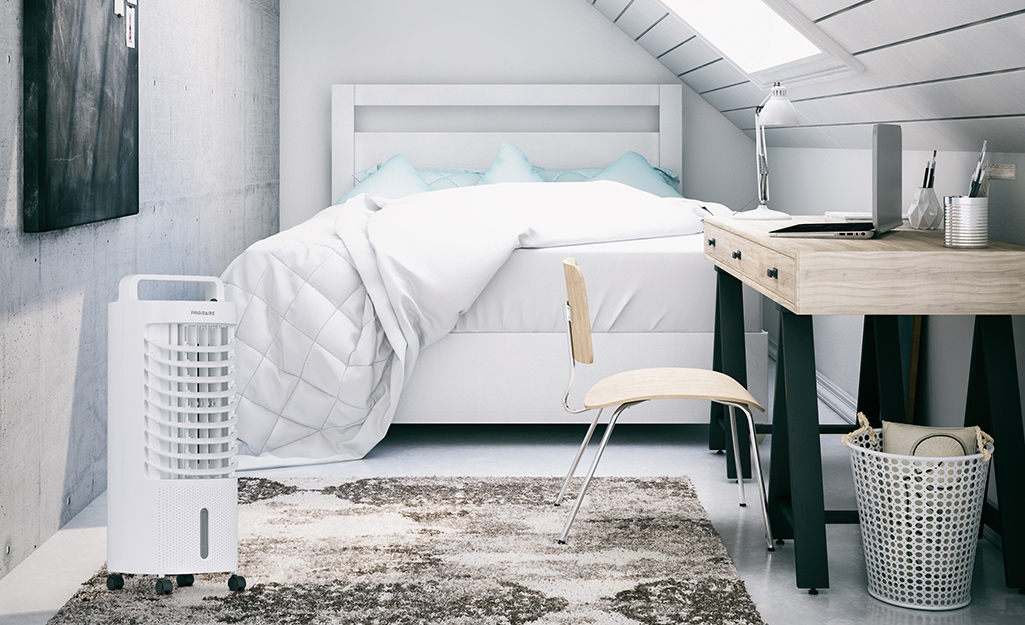 The terms "swamp cooler" and "evaporative cooler" can be used interchangeably. These units lower indoor temperatures using evaporated water. They combine the natural cooling properties of evaporating water with an efficient air moving system.
All coolers include a fan, water tank and internal motor. The motor passes dry air through a wet, internal filter pad. It is quickly cooled and circulated throughout the room. Opening nearby windows helps renew the air every few minutes and keeps the breeze fresh. 
Many people wonder, do evaporative coolers work effectively? The answer is yes. Since evaporative coolers require dry, hot air for optimal function, they are best suited for warm and arid climates. In the US, they are most popular in southwestern states like Arizona and New Mexico. During the winter months, the cooler should be fully drained, disconnected and covered in an enclosed storage area.
 
Evaporative coolers add moisture to the water-filled pads. The pads act as a filter, removing dust and allergens from the air. They use very little energy, making them an environmentally friendly option for many homes. Installing one is a great way to keep indoor air fresh and cool, especially with the windows open. However, if they are not properly cleaned and maintained, a marshy or swamp-like odor can begin to develop. Changing the pads at least twice a season helps avoid this issue.
 
The best evaporative air cooler for general use will offer several benefits over air conditioning:
Lower installation and maintenance costs.       
Up to 75 percent less electricity usage.       
Helps prevent fabrics and wood from drying out.
Can be powered by standard 120-volt outlet.       
No ozone damaging refrigerants.  
Evaporative coolers are not as controllable as air conditioners and can use between 3 1/2 and 10 gallons of water per hour, a consideration for use in areas with limited water supplies.
Types of Evaporative Coolers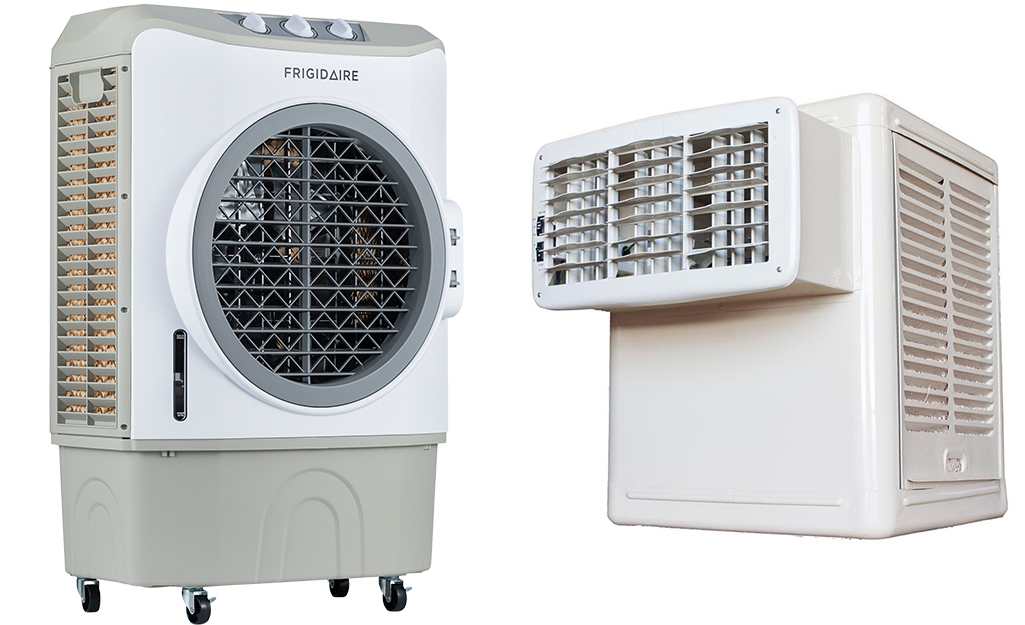 Evaporative coolers are typically distinguished by where they are installed and the type of pads they use.
 
Most whole-house evaporative coolers are mounted on the roof. They blow air downward, while others are mounted through windows or walls and blow air in from the side. Portable evaporative coolers can be moved from room to room as needed.
 
Down-flow installations are most popular, but window/wall-mounted horizontal units are more convenient for maintenance and reduce the chance of roof leaks.
 
Both down-draft and window evaporative coolers blow cooled air into the house either into a central location, which is effective for small homes, or through existing or specially installed ductwork in larger homes.
The following sections include a breakdown of swamp cooler sizing.
Portable Coolers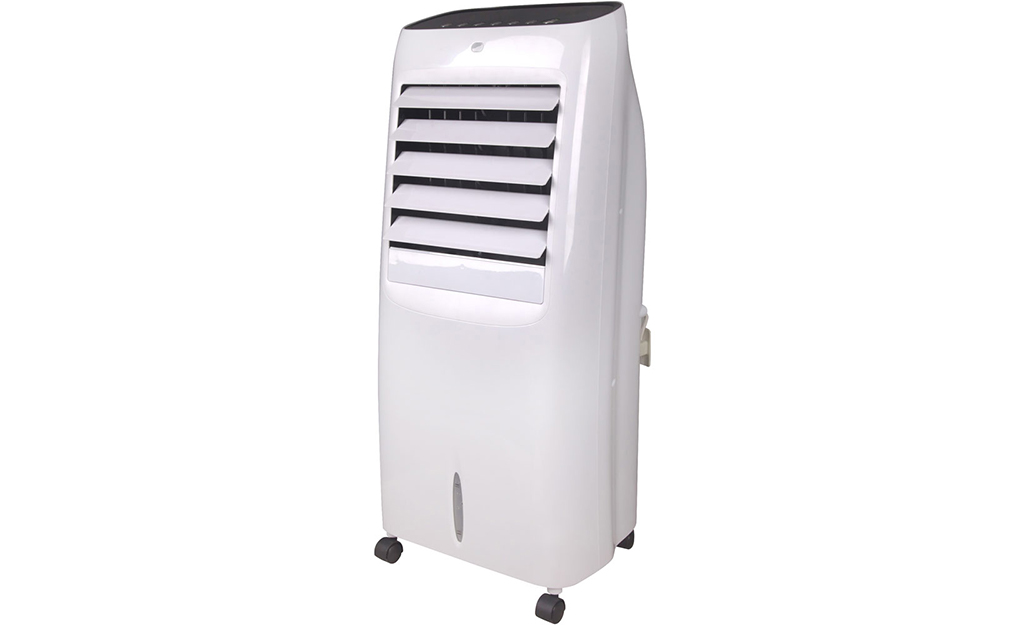 A small space cooler.
Cools small spaces up to 300 sq. ft.
The best portable air coolers are lightweight and with steady water flow control.
Window/Through-the-Wall Coolers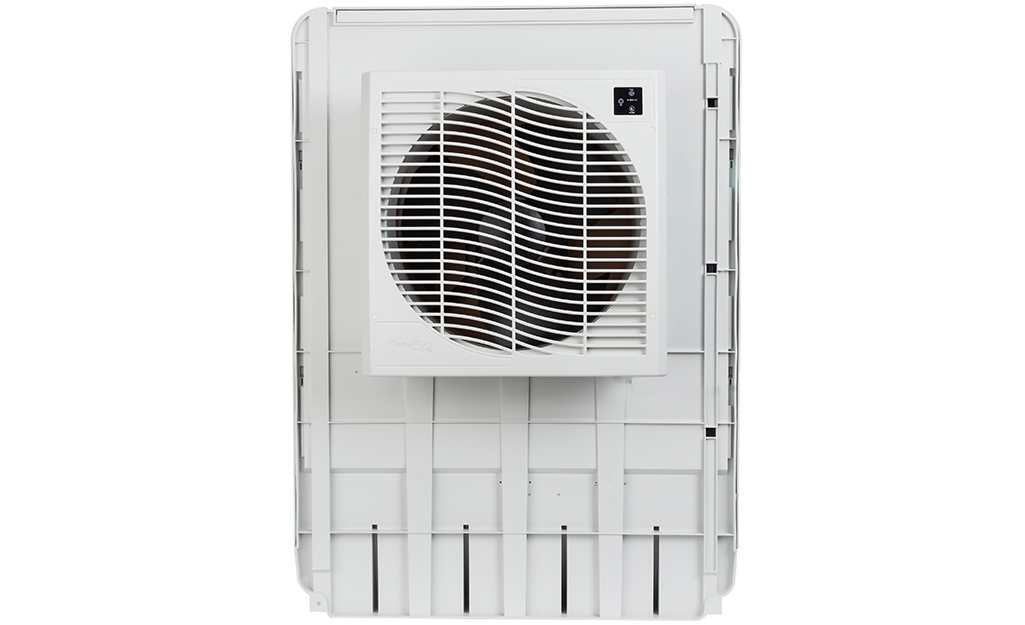 Can cool one room or a garage.
Down Discharge Coolers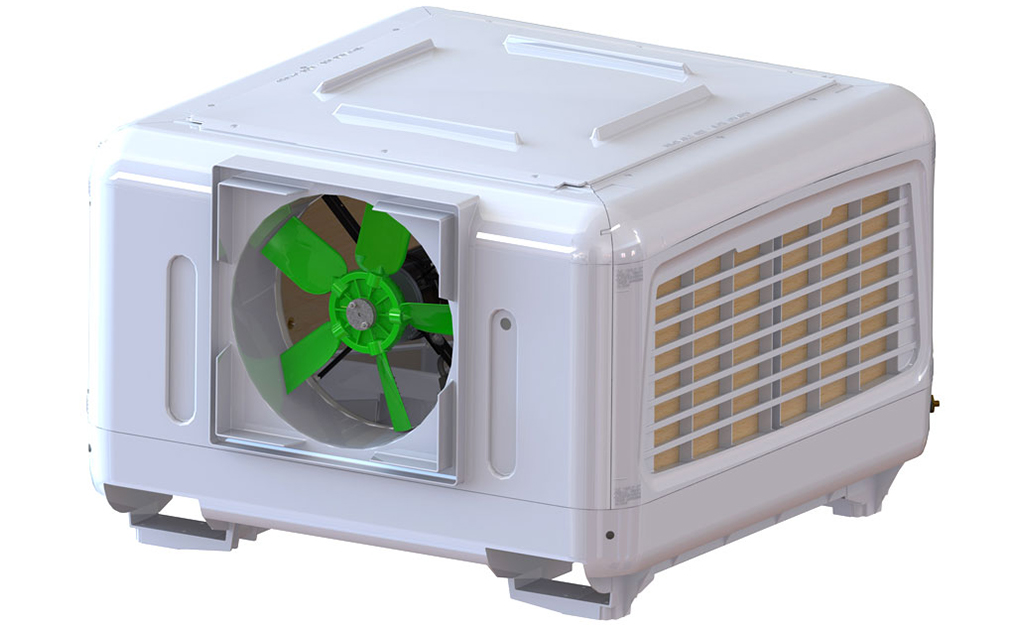 Installed on the roof.  
Discharges cool air downward into the structure.
Side Discharge Coolers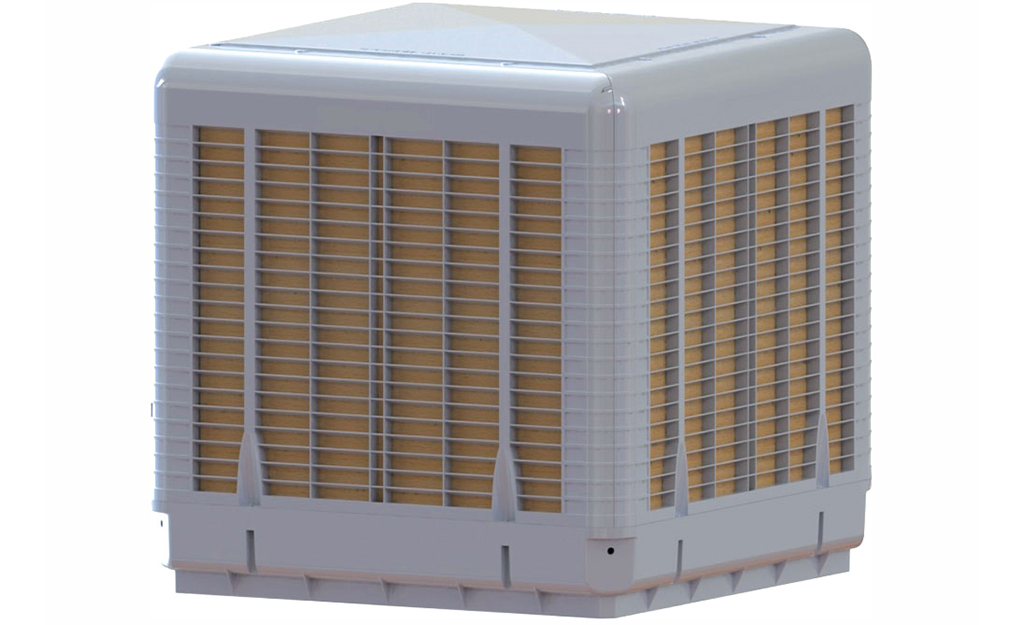 A whole-house cooler.
Typically installed on the side of a building, directing into the attic area.  
Can be installed on the roof using an elbow to direct the airflow through an opening in the roof.
Types of Pads for Evaporative Coolers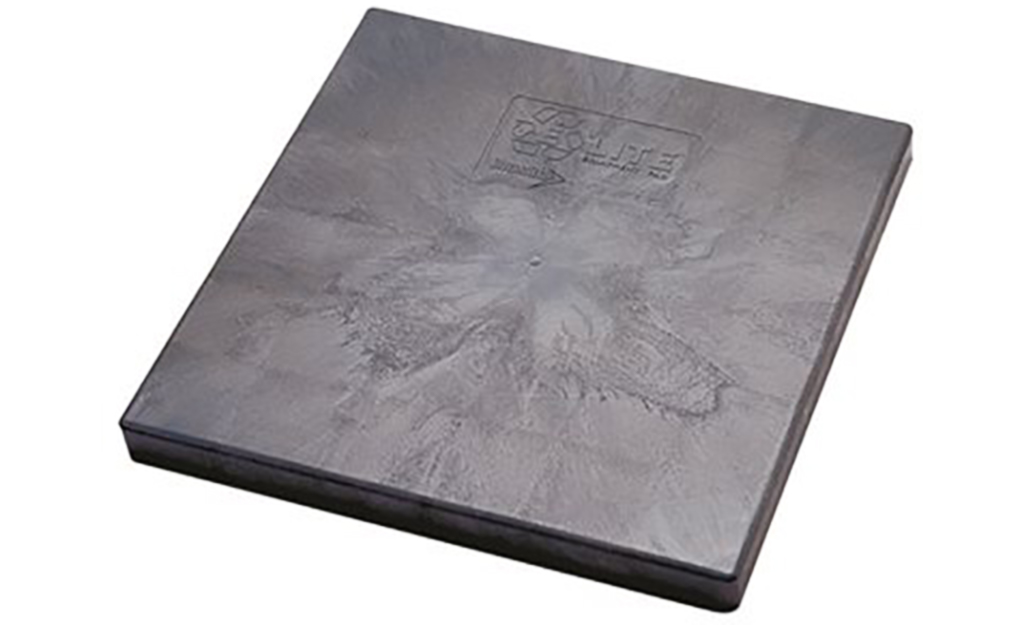 The two types of pads for evaporative coolers are fiber and rigid media pads.   
Fiber pads are made of various materials. They are inexpensive but require more maintenance and replacement. 
Rigid media pads are more expensive but require less maintenance. They can last for years if properly maintained.
CFM Ratings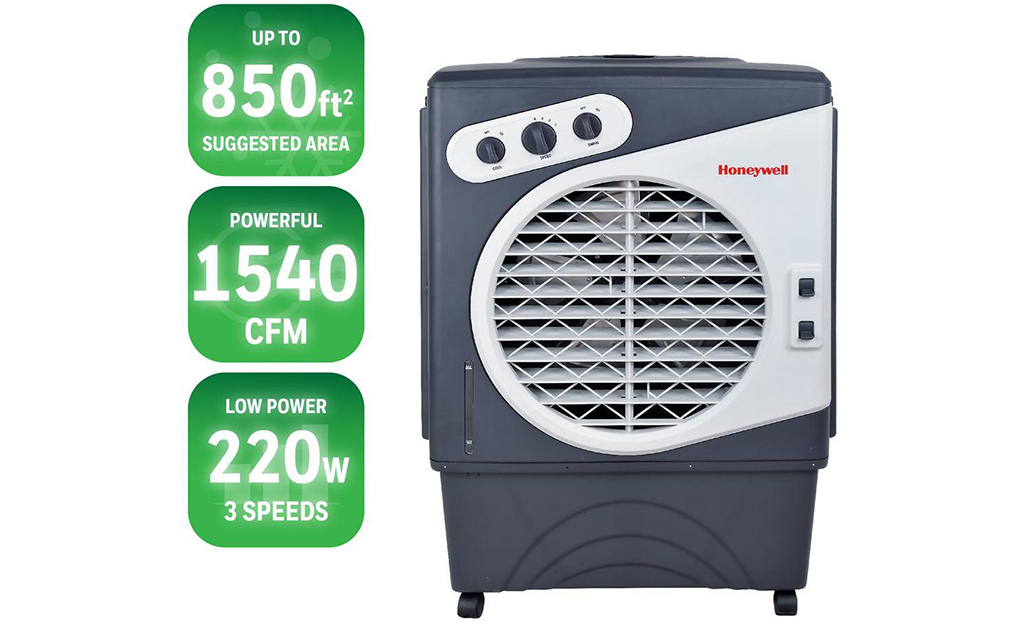 Evaporative coolers are rated by cubic feet per minute (CFM). To ensure effective distribution, calculate know how much air the unit needs to move to cool your home. Use this formula to calculate the CFM: 
Determine the square footage of space you want to cool.
Multiply this figure by the height of your ceilings.
Divide that number by 2.
The result is the swamp cooler CFM rating.
Evaporative Cooler Maintenance & Accessories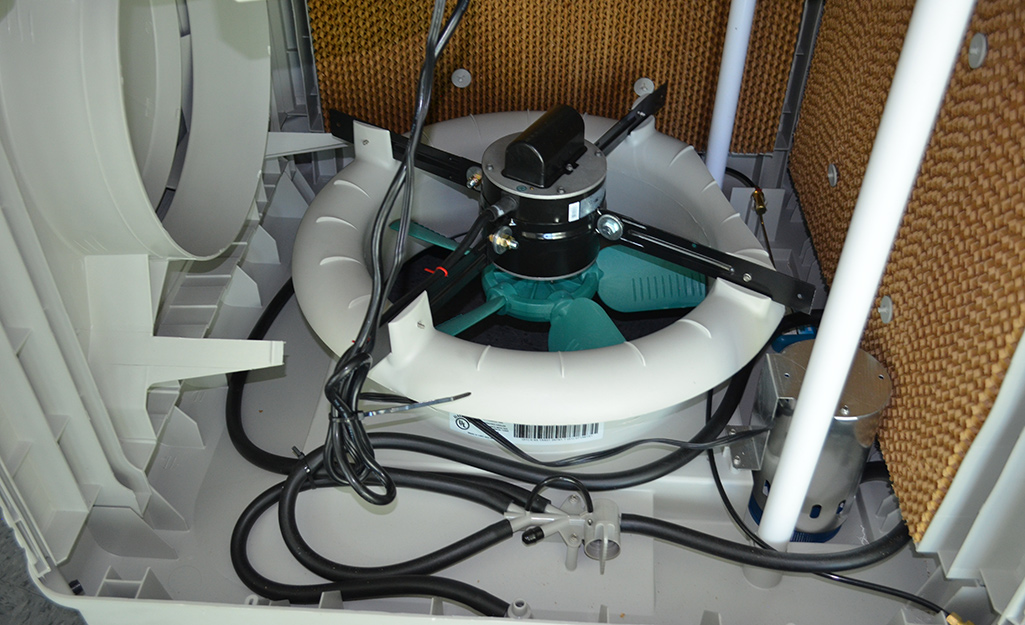 Add any of these evaporative cooler parts and accessories to match your specific needs:

Evaporative cooler pumps: Pumps purge water automatically every six or eight hours. This helps prevent mineral buildup.
Ceiling vents: If open windows are a security issue, these ducts allow warm air to exhaust into the attic and out through the roof vents. This option may require additional ventilation in the attic.
Pre-filters: Help prevent water droplets from the pads from being pulled into the fan blades. Most evaporative coolers also have filters to remove dust from the incoming air.
Evaporative cooler covers protect your unit while not in use.  
Once you've chosen the best evaporative cooler for your home, shop our vast selection. When transportation is a challenge, The Home Depot truck rental can help. From pickups and vans to moving trucks, we've got you covered. Need it today? We'll deliver on your schedule. Order before noon for convenient scheduled same-day delivery.
Explore More on homedepot.com