A roaring fire is a staple in many homes, especially during the colder months. Fireplace accessories offer additional functions and safety benefits for anyone who loves to have a warm fire. From screens to tool sets and rugs, read on to learn about the best fireplace accessories for your home.
Fireplace Screens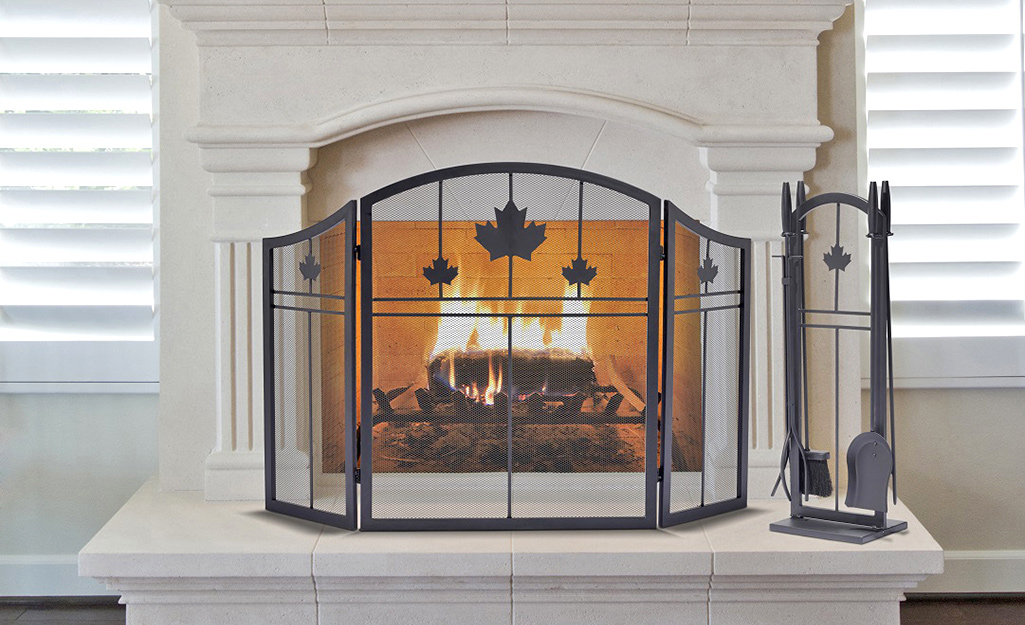 Fireplace screens are one of the most important safety features you can add to your fireplace. Screens keep the flames and popping ash from escaping while allowing the heat to pass through. There are a few types of screens to consider, including three-panel, spark guard, door screens and curved screens:
Three-panel screens are the most popular option. They feature one large panel centered directly in front of the fireplace. They also have two side panels that fold around the fireplace's left and right side edge, so no flames or popping ash can escape. Three-panel screens are stationary and do not open. 
Door screens, also called two-panel screens, are gaining in popularity because they function like French doors. Both doors swing open in different directions, allowing you to choose the amount of open space in front of your fireplace. 
Spark guards are made of one continuous screen that lays flat against the fireplace. 
Curved screens are also one continuous screen, but instead of lying flat against the fireplace, these arch from one end to the other.
Tip: Curved screens cover the fireplace opening, but there is an opening at the top area of the screen which allows more heat into the room.
Tool Sets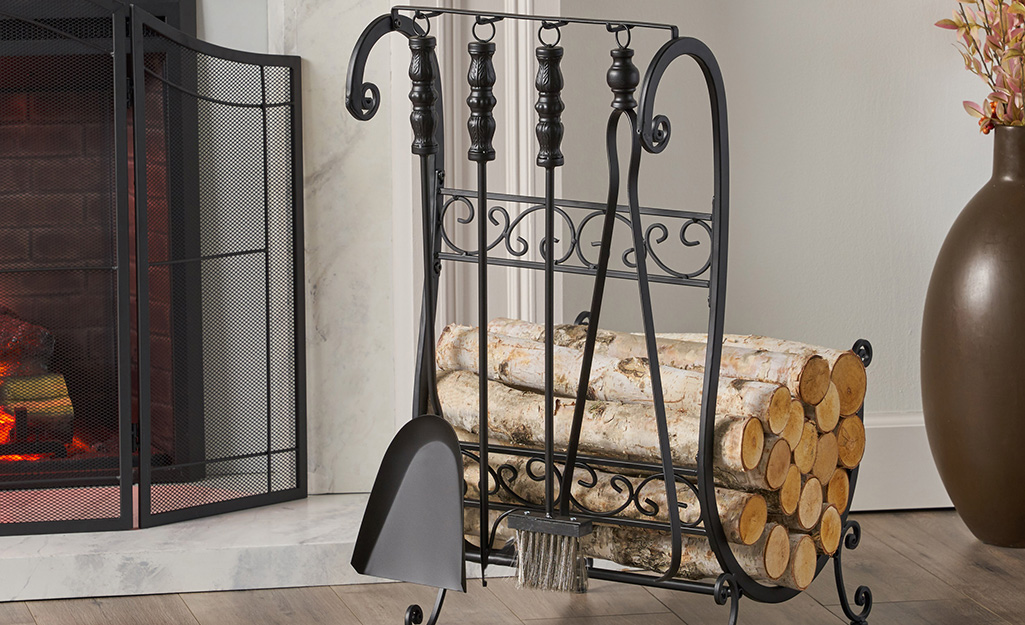 A good set of fireplace tools https://www.homedepot.com/b/Heating-Venting-Cooling-Fireplaces-Fireplace-Accessories-Fireplace-Tools/N-5yc1vZc6hc will come in handy when you're making fires regularly in your fireplace. Most tool sets include a poker, tongs, shovel, brush and tool stand:
Hearth Rugs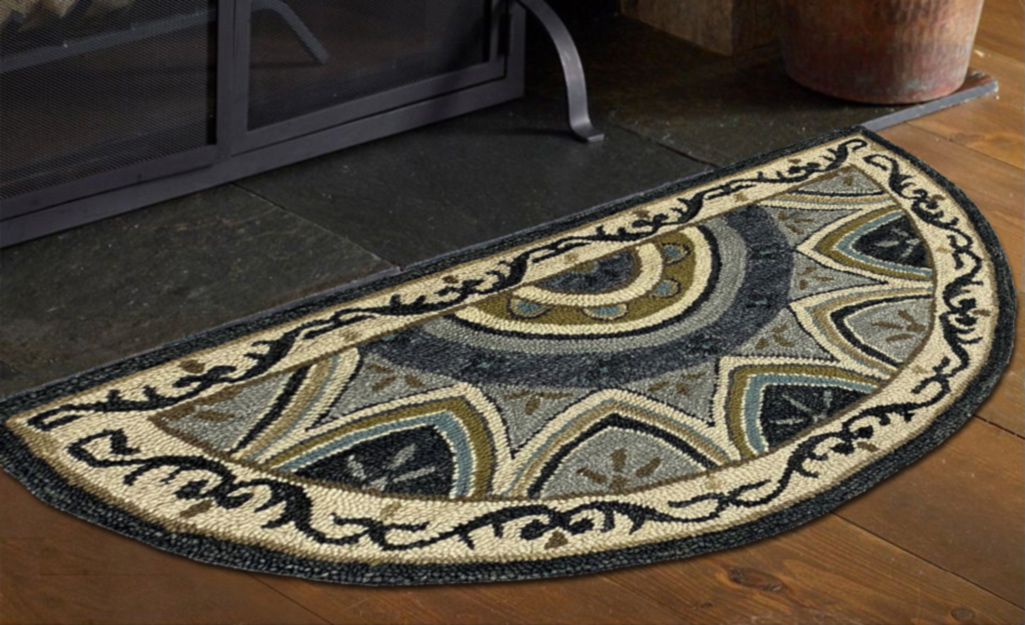 Hearth rugs are designed to protect the flooring near your fireplace. Sparks and embers can jump from the fireplace and land nearby. A fire-resistant hearth rug can keep your floors and carpeting looking their best. The rug's design also works as a safety tool.
Hearth rugs come in three basic shapes: oval, half-round and rectangular. Half-round is the most traditional style, followed by rectangular. Both of these are popular choices because they have a flat edge that you can place right against the fireplace. This design element offers better coverage close to the hot zone.
Hearth rugs are made of wool, fiberglass or synthetic material. Here are some points to consider when choosing a material:
Wool presents the highest investment. With wool hearth rugs, embers from the fire will char the rug but not catch fire. Fire damage is also less visible on wool than on other materials, though it requires periodic brushing to maintain its looks. You can give wool a chemical treatment to improve its fire resistance, too, and they sometimes come with this already done.
Fiberglass hearth rugs are vinyl-backed to prevent slips. Embers from the fire burn out rather than catch fire on this material, which is not chemically treated. Fiberglass isn't as large an investment as wool and is available in limited colors and patterns.
Hearth rugs made of synthetic materials are the most wallet-friendly option. They're also available in the widest variety of colors and patterns. With this material, embers from the fire will melt or char the surface, creating visible damage.
Fireplace Accessories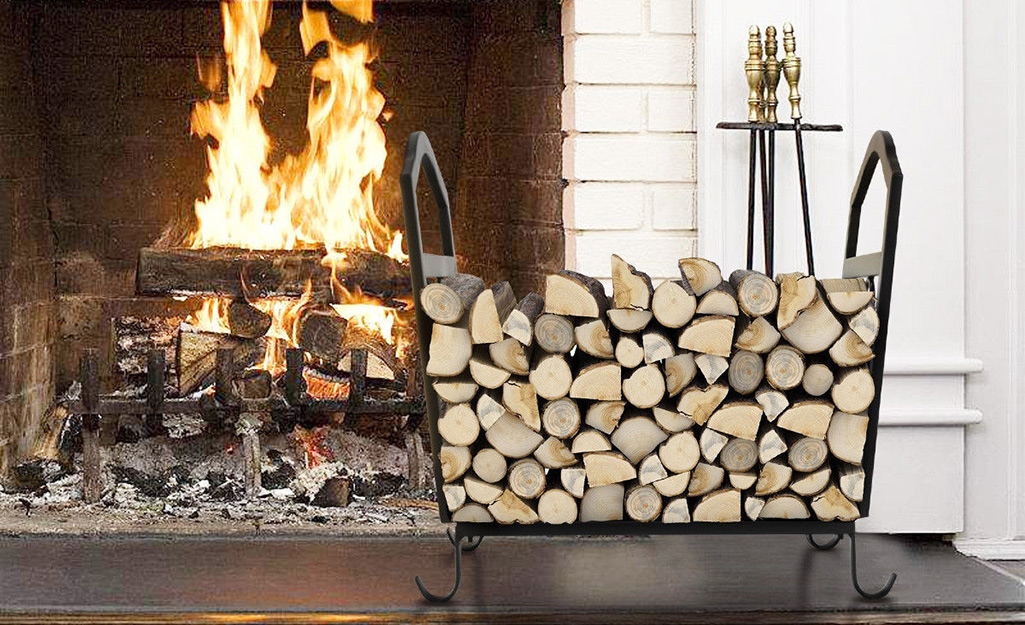 Some fireplace accessories will help you care for and maintain your fireplace. Others help generate more heat. A good set of accessories can make it easier to use your fireplace during the colder months of the year. Besides screens, tool sets and rugs, here are some other useful accessories to look out for:
Fire extinguishers help protect your home and family in case flames escape the fireplace.
Organize your logs in a convenient location using a log rack. A rack also holds the logs off the ground. This keeps away bugs and lets the wood dry out more effectively.
Grates secure wood-burning logs inside the fireplace so they don't fall and roll into your living space. Andirons also serve the same purpose with a more decorative flair.
Heating inserts can be wood-burning, pellet-burning, biomass (corn, soybeans, cherry or olive pits) fuel-burning or electric. They enable greater heat output with the use of a blower.
Gas log sets offer the look of real logs, but rest stationary in gas-burning fireplaces. The gas lines run into the logs and enable the flames to rise up between the stationary logs.
Mantels can be added to most fireplaces and are useful for housing flat-panel TVs, photographs, art and other decor.
Tip: Get the look of real logs in a gas-burning fireplace with gas log sets. The gas lines run into the logs and enable the flames to rise between them.
The right fireplace tools and accessories will make your fireplace easier and safer to use. The Home Depot offers a wide range of designs, so consider the options along with your existing decor to choose the best fireplace accessories for your home. 
The Home Depot delivers online orders when and where you need them.
Explore More on homedepot.com