Mulch protects your landscaping investment and the environment. It provides nutrients for plants and protects their roots while also preventing weed growth. The best mulch slows topsoil erosion and retains soil moisture. This guide will help you find the types of mulch that will best meet your needs. 
Colored Mulch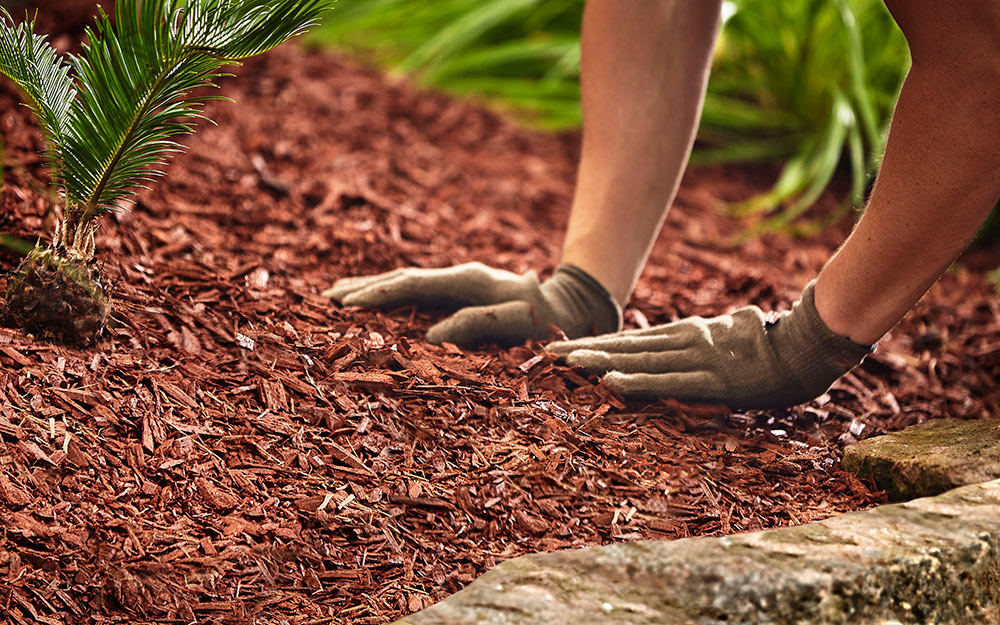 Color-enhanced wood mulch is among the most beautiful and best mulch for landscaping. Colorful mulches will give your flower beds and landscape a decorative pop.
Color-enhanced and double-shredded for consistency.
All dyes used are pet-safe, non-toxic and biodegradable. Most are vegetable-based.
Designed to break down over a year's time or more.
Brown mulch has a rich, chocolate brown color. This mulch is more even-toned than natural wood.
Black mulch creates a striking contrast between your garden beds and lawn.
Red mulch is dyed using iron oxide. It's mainly used with light-colored plants and in rock gardens.
Great for flower beds, vegetable gardens and general landscape use.
Color is guaranteed to last all season long.
Mini Pine Nuggets Bark Mulch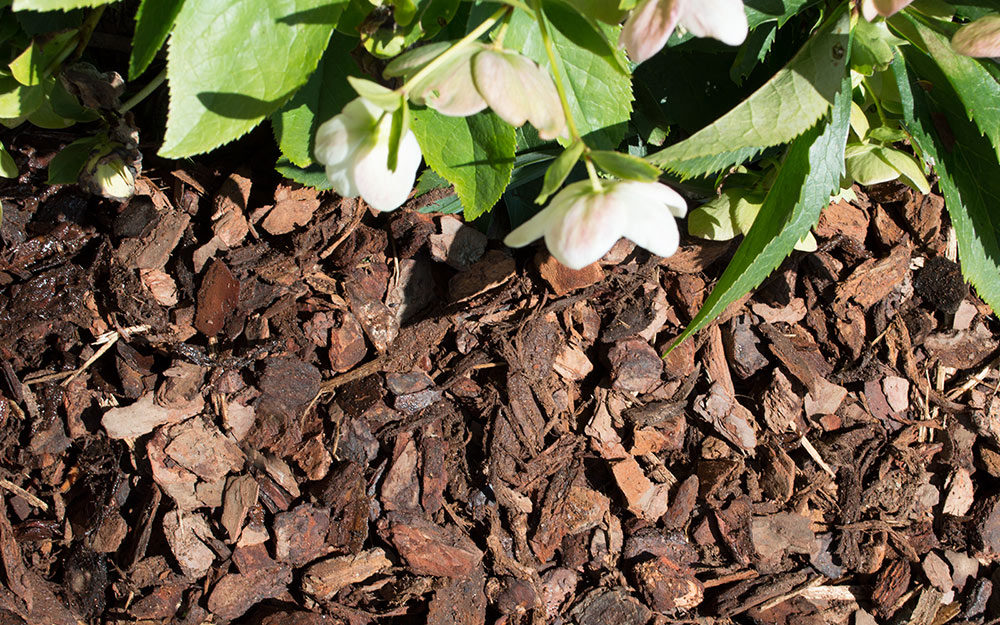 Mini pine bark mulch gives your garden a neat, natural look. It breaks down more slowly than shredded mulch, so it won't need to be replenished as often. 
Great landscaping option for walk paths, driveways, gardens and around the trunks of trees.
Chunkier pieces are about one inch in size. This gives your landscaping a unique look and adds curb appeal to your home.
Designed to break down over a year's time or more.
Topsoil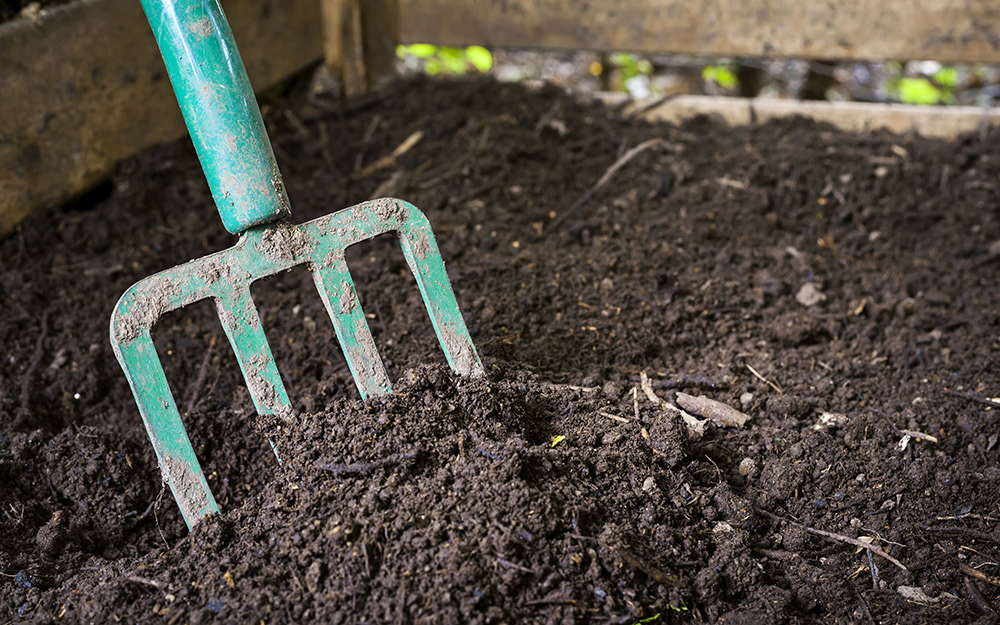 Topsoil is a nutrient-rich, healthy soil that makes landscape and garden plants grow more effectively.
Contains a heavy base of composted materials.
Used for filling holes, leveling low areas and patching bare spots on lawns.
Can be used to build up landscapes and garden beds.
Kids Karpet Playground Mulch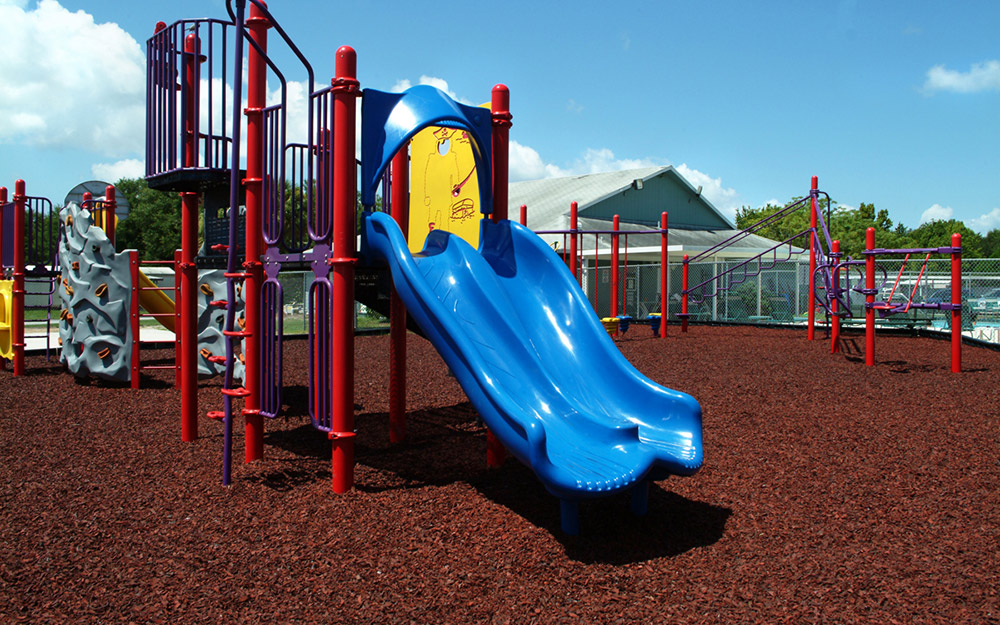 The best mulch for playgrounds is engineered wood fiber. This mulch is specially made for pathways, backyards and underneath play sets or swings. 
100 percent natural and produced from engineered wood fiber.
Ideal for playgrounds, pathways and backyards.
Install to a finished depth of 12 inches on playgrounds.
Allow an extra 4 inches of mulch layer. This product will compact 33 percent after it's first installed.
Playground mulch meets the ASTM standard for having the proper safety precautions when used as recommended by the U.S. Consumer Product Safety Commission for playground surfaces.
Rubber Mulch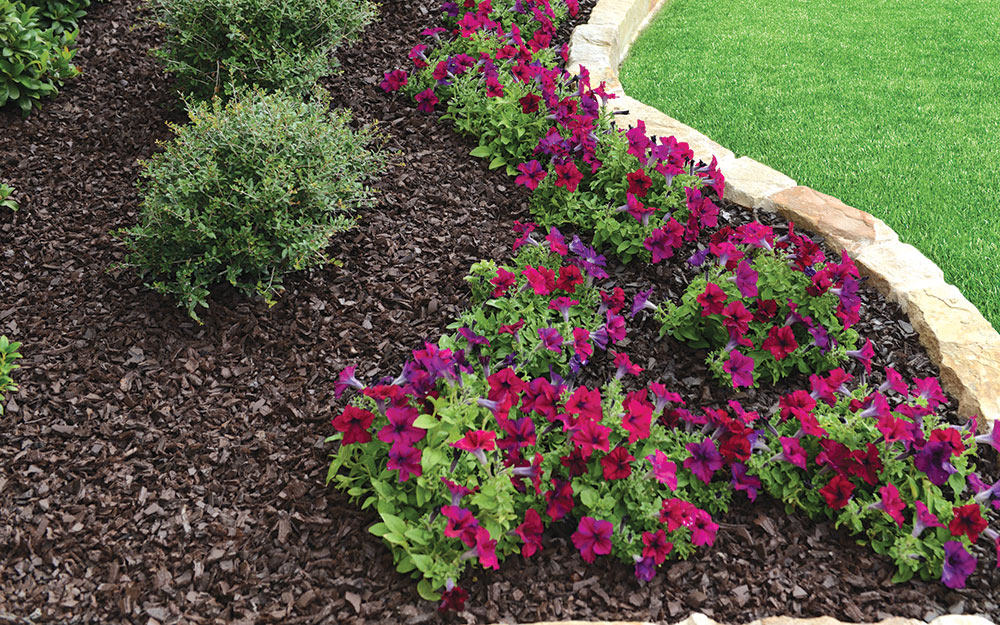 Rubber mulch is often made from recycled rubber material. It can be used for garden beds, but it's mostly used for creating pathways and ground cover.
More permanent than wood mulch but does not improve the soil structure.
Acts as a weed barrier and reduces fungal growth.
Non-porous and does not absorb moisture. More effective than wood mulch at retaining soil moisture.
One of the best mulches for playgrounds and walking trails. 
Provides soil protection and bounce.
Pine Needles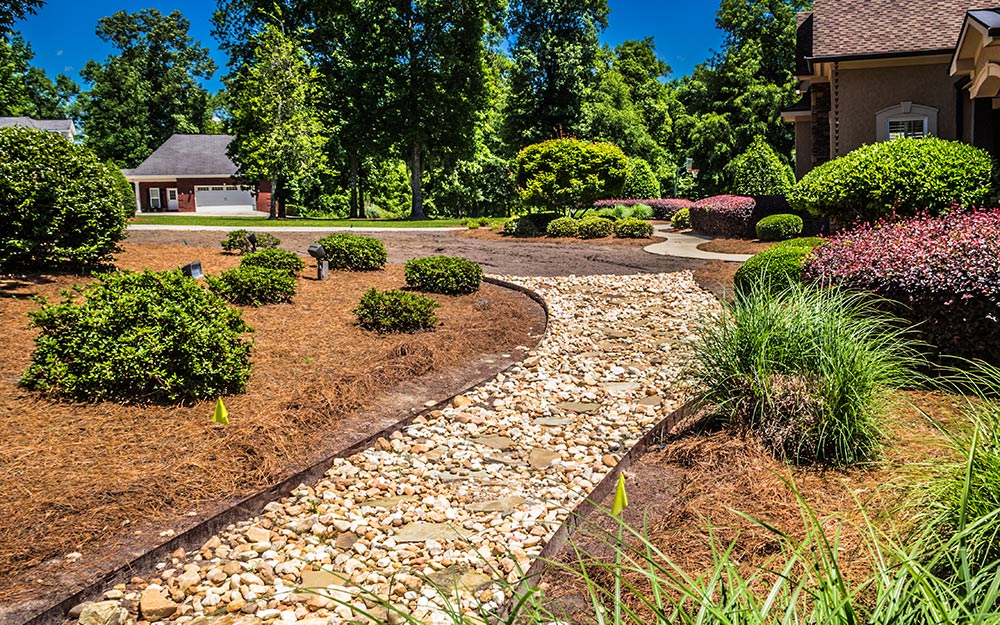 Pine needle mulch is one of the most popular mulch choices in the Southeastern United States. It's known for a natural, no-fuss appearance and ease of use.
Lightweight and easy to lay.
Low-maintenance option, as it weathers extremes, such as hurricanes. 
Only needs to be replaced every five years or so.
Insulates plant roots from extreme temperatures.
Harvested from naturally fallen pine needles. No trees are harmed during collection.
Pine straw and wheat straw help control soil erosion on slopes. Remember that hay and straw mulch may harbor weed seeds.
Pine needles are not recommended as a mulch in dry climates due to wildfire risk.
Tip: It's a common misconception that pine straw will make soil more acidic and more suitable for acid-loving plants like blueberries and azaleas. While pine straw itself is acidic on the pH scale, using pine straw mulch will not appreciably affect the pH of the soil. To alter soil pH, start with a soil test and choose soil amendments based on the results. Learn more about testing your soil.
Mulch Alternatives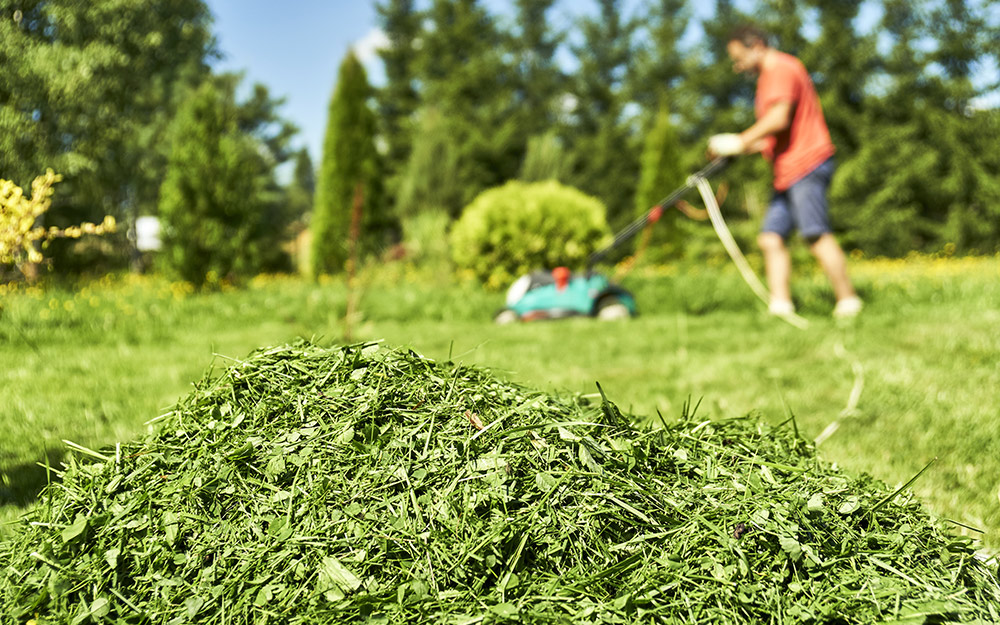 Sometimes the best mulch for your yard is a mulch alternative. Plastic, landscape fabric, grass clippings, manure and newspaper are all useful substitutes.
Black Polyethylene Plastic:  
Effective at preventing weed growth, though it tends to hold water in the soil. 
Some black plastic is sold with tiny holes to facilitate drainage.
Exposed to sun, black plastic can degrade and lose its effectiveness. Some gardeners bury it in the soil to prevent this.
Acts as a good underlayment for organic or rock mulch.  
Landscape Fabric:  
Specially treated to resist rotting. 
Landscape fabric allows water, air and nutrients to pass through. Weeds sometimes poke through, but overall, fabric is effective at weed control. 
Adding more mulch on top of the fabric achieves better weed control. 
Many gardeners add decorative wood or stone mulch on top of fabric to enhance its appearance. 
Works best for shrubs and non-spreading plants. 

Grass Clippings:  
Excellent way to reuse yard waste after mowing the lawn. 
Only available throughout the spring and summer months. 
Add the clippings to your garden soil to help boost nutrients.  

Manure:  
Nutrient-filled, natural by-product of cows, horses, goats and other farm animals. 
Be sure the manure is well-rotted before applying in gardens.  

Newspaper:  
Can be used under mulch. 
The newspaper shouldn't touch the plant's stem to allow room for the plant to grow. 
Do not use colored pages as the ink may harm the soil and plants.
How Much Mulch Do I Need?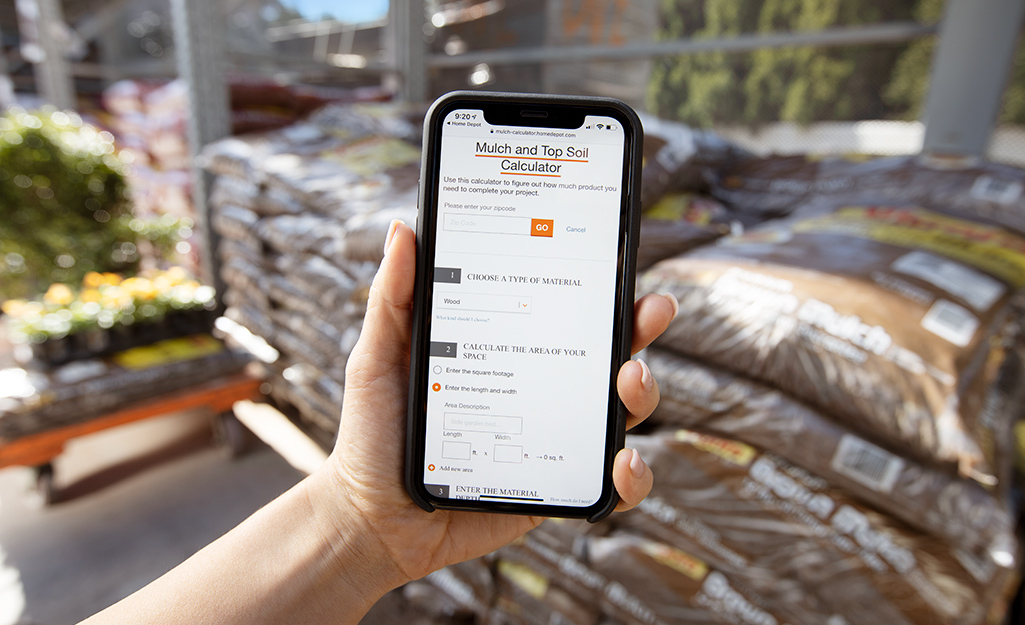 Once you decide on the best mulch for landscaping, you need to determine how much mulch you need. Use The Home Depot's Mulch and Top Soil Calculator to find out exactly how much mulch to buy. This mulch calculator considers the type of mulch you want to use, the area you plan to mulch and the recommended depth of mulch you will need. Don't guesstimate, calculate, with a quick and easy mulch calculator.   
How to Spread Mulch Like a Pro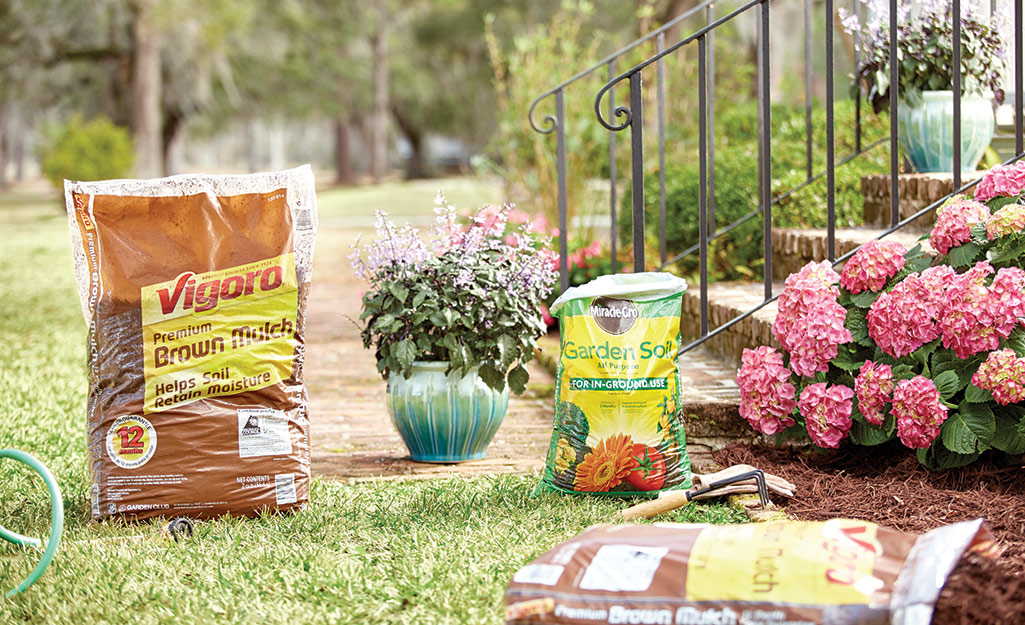 For the best results when spreading mulch, follow this speedy method used by pros:
Distribute unopened bags of mulch evenly throughout the garden bed. Reserve a few bags for finishing touches.
Use a pointed shovel to stab each bag so the wide side opens. Then simply pick up the bag on either end and dump out the contents.
Take a rake to spread the mulch.
Put on gardening gloves and spread mulch under each plant, leaving a 2-inch gap between the stem or trunk of the plant and the mulch.
If you need mulch to spread in your garden, around trees and shrubs or along pathways, buying mulch in bulk is the way to go. Bulk mulch will save you money and suppress weed growth. The Home Depot's bulk mulch service can help. You can buy 5- to 25-cubic yards of mulch in a variety of colors and types, then have it delivered right to your property. 
Explore More on homedepot.com