Using a paint sprayer instead of traditional rollers or brushes lets you save time, exert less effort and achieve consistent paint coverage on your project. Paint sprayers simplify repetitive painting tasks on hard-to-paint surfaces while still providing a uniform finish. This lets you cover more surface area in significantly less time, which reduces arm fatigue. This guide will help you determine the best paint sprayer for walls and the best airless paint sprayer for your project.
Types of Sprayers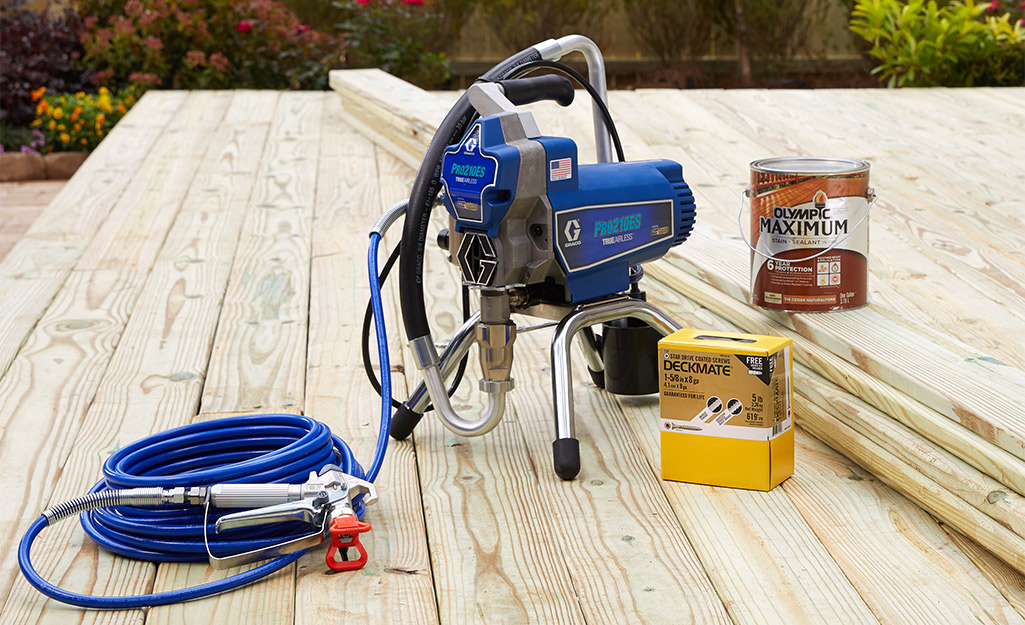 There are two basic types of paint sprayers: airless paint sprayers and sprayers driven by air. The different types of paint sprayers come with different specifications and work limitations. The best paint sprayer to use will depend on your budget and project.
Airless Paint Sprayer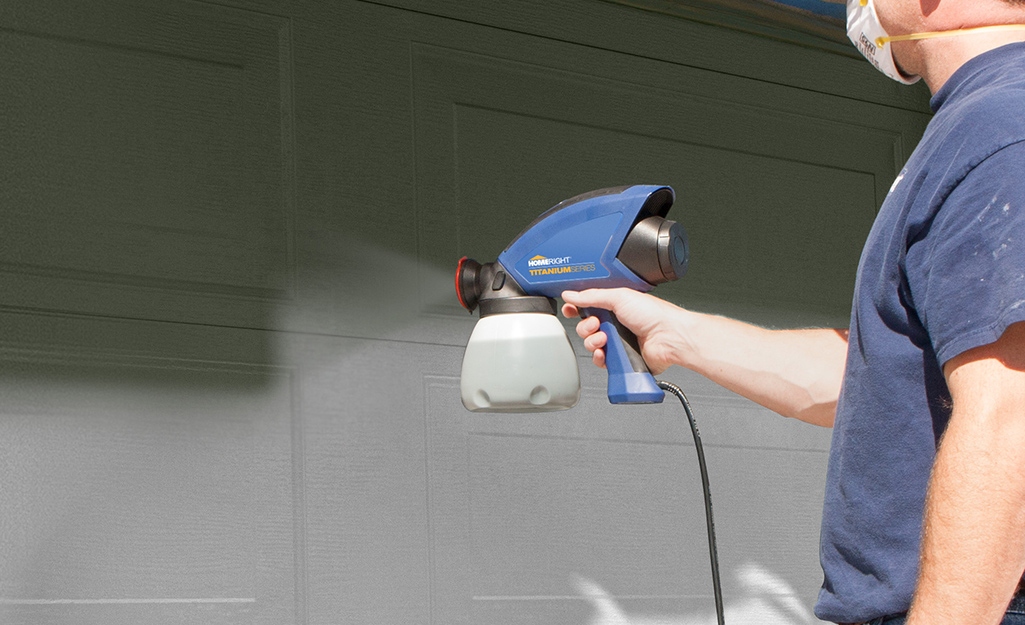 Airless sprayers pump paint from a container through a hose directly to a spray gun, creating paint spray without using any compressed air. They accommodate a variety of paint products from thick latex paints to thin stains and are considered to be the fastest type of paint sprayers. They can also spray most coatings depending on the tip size and pump horsepower.
Airless pumps are ideal for multiple large projects a year or people paid to paint. Jobs like the full exterior of a large house or the interior of a new build are ideally suited for the speed and size of airless pumps.
Airless sprayers require little setup and cleaning time and produce a professional-looking result even on surfaces that are hard to paint using a traditional brush.
Airless Paint Sprayer Tips:
Masking is required before your spray the area.
Paint thinning not usually needed.
Suggested spraying distance of 12 inches.
Provides uniform paint coverage on a wide variety of surfaces.
Ideal for large exterior and interior projects, especially doors and cabinets, siding and fences.
For best results, strain your paint before use.
Cup sprayers are a type of handheld airless sprayer. They are the best paint sprayer for home use because they are compact, cost less and require little setup. They are ideal for fences, decks and smaller DIY projects. Cup sprayers can also be used for small touch-ups on larger projects. Paint thinning may be needed for cup sprayers.
HVLP Sprayers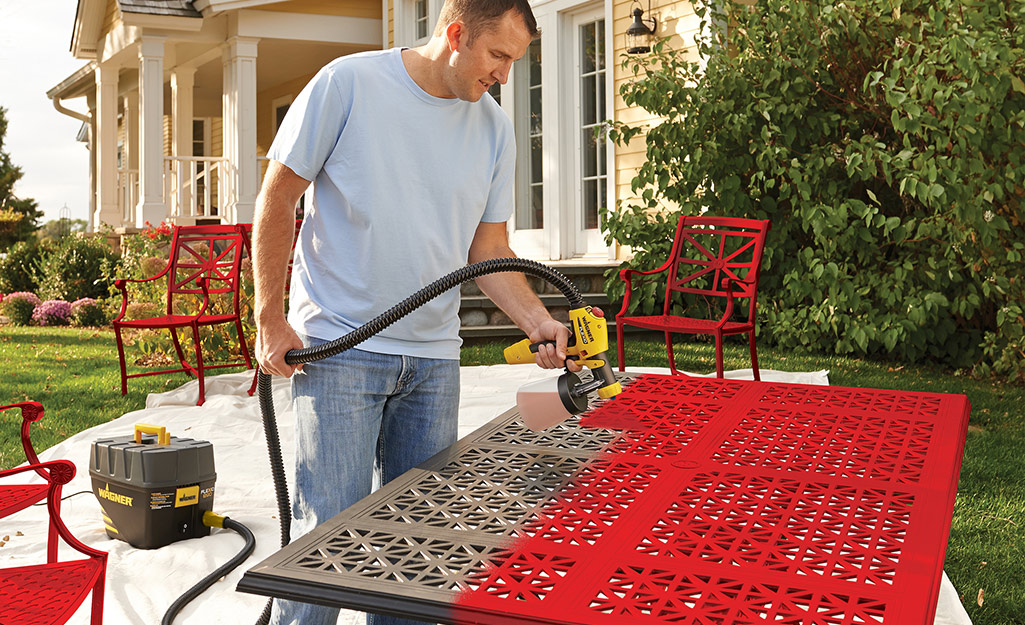 High-volume, low-pressure (HVLP) sprayers use air to push paint into a nozzle, where a low-pressure air stream meets it to create a mist-like spray pattern. These sprayers provide the highest level of transfer efficiency, which means more paint reaches the spraying surface, resulting in less masking and drop cloth use. 
HVLP sprayers typically aren't ideal for thick paint such as latex, but some models come with nozzles specifically designed for such jobs. They do not use tips for spraying, but they do have front ends for different finishes and applications. Many brands and models provide nozzles specifically designed for broad surfaces (such as decks and siding) or small projects with fine finishing.
HVLP sprayers are great for general home use with projects varying in quantity and size. Use these sprayers when painting a single room, smaller house exteriors, trim, deck and fence staining, as well as some crafting.
HVLP Paint Sprayer Tips:
Some masking may be required.
Suggested spraying distance is 6 inches.
Ideal for interior use, detailed work, small projects and small-to-medium exteriors.
Compatible with stains and most interior and exterior paints, though paint thinning may sometimes be recommended, depending on the project.
Handheld HVLP sprayers are ideal for projects where mobility and long reach are important, whereas stationary models are best when continuous spraying is desired using a direct feed and/or weight and fatigue is a concern.
Tip: Select HLVP units can cover large exteriors as they pull directly from a one- or five-gallon bucket.
Compressed Air Paint Sprayers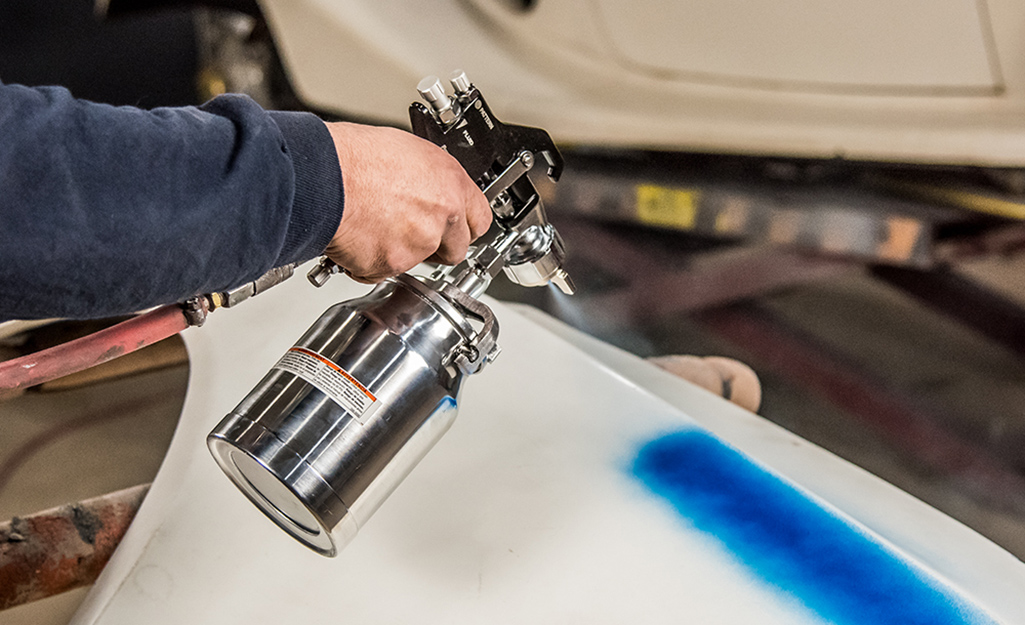 Compressed air sprayers, also known as pneumatic sprayers, are typically used for car coatings and indoor, outdoor and industrial applications. These sprayers project the paint out of the nozzle's tip using compressed air, creating a smooth and even finish. A typical compressed air sprayer set-up includes a spray gun attachment, a high-pressure hose and a compressor canister.
Compressed Paint Sprayer Tips
Thorough masking of the work area is required. Tape and cover areas that you do not want to be covered in paint.
Suggested spraying distance is 12 inches.
Compressed air sprayers need thinned paint to work efferently. Refer to the manufacturer's directions on how the paint should be thinned in order to work in the sprayer.
Adjust the PSI level to the setting that is appropriate for whatever job you are trying to accomplish.
Test the sprayer on a disposable sheet of paper as you try to determine optimal pressure levels.
Pneumatic sprayers are the best paint sprayer for novices since they are simple to use. They are usually cheaper to buy or rent but are less versatile than the airless sprayer. Although they are easy to use, they are not economical to run and use a lot of paint. Controlling the spray can be difficult at first and requires plenty of prep work to protect surrounding surfaces. Pneumatic sprayers are good for most home painting applications including kitchen cabinets and furniture which makes them one of the best paint sprayers for home use.
General Tips and Techniques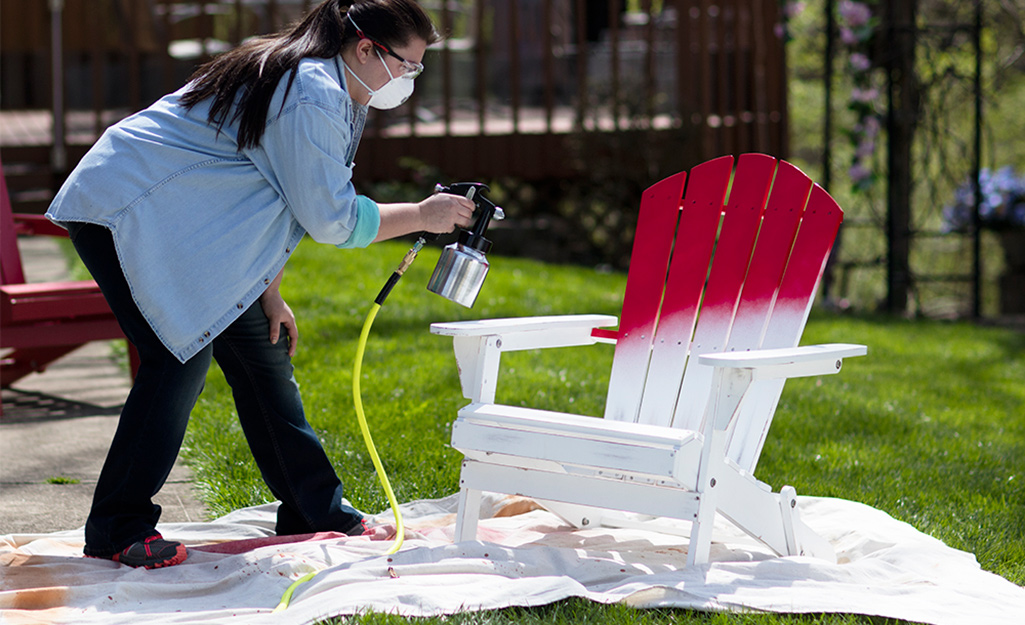 Most spraying techniques depend on the type of sprayer you choose, so consult your user's manual for more specific guidance. 
Holding the gun closer applies more paint to the surface and creates a narrow spray pattern while holding the gun farther away results in a thinner coat and a wider spray pattern. But be careful not to hold the sprayer too far away or the paint can dry before reaching the wall, which creates more overspray and loss of material.
Test the sprayer on a large piece of cardboard or other scrap material, adjusting the sprayer and your technique as needed to achieve a uniform spray pattern.
To prevent paint buildup, start your stroke before you pull the trigger and then continue the stroke after releasing the trigger.
Carefully observe how the paint lands on your project when you first start spraying, then speed up or slow down to get consistent, even coverage.
Spray straight at the surface. Avoid swinging your arm back and forth. Move your arm, not your wrist, keeping the gun straight and at right angles to prevent arcing, which causes an uneven coating.
Regularly wipe the tip of your paint sprayer to prevent paint from dying and disrupting the spray pattern.
Clean the unit thoroughly following manufacturer's instructions once your project is completed.
Do not store paint in your paint sprayer for an extended period of time.
Specialty Sprayers and Accessories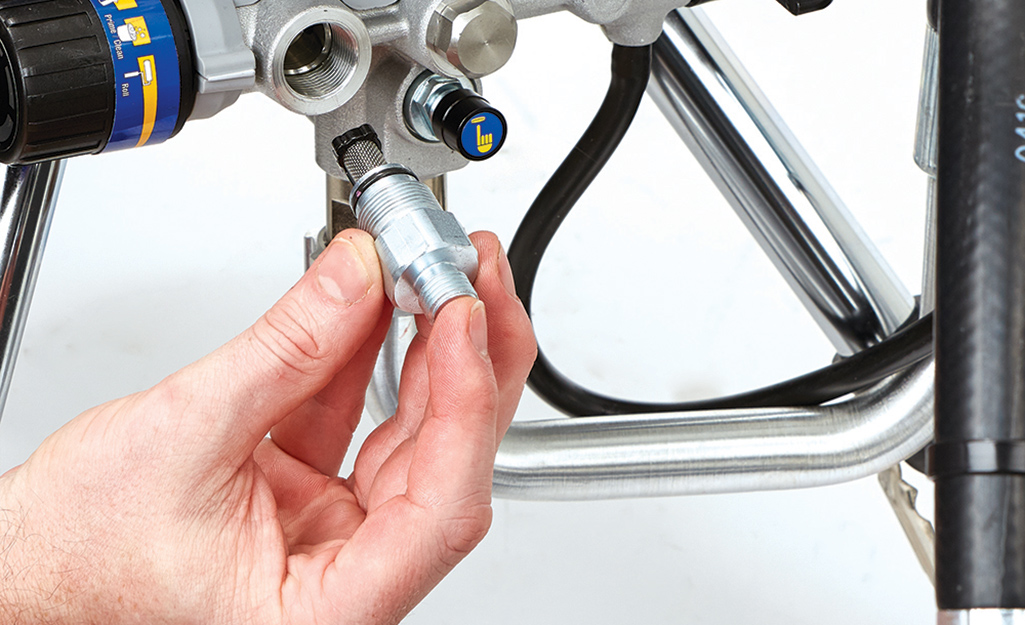 For projects with unusual challenges, or if you simply want a different paint finish than that produced by a standard paint sprayer, you may need to use a specialty sprayer.
Choose from handheld paint sprayers or paint sprayers that use stands, carts or are cordless. Each type allows you to rest your arms during long painting jobs or provides more flexibility as you paint.
Texture sprayers are designed to apply interior wall and ceiling textures such as orange peel, popcorn, splatter and knockdown.
Line striping machines align the paint sprayer on rollers with a handle so that you can easily roll the device along the ground to paint stripes.
No matter what type of paint sprayer you use, preparation is key. Make sure to set up drop cloths and properly tape off the area you're going to spray, wear coveralls and old clothes you don't mind getting paint on and take the necessary safety precautions by wearing a full-face respirator or mask.
Shop The Home Depot for the best airless paint sprayer, compressed air sprayer and HVLP sprayer as well as paint and other supplies to get your paint job done right. When transportation of paint sprayers is a challenge, order online for convenient home delivery. If you plan on painting your house just once, consider a paint sprayer rental to get your project done. Use once, then bring it back - no maintenance required and you won't need to store it either.
Explore More on homedepot.com