Not all paint brushes are equal. When looking for the best paint brushes for your projects, you must consider the brush head material as well as its size and shape to help you get the results you need. A top-quality paint brush will hold more paint, streak less, last longer and lend a better finish.
This guide highlights the different types of paint brushes available, along with tips on their care so you can ensure an extended life and professional results.
Types of Paint Brush Bristles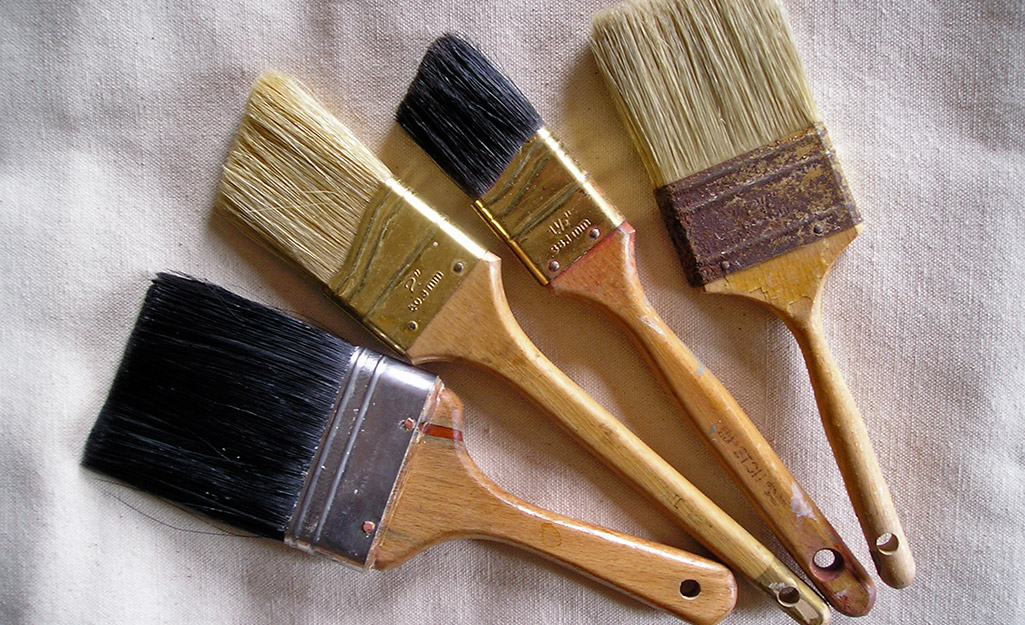 The brush head is the working end of a paint brush. Brush head bristles, or filament, can be made from a variety of materials. Synthetic paint brushes offer more versatility and can be used with all paint types. In general, the best paint brush for oil-based paint will have natural bristles.
Nylon bristles are recommended for water-based paint, though most can also be used with oil-based paints. This type of paint brush is not recommended for applying shellac or lacquer.
Nylon/polyester blend paint brushes
Nylon/polyester brushes combine two synthetic fibers to help maintain the brush shape. Theses brushes can be used on both water-based and oil-based finishes. Bristles vary in stiffness. Softer bristles will produce a smoother finish while stiffer filament can hold up to thicker paint.
Paint brushes with polyester bristles are durable and won't absorb moisture. They are an excellent choice for applying water-based paints but can also be used for oil-based paint and stain, varnish, lacquer and shellac.
Natural bristle brushes are made with animal hair. The split ends allow the brush to hold more paint and release it evenly. Natural bristle paint brushes are excellent for oil-based paints, stains and clear-coats.
Tip: Rough surfaces will break the tips off of natural bristle and prevent a smooth finish. Nylon is much more durable than bristle, so choose a synthetic brush for painting rough surfaces - even when using oil-based paints.
Paint Brush Sizes and Shapes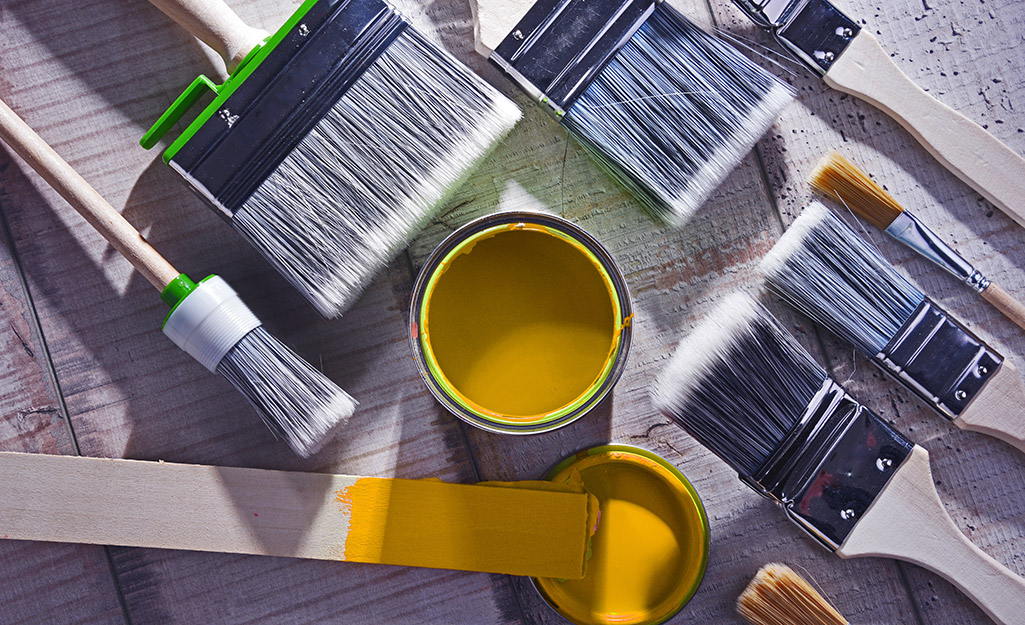 It's important to match paint brush sizes with the shape and scope of your project. Most paint brushes for home projects have a width between 1- and 4-inches. Larger brushes, such as a thick and wide wall paint brush, hold more paint and can save time when working on big surfaces. Narrower paint brushes give you more control on areas that require more precision.
Most paint brush heads are available with straight cut or flat edge. Others have an angled edge and are known as angled sash brushes. Choosing an angle edge or flat brush is primarily a matter of preference, though angled paint brushes can be more effective when used on vertical surfaces. 
1- to 1-1/2-inch (angled or straight) - Hobbies and crafts, window mullion and trim, tight corners or other fine detail work
2- to 2-1/2-inch (angled) - Window frames, casings, mouldings, cutting-in edges of walls and ceilings
2- to 2-1/2-inch (straight) - Baseboards, cabinets, furniture, stairs, railings, shutters, gutters
3- to 4-inch (usually straight-edged) - Exterior siding, decks, fences, masonry, floors, walls, ceilings, doors
The shape of individual bristles can make a difference in the results of your painting project. The tips of synthetic filament are tapered, or flagged, to produce high-quality finishes. Tapered bristles help the paint flow for better coverage. This also gives shape to the brush to allow more precision when cutting-in along tight edges.
Paint Brush Care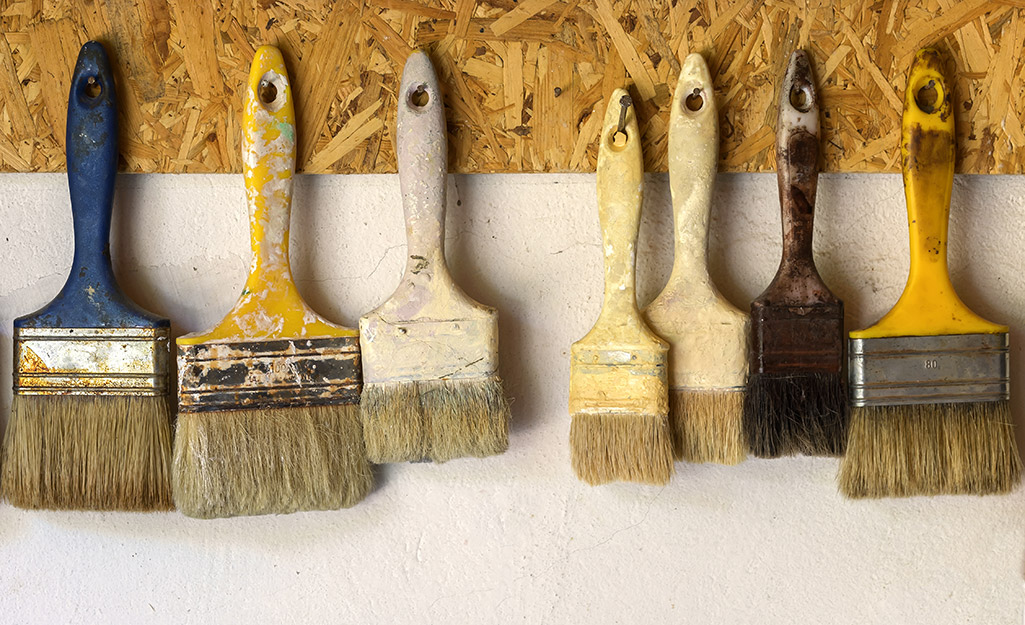 Taking proper care of your brushes is just as important as buying the best paint brushes for your projects. To ensure a long and useful life for your brushes, it is crucial to clean them promptly after use.
Remove water-based paint with with warm, soapy water as soon as you're finished painting. Use a brush comb to work through buildup on interior filament.
For oil-based coatings including paint, stain and clearcoat, refer to the manufacturer's guidelines for removing the coating from brush heads.
Hang your paint brushes to dry, whenever possible. Alternatively, lay them flat to prevent bristles from curling.
Never store paint brushes on their tips. When possible, keep brushes in their protective packaging to help them retain their shape when not in use.
When loading your brush, only dip it halfway into the paint. Anything more than that won't make it onto the surface you're working on and will only gum-up the brush.
Keep a selection of brushes to use exclusively for water-based products and another set for oil-based coatings. Having certain brushes for specific uses will help the bristles last longer. 
Good-quality paint brushes can last for years when properly cared for. Choose a variety of paint brush sizes and brush head types to have available for all of your painting tasks. The right paint brush will help you get the results you want. Need help identifying paint supplies? Find products fast with image search in The Home Depot App. Snap a picture of an item you like, and we'll show you similar products.
Explore More on homedepot.com