Because no one pillow will work for everyone, buying new pillows can be confusing. With so many choices, from material to firmness, finding the best pillow is just as important as finding the right mattress. If you have chronic neck pain or favor one sleeping position over another, the type of pillow you choose can affect your nightly sleep. This guide will help you learn more about sizing, care and fill type so you can choose the best pillows for you. 
Types of Pillows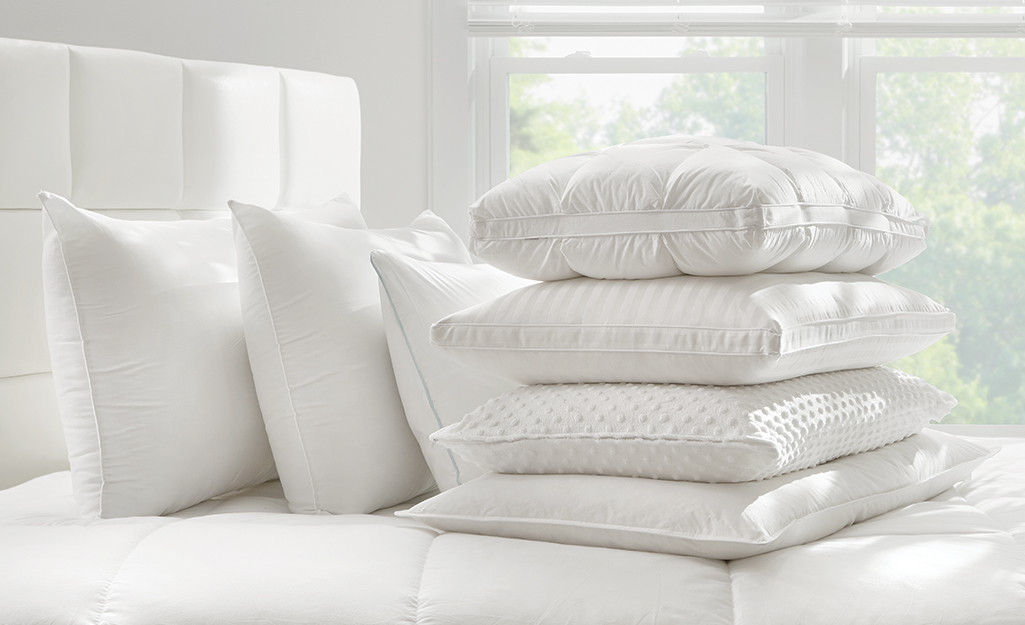 The type of material your pillow is filled with makes a big difference in how you sleep. Do you prefer a firm pillow with added neck support? Are you a fan of soft-as-a-cloud pillows, but are allergic to down? 
The weight of your pillow is also a personal preference. Do you like to fold or move your pillow with you as you get comfortable at night? Or do you prefer a pillow that stays put? If you prefer a lightweight pillow, down and cotton are your best choices. If you are searching for a heavier option, memory foam is the best pillow for you. 
Tip: Remember to look at fill power. The higher the fill power, the higher quality and more durable the pillow. In general, 600 is the best fill power for comfort and longevity.
Here are the most common types of pillows as well as their pros and cons:
Down
Down pillows tend to be the costliest, but the investment pays off with cloud-like softness that maintains shape and texture for quite some time. Down pillows are either made from goose or duck feathers. Both insulate equally well, but goose down are larger because it comes from a larger bird. Best for people without allergies, these pillows have a high fill power but are lightweight, making them great for stomach sleepers. 
Down Alternative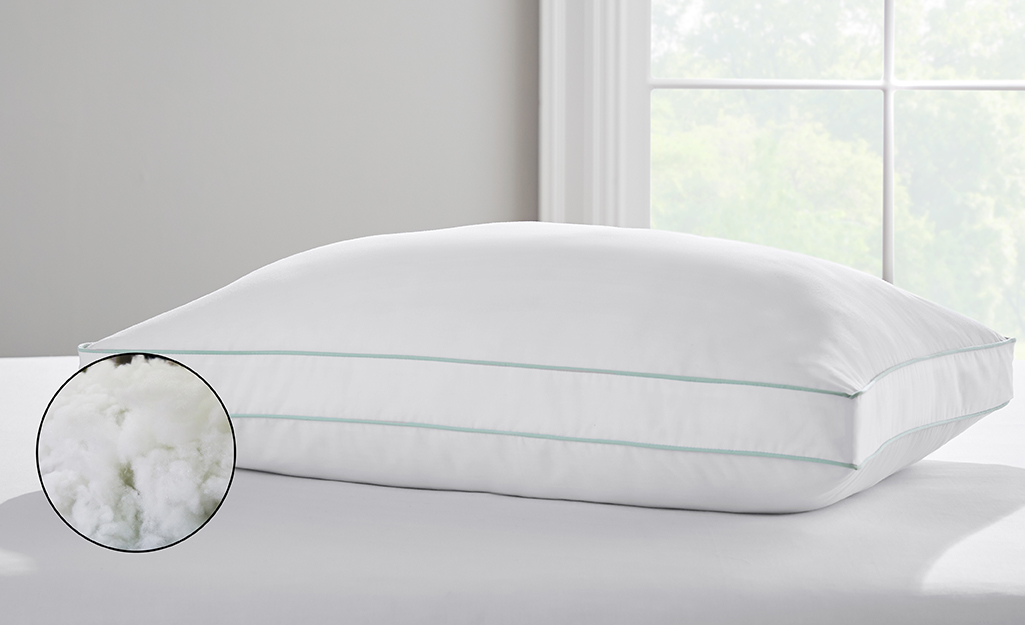 Perfect for those who seek a soft option but are allergic to feathers, down alternative pillows are made of puffs of polyester. These cost-effective pillows are ideal for side sleepers. They are available in different fill power to suit the firmness level you desire.
Memory Foam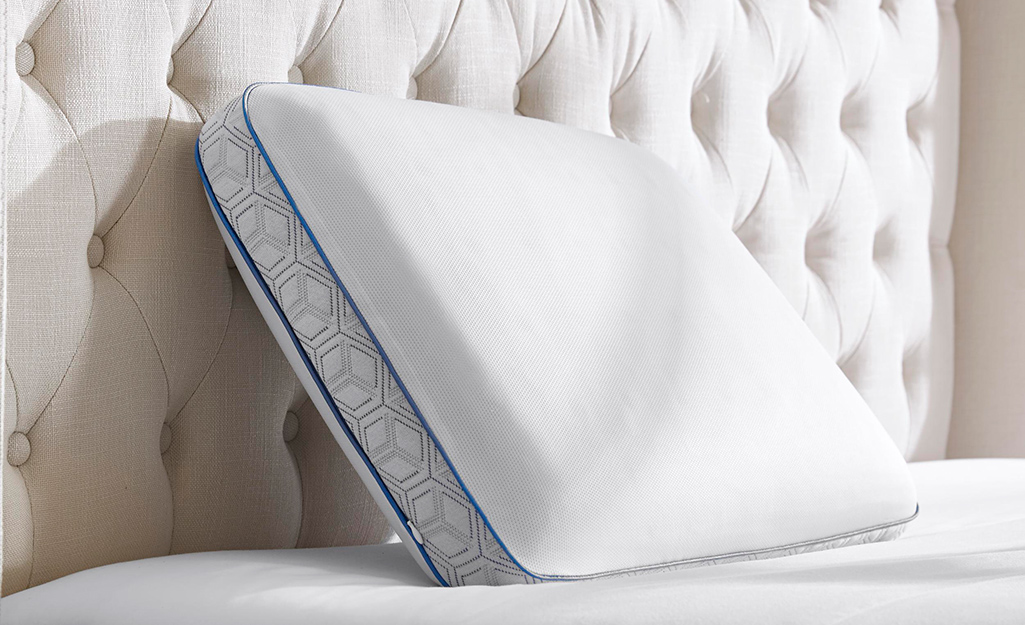 Conforming to the shape of your head and neck, as well as your sleep position, a memory foam pillow offers plenty of support. The best pillows for neck pain and those who need extra support, memory foam is incredibly firm. These pillows can get pretty warm, so those who are warm sleepers may want to consider other options. 
Wool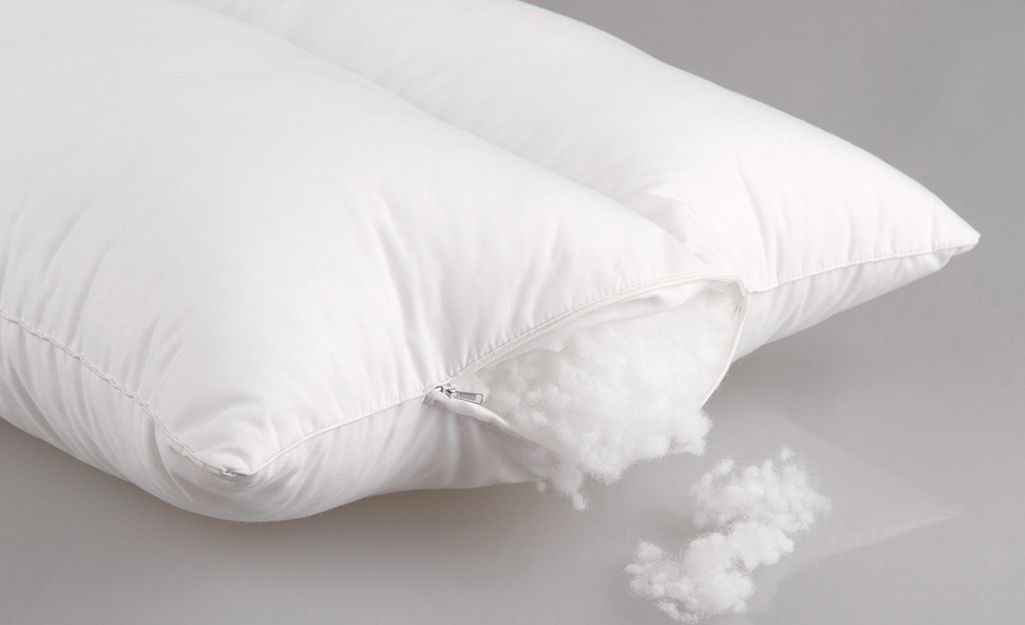 Naturally hypo-allergenic and firm, wool pillows are more resistant to mold and dust mites. They can regulate temperature for those that are warm or cool sleepers. 
Cotton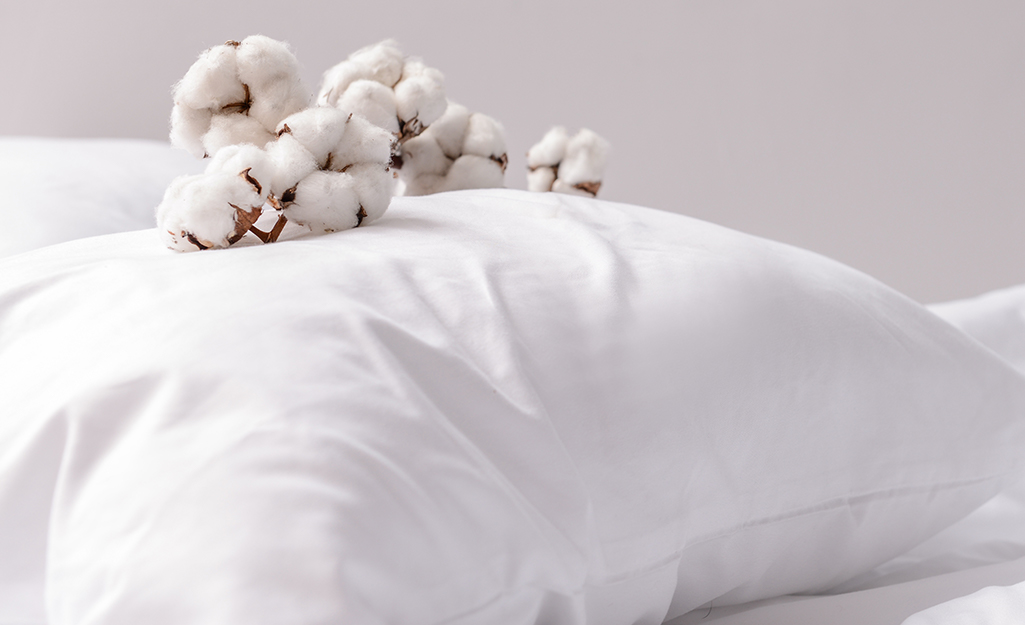 Good for those with allergies as they are resistant to dust and mold, cotton pillows are often flatter, firmer and cooler than other options.
Pillows for Sleep Style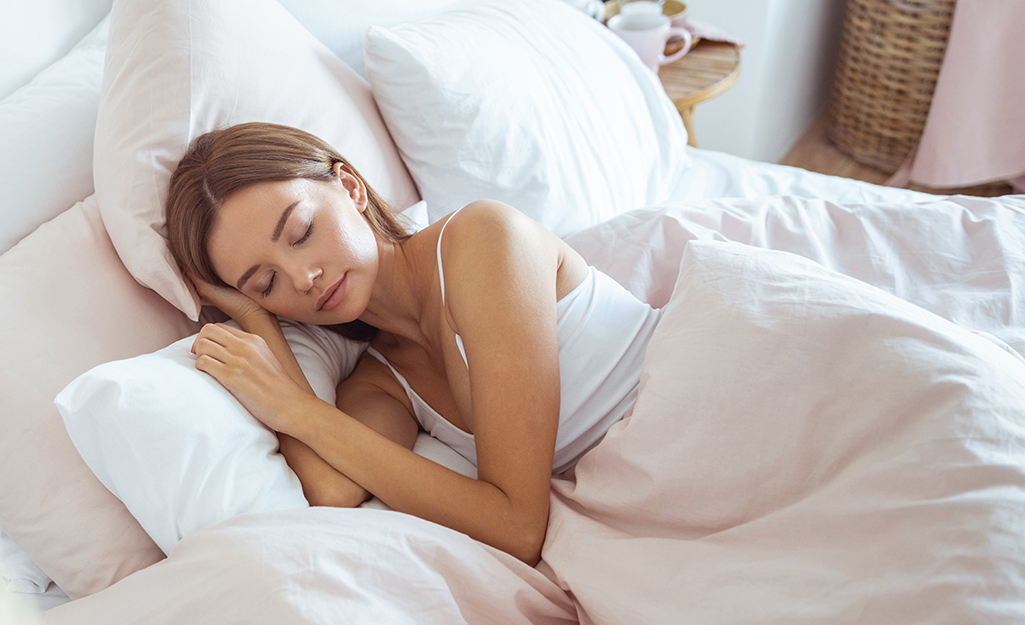 When shopping for new bed pillows, choosing one that matches with your natural sleeping position will help ensure you are more comfortable throughout the night. For example, if you tend to be a stomach sleeper, a firmer pillow like memory foam may cause more discomfort than a down pillow. Additionally, the best pillows for a side sleeper will vary from those made for back sleepers. Here are a few ways stomach sleeper pillows differ from side sleeper and back sleeper pillows. 
When choosing a new pillow, consider your body weight and body type. Things like shoulder width and weight can factor into the type of pillow you choose. 
Best Pillows for Back Sleepers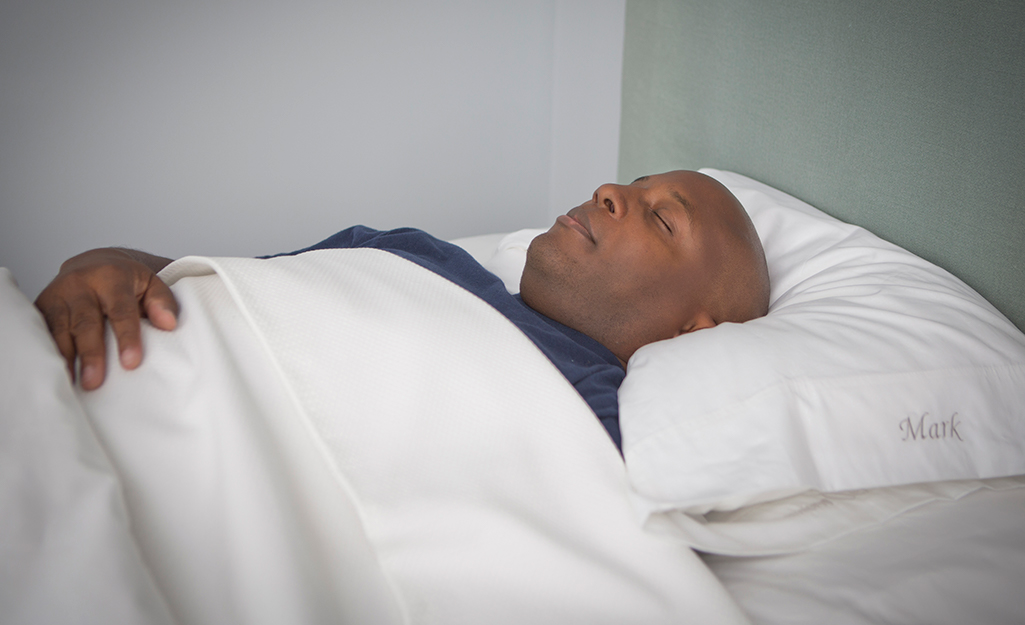 Back sleepers should look for a pillow that supports the natural curvature of their neck. A pillow with medium support (or medium loft) will provide comfort and may alleviate things like snoring that is often associated with back sleeping. Memory foam and down alternative/polyfill pillows are the best pillows for back sleepers. For those with back pain, sleeping on your side with a body pillow is encouraged. 
Tip: If you need more support, a back support pillow may be another option to consider.
Best Pillows for Stomach Sleepers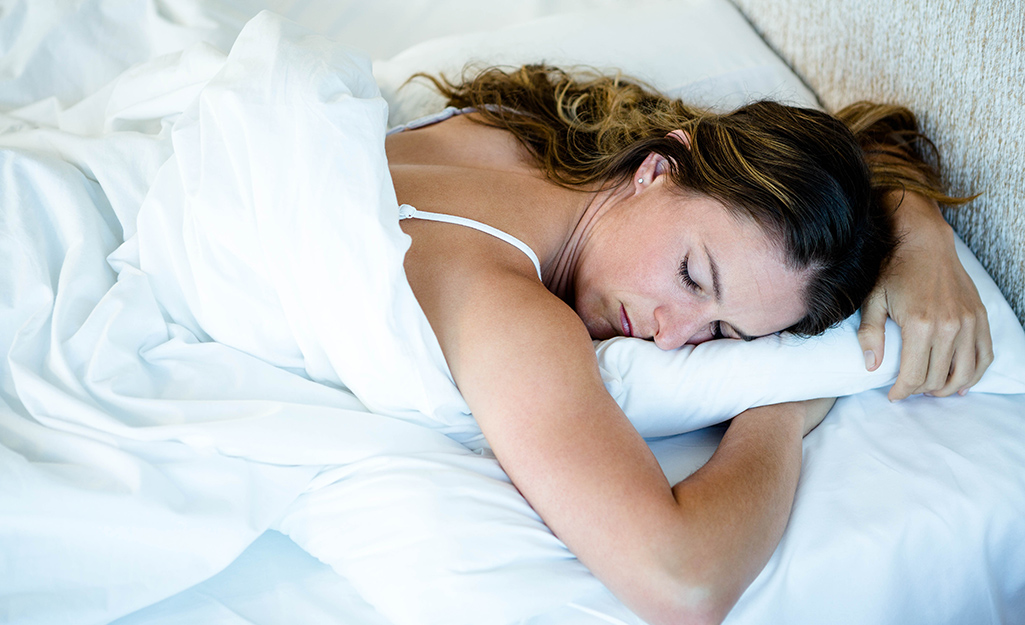 If you don't choose just the right pillow, this sleep position will leave you with a sore neck. The best pillow for stomach sleepers will be a thin, soft pillow, like down, that can be folded to prevent your head from leaning too much toward one side down. 
Best Pillow for Side Sleepers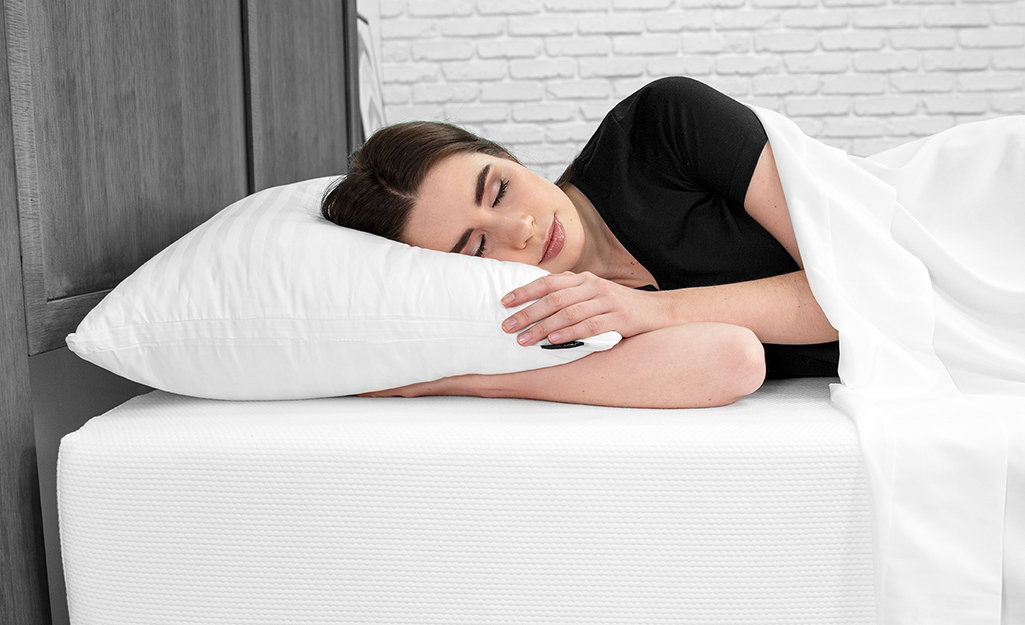 Because side sleepers are putting so much pressure on one side of their neck and body, they need extra support. Side sleeper pillows, like memory foam, have extra firm down or polyfill that will curve and comfort the neck. 
Pillow Sizes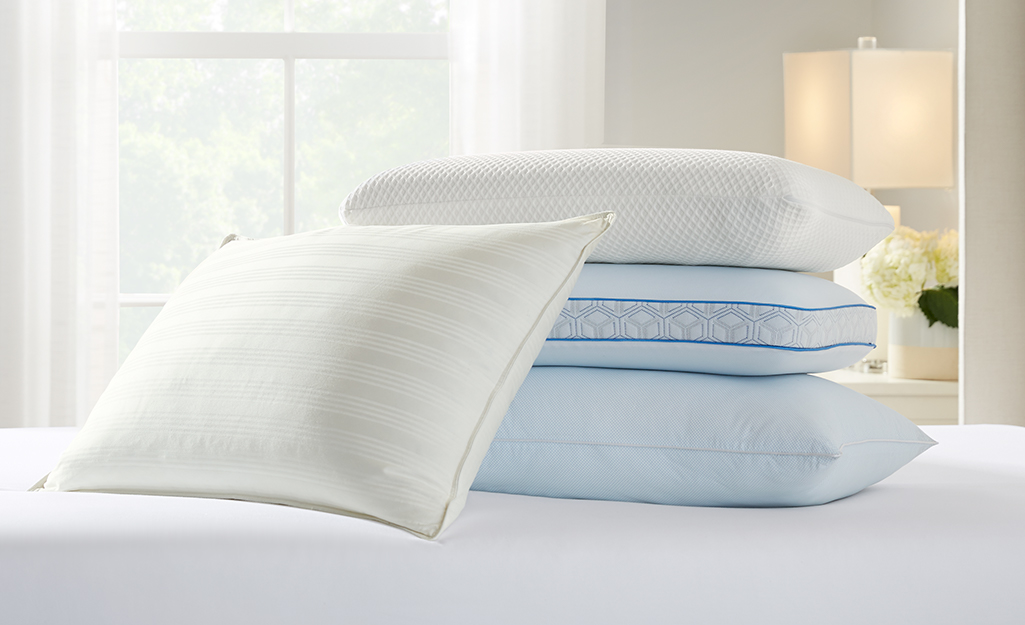 Two questions you should be considering when looking for the best pillows: What size is your bed and how many pillows will you need? 
Pillows are available in a variety of sizes, with standard pillows being the most common. Here are the most popular pillow sizes, as well as a few tips for choosing the right size for your bed:
Standard: 20 inches by 26 inches, this is the most common pillow size. 
Queen: 20 inches wide by 30 inches long. 
King: 20 inches wide by 36 inches long. 
Euro: Typically used for decor, especially in hotels, these pillows range in size from 16 inches wide and long to 26 inches wide and long. 
Body pillow: Consider body pillows for pregnancy, if you are in need of leg support or are predominantly a side sleeper. Dimensions vary but most range in size from 48 to 54 inches wide and are usually 20 inches long. 
When it comes to pillow size and bed size, try to match your pillow size to your bed size. That being said, you don't have to use a king pillow just because you have a king-size bed. In fact, for those who use more than one pillow at night or want to add a luxe feel to their bed, opt for multiple standard or queen pillows instead of a king. Mix and match your pillow sizes depending on your comfort level and the bed-making style you prefer. 
Here are some good rules of thumb to follow: 
Twin bed: One standard pillow. 
Full/Queen bed: Two standard pillows. 
King bed: Three or four standard or two king pillows. 
Pillow case size: This is also an important part of a good night's sleep. You want to make sure your pillows are in the right size case, not squished or floating. 
Standard pillow cases are meant to fit standard and queen-size pillows while king are made for king-size pillows. 
Tip: If your pillow is gusseted, or features a strip of fabric around the edge, you may opt for a larger pillow case size.
Caring for Pillows
Now that you know how to pick a pillow, you may want to know how often you should change your pillows or how to wash pillows. You rest your head and face on your pillow every night, which means you should want it to be as clean as possible. 
Here are the best ways to care for your pillows:
Washing: You can wash a pillow, but before you begin, be sure to check the care label for instructions. Down, cotton and polyfill pillows can be washed in the washing machine with cold water on a gentle cycle. Try washing more than one at a time to keep the washer balanced. Tumble dry your pillows on low. 
Memory foam: These are not machine-washable, but they can be spot cleaned or washed by hand. Foam pillows can usually be tumble-dried with no heat for 15 to 20 minutes. 
Replacing: To extend the life of your pillows, we recommend washing them monthly; however, no pillow will last forever. To keep pillows cleaner longer, use pillow protectors like covers and liners. One quick way to tell if you need to replace your pillow is to fold it in half. If the pillow doesn't spring back to its usual shape, it's time for a new pillow. Overall, we recommend replacing your polyfill pillows about every six months. Foam-filled pillows can last a bit longer but should be replaced every 18- to 36-months. 
Finding the best pillow for your bed can mean a great night's sleep. Shop The Home Depot online for bed pillows, shams, pillowcases and everything you need to make the perfect bed for resting. Let The Home Depot help you get what you need quickly. Use our in-store lockers for fast, no-wait online order pickup.
Explore More on homedepot.com