Snuggling into a warm, comfy bed at the end of the day is one of life's great pleasures. Along with a supportive mattress and quality linens, comfortable bed pillows are an essential ingredient. Boost your bed's cozy factor with the pillow of your dreams. Read this practical guide to make your bed more comfortable.
Types of Pillows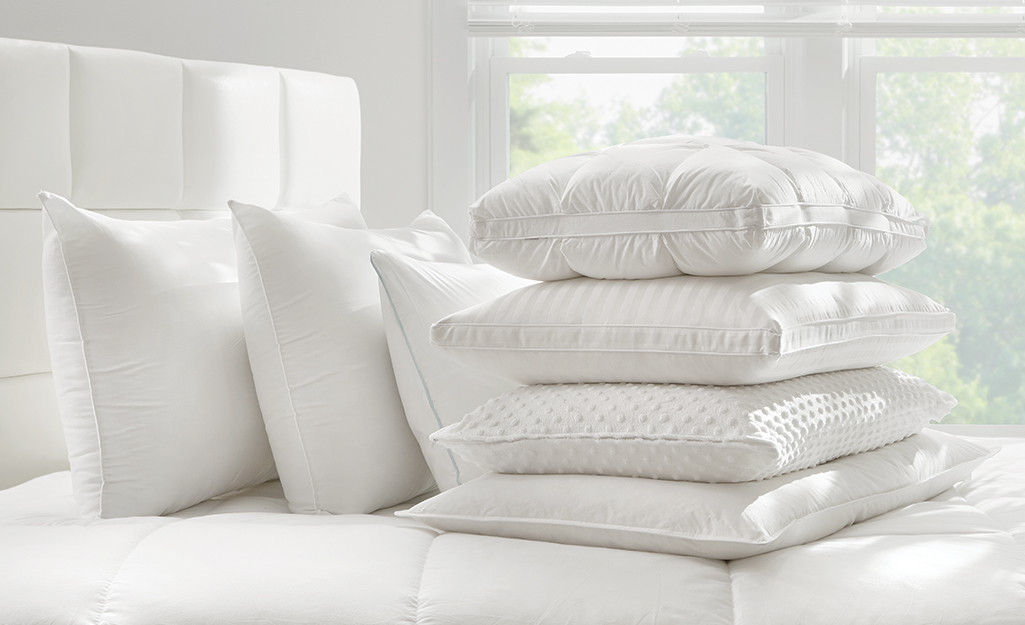 The type of material your pillow is filled with makes a big difference in how you sleep. Do you prefer a firm pillow with added neck support? Are you a fan of soft-as-a-cloud pillows, but are allergic to down? 
The weight of your pillow is also a personal preference. Do you like to fold or move your pillow with you as you get comfortable at night? Or do you prefer a pillow that stays put? If you prefer a lightweight pillow, down and cotton are your best choices. If you are searching for a heavier option, memory foam is the best pillow for you. 
Choosing the Best Pillows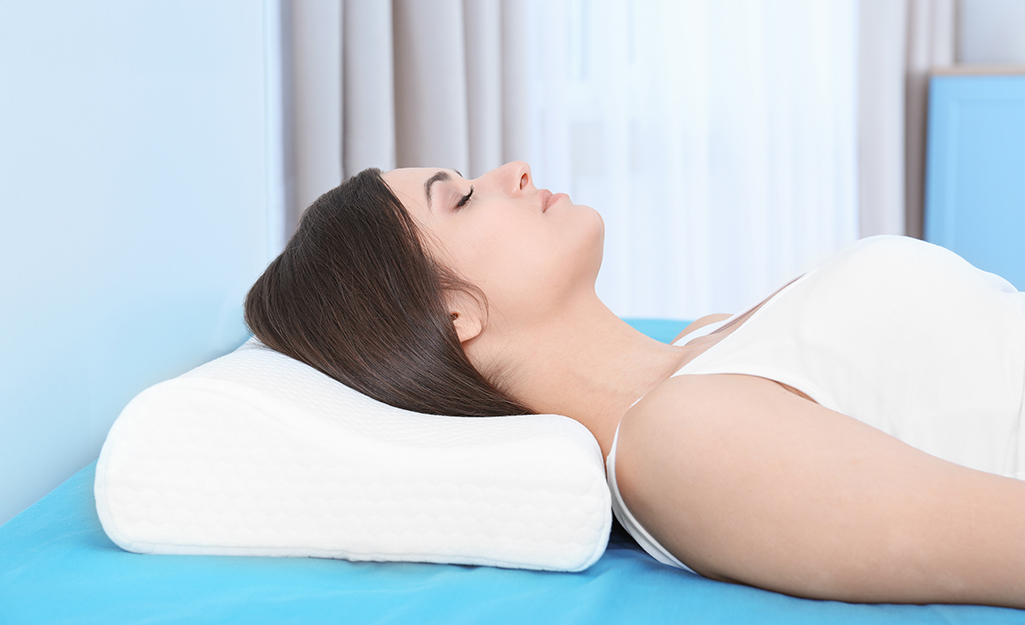 A pillow's loft and firmness are key to sleep-style comfort. Loft refers to the height or thickness of your pillow, with low being less than 3 inches thick, high being more than 6 inches thick, and medium somewhere in between. Firmness refers to a pillow's density. A pillow with a balance of loft and firmness should keep your head in alignment with your spine.
Down Fill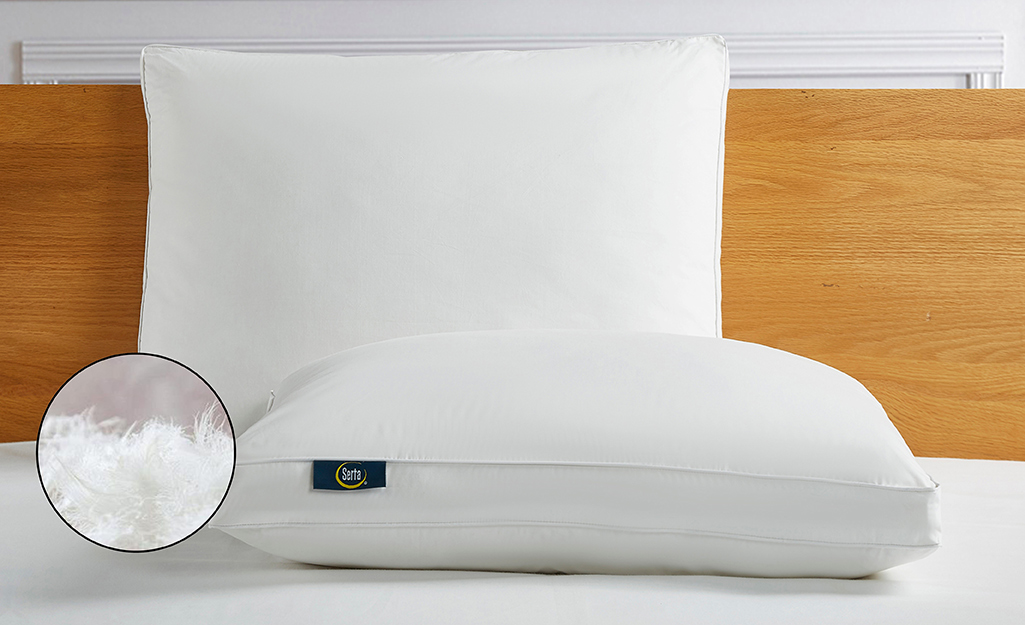 Down is a soft and lofty fill made of fluffy, quill-free feathers from a goose or duck's undercoat. It feels lightweight and breathable, yet it insulates well. An ultra-luxurious experience, down pillows provide plush, cloud-like comfort. 
To compare the size and quality of the down fill clusters, look at a pillow's fill power. The higher the number, the better the quality. Down pillows require a higher upfront investment than other fill options. If you suffer from allergies, hypoallergenic options are available. 
Down Alternative Fill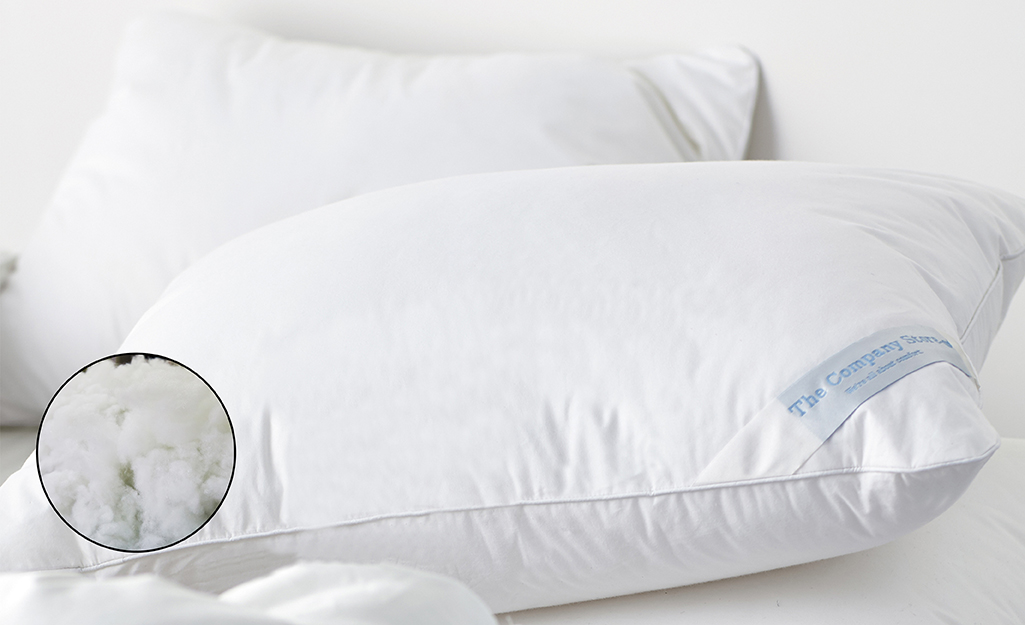 A down alternative pillow fill mimics the feel and softness of down, but is more budget friendly. High-quality down alternative pillows can contain either hypoallergenic polyester microfiber fill or regular polyester fiberfill. They retain less heat than other options and are easy to maintain. Down alternative pillows can feel heavy and may need to be replaced more often.
Memory Foam or Latex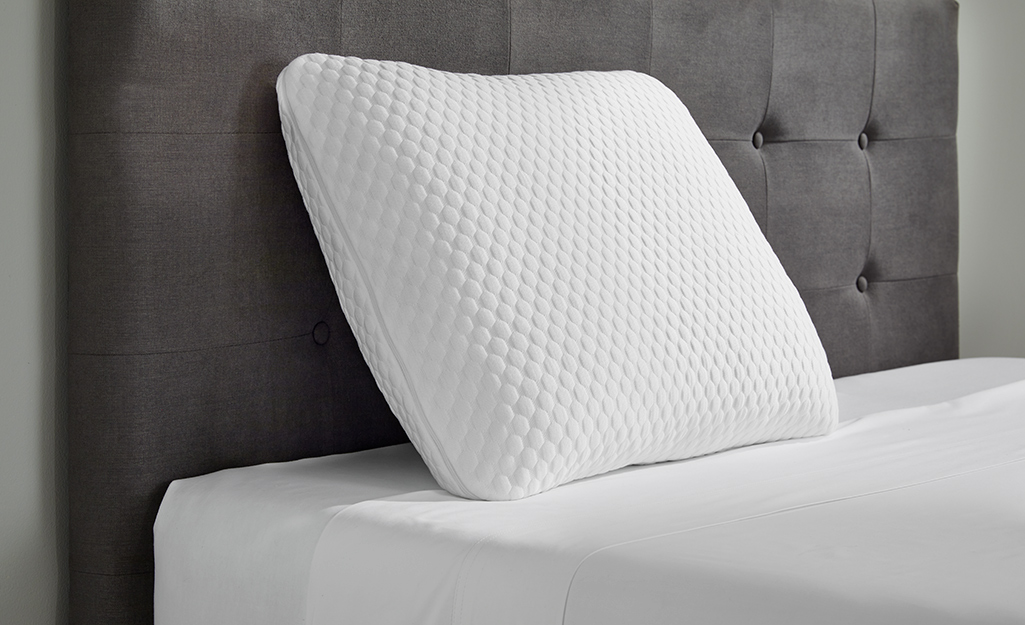 Memory foam pillows are a great choice for those who crave head and neck support. Memory foam is hypoallergenic, dust-mite resistant and doesn't require fluffing. A synthetic material, memory foam retains heat. Look for options that have gel overlays or other cooling features. 
Like memory foam, natural or synthetic latex pillows contour to your head and neck. Latex is softer and bouncier than memory foam. It is also better at regulating temperature, but can require a higher upfront investment than memory foam.
Wool Fill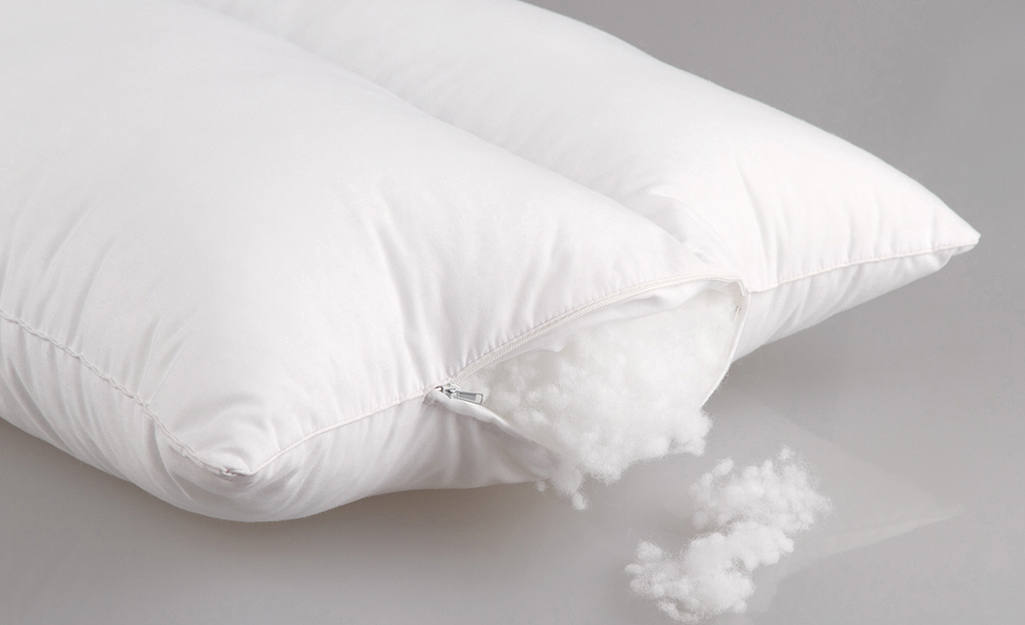 Wool fill is a naturally mold-and-mildew resistant material that's also hypoallergenic. Wool wicks away moisture and regulates temperature. Wool pillows are heavy, firm and dense. You won't get that sink-into-the-pillow feel with this option. 
Cotton Fill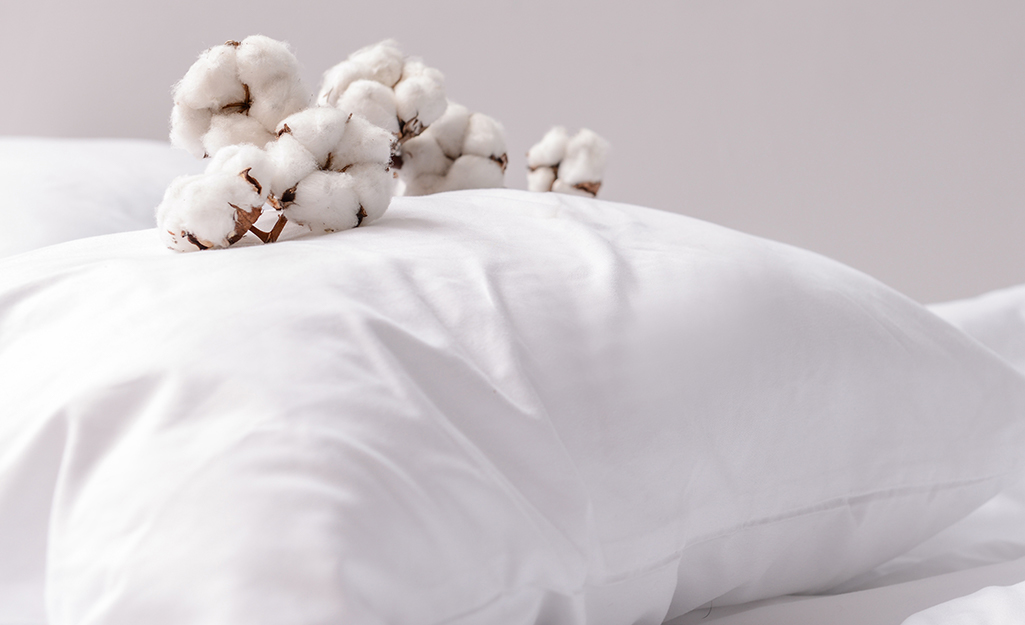 Natural and budget friendly, cotton pillows are soft and ultra-absorbent. They are great for keeping you cool and comfortable. Mildew and dust mites aren't an issue with cotton pillows. Cotton pillows do tend to compress over time, and they don't conform to the body as well as other pillow options. 
Pillow Sizes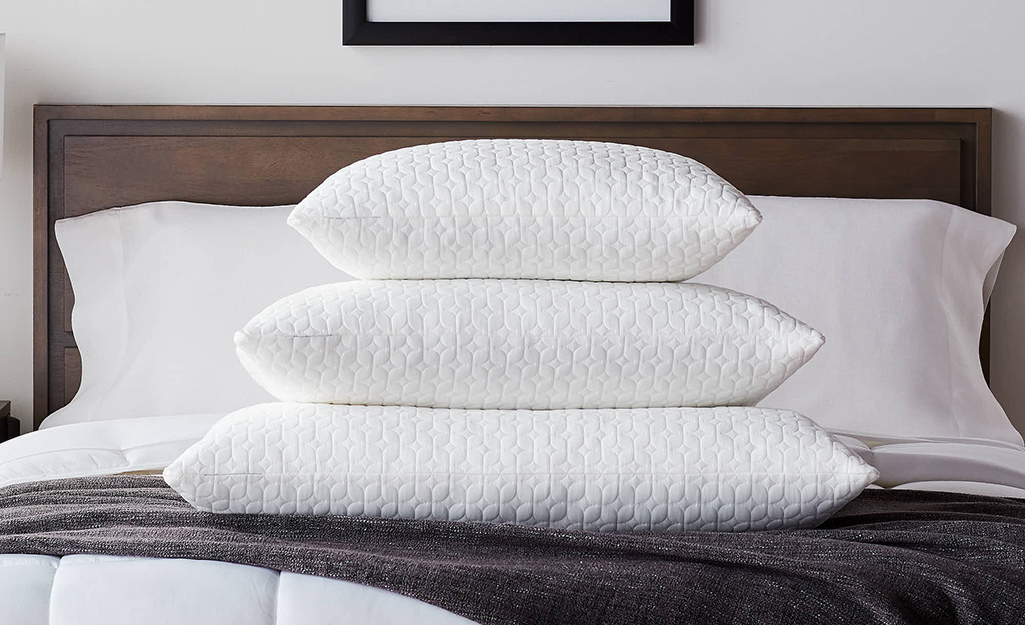 There are no hard or fast rules about how many or what size pillows you should choose. It's up to your personal preference. Do what feels comfortable and looks good to you. Create a cozy cocoon with lots of pillows. Or, opt for an unfussy bed with just a few. The following are general guidelines to get you started. 
Standard:
Size: 20 x 26 inches
Use: The most common, standard pillows fit any mattress and most standard pillowcases. In general, use one for a twin mattress. Use two for a full or queen. A king or California king size bed can require three.
Queen:
Size: 20 x 30 inches
Use: Two of these size bed pillows fit the width of a standard queen-size mattress exactly. While you can find queen pillowcases, standard pillowcases will also work.
King: 
Size: 20 x 36 inches
Use: Large and in charge, two king pillows exactly fit the width of a 72 x 84-inch California king mattress. They also work well on a regular 76 x 80-inch king-size mattress.
Euro:
Size: 26-inch square 
Use: Mostly decorative, euro pillows are placed behind bed pillows for a luxury hotel feel. They are usually covered in shams that match a comforter or duvet cover.
Body pillow:
Size: 20 x 48 x 54 inches
Use: These extra-long pillows offer leg support. They are often comfortable for side sleepers or those who are pregnant.
Decorative pillows: 
Size: Sizes and styles vary but include bolster (long and round), lumbar (rectangular), square and round. 
Use: Mix and match different styles to suit your taste. Odd numbers often look best. 
Best Pillows for Different Sleep Styles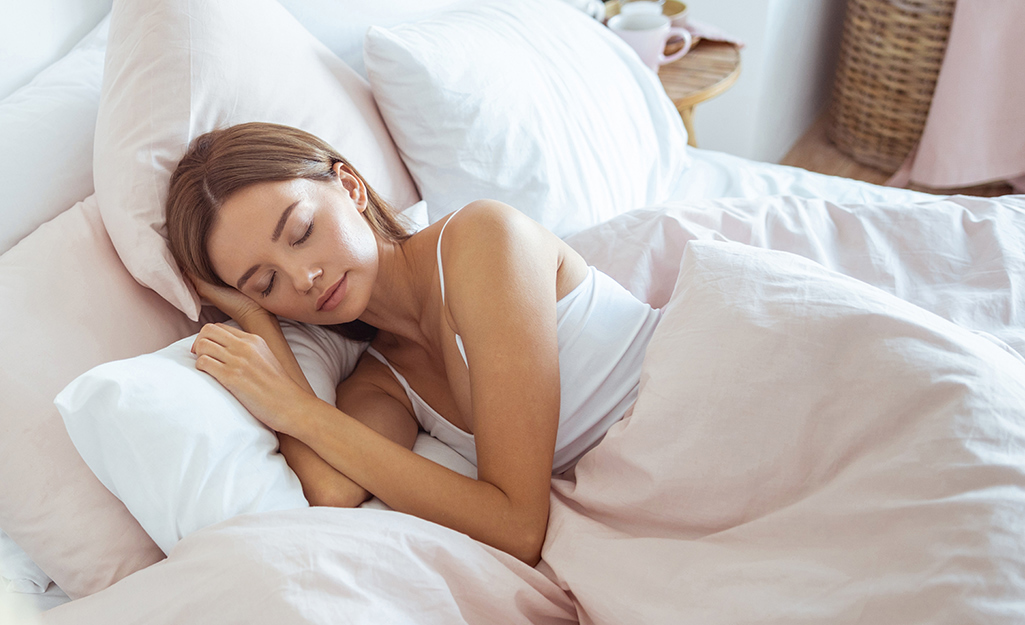 You can find firmness and loft options for all sleep styles within any fill-material category. However, memory foam and latex pillows tend to be firmer. Many back and side sleepers find them comfortable. The softer down and down alternative pillows can be great for stomach sleepers. In general:
Back sleepers prefer medium support, low or medium loft.
Side sleepers prefer firm support, medium or high loft.
Stomach sleepers prefer soft support, low loft.
Safety Tip: The American Academy of Pediatrics recommends that infants and toddlers under the age of 2 not use pillows. Pillows can cause suffocation and other dangers to young children.
When to Replace Pillows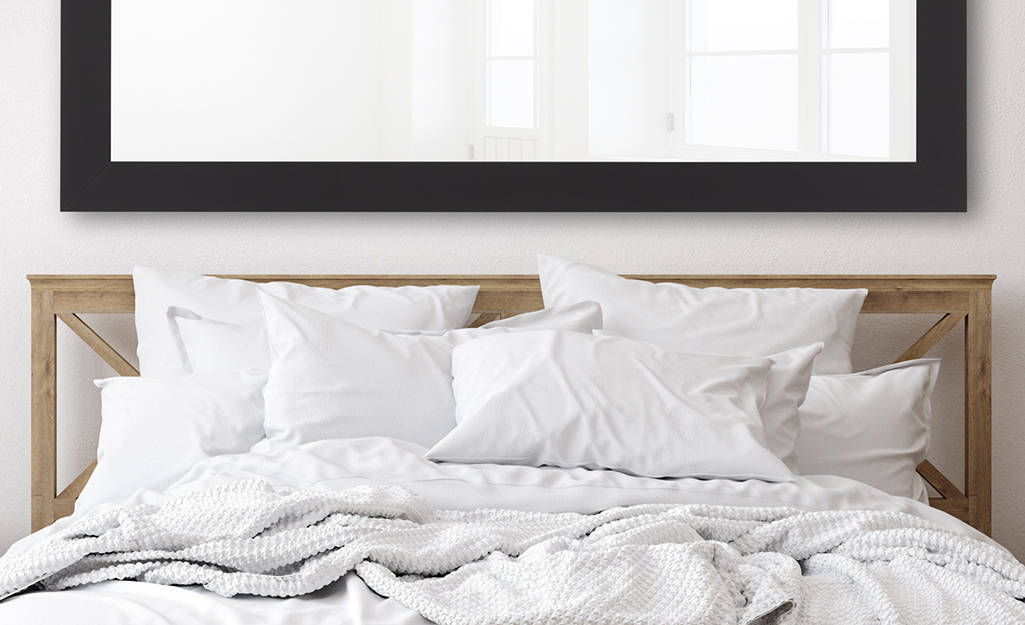 If a pillow feels limp or lumpy, doesn't bounce back or fluff up in the dryer or remains folded when folded in half, it's time for a new one. Other signs you need new pillows are a sore neck, increased allergies or a yellowing cover. 
Down alternative and cotton pillows should be replaced every 1 to 2 years. Down, memory foam, latex or wool pillows may last longer if cared for properly. 
Pillow Care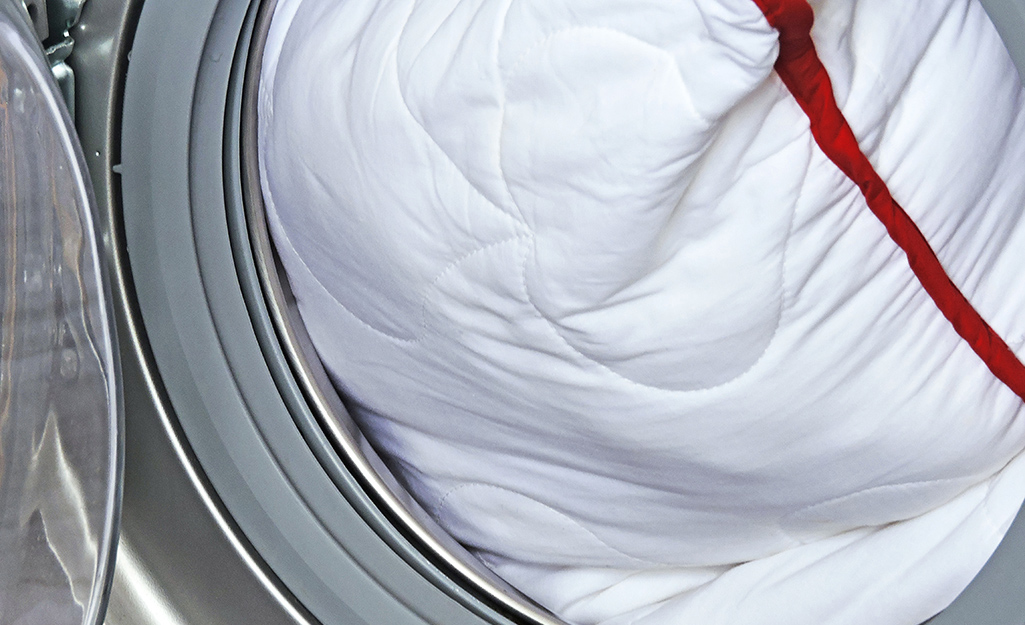 Keep your pillows fresh and cozy with regular care. Always check the tag for care instructions first. Some are not machine washable and may require spot cleaning or dry cleaning. 
Wash pillows two at a time in your washing machine every 3 to 6 months. Or clean them more often if you have allergies. 
Use cold water for down (warm for down alternative). 
Use a small amount of mild detergent and a gentle cycle. 
Run an extra rinse cycle to make sure all soap is removed. 
Vacuum decorative pillows periodically to remove dust. 
Completely dry pillows after washing to avoid mildew. (You may need to override your machine's dryer sensor.) 
Dry down pillows on the low-heat or air-dry setting. Add a couple wool dryer balls to keep the fill from clumping.
Tip: Extend the life of any pillow with a pillow protector. Like a pillowcase, these zippered cases provide another layer of protection. Wash the protective cover and your pillowcase at least weekly. 
The right pillow is essential to a good night's rest. Different types of pillow fills work best for different types of sleepers. You can find pillows filled with down, down alternative, cotton, memory foam and more. Pillows work better when they are kept clean and should be replaced when worn out. Ready for new pillows? The Home Depot delivers online orders when and where you need them. 
Explore More on homedepot.com