Washing pillows should be part of your regular cleaning routine. Pet dander, dust mites, dirt and oils from your skin can all taint your bed pillows. Use this guide to learn how to wash pillows and how often they should be laundered.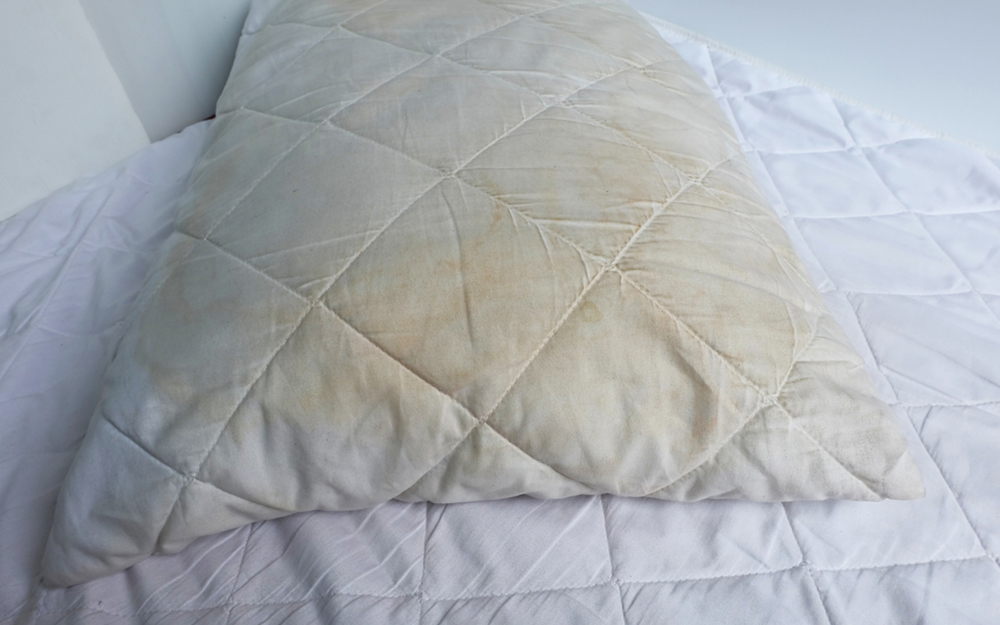 Before you start washing down pillows, it's important to know a little more about the process. 
In general, you should aim to clean regularly used pillows about every six months. Pillows in guest spaces and rooms that don't get used frequently need far fewer washes. 
Here are a few signs it's time to wash your pillows:
The pillow or pillow cover is starting to look yellow.
Your pillows have an odor. Odors may not be extreme, but sweat can give your pillows a slightly sour or musty smell.
Your pillows don't feel fluffy or comfortable. Washing and drying pillows can help refresh and revive their fill.
2
Washing Pillows in the Washing Machine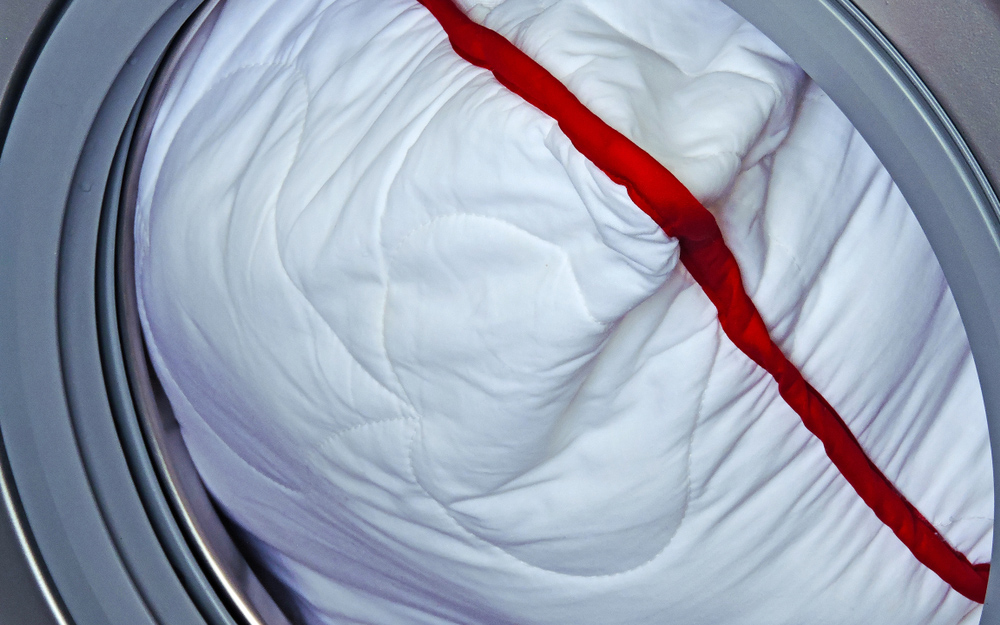 Tossing your pillows in the washer and dryer is a fast, simple way to get your bedding basics in tip-top shape. To do this at home, you'll need a front-loading, non-agitating washing machine so your pillows aren't damaged. If you don't have one, consider taking your pillows to a laundromat where you can use a large commercial washer.
Step 1: Remove the pillows from the pillow cover, if applicable, and check the pillows for any tears. Damaged pillows should not go in your washing machine since the fill material may come out. Set the pillow covers aside to be washed separately as indicated by the manufacturer.
Step 2: Place at least two pillows in the washing machine at a time. You always want to wash two pillows together to keep the load balanced.
Step 3: Set the wash cycle to delicate and add the laundry products of your choice. Use cold water to avoid shrinking your pillows during the wash cycle.
Step 4: Wash your pillows on delicate and set the machine for an extra rinse. This will help ensure that no detergent residue remains after your down pillows come out of the washing machine. Allow the extra rinse cycle to finish completely before removing your pillows from the washer.
Tip: You can also use mild cleaning supplies to spot treat small stains on your pillows.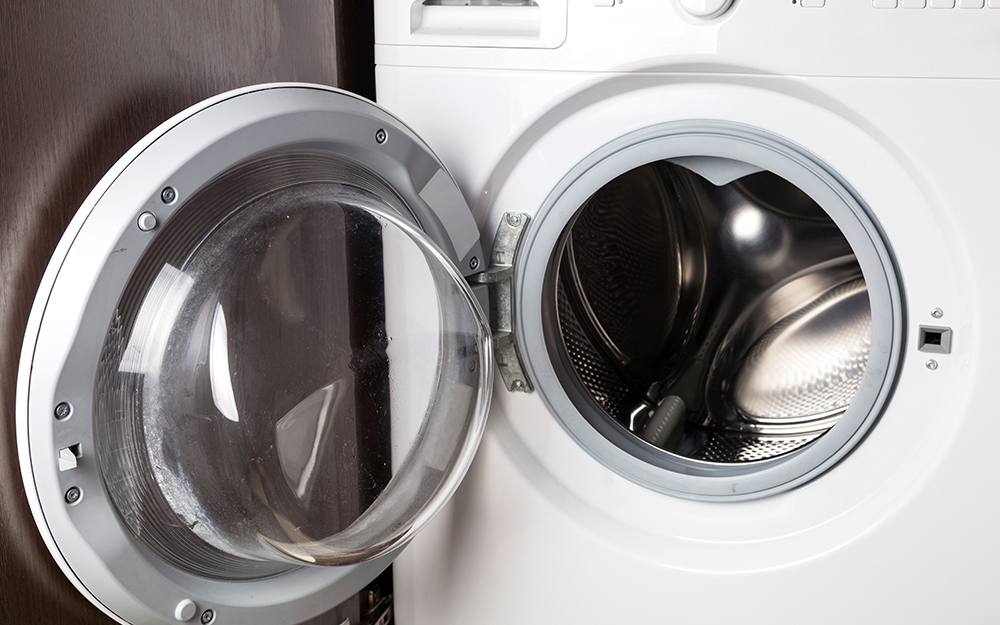 You've put your pillows through the washing machine, now it's time to dry the fabric.
Step 1: Place your washed pillows in the dryer. Set the temperature to the lowest setting available.
Step 2: Add two clean tennis balls to your dryer to help with the drying process. They'll make noise, but they won't damage your machine. 
Step 3: Run your dryer on a delicate or very low setting. Check your pillows after one cycle.
Step 4: Repeat the drying process. In most cases, it will take two to three cycles to get your pillows completely dry. Avoid using pillows until they're 100 percent dry.
Down pillows can be machine-washed and dried in the same manner as poly-filled pillows. However, they should only be washed on the gentle cycle and dried on medium or low heat. Down pillows can take up to three times longer to dry.
4
How to Clean Memory Foam Pillows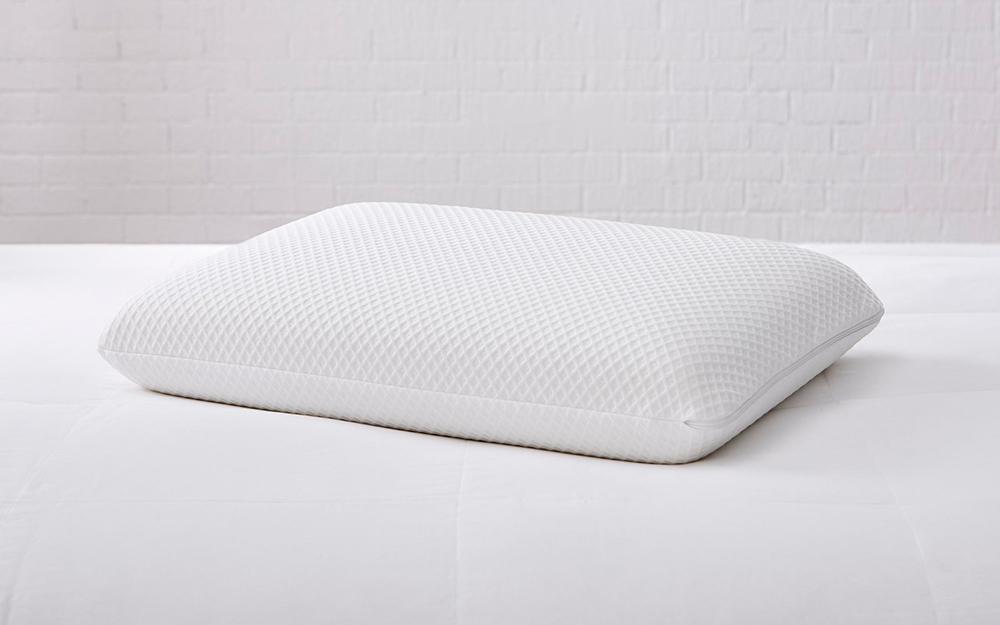 Memory foam pillows must be cared for by hand. Despite their firm support, the material itself is delicate. Memory foam pillows can neither be machine-washed nor dried.

Vacuum memory foam pillows weekly using an upholstery or brush attachment.
Spot-clean pillows with a solution of mild dish soap and water. Dip a sponge lightly into the solution and dab the spot, then gently rub in a circular motion until the stain is cleaned. 
Allow pillow to air dry completely.

Wash your memory foam pillows by hand every two to three months.
Fill a basin with cool to lukewarm water and add a teaspoon or less of gentle laundry soap. Agitate to create a bubbly solution.
Slowly sink the pillow into the soap solution, then squeeze it to allow the pillow to take in the soap solution. Squeeze the water out of the pillow, then repeat the process a second time.
Drain the basin and refill with clean water. Submerge the pillow and squeeze and repeat until the water runs clear. You may have to empty and refill the clean water a second time.
Gently squeeze excess water from the pillow, then place it outside in direct sunlight to air dry. If you can't place the pillow outside, find a spot indoors with good circulation. Add a fan to help speed up drying.
Be sure pillow is completely dry before returning it to the bed.
If you're worried about washing your pillows correctly, consider taking them to a professional. Most dry cleaners offer services that'll take care of odors and stains so you can get back to sleeping comfortably. They can also handle memory foam and a variety of other pillow styles that aren't so easy to put in the washing machine at home.
Explore More on homedepot.com