No matter your style preference, your bedroom should be a dream-worthy spot complete with comfy linens and furniture that matches your taste. Whether you're starting from scratch in a brand new room or looking to update your current master bedroom, this guide will help you discover bedroom decor ideas and teach you style tips so you can master the art of designing your perfect bedroom. 
Before you begin: 
Make a list of colors and styles you do not want to incorporate. 
Consider the layout of your room to determine what your space will allow and how it will be used. Is this a home office/bedroom? Will you need room for a desk or bookcases?  
Choose a Style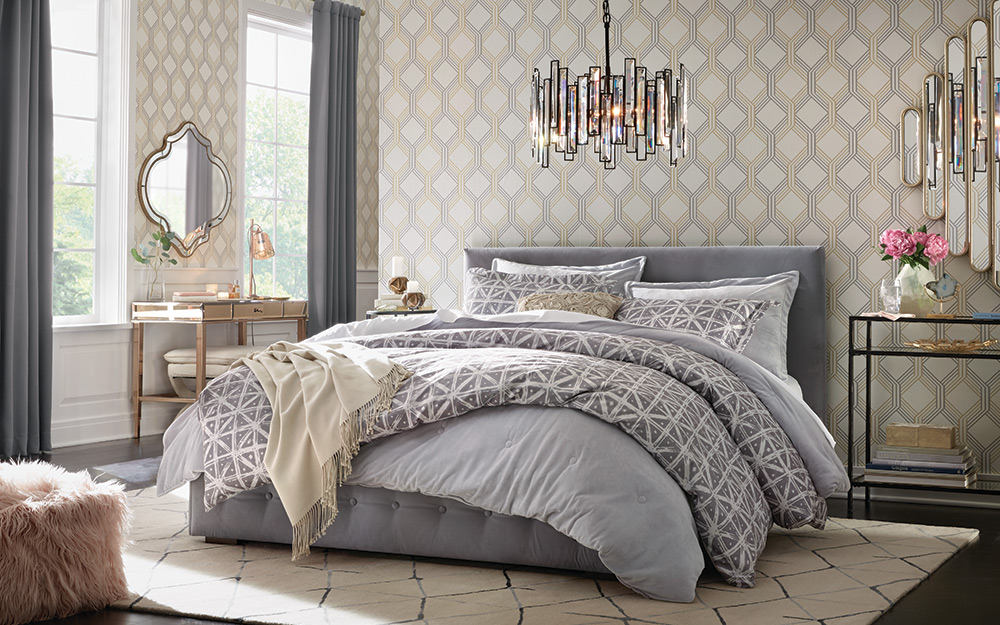 Do you like silver details with a touch of glam? Try adding in metallic details and dramatic lighting. 
Are you a fan of bohemian style? Bring that look into your master bedroom with mix-matched bedding and natural textures.  
Do you love the idea of incorporating farmhouse style in your bedroom? Add in furniture in washed wood tones or think about installing a shiplap wall. 
If clean lines and low-profile furniture, like a platform bed, appeal to you, think about making over your room in mid-century modern style.
Or maybe you see yourself relaxing in a more down-to-earth space that is complemented by texture and plenty of houseplants. 
Whether classic colors appeal to you or you go mad for mid-century modern, choosing the style for your bedroom is the first step in updating your space. 
Tip: Consider your location and the style in the rest of the rooms of your home. You want your bedroom to complement where you live and the look of your dwelling. 
Pick a Color Scheme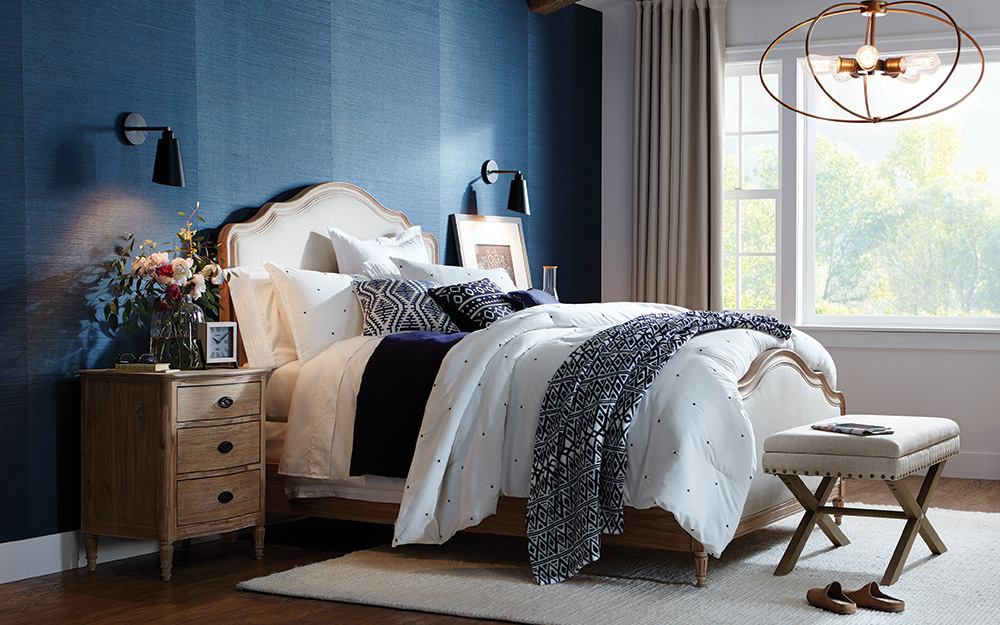 Just like with decor style, the color palette you choose for your room will help set the mood. Giving your bedroom walls a fresh coat of paint is a relatively quick and easy way to update the space. Here are some tips for choosing the color scheme.  
Go neutral: If you're hoping to create a calming space, opt for neutral tones. Greys, ivories and taupes will not only give off a tranquil vibe but they will allow your furniture and the rest of your decor to be the focal point of the room. 
Get the blues: Some of the most serene shades for bedrooms are in the blue family. Blue is a soothing color and can instantly transform a stark white room into an inviting space. 
Brighten up: While the idea might be off-putting for some, those with bubbly personalities or those decorating a kid's bedroom may opt for brighter shades. If the idea of a bright yellow or bold blue wall speaks to your personality, consider creating an accent wall in the shade of your choice behind your bed. It not only brightens up the room, but it also adds a focal point.  
Stick to all-white: One of the easiest ways to make a bedroom feel like a 5-star hotel is to go all-white. From stark walls to layers of white bedding, this color scheme gives off fresh, clean and comfortable appeal. 
If you need help choosing a color, our digital paint color experience can help. 
Add Accessories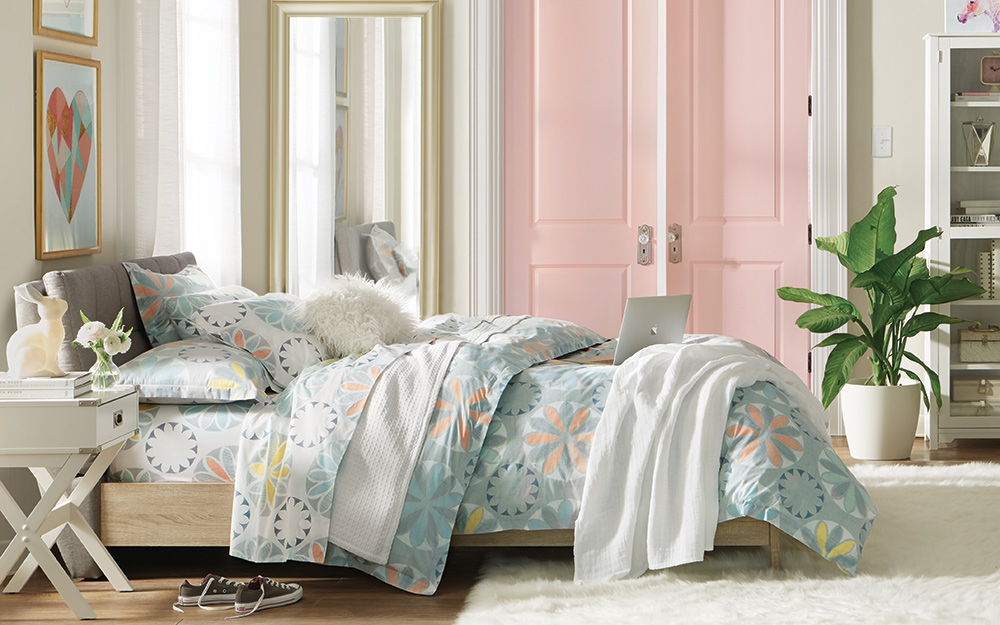 When it comes to bringing your personality to your bedroom, it's all about the accessories you choose. Accents like area rugs, curtains and throw pillows are quick updates that can add that extra bit of detail that captures your personal taste. Other ideas like new lighting and wallpaper can be done in an afternoon and provide lasting style.  
Houseplants: Houseplants not only provide a decorative nod to nature, but certain types, such as fiddle leaf figs and peace lilies, can also purify the air in your room or entire home. 
Area rugs: Rugs anchor a room and provide warmth, and while a more modern rug can act as the showstopping piece in a bedroom, a subtle neutral-toned rug can ground the room with a sense of calmness. Try layering two rugs on top of one another for a bit more texture and design detail. 
Wallpaper: If you want to wake up your walls but aren't sure about using paint, consider peel-and-stick wallpaper. An ideal way to create an accent wall, we offer a wide variety of pattern and color choices. The best part: Unlike wallpaper from decades ago, these newer versions are easily removable and washable. 
Accent pieces: Smaller bedroom furniture such as ottomans, benches, stools and chairs provide extra seating, as well as a place to keep possessions like purses and coats. A bench placed at the end of your bed elevates the look of your space while giving you a place to sit while putting on your shoes in the morning. If space allows, use a stylish accent chair to create a small seating area in your bedroom to sit, read and unwind. 
Wall decor: Whether used as inspiration for your bedroom's decor or as a focal point over your bed, wall art can infuse personality into your space. Be sure to keep the theme of your artwork in line with the decor you have chosen for a streamlined look. Hanging mirrors on the wall are also an excellent way to make a bedroom look larger. 
Lighting: With so many choices, from pendant lighting to chandeliers, it can be tricky to decide which type of lighting to use in your room. Think of a style and go from there. If you are hoping to achieve a more classic look, opt for table lamps. In a more modern space, wall sconces on either side of your bed may work best, whereas a more glam bedroom could benefit from a stunning chandelier hung from the ceiling. 
Make Your Bed Better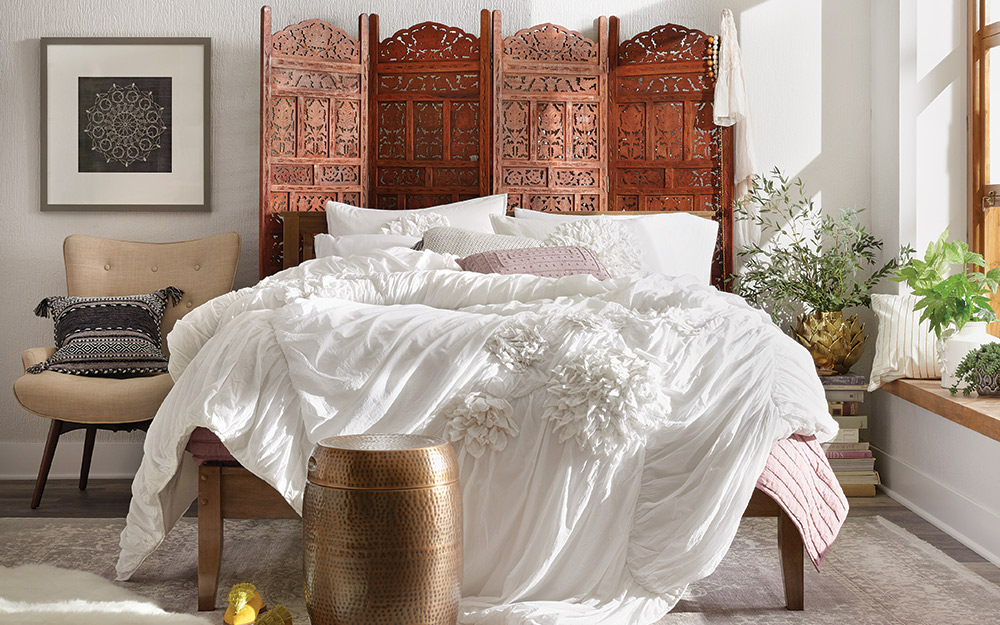 Your bed should be the most comfortable spot in your home. With the right linens, a stylish headboard and details like throw pillows and blankets, you can create the coziest place to recharge. 
Headboard: From statement headboards with intricate carvings to plush choices complete with nailhead trim, headboards are a great way to dress up your bed. Consider your room's style and incorporate a headboard that adds an extra dose of character. 
Bed linens: Why wish you had luxury bedding when you can recreate the feeling of your favorite hotel bed right at home? Whether you prefer linen sheets, down pillows or 100 percent cotton duvets, treat your bed (and yourself) to a more comfortable night's sleep. 
Throw pillows and blankets: Pillows are a fairly inexpensive and easy way to add a pop of color or texture. Try to mix-and-match patterns and colors to give your room a bit more dimension. Throw blankets provide an extra layer of coziness, especially in winter months, and look great draped over the edge or layered on top of a duvet. 
Don't Forget the Kid's Room
Kid's rooms should reflect their personal interests as well, so don't forget to bring a bit of style to their bedrooms with kid-friendly decor. Here are some tips on giving kid's rooms an update:
Work/sleep space: For tweens and teens, a bedroom with an area to study is ideal. Add a bookcase, a small desk and accessories like wall organizers or chalkboards. 
Shared space: If your kids are sharing a bedroom, let them dress up their side of the room in their own way. Incorporate the same patterns and colors, but let them choose accessories so they feel like the area is all theirs. 
Focus on the fun: Details like unique hanging lanterns, a ton of patterned pillows, trundle beds for sleepovers and space for their favorite dress-up clothes add an element of fun to your kid's room. 
Explore More on homedepot.com