Your bedroom is your haven. Create a space where rest and relaxation are the top of your to-do list. So, give the room its due and make it a luxurious space you find cozy and comforting. Before you rush out for paint samples and buy those cute pillows, here's an idea. Establish your overall goals and parameters so design choices are easier and more fun. With inspiration from this helpful guide, you'll create a comfy space perfect for retreating to after a busy day.
Make a Plan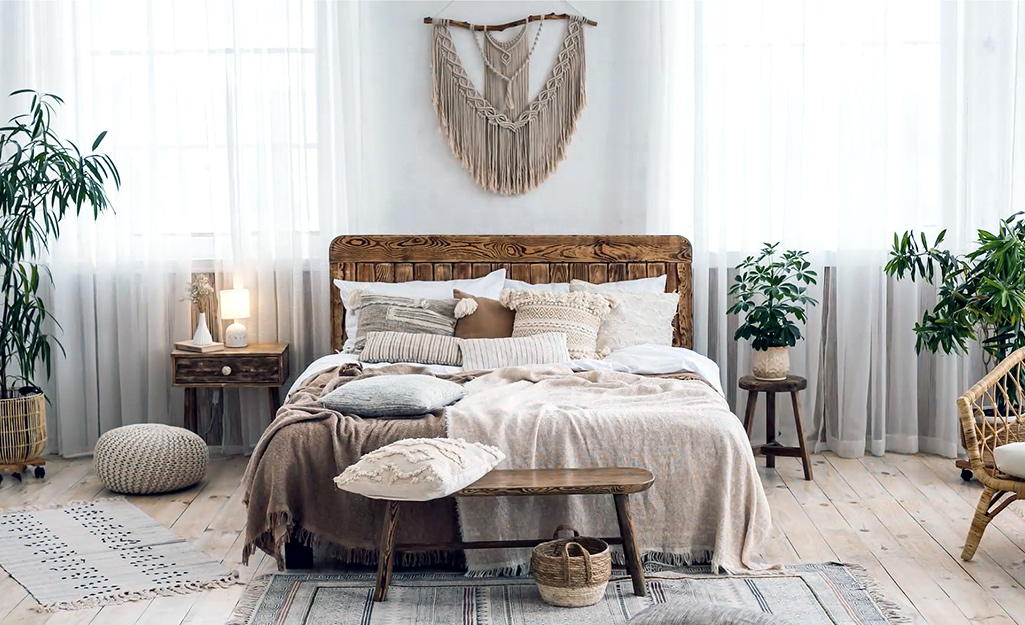 Before you begin decorating your space, consider:
Think first about how your bedroom needs to function and how you want it to feel. For instance, how much storage do you require? Can your room size accommodate your dream king-size bed or is a queen the more practical fit? Do you want the room to blend harmoniously with your home's existing decor or have its own stand-out style? 
Room layout. You don't need to get fancy with graph paper or computer programs (unless you want to). Simply measure each wall and note the placement of doors and windows so you can start to decide what furniture will fit and where, keeping in mind traffic paths.
Desired vibe/style. Relaxation is not a one-size-fits-all formula, so take time to think about what you want to see and feel when you're in rest mode. Perhaps you crave a serene room with minimal decor that puts you in a zen state. Or maybe you're longing for a room with punchy colors and botanicals that makes you feel like you're on a tropical getaway after a long workday.
What to keep, what to toss. Take stock of the existing furniture, fixtures and accessories, and identify what's staying, what's seen better days and what's on your shopping list. 
Storage and function needs. Your bedroom is probably more than just a place for your bed. Consider how much clothing storage you need and if you want a mirror to help you get ready for the day.
The rest of your home. If your bedroom is near your main living spaces, a similar color palette and decorating style will make your home feel more cohesive. But if you like the idea of retreating from daily life, a distinctive decor approach can help activate that mindset.
Choose a Style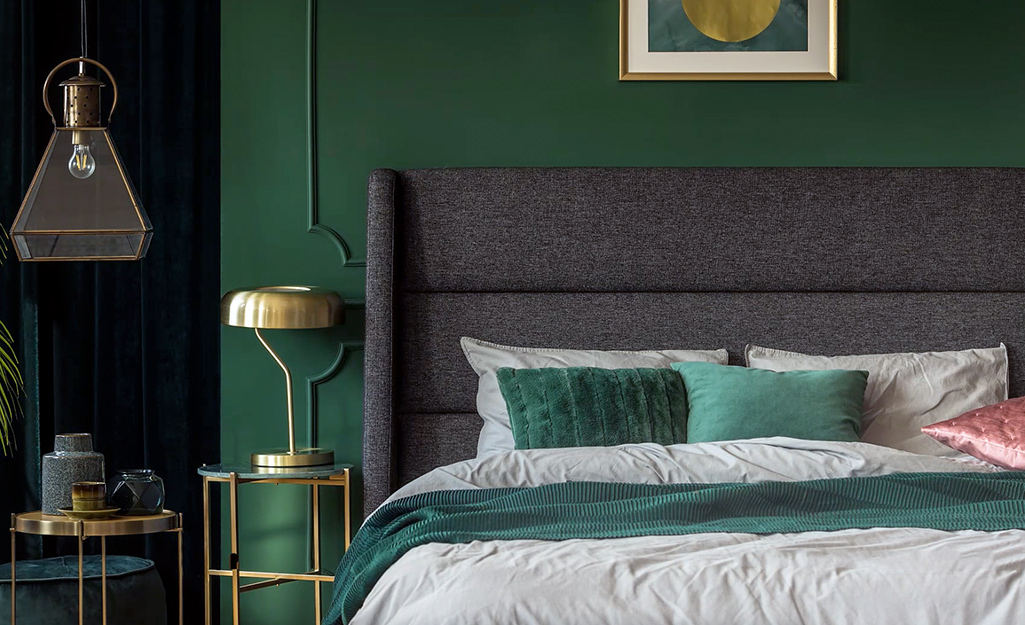 Not sure how to bring a design style home? Here are a few ideas.
Traditional. Strive for formality and symmetry with a stately bed, matching nightstands and lamps with pleated shades, heirloom-quality pieces, luxurious textiles, wallpaper in classic patterns and tufted upholstery.
Farmhouse. Break out the metal or spindle bed, weathered wood tones, antique finds, textural bedding, rustic building materials and shiplap accent wall.
Modern/contemporary. Go for sleek and serene with a platform bed, sculptural furniture and accessories, smooth surfaces in a range of finishes and calculated pops of dramatic color.
Midcentury. Channel the 1950s and '60s with a low headboard, rich wood dressers with clean lines and tapered legs, cane accents and plant stands. 
Coastal/cottage. Bring home that laidback beach life with an upholstered or woven bed, painted furniture, natural textures and soft color (especially blue).
Bohemian/eclectic. Mix and match a low-profile bed piled high with throw pillows, intricate carved wood pieces, bold patterns, casual tapestries and trims and lots of plant life.
Glam. Go all in with an eye-catching canopy or upholstered bed, shiny metal and mirrored finishes, sparkling crystal, lavish textures and a uniform color palette.
Choose a Color Scheme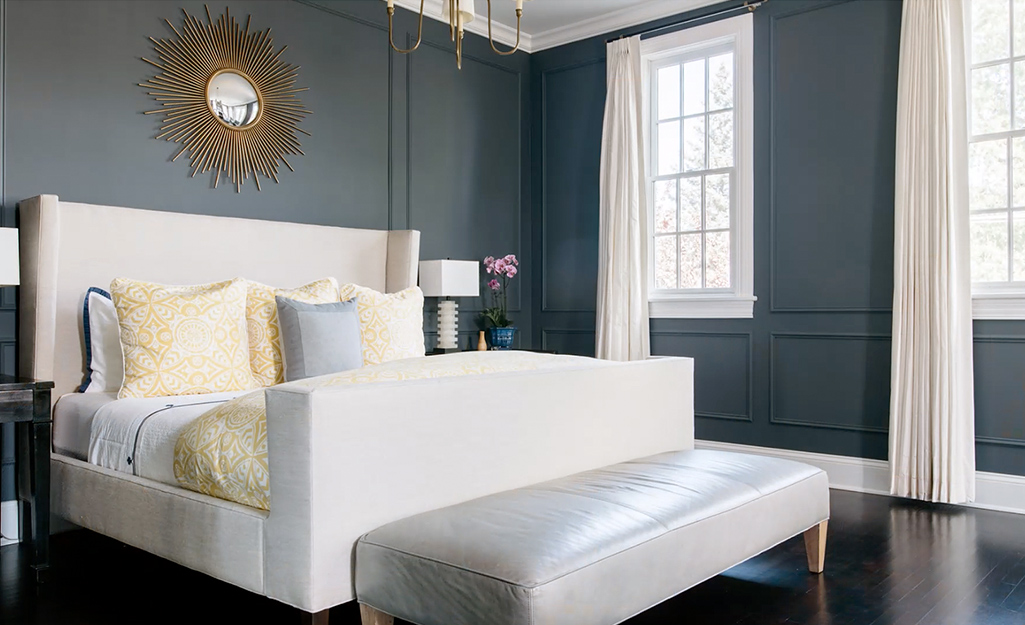 Color is a powerful tool for creating a bedroom that sparks joy. Your wall color has the biggest impact, but accent colors can help round out the perfect palette. White walls feel bright and airy—especially if your room gets a lot of sunlight—and provide a great base for texture and accessories in just about any hue. 
If your room doesn't get much natural light, embrace the dark vibe with a deep, saturated tone that envelops the space. Cool shades of blue or green create a relaxing atmosphere. Warm tones—think browns, beiges and hues with pink, yellow, orange or red undertones—invoke warmth and comfort. If you're hesitant to bring too much color into a space, stick with a neutral base and add concentrated moments of pigment with throw pillows or artwork.
Pick Bedroom Furniture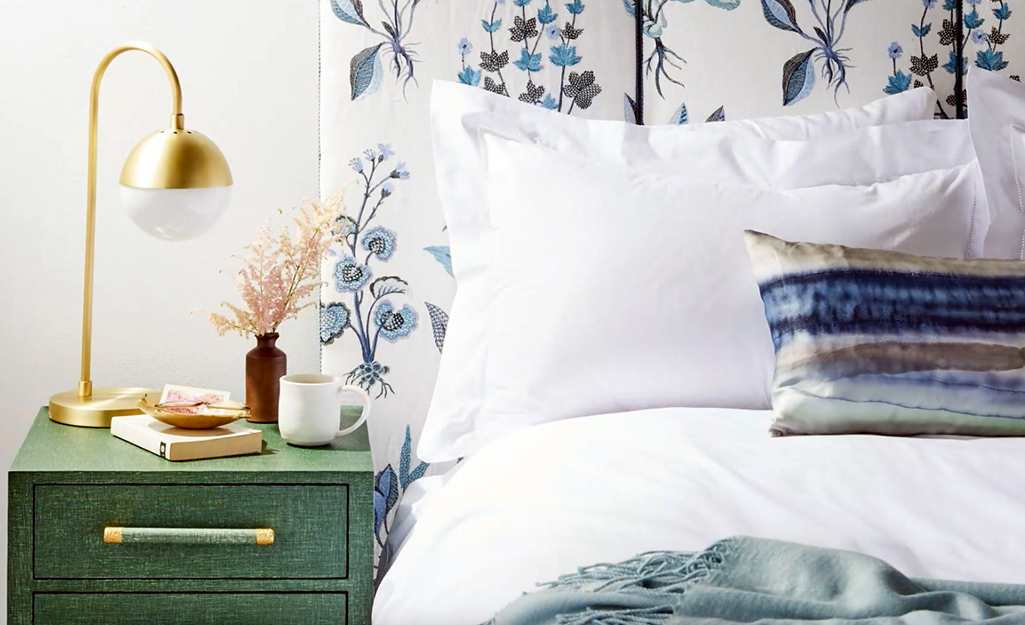 You can make it easy on yourself by selecting a set that includes perfectly coordinated pieces. Or you can get creative by mixing and matching pieces in different finishes and styles for a more personal, curated feel.
Bed/headboard. Where you sleep sets the tone. If you already have a bed frame, elevate the look with a headboard. Canopy, platform, panel, sleigh or four-poster beds can be used with or without box springs, depending on style. Consider your mattress size and warranty. (Some mattresses need to be used with a box spring.) As you contemplate a king, queen, full or twin bed, remember to allow for a minimum of 30 inches at the foot and at least one side (both sides if there are two people climbing in) of the bed for traffic.
Nightstands. More than a landing place for your water and reading glasses, nightstands also offer style, storage in the form of shelves or drawers, and even a power source to charge your devices. When selecting size, consider your bed's proportions and the width of your wall. A nightstand should be the same height as your mattress.
Dresser/armoire. Your room size and storage needs will likely dictate your selections. Wide dressers can fill an empty wall, while a taller chest of drawers takes advantage of vertical space. Armoires or wardrobes can hide media equipment or supplement hanging or linens storage if you're short on closet space. 
Seating. Think about your room size and layout as well as your morning and evening habits as you consider the addition of seating. Selections can range from a bench at the foot of your bed to a chair (or a pair) for reading or casual coffee sipping. If you have the space, a sofa or loveseat is great for lounging.
Add Bedroom Accessories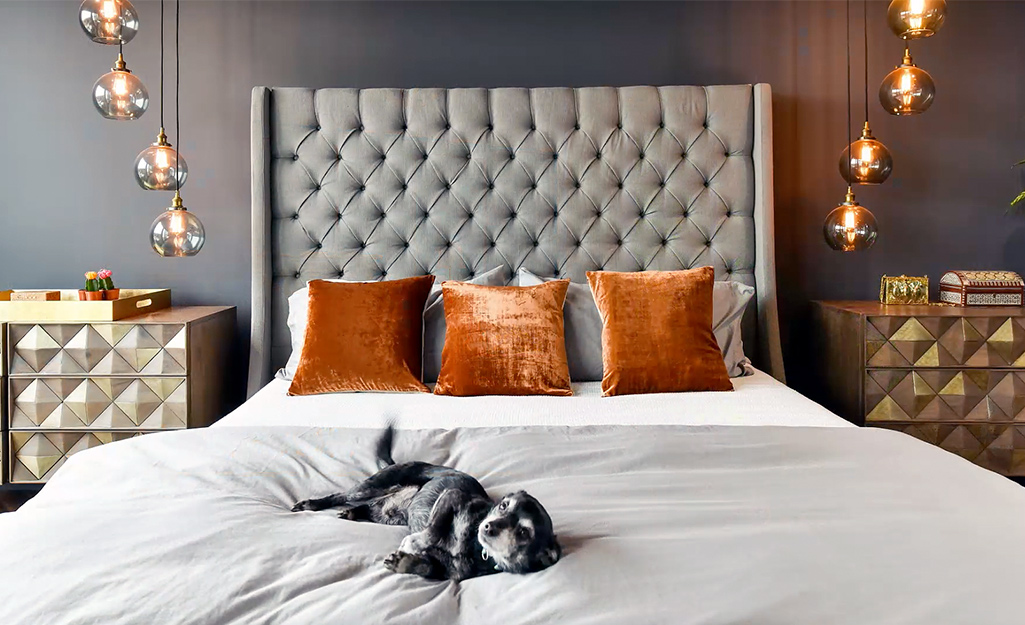 Bedding. Feather your nest with high-quality sheets, a duvet or comforter, supportive bed pillows, throw blankets and decorative throw pillows. Create interest with patterns, colors and textures. 
Wall treatment. Along with your bed, your walls play a big role in defining style. Treat them to stylish wallpaper, add architectural interest with wall paneling or define a color palette with paint on all walls or just one accent wall. 
Window treatments. Woven shades and curtains let in morning light, while blackout options ensure complete darkness, so consider your sleep preferences as you dress your windows. Curtain rods offer an opportunity to add style. 
Accent furniture. You've got the key furniture in place. Now think about what smaller pieces—ottoman, vanity, writing desk, plant stand—can make the room cozier and more functional.
Rug. Ground your bedroom with something soft underfoot. For a queen- or king-size bed, an 8 x 10-foot or 9 x1 2-foot rug looks best. For a twin- or full-size bed, a 5 x 8-foot or 8 x 10-foot rug works well. A larger rug allows all bed, nightstand, and bench legs to be placed on the rug with the rug extending at least 18 to 24 inches beyond the foot of the bed. Position a smaller rug so two-thirds of the bed is on the rug with at least 18 to 24 inches of rug extending beyond the sides and foot of the bed.
Mirror. A full-length mirror is a must for many in the morning. Hang it on the wall or the back of a door, or choose a freestanding style if you have the space. Consider also mounting a mirror above a dresser for convenience and to bounce light around the room.
Lighting. Think about the three layers of light each room should have—overhead fixtures provide ambient light, a bedside lamp offers task lighting, and sconces placed on either side of a dresser offer accent lighting. 
Wall decor. Art or other wall decor adds the final layer. Botanicals, landscapes and simple abstract art create calm in a bedroom.
Tips for Other Bedrooms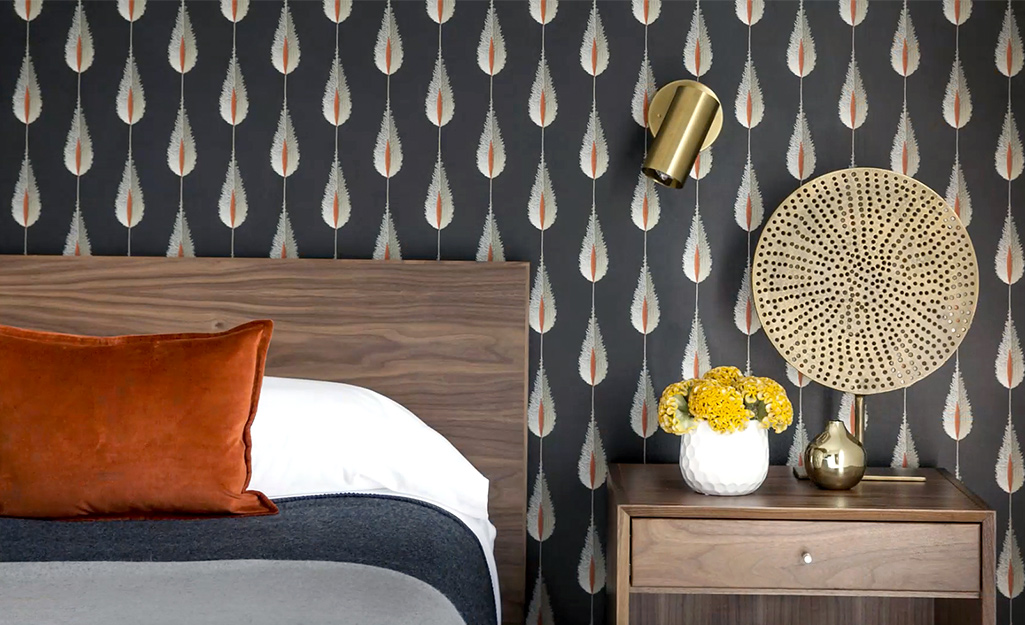 Guest rooms. Add elements that will make guests feel comfortable, including a luggage rack, extra hooks and niceties such as tissues, bottles of water, a phone charger and ear plugs for a hotel vibe.
Kids' rooms. Think about space to play or study and safety features, such as anchored furniture and window treatments without cords.
Multifunction rooms. For a space that fits many needs—perhaps an office that stands in as an extra bedroom—consider furniture that does double duty, such as a daybed or Murphy bed.
Now that you know more about the many bedroom decor styles, it's time to start browsing. Knowing how to make your bedroom better is the secret to an ideal sleeping space. From choice linens to cozy decor, there are many things you can do to create a dream bedroom. When you're ready to update your master bedroom or give your guest room more comfort, remember that The Home Depot delivers online orders when and where you need them.
Explore More on homedepot.com