A good night's rest starts with the comfort of your bed. As the perfect spot for curling up with a good book, watching your favorite show and catching up on some much needed rest, your bed should be as inviting and restful as possible. No matter your preferences, here are a few tips for a cozy bed and maybe even a better night's sleep.

Start with a Comfortable Mattress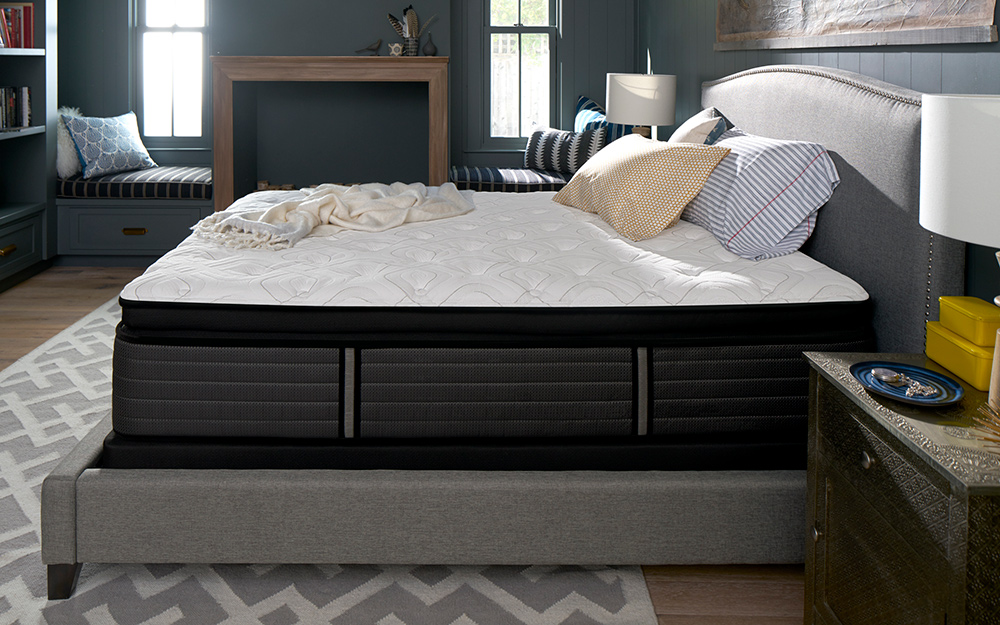 The best way to ensure a cozy bed is to start with a great base: a comfortable mattress.
Mattresses come in several different materials, which can affect the firmness and overall feel of the bed. Around since the early 1900s, coil mattresses are among the most popular and most affordable options out there. These come in different varieties that range from continuous coil—a durable option made from a single steel coil that loops in an S shaped—to offset coils, which form an hourglass shape and are known for conforming to the shape of your body as well as being a quiet option with fewer squeaks. If you're in the market for a coil mattress, keep in mind that in most cases, more coils will mean better quality, and perhaps a better night's sleep.

Memory foam mattresses have become increasingly popular as they become more affordable. This extra-thick, supportive cushioning was invented by NASA and has been used as a mattress material since the 1990s. It has many benefits for the sleeper, including proper spinal alignment, low motion transfer, and resistance to allergens. It's a great option for side sleepers as well as anyone who likes the sinking-in feeling created when you place your bodyweight on the bed. However, memory foam can also trap heat, meaning it's not great for anyone who "runs hot" at night. Instead, you could opt for a natural latex or gel mattress, which create a similar feeling but retain less heat.


Other popular types of mattresses include: 
Water beds
Gel mattresses
Polyfoam
Adjustable beds
If you want to make your current mattress feel cozier without investing in a whole new mattress, you can also opt to top your bed with a mattress topper or mattress pad. These are often available in some of the same cushiony foam materials as mattresses.
All About Sheets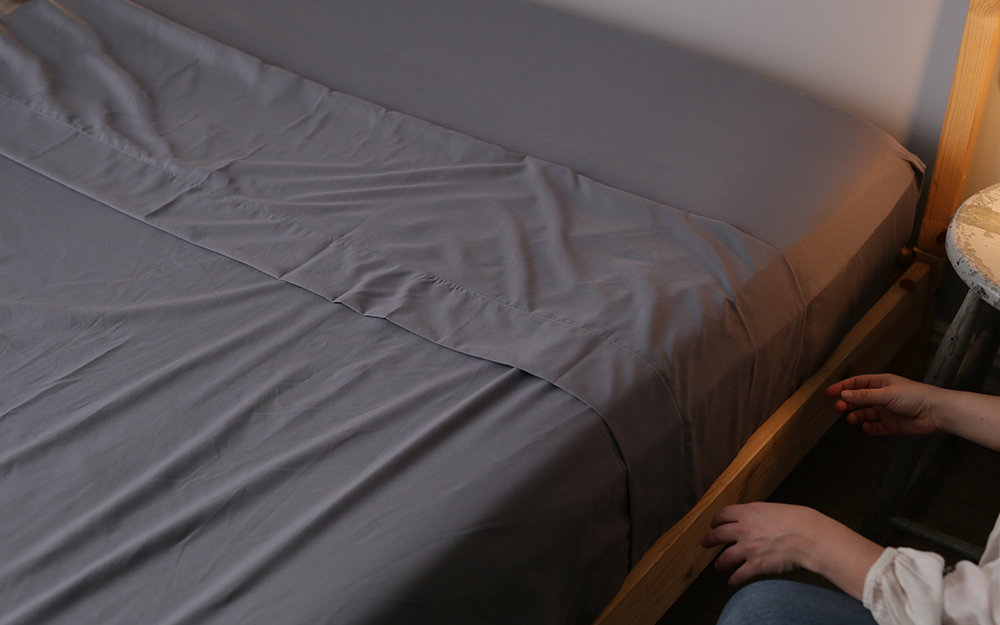 After the mattress, the sheets are the second most important part of your bedding linens, since this is the layer closest to your skin. Use cotton or linen sheets for a more breathable bed. The higher the thread count, the softer the sheets will be. A good bet for a luxurious bed is 400 thread count or higher. 
Some people prefer a fitted sheet plus a duvet cover, with no top sheet at all. If you kick down the top sheet every night, you might consider this option. Just make sure you're washing your duvet as often as you'd wash your sheets and pillowcases! If you want a tighter tuck, go for hospital corners. You can use the technique for flat sheets, blankets or quilts—anything you're tucking under the mattress. See our video tutorial to learn how to do it.
The Difference Between a Quilt, Duvet, and Comforter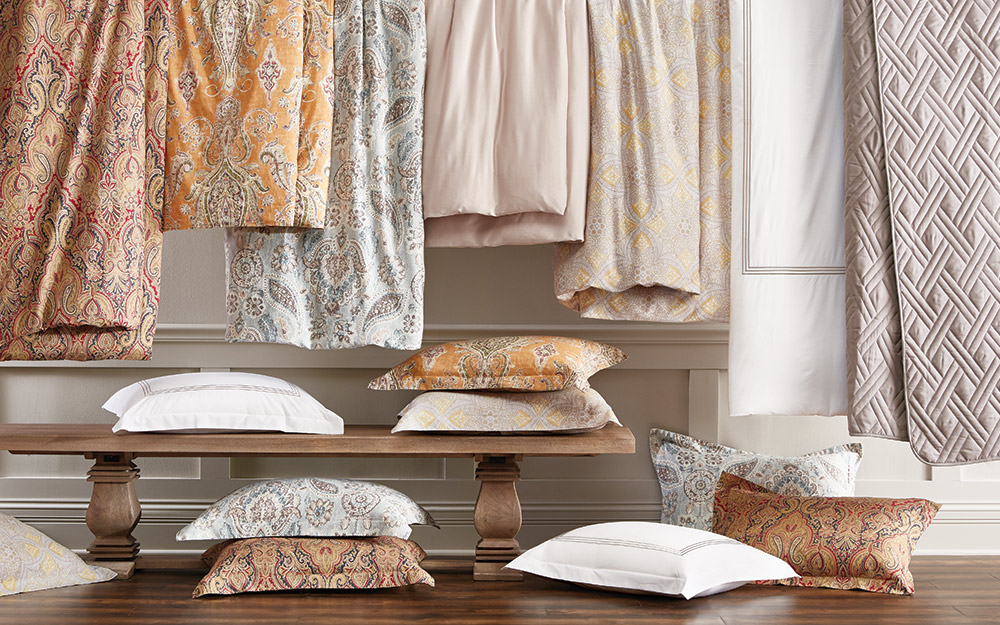 A quilt is a three-layer blanket constructed of top, inner batting, and bottom. The inner batting is usually wool or down, for keeping warm. The top is a visually complex layer of many different pieces of fabric stitched together to form a pattern or an image; while the bottom is usually just one piece of fabric. Depending on the style of the pattern, stitched quilts are a great option for anyone who likes a classic or rustic look in their bed room.
A duvet is a blanket composed of a large cloth bag, filled with goose down, feathers, poly fiber, or other soft materials. Sometimes they feature chain-stitching that divides the filled bag into many smaller pockets of down or other filling. They are usually made of soft, light-colored fabric and require a duvet cover, which come in different materials and designs but are generally the same weight as sheets, which protect the duvet from getting dirty. While it depends on the material used as filler, duvets are celebrated as warm but lightweight, durable options. 
Similar to a duvet, a comforter is a soft, plushy blanket that's usually filled with down or synthetic fibers. It tends to be a little less fluffy than a duvet, and is not meant to be used with a cover, so they are often decorated with patterns or made in material that looks a bit more presentable than a duvet. 
In addition to a warm blanket or if you live in a warmer location that don't require a warm blanket, you can choose from a bedspread and a coverlet as the topper for your bed. Both are bed coverings that go on top of your sheets and blanket to give your bed a put-together look, but a bedspread extends all the way to the ground (and can look a little more formal or traditional) than a coverlet, which only goes to the top of your bed skirt. (A bed skirt covers the space between the floor and the bed's base.)
How to Make a Bed with Hospital Corners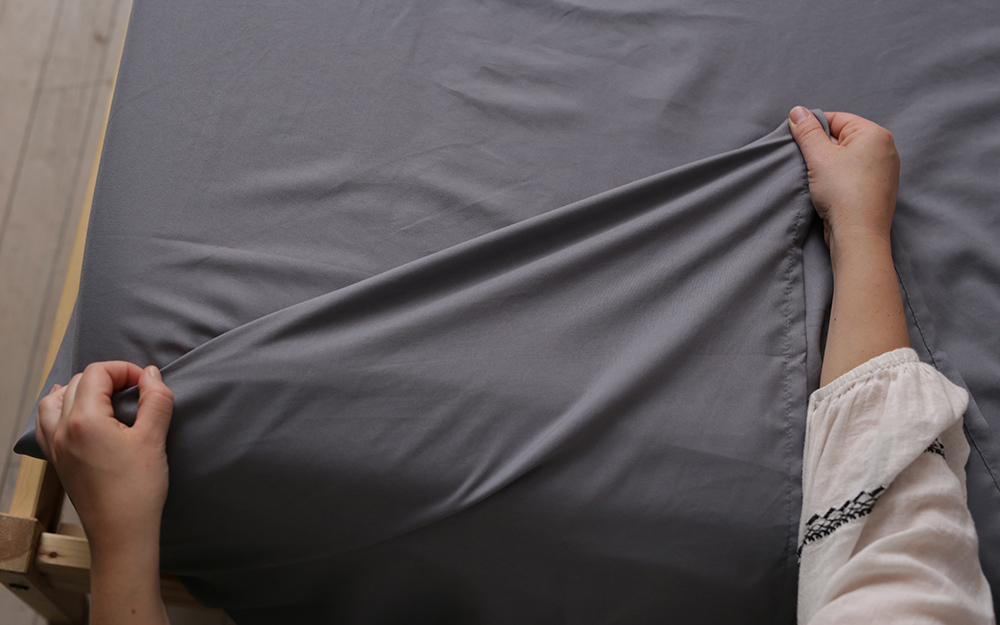 You can use a fitted sheet plus a flat sheet for hospital corners or two flat sheets. If you're not using a fitted sheet, just go through the same hospital corner process twice. 
Center and lay the sheet on top of the bed. (If it's the top sheet, lay it on upside down so when you fold the top over the sheet will be right side up.)  
Tuck the bottom in tightly. 
Take the sheet hanging over the left side of the bed and lay it on top of the mattress so that it forms a 45-degree angle with the corner of the bed. 
Pull the fabric tightly down the side of the bed and tuck it under the mattress. 
Repeat with the other side. 
How to Layer a Bed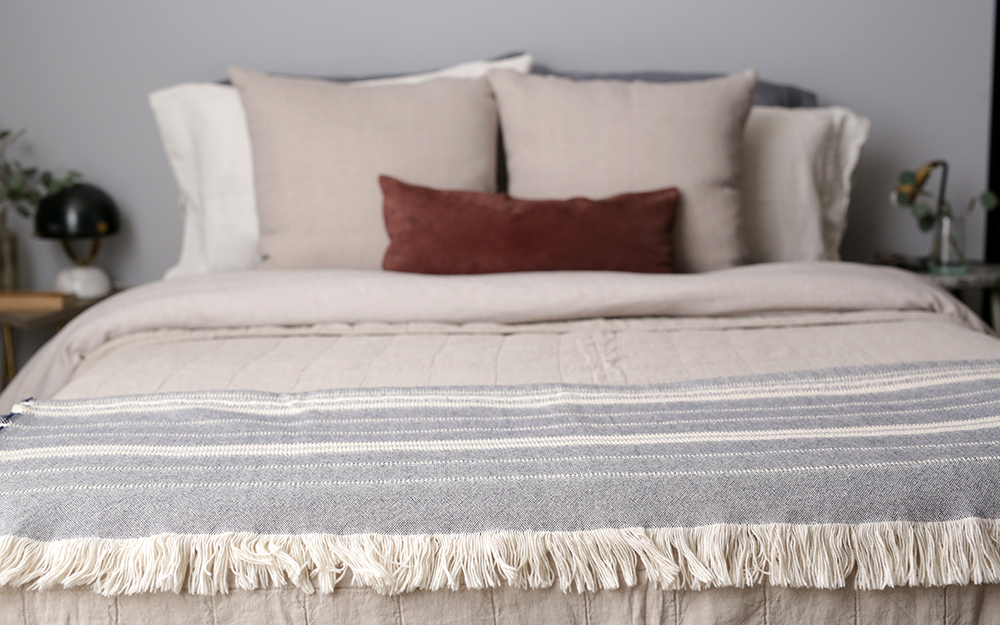 You can use your sheets, pillows, blankets, quilt or duvet as building blocks to create a layered look like a stylist or interior designer. Mixing and matching complementary colors, patterns, and materials will make your bedlook more lush and luxurious, whatever method you go with. Here are a few ideas to get you started:
Whether your pillows are feather or poly, we recommend using two per person. Some people like shams on the top pillows for a more put-together look. Others choose to cover the pillows with their duvet, coverlet or quilt. 
A few cozy throw pillows are a nice finishing touch and are a fun way to change things up without buying a whole new bedding set. 
A coverlet is an easy way to make your bedlook pulled together with little effort. Simply pull it over your sheets (or duvet, if using) and fold your top sheet down about six inches. 
A throw blanket—or if you haven't added one already, a duvet or quilt—folded along the bottom is a nice finishing touch. 
Your bed should be the one spot in your home you look forward to relaxing in. From sheets to throw pillows, we can help you find everything you need to make it comfy and restful. Many online items can be delivered straight to your home, just say when, where and how.
Explore More on homedepot.com