When buying a major appliance like a refrigerator, you want to make the most of your purchase. Whether you're replacing a broken fridge or upgrading to a more spacious, energy-efficient model, The Home Depot offers a wide range of types of refrigerators to choose the best refrigerator for your home. This guide will help you identify the best refrigerator styles, types of refrigerators and refrigerator features for your family's needs.
Capacity and Storage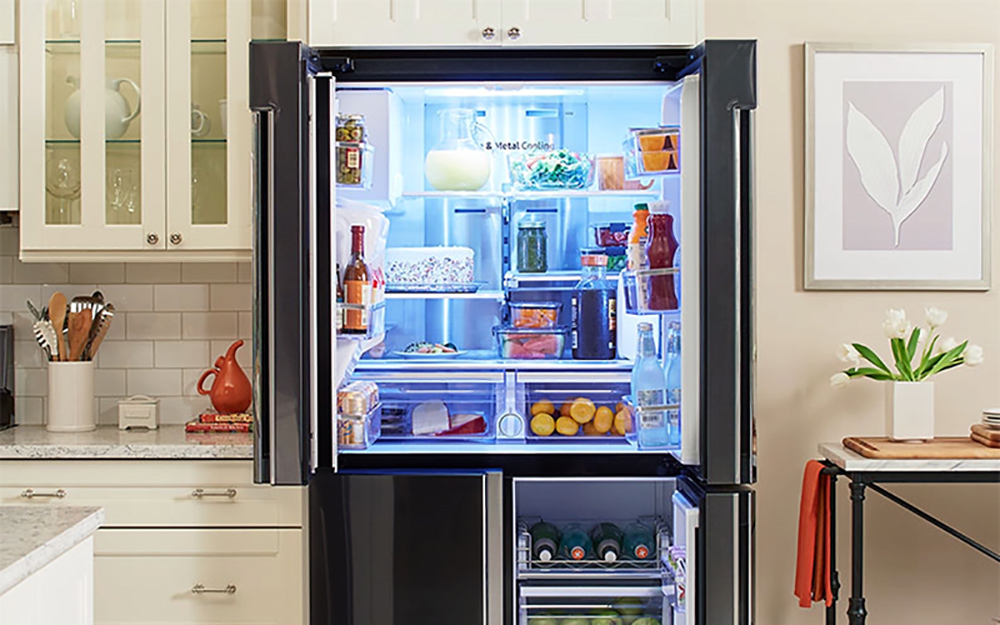 Excluding freezer space, plan for a fridge with 18 to 20 cubic feet of space for a two-person household. Add around 4 cubic feet for each additional person. Typically, 26 to 29 cubic feet of refrigerator space is sufficient for an average-sized family. 

Consider adding a second refrigerator or freezer in your garage or basement if you need a great deal of additional space.

Different types of refrigerators offer interior storage options tailored to your specific needs.
Adjustable shelves and door bins with adjustable heights can accommodate a wider range of food and beverage containers. 
Sliding shelves make it easier to reach items placed toward the back of the fridge.
Deli tray shelves allow you to store large platters. 
Built-in beverage holders keep canned or bottled beverages neat, orderly and easily accessible.
Humidity-control drawers provide custom controls for keeping fruits and vegetables fresh.
Make sure to measure the space you have available. Determine how wide, tall and deep your new unit can be, and remember that you'll need to leave enough room for the doors to swing freely. If the model has an ice or water dispenser, remember that the fittings and supply lines will need space in back.
Also take into account the width of the doorways the refrigerator will have to pass through when being installed.
Plus, some types of fridges include more spacious freezers than others. You may want to consider how much frozen food vs. fresh food you buy when selecting the best fridge for you.
Refrigerator Styles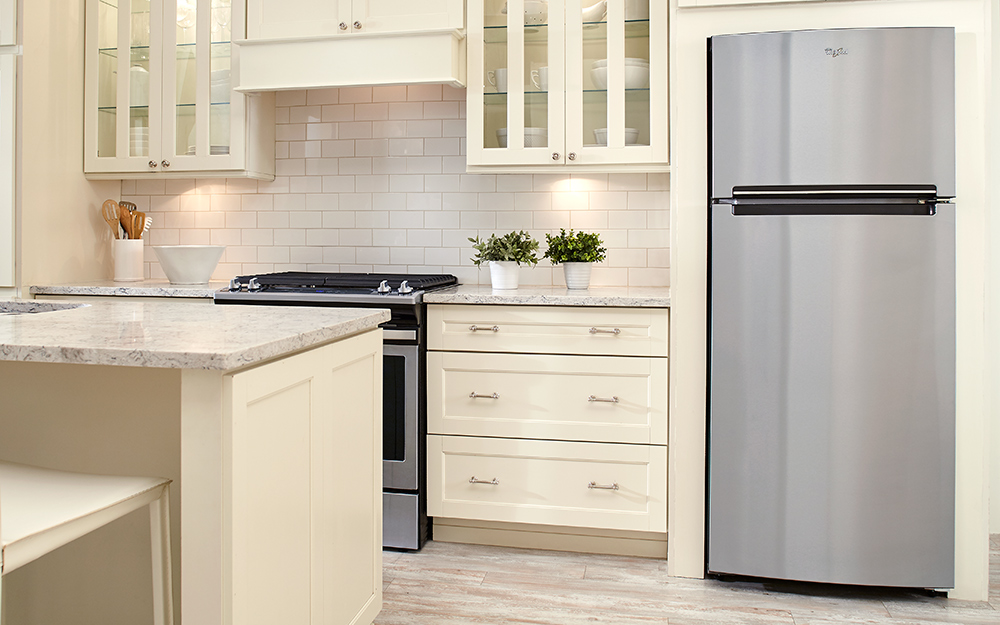 Refrigerator Types
| | | | | |
| --- | --- | --- | --- | --- |
| top freezer refrigerators | bottom freezer refrigerators | side by side refrigerators | mini refrigerators | freezerless refrigerators |
| The freezer is located above the refrigerator section. | The freezer is located underneath the refrigerator section. | The freezer and refrigerator are placed directly next to each other. | Small units that can fit into tight spaces or underneath counters. | Refrigerator-only units. |
Built-In Refrigerators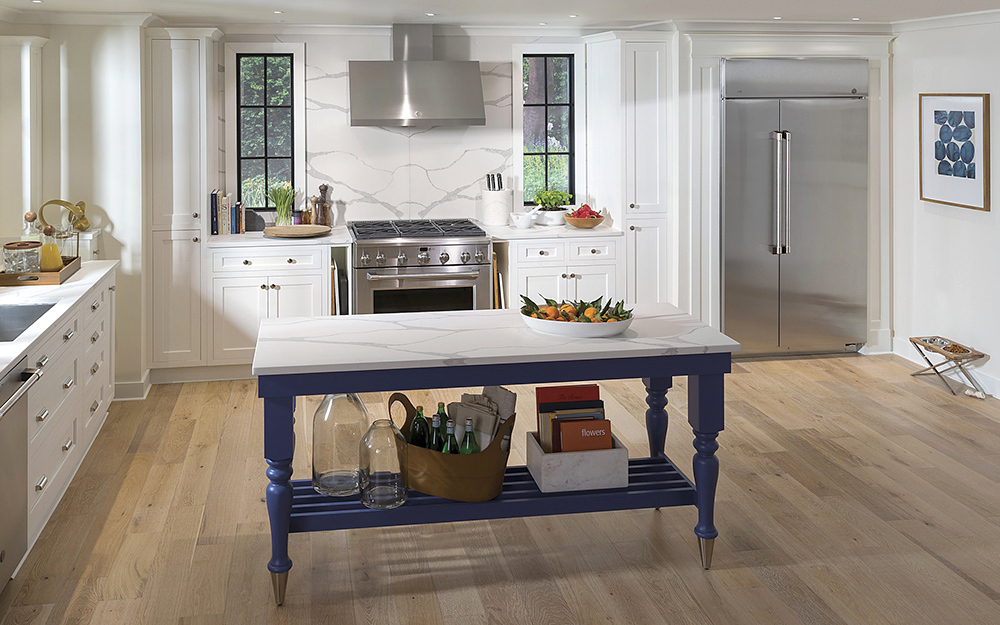 Built-in refrigerators are constructed to blend in with the rest of the kitchen cabinetry rather than being installed as a separate unit. 
Features to consider:  
Seamlessly integrates with kitchen décor
Often has less depth than freestanding units but may be wider to compensate
Generally, has unfinished tops and sides
Custom-made panels provide stylish options
Another option for a type of built-in refrigerator is an under-counter or drawer refrigerator. While typically serving as a supplemental refrigerator, this space-saving installation fits under the counter or in a kitchen island to hold drinks, snacks, produce or any other items you need for easy access. A second storage option also allows you to keep more fresh items on hand.   
Door-in-Door Refrigerators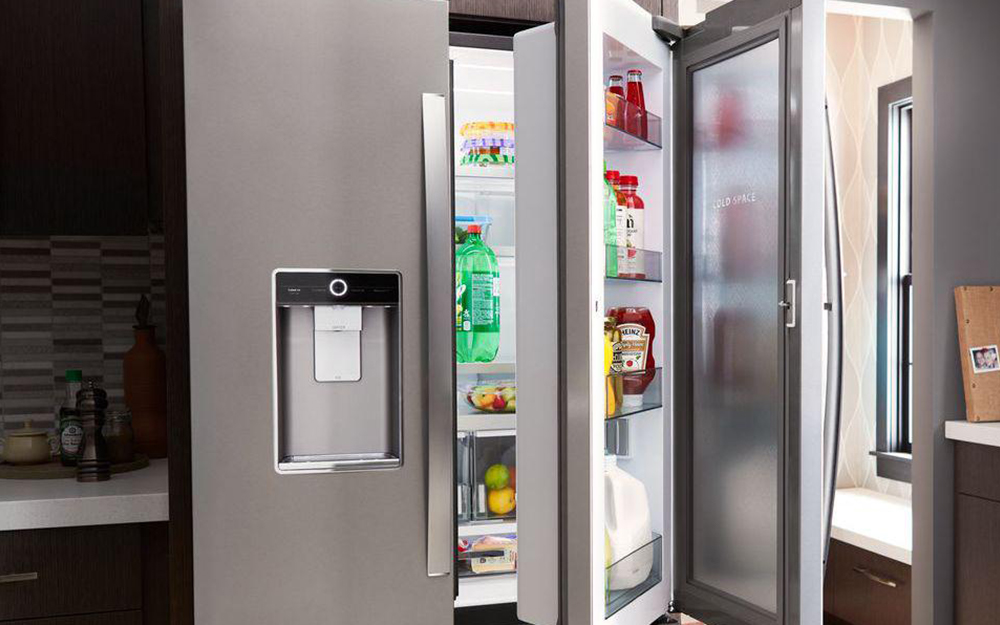 Door-in-Door refrigerators feature a second compartment door behind an exterior panel that opens independently of the main door. The compartment can hold drinks, snacks or condiments that are removed often. Rather than open the main refrigerator door multiple times a day, the door-in-door provides access while reducing the amount of cold air that escapes from the main compartment.
Features to consider:  
Mostly available in French door models
Slightly more expensive than standard refrigerators
Models with dual-cooling systems maintain ideal temperatures more easily 
Counter-Depth Refrigerators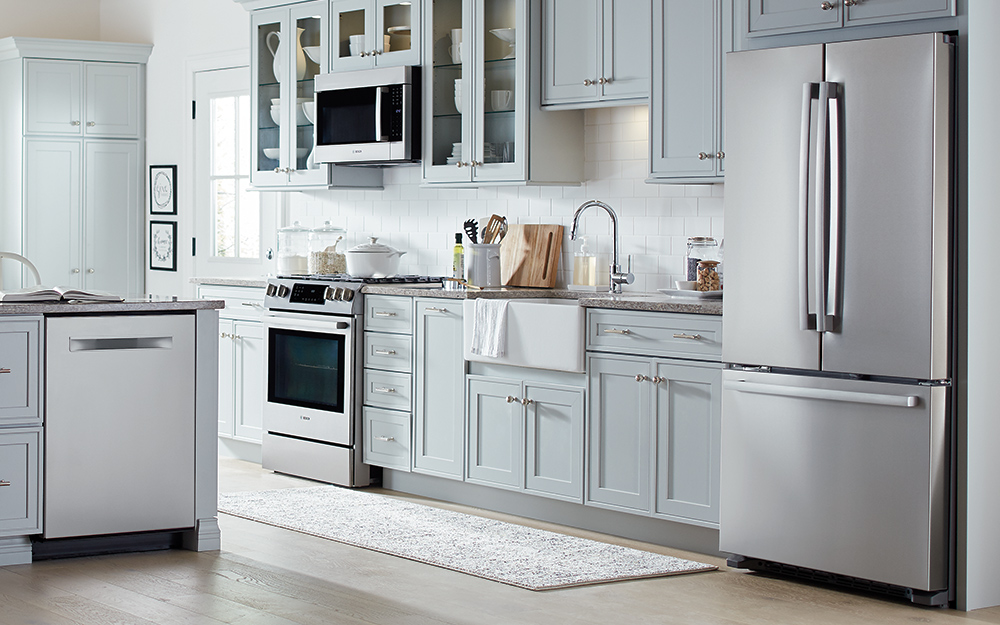 Counter-depth refrigerators have bodies that fit flush with cabinets and countertops, but the doors often have to extend slightly to leave room for the hinges to operate without obstructions.
Features to consider:
Creates a sleek look
Less expensive than a true built-in
Many styles of fridges can be purchased in a counter-depth size, including side-by-side and French door

Features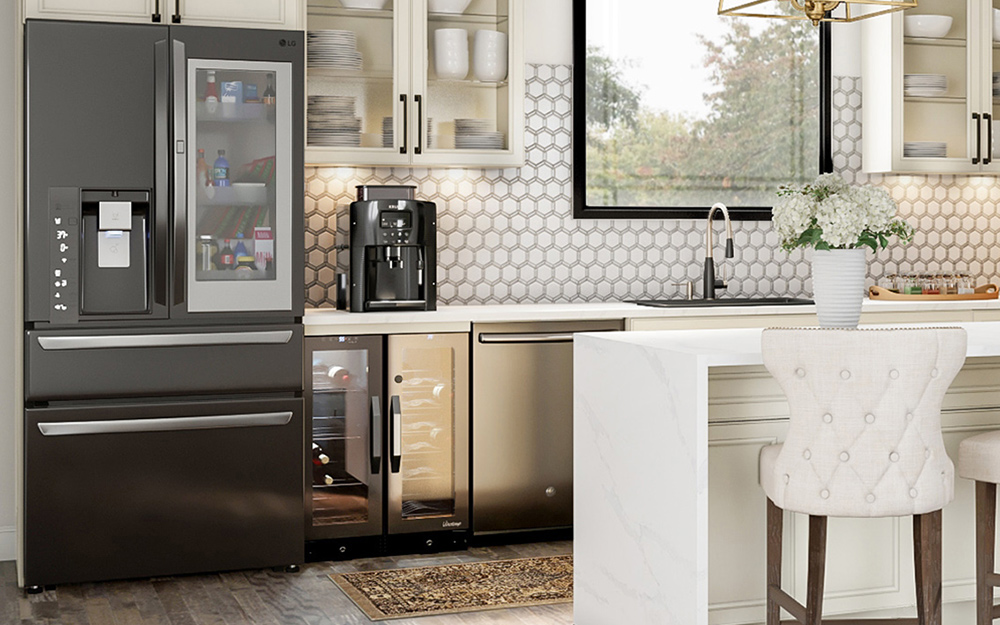 Many of the best-rated refrigerators are offering more sophisticated special features to meet your needs.
Wi-Fi connectivity is an increasingly common feature that allows "smart refrigerators" to access the Internet for remote controlling on your tablet or phone. Functions include climate controls, shopping lists and interacting with other smart machines.
Control pads allow owners to program or otherwise control such functions as temperature or ice and water dispensing at the touch of a button.
Door or temperature alarms alert you when the refrigerator has been left open for more than a few minutes.
Child locks help prevent little chefs from accidentally leaving the door open or getting at treats when they are not supposed to.
Quiet operation reduces the noise from your fridge and helps keep your kitchen quiet.
Built-in ice maker/water dispenser ensures that there's always plenty of ice and cold water immediately available at the touch of a button. Look for icemakers and and dispensers with built-in systems for filtered water.
Fast-cooling compartments quickly reduce the temperature of items without freezing them.
In-door appliances like built-in televisions allow you to compare notes with cooking shows or keep up-to-date on current news while you prepare dinner. Other models have built-in coffee makers to put that morning cup of joe closer at hand.
Extended warranties: It is highly recommended you buy an extended warranty at your fridge's point of purchase. However, you may buy the warranty up to 90 days after the original purchase date. Simply return to any store with your sales receipt to add the extended warranty.
Style and Finish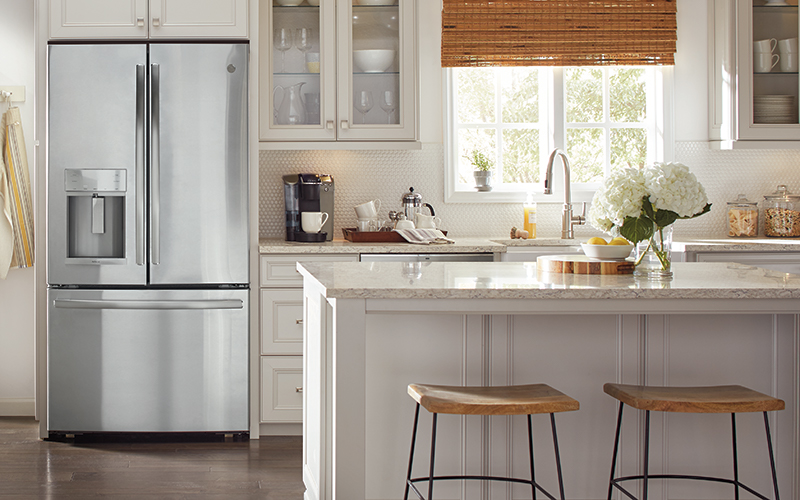 Choose from the models of the best refrigerators that will fit in with your preferences and needs while continuing to look great over time.
Stainless steel refrigerators cost more than other options, but have a timeless, elegant appearance and are easy to clean. Built-in units let you customize your kitchen's appearance, while contoured doors and handles offer a sleek, sophisticated look.

Other common refrigerator colors to choose from include black, slate, bisque and white.
 
Trim kits help you give freestanding units the appearance of a built-in refrigerator.
With some stainless steel refrigerators, the nickel content is too high to magnetize the front panels.
Energy Efficiency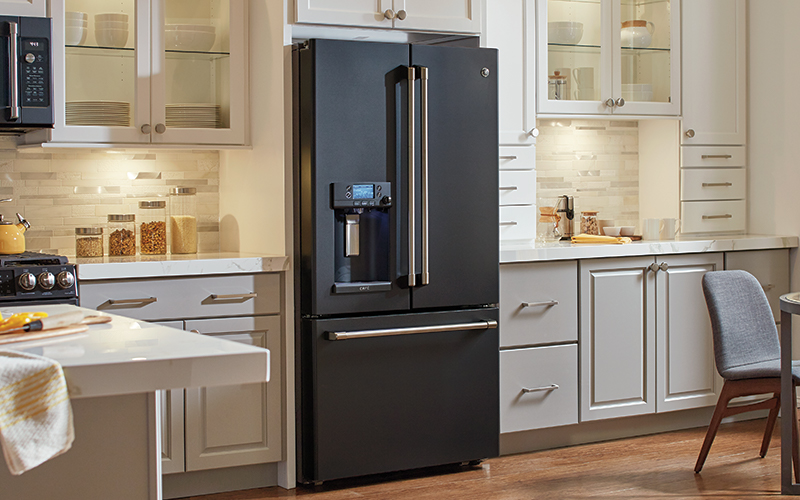 Energy Star-rated refrigerators reduce energy consumption by at least 20 percent less than federal standards require. These products reduce utility bills and are environmentally friendly.
Other tips to help improve energy efficiency include:
Empty refrigerators operate less efficiently than fully stocked units. But don't overfill your fridge: leave enough room between items for air to circulate. 
Avoid placing your refrigerator next to a heat source, such as a stove or dishwasher.
Defrost it as soon as necessary if you purchase a manual-defrost model.
Avoid leaving the door open for long periods of time.
Leave space around the unit to allow air to reach the condenser coils, preventing heat buildup. Clean the coils on a regular basis.
When selecting the best refrigerator for your home, apply these tips for special situations. If you want a spare for the garage, shop for appliance brands that are rugged and can handle temperature fluctuations. If you have a large family, choose the most high-capacity, energy-efficient fridge available. For small spaces like dorm rooms and home offices, pick a mini-fridge to bring refreshment close to hand. The Home Depot's range of choices helps you determine the best fridge for your needs.

Consider the following when shopping for new appliances:
3-prong plugs are used for homes build before the year 2000. 
4-prong plugs are used for homes built after the year 2000. 

When you add professional installation to your new appliance purchase from The Home Depot, a compatible cord is required. The delivery agent carries both types of cords to make sure your home is covered.

When you purchase a new appliance from The Home Depot without professional installation, a 4-prong cord is sent by default. If your home is equipped with a 3-prong outlet, you will need to purchase a 3-prong cord or connector adapter separately. 
When you find a style of refrigerator you like, snap a picture using image search in The Home Depot Mobile App to find more of what you want. Need it today? The Home Depot will deliver on your schedule. Order before noon for conveniently scheduled same-day delivery.
Explore More on homedepot.com