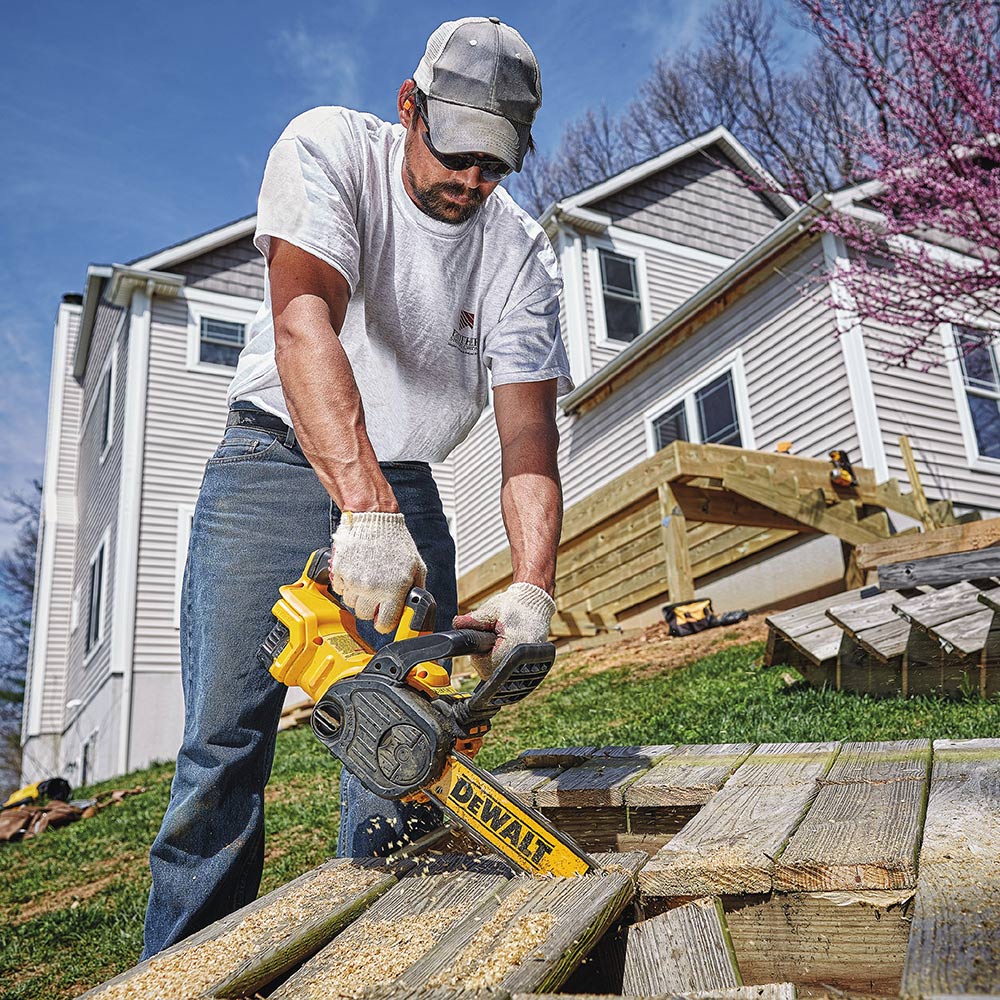 Chainsaws can simplify heavy-duty yard tasks such as clearing timber, pruning trees and cutting firewood. However, chainsaws are powerful tools that can create safety dangers to users and those nearby. Follow these simple chainsaw safety tips to prevent accidents and protect yourself from serious injury. They will also help you be more confident in operating your chainsaw properly.
Wear Safety Gear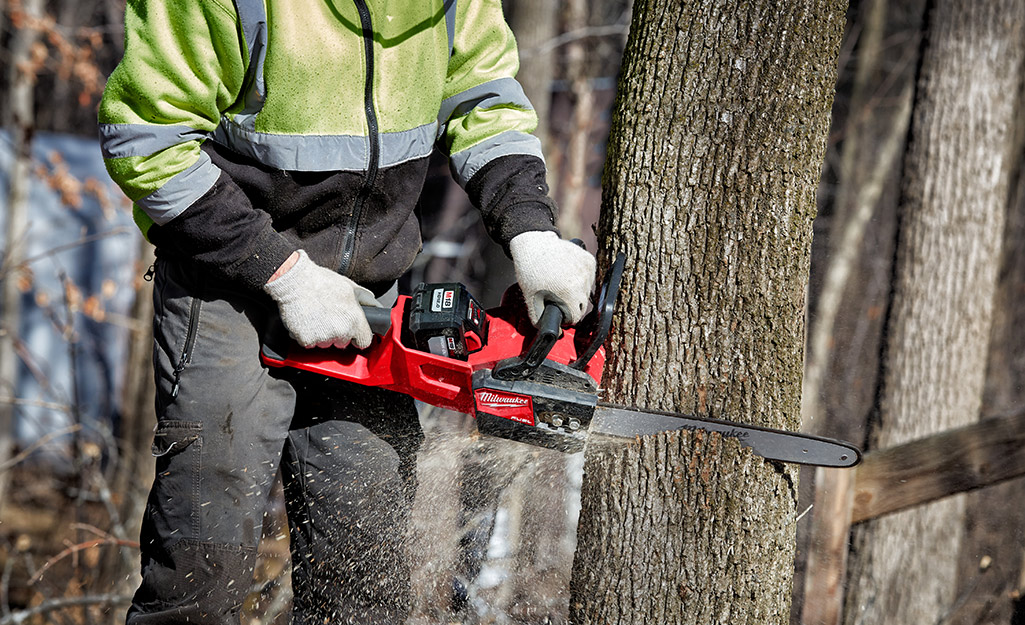 Wear proper clothing that fits snugly and personal protective items before operating a gas-powered, cordless or electric chainsaw. Here are a few suggestions:
Tip: During weather that is hot and humid, wearing heavy, protective clothing can lead to fatigue and even heat stroke. Schedule your work for the early morning or late afternoon when temperatures are cooler. Take safety breaks regularly.
Follow Chainsaw's Operating Guidelines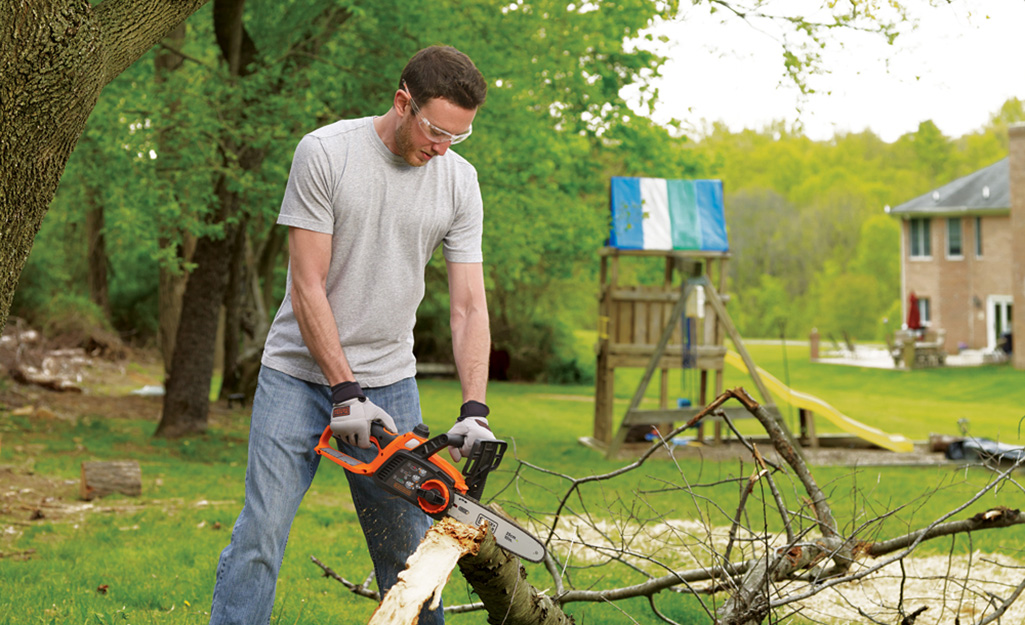 Know your tool. Understand its limitations and the potential hazards of its operation. 
Read your owner's manual. Follow all safety warnings, labels and instructions for your particular chainsaw.
Do not operate a chainsaw that is damaged. Keep the saw maintained so the tool stays in good working order.
Do not operate a gas-powered chainsaw in an enclosed area. This will help you avoid dangerous carbon monoxide fumes.
Shut down the engine and apply the chain brake before setting the saw down.
Keep the handles clean, dry and free of slippery oil or fuel mixture.
Use caution when handling fuel and move away from the fueling area before starting the engine.
Carry the saw with the engine stopped and the brake engaged.
Keep all body parts away from the engine's muffler, which can become very hot during operation.
Always keep the saw's blade lubricated to prevent overheating and damage to the tool.
Maintain proper tension on the chainsaw blade.
Practice Safe Chainsaw Techniques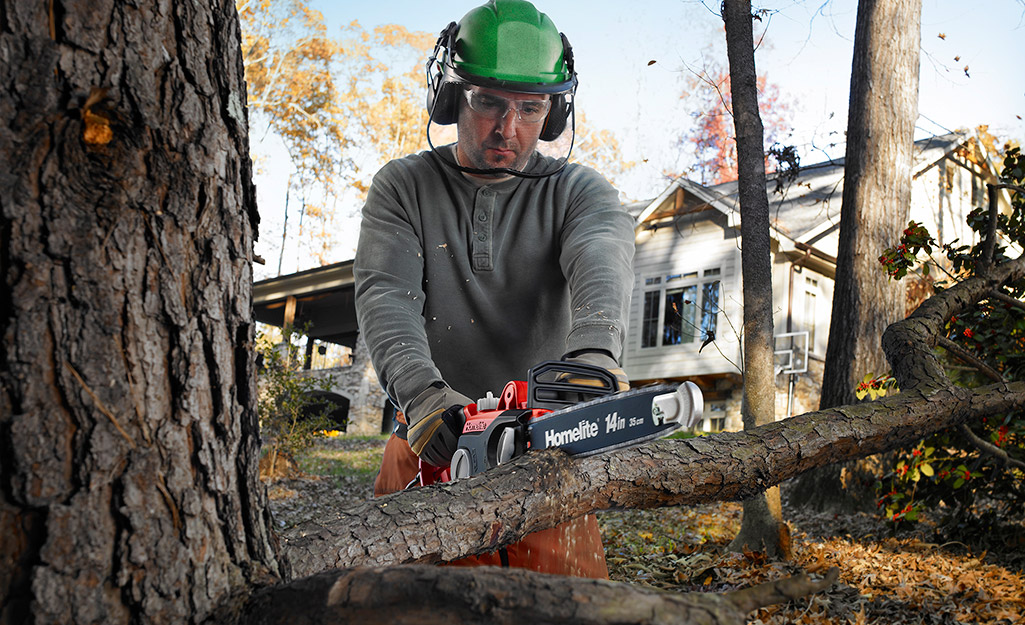 Failure to use a chainsaw properly can cause serious personal injury. Never use a chainsaw when fatigued or under the influence of medication, drugs or alcohol.
Do not stand on ladders, scaffolds, trees or any unstable surface when using the chainsaw.
Maintain good balance and footing. Do not overreach or cut above shoulder level.  
Do not operate a chainsaw with one hand. Keep a tight grip with both hands. Wrap your fingers and thumbs around the top and rear handles.  
Remain aware of your surroundings. Keep your work area free of tripping hazards. Make sure your cutting arm is away from obstructions.
Run the throttle at full speed. Maintain steady pressure on the cutting arm to the wood being cut. Allow the saw to do the work and don't apply heavy pressure. 
Don't allow the tip of the cutting arm to come in contact with any objects. This can cause a lightning-fast reverse reaction where the chainsaw kicks the guide bar up and back toward the user. Chainsaw kickback can result in serious injury.
When cutting a tree trunk that's lying on the ground, let up on the downward pressure as you near the end of the cut. Keep the blade from coming in contact with the ground, which could cause personal injury and damage to the saw.
A chainsaw is a powerful tool that can make short work of cutting firewood and tree limbs. Make sure to operate your chainsaw correctly to avoid damaging the machine or injurying yourself. If you need a new chainsaw or part, use The Home Depot Mobile App to locate products and check inventory. We'll take you to the exact aisle and bay. Or if you need to use as chainsaw for a one-time project, consider rental to get the work done. Use once, then bring it back - no maintenance required.
Explore More on homedepot.com