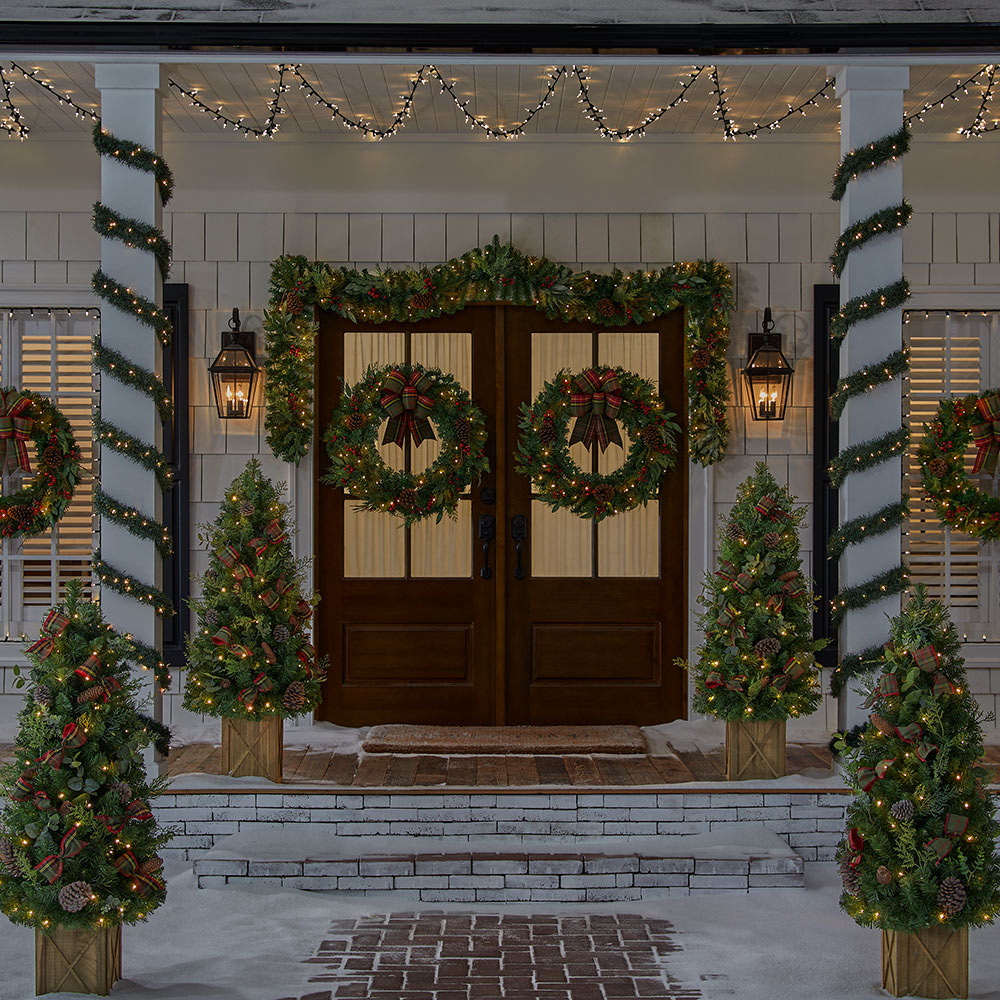 The best Christmas lights on the block can be yours with a little planning. Make the holidays special this year with some bright lights and colorful cheer. Use this guide to find out how to light up your home with Christmas decorations inside and out. Plus, get tips on how many Christmas lights you need, different power options, types of Christmas lights and more.
Christmas Light Types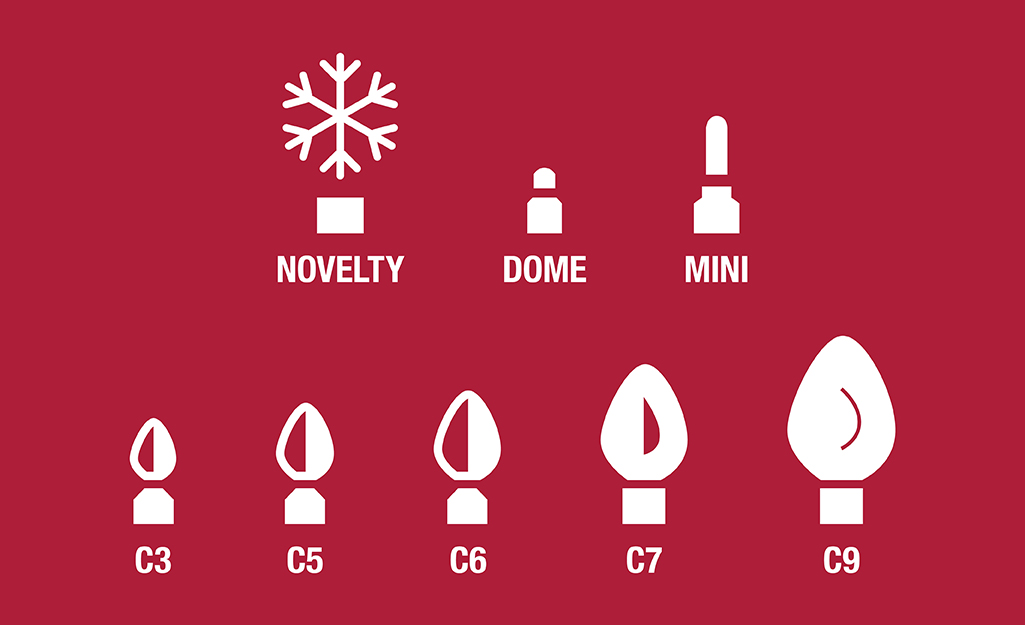 Christmas light bulb trends come and go, but what's most important is that you love the look. From mini lights shaped like tiny candles to larger "old-fashioned" bulbs, stick with the bulbs that warm your heart, because Christmas is timeless. C6 bulbs are considered the traditional Christmas light. C9 bulbs are a larger bulb of the same shape and are typically used outdoors. Many Christmas lights are both indoor and outdoor compatible.  
The best outdoor Christmas lights are built to stand up against harsh environmental elements while maintaining safe electrical connections. 
You'll need to decide if you want to go with LED Christmas lights vs. incandescent Christmas lights. 
LED Christmas lights last longer than traditional lights and are more energy-efficient. They stay cool to the touch and are very bright lights.
Incandescent lights are usually budget-friendly. They are very bright, show only one color per bulb and can heat up with extended use.
Tip: Try different shapes and size bulbs to cast a variety of light, and to define areas of your Christmas light display. 
Popular Christmas Light Colors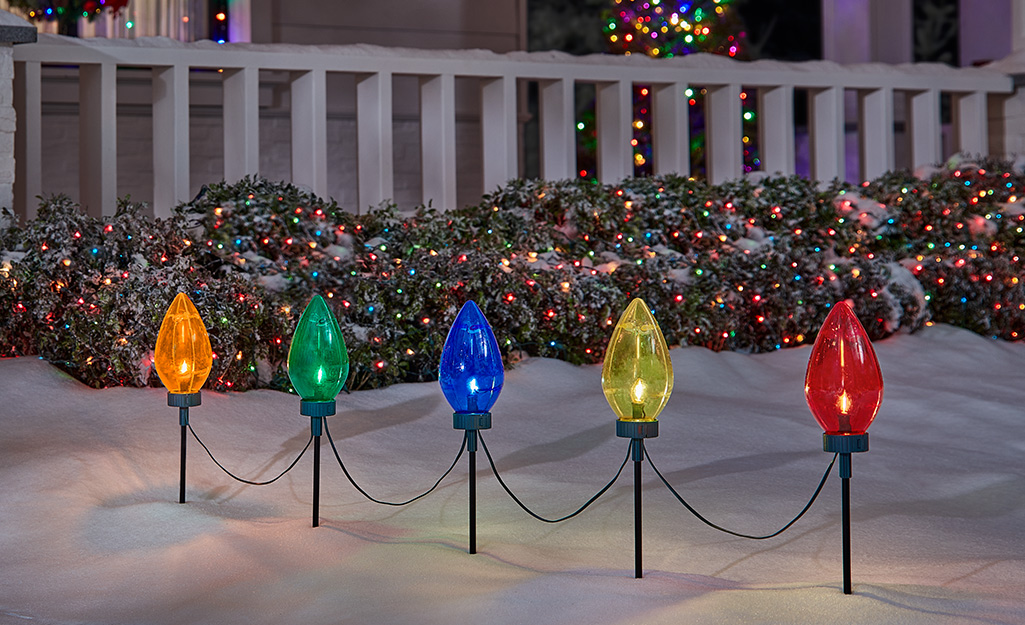 Available in cool, warm and clear
Provide a frosted and twinkling look
A classic and festive accent
Adds warmth to your display
Creates an ice-like effect
Often used to celebrate Hanukkah
A bright and lively option
Complements any arrangement
Gives a relaxing yet vibrant energy to displays
Brings depth to live and faux greenery
Change from one color to the next
Colors can switch randomly or follow a set pattern
Icicle & Weeping Willow Lights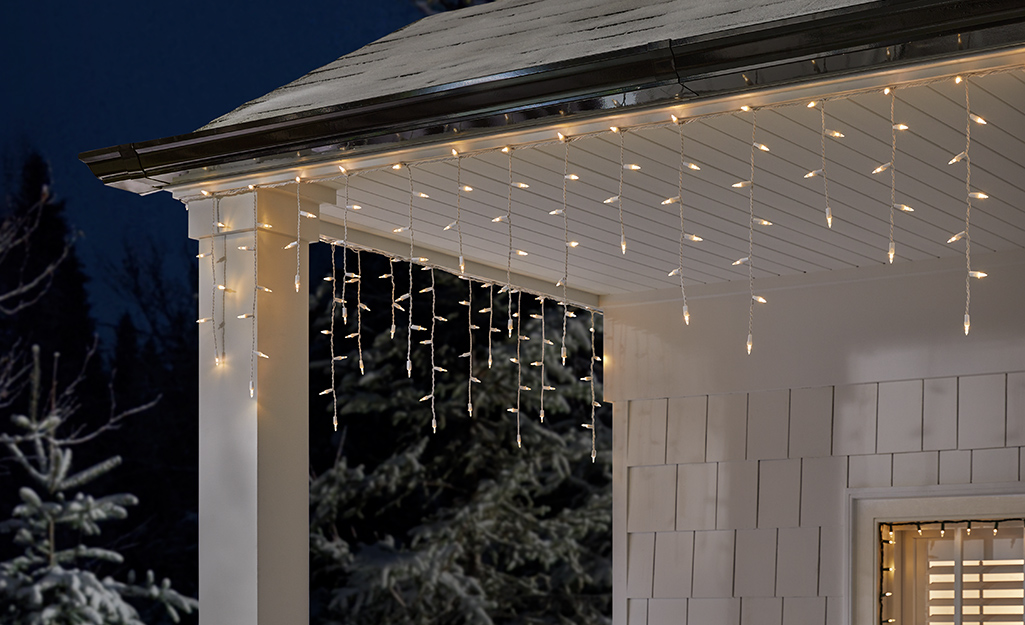 Icicle Christmas Lights:
Hang strands of icicle lights evenly about 12 inches apart.
Available in white or multiple colors.
Often used to line eaves and awnings.
Weeping Willow Lights:
Cascading, cluster of up to 30 strands of twinkling lights.
Dramatic, elegant look.
Ideal for entryways, displays and columns.
Net Christmas Lights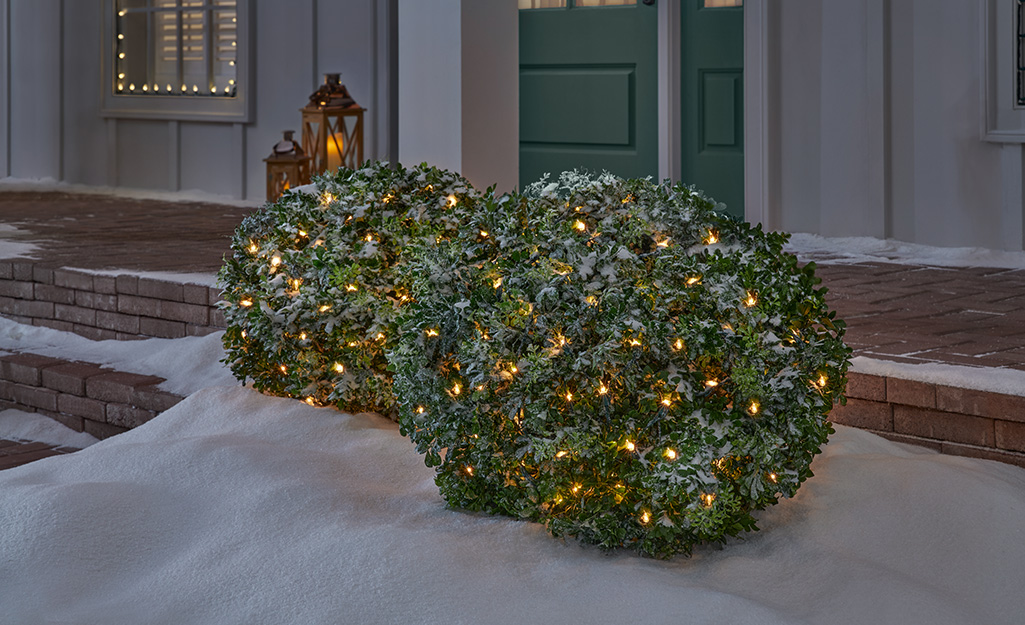 Net lights are easy to set up.
Come in a variety of sizes.
Great for trees and bushes.
String Christmas Lights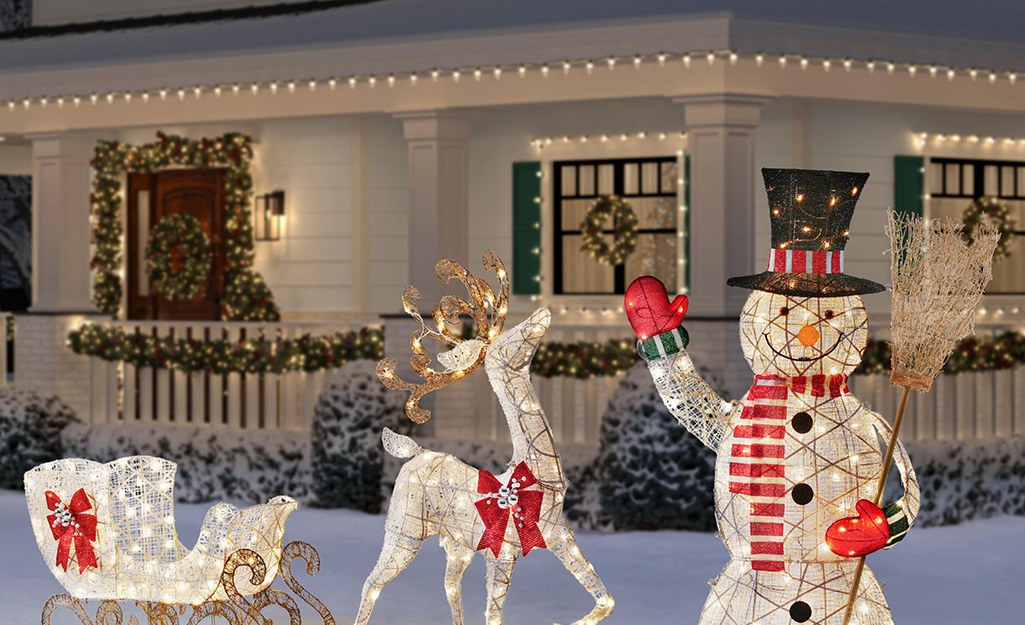 String lights generally cost less than other types.
Can connect multiple strands for larger decorating projects.
Solar Christmas Lights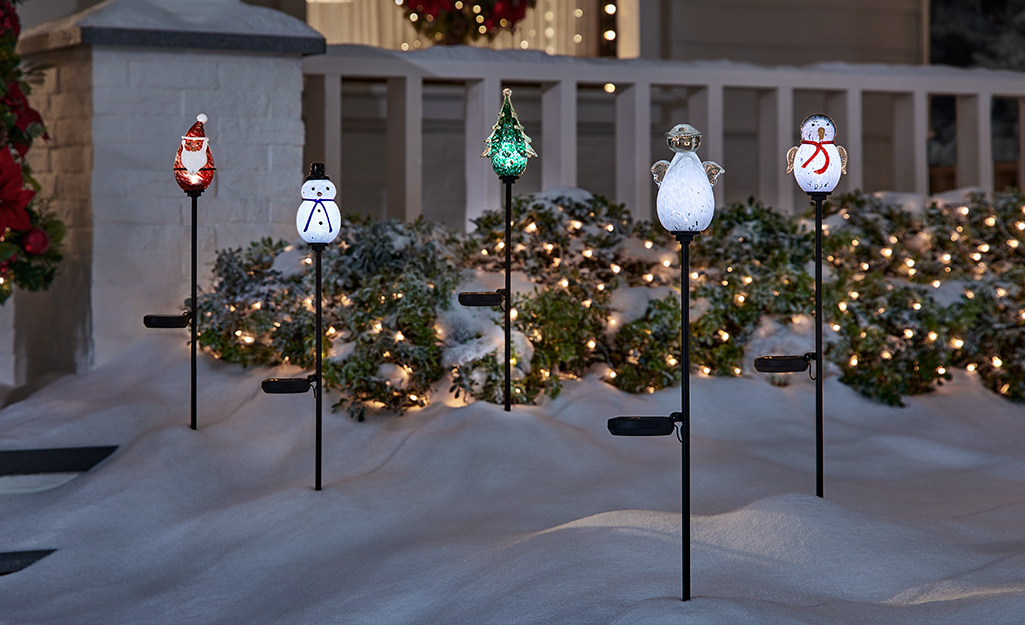 Solar lights turn off and on automatically.
Work in cloudy conditions.
Set as steady light or flashing.
Mini & Micro Dot Lights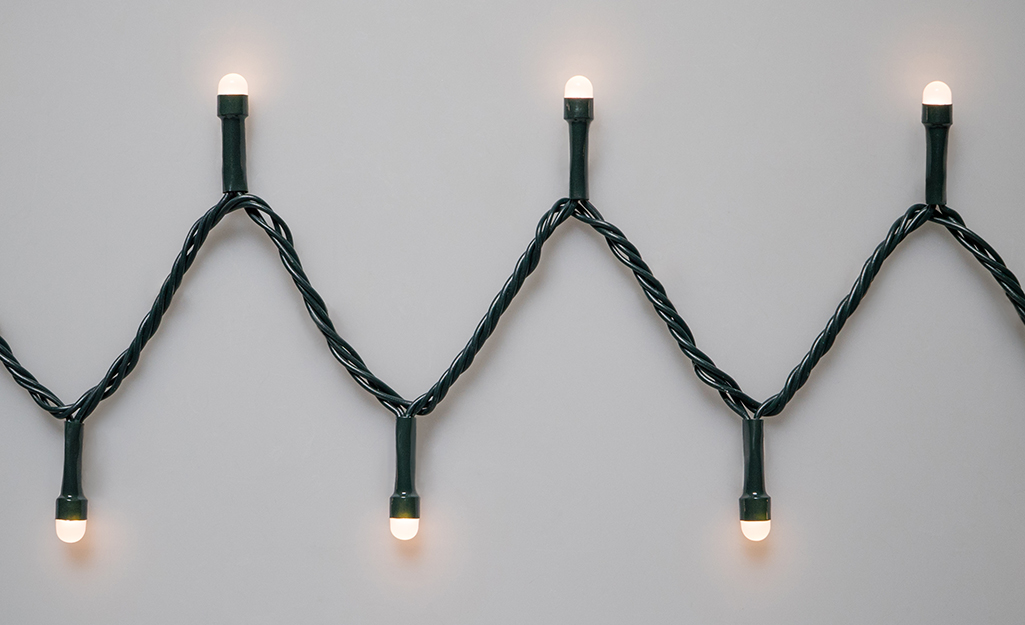 Ideal for garlands and wreaths.
Can be used for a variety of accent lighting projects.
Available in a variety of colors and string lengths.
Christmas Projection Lights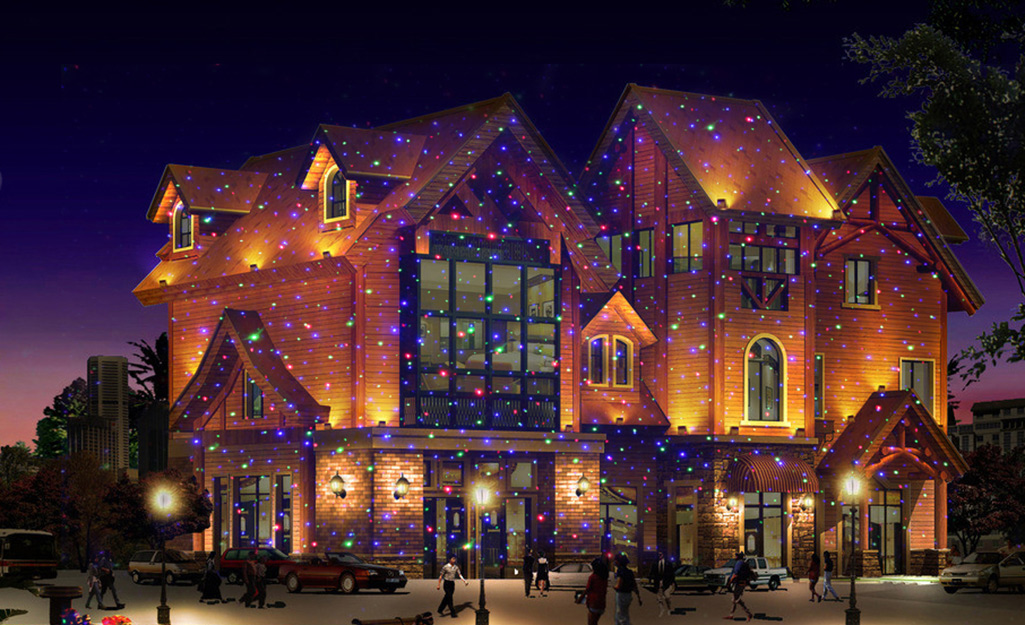 Show holiday spirit without the work of hanging lights.
Available in versatile patterns and colors.
Some projectors include themes that can be used to celebrate all year long.
Seasonal & Holiday Lighting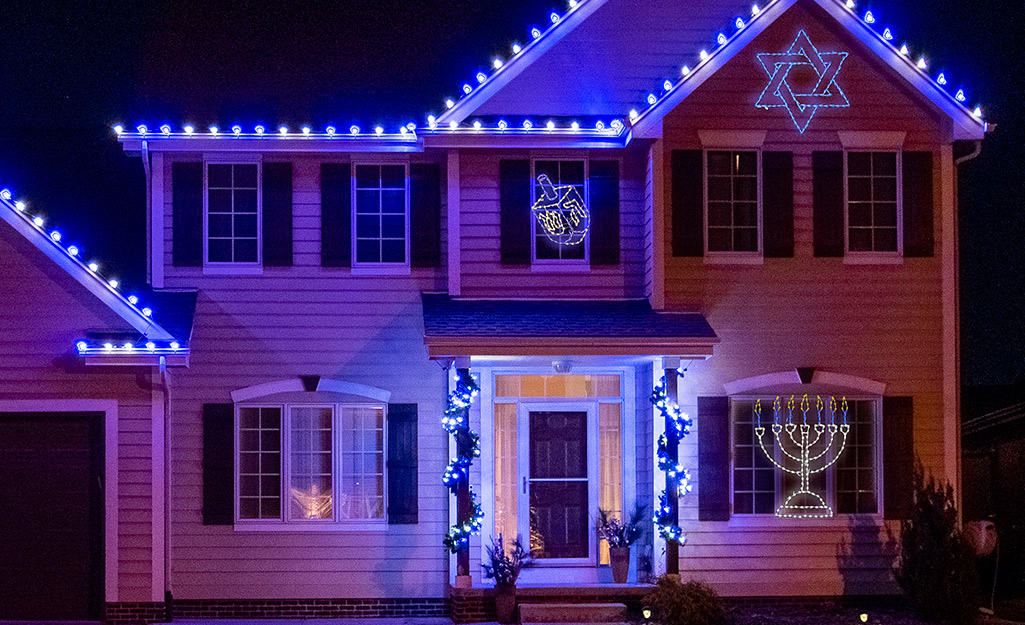 Specialty lighting for Hanukkah, Halloween, New Year's and more.
String, shaped and novelty lighting to celebrate every holiday.
Can be used indoors or outdoors every season.
Christmas Lights Power Types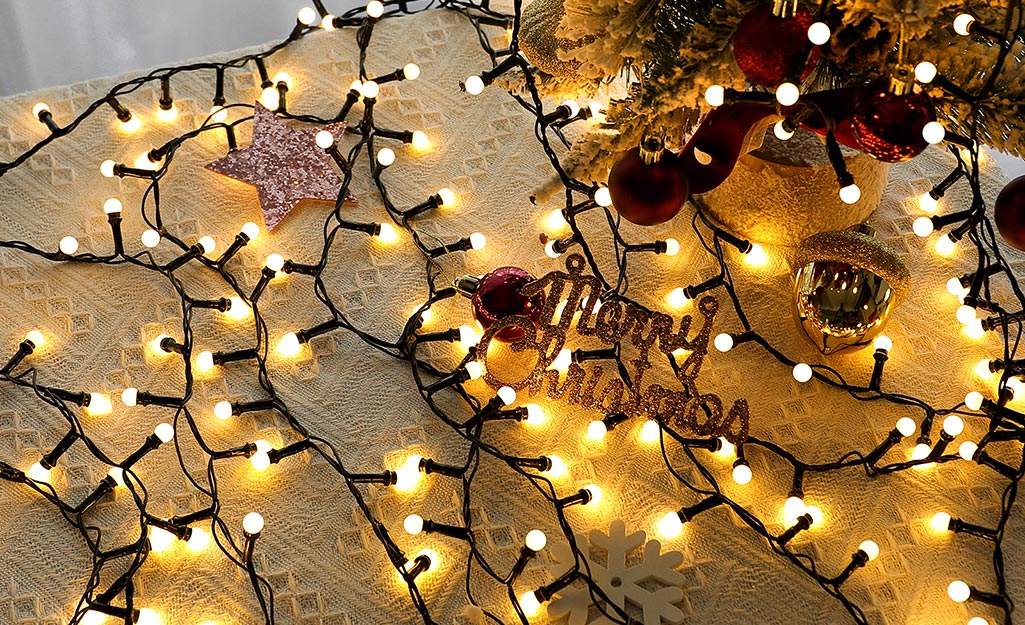 Christmas lights can be either the plug-in type or battery operated. 
Battery-operated Christmas lights are an easy way to add centerpieces, rails, wreaths and more. If you plan to use them outside, double check to make sure they are rated for outdoor use.
Plug-in Christmas lights are usually strung together. A good rule of thumb is to connect no more than three strings at one time. Plug your lights into a power strip with an on/off switch plugged into a GFCI outlet for added safety. If energy-saving is a concern, LED lights are a good choice.
Tip: Always turn on lights before you hang them to make sure they work. Or use a voltage tester to troubleshoot issues.
How Many Christmas Lights To Use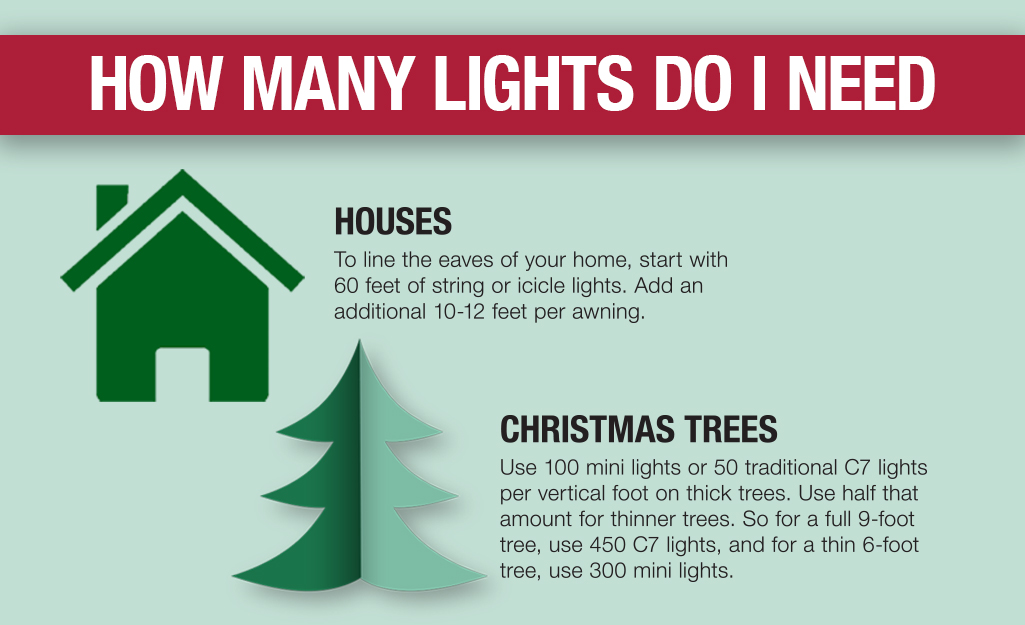 When decorating your house eaves, a simple rule is to start with at least 60 feet of string lights. Add another 10 to 12 feet for every awning you plan to light. If you have the time and patience, you can measure your eaves and awnings with measuring tape to get the most precise, necessary length of string lights. Use 100 mini lights or 50 traditional C7 lights per vertical foot on thick trees. Use half that amount for thinner trees. For example, for a full 9-foot tree, you'll need 450 C7 lights, and for a thin 6-foot tree, 300 mini lights. 
For live trees and shrubs, use 100 mini lights or 50 C7 lights for every vertical foot. On thin trees, you can use half that number of lights per vertical foot. Depending on your preferences, you may want a brighter tree, in which case you can double the number of recommended lights. 
When trying to match Christmas lights, use the same brand of strand lights, since color and brightness may vary between brands. If you want more variety, however, consider mixing mini lights with the larger, vintage-look C6 or C7 lights. 
Tip: Whether you plan to hang lights from your home's gutters, rooflines or shingles, find the right type of light clips for the hanging surface. 
Christmas Light Safety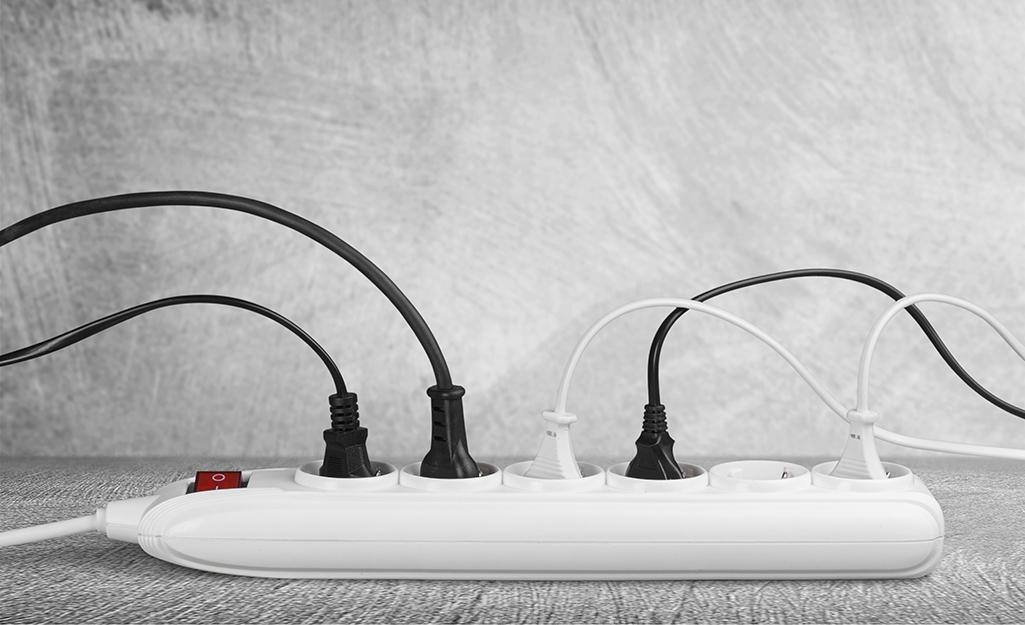 Do not overload electrical outlets or extension cords. When stringing multiple strands together, consult the manufacturer's instructions and do not exceed the recommended number of connections.
Never connect incandescent lights with LED lights.
Never connect different strands of lights together on the same circuit or outlet, such as a C7 or C9 incandescent strand with a mini-light strand.
Use only outdoor-rated lights in exterior light displays. Wrap a piece of electrical tape around connected plugs to provide further protection from the elements.
Always test your lights before installation to make sure they are working. Inspect all cords and wires and immediately dispose of any lights or cords that show signs of damage or wear.
Always unplug the lights when you leave the house or go to sleep. Automatic light timers can be used to turn your lights on and off at specific times.
Always work with a partner when using a ladder to help prevent accidents, and never place ladders on snow, ice, throw rugs or slick surfaces.
Do not run electrical cords along high-traffic areas or place underneath a rug.
Christmas Light Storage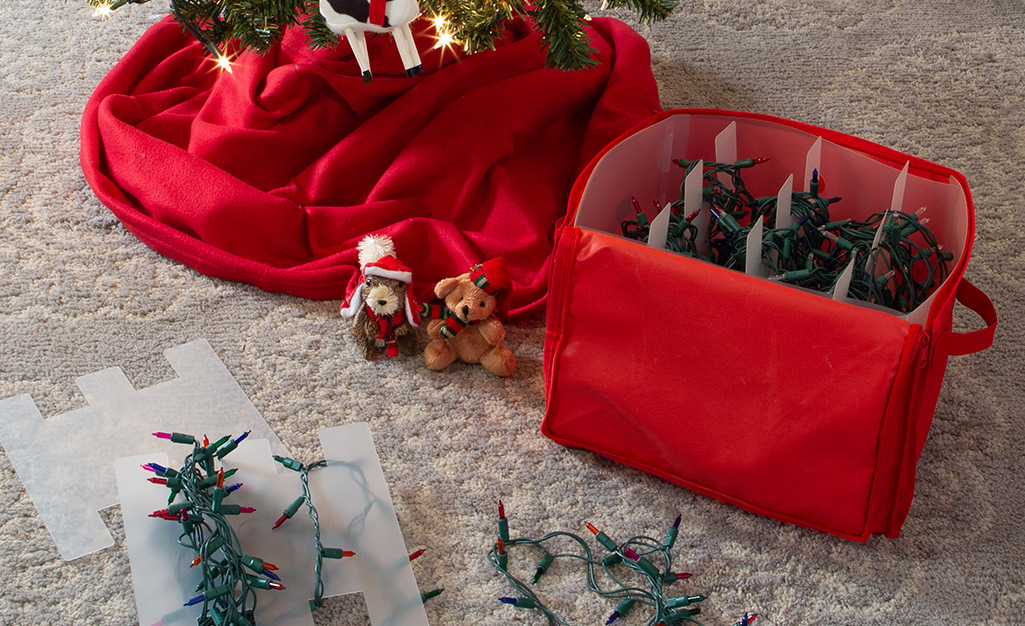 Make sure outdoor lights are dry before placing them in storage.
Wrap lights using a light reel or spool designed for proper storage. Place them in an appropriate storage bin, box or storage bag.
You can use a sturdy cardboard sheet or tube for wrapping lights. Do not wrap too tightly before storing, as this can strain the wires and contribute to fraying.
Inspect cords and wires for cuts, nicks and other damage as you wind your lights and discard any damaged light strands.
Store seasonal decorations in a dry place, such as an interior closet. Avoid storing lights and decorations in spaces where the moisture changes during the year, such as the attic, the basement or outdoor storage shed.
Light up your holidays this year. Give your home the best outdoor Christmas lights and cheer for the whole neighborhood. Every room in your house deserves a boost of bright Christmas light color this year. To find the perfect lights, use The Home Depot Mobile App to locate products and check inventory. We'll take you to the exact aisle and bay. We'll also deliver online orders when and where you need them.  
Explore More on homedepot.com