Ficus Lyrata, commonly called fiddle-leaf figs, are indoor plants that require a special amount of care. Nutrients like sunlight, fertilizer and pruning are all part of keeping your fiddle-leaf fig healthy throughout the year. Some common mistakes made when caring for a fiddle-leaf fig can leave it brown and withered. Our tips on how to care for a fiddle-leaf fig will help it flourish in your space.  
This guide will explain how to take care of a fiddle-leaf fig, growing this plant inside and outside your home. 
How to Grow a Fiddle-Leaf Fig Plant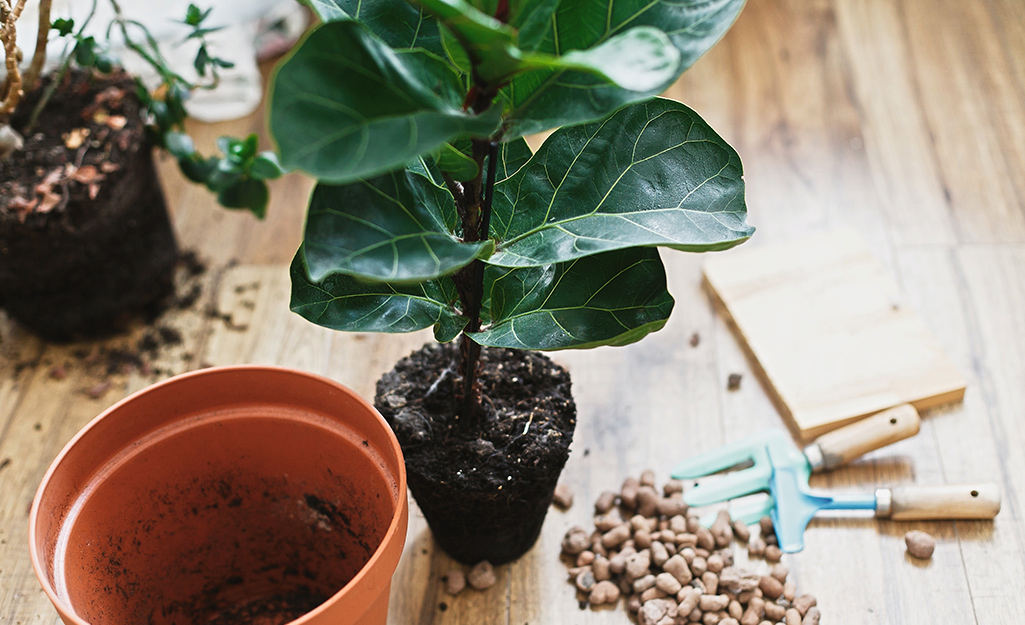 Fiddle-leaf figs are a popular indoor and outdoor plant for all seasons. Ficus lyrata is a tropical plant that grows best in USDA hardiness zone 10. In fact, it can be invasive and, for that reason, is often potted to contain the roots. Outside of zone 10, ficus lyrate will need to be brought inside in winter. Fiddle leaf figs like dry, warm conditions. 
Depending on how you want to grow your fiddle-leaf fig plant, you can buy fiddle-leaf figs as a bare tree or shrub to grow indoors or outdoors.
Repot ficus lyrata in early spring with high-quality potting soil. 
Select a roomy pot to ensure the best growth from your fiddle-leaf fig plant.
Tip: If you like the look of a bare trunk on your fiddle-leaf fig tree, remove lower leaves as newer leaves emerge.
Indoor Fiddle-Leaf Fig Care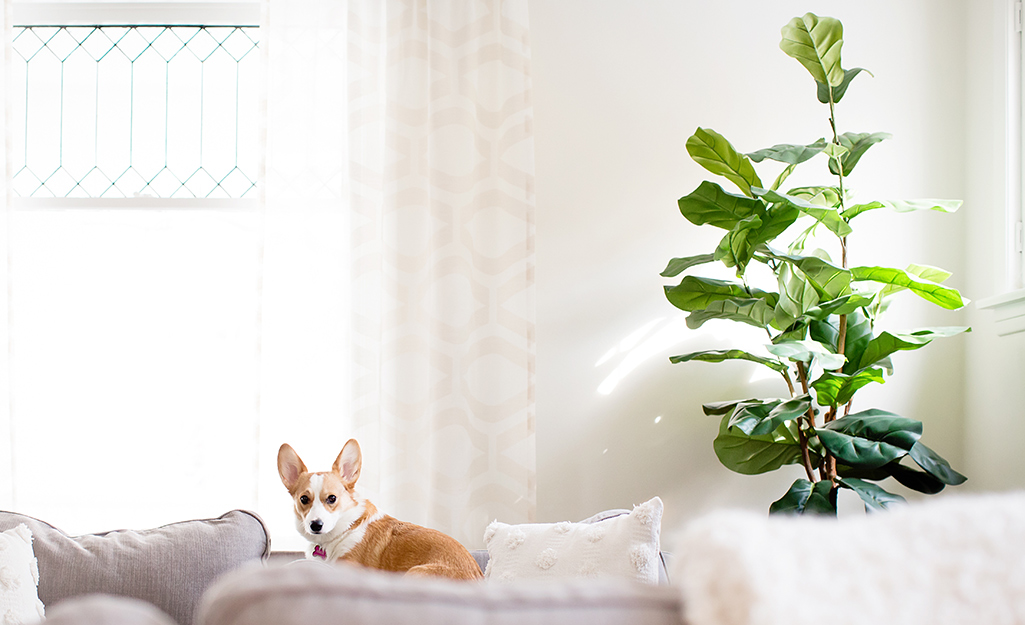 Adding a fiddle-leaf fig to your indoor decor can brighten your home.  
Place the fiddle-leaf fig plant near a window for bright, but indirect light. Harsh summer and winter light will damage leaves.
Apply plant fertilizer once a month from spring to fall, and quarterly from fall to spring. 
For proper fiddle-leaf fig care, lightly water with lukewarm temperature throughout the week to keep the plant pot from getting dry. Misting daily with a spray bottle is also an option to keep moisture on the green leaves.
Finally, pruning to get more horizontal growth requires cutting branches at the 'node,' the area where the leaf attaches to the branch.
Tip: Leaves require dusting monthly, cradle each leaf in your hand and use a damp rag to wipe the dust off the leaf slowly.
Outdoor Fiddle-Leaf Fig Care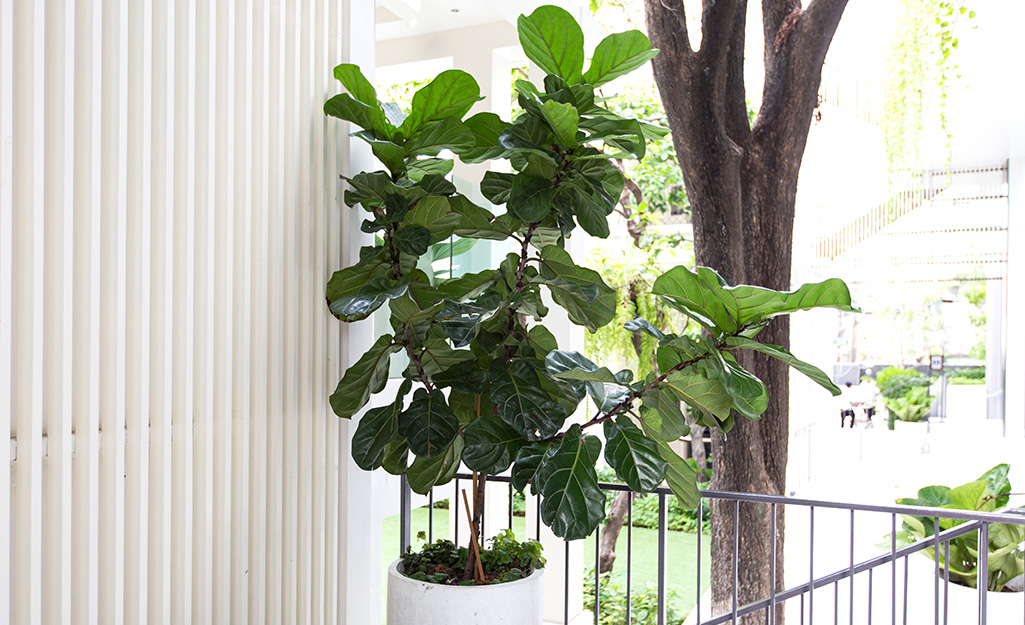 Fiddle-leaf fig plants thrive outdoors in sunny areas. Moving your indoor fiddle-leaf fig plant into an outside garden is a gradual process.
First, transplant the fiddle-leaf fig into a new pot and refresh the soil. 
Over the course of a week, start with leaving it on the patio or porch during the day. Afternoon sun is too strong,  be sure to bring it inside in early evening to get it acclimated to outdoor temperatures.
Finally, place it in shaded areas with bright, indirect light, protecting it from wind and direct sunlight. Filtered light in the morning is good for the plant.
Because of outdoor environmental factors, water the fiddle-leaf fig every 2 to 3 days.
Whether you need the right planters, seeds or potting soil, The Home Depot delivers online orders when and where you need them.
Explore More on homedepot.com