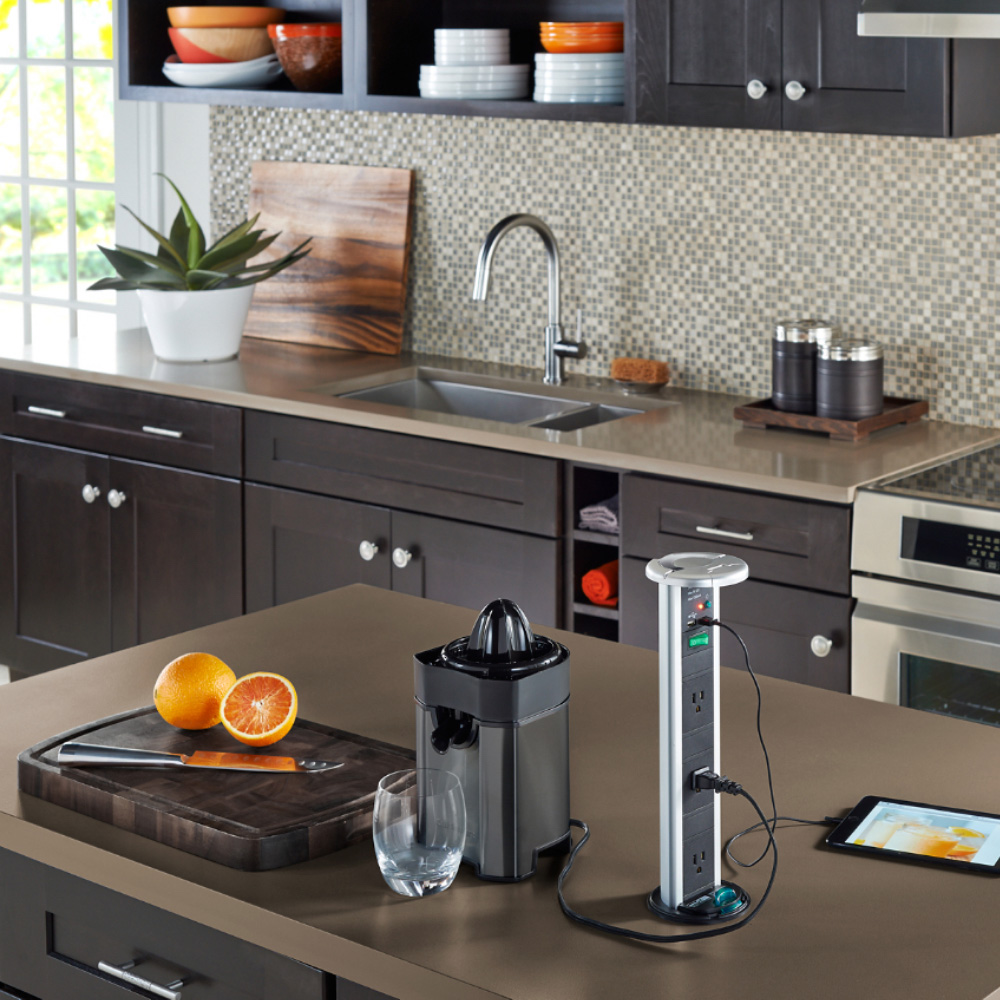 Match modern styles with your time-tested techniques. Hide outlets, wires, cords and cables to create the connected kitchens your customers want.
How to Hide Electrical Outlets
Match outlets to kitchen colors. Outlets and wall plates come in a variety of colors. Standard colors like white, ivory, eggshell, black, grey and brown come ready to complete the job. Paintable outlet wall plates are also available. These customizable outlet covers are offered in metal or plastic and are textured to accept traditional wall paints—no primer necessary.
Replace traditional outlets with pop-outs. Pop-out outlets are the modern solution for concealing traditional outlets. They provide a sleek, nearly seamless look, and they pop out ready for use with one gentle push. When not in use, pop-out outlets click back into their inconspicuous covers. Installation is the same as with traditional electrical outlets, simplifying replacement jobs.
Install outlets strategically. The best way to conceal electrical outlets is to hide them behind appliances, decor and fixtures. This takes planning during building or renovation. Think about where and how your customers will position appliances, like microwaves and decor. These are strategic places for well-hidden electrical outlets. Discuss ideas with your customers to find the best, least noticeable locations.
How to Hide Wires, Cords & Cables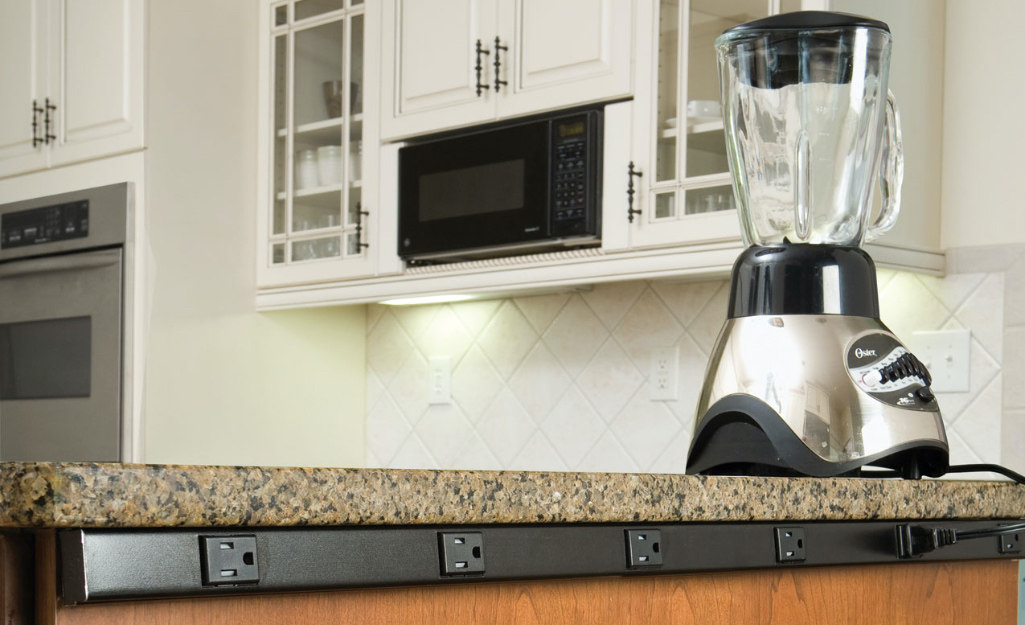 The simplest way to hide wires, cords and cables is with traditional cable management. If properly planned, your clients or future residents can use the same approach in the kitchen as in the living room. Take the first step and design cable management into your construction or remodel plan. Build cable tracks into cabinetry and under countertops. Lead these tracks to hidden outlets. Include raceways, cable clamps and other cable management solutions to make it even easier for residents to tape, tie, tuck and hide their appliances' cords.
Include cable covers. Cable covers and raceways are another easy way to hide cords. These solutions are designed to attach to walls, floors, baseboards and crown molding. They fit inconspicuously over cabinetry or under countertop overhangs, and they can be painted to discreetly match or accent any kitchen. 
Work with your customers to determine where to place tracks and covers, or offer them pre-cut, pre-painted covers with mounting materials.
Hide wires, cords and cables in the walls. This effective approach to cable management is possible during any stage of construction but can be time intensive. Plan ahead. Include cable tracks behind walls as well as wall plates and covers in your design. Pre-installed tracks make it easy for your customers to run appliance and electronic cords behind their walls.
More Tools. More Products. More Perks.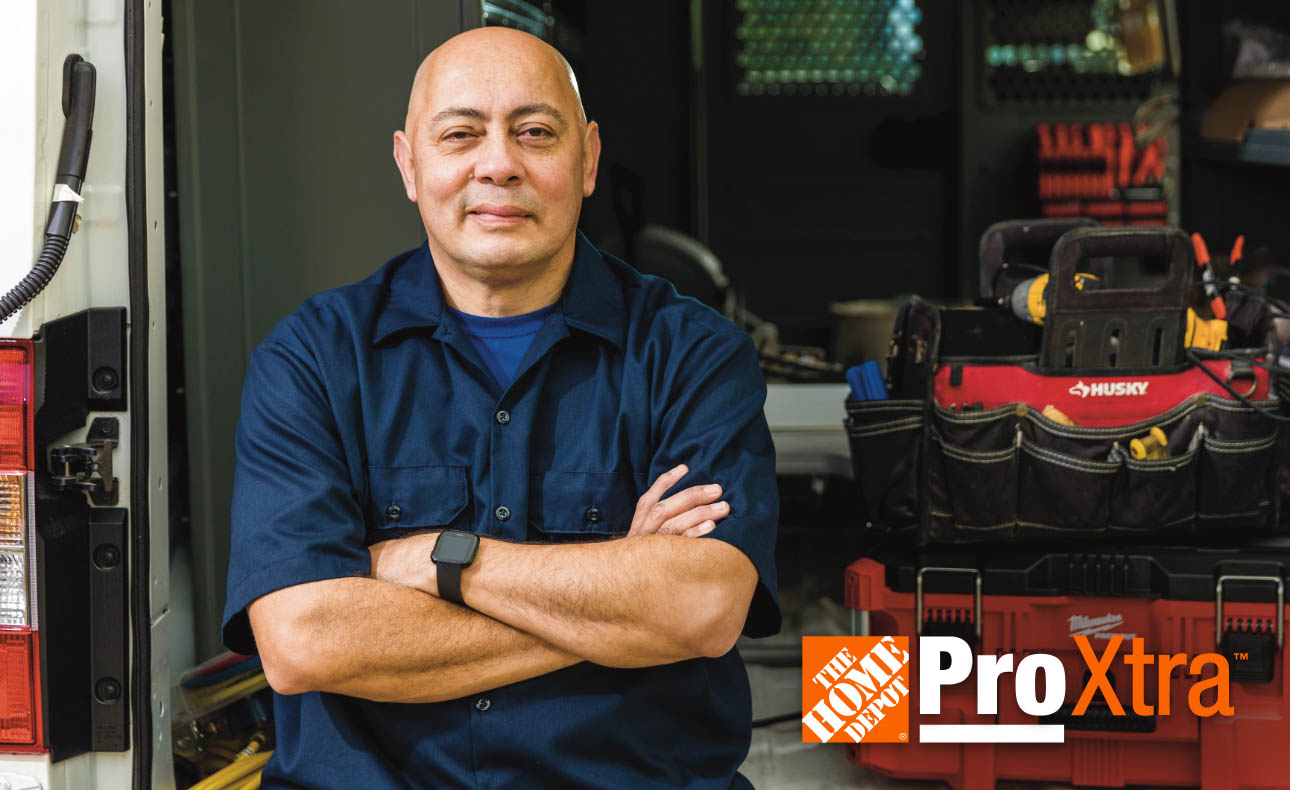 Be more competitive and boost your bottom line with Pro Xtra, The Home Depot's loyalty program built for Pros. Sign up today to access the enhanced Pro Online Experience, built with the online business tools and time-saving features Pros need. 
 Create a quote, prepare bids and lock in pricing using a free Pro Xtra account.