Buying Guide
How to Choose the Best Cordless Drill for You
Having a cordless drill among your power tool arsenal allows you to perform drilling and driving tasks with ease anywhere in or around your home, without having to worry about extension cords or being near an outlet.
This buying guide highlights the different types of cordless drills available, voltage options, charging platforms, and operational and safety tips.
New to the world of power drills? Learn the basics and some quick tips with our instructional guide.
Types of Cordless Drills
All of the different types of drills – detailed in the table below – are available in both corded and cordless varieties.
With the right attachment, drills can also be used for sanding and buffing. Different drill bits allow you to drill holes into wood, metal, steel, concrete and cement. Learn more about drill bits and other drill capabilities in our corded drills buying guide.
When choosing a cordless drill, remember to find one that feels good in your hands, not necessarily the most powerful model. Brushless drills feature motors that responsively adjust to the task at hand and offer more torque than traditional motors. Choose this type for extended run times and longer lifespans.
Comparison of Cordless Drills
How to Charge Cordless Drills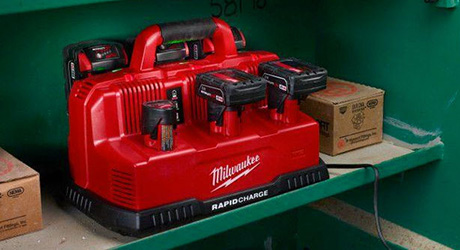 Battery improvements have come a long way over the past few years, offering quick charges and longer run times for cordless power tools.
Tip: Some models of cordless drills now incorporate Bluetooth technology so that users can remotely monitor battery charge on their smart device.
Voltage and Chuck Size
When selecting the best cordless drill for your needs, start by checking its voltage. Voltage is the primary indicator of the power of a drill. Most often, they range from 6 up to 36 Volts. Once you've selected your voltage, check the battery life to make sure it can hold the charge for an extended period of time.
The chuck size determines how large of a drill bit a drill can hold. The two most common sizes are 3/8- and ½-inch.
Tip: Lithium-ion batteries provide twice the performance and run four times longer than standard batteries.
Consider the type of jobs for which you will most often be using your cordless drill when selecting a voltage.
Light-duty drills: Best suited for light tasks such as drilling into drywall and minor jobs around the house, light-duty drills have fixed sockets so you do not have the flexibility to use a variety of bits. These drills typically use batteries under 20 volts.

General use drills: The most commonly used cordless drills are powered by 12- to 18-volt batteries with 3/8-inch chucks, which can fit a variety of bits.

Heavy-duty drills: Typically run by 18- to 24-volt batteries so they can power through tough materials and last the longest, heavy-duty drills also have the largest chuck to fit any size bit.
Charging Platforms
Advances in technology continue to increase the number of charging options available for power tools. While you can still simply use one battery per tool and plug the tool into a charging station overnight, there is now a range of options to choose from.
If you're loyal to a particular tool brand, or if you happen to already own several other power tools of the same brand, do some research about the charging platforms available within that brand. Avoid paying for multiple batteries by selecting a battery that can be shared among multiple tools of the same brand.
Tip: Take note of the maximum voltage your drill can handle and choose your battery accordingly.
Voltage-changing batteries - Some manufacturers offer batteries that change voltages depending on which tool you use it with. When used with smaller power tools, such as drills, these batteries can help increase runtime between charges.

High-demand batteries - While volts provide a measurement of power, amps measure runtime. Batteries with a 6, 9 and 12-amp hour capacity make it easy to cut the cord without sacrificing power or operational runtime in heavy-duty drills like SDS rotary hammers.
Operational and Safety Tips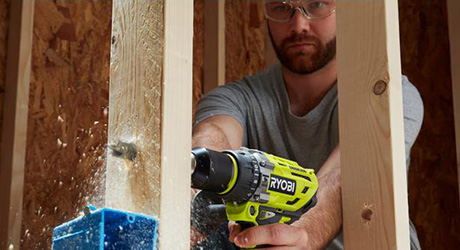 Start every project with a fully charged battery in the drill and your backup battery in the charger. That way, you'll almost never run into the problem of having two exhausted batteries at the same time. And whenever you take a break, give your drill a breather as well by popping the battery into the charger or swapping power packs.
Drill speed is measured in rotations per minute (RPM). Look for a drill with an RPM range of 300 to 1,500 to tackle a wide range of tasks.
The more torque the drill has, the better it will drill into harder surfaces. Use slower speeds for greater torque and to avoid stripping screws.
Lower speeds are best for driving screws and higher speeds for drilling holes.
Some chargers take several hours to fully recharge.
Smart chargers work quicker and prohibit over-charging, which extends battery life.
AutoShift improves drill performance by automatically performing at the optimum speed and torque setting, which saves time and guesswork by shifting gears when more power is needed.
Many drills come with drill kits, which contain the drill, main and secondary battery, charger, drill bits and carrying case.
Use a holster so you always have your drill on you and never have to worry about where you last set it down.
When you're working on finished surfaces, lay your drill down on a folded towel instead of standing it on its battery. This eliminates the possibility of gouging a completed project by knocking over the drill.
Be sure to take precautions and wear safety gear when using drills. Use safety glasses to avoid eye debris and work gloves to avoid blisters.
Take dead batteries to your local Home Depot for recycling.