Moving can seem like a daunting task, but with a solid plan, you can eliminate a lot of the stress and frustration. One of the best ways to pack for moving is to pack room-by-room. Start with the least used areas and finish with high-use rooms. Completing one room before moving on to the next will make your move go much smoother. Use our guide to know where to start, what to pack first when moving, what moving supplies to get and when to pack for a move.
Packing Tips For Moving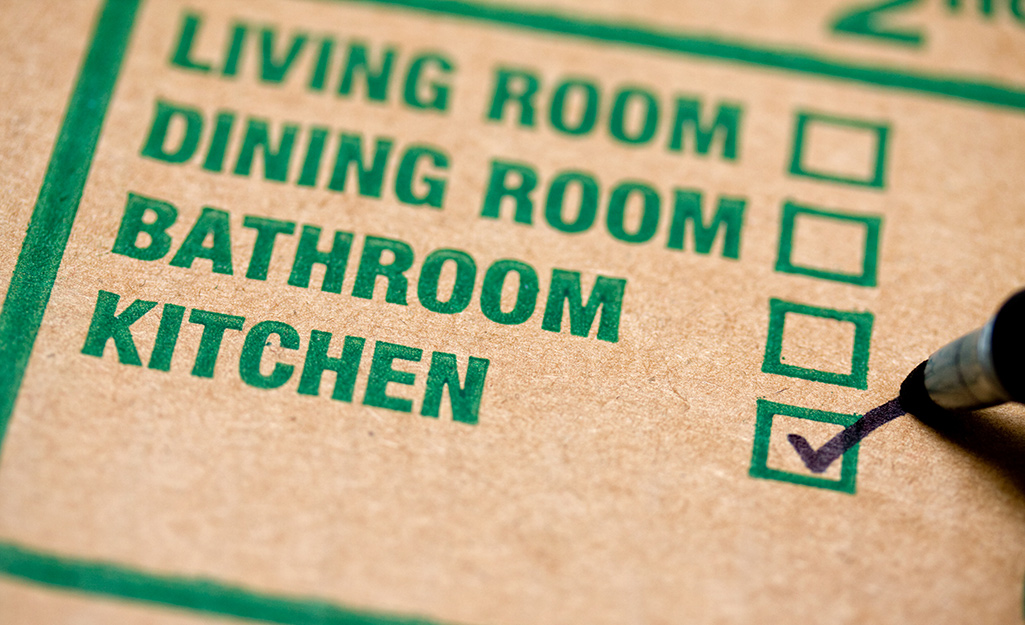 The first areas or rooms to pack are those that are primarily used for storage. The last rooms to pack are the ones you use most often, such as the bedroom and bath.
Packing for a move is a great time to get rid of things you no longer use or want. Organization is key to a successful move. Decluttering before you move will save space on the moving truck. Follow these decluttering tips for each room in your home, plus general packing tips for moving:
Start sorting, organizing and donating at least three months before you move. If your home is large or messy, start organizing four months in advance of your move.
Declutter one room at a time. Donate items or have a garage sale for the extra stuff. Make a packing checklist as you go room by room to make sure you don't leave out any must-haves.
Mark boxes from each room with a different color tape or permanent markers.
Use our free moving calculator to create an itemized list of how many boxes, how much packing paper or tissue paper, heavy-duty packing tape and bubble wrap you'll need.
Garages, Basements and Sheds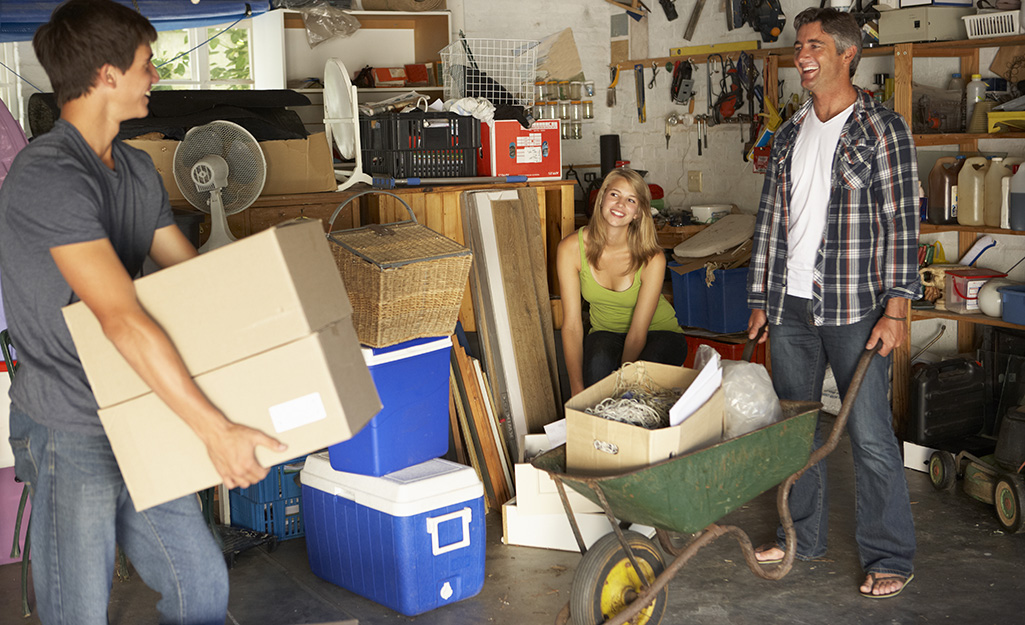 Here's what to pack first when moving: attics, garages, basements, sheds or other storage areas. Most of the items in these areas won't be needed right away, making them the ideal spaces to start. These are also prime opportunities to cull down the amount of things you'll be moving. Here's some general tips on how to pack for a move in these areas:
Wrap patio or lawn furniture in stretch wrap. Pack outdoor cushions in moving boxes or trash bags.
Clean trashcans and label them. Consider packing them lightly with garage odds and ends.
Drain the oil and gas out of any lawn equipment or power tools such as chainsaws.
Wrap large items such as lawnmowers, weed trimmers and grills in moving blankets and packing tape.
Box small power tools in their original box or use the right size.
Wrap outdoor planters or containers in bubble wrap and packing tape.
Make outdoor tools such as rakes and brooms easier to load by tying them together with a zip-tie.
If you have a gas grill, do not pack the tanks into the moving truck.
Tip: Many items may need adjusting or fixing before, during and after your move. Separate out a box of handy tools such as screwdrivers (Philips and Flathead), tape measure, box cutter, hammer, nails and screws, putty knife, pliers and a wrench.
Spare Rooms and Offices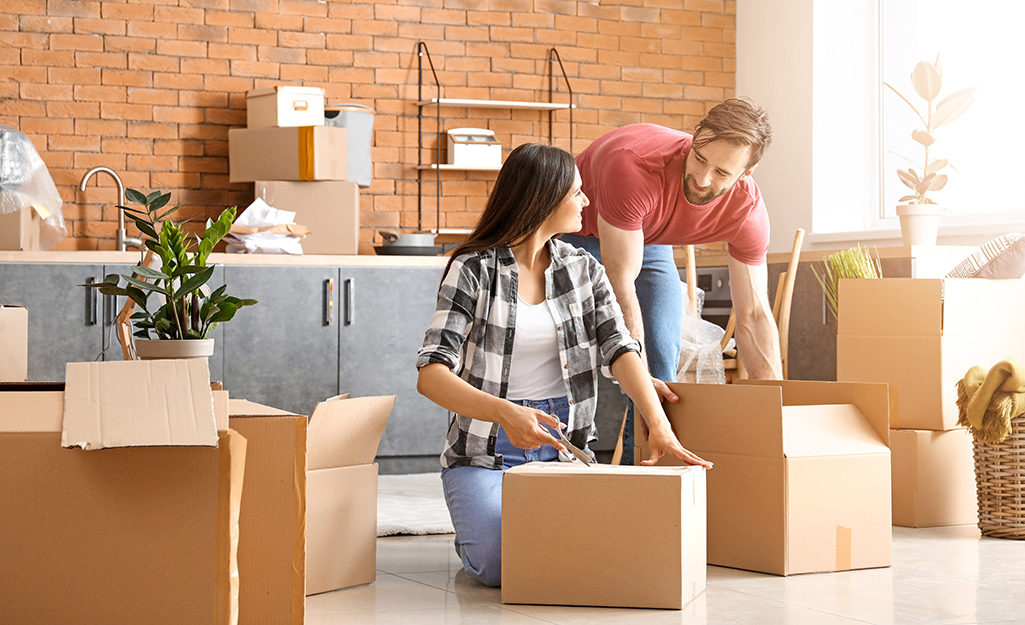 Offices and spare rooms should be the next areas on your list to pack. Start decluttering spare bedrooms or offices about a month before your move date. Here are pointers about packing certain items that might be in these spaces:
Pack power cords, cables and any wiring accessories in individual plastic bags and label them.
Snap photos of how you've setup your electronics. This will be very helpful when you get to your new home.
Think about putting important documents or papers in a safe or a bank safety deposit box.
Living Rooms, Family Rooms and Dens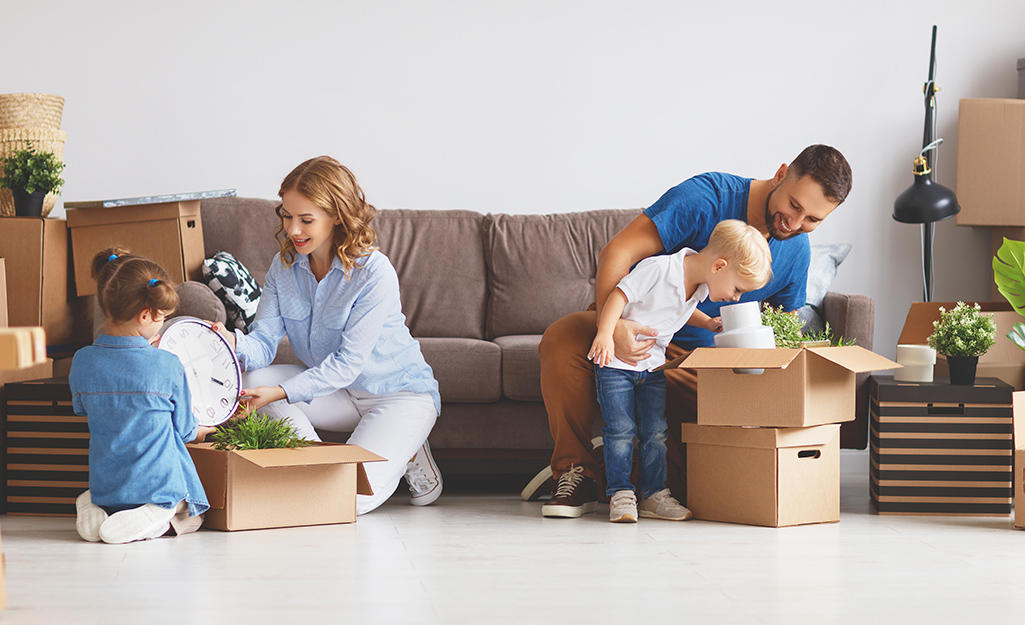 Family rooms and dens are high-use areas, so wait until two weeks before your move to pack them. In addition to large pieces, most are full of fragile items such as lamps, art and decor, so be prepared with plenty of bubble wrap or foam. 
TVs, computers and other electronics require special moving boxes. See our guide on how to pack a TV for more details.
Disassemble furniture. Store all bolts and specialty tools used in a plastic zip bag. Label the bag and tape it to the piece of furniture.
Shrink wrap your sofa, chairs and other upholstered pieces. Most professional moving companies will do this for you, especially if you are moving across country.
Pack mirrors, paintings and other fragile decor items in specialty boxes.
Roll area rugs. Place them in the moving truck last, so they can be unloaded first.
Protect framed photos and artwork by wrapping them individually in packing paper and stand them on their edges inside the box.
Kitchens, Pantries and Laundry Rooms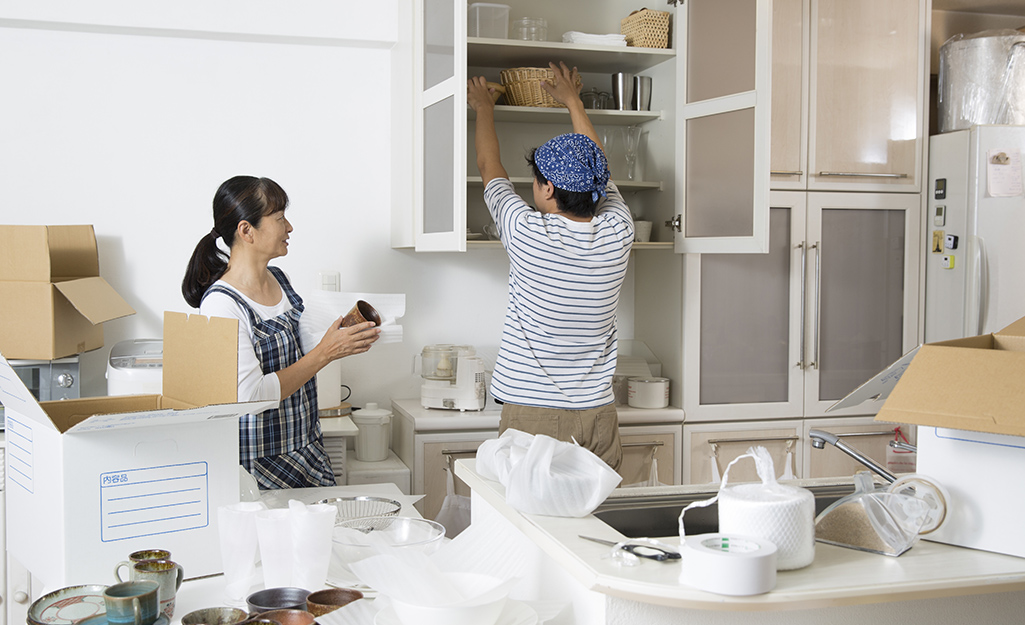 One of the common questions about how to pack for move has to do with packing a kitchen. Kitchens are a tremendous chore. The best advice is to take your time and start a minimum of two weeks before your move. Stay organized, declutter and pack everything but the absolute essentials until the very last minute. 
Dishes and glassware are heavy, so be sure to double or triple tape the bottom of the boxes you use.
Keep silverware in their tray and knives in the knife block. Secure both with shrink wrap.
Stack paper-wrapped pots inside one another before putting them in boxes.
Pack small appliances such as microwave ovens, blenders and mixers in their original boxes if possible.
Safely moving washing machines and large appliances, even it's just across the city, takes muscle and preparation. Consider hiring professionals.
Get rid of any perishable food or food items you are not packing.
One of the last things to pack are the basic cleaning supplies you can use before or after your move: rubber gloves, laundry detergent/bleach, dishwashing liquid/detergent, all-purpose cleansers, sponges, bucket and mop, scrub brush, disinfecting wipes, paper towels, broom and dustpan and a vacuum cleaner.
Bedrooms, Closets and Bathrooms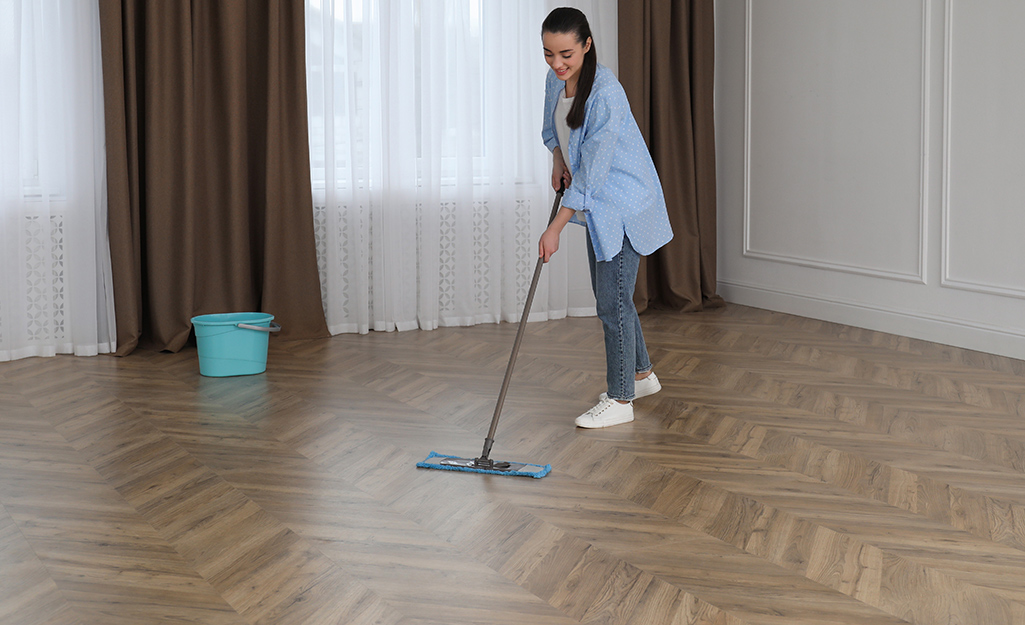 The last rooms you should pack when you move are bedrooms and baths. Chances are you'll still be using both right up to the day before you move. Here's some tips for packing  clothes, linen, shoes, jewelry and more.
Take your bedroom furniture apart or wrap the entire piece in moving blankets or stretch wrap.
Slide your mattress into a special mattress cover to prevent dust and dirt from damaging it.
Use wardrobe boxes to pack your hanging clothes. Pack shoes separately.
Carry heirloom items like old or irreplaceable photos with you to the next destination.
Wrap bath accessories and other fragile pieces in towels before boxing.
Place shampoo bottles and other liquid-containing toiletries into leak-proof plastic bags.
Use large boxes for towels, blankets, pillows and other linens. They're bulky but light.
Pack one or two boxes of essential items you will need immediately such as toilet paper, toiletries kit, a suitcase, disposable plates, cups and utensils. These are your "last on, first off" items.
Pack a suitcase or box for each member of the family several days in advance.
Tip: Set aside bedding for the night before your move and the night after your move. 
Advice for Moving in a Hurry and Long Distance Moves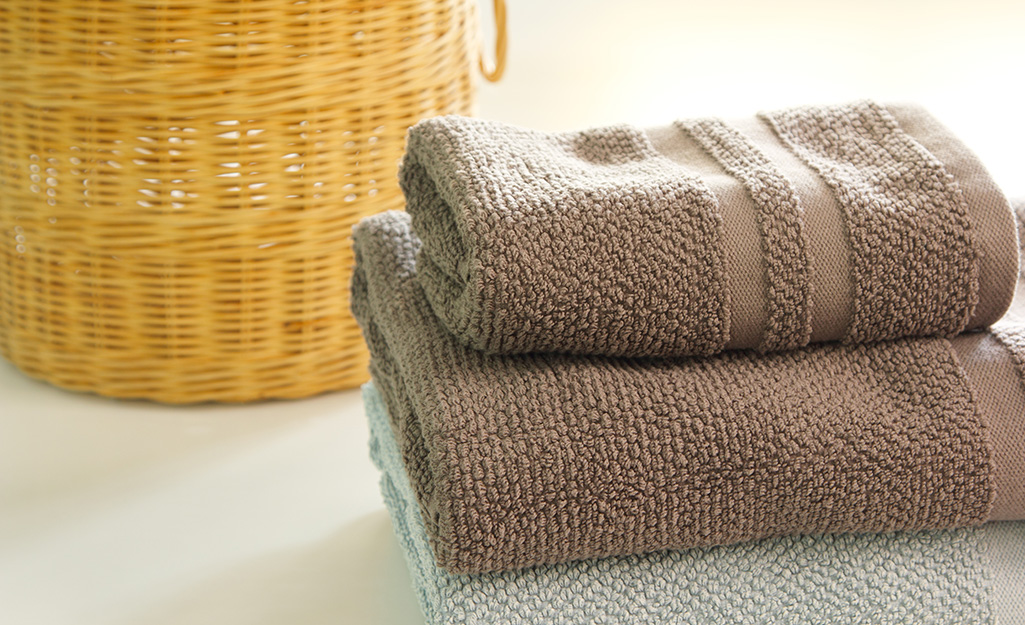 Whether you're moving from a house or an apartment, there are several things to keep in mind when it comes to special situations like when to pack for a move if you're in a hurry or moving long distance.
Here's advice on how to pack in a hurry:
Even if you have to move in as little as 3 days, you can still follow the room-by-room method. Spend a third of your time decluttering and organizing. You'll have less to pack and load so you can move quicker.
Keep a packing checklist of must-haves. Put as much as possible in the donation pile and pack only one room or area at a time.
Use packing containers you have on hand such as hampers, suitcases, baskets and duffle bags.
Follow these helpful tips when moving across the country or long distance: 
Create a file for all the important paperwork you will need throughout your move. This includes the moving truck reservation, health and veterinarian records, cash for mover's tips, hotel reservations or any important documents.
Consider shipping cars, boats or other motor vehicles.
Don't pack any liquids, aerosols, paints, pesticides or chemical cleaners. These are not safe for transporting long distances.
If you're moving long distance, donate most if not all of your pantry food to a food bank.
Think about shipping heavy items such as books instead of packing them.
Once the move is over, the exciting part begins—setting up your new life in a brand new home. After you move to your new home, unpack your most-used rooms first and storage areas last. Get from your old home into your new space as smoothly as possible. From moving boxes to moving and lifting equipment rentals, The Home Depot has everything you need.  
Explore More on homedepot.com