Moving can be a stressful process. Tasks take longer to complete and packing supplies are depleted faster than you expect. The key to a successful move is preparation. Breaking down the process into smaller, easy-to-do steps will help with the relocation. This moving checklist outlines how to prepare for a move so you can plan ahead and stay organized as moving day approaches.
Note: Here is a printable moving checklist to make things easier.
Eight Weeks Before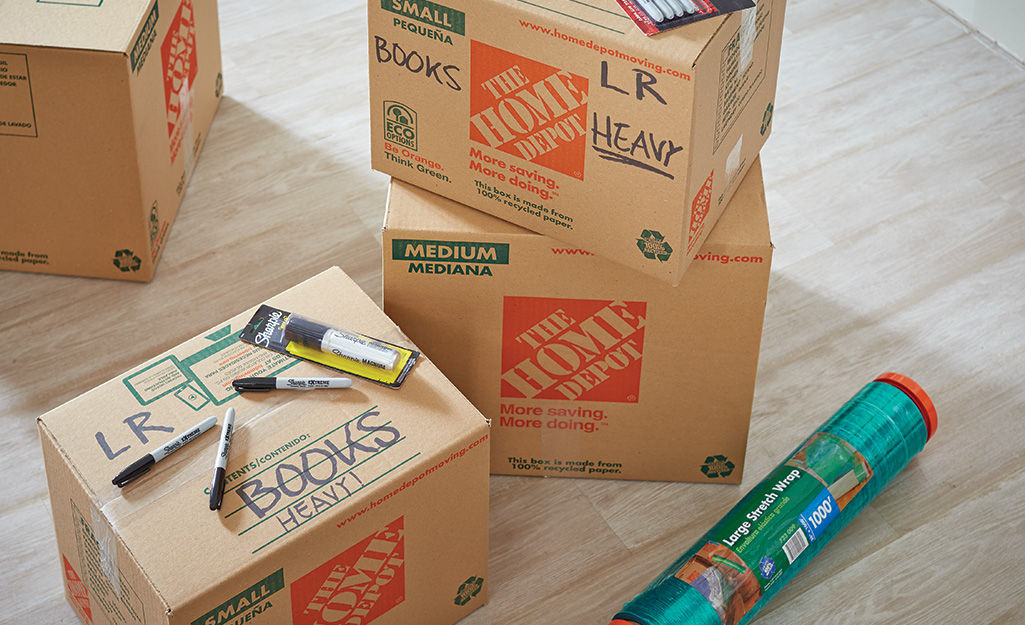 Create a physical binder or folder and/or electronic file for all moving-related research and documentation, including your moving checklist.
Research professional movers and schedule in-home estimates from several relocation companies. Do not rely on phone-quotes only. Make sure to get prices in writing, and have the company include costs for moving large items like pool tables and pianos.
Research moving truck rentalprices and make the reservation, if you're doing the move yourself. Also research how to pack for a move.
Research and purchase moving insurance if it's available in your area.
If you're moving long distance, start tailoring your checklist for moving out of state (or the country). Plan your route and book hotels if needed.
Whether you choose a moving company to do the work or a DIY move, avoid peak periods to reduce your expenses. Choose mid-week and mid-month moving days, if possible.
Make an inventory of all your household goods that will be moved to the new home.
Begin to purge items from that list. Decide what you will sell, donate or throw away.
Start a list of the packing suppliesthat you will need, such as the number of mattress bags for bedding and TV boxes for televisions, hanging mirrors and artwork.
Make preparations for shipping your vehicle, if applicable.
Apply for any applicable moving or parking permits.
Create a budget for all moving-related expenses and leave some wiggle room for unexpected costs.
Six Weeks Before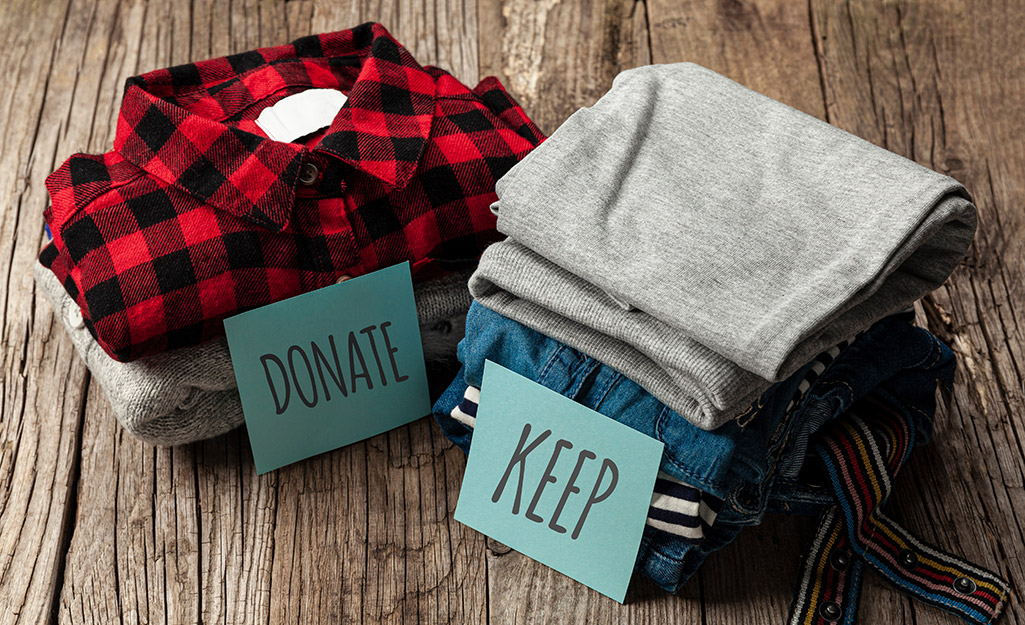 Start using up contents of your pantry, cupboards and freezer. This will be easier than moving perishables to a new residence.
Declutter. Get rid of anything that you do not plan to use in your new home.
Post ads to sell any items that won't be moving.
Have a garage sale or yard sale to sell the rest.
Donate anything that doesn't sell if the items are usable.
Transfer your children's academic records to their new school.
Find a new doctor and dentist and transfer your medical records to their office.
Find a new veterinarian for your pet(s).
Determine the number of packing and moving supplies you will need. Moving kits can be a good starting point and a moving calculator can help with your specific situation.
Four Weeks Before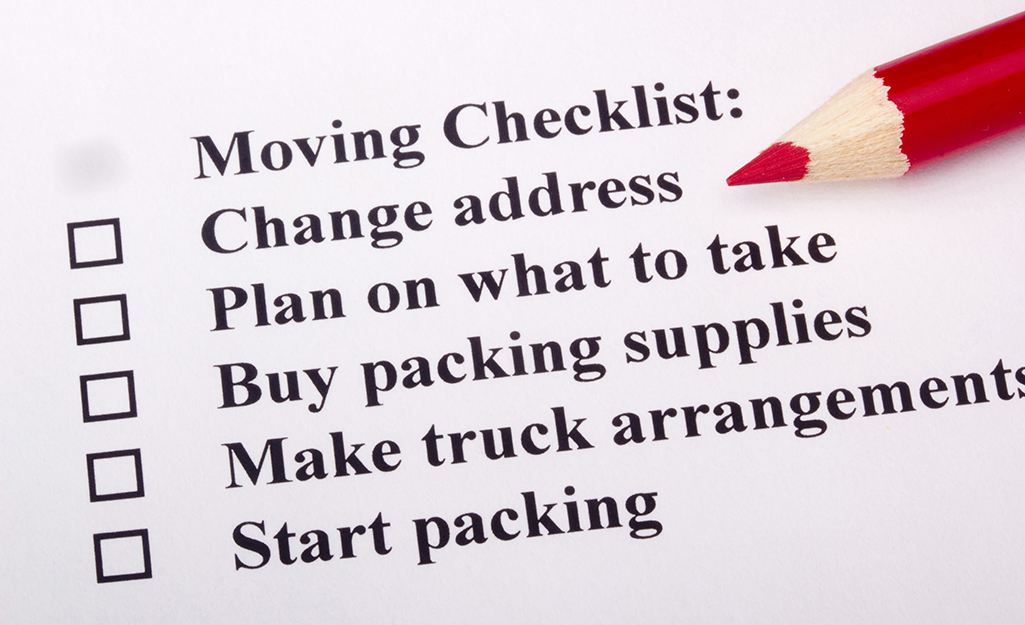 Finish up items from your moving out checklist that should have been completed by now.
Lock in dates for your rental truck or moving company.
Request time off from work, if necessary, for moving day.
Confirm the timeline for your movers, and arrange to have them come over two days before moving day if they are packing for you.
Get the moving boxes, a packing tape dispenser, plenty of packing tape and other moving supplies if you are doing it yourself.
Pace yourself and start packing things you won't need right away. Pack out-of-season clothing into wardrobe boxes. Pack files into file boxes. Protect special occasion china with packing foam.
Establish a labeling system for boxes – color-coded, for example – to easily identify where each box should be placed in the new residence.
Fill out change-of-address cards at the post office.
Notify friends, family, the bank and your insurance agent of your new address.
Schedule time with friends and family if you're moving far away.
Pre-order appliances, furniture and other goods needed for the new home.
Send change-of-address information to any magazines you subscribe to.
Make copies of important papers, such as birth certificates, passports, legal records and health records. Consider investing in a home safe for these documents.
Three Weeks Before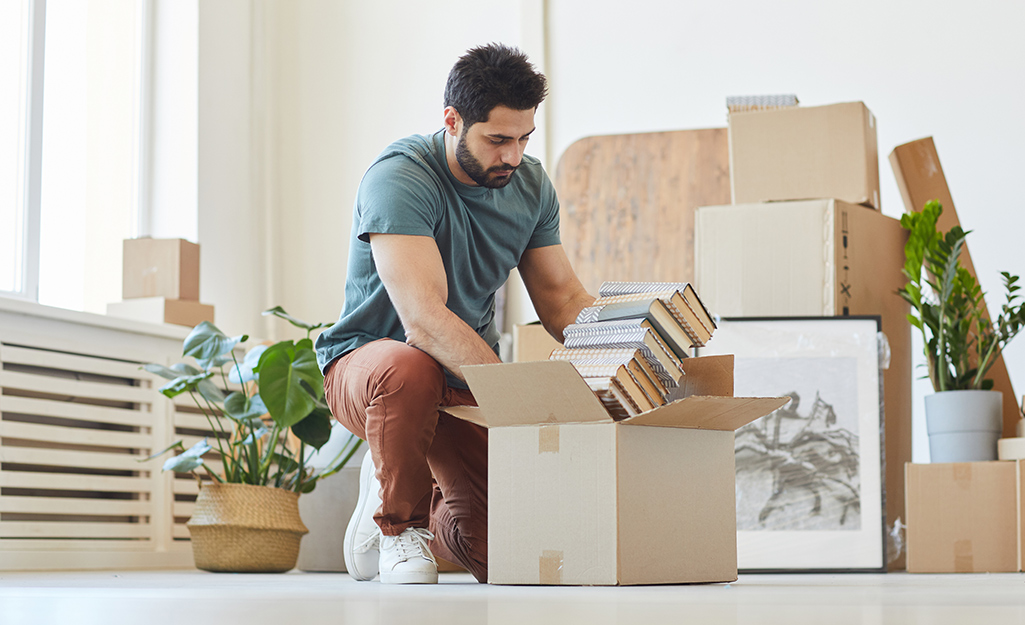 Continue to pack. Do some packing, even if only one box every day.
Pack items by group, not necessarily by room. For example, select a time to pack all of the books or all of the knick-knacks in the home. Mix-and-match the contents in a box – as long as the contents are from the same room.
Arrange to have the utilities disconnected after your move.
Schedule utility connections at your new residence.
Arrange for a babysitter or pet sitter on moving day, if you need one.
Confirm the availability of friends or family on moving day.
If necessary, reserve the freight elevator in your building for moving day.
Create a checklist for moving out. This will make sure you cover any requirements mandated by your local area or landlord.
Two Weeks Before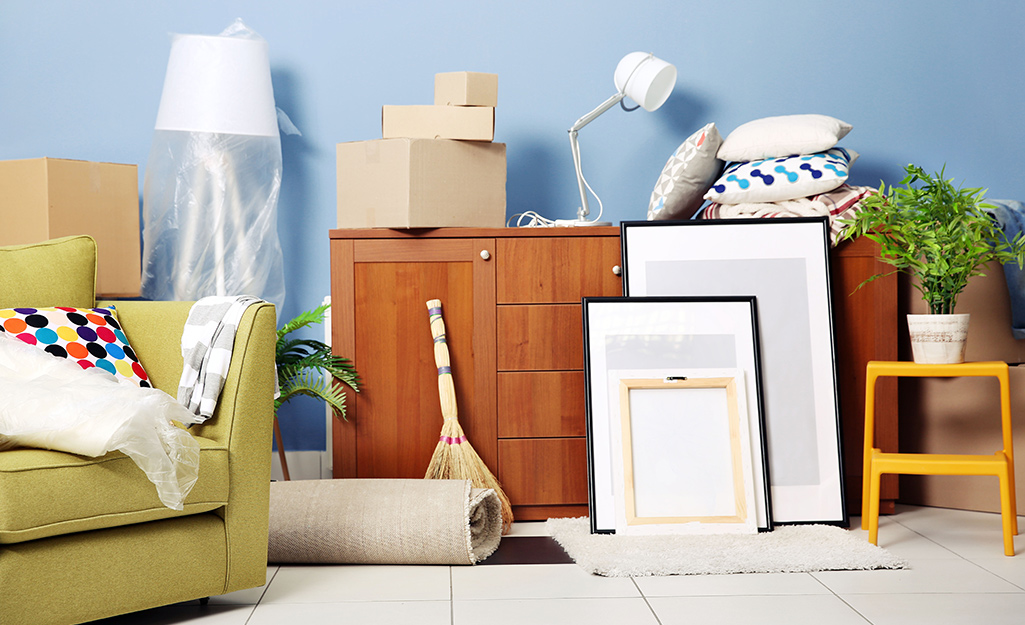 Keep packing.
Review your moving to-do list to be sure you haven't missed important items.
Return any borrowed items.
Remind helpers of their willingness to assist with loading.
Arrange to move plants and pets.
Notify your employer's human resources department of your new address.
Get rid of items prohibited from the moving van, such as gasoline and propane, or make special arrangements for their transport.
Cancel services such as cleaning, lawn care and pest control.
Find new services for your new address.
Consider hiring a plumber or electrician to disconnect appliances you plan to move.
Bring your car in for a tune up so it's in tip-top shape, especially if you're moving to a different climate.
Return borrowed items and dispose of things that cannot be moved like corrosives, chemicals, flammable solutions and so on.
One Week Before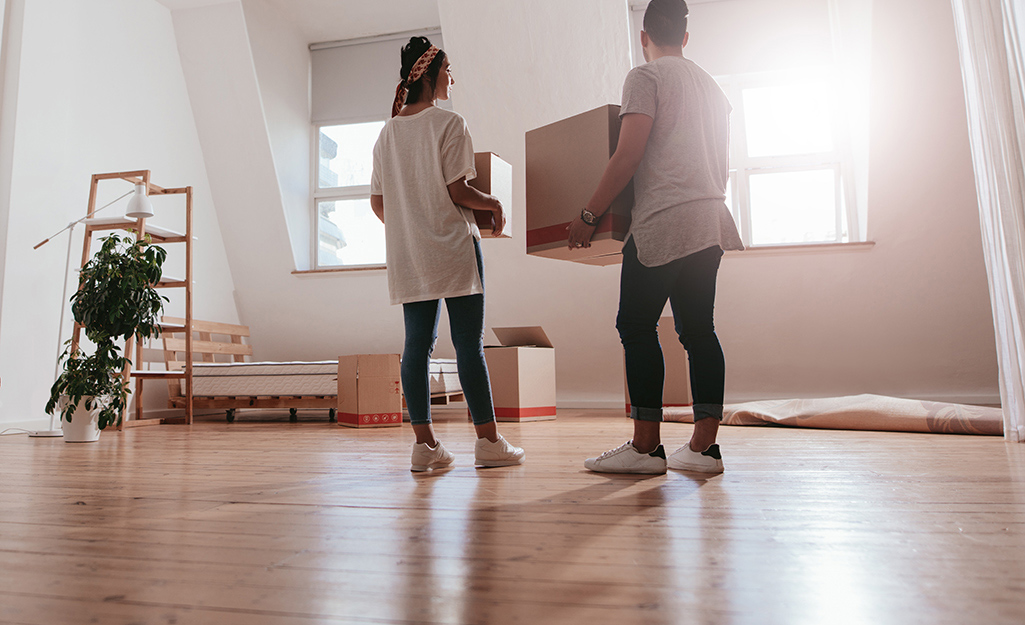 Finish packing. You should be completely packed before moving day with a bag or two of moving week essentials.
Gather all keys for your door locks.
Take note of where your valuables are packed so the boxes are easy to find when you start unpacking.
Open your new bank accounts if you're making a long-distance move.
Make sure you have enough medication to last through the move.
Have your doctor write a new prescription you can fill after you move.
Clean your old place.
Pick up all your items from the local dry cleaner.
Defrost the refrigerator and freezer two days before you move.
Prepare a clear plastic storage bin in advance for moving day. This kit should contain things you may need after the moving truck is loaded or before it's unloaded at the new place, like cleaning supplies and toilet paper.
Moving Day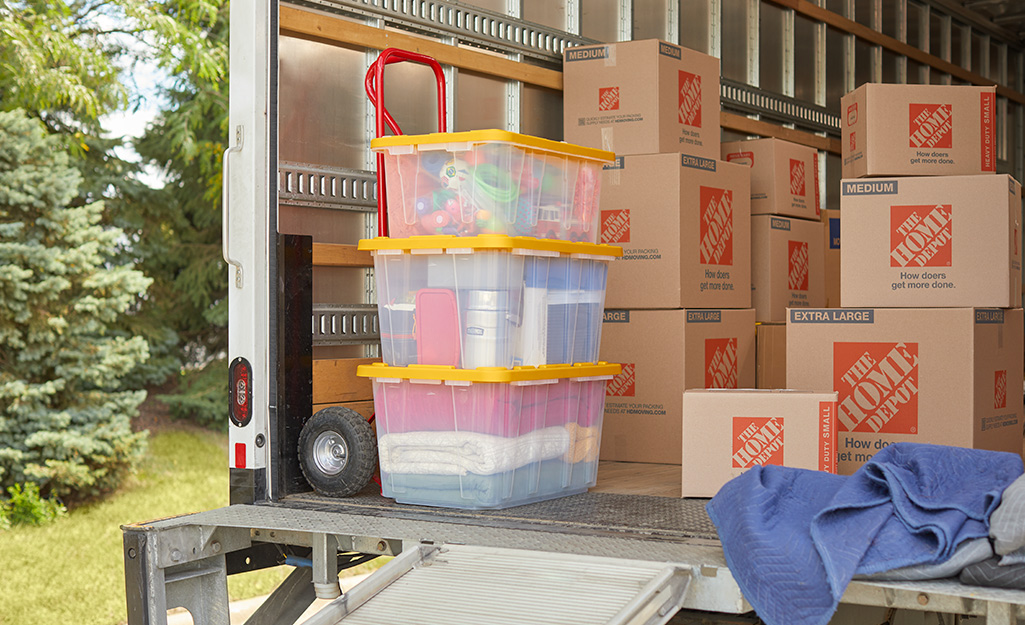 Assemble your moving day bag.
Finish labeling all boxes.
Check in with your movers.
Clear a space to park the moving truck.
Clear the pathways out of your old home and into your new one.
Take photos of your old home to document its condition when you leave.
Take your pets to the kennel or contain them in a safe place while items are being moved.
After Moving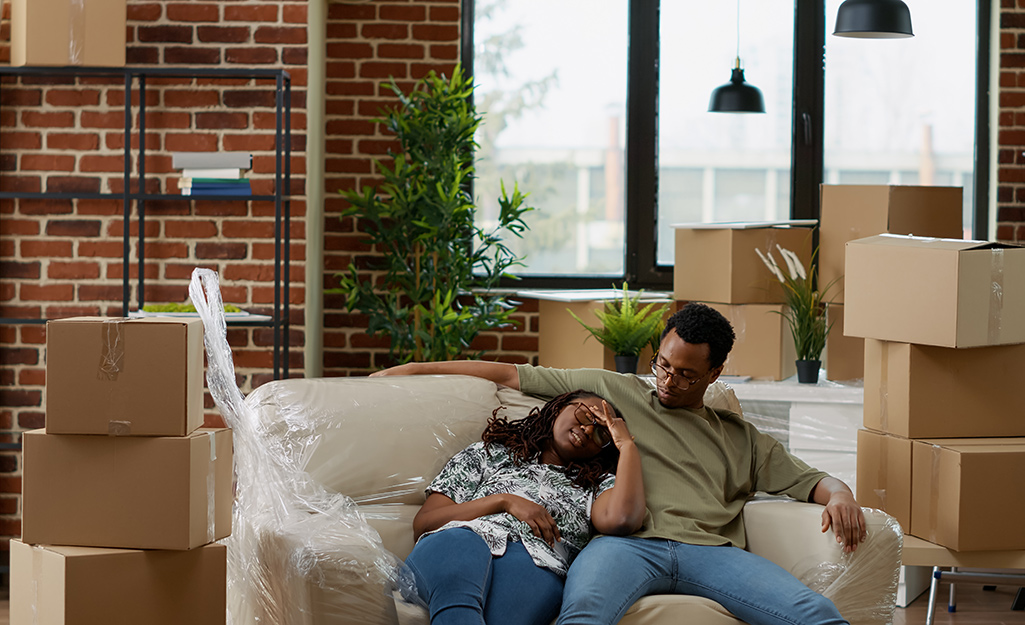 Once the move is complete, it's time to start settling into your new home. Unpack the essentials first, then take your time and go room by room. 
Breaking down a big move into manageable steps makes it easier. Now that you know how to use a moving checklist you can plan a more successful move. Remember to stay organized moving day will be a lot less stressful. Need moving supplies or storage bins? The Home Depot delivers online orders when and where you need them.
Explore More on homedepot.com